Buying your first set of clubs is exciting but risky. You could lose out on a significant investment if you buy a set that doesn't help your game. Or worse, they're not quite right, yet you stick with them and never meet your potential.
Fortunately, you can take some basic steps to get the right clubs.
Here's how to buy golf clubs in 10 steps:
Research Sets For Beginners
Ask Your Instructor For Guidance
Create A Budget
Get Fitted
Start With A Full Set
Look for High Launching Forgiving Woods And Hybrids
Choose Hybrids Over Long Irons
Carry A Sand Wedge
Know Your Putting Stroke
Play A Flexible Shaft
Read on for essential resources you can lean on to research golf equipment and explain why a complete set of clubs is ideal for starters. In addition, I detail why beginners are better suited to hybrids than long irons and why the convenience of a complete set is the best bet for newbies.
Let's dive in!
How To Buy New Golf Clubs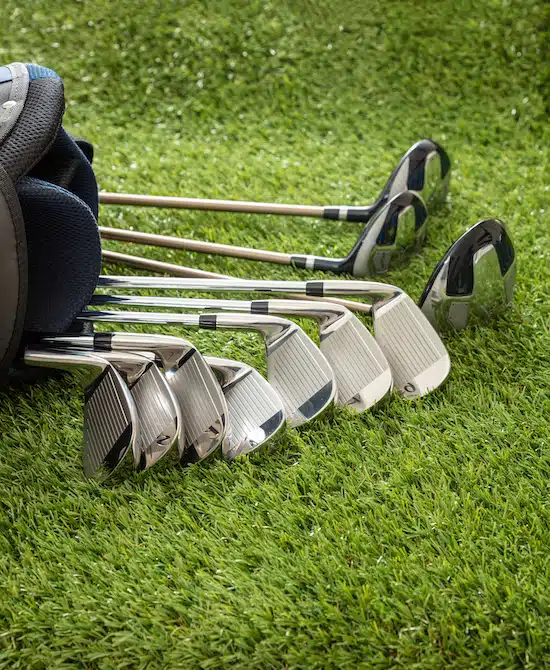 1. Research Sets For Beginners
Unless you have more experience, start with golf club sets built for new golfers. These clubs will give you the most forgiving, consistent woods, irons, wedges, and putters.
Buying a readymade set for beginners is the easiest and most affordable way to get started.
Read more: The Best Women's Golf Club Sets for Beginners
But you won't get the best set for you. For that you'll need to pick out some of your clubs to fit your strengths and cover up your weaknesses.
Check out some reviews for beginners and high handicappers to get an overview:
Now make a short list of the clubs that sound good to you and proceed to step #2. But if you're not sure, further down the list, you'll see specific recommendations for clubs for beginners.
Our Favorite Set for Beginners:
2. Ask Your Instructor For Guidance
When starting out, I highly recommend rendering the services of a certified PGA instructor who starts you on the correct path. Otherwise, you risk adopting bad swing mechanic habits that can lead to catastrophic results further down the line.
Besides putting you on the path to flawless swing mechanics, an instructor is well-versed in guiding beginners and advising equipment. After a few sessions, they will understand your game and what equipment works best for your swing.
If you don't want to hire an instructor, at least check out the best online golf lessons and look for some consultation.
Then, bring your short list of clubs and get feedback to make your list even shorter.
3. Create A Budget
Once you have conversed with your instructor and have a better idea of the type of clubs, loft profile, and shafts, you need a budget. Even if your pockets are deep, a budget prevents you from overspending and reduces your options by eliminating overpriced constructions.
Pro Tip: Golfers on strict budgets should stick to complete sets which is the best way to purchase golf clubs without breaking the bank. However, you are beholden to the set composition and may not enjoy each option. On the other hand, it is the most affordable way to start.
Read More: Best Time To Buy Golf Clubs
4. Get Fitted
Getting fitted for clubs is a touchy subject for many scholars, with some coaches and influencers suggesting against it. However, I disagree with this reasoning. It is easy to discredit fitters when you know each club's best lofts, shaft flex, torque, and swing weight.
Naturally, beginners are clueless in this department. This is where a club fitting is invaluable. A single session with an expert fitter gives you a detailed insight into the best specs for your game and recommends specific clubs to optimize your performance.
While some beginners may decide to purchase golf clubs from the fitter, you are not obligated to do so. You may find a more affordable deal buying golf clubs online. However, at least the knowledge from your fitting enables you to make better-informed decisions.
Read More: How To Buy Women's Golf Clubs
5. Start With A Full Set
Although not perfectly tailored to your specific swing, a full set of clubs is the best starting point when buying golf equipment. A complete set saves you the hassle of planning and sourcing each club individually, allowing you to hit the ground running as you take ownership.
Besides the convenience, an entire set is typically more affordable than purchasing woods, hybrids, irons, wedges, and a putter separately. Plus, manufacturers tend to throw an accompanying carry or cart bag to hold your tools.
Most modern beginner sets feature a driver, a fairway wood, one to two hybrids, four irons, one or two wedges, and a putter. The irons in these sets start with a 6 and run up to a 9, while a pitching wedge is a constant. Not all golf club sets carry a sand wedge, but I suggest finding one with a chipping club.
Finally, beginner sets often include a mallet-style putter with maximum forgiveness to ensure a clean, consistent roll.
Most Forgiving Set for Beginners:
6. Look for High Launching Forgiving Woods And Hybrids
Beginner golfers struggle to consistently strike their golf ball, leading to reduced compression, ball speed, and launch. As a result, you want high-launching long clubs that optimize carry and total distance.
A high launch profile is necessary for your driver, fairway wood, and hybrid. Golf clubs that promote an elevated launch feature a low center of gravity (CG) where weight is positioned low and deep in the clubhead.
In addition, you want clubs that carry a lower kick point shaft which causes the clubface to spring into the golf ball at contact boosting energy transfer. The added whip leading into impact helps you strike the ball powerfully on the up, sending the ball high and long.
Best Driver for Beginners:
7. Hybrids Over Long Irons
I recommend switching long irons out for hybrids if you purchase your clubs individually or if your complete set contains long irons. The iron-fairway wood combo has a larger profile than pure irons and is equipped with perimeter weighting and a low CG.
The perimeter weighting stabilizes the clubface at contact to prevent ball speed drop-off and control spin. Next, the lower CG position encourages an effortless launch to consistently get my ball airborne and traveling. Plus, the increased apex leads to a sharp descent promoting a soft landing on approach.
Hybrids for beginners tend to carry increased offset compared to their tour-inspired counterparts. Offset hybrids work hard to combat slice sidespin created by an open clubface at contact. Instead, the offset design simplifies squaring the clubface at impact to promote straighter shots.
Best Hybrid for Beginners:
8. Carry A Sand Wedge
Although some beginner golf sets contain a sand wedge, many only provide a pitching wedge. While a pitching wedge is vital to your success, it does not offer versatility, launch, spin, and control of the sand wedge.
Club manufacturers craft sand wedges ranging from 54 to 58 degrees of loft to initiate elevated flight and spin. In addition, the weaker loft and expertly crafted sole grind help players escape the bunker easier than a lower lofted pitching wedge.
If your chosen set does not offer a sand wedge, I recommend buying one of the best sand wedges separately to complete the collection. Otherwise, operating with a pitching wedge will result in challenging greenside play and undesirable results.
Best Sand Wedge for High Handicappers:
9. Know Your Putting Stroke
Most beginners have little idea about their putting stroke, but you should. Knowing whether you putt with a straight, slightly arched, or severely arched stroke is vital to select the correct putter hosel and toe hang or face-balanced design.
A straight stroke sees a restricted deviation from your backstroke through impact and works best on a center shaft or double bend hosel. Conversely, players with heavily arched strokes should seek the services of a short hosel which creates increased toe hang.
Finally, players like me who operate with a combined straight-arch stroke are best suited to a plumber neck hosel. A plumber neck creates a marginal degree of toe hang to help the face open on the backstroke and square up at impact.
Ultimately, hosels that prompt toe hang work for golfers with arched strokes. However, face-balanced putters are ideal for those with a straight-back straight-through action.
Best Putter for Beginners:
10. Play A Flexible Shaft
The final factor to contemplate in our guide to buying golf clubs is the shaft flex on your clubs. The higher swing speed low handicappers often prefer stiff shaft clubs which offer minimal rebound into contact.
Conversely, beginners should stick to flexible, lighter shafts which increase spring into impact, maximizing energy transfer. The added flex helps slower swing speed high handicappers preserve ball speed and limit long game spin to produce a powerful, long golf shot.
As a result, I find super slow swing speed beginners should look at graphite, senior, or regular flex golf shafts. The increased torque, flex, and lighter construction are easier to let rip and boost long game distance.
Playing with very heavy and stiff shafts featuring limited torque minimizes energy transfer for beginners resulting in a weaker strike. A weak strike produces less ball speed, a lower launch, and a loss of carry distance.
Bonus Tips for Buying Golf Clubs
Consider Buying Used Clubs
Getting the right clubs can take some experimenting, and you may not know you need to switch for months. You can often find high-quality used clubs that are still in great condition for a fraction of the price of new clubs. Just make sure to inspect them carefully before purchasing, or buy from high-quality sellers with a return policy.
Or Don't Buy a Full Set Right Away
Buying a full set of clubs simultaneously is tempting, but it may not be necessary or the best option for a new golfer.
Instead, consider starting with a smaller set of clubs, like a driver, putter, and a few irons, and then gradually adding more clubs as you become more experienced and your game improves. This can help you avoid spending too much money upfront and can also help you determine which clubs you actually need based on your playing style.
Consider the Type of Course You Will Be Playing On
The type of golf course you will be playing on can also impact the type of golf clubs you should buy. For example, if you play on a course with lots of water hazards or bunkers, you may want to consider buying a higher-lofted sand wedge to help you escape trouble.
Alternatively, if you play on a course with wide fairways and few hazards, you may not need as many specialty clubs and could focus more on the basics, like a driver and a few irons. Consider the course you will be playing on and what clubs will be most helpful for your game.
FAQ
What Should Be The First Golf Club To Buy?
I recommend buying your irons and wedges first, then building the rest of the bag around them. Since the shorter shafted irons are easier to control, these are the best clubs to start practicing with at the driving range and getting used to the sensation of striking a golf ball before you snap up the rest.
What Should I Pay Attention To When Buying Golf Clubs?
When buying new golf clubs, ponder the loft profile, shaft flex, forgiveness, accuracy, and distance. Think about higher-lofted woods, hybrids with offset, and an expansive sweet spot to generate consistent distance and accuracy on all shots.
Final Thoughts
Following our guidelines that show how to shop for golf clubs will save you time and money and ensure you make better-informed decisions. As a beginner, your ball striking leaves much to be desired, requiring clubs with an expansive sweet spot, a high launch, and improved accuracy.
You want weaker lofts and extremely low CG in the long clubs to encourage an effortless launch and maximum carry distance. Conversely, you want your mid and short irons to continue the forgiveness trend while offering crisp turf interaction from all surfaces.
In addition, I recommend operating with a flexible shaft with increased torque for maximum spring leading into impact. Overall, when buying a set of golf clubs, I suggest conducting research, consulting a fitter or an instructor, and starting with a complete beginner set.
Read More: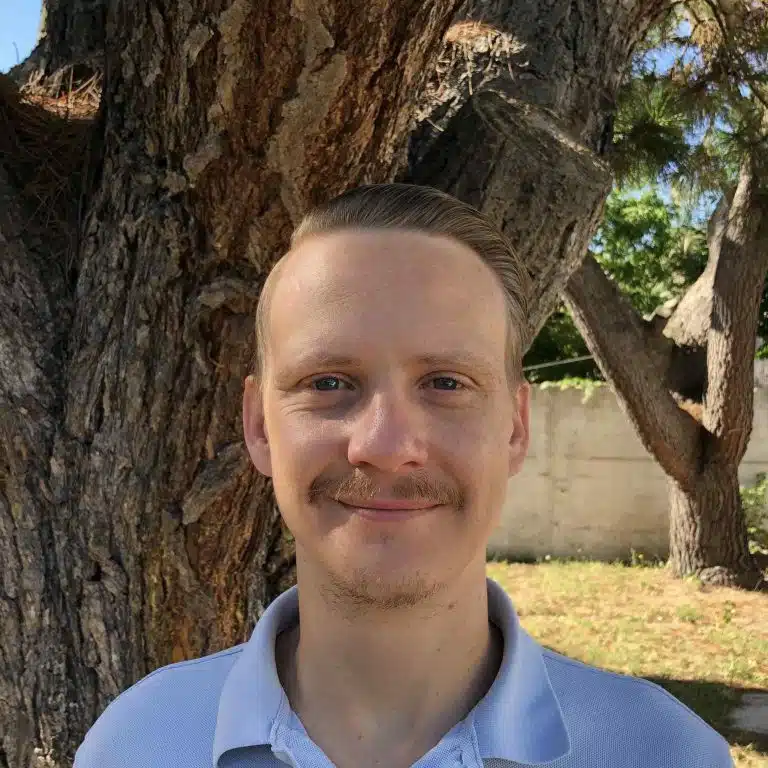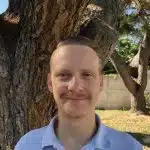 Matt is a seasoned golf equipment writer and sports fanatic. He holds a Postgraduate in Sports Marketing and has played golf for over 28 years.