Besides the mechanics of your swing, your clubs impact your game significantly. Golf equipment can be expensive, though, so many people wonder where is the best place to buy used golf clubs?
To Buy New or Used?
There is no right or wrong answer. It will differ from person to person. The first thing to note is that many new golf clubs sell for an affordable price. Often these are from lesser-known brands, although even the leading manufacturers offer budgets sets of clubs. 
You mostly want to find a set of golf clubs that work for your playing style. 
Many people outgrow their clubs or simply demand new equipment every year. As a result, you can often get a great bargain on a set of quality clubs at far below the standard retail price when buying them used.  
If you're considering buying used golf clubs, we'll lay out everything you need to consider, starting with the pros and cons. 
Buying Used Golf Clubs: Pros And Cons
Pros
Cons

You can purchase renowned brands at an affordable price.

Wider variety of clubs for your setup within your budget.

Lower cost for beginners or infrequent golfers

Less worry about damaging the clubs.

Risky purchasing from a non-reputable dealer.

The clubs may not suit your game perfectly.

You may need to repair the grip or the shafts.

The lie angle may have changed from the original position.
The 8 Best Places To Buy Used Golf Clubs 
The internet has made buying and selling used golf equipment infinitely faster and more straightforward. Many people sell online. But it's nice to try out your new golf clubs for yourself before you purchase as well. 
Although this article covers places where men and women can acquire pre-owned golf clubs, we do have an article dedicated to places where you can buy used ladies golf clubs as well.
1. Local Pro Shop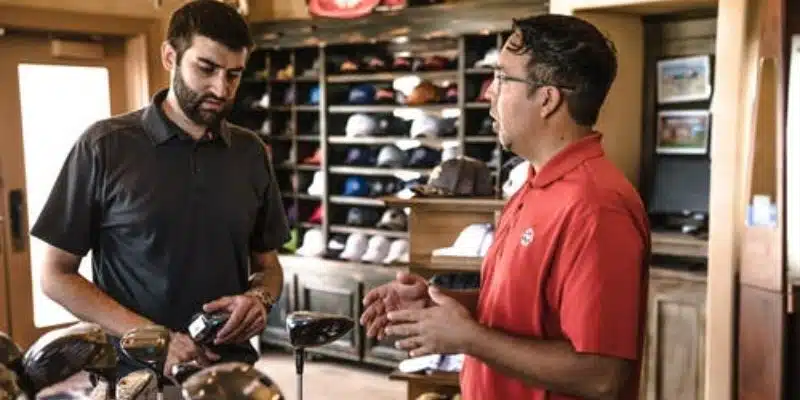 Many golfers trade in their used equipment to subsidize the cost of new clubs. Your local golf store or pro shop is likely to sell used equipment. If you shop around, you can find some great bargains that are quality at a fair price.
Your local public golf course might offer used sets or clubs at a competitive price. That is how I have acquired most of my 2nd hand golf clubs over the years. It is worth investigating this option when shopping for the best used golf clubs.
2. Second-Hand Dealers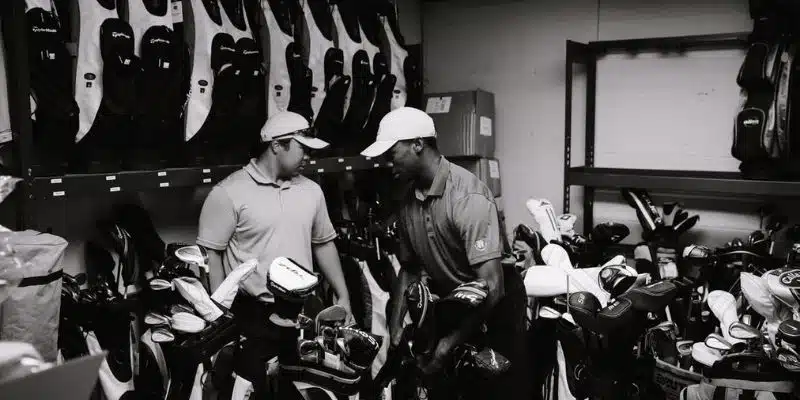 Many general second-hand stores also sell used golf clubs, and you can often find competitive prices. You should understand the retail value of the equipment to prevent overpaying for clubs. Not everything you come across will be a bargain.
3. Original Equipment Manufacturer (OEM) Websites
The majority of manufacturers now sell products directly from their online stores. However, few offer pre-owned clubs besides Callaway.
They offer trade-ins or outright purchases. Generally, there is a wide range to choose from. Plus, they provide security in the form of warranties.
They have a brand reputation to maintain, so pre-owned clubs from the manufacturer are a safe option. The price might be a bit higher than the average private sale.
4. Amazon
Based on the selection available, Amazon is undeniably the best place for used golf clubs. They generally offer browsers a choice of new or used equipment, the latter obviously being less expensive. Amazon also offers increased security to protect you against theft.
Not only can you search Amazon for "used golf clubs" by searching Golf Equipment and checking the Used option in the left sidebar. You can also search your favorite golf clubs and look below the About This Item section to see the New and Used offerings. 
Not all clubs will have them but some will and you can find great deals on your favorite clubs this way.
For instance, if you're looking for a golf club set for beginners, you can check out the details on this set: 
Here's another used set for beginner's:
5. eBay
eBay is also a great option, and one can often find great bargains if you are vigilant. Check the history of the seller and their rating for peace of mind. Regular sellers want to maintain a good reputation.
6. Online Resellers Of Used Equipment
I am often asked what is the best website for used golf clubs? The answer is difficult. 
Many sites specialize in selling used golf equipment. They range from small websites with a few options to larger operators who have been in business for many years. 
Some have stellar reputations and are trustworthy. Others are a bit dodgy. One has to do a bit of homework to determine the validity of the site and the particular equipment on offer. 
These sites are generally open and honest, as they want to enhance their brand reputation. Unfortunately, not every site is onboard with the best practices.
From my experience, GlobalGolf.com is the best used golf club site, followed 2ndSwing.com, and 3Balls.com. Finally, GolfWRX Buy and Sell forum is another source for quality used golf clubs.
7. General Online Classifieds
Several classified websites such as Craigslist.org offer various pre-owned golf clubs. Golf clubs are regularly featured on these pages, and if you have the patience, some great bargains can be found.
8. Facebook Marketplace
Facebook Marketplace is a solid option for finding used golf clubs in your area at a fair price. You need to be fast as the best value for money offers will go quickly. 
Furthermore, make sure you belong to the relevant groups to not miss out on bargains.
Rules For Buying Pre-Owned Golf Clubs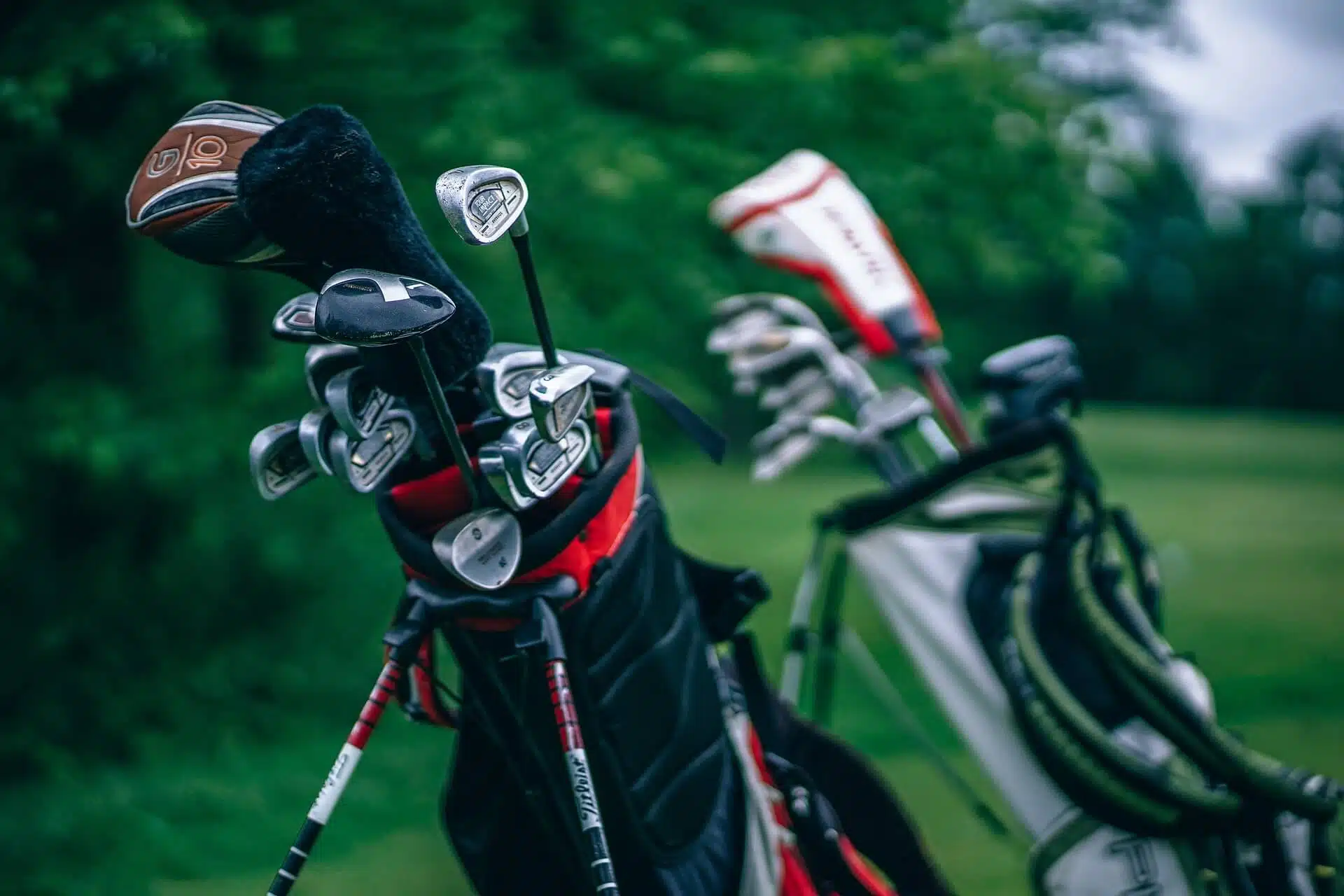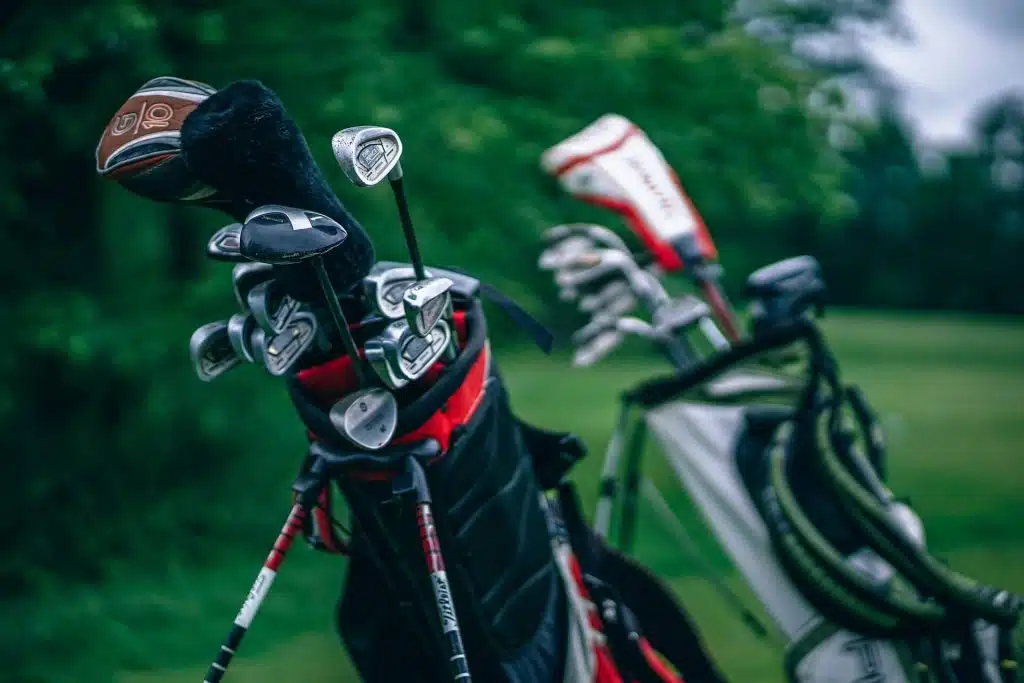 Purchasing 2nd hand golf clubs is always a challenge. Not only do you need to sift through countless options, but you also need to factor in the reputation of the dealer — as well as the condition of the clubs. 
I have listed the core considerations to consider if you are serious about acquiring used golf clubs.
1. Buyer Beware
The first rule is to purchase used clubs from a trusted site. The internet is rife with scams, and the lure of a good bargain is one of the ways unscrupulous people operate.
There are some fantastic deals in the most unlikely places. Do a bit of research and exercise caution to ensure you are buying from a legitimate seller.
A decade ago, I came across an incredible deal on a Titleist Pro Titanium 905T driver. It was listed on eBay, and I ended up winning the bid. The seller contacted me to provide shipping details, and I thought I was set. 
I was looking forward to teeing off with it, but the seller went quiet, and the club never arrived. Fortunately, thanks to eBay's Money Back guarantee, I was protected. As a result, they refunded me. The moral of the story is to be careful and only purchase from a reputable source.
2. If It Looks Too Good To Be True It Probably Is
This old expression is particularly relevant when buying online or second-hand. While you may come across spectacular bargains, if something really looks too good to be true, it usually is, and you should proceed with caution.
Many people are selling counterfeit clubs and golf equipment online. The problem is that when you realize that you have been taken, it is too late, and little can be done. That is why you should buy from reputable dealers or sites with a track record and some form of recourse should you have any issues.
3. Look At The History Of The Site
Some sites, particularly the bigger ones, have controls to prevent nefarious activity. The older and more trusted sites are generally a better bet unless you have confidence in a specific page. If in doubt, a quick Google search will give you feedback.
4. You Do Not Have To Buy a Full Set
You can find complete used golf club sets for sale. However, if you conduct your research and mix and match, you may save yourself a few shekels. 
Buying a driver, woods, irons, and a putter separately over time could save you significantly. You might not need to replace all clubs at once, and this is a cost-effective way to upgrade your existing equipment over time.
5. Sell Your Old Clubs
If you wish to upgrade to better equipment, there may be some value in your existing clubs. If you sell those through one of the many channels we have discussed, it might cover a fair amount of the cost of the new equipment.
6. Check Shipping Costs
Many bargains become a lot more expensive once shipping costs are added. This varies from site to site or across different offers or platforms. Be sure to factor in the delivery cost before making your final decision.
FAQs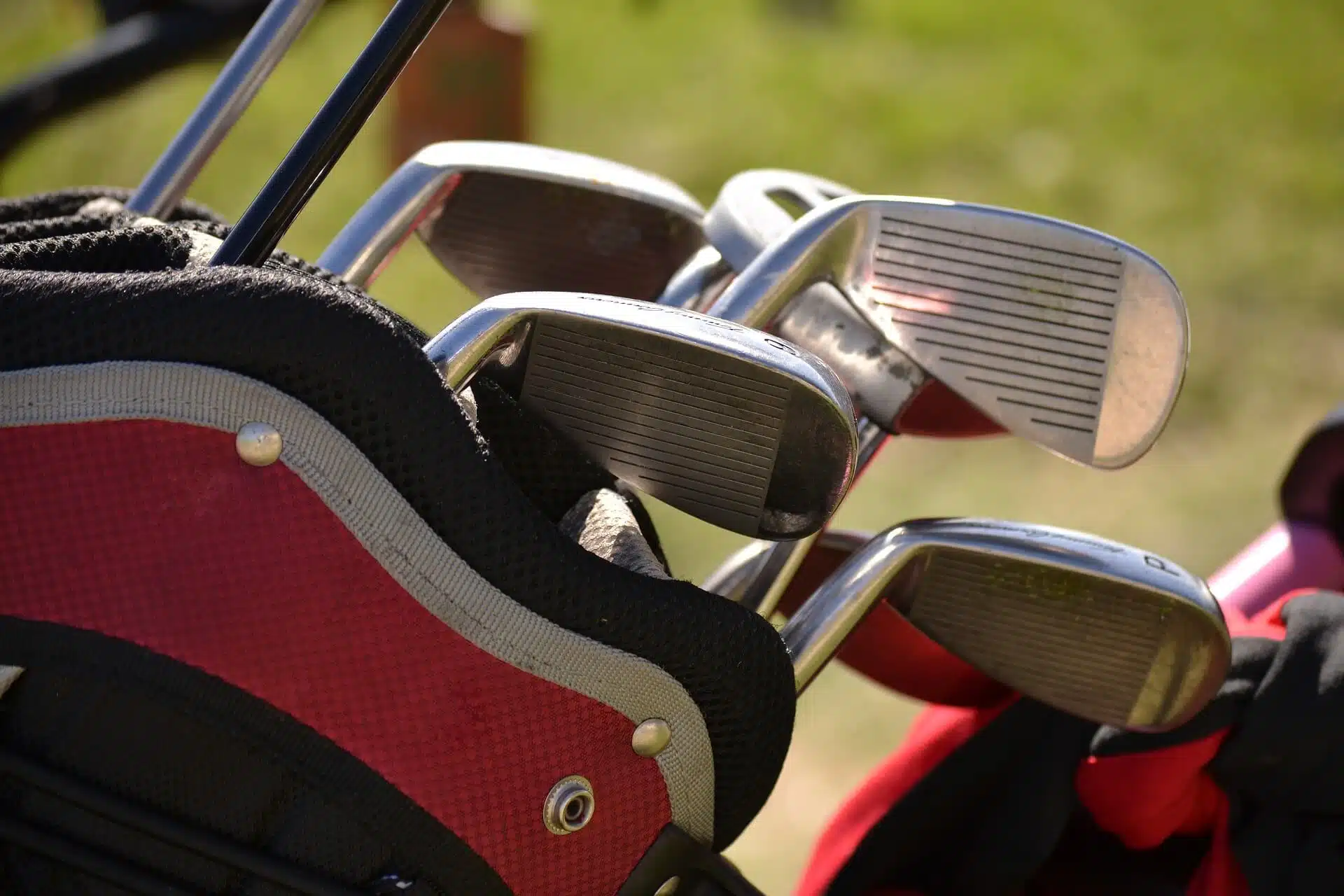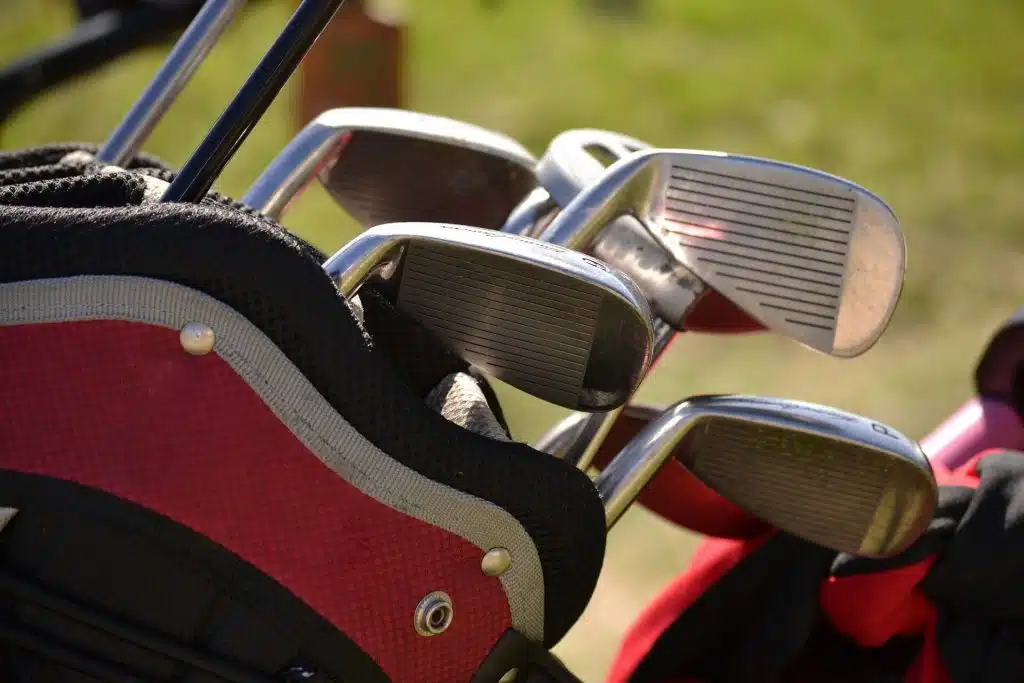 Do You Need To Buy Used Clubs?
What is more important to you? Saving cash? Or acquiring the latest clubs on the market?
Although you will find discounted bargains when buying used golf clubs, there are several new sets of clubs that are highly affordable. 
Look at the more affordable sets or clubs. Many options are quality clubs manufactured by lesser-known brands. However, most renowned producers also offer a selection of affordable options.
It is often less expensive to buy a new set that offers good value than to buy used golf clubs. It is vital to familiarize yourself with the options when evaluating the two.
How Do I Find A Good Second-Hand Golf Club?
If you follow my advice in this article on where to buy used golf clubs, you will find good second-hand club options. From my experience, the best place to look is at your local pro shop or golf warehouse store. 
The reason for this is that these stores check the quality and condition of the clubs before selling them. Secondly, you have the chance to test these clubs before making a purchase.
Are Old Or New Golf Clubs Better?
When you consider value for money, old clubs are better. As a result, you stand a higher chance of finding a set of used clubs that fit your budget. 
However, you may lose a few yards of distance and generate excess sidespin with older clubs. Which Tiger Woods explains in this interview.
Do New Golf Clubs Really Make A Difference?
In most cases, new golf clubs do make a difference. But, Golf.com's Andrew Tursky suggests that purchasing new clubs every one to two years will deliver minimal gains. Especially in terms of distance and spin. 
However, when your clubs are decades old and have endured significant wear and tear, new clubs certainly make a difference.
I recently upgraded my fourteen-year-old TaylorMade r540XD irons solely because of distance. When I got fitted for a set of SIM 2 Max's, I found that I was hitting my 7-iron an extra 12 to 15-yards on average.
Are 20-Year-Old Golf Clubs Any Good?
While my r540 XDs were only 14 years old, they had developed significant wear and tear over the years, which caused me to generate excess side spin. This resulted in a loss of accuracy on any off-center strikes. 
To be fair, it doesn't mean that the clubs are unusable. I just needed to strike the ball in the center more consistently. With that in mind, I would not suggest that you use 20-year old golf clubs unless you are absolutely comfortable with swinging them.
Final Thoughts
If you are keen to buy used golf clubs, it is necessary to do your homework first. 
Don't rush out and buy the first thing you see without weighing up the options. There are some epic bargains around, at online or brick-and-mortar stores. However, there is no shortage of scams or rip offs, so I urge you to be cautious.
The best place to buy used golf clubs is in physical stores like pro shops and golf equipment stores. The reason is that you have the chance to inspect the clubs and test them before pulling out your credit card. These places also have a reputation to maintain and probably won't sell junk. 
However, if you don't have the luxury of a nearby store, stick to purchases from reputable online retailers like Amazon, eBay, or Global Golf. 
Related Articles
Nick Lomas is the founder of GolfSpan, an avid golfer, not quite a pro but has over 15-years of experience playing and coaching golfers from all over the world. His mission is to bring the golfing community a better experience then it comes to choosing the right golf gear, and finding the right set up for your game.