Yes, you can play golf in the rain, provided the conditions are safe. While playing during lightning, heavy downpours, hail, or strong winds is not advisable, light to moderate rain is generally manageable.
Competitive golfers often play through downpours. However, while there are benefits to playing in the rain, there are also several drawbacks to consider.
As a PGA Professional of 15 years and a golf industry veteran of 27, I have often had to play golf in wet conditions, so don't miss any of these tips.
Tips For Golfing in the Rain
Rain Gear is a Must-Have
The best tip for playing golf in the rain is having the right equipment. The following are examples of items you must have in your bag when rain is in the forecast:
Keep Your Equipment Dry
Keeping your equipment, especially your grips, is critical to playing good golf in the rain. Having extra towels with you, being kept dry by hanging under your umbrella, is a great way to ensure you can keep everything dry. Remember to bring extra golf gloves!
Have a Weather App on Your Phone
Having a weather app like AccuWeather with reliable radar and lightning detection is a smart thing to do. This can keep you up to date on what your day will look like on the course as you go. There are countless great weather apps on the market for both iOS and Android.
Adjustments to Your Game
Playing in the rain requires you to make many adjustments to your game. Wet fairways and greens will need you to take on the course in a much different way. You must understand that holes will play longer and be OK with that.
An extra club for approach shots into the green will be necessary. It would help to be more aggressive on pitch, chip, and bunker shots. The same thing goes for putting.
A Positive Approach
The best way to approach a rainy round mentally is to stay positive. Remember, you and your competition are all playing in the same conditions and have the same challenges. Let yourself be content with the idea that your score may be higher than normal, but that will be the case for others, too.
More great info on Golf Span: Best Golf Rain Gear To Keep You Dry
When Should You Never Play Golf in The Rain?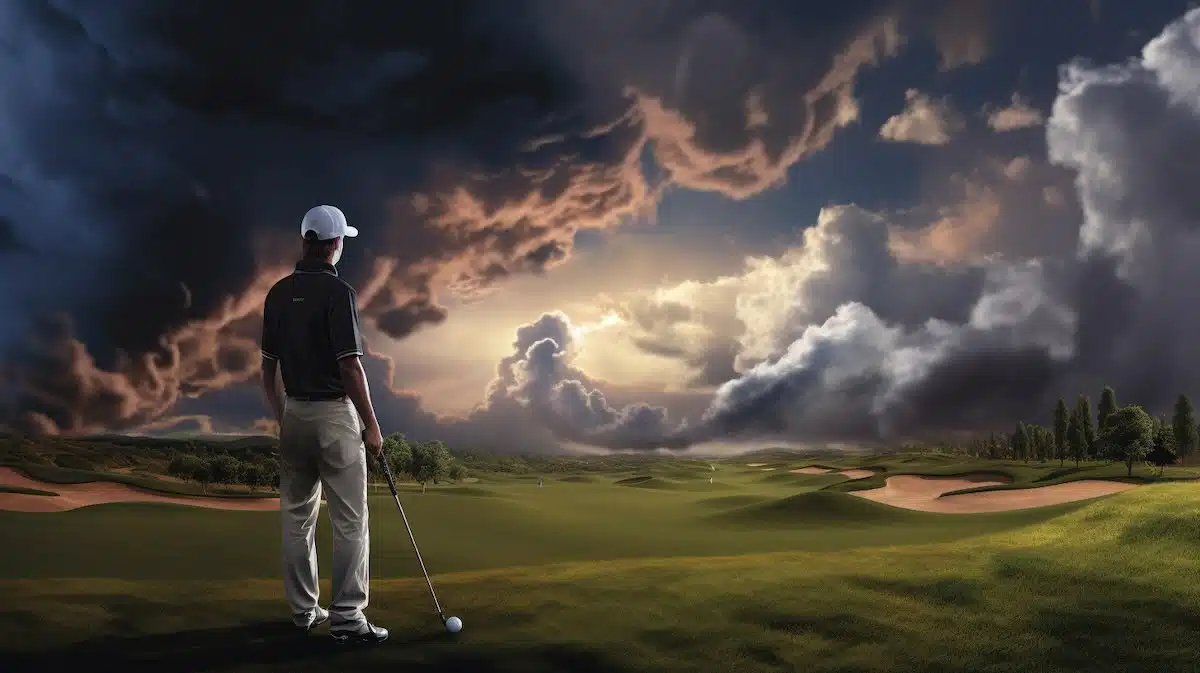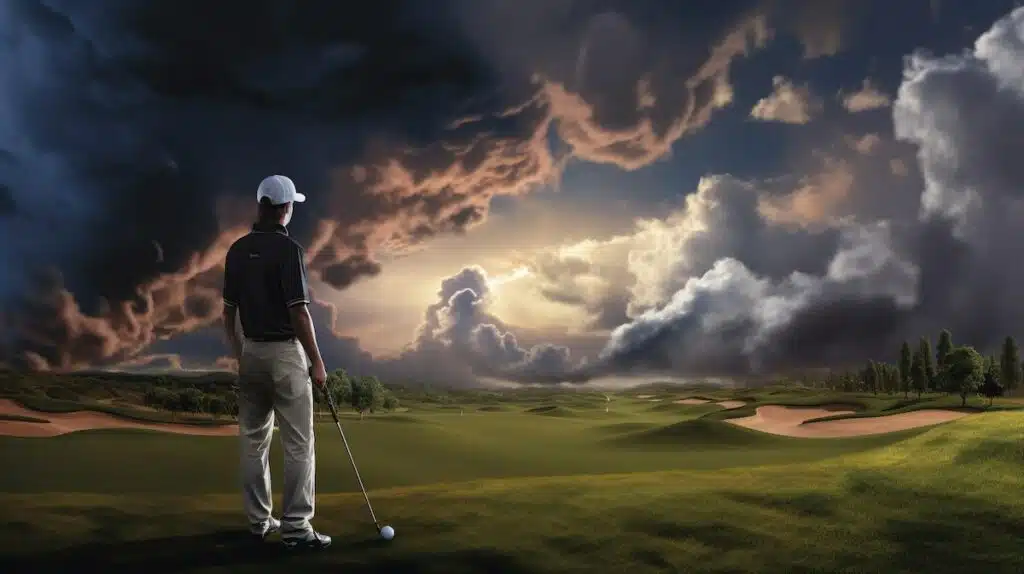 Rain Accompanied By Lightning
You should never, under any circumstances, play golf when lightning is present in the area. Some may say that I am, on occasion, overly cautious when it comes to lightning or the threat of it in the area.
However, did you know lightning often strikes outside heavy rain and may occur as far as 10 miles away from rainfall? This and other lighting facts can be found in the article I wrote for PGA.com: How to Stay Safe in Lightning on the Golf Course.
Too Much Rain Can Make a Course Unplayable and Cause Damage
A golf course can only take on so much rain at any one time or over consecutive days. While each golf course is different and has its threshold for what it can handle, there does come a point when the course becomes oversaturated. Play will often be halted in these situations for a few hours or even daily. In some extreme cases, courses can be closed for lengthy periods due to too much rain.
Playing golf in conditions where the course is over-saturated can cause damage to the turf. Sometimes, that damage can be very costly and create situations where golf holes must be reconstructed altogether.
Check this out: Can You Go to Topgolf in the Rain?
Pros of Golfing in the Rain
Rain usually provides relief on hot days- If you play golf in Florida like I do, you will take all the relief you can get on scorching hot summer days…even liquid relief from the sky!
Rain softens up greens- Softer greens mean you can be more aggressive and start firing at flags more often.
Rain often forces you to concentrate more- For some odd reason, I have always played better in rounds with light or even a more steady rain. This may be why.
Rain can level the playing field- When rain comes, it can really level the playing field and allow golfers, otherwise at a disadvantage for whatever reason, to have a chance to stay in the hunt.
Cons of Golfing in the Rain
More moderate rain can make equipment wet and slick- When your grips, hands, and everything else get wet, a round can go downhill pretty quickly. You need to be prepared in order to press on in these situations.
Rain can soften fairways and make the course play longer- Hitting into softer greens can prove favorable, but hitting into softer fairways can make the course much longer.
Rain can make playing conditions too cold- In some cases, rainy conditions can also bring the temperature down too much and complicate things even more.
Rain can just make you plain miserable- If golf wasn't challenging enough, play with water being dumped on you…
More on Golf Span: Does Rain Affect Golf Ball Distance? Your Questions Answered
The Best Golfers In The Rain
The best PGA golfers in the rain have showcased incredible skill and focus, delivering some of their best shots under challenging wet conditions. Here's a look at these exceptional players and their memorable rainy-day performances:
Tiger Woods: Known for his resilience, Tiger Woods' accuracy under rainy conditions is legendary. His ability to adapt his play in wet weather is a testament to his extraordinary skill.
Ricky Fowler: Exhibiting remarkable control in wet conditions, Fowler's performance in the rain, particularly his putt in steadily falling rain at the 2015 Waste Management Phoenix Open, showcases his adaptability and precision.
Sergio Garcia: Facing a challenging shot in the rain at the 2010 WGC-Dell Technologies Match Play, Garcia executed a superb approach, proving his ability to maintain control and accuracy in wet conditions.
Justin Rose: Playing the third shot at a par 5 in the 2013 Hero World Challenge just before a weather halt, Rose's performance in the rain was impressive, showing his ability to adapt to changing conditions.
Phil Mickelson: His long birdie putt in the rain at the 16th hole at the 1998 Sentry Tournament of Champions is a highlight, demonstrating his exceptional skill in wet conditions.
Check out this video that shares some of the best shots in rainy conditions on the PGA TOUR. It is not an accident that Tiger Woods has a handful of the shots in this compilation…
A great read: Best Golf Bag Rain Covers – To Protect Your Gear
FAQ
Is Playing Golf After Rain Okay?
Yes, playing golf after rain is generally okay. The course conditions may be wet and the greens slower, but it's often feasible to play. Check for course closures, and be prepared for softer fairways and less roll, which could mean the greens are more receptive to shots.
How Should I Dress for Golf in the Rain?
For golfing in the rain, wear a lightweight waterproof jacket and rain pants, like those from FootJoy. Always carry an umbrella and a wide-brimmed bucket hat. Choose waterproof golf shoes with a good grip, such as FootJoy Carbon shoes with a 2-year warranty, and use all-weather gloves for a better grip.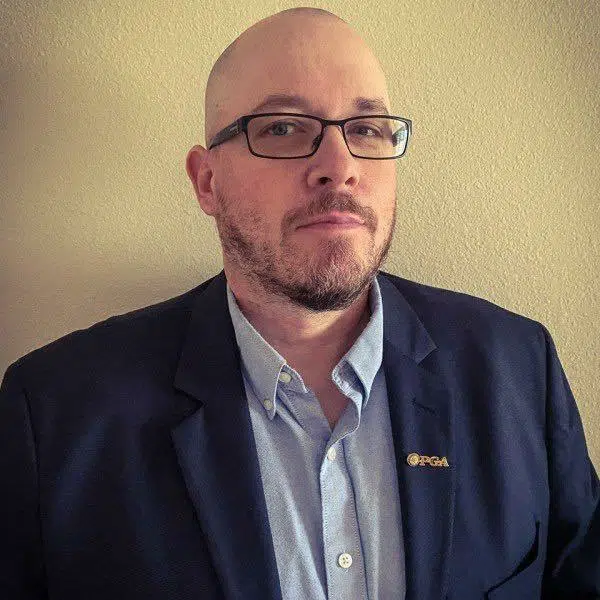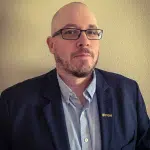 PGA Professional Brendon Elliott is the founder of Little Linksters, LLC, and its nonprofit arm, the Little Linksters Association for Junior Golf Development. He is the winner of 25+ prestigious industry honors, including the 2017 PGA National Youth Player Development award. Brendon is a respected coach, businessman, writer, and golf industry expert.