I have played my share of golf in poor conditions and have learned from my mistakes. That's why I am sharing my recommendations for the best golf rain gear. We will look at golf rain pants, jackets, and the best rain suit.
At a glance: Our Top 7 Picks for Best Golf Rain Jackets 2021
Factors To Consider Before Purchasing Golf Rain Gear
Budget
Rain gear varies in price depending on the type of product, material, and performance in the rain. You can find full rain suits for under $200, while some jackets run you more than $400. If you spend a large portion of your golfing time in the rain, the higher spend may be worth it long term.
If you are on a budget and looking for the best value golf rain gear, keep reading. I have included a few items on this list for you as well.
Waterproof vs Rainproof
The best rain gear is waterproof, not rainproof or water-resistant. Rainproof gear repels raindrops from your jacket, but they become soaked with excessive exposure to water in a short space of time. If the rain in your zip code routinely buckets down, rainproof gear will eventually buckle.
Waterproof technology resists higher volumes of rain at one time. Premium products are likely to be 100% waterproof, and companies like FootJoy give you a two-year waterproof warranty to prove it.
More affordable waterproof rain gear may only resist for a limited time. When shopping, find out how long the jacket can handle constant rain. If the product is waterproof for four hours plus, that will practically get you through 18 holes.
Anything less than four hours is not worth it. Being drenched and cold is not a way to play golf.
Windproof
When it rains, the chances are the wind will be howling. It is advisable to acquire windproof golf rain gear. Protection from chilly wind goes a long way to keeping you warm and dry during a storm.
Before acquiring your golf rain gear, check the specs to ensure that the products are windproof.
Type Of Golf Rain Gear
The golf rain gear category is broad, and you need to think about what will benefit you the most. Does your area experience the odd drizzle, or does it consistently rain cats and dogs?
If you experience the odd patch of light rain, a simple waterproof jacket should do the trick. However, if you are in a high rainfall region, you may want pants and a jacket.
Depending on your preference and budget, it may be worth looking at a full rain suit. The package deal is often more affordable than buying the pieces separately.
Freedom of Movement
One of the issues I had with golf rain gear in the past is how it restricted me on my backswing. There are now a host of options designed to enhance your movement. Thus, making it easier to swing and navigate between holes.
If you feel that you cannot get a full swing in, look for another golf outerwear option.
Best Golf Rain Jackets 2022
Quick Overview: Our Top Picks for Best Golf Rain Jackets 2021
Keeping your muscles warm during wet and cold weather is vital to the success of your round. I have compiled a list of waterproof and windproof jacket options that will fend off the elements while you play.
Columbia Men's Watertight II Jacket offers a lightweight jacket that can keep you dry whether it is only a drizzle or turns into a downpour while traversing the course. This is achieved through the combination of advanced technologies with a waterproof nylon shell and a 100% polyester lining.
To keep the rain away from your body this rain jacket features an abrasion-resistant chin guard, elastic cuffs, and an elastic hem. You can also keep your valuables dry using the two zippered side pockets.
Not only is it waterproof but also breathable to ensure that you do not build up perspiration on the inside trying to keep the water out.
The elastic cuffs combined with the elastic hem provide a snug fit without restricting your movement during the golf swing.
Maintenance of the jacket is effortless due to the Omni-Shield protection that resists the absorption of liquids by repelling moisture and dries quickly. This prevents staining if you accidentally spill any liquid on your jacket.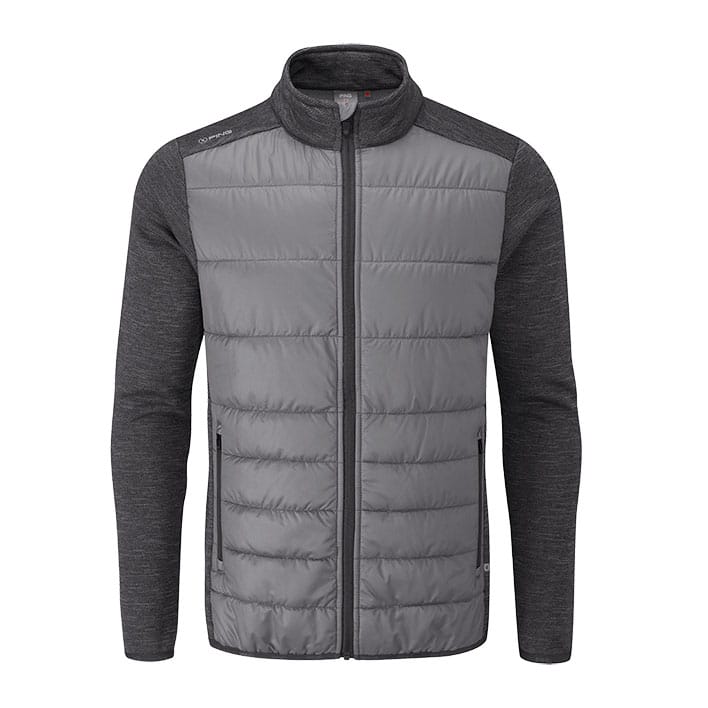 Sizes: S-2XL
Colors: 3
Pros
Thermal properties offer enhanced body warmth
Affordable price for golfers on a budget
Front zip pockets
Excellent freedom on your backswing
Cons
Water-resistant and not waterproof
Better suited for crisp weather
If you are looking for rainwear to keep you warm, it is advisable to consider a Ping Dover Jacket. However, this jacket is water-resistant. That means it can only withstand small does of rain before becoming soaked.
The Dover jacket brings out its best in frosty conditions with little rain. The thermal capabilities of the jacket keep your back and front protected from the elements.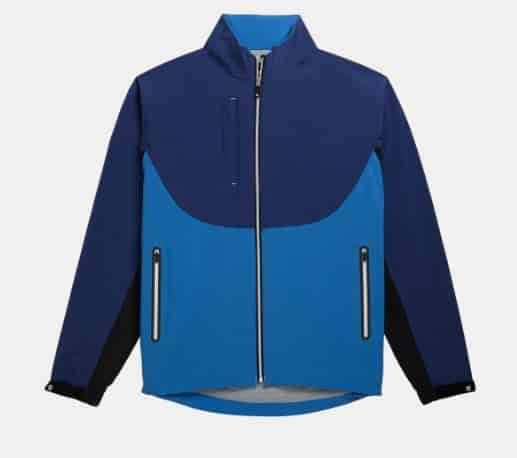 Sizes: S-2XL
Colors: 2
Pros
The 3-layered bonded fabric enables stretchability in four directions to allow freedom of movement while swinging
FootJoy reduced bulk to produce a narrow-fitting jacket
Interior chest pockets to store valuables and your scorecard
Velcro leg closure to enable you to get the pants on and off easier.
Cons
The Tour LTS jacket is only available in only two colors
The jacket only has a waterproof shell, not insulation.
A simple feature makes a world of difference. I am referring to the internal pockets on this jacket. The ability to keep your valuables, scorecard and glove dry is a major plus for this jacket. It fits well, and it does not restrict your swing.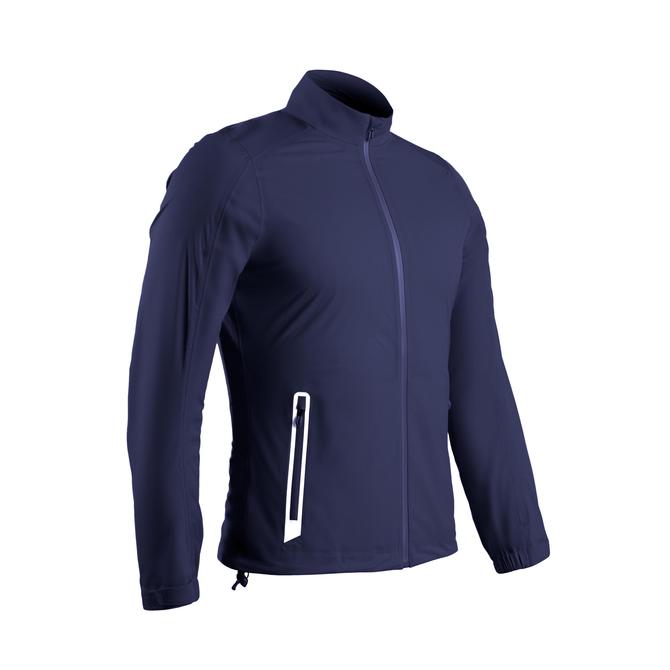 Sizes: S-3XL
Colors: 1
Pros
The jacket is quiet and does not distract you on your backswing or follow-through
Mesh stretch fabric does not restrict your movement
Waterproof for up to four hours wet conditions
Side pockets with zips to store possessions during your round
Cons
If you play in heavy rain for your whole round, the waterproofing may give in
The Inesis Rain Weather jacket is simple but effective. It is a super affordable option if you are on a budget, and it keeps you dry and in play. The jacket's waterproofing will hold for four hours, which shouldn't bother you if you are playing at an appropriate speed.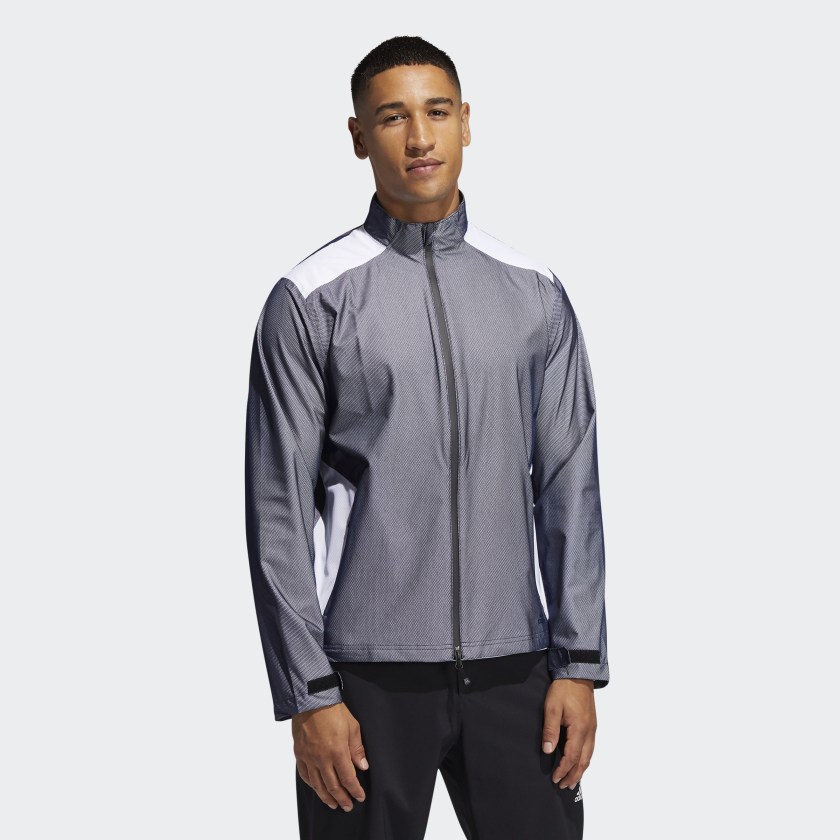 Sizes: S-2XL
Colors: 1
Pros
Front zipper pockets
Affordable price for a waterproof and rainproof golf jacket
100% waterproof
It is compact and fits easily into your bag
Cons
The jacket is only available in collegiate navy.
The Rain.Rdy jacket is simple yet effective Adidas golf rain gear. As far as products in this category go, the price of this jacket is a pleasure.
It is completely waterproof and windproof and comes with front zipper pockets. Keep your phone and scorecard in your pocket and zip it up to protect them from the rain.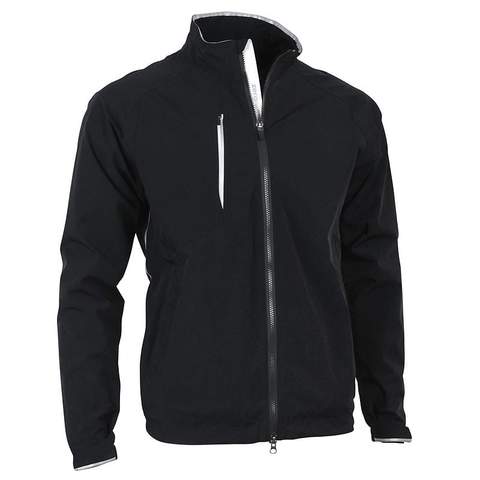 Sizes: S-2XL
Colors: 2
Pros
Waterproof guaranteed for life
Windproof
Adjustable cuffs
Motion tuned for flexibility on your backswing.
Fitted with an anti-chafe chin guard
Cons
Premium price
No pockets
There are only two color options.
This premium Gore-Tex jacket showcases the quality of Zero Restriction golf rain gear. The Stealth jacket is waterproof, windproof, and allows for freedom of movement while swinging.
The jacket includes an anti-chafe guard designed to soften the blow of your chin on the material.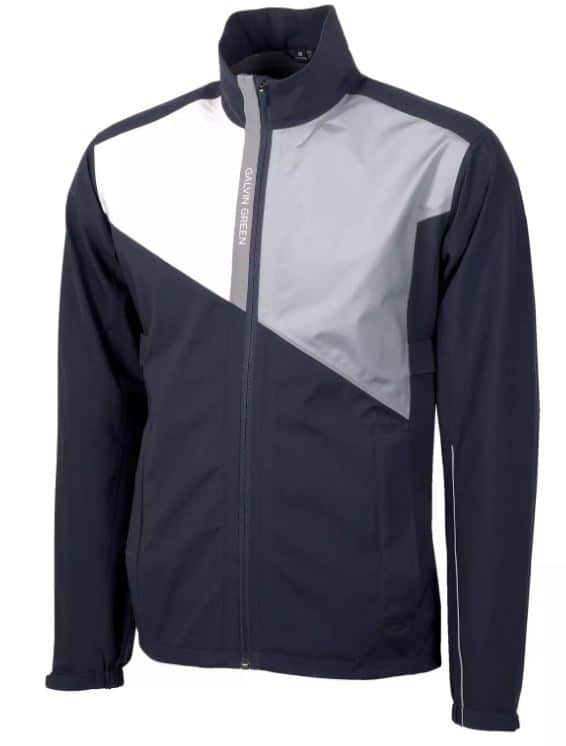 Sizes: S-3XL
Colors: 3
Pros
274-gram lightweight waterproof jacket
Completely windproof
100% waterproof
Full-zip jacket
Enhanced freedom during your swing
Cons
Premium price
There are only three colors from which to choose.
If you have ever been to the UK, the chances are that you got caught up in some rain. That's why when my friends in the UK recommend rain gear, I take their advice.
Apollo jackets demand a premium price for good reason. Galvin Green are experts and have been producing high-performance golf rain gear for more than 30 years. This jacket is waterproof and is made from stretch fabric to provide greater freedom on your backswing.
The finishing touches on the Galvin Green Apollo jacket include front pockets, a full zipper, and adjustable cuffs. My advice with colors is to stick with the darker options. When it rains, there is mud, and that mud is likely to end on your jacket.
Best Golf Rain Pants 2022
Quick Overview: Our Top Picks for Best Golf Rain Pants 2021
If you live in a region with more than 60 inches of rainfall per year, you may need more than just a jacket. Kitting yourself out with waterproof pants is recommended. There are a variety of water and windproof pants on the market from which to select.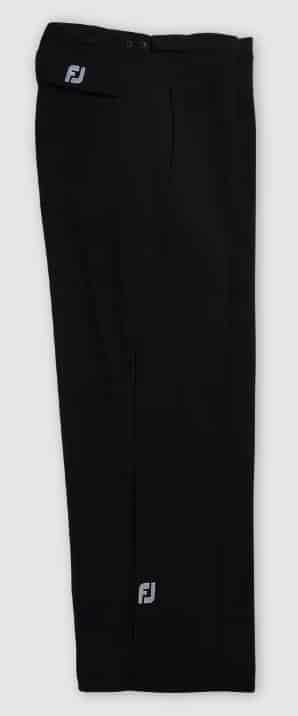 Sizes: XS-3XL
Colors: 1
Pros
Stretchable waistband for a more comfortable fit
The temperature of the pants is regulated
2-year waterproof warranty
Velcro leg closure to allow you to get the pants on and off easier.
Cons
The pants are available in only one color
The price is on the higher side.
These are some of the most technologically advanced pants you may ever own. FootJoy employed the use of a variety of technologies when creating their Hydro Rain pants. The technology used resulted in waterproof, windproof, and temperature regulated pants.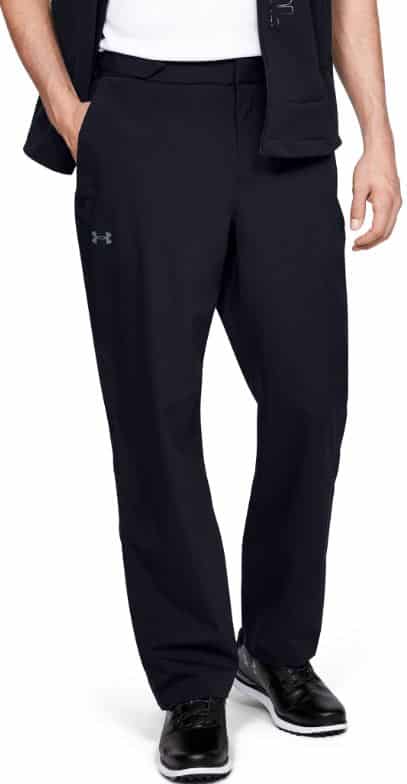 Sizes: M-3XL
Colors: 1
Pros
Low price point
100% waterproof
Smooth exterior
Windproof
Adjustable waistband
Cons
These waterproof and windproof pants are a bargain for Under Armour golf rain gear. They are event kitted with ankle zips, making it easy to pull on and off during a round.
Sizes: S-4XL
Colors: 2
Pros
Completely windproof
100% waterproof
Designed to provide maximum breathability
Elastic waist with a drawstring to adjust to your preferred fit
A wide selection of size options
Cons
Galvin Green Andy Pants is a premium Gore-Tex rain gear product created for the serious golfer. They are windproof, waterproof, comfortable, and provide excellent breathability. It may run you a premium, but the Andy Pants are Galvin Greens best selling item in the category.
If you spend large chunks of your time whacking the ball around in the rain, The Andy Pants may be worth the investment.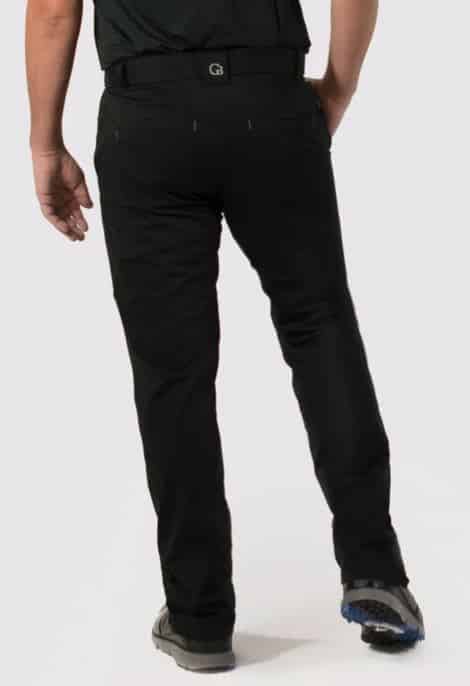 Sizes: 32 x 30 – 42 x30
Colors: 1
Pros
Waterproof
Windproof
Pockets are 1″ deeper than other pants ensuring your scorecard is kept dry.
Suitable for wearing off the golf course
Fitted with an anti-chafe chin guard
Cons
The All-Weather lined pants are an affordable item of Galway Bay rain gear to own. They are made using a temperature-regulated material. It helps them to stay 30° F from the first tee into the 19th hole.
The deep pockets will allow you to keep your scorecard and glove dry, and the pants themselves are waterproof and windproof. Finally, the lightweight nature of the pants allows free-flowing movement when swinging.
Best Golf Rain Suits 2022
Quick Overview: Our Top Picks for Best Golf Rain Suits 2021
It is worth considering a golf rain suit if your course tends to attract atrocious weather. Having a warm jacket on will be of no help if your cotton pants are soaking wet.
A full rain suit will keep you dry and allow you to concentrate on your golf game, not how cold you are.
1. Nike Golf Storm-Fit Rain Suit
Sizes: S-3XLColors: 1
Pros
Comfortable suit to swing in
Resistant to rain penetration up to 10,000 mm
Full rain suit that includes the jacket and pants
Zip pockets on both the pants and jacket to keep your belongings dry in the rain
Adjustable elastic waist allowing you to adjust the pants to a comfortable fit
Cons
The only full rain suit to make our list of the best golf rain gear. Based on the prices we have seen for waterproof jackets, you can't be upset about the cost. It is light and compact and does not take up much space in your golf bag.
Mesh lines the pants and jacket, while mesh vents are inserted in the chest and back, giving you a breathable rain suit.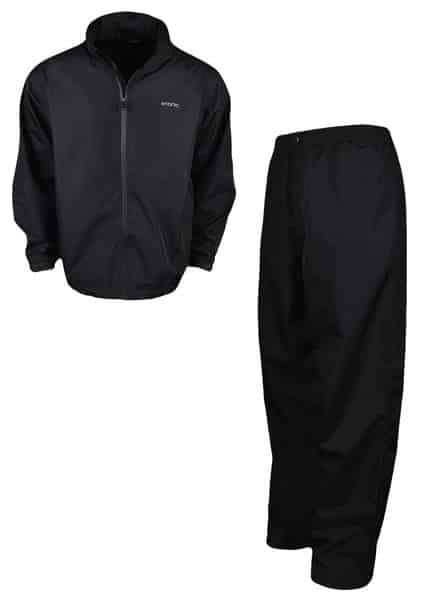 Sizes: S-M
Colors: 1
Pros
Excellent value for money
Removable sleeves for humid, wet conditions
Special inside pocket fitted for your scorecard
Waterproof and Windproof
Cons
It is available in one color
There are only two size options, making it unsuitable for anyone wearing a large and above.
The Etonic waterproof rain suit offers you incredible value for money. For less than $100, you can pick up a rain suit that is both waterproof and windproof.
The rain suit comes equipped with a special pocket inside the jacket to keep your scorecard dry and removable sleeves. If you are on a tight budget and live in a high rainfall district, I recommend trying on the Etonic waterproof rain suit.
Final Thoughts
The next time you book a tee time, be sure to check the weather forecast and prepare accordingly for wet conditions. If you don't have the attire already, you can refer back to our best golf rain gear review for guidance.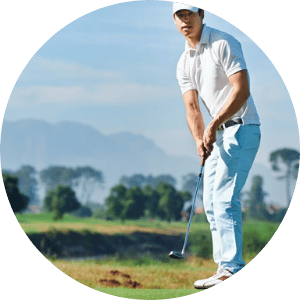 Nick Lomas is the founder of GolfSpan, an avid golfer, not quite a pro but has over 15-years of experience playing and coaching golfers from all over the world. His mission is to bring the golfing community a better experience then it comes to choosing the right golf gear, and finding the right set up for your game.