To stay on top of your golf game and especially putting, you must practice regularly. When the weather or working conditions do not allow for time to get to the golf course or driving range, it is important to have one of the best indoor putting greens and putting mats to fine-tune your putting stroke.
Here Are Our Favorite Indoor Putting Greens: 
VariSpeed Putting System – Best Overall Putting Green
PuttOut Pro Golf Putting Mat – Best Portable Putting Green
SKLZ Accelerator Pro Indoor Putting Green with Ball Return – Best Ball Return Putting Mat

Effortless setup and break down 

Perceptible trace lines displaying the path that the ball traveled

Speed and undulation management

Extremely portable

Rolls up and stores in a carry bag

Simple to follow alignment and distance markers

Excellent customer service

Awesome quality at the price

No ball return functionality

Relatively expensive

Not the heaviest of the mats resulting in edges lifting off the ground

No backstop resulting in balls rolling off the back

Ball return feature is lacking

Lacks features provided by top-end competitors

Needs quite a bit of space
Research Parameters
Golfspan is independent and not pressured or paid by manufacturers to recommend products. These products were selected by our team, who have over 50 years of experience playing golf and hundreds of hours reviewing products. We may earn an affiliate commission when you purchase something through our retail links at no extra cost to you.
We've looked at these products based on:
At a glance: Our Top 5 Picks for Best Indoor Putting Mats
What is an Indoor Golf Putting Green or Putting Mat?
An indoor golf putting green is a mat coated with a mock turf surface that simulates putting greens found on golf courses. These mats are offered in a diverse range of shapes and styles, providing you with an all-round experience of what can be anticipated in real life.
They generally comprise of gradients, flat surfaces, and raised perspectives for enhanced speed control. There are mats available that will aid you in refining the alignment of your putter and feet.
Golfers worldwide have experimented with every conceivable area available to simulate putting on various surfaces to mimic putting greens conditions as closely as possible.
Choosing the best home putting green to cater to your needs will not be an easy task, but once you have selected the correct one, you will realize the benefit of having your own putting green at home.
We aim to provide you with some guidelines to consider when selecting the right putting green for your home below.
Will Using A Putting Green Improve My Skills?
Regular practice with a putter is vital in honing your putting skills sharp and having a putting green at hand to putt on at any time of day or night, no matter what the weather is, will certainly preserve if not improve, your putting skills.
Is a Putting Green Essential?
Although you can turn any surface into a putting surface, this will not give you the natural feel you will experience on dedicated home putting greens. 
The importance of putting skills cannot be denied. It is probably one of the easiest ways to improve your score.
How Should I Practice My Indoor Putting?
Putting is all about repeating the stroke, reading the lines, and the speed of the putt. Always set an objective. Set the aim to sink a set number of balls. For instance, 5 balls in a row from a preset distance like 3 feet. Then move on to the next distance. 
If you miss a putt, start again until you hole out all the balls at the distance you are on. This video will give you some handy putting practice tips.
What to Look For in a Putting Green or Putting Mat
To find the best putting mat, you should consider the following factors to find the ideal option for your needs. 
Quality of Surface
Mats that are thinner and lower in density are much less likely to provide you with a good feel as to what it is like putting on an actual green. The ball will not roll quite like it would on a green and could upset your rhythm and speed when you get to the golf course.
Thicker and denser mats constructed from synthetic materials will mimic the feel of the actual green closely and allow you to hone your putting skills to suit the real situation.
The synthetic materials used in the construction of the greens will furthermore provide more protection to your putter than a normal carpet or tile will do.
Portability and Storability
Unless you are one of the 1% of extremely fortunate people, space will be at a premium, and you will have to move the putting mat and store it when not in use. 
For this reason, you should consider the size of the mat that you want to make part of your practice equipment and whether you can roll it up into a sensible size for storage. The mat should also be of suitable size that you can take it outdoors on a sunny day and allow you to practice in the fresh air.
Several mats provide additional functionality, such as a ball return cup or undulations, which will influence your storage capacity.
Is it Easy to Use?
You want to practice your putting stroke and enhance your putting skills and not spend hours setting up the practice mat. Evaluate the time it will take to sink your first putt from the time you get to the golf mat. 
Furthermore, keep in mind that you will, in all probability, have to roll up the mat after practice and place it back into storage.
Other than the setup and breakdown features, look out for functionality to ensure that you get the most out of your practice time, instead of walking up and down collecting balls.
Most Desirable Characteristics?
The alignment feature will aid you in getting your alignment and setup fine-tuned. This is probably one of the most desirable characteristics that you will find in a golfing mat.
The next feature to look out for when evaluating the best indoor putting green for 2023 is whether it provides information on the distance to the hole. This will aid you in getting your speed set for certain distances from the hole.
A ball return feature will kick the ball back to you once it falls into the cup, which will save you a lot of time.
The Steadiness of the Mat
The majority of golf mats have some resin on the bottom side to prevent them from slipping or moving around once it is set for a practice round. 
In addition to keeping the mat immobile, it adds an extra coating of material for enhanced structural integrity. At the same time, it diminishes the possibilities of the mat curling over at the end and producing folds in the surface when folded up for storage.
Maintenance
A meticulous maintenance procedure will keep the synthetic grass performing like it is fresh and new. Prevent any dirt and grime from coming in contact with the mat while in storage. 
Purchase the essential tools to rake and sweep the turf clean before storage. Keep the mat as dry as possible to prevent mold from building up while not in use. This maintenance routine will protect your mat from deteriorating at a rapid speed.
Quick Overview: Our Top Picks for Best Indoor Putting Mats
The 5 Best Indoor Golf Putting Greens and Mats
We read countless reviews as well as feedback, both positive and negative, from customers that have bought and used the leading options. This allowed us to give you unbiased and accurate feedback. Here are our top 5 picks.
1. VariSpeed Putting System – Best Overall
Pros:
Effortless set up and break down the process
Perceptible trace lines displaying the path that the ball traveled
Speed and undulation management
Cons:
No ball return functionality
Relatively expensive
Not the heaviest of the mats resulting in edges lifting off the ground
Performance
A great and versatile putting mat that may require some maintenance to keep the functionality of speed and traceability available after every 12 shots.
Features
A trail is left on the mat as the ball rolls over it, thus allowing you to view the route that every putt has undertaken. This allows you to evaluate the influence of speed differences on your putt should you have some sloping built-in.
It allows the ability to build in some undulations to respond naturally to how the ball will break on slight undulations.
Speed
The major feature offered by the VariSpeed system is the option to enhance your speed control by effortlessly changing the stimp reading setting by brushing the green in a particular direction and thereby controlling the speed between 7.5 and 13.
Size
As one of the most complete and comprehensive putting systems on the market, the VariSpeed putting system provides everything required to promote a great putting stroke and more holed putts. It measures roughly 10 feet long and 1.5 feet wide.
Verdict
Even with some adverse comments, this is a major contender to be rated as the best overall golf putting mat available.
On the downside, some features are absent, making this an even better putting system. There is no slope built-in towards the hole to slow the ball down. This is substituted by a thick rubber section and backstop, preventing the balls from rolling off the back of the matt.
Our rating: 4.5/5 Stars
2. PuttOut Pro Golf Putting Mat – Best Portable Putting Green
Pros:
Extremely portable.
Rolls up and stores in a carry bag
Simple to follow alignment and distance markers
Cons:
No backstop resulting in balls rolling off the back
Ball return feature is lacking
Performance
This is an excellent quality golf mat where the roll is true. It rolls up small and is stored in a carry bag for high portability. The price is low, making it a highly competitive golf mat that will find many golfers adding the PuttOut to their golf training gadget regimes.
It is designed as an unpretentious and efficient training aid. It offers a quality golf mat that will retain its quality even when stored, unlike many of the lesser quality mats available today. It is manufactured with a hard-wearing heavy rubber backing to smoothen it out on most surfaces. 
Speed
The quality cut-pile mat is planned to truthfully mimic a medium-to-fast green running at approximately 10 on the stimpmeter.
Size
It measures 7.87 feet long X 1.64 feet wide and comes in green and grey, featuring its logo on both ends. 
Verdict
A graphic prompt indicates the putter's path throughout the stroke for the best result. This comes in the shape of a "gate" marking that runs vertical to either side, and there are 7 markings that are one foot apart to aid in distance control.
The compact size that it rolls up into makes it extremely portable and easy to store.
Our rating: 4.5/5 Stars
3. SKLZ Accelerator Pro Indoor Putting Green with Ball Return – Best Ball Return Putting Mat
Pros:
Great ball return feature
Training guides with alignment and distance markers help with accuracy
Slim and compact with effortless roll out the mat
Extremely durable surface
Cons:
The steep slope before the cup
Plastic on ball return mechanism is flimsy
Performance
This is an incredibly useful product with a ball return system that will return balls to your feet even on missed putts.
Speed 
There is a steep upslope at the bottom of the cup and combining the upslope and the true-roll surface, it successfully mimics the speed required to hole putts from approximately 9 feet on an actual green.
Size
The SKLZ Accelerator putting green is a highly popular putting mat and measures 9 feet long X 16.25 inches wide, making it ideal for narrower areas. It can be quite comfortably be set up in most homes and garages.
There are markings set at 7 feet, 5 feet, and 3 feet for honing your distance and alignment skills and practicing holing putts from these distances, considering the steep incline before the cup.
Verdict
Whether you hole your putt or even miss it slightly, there is a ball return mechanism that utilizes the slope and runs the ball back to your feet every time. This will save an extraordinary amount of time.
SKLZ Accelerator Pro Indoor Putting Green is highly rated as the best indoor putting green with ball return functionality.
Our rating: 4.5/5 Stars
4. Shaun Webb's Golf Putting Green & Indoor Mat – Best Budget Putting Mat
Pros:
Excellent customer service
Awesome quality at the price
Cons:
Lacks features provided by top-end competitors
Needs quite a bit of space
Performance
This putting green was designed and developed by one of Golf Digest's leading golf coaches, Shaun Webb, who is a published writer and has now entered the golf putting green market.
Speed
There is a natural elevation built into the golf mat, resulting in a true roll, and you can rely on the ball traveling in the direction that the putter has pointed it.
Unlike some competitors, this golf mat has 3 holes providing multiple options to reach the different holes from the same point on the surface. There is a slight uphill section just short of the hole to slow the ball down and enhance the speed control.
Size
Measuring in at roughly 9 feet in length X 3 feet in width, it also comes with an elevated putting area. It is one of the larger golf mats on the market and will demand a sizeable volume of storage space. Fabricated from high-quality materials pushes the price into the upper limits and makes it too expensive for many golfers.
Verdict
This is a high-end golf mat produced from quality golf materials that will provide you with a very realistic experience.
The use of the more expensive high-quality materials promotes an extremely realistic feel of what you can expect on the golf course. The material is a lot tougher than cheaper alternatives, thus making the putting experience a lot more convincing. It will aid you in improving your stance and tempo during the backswing and follow-through.
Our rating: 4.3/5 Stars  
5. Abco Tech Golf Putting Green Grassroots Mat – 9ft x 3ft – Most Versatile Putting Mat
Pros:
Durable mat
Long alignment line, multiple cup positions with smaller than standard sizes
Two different sized cups
Includes three free training golf balls and a mini cup flag
Portable and durable for easy rolling and longevity
Cons:
No real backstop
Too narrow for some
Pricier than other similar versions
Performance
There are two cups of varied sizes for improved performance measurements and will aid you to work on various aspects of your putting. The first cup measures 4.25 inches in diameter, the standard cup size found on golf courses. The second cup at the end of a marked line is smaller and will test your putting skills. This will aid your alignment and provide immediate feedback on whether you can keep your ball straight.
Speed
There is no ball return system on this specific model, but the long grass around the cup serves a dual purpose to provide the look and feel of an actual green while also serving as a stopper for putts that are struck slightly too firm.
Size
The Abco product range for putting greens is quite extensive, and we will look at the Grassroots Mat. It measures 9 feet in length X 16.25 inches in width. This makes it a perfect fit for long and narrow areas such as a hallway or garage. 
It is very flexible, making it effortless to roll up and store. The mat is fabricated using PP synthetic turf putting that mimics real grass.
Verdict
The Abco range will cover most requirements, and the model assessed will test your putting skills from various distances and your accuracy with a smaller cup.
Our rating: 4.3/5 stars
FAQs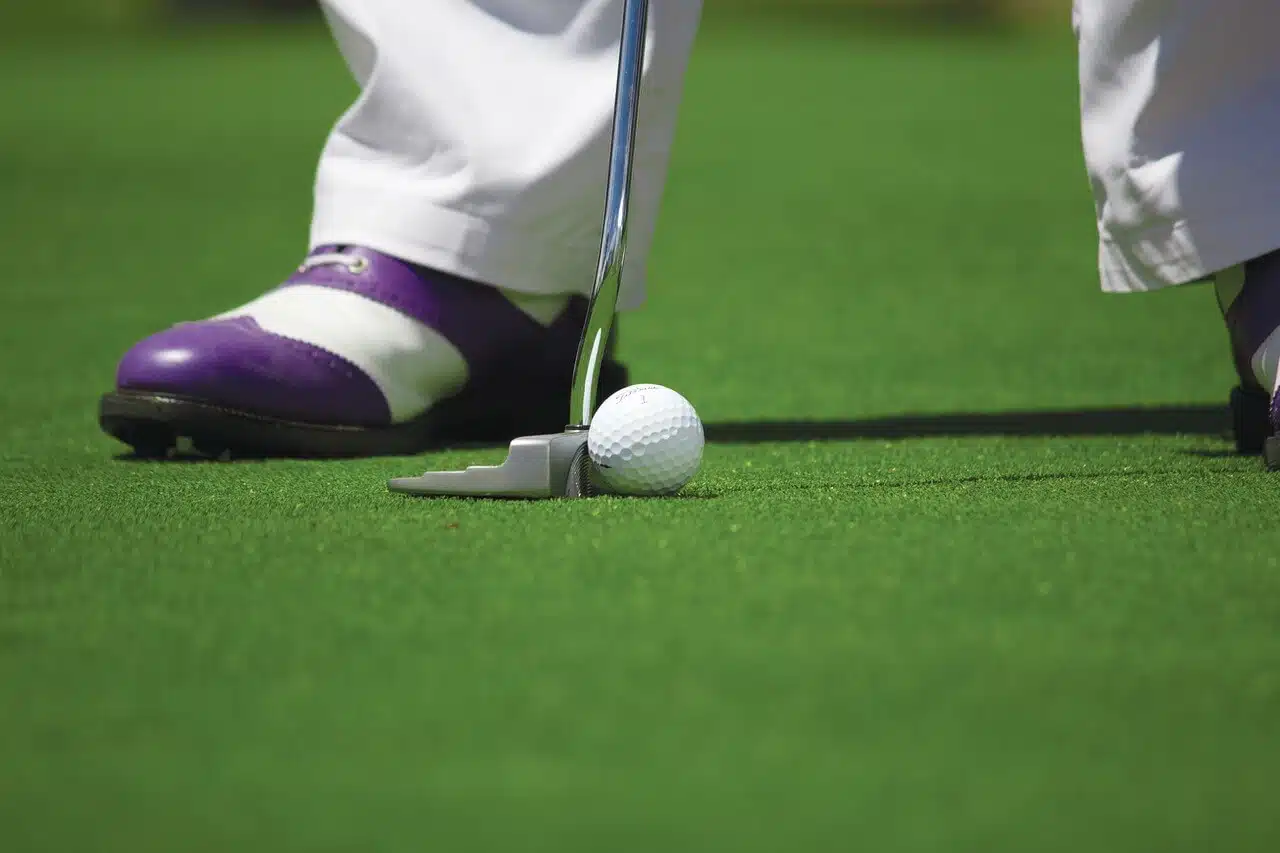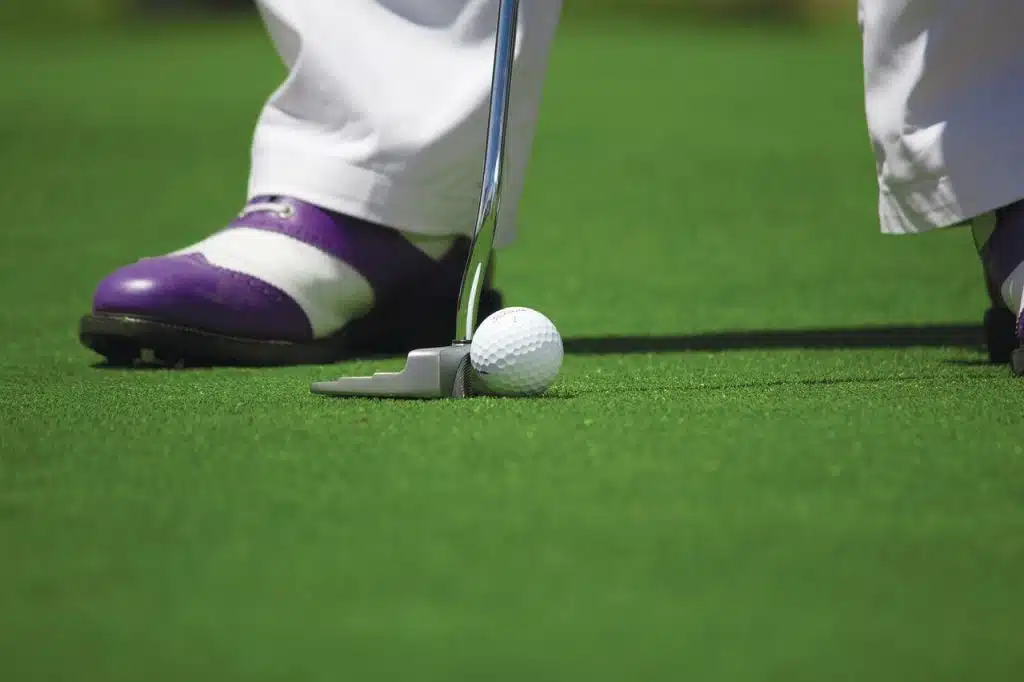 What putting mats do the pros use? 
Tour Links Indoor and Outdoor Premium Putting Greens are ideal for practicing your putting indoors and outdoors and have a large surface area spanning 8 feet by 12 feet.
Lay the green across the lawn to mimic natural slopes, or place it dead flat to ensure your stroke is pure. Pinehurst comes with two cups, two pins and can help any player from beginner to Tour pros.
It comes standard with a speed of 11 ½ on the USGA stimpmeter, which is close to the average speed on the PGA Tour.
How fast is the perfect practice putting mat? 
The best indoor putting mats will enable you to set the speed between 11 and 14 on the stimpmeter allowing you to practice for medium and slick greens.
Does an indoor putting green help? 
Indoor putting greens will help you improve your putting skills even in the freezing winter months when outdoor practice is near impossible.
Why do practice putting greens have a slope?
To produce an authentic experience, some putting mats allow you to set some undulations between the ball and the cup.
You are extremely unlikely to putt on a perfectly flat surface on the golf course; hence you need to practice speed and alignment on undulating putting greens.
Final Thoughts
Golf equipment manufacturers have become extremely innovative in providing golfers with equipment to hone their skills in the comfort of their own homes. Putting is one department of your game that could easily fall off its peak if not practiced regularly, and the variety of golf mats available on the market will be able to provide you with a full test of your skills.
The VariSpeed Putting System is the best all-round practice golf mat that will allow you to test your skills at a wide range of measurements while it allows you to build some undulations into the path the ball has to travel. 
Furthermore, it will track your ball's path from the time of impact until it drops into the cup.
Some other options for the best indoor putting green models include the PuttOut Pro Golf Putting green, the SKLZ Accelerator Pro Indoor Putting Green, and the Shaun Webb – Golf Putting Green & Indoor Mat. There is something to suit all styles, spaces, and budgets.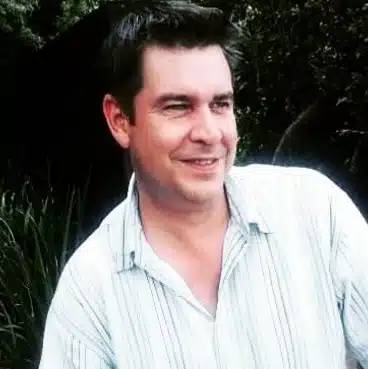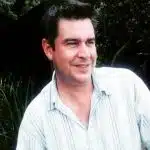 Charl is an avid golfer who studied marketing and advertising. He is fascinated by new technology in golf equipment and the mechanics of the perfect swing.