There are great golfers and then there are 'scratch golfers' The difference between the two is a lot further apart than you might have imagined. To be able to call yourself a scratch golfer is one of the greatest, yet hardest goals to achieve in the golfing world, and one that not many will ever obtain.
If you ever wondered what exactly is a scratch golfer, and what it takes to become one then we have the answers below.
What Does The Term Scratch Golfer Mean?
According to the USGA "A male scratch golfer is a player who can play to a Course Handicap of zero on any and all rated golf courses. A male scratch golfer, for rating purposes, can hit tee shots an average of 250 yards and can reach a 470-yard hole in two shots."
They go on to explain that "A female scratch golfer is a player who can play to a Course Handicap of zero on any and all rated golf courses. A female scratch golfer, for rating purposes, can hit tee shots an average of 210 yards and can reach a 400-yard hole in two shots at sea level."
So, to be a true scratch golfer your handicap should be at least 0, and maybe even a negative number. To put that into context, to become a professional golfer a man needs a handicap of 4.4 or better, and a woman needs a handicap of 6.4 or better.
A scratch golfer in basic terms should be able to play on any given course and at least play to the par of the course if not one or two under par. If you have played with a single handicap player you will know how good they are, and you may now start to understand how good a scratch golfer is.
Some Scratch Golfer Stats
They can hit over 60% of greens in regulation. This means they can hit the green in at least two under par
They will find over 50% of the fairways with their tee shots
Average 1.67 putts per hole (No three-putts here)
A scratch golfer can achieve over 50% in scrambling (The percent of the time a player misses the green in regulation, but still makes par or better)
They can get it up and down from the sand 59% of the time
And they have an average driving distance of 251 yards
You can see from the stats that a scratch golfer doesn't have the 'perfect' game, and in fact, there is no such thing. Professional golfers winning week in, week out are still missing fairways and will have the odd three-putt.
What the statistics show is that a scratch golfer has a very consistent and steady golf game. They are not necessarily making birdies on every hole or sinking every putt from 25ft. What they are doing is managing every aspect of their game calmly, consistently, with an enormous amount of skill and self-belief.
A Scratch Golfer's Mindset
Ben Crenshaw once said "I'm about five inches from being an outstanding golfer. That's the distance my left ear is from my right"
 How you approach the game mentally is equally as, if not more important than what you do from a physical standpoint. What sets a scratch golfer apart is not just how much belief and confidence they have in themselves and their game, but their resilience to, and knowledge that they can recover from a bad shot.
They know that if they have missed the fairway with a tee-shot, or pulled it left and missed another green in regulation that they can still make par or maybe better.
The average golfer will dwell on a bad shot, which will often lead to another bad shot. A Scratch golfer will very rarely hit two bad shots in a row and certainly won't let one bad shot get to them, they know how to recover extremely well and will always look at their next shot positively.
What Does It Take To Become A Scratch Golfer?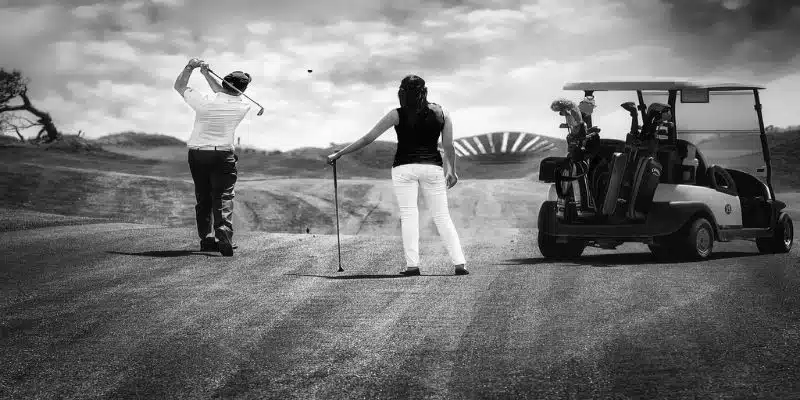 As you can see from what we have already discussed, becoming a scratch golfer is no easy task. The USGA stats show that approximately 2% of players in American play off a handicap of 0. That means that two out of every one hundred golfers play off scratch. I would assume that the stats are very similar from a global point of view.
If joining this select crowd is a goal of yours then don't let these figures scare you, but you must be prepared to put a lot of hard work and dedication into your golf game and your mental attitude towards the game.
We all want to be the best players we can be and so there is absolutely no harm in trying to replicate the discipline a scratch golfer applies to his or her game. Let's take a look at what you can do to start your journey towards the golfing holy grail.
Have Lessons
Bubba Watson excluded I don't think there is a professional golfer out there who doesn't have or at least has had a swing coach. These are golfers playing with handicaps even better than scratch so there is not much chance that you are going to achieve the goal without a little help from a professional.
Even if you currently play off a low single figure handicap, a pro is no doubt going to be able to see something in one area of your game that they can help you improve on bringing you closer to that zero handicap.
Mastering Your Short Game
The short game is probably the most important part of the golfing game no matter your handicap, and if you can improve upon this then your handicap will start to drop significantly.
Ensuring you don't three-putt, and being able to chip and pitch your ball close enough to the hole to give yourself that birdie chance or par save is a necessity in achieving a scratch handicap.
Most golf courses have short game practice areas and you can even buy a putting matt for your home to get those extra hours of practice in when you are not playing.
Ensuring You Have The Right Equipment
If you have hit a plateau with your handicap it might be time to check your gear. Ensuring that you are using the correct flex in your shafts, have the right loft and lie angles in your club heads and are playing the best clubs for your personal game is another important aspect to remember when trying to become a zero handicap golfer.
Keep Track Of Your In-Game Stats
If you are serious about getting to a zero handicap then recording your stats will go a long way in helping. Keeping track of how many fairways you hit, sand saves you made, putts dropped and how far you are hitting each club are all important to improving your game.
Not only will this help you monitor your own progress and see maybe where you think you can improve, but it is also valuable information to be able to give to your swing coach in order for them to know which part of your game to focus on during your lessons.
There is a fantastic gadget that can do all of this and more for you. The Shot Scope V2 will automatically track your performance using state of the art technology, and it also doubles as a GPS.
Physical And Mental Fitness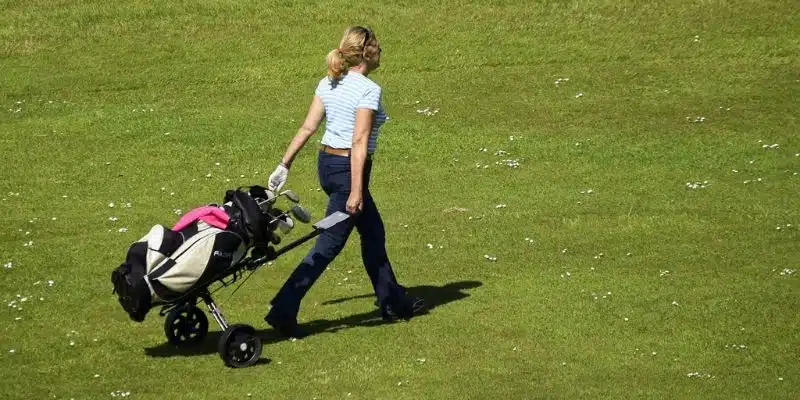 If you are serious about becoming the best golfer you can then not only do you need to work on your swing,  but you also need to ensure that you are both physically and mentally fit. Staying sharp for four-plus hours during your round is equally as important as your actual golf game.
Try and Introduce an exercise plan into your daily routine. It can simply be a few golf-specific exercises that help with your flexibility and core strength. This will help give you more power, balance, and strength, which in turn will help give you more distance.
Staying fit will also help with your mental attitude on the course. Ensuring you make the right decisions shot wise, and stay calm under pressure.
Managing The Risks On Course
A scratch golfer's approach to the game is also very important. You have to remember not to try and be a hero with certain shots. If you are in trouble for example and you think you can pull off a 'Seve' special, think what will happen if it doesn't work out, and what the safer shot may look like.
The best players in the game aim to simply keep the ball in play at all times to help them reach their goal which is always the green. No showing off just working out in your head what shot will give you the best chance of saving par instead of a double bogey.
Most scratch golfers manage the risks on course by choosing the right club for the right situation and ensuring that they pick out targets which will enable them to limit their mistakes and give them the best chance of scoring.
And Don't Forget To Practice
Most importantly, if you are going to try and join this elite handicap club then you are going to have to put the work in. It is not just about the time you spend on the course or with a pro. You need to be doing some form of practice every day.
Range sessions, workouts, putting practice in your living room, or going to your local club for an hour after work to practice your bunker shots. A scratch golfer does not get to where they are by luck, or by playing the odd round here and there. They are dedicated to some form of practice every day.
Another important point to remember is to always try and play with a golfer better than yourself. Just watching how a lower handicap golfer works their way around the course can give you a great insight into what is needed to help reach your goal.
Final Thoughts
Scratch golf requires a well-rounded golf game, mental toughness, wholehearted belief in yourself and your game, and these things certainly don't come easily or quickly. This is why it is one of the hardest goals for any golfer to achieve, and why such a low percentage of golfers get there.
You have to ask yourself if you are willing to put that much time and effort into your golf game. For most golfers, the answer would be no as it would impact the other aspects of their daily life too much.
In your quest to become a scratch golfer you must remember why you started playing the game in the first place, and that the main aim is to have fun out there on the course.
Golf is a getaway from the stresses of life for most amateurs, and setting yourself the goal of trying to become a zero handicap player opens up a whole new world of stress.
You may find however that you have started to put the effort in, your handicap is dropping quickly and you want to make that final push towards joining the elusive 2% club. That is absolutely fine, and best of luck to you.
The most important things to remember are to try and always keep improving and always manage your expectations. These are key to becoming a happy and successful golfer.
Nick Lomas is the founder of GolfSpan, an avid golfer, not quite a pro but has over 15-years of experience playing and coaching golfers from all over the world. His mission is to bring the golfing community a better experience then it comes to choosing the right golf gear, and finding the right set up for your game.