When you think of golf courses, you probably just think of 18 holes, fairways, and greens – but there are many different types of courses. Links golf courses are one style, but there are also parkland, desert, and even executive courses. 
With that said, what is a links golf course? A links golf course is named after the land it sits on and was originally created in Scotland. Links are a type of terrain in Scotland, meaning sandy dunes, so these courses are built on sandy soil with fewer trees and more wide open spaces. 
But there's more to learn about links-style golf courses, which can help you find great courses to increase your enjoyment of golf. 
Read on to learn more. 
What Is a Links Golf Course?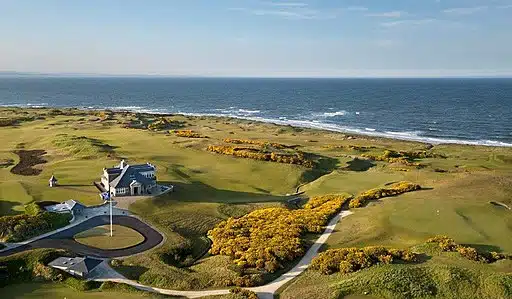 Let's dive further into what a links golf course is. A links course is regarded today as a golf course built on sandy soil like that found in Scotland with few trees, a lot of wind, thick grasses or thick heather, and a lot of bunkers.
They are often built on a coastline of a body of water.
Why is the golf course called links? The term "links" has Scottish origin and means "rising ground" or "ridge."  The reason for this is because links courses really do play true to the contour of the course and are not usually flat compared to other golf course types. This is a true links course. 
Related Article: How Many Golf Courses are in the US?
Links Golf Course vs Regular Golf Course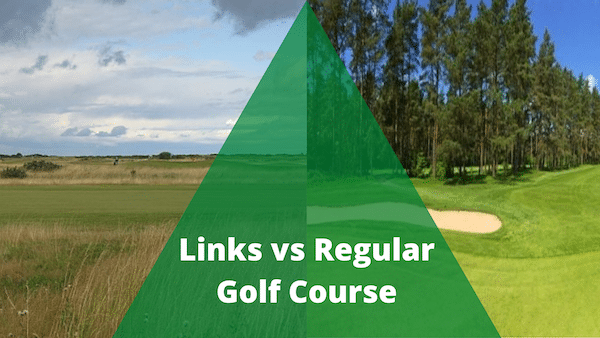 What is the difference between links golf and regular? A "regular" or "woodland" golf course is commonly referred to as a parkland golf course. The main differences are that a parkland golf course is heavily developed by an architect and is not as natural as a links golf course.
The fairways tend to be more forgiving and flatter when compared to the rolling fairways on a links-style golf course.
What does links golf course mean? The best examples of each type would be St. Andrews for links courses and Augusta National for parkland golf courses.
Where Did Links Golf Courses Start?
The home of links golf is in Scotland, where playing links golf is common. 
The links golf courses in Scotland are the earliest recollection of golf, and those courses were similar to links golf courses today.  The Old Course at St. Andrew's is where the modern game started in 1764.
Golf originated in Scotland and has a ton of history with the game of golf and traditions.
Flash forward to today, and there are links golf courses all over in the United States and Europe. Most links golf courses are usually on the coastline of major bodies of water.
Why Are Links Golf Courses Popular?
There are several reasons why links golf courses are so popular, but the main reason is because of the challenge and uniqueness of the course. These courses are harder to play on. 
The high winds and rolling fairways make the course play differently each time because you never know how the course will turn out on that particular day.
Sometimes the wind is such a factor that it can be a real problem for golfers and seriously inflate the scores in a golf tournament. Hopefully, this explains what a links course is, but there are other golf course styles besides the links-style golf course. 
What Is the Most Popular Links Course?
St. Andrews is the most famous and most popular links course in the world. It is also the largest public golf complex in Europe. You have 10 different unique courses that you can play here. 
Other Popular Links Golf Courses
Besides the infamous Old Course at St. Andrews, there are other incredible golf courses worldwide where you can swing for the golf holes. 
Links golf courses are an important part of golf's history and are the best styles of golf courses to play, in my opinion. There are five main different types of golf courses, and you can see them played at PGA tour events sometimes. 
What Is the Most Successful Pro Player on the Golf Links Course?
Jordan Spieth holds the record on the golf links course as the best among more than 300 players. Starting in 2015, he had an average of 2-and-a-half strokes gained. That gives him the best rate out of all the other players. Among the 300, only nine other golf players averaged 1-and-half strokes, which explains why Spieth holds the title. 
What Is It Like To Play at a Golf Links Course?
True links courses have no trees and thick grasses with several bunkers around the course. Many of the bunkers will be deep pot bunkers because it keeps the wind from blowing the sand away. Many golf players say that a links course will test your golfing abilities, and they pose a greater challenge than a parkland course. 
The layout, on the other hand, will usually be easier than most traditional courses. 
What Are The Other Types of Golf Courses?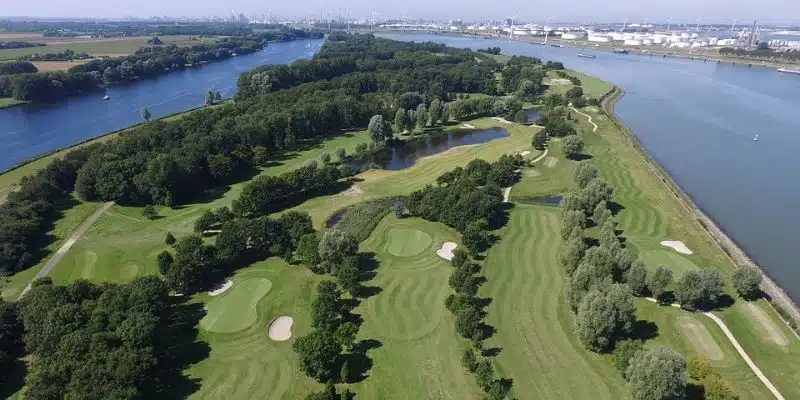 You have five main golf course types: parkland, desert, links, heathland, and sandbelt. Because we already mentioned links, we'll leave that one out. 
Parkland Golf Courses: The parkland golf course is your typical manicured golf course with trees and green grass. The fairway will usually look smooth, unlike the links course. 
Desert Golf Courses: Desert golf courses were built into areas where natural desert occurs. They constructed them among natural sand dunes. You only find grass on the putting greens, the fairways, and the tee box. 
Heathland Golf Courses: This golf course is inland and less manicured than the other choices. Usually, it's less wooded than a parkland golf course, but you still see plenty of trees. 
Sandbelt Golf Courses: These golf courses were built in regions with sandy soil, and you often find bunkers on them because of the ease of placing them. You can carry sand from one place to the next easily. 
FAQs
Why Do They Call Them Links Courses?
The word "Links" originates in the Scots language and refers to the coastal sand dunes. This may explain why most of the links golf courses that you will encounter are situated near coastal regions. 
Is Augusta a Links Course?
Augusta National is a links course, and it was inspired by the Old Course, which is a famous links course. Mackenzie and Bobby Jones, in fact, studied the Old Course to take their inspiration for Augusta. 
Who Plays the Best on Links Golf Courses?
Jordan Spieth is considered the best links golf player and holds a record that sets him quite ahead of the other golf players. He has the best rate out of any player when counting over 300 players. 
Nick Lomas is the founder of GolfSpan, an avid golfer, not quite a pro but has over 15-years of experience playing and coaching golfers from all over the world. His mission is to bring the golfing community a better experience then it comes to choosing the right golf gear, and finding the right set up for your game.