The Collin Morikawa WITB is a hot topic among readers after the youngster's dream start to his PGA Tour career. In this guide, I will conduct a Collin Morikawa WITB 2023 to see what the world number 9 has in store for us this season.
By the end of this post, you will know what woods, irons, wedges, putter, and apparel a Collin Morikawa bag holds.
Here is what you will learn in our WITB Collin Morikawa 2023 Edition
What clubs, balls, and apparel are in the Collin Morikawa golf bag?
Quick facts about Collin Morikawa
Pros and cons of Morikawa's equipment
The price of Morikawa golf clubs
Collin Morikawa Quick Facts Table
Birthday
February 6, 1997
Birthplace
Los Angeles, California, USA
Year Turned Pro
2019
Tournament Wins
6 Wins
Major Wins
PGA Championship 2020

The Open Championship 2021

World Ranking
9 – OWGR
Equipment Sponsor
Taylormade
Collin Morikawa What's In The Bag – At A Glance
Collin Morikawa WITB: Driver
Pros
Forgiving
Explosive ball speed
Lowers spin
Aerodynamic clubhead
Adjustable CG track weight and hosel
Cons
An expensive driver
Not suited to slower swing speed
The University of California graduate kicks off his set with a 9-degree TaylorMade Stealth 2 Plus, which offers greater forgiveness than its predecessor. Inverted Cone Technology (ICT) ups its game on the new driver expanding its presence for increased speed and low spin on mishits.
The Plus is the only big stick in the Stealth 2 range with a sliding weight track to alter the center of gravity (CG). This allows golfers to produce a fade, draw, or neutral bias tee shot for improved consistency.
TaylorMade boosted the moment of inertia (MOI) of the Stealth 2 Plus, thanks to the lighter carbon material in the crown. Its MOI profile enhances stability at impact to preserve speed and minimize spin across the clubface.
Adding to its blistering speed is an Inertia Generator fitted in the club head for enhanced aerodynamics on the downswing. As a result, you achieve improved power to enhance energy transfer at impact.
Next, the 60x Carbon Twist Face driver is crafted in an 8, 9, and 10.5-degree loft profile, better suited to high and medium swing speed. Finally, the Mitsubishi Kai'li Red and Project X HZRDUS Black GEN4 are the stock shaft options, with built-in regular, stiff, and extra-stiff shafts.
Collin Morikawa Golf Clubs: Fairway Wood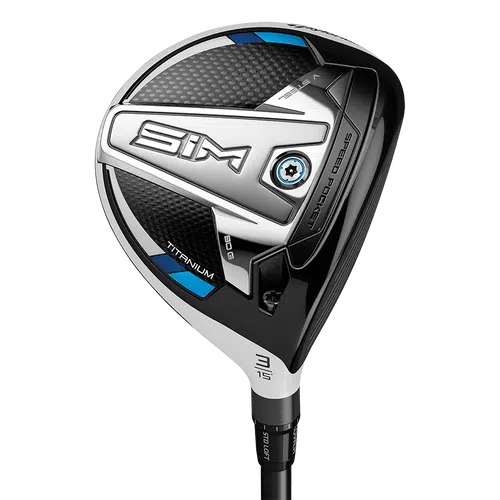 Pros
Generates rapid ball speed
Launches high
Improved turf interaction
Adjustable hosel
Explosive clubface
Cons
The lower loft is not ideal for slower swing speeds
Difficult to find new stock
The two-time major winner turns to the 2020 SIM range for his 3-wood needs, opting for the Rocket 3-wood. The club is set at 14 degrees, causing it to launch lower than a standard 3-wood. However, Collin welcomes this as it gives him improved control.
Flight aside, the SIM fairway wood carries the famed Twist Face technology to promote straighter ball flight. In addition, its V-Steel sole improves turf interaction which allows the club head to glide swiftly across the fairway or rough for a clean strike.
A carbon and titanium crown combination with a V-steel sole saved the engineers a few grams, which they reused low and deep. Its positioning lowers the center of gravity, promoting higher ball flight for consistent carry distance.
I find the ZATECH titanium clubface further aids my velocity ambitions. It springs the golf ball off the clubface with reduced spin for a higher launch and increased carry length.
Lastly, the SIM Rocket carries an adjustable hosel to alter loft by 2 degrees, and the Mitsubishi Diamana FW Limited 75 is the stock shaft. It is better equipped to serve higher swing speeds.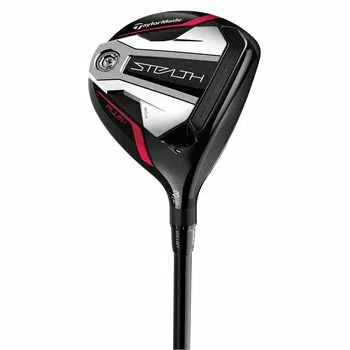 Pros
Promotes straighter shots
Clean turf interaction
Preserves ball speed on mishits
Lowers spin
Encourages a medium launch
Cons
Expensive
No stock shaft options for slower swing speed
The man from the city of Angels returns to the Stealth range for his 5-wood play, opting for the Plus edition. TaylorMade retained some technology from the SIM Rocket fairway, like the V-Steel Sole and Twist Face technology.
The sole generates limited interaction with the turf and helps you get clubface on the ball from any lie. The Stealth Plus 5-wood carries ICT, which expands the sweet spot for maximum speed and reduced spin across the clubface.
Engineers at TaylorMade employed a multi-material construction to save weight in the crown and distribute it low. This sets the fairway wood up for a mid to high launch, prompting substantial carry distance.
The Stealth Plus 5-wood is customized for Morikawa with a 5-wood stock loft traditionally set at 18 degrees. However, an adjustable hosel lets you decrease or increase the club loft, and a weight track alters the CG position.
Lastly, the Mitsubishi Kai'li Red FW is the only stock shaft option, built in an extra stiff, stiff, and regular flex.
What Irons Does Collin Morikawa Use?
Pros
Encourages a consistent launch
Flexible clubface
Attractive blade
Soft feel
Crisp acoustics
Cons
Expensive
Not suited to mid or high handicappers
The 2021 Open Championship winner swings the TaylorMade P770 4-iron, which carries an element of offset and lower CG, promoting an optimal launch. Besides its game improvement technology, these clubs feature a classic players iron design, appealing to superior players.
Thanks to its enhanced launching profile, the P770 delivers superb flight, ample distance, and a controlled landing. However, its shorter blade length offers limited forgiveness on off-center hits, unsuitable for mid and high-handicappers.
Next, the SpeedFoam Air works wonders for the feel of mishits, which shields your palms from vibrations. While this reduces feedback, it leaves a pleasant feeling on off–center strikes.
Finally, a Thru-Slot Speed Pocket increases clubface flexibility to maintain pace and spin on low-face strikes. As a result, they deliver more consistency in the long irons compared to other players' irons.
Pros
Minimizes spin and speed drop off
Promotes consistent contact
Buttery soft feel
Stable at impact
Superb turf interaction
Cons
Less forgiveness than cavity back irons
Premium price
The 2020 PGA Championship winner at TPC Harding Park transitions from long irons to mid-irons with the P7MC series. Forged from 1025 Carbon Steel, the P7MC range delivers the buttery-soft feel you expect from a player's iron.
The forging process creates a tight, compact grain structure, boosting friction at impact. It helps the grooves impart medium spin and increased speed on the golf ball for a combination of distance and workability on approach.
Unlike standard players' irons, TaylorMade engineers applied weight to the perimeter of the club head for stability at impact. This enables golfers to minimize spin and speed drop-off on mishits for a powerful launch on approach.
Finally, a narrow sole design with a compact leading edge enhances turf interaction for clean contact from the fairway or rough.
Pros
Clean turf interaction
Soft feel
Workable flight
Enhanced control
Optimal launch
Cons
Challenging for the average golfer to find
Not enough forgiveness for mid and high-handicappers to swing
Morikawa's remaining irons and pitching wedge are the P7CM, prototypes built in collaboration between TaylorMade and the six-time winner. They are a work of beauty. Although the sole is marginally broader than its competitors, it generates clean turf interaction and optimal lift off the fairway.
These blade irons are built for maximum workability on approach, enabling players to induce a draw or fade when required. Despite this, the workable flight can also lead to wayward results in extreme mishits.
Next, the P7CM range delivers excellent feedback on each shot and produces a soft feel on strikes out of the sweet spot. However, hitting off-center weakens your launch, losing length and accuracy.
Lastly, these irons glide swiftly across rough and fairways to promote consistent contact from any lie.
Do you like Collin Morikawa's irons? Find more genius golf irons from TaylorMade to match your swing.
Wedges  
Pros
Produces superb spin
Soft feel
Available in 3 sole grinds
Prevents spin drop off
Creates crisp turf interaction
Cons
Expensive for a wedge
Minimal forgiveness
The Berkeley Business Administration graduate operates with a three-wedge setup, starting with TaylorMade MG3. The Milled Grind third generation features Raw Face Technology, which forgoes plating for more accurate geometry, elevated spin, and exceptional feel.
TaylorMade engineers employed their ZTP Raw Groove design to render the grooves sharper, narrower, and deeper. The club grooves produce superior spin levels in all conditions for greater greenside control.
In addition, they carry raised Micro-Ribs between the grooves to catch my ball on off-center contact and retain friction. As a result, I generate enough spin to maintain control of my short-game shots.
The Milled Grind sole highlights the engineer's attention to detail as it prevents the clubhead from digging into the turf. Finally, Taylormade offers the MG3 wedge in three sole grinds, a standard, low and high bounce. Most players are better off with a standard bounce design.
Although Collin uses the MG3 TW 60-degree wedge, the technology is practically the same as the standard edition. It even offers the same sole grind options.
Putter  
Pros
Soft feel
Enhanced feedback
Generates immediate forward roll
Built for arched strokes
Clean, compact blade design
Cons
Toe hang does not suit straight strokes
Reduced forgiveness compared to mallet putters
I close the golf club section of the WITB Collin Morikawa 2023 review with his chosen flat stick, the TaylorMade TP Soto. The blade-style putter is designed to offer a soft feel and enhanced feedback on putts to enhance your distance control.
The putter is equipped with 35 degrees of toe hang, which makes it better suited to players with arched putting strokes. In addition, it produces optimal friction and a clean roll on all strokes, thanks to its Pure Roll Insert.
45-degree grooves partner with a polymer to generate immediate forward roll off the clubface to improve distance control. However, the reduced putter head size on the TP Soto provides reduced forgiveness levels compared to mallet putters, making it less ideal for higher handicap golfers.
Learn more about TaylorMade putters in our informative guide covering their flat sticks.
Balls  
Pros
Explosive ball speed
Low long-game spin
Increased wedge spin
Aerodynamic dimple pattern
Built for high swing speeds
Cons
Not built for slower swing speeds
High-end price tag.
The final piece to the Collin Morikawa review is to assess his golf ball. Like his woods, irons, and wedges, he remains with TaylorMade opting for the famed TP5 Tour golf ball.
A complex, high-compression 5-layer golf ball is built for higher swing speeds like Morikawa. It lowers driver spin and accelerates ball speed for optimal long-game distance. A large reactive core is your best friend on long shots, maximizing energy transfer to accelerate pace and reduce spin, prompting optimal carry distance.
Wedged between the cover and the core is an ionomer HFM Speed System, which further limits long game spin and boosts ball speed. Conversely, the soft urethane cover grips into wedge and iron grooves at contact and produces optimal spin for a hop and stop spin.
Finally, the Tour Flight Dimple Pattern fought drag and increased ball lift while resisting inflight deviation. The result was a stable flight with maximum carry and total distance from tee to green.
Do you enjoy the all-around performance of Tour balls? Find out what the most used golf ball on the PGA Tour is.
Collin Morikawa's Accessories
Grips
Shoes
Gloves
How Much Are Collin Morikawas Clubs Worth?
| | | |
| --- | --- | --- |
| EQUIPMENT | MODEL | PRICE |
| Driver | Taylormade Stealth 2 Plus | $629.99 |
| 3 Wood | Taylormade Sim Rocket 3 | $299.99 |
| 5 Wood | Taylormade Stealth Plus | $449.99 |
| Irons | TaylorMade P770 (4), P7MC (5-6), P7CM (7-PW) | $1299.99 |
| Wedges | TaylorMade MG3 (50-09SB, 56), TaylorMade MG3 TW Raw (60) | $179.99 x 3 |
| Putter | Taylormade TP Soto | $99.99 |
| Ball | Taylormade TP5 | $20.99 |
| Total | | |
FAQ
What Brand Of Clubs Does Collin Morikawa Use?
Collin Morikawa uses TaylorMade golf clubs for his woods, irons, wedges, and putter. He even plays a TaylorMade golf ball, the popular TP5.
What Driver Does Morikawa Use?
Collin Morikawa swings the TaylorMade Stealth 2 Plus driver in 2023, which lowers spin, accelerates ball speed, and optimizes distance off the tee.
Final Thoughts
That concludes our detailed guide of the Morikawa WITB for 2023. Our review highlighted that the world number 9 is a loyal TaylorMade Tour pro who uses everything of the brand ranging from his driver to golf ball.
In addition, our journey inside the Collin Morikawa WITB 2023 setup highlighted that most of his golf clubs are not suited to the average player. They are often unforgiving and built for superior ball strikers to perform.
Finally, his golf ball, the TaylorMade TP5, although a premium design, is not recommended to slower swing speed golfers.
If I could pick one club to use in the Collin Morikawa golf bag for amateurs, it would be the TaylorMade TP Soto. It offers a pure feel and consistent roll but is the best setup for players with arched strokes.
Read More: