Every good golfer knows that winning scores are made on the green. Whether you're a tournament player or not, the putter you have in your bag will significantly impact your overall score each time you step on the course.
While there are many brands renowned for making great putters, there aren't many that can rival TaylorMade.
Will one of the best TaylorMade putters help you drop a few strokes?
Read on to learn everything about our top picks for TaylorMade putters for 2023.
At a glance: Our Top 3 Picks for Best TaylorMade Putters
Our Testing Process
As an independent team, we select the best TaylorMade putters based on our research. While we get a commission if you use one of our affiliate links, brands do not pay us to conduct reviews, so everything you read on our website is unbiased and factual. We have a team of golfers who write and have more than a thousand hours of experience reviewing golf equipment.
TaylorMade Putter Reviews for 2023
1) TaylorMade Spider GT Putter – Best Overall
Pros
Improved stability as a result of the perimeter weighting and light top
Stylish aesthetic
Cons
Released in March 2022, the Spider GT is one of the most recent additions to TaylorMade's Spider putter series. This means it comes packed with some of the latest technologies used in modern mallet putters.
For instance, this new TaylorMade putter comes equipped with a revolutionary open-frame multi-material design that offers an improved feel and sound.
Topspin is also improved in these new TaylorMade putters, and putts roll faster due to aluminum bars with 45° groves running across the Pure Roll insert. Also, the club's two wings act to push the weight more to the perimeter. An ultra-lightweight top compliments this feature for overall improved stability, forgiveness, and precision
Players with a modest amount of face rotation in their putting stroke will benefit most from the perimeter weighting and Spider GT's short slant hosel, which together produce 21° of toe hang. These are the current best of the TaylorMade mallet putters and are well worth their substantial price tag.
These are available in several shaft types and lengths, making them an ideal putter for women or men.
Pros
Improved balance and roll.
Good sound and feel
Cons
The paint tends to get stripped easily.
While inspired by pros like Jason Day and Dustin Johnson, the Spider Tour can prove to be a huge asset at a fair price for any type of player. The clubs sport TaylorMade's trademark Pure Roll insert, which comes with 45° grooves helping the ball to hug the ground well and stay on path lines. Additionally, the insert works to help players have more distance control and heightens topspin levels. All of this adds up to a forgiving putter for high handicappers.
The face stays square to the path due to a combination of a lightweight aluminum core and heavy steel frame working together.
More uniquely, the Spider Tour black has a PU foam between the body and frame, reducing vibration levels for better sound and feel.
Golfers' aiming is simplified by True Path Alignment made using optical engineering. A combination of three dots and two rails coupled with a reflective white makes it visually recognizable, no matter the condition.
If you are looking for a high MOI putter with lots of forgiveness and stability for under $200, the Spider Tour has been one of the best options in the market for a long time. These are the best putters TaylorMade has for those needing a low-cost mallet putter.
Pros
Improved Stability
Good sound and feel
Cons
Heavy forward weighting won't suit everyone
The Spider FCG is an upgrade to TaylorMade's Spider Tour putter. While the technology is broadly similar, the Spider FCG strikes more like a blade putter. Thanks to its forward center of gravity, it has the release of a blade putter without sacrificing the MOI of mallet.
Notably, this was the first putter in the TaylorMade range equipped with a True Path alignment system. This feature improves accuracy as players can align their clubs perfectly with target lines.
The club is optically redesigned for a more streamlined shape and features heavy tungsten weighting for better stability. Also, the copper Pure Roll face insert is built thicker for improved sound and feel.
4) TaylorMade TP Hydro Blast Soto – Best TaylorMade Blade Putter
Pros
Stylish classic blade aesthetic.
Affordable
Alignment is fairly easy
Cons
Less forgiving than mallet putters.
When considering TaylorMade blade putters, you may be hard-pressed to find a better option than the TaylorMade Hydroblast Soto Putter. The club generates a 40° toe hang (deepest in the Hydro blast collection) due to its traditional design and L-Neck hosel, making it especially suitable for players with maximal rotation.
As with all the putters in the TP Hydroblast collection, the Hydroblast Soto is made primarily of 303 stainless steel. The machine milling process results in clean aesthetics, classic, smooth lines, and a more durable end product in any kind of environment. Also, the club comes with TaylorMade's patented Pure Roll insert, which has 45° groves increasing topspin and toll for better distance control and accuracy.
Also, the Hydroblast Soto comes with detachable sole weights. Upon purchase, the weights will be packaged in a standard format based on the length of the putter. Players can also purchase extra weights to customize the head weight to their preferences.
Related Reading: The Best Putters Under $100
5) TaylorMade Spider EX
 Pros
Ample forgiveness
Improved distance control
Reflective White Path Alignment for better visualization
Cons
The reflective white material isn't ideal on bright days.
The Spider Ex's backweight is made with multiple materials, including tungsten which shifts the center of gravity deeper, offering players more control in terms of distance. Additionally, heavy steel is used on the heel and toe for better stability. Lastly, the head is made with lighter composite materials and aluminum to increase the club's performance and forgiveness levels.
For alignment, players can depend on a combination of TaylorMade's reflective three dots and the White True Path Technology. Players can also choose between 3 hosel options: strong, slight, or straight.
Pros
Affordable
Stylish and durable aesthetic
Improved stability and feel
Cons
Glares from the sun sometimes
As the name suggests, TaylorMade makes these by blasting 303 stainless steel with high-pressure water resulting in a classic, durable and smooth surface. The fact that the club is machine milled also means that aesthetically the TP TaylorMade TP Hydro Blast Bandon 3 Putter is one of the best-looking putters out there.
The putter comes with optimized perimeter weighting for extra forgiveness. At the address, a tour-inspired double wing shape helps to frame the ball for extra precision and distance control.
The blades and technical mallets in this TP Collection use the TPU Surlyn insert originally utilized in the Spider X putter. The putter comes with optimized perimeter weighting for extra forgiveness.
Players who maximize face rotation during the putting motion will benefit most from a putter with a short slant hosel and double wing design that generates 32° of toe hang. The Pure Roll insert has grooves angled downward at a 45° angle to improve roll characteristics.
Pros
Stylish aesthetic
Good alignment features.
Cons
There are better options for maximum rotation players.
Another great putter option is the Spider SR. It combines premium materials such as a lightweight aluminum top and heavy tungsten on the backweight for the highest MOI.
As it is from the Spider series, it comes with the trademarked white True path alignment, which is reflective for better vision. It is also equipped with a white Pure Roll insert for a more symmetrical design that enables the ball to hug the ground well.
A center cavity with the same width as the ball combined with an arrow design allows players to center the ball, giving more control over the ball's path when taking shots.
Two Cast in Sole weights combine to give the club an overall better sound and feel while at the same time optimizing swing weight. Towards improving feel, the club is also fitted with TaylorMade's Fluted Feel Shaft, which increases stability.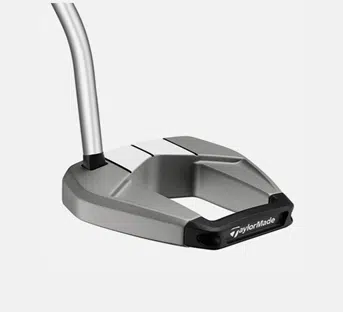 Pros
A high MOI resulting in ample forgiveness
Improved stability
Cons
Huge learning curve for players who have never used a similar club
This club offers good levels of forgiveness by combining various features for maximum high MOI. The club is made exclusively of premium materials such as high-grade 6061 aluminum and tungsten. Besides being used for the soles, heavy tungsten on the back bar provides improved swing weight precision making these the best putter TaylorMade has for precise strokes. This combination also shifts the CG deeper, adding to the club's overall stability.
Custom to the latest putters in the Spider series, the Spider S is also fitted with a thicker version of TaylorMade's Pure Roll insert for improved sound and feel while on the course. This insert has 45° angled groves for enhanced roll and better distance control.
The club's stability is heightened further with a KBS stepless shaft, which also reduces deflection. Drawing inspiration from archery, the club is fitted with an arrow-shaped True Path to assist players with shot alignment.
What To Consider When Purchasing a TaylorMade Putter
When purchasing a TaylorMade putter, there are a few key factors each player should consider before making a choice. These factors include;
Head Design: this is one of the most important factors when looking for a putter. Generally, the head design is classified as either a blade or a mallet.
Adding to this, you may also want to consider whether the head design has a sight line or not. A blade head design without a sight line is often the better option for players with an arc putting style. In contrast, players with a square put may benefit more from a mallet.
Length: another key factor to consider is the length. You want a putter length that gives you the most efficient and comfortable address position.
Aesthetics: while aesthetics are often overlooked, they are important to many players. Consider the color and shape of the putter. Consider whether it is painted in terms of color, as this may chip away easily. Lastly, you want something that looks good, as this can boost your confidence on the course.
Weight: the type of weighting impacts the club's overall MOI and forgiveness levels. Weights can also help you to shift the center of gravity for the perfect stroke.
Feel and sound: Typically, louder sound results in a firmer feel, while the opposite results in a softer feel.
The Best TaylorMade Putter FAQ
What TaylorMade Putters Do The Pros Use and Which Pros Use Them?
Recently, most pro players using TaylorMade putters have opted for the Spider collection putters. Only Collin Morikawa and Martin Kaymer, two champions on the PGA Tour, do not utilize the Spider model of TaylorMade putters. Kaymer has the Truss TM1, whereas Morikawa utilizes the TP Juno Prototype. Notable examples of pros that use Spider putters are Rory Mcllroy, Jason Day, Dustin Johnson, and Sergio Garcia.
What is the Heaviest TaylorMade Putter?
Featuring a 25g aged copper Pure Roll insert, the Spider FCG is the heaviest putter in the TaylorMade collection.
How Good are TaylorMade Putters?
TaylorMade has produced some of the best putters in the golfing world for years. Their putters come equipped with the latest features for maximum efficiency. They suit pro golfers and beginners alike and accommodate all stroke styles.
What Makes TaylorMade Putters Special?
TaylorMade is one of the most cutting-edge golf companies in the world. Their most popular putter is the Spider range. They are incredibly forgiving and have excellent forgiveness compared to most other putters. For many golfers, more forgiveness equals a lower score.
Picking the Right TaylorMade Putter
Hopefully, our TaylorMade putter review list helps you to decide. But, finding the perfect putter for you should be a matter of heading to a fitter and matching your stroke style. But many of us don't have that luxury. So making a choice can be difficult.
Overall, we'd recommend the Spider GT as it's the newest offering and is packed with the most tech.
But, any of the others in the Spider line of TaylorMade putters would make a great addition to the bag of golfer that likes mallet putters.
Chris's love for golf is only rivaled by his wanderlust. A globetrotter at heart, He's played courses throughout Europe and Asia and at home in NSW, Australia. With a writing style as smooth as his golf swing, he'll help you find the right gear to match your skill level and style. You can connect with Chris on LinkedIn.