Who made the phrase popular doesn't matter as much as the fact that more than one golfer has felt like that while carrying their golf bag along for a round of golf.
A study done by Dr. Wolkodoff found that carrying a bag consumes far more energy than pushing a cart and that it could increase your score by up to 2+ strokes per round.
We are all aware that many golf courses have electric carts available but that spoils a great walk, out in the open air.
at a glance: Our Top 5 Picks for Golf Push Carts
Fortunately, a large number of golf courses still allow you to utilize push or pull carts and it is advisable to look for a versatile and reliable pushcart.
A pushcart should be easy and light to push enabling you to retain your energy for the great game of golf. Carts, as with all golfing equipment, provide you with choices galore. Even before you decide on which brand you want to buy there is a decision to be taken on whether a push or pull cart will work best for your circumstances.
The main difference between the two options is the number of wheels. Essentially pull carts have two wheels, while pushcarts have either 3 or 4 wheels.
Quick Overview: Our Top Picks for Golf Push Carts
What To Consider in Your Buying Decision
Ultimately as with all golf equipment, personal preference will play a big role in your decision. We will provide some information allowing you to make an informed decision.
Ensure that your golf bag and push cart are compatible since there is a large community of golfers that believe that stand bags do not go well with pushcarts. This, however, is not true for all carts as some employ a clip system to lock in your stand bag.
The Braking System
As with your car, the braking system on your cart is important. Imagine playing on a hilly course and you have to fight to keep your cart stationery while you are planning and executing your shot.
It is possible to replace the brakes rather cheaply but through taking care of the way you use your brakes, you can extend their lifetime. Look for flatter surfaces or ways that you can park your cart without engaging the brakes unnecessarily.
Impact On Your Back
With golf courses being extended to counteract the increased distances that golfers can hit the ball, golfers often have to add more drinks and food to their bags to counteract the additional time spent on the course. This has an even worse impact if you carry your bag.
Not having to carry your bag for 18 holes by using a cart already reduces the strain on your back which is so important for your swing. Some golfers have noted that it has a beneficial effect on the back as they have something to press or lean on while walking if the stress on the back gets too much.
Handle And User Comfort
Most of your contact with your cart will be through your handle. You will be pushing up and down hills and therefore flexible handles are superior to fixed handles. Twisting and turning your wrists to keep your cart aligned cannot have a positive impact on your golf game.
In addition to being flexible, look for handles that are height adjustable and enable you to control the brakes. Why would you use a cart to save your back but bend down to put the brakes in place every time you stop?
Wheels
Fortunately, the majority of carts have airless wheels. It would be quite catastrophic to have a puncture while playing the game of your life! Along with the airless nature of the wheels, you will find a large majority have produced textured anti-skid wheels enhancing the grip on wet and very dry surfaces.
The question then arises on whether 3 wheels or 4 wheels are the better choices. Let's look at both options and then you can make a more informed decision.
3-Wheelers
Three-wheelers are shaped like a V with one wheel in the front and two in the back. The front-wheel could either be fixed or can swivel. The swivel option creates more flexibility and less stress on the course when you have to turn it around.
Having only one wheel in the front makes it much easier to steer than a four-wheeler. The V shape makes it easier to push in all conditions whether it be on the fairway or over some clumps in the rough.
On the negative side, it must be mentioned that three-wheelers tend to become top-heavy and it is easier to topple over when it is fully loaded.
 4-Wheelers
On the opposite side of the coin, four-wheelers have two wheels in the front and are more stable and less likely to topple over no matter the load. However, as with any vehicle that you load, make sure the load is distributed as evenly as possible or you will find yourself picking it up as well.
What they gain in stability is offset against maneuverability. Not that they are difficult to move around but compared to the three-wheel competitors, they tend to be more difficult to turn.
You will be able to replace the wheels should you happen to damage it beyond repair. It is highly recommended that you obtain the replacement from the supplier directly to ensure that you don't lose any of the benefits that you have become so accustomed to.
Storage & Material/Weight
The overall experience that most golfers have with pushcarts are in the main free of aggravation. An area that does create some problems is the storage in the cart and the storage of the cart after the round. We will address both of these in this section.
It is advisable not to overload your cart for the round with beverages, although necessary within limits, snacks, and other commodities. To ensure that the cart stays stable you should add some weight without it impacting too much on the energy that you are saving for your shots.
Your golf cart should enable you to carry and make all of your essentials easily available. Look for a place to store your scorecard and writing utensils, your umbrella on those rainy days, and a reasonable amount of liquid refreshments and snacks to keep you hydrated and energized for your round. Other options that could play a big role in your decision is whether the storage compartment is waterproof and whether it is lockable.
The pushcart should be able to fold up into a sufficiently small package to fit into the vehicle that you use most often for your golfing encounters. It should be easy to fold up and/or dismantle should that be required before loading it.
Most have manual operations to fold up but some of the higher level pushcarts have automated the folding action. You will pay more for the automated options but it could be well worth the additional costs when you are tired after a long, long walk.
The 9 Best Golf Push Carts Reviewed
Based on our extensive research, these are our top pick best golf push carts:
1. SereneLife 3-wheel golf pushcart
Pros:
Lightweight aluminum frame
Detachable umbrella holder
Adjustable height
The accessory console can hold scorecard and drinks
Quick release folds the cart down very quickly and easily
Cons:
The front wheel does not swivel
Only available in one color combination (black and gray)
The black and gray heavy-duty frame of this lightweight SereneLife folding golf pushcart is manufactured from aluminum and it is equipped with upper and lower brackets enabling you to load your golf bag. Elastic straps can tie down any size of golf bag.
There is space for a scorecard, place your liquid refreshments, and attach an umbrella holder to the storage compartment
It weighs in at a respectable 19.62 pounds and can carry a load of up to 33 pounds. This should be sufficient to carry most golf bags used by amateurs.
A padded handle is height-adjustable for multiple pushing positions and height.
There are 3 non-inflatable clip-on wheels with quadruple ball bearings to provide ultra-smooth movement in a variety of terrains. The Eagle V2 black core rear wheels are 11 ½ inches in diameter.
Stopping the cart is done via an easy-to-use quick braking system to prevent the cart from rolling away when parked.
Loading the bag into your vehicle is a straightforward process as it folds flat into a compact size measuring 23.2 inches long, 7.3 inches wide, and 27.8 inches high. To unfold you simply lift the handle and in moves into place.
2. Qwik-Fold 3 Wheel Push Pull Golf CART
Pros
 

The cart folds in one second to relieve the hassle of folding up a cart after a roun

Aluminum frame that makes the cart sturdy and more durable

Umbrella holder so you can stay dry in the rain

Lightweight so it is no trouble to carry when transporting

Foot-brake system for any moment that you are on an uneven surface
Cons
 

Requires a decent sized budget but that is reasonable for this quality

Some reviews say that the wheels sometimes are not aligned correctly
Qwik-Fold has made a push/pull cart that is made of quality material with its aluminum frame.  When most people think of durable, they think of bulky and a pain to transport.  That is not the case at all with this product.
The Verdict
For any avid golfer that wants to spend a bit of money on one of the best on the market, this pushcart has to be worth checking out.  Not too many carts have a foot brake system and that certainly makes this one stand out.
With over 300 reviews and almost a 5-star rating, why wouldn't you check this incredible pull cart out?  We have included a link for your convenience here!
3. CaddyTek Superlite Explorer
Pros:
The wide wheels enable ease of movement and stability
Adjustable handles.
Extra storage
Built-in cooler
Simple folding and unfolding feature
Strong, durable aluminum framework.
Lightweight.
Features patented folding design; portable and travel-friendly.
Removable umbrella holder bracket
Wheels have brakes.
Cons:
Lack of locking mechanism in a folded position.
No brake control on the handle
Its handle is divided into 2 parts
Brakes sometimes don't unlock as easily as they lock.
Bottom of the cart is quite low to the ground
The frame of the Superlite Explorer 4-wheeler is constructed from strong aluminum and set on a wide-base with expandable front wheels for increased stability and is easy to roll on different terrains. It weighs in at an extremely light weight of 14 pounds.
The handles are adjustable to multiple pushing positions and padded making for a soft touch. The foot brakes are easy to use with push to brake and push to release feature. A patented 2 latched mechanism allows the cart to fold into a compact package through only 2 steps
There is a mesh net for the balls, a storage compartment for your scorecard, a well-sized beverage holder and an umbrella holder.
Setting the pushcart for loading is quick and easy as it can be brought downwards by pushing a button under the handle. The back wheels can be removed for decreased storage requirements and the front wheel can rotate 180 degrees either way at the click of a switch. To reduce the storage requirements even further, the umbrella rack can be removed.
This is a well-priced pushcart with some good features but is up against some very strong competition.
4. Clicgear Model 8+ | 4-Wheel Golf Push Cart
Pros:
brake
The hand brake operated from the handle.
Bag strap storage clip
Umbrella Holder
Slide lock handle
Airless wheels
Dual front brakes
Dual front wheel alignment
Stylish, sleek and sturdy design
Extremely stable
Bottom-heavy
Easy to fold making use of patented designs.
Built-in accessory mounts for Umbrella, 2 Cup Holders (Standard + XL), and Scorecard Storage.
Height adjustable handle.
Cons:
The brake handle can be a bit inflexible
Expensive but top value
The Model 8+ is the follow up for the ever-popular predecessor Model 8. This is one of the finest push carts you can find today. It has great features and makes use of technology to the fullest to ensure that you get the absolute maximum assistance and feedback from one of the most advanced four-wheel carts available. It is also designed to minimize the maintenance requirements throughout its lifetime.
The Model 8+ is a 4-wheeler made of lightweight materials and built on an extra-wide base for increased stability. It is provided with loads of features that smoothly glides over the grass with little resistance. This all weighs in at a remarkably lightweight of 10 pounds.
The console houses built-in storage for your scorecard and a mount for your Umbrella and Cup Holders. The brake system is controlled from the handle and effectively stopping the powerful front wheels.
Folding this beauty for storage is easier than you would ever imagine through the use of the patented V-slide feature resulting in a folded up package of 15″ x 27″ x 17″.
One of the most durable yet lightest pushcarts on the market and laden with technology. The features available on the Model 8+ justifies the high price. We rate the Model 8+ as the finest push cart available on the market.
5. Tangkula Golf Push Cart
 Pros:
Easy to assemble
Sturdy steel framework construction
Folds easily
Removable wheels
Height and angle adjustable handle.
Net bag and beverage holder.
Ball-bearing wheels
Seating stool with storage compartment.
Cons:
No brake control on the handle
People with short legs may struggle with the brakes
The Tangkula Golf Push Cart is a 3-wheel pushcart with the frame constructed from steel and it can take on the heaviest of bags. As Tangkula is constructed from steel and not aluminum like most of the competitors it weighs in a relatively heavy 19 pounds.
The handle can move and turn in every angle possible and is height adjustable to suit your requirements and the moveable handles make it easy to carry. A great feature of the handle is that it is flexible and can be used by either left-handed or right-handed golfers without any adjustment required.
The wheels have ball bearings thus making it very smooth and easy to push and change of direction.
The brakes are effective but not linked to the handle. Unfortunately, you will have to operate them with your feet.
On the console, you will find the usual space for accessories such as your scorecard, umbrella, a net bag, and beverage holder.
Slow play has become a hot topic and is found at all levels of the game. A feature that you will find on few of the competitors and that makes this a stand-out option is the adjustable stool for those difficult days when you have to wait for the group ahead to complete their hole.
The Tangkula folds into a 65" x 27" x 48" package makes it easy to store. If it still takes up too much space you can remove all 3 of its wheels effortlessly to squeeze it into the tightest spaces.
Weighing in heavier than the competition as a result of the steel construction does not affect the workability and performance of the Tangkula. It's easy to assemble and features a stool to assist when you get tired of waiting.
6. QWIK-FOLD 3-wheel push-pull golf cart
Pros:
Lightweight aluminum frame
Detachable umbrella holder
Wonderfully comfortable ergonomic handle grip
Adjustable height
Simple console with sufficient golfing conveniences
Quick release folds the cart down very quickly and easily
Extremely stable under heavyweight due to a wide base
Cons:
The front wheel does not swivel
Sometimes veers to the side
Comes in only one color (black)
At first sight, the Qwik-Fold 3-Wheel push-pull golf cart appears bland with its stripped-down stylishness. You will not find too many gimmicks which can be considered a shortcoming.
The pushcart made from aircraft-grade aluminum and weighs in at only 17 pounds making it lightweight and easy to load into your vehicle.
Being super strong and sturdy, it can carry a load of 38+ pounds with ease. Tying down the bag is a breeze with expandable straps.
The height-adjustable handle will prevent strain on your back and shoulders is extremely comfortable
Rear wheels measure in at 10 inches in diameter and the non-swiveling front wheel at 9 inches in diameter. All 3 ball-bearing wheels have treads that grip firmly allowing them to effortlessly climb over varying terrain but are small enough not to be cumbersome. The front wheel is mounted on a downward curving leg for enhanced control while the rear wheels are wide set for increased stability.
Patented bullet-system technology makes it straightforward to collapse the cart to load into your vehicle is done by simply pushing a button and erecting it by lifting the handle for it to snaps into shape.
There is a detachable umbrella holder for those unpredictable days.
A patented foot-brake system is engaged by simply tapping the break with your foot and to release al you have to do is tap it with your foot again
The Qwik-Fold 3-Wheel push-pull golf cart is competitively priced for what it offers.
7. Motocaddy Cube 3-wheel golf pushcart
Pros:
Lightweight aluminum frame
Detachable umbrella holder
Adjustable height
The accessory console can hold scorecard and drinks
Quick release folds the cart down very quickly and easily
Cons:
The front wheel does not swivel
Only available in one color combination (black and gray)
Motocaddy The CUBE has a sturdy frame weighing in at a competitive 15 pounds that can fold up into, you have guessed it, a cube. The folding mechanism can fold into the smallest of spaces during transportation, with a folding lock to secure into place.
Pushing the cart via the height-adjustable handlebar will prevent strain on your back and shoulders.
Securing your bag to the cart via the adjustable bag supports is quick.
The accessory console and under-handle storage net cater to a storage compartment, drinks holder, scorecard holder, as well as tee and ball holders. Furthermore, the console caters to a removable umbrella holder.
Non-inflatable, friction-free, oversize rubber wheels enable the trolley to traverse all terrains with no problem. The front wheel does not swivel as some of the competitors do.
Folding it into the cube is a straightforward two-step folding process that will compact it into a small 21-inch long, 13-inch wide, and 17-inch high cube.
To keep the pushcart in place while you are playing your shot, or on sloping ground, there is an easy to operate foot parking brake that is compatible with EASILOCK™.
The Sun Mountain Golf Pathfinder 4 cart is a lightweight pushcart weighing in at a mere 17 pounds on a sturdy base of 4 wheels.
You cannot place this in the bland category. The Pathfinder 4 is available in a variety of 8 color combinations, enough to coordinate with almost any bag on the market
The accessory console is designed to hold your cell phone, scorecard, golf balls, and tees. On the rear of the accessory console is a velour-lined pouch for safe storage of electronic equipment. Below the console, you will find a mesh basket.
On the side of the push arm is a detachable umbrella holder for days you play in inclement weather.
Charging your cellphone while you are playing golf is not a problem. There is a charging plug slot in the cell phone holder to charge your phone.
The golf bag is strapped to the cart using the adjustable bungee cords on the upper and lower bag brackets.
Collapsing the Pathfinder 4 into the compact size measuring 26 inches long, 16 inches wide, and 14 inches high, is done by simply unlocking the bottom locking mechanism, and then unlocking the top mechanism.
9. Spin It Golf Products Easy Drive Cart
Pros:
Easy of assembly
High-quality construction
Swiveling front wheel
Lightweight and compact
Folds well for convenient storage
Great stability
Console storage options
Strong, durable and lightweight aluminum frame.
Automated folding initiated by the push of a button
Adjustable bag clamps.
Cons:
It does not lock when folded
Another of the three-wheelers that we have tested and come up trumps.
The low maintenance aluminum frame is strong enough to carry any fairly weighted golf bag and durable enough to be your loyal servant for many years of hassle-free golf. A key feature offered by the Easy Drive is the stability that it offers in all ground conditions and all weather conditions.
The automatic folding mechanism found on Easy Drive is a highlight when seeing it in action. Push the button, and it will fold itself smoothly into a very compact, easy to transport package. The Easy Driver weighs in at quite a sturdy weight of 16.5 pounds although this does not have any impact on the maneuverability on the course.
Attached to the sturdy aluminum frame you will find airless wheels with the from wheel able to swivel 360 degrees making the change of direction no problem. The front wheel of the cart swivels in tandem with the two back wheels making the Easy Drive one of the easiest push carts available.
The handle is adjustable to your specific settings and has the brake control attached. It also makes provision for all necessities such as scorecard holder, drinks holder, and umbrella holder.
The Easy Driver is one of the Best Golf Push Carts and this is reflected in the fact that it is one of the bestselling pushcarts online. The lightweight construction makes it equally easy to transport and use as your caddy. No sacrifice in either department required.
Wrapping It Up
Golfers are spoilt for choice when it comes to pushcarts. There are so many options and you have to prioritize up front what will be your major selection criteria. The type of courses that you frequent and their layout will play a big role in your selection.
Hilly courses will require a good braking system and could play a big role in the decision.
While all the pushcarts we reviewed are popular and quality options, the Clicgear Model 3.5+ Push Cart stood out as the best of the best. It is a great combination of versatility and durability while still being light and easy to move around.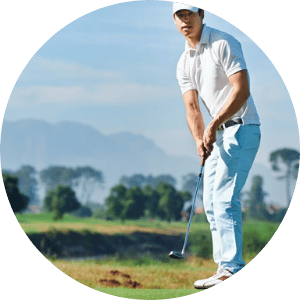 Nick Lomas is the founder of GolfSpan, an avid golfer, not quite a pro but has over 15-years of experience playing and coaching golfers from all over the world. His mission is to bring the golfing community a better experience then it comes to choosing the right golf gear, and finding the right set up for your game.