Selecting a bag with ample storage space that will allow you to organize your equipment and accessories for easy access, will add pleasure to your round of golf.
If storage is your main priority and you know that you are unlikely to carry a heavy bag for 18 holes, then a cart bag is the right choice for you. Cart bags are not designed to stand upright freely on their own and will be more of an impediment than assistance should you decide to walk the 18 holes.
Cart bags ought to fit quite comfortably on the back of an electric or gas-powered golf cart on even a push or pull cart.
at a glance: Our Top 5 Picks for Golf Cart Bags
The quality and look must be to the golfers choosing as the golfing community all have their preferences and stick to brand names most of the time.
Golf Cart Bags – What and Why
Cart bags are perfect for golfers that are probably going to make use of a cart at least 95% of their rounds and like to prepare for every round by packing all the possible necessities that may be vital during the time out on the course.
The highest regarded producers of durable and high-quality cart bags are:
Callaway
Datrek
Nike
Ping
Sun Mountain
TaylorMade
Titleist
Quick Overview: Our Top Picks for Golf Cart Bags
Appearance
It never hurts to have a good-looking piece of golfing gear that provides all the functionality that you require. The same goes for your golf bag as you do not want to stand out as the boring one in a golf day or a round with your golfing companions.
Manufacturers offer a comprehensive range of color combinations to suit even the showiest golfers, therefore, you should have little problem finding a bag that will adhere to your visual requirements and make it simpler to distinguish your bag in a crowd.
Bag Locking System
A key feature to assess on a cart bag is the locking system. The system must be capable of fastening your bag to the cart to avert an eventful redistribution of your cubs to all parts of the course.
The strap pass-through location should not be in a position to impede access to pockets when the bag is fastened onto the cart.
Size and weight
Golf bags come in various shapes and sizes dependent on their use. Sunday bags and stand bags are typically smaller and considerably lighter than cart bags for the simple reason that they are being carried all over the golf course and cart bags are transferred via a mechanical device, whether it is an electronic, gas-powered, push or pull cart.
Generally, cart bags weigh between 30 and 40 pounds. Unless the weight to be transferred between your car and the clubhouse is a key concern, the burden of the bag will not play a major role in your eventual choice.
Key Indicators of Golf Bag Suitability
Straps
The comfort afforded by padded straps for the carry between your car and the clubhouse may seem a minor aspect, but you will be extremely happy when you must endure that substantial weight after an exhausting round.
Club Protection
The protection of your clubs, accessories, and valuables are vital for the durability of your set. Thick padding on the top opening and full-length dividers will safeguard your clubs while the velour-lined pouches are best for your treasures that can scratch easily.
Full-length dividers will offer additional protection than a three-quarter of a half-length divider. It is conceivable that part of the club or your grip can suffer damage if the dividers do not run full length.
Separate storage well for your putter will shield the putter head from harm while knocking against clubs vying for space. Not only will it be protected but considerably easier to gain access to or return to its storage partition.
Durability
Select a cart bag where the robustness of the materials, mechanisms, and structure of the bag has been comprehensively tested to offer the best protection for the lengthiest period.
Storage Space/Pockets
Storage space to accommodate all those enticing accessories, as well as the "must-have" reserve attire, is a key part in establishing the appropriateness of the bag.
A load of small pockets that can fit small items won't provide you the opportunity to get ready for all contingencies on the course. After all, you are not lugging your bag and you want to make sure that you are well prepared should you get stranded out on the course or if the field is slower than a snail.
Protecting treasured valuables in impermeable and velour-lined pockets is extremely crucial.
Ease of access to any pocket or equipment is essential therefore the location and forward-facing pockets will make your life more comfortable.
Make provision for a waterproof section for the unanticipated changes in the weather and some clothing in case a change of shoes is essential after ending up in the water.
Some bags offer a see-through pocket a storage area for gadgets that have screens and that you may want to observe what is transpiring without disturbing your playing partners by continuously removing it from your bag to scrutinize.
You will be able to tell who is attempting to call you or sending you messages and allow you to only focus on the extremely pressing matters.
Staying hydrated on the golf course is important for your health as well as performance. Having a cooler pocket on a sizzling summer day to keep your brews cool, and keeping your fruit and sweets from maturing quickly, and turn into a mess seems like the proper thing to do.
No more getting parched out on the course and having to wait for halfway house to quench your thirst.
Cleaning and Maintenance
Cleaning and maintaining your bag will ensure that it will not fall apart after a few years and remain in a presentable condition thus escaping the ridicule from playing partners
The utilization of chemicals to wash your bag is not desirable as they will cause the fabric to break down and speed up the aging process prematurely.
Simply clean your bag with a soft cloth plunged in warm water and a little soap. Wipe down surplus soap and water with a moist cloth and that is all the cleansing your bag should need.
As your bag stores most of your extremely costly golfing equipment, it is not prudent for you to repair your bag except if it is a minor issue that ought to be addressed as a matter of urgency. Rips and tears for the duration of the warranty period ought to be addressed by the manufacturer. Bags that are out of warranty will be better off being replaced instead of applying an interim remedy.
In Summary
There are numerous brands of golf bags available including leading golf equipment makers and second-tier manufacturers. Several of the so-called second-tier manufacturers specialize in golf bags and offer highly competitive products compared to the top tier manufacturers.
Golf cart bags are extremely competitive in quality and pricing. This broadens the range accessible to golfers to find whatever options they may wish for.
The video will give you more insights into golf bags in general.
Reviews of The 7 Best Golf Cart Bags
If you are considering replacing your Callaway Golf 2018n org 14 cart bag, I would recommend considering the TaylorMade Pro Cart 8.0 bag.
One of the core reasons why I steer clear of cart bags is because they seem to always fall off my pushcart. Leaving me to adjust the position after every bump I navigate. The TaylorMade Pro Cart 8.0 bag solves this problem with a key lock base.
On top of its stable performance, the bag contains a 14-way golf club top to reduce the overcrowding of your clubs. Besides the design of the bag catering to all your clubs, it also has ample storage space for your other equipment.
With eight forward-facing pockets, the bag makes it easy to store and remove your rainwear, golf balls, tees, cellphone, and wallet.
Finally, if your cart is out of action, the bag does contain a padded shoulder strap enabling you or a caddie to carry it for the round.
Those of you that are on the lookout for a new cart bag replacement can find more information about the TaylorMade Pro Cart 8.0 here.
2. Sun Mountain C-130 Cart Bag
Pros:
Integrated utility handles are on the top of the bag
Remarkable color combinations
New Smart Strap System
14 Full-length dividers
10 good sized and easily accessible pockets
Water-resistant valuables pocket
Cooler
Cons:
Oversize putters may find it difficult to fit into putter well
Price is on the higher end of the spectrum
The Sun Mountain C130 is a glorious cart bag aimed at the full range of golfers from beginners through to advanced level golfers without putting enormous strain on your budget.
Weighing as a middleweight at only 7 pounds it sparkles in 11 colorful combinations that will stand out in any company.
Color combinations offered are:
Navy
Navy / White / Red
Navy / Grey
Black
Cactus / Black / Inferno
Black / Woodland / Camo
Sage / Desert / Camo
Iron / Cement
Iron / Gunmetal / Gray / Lime
Gunmetal / Black / Red
Chili / Gunmetal
14 full-length dividers will safeguard your assets and additional wells are supplied to store your highly cherished putter and driver.
10 good size pockets deliver adequate storage for golfers that want to load provisions into their bag for the next couple of rounds.
The Smart Strap system, integrated putter well, forward-facing pockets, umbrella pocket, towel ring; rain cover, 3 handles on the top of the bag and one at the bottom for assistance in lifting it into and out of the car, are additions that make this an all-round winner.
A cooler pocket for beverages and a water-resistant pocket are elements that are not present on too many of the rival products.
Verdict
A good all-round golf cart bag that can be transported effortlessly and is offered in colors to suit all combinations.
Protection for clubs and valuables is plentiful and well-designed combined with abundant storage capacity for the best-equipped golfers.
The TaylorMade TM 5.0 is targeted at golfers with small budgets seeking for high quality, high usability cart bag at the lowest possible price. The bag weighs in at a lightweight of 4.9 pounds making it the lightest cart bag available. The range of colors span 4 color combinations:
Black/White
Black/White/Red
Blue/Black
Grey/White
The 14 top dividers are not full length which is not ideal but inevitable at the low price. Storage comes in the way of 7 pockets of which 2 are sizeable and can accommodate most larger items and a valuables pocket that is velour-lined for protection.
The combination of a large carry strap, sizable top handle, and handles at the front and bottom of the bag makes for easy control and processing.
Extras that can be found on the TM 5.0 are a water bottle pouch, umbrella holder and a rain hood
The most distinctive feature of the TM 5.0 is the extraordinarily low price at the quality offered.
Verdict
The best quality bag at the lowest price from a respectable manufacturer.
The Bag Boy Chiller Cart Bag is constructed from 420 Denier Nylon and the intended target is the full assortment of golfers who requires heaps of space for beverages without forfeiting space for clubs and accessories. Coming in at the lower end of the pricing range makes it a desirable acquisition.
It weighs in at 5.85 pounds and is presented in 6 color permutations using black as the base color:
Black / Charcoal / Royal
Black / Charcoal
Black / Charcoal / Lime
Black / Charcoal / Red
Navy / Charcoal / Orange
Red / Navy
There is a 15-way top divider with the full-length dividers. Storage comes in the way of 9 pockets including storage that can store 6 x 12-ounce cans keeping golfers completely hydrated for the duration of the golfing round.
Verdict
Low price, high-quality cart bag that will provide plenty of beverages to quench your thirst.
The Founders Club Premium Cart Bag is constructed of lightweight, high-quality materials and is aimed at golfers covering the whole spectrum of skills and handicaps.
There is a 14-way top divider constructed with a rubberized slot directing grips away from each other. The unique anti-rattle technology circumvents the sound of irons banging against each other while traveling.
There are dedicated locations for every iron, wood, and putter and the putter location can accommodate golfers that prefer bigger grips up to the tune if 1 ¾ inch in diameter. There are 11 pockets available of which 9 have zipped access and 2 mesh pockets.
Also, to keep you hydrated on a hot day there is an insulated cooler pocket that is drainable. 2 Velour-lined pockets to protect your valuables ensure that you can store valuables that could damage each other separately.
Weighing in at 9 pounds is not the lightest bag available but the quality that comes with the bag at an affordable price makes this quite forgivable. After all, the target of a cart bag is not to be the lightest on the market but supply your clubs and valuables with abundant protection and storage.
The colors available are:
Black
White
Red
Blue / Black
Charcoal / Black
Red / Black
Orange / Black
Verdict
Well-priced option with unique anti-rattle technology for quieter travel
Pros:
The 15-way barrel cart top contains 9 full-length dividers to protect your most valuable clubs.
All 9 pockets are zippered and not use of magnetic closure
The Cell phone sleeve is capable of housing even the largest cell phones.
The color presentation can compete with bags from producers in the top tier
Cons:
The material used in the construction of the cirrus could be a better
The Ogio Cirrus Cart bag is manufactured from lightweight materials to make it easier on you to carry between car and cart especially after another tiring round in the heat. It is aimed at beginners and intermediate golfers but has found a fair amount of appeal from the advanced golfers as well.
A 15-way top divider provides ample space for all your clubs and your putter will find a home of its own in a dual putter pit that is designed to hold putters with large oversized grips
Abundant storage is provided in the form of 9 zippered pockets which includes a velour-lined pocket for your valuables that will prevent them from scratching as well as the weather and a pocket for your cell phone. Rounding the storage off is a detachable ball pocket.
The lightweight materials used in the manufacture of the Cirrus allows it to weigh in at a respectable 4.8 pounds.
Presentation in the form of 4 excitingly named colors can compete with most of the major brands. Colors are:
Shoot black
Bolt green
Burst blue
Rush red
Extras available on the Cirrus comes in the form of:
Towel loop
Umbrella sleeve
Large towel ring
Includes rain hood
Verdict
The Cirrus is aimed at beginners and has found an all-round appeal from many golfers including advanced players. The design and aesthetics of the bag will not embarrass you in the company of high-end high-priced bags.
7. PING Golf Men's Pioneer Cart Bag
Pros:
15-way polypropylene top with anti-flex walls
11 total pockets
Water-resistant velour-lined valuables pocket
The cart strap channel guarantees that access to pockets is not restricted.
The weight of only 7 pounds makes it highly competitive in the weight department.
Divot tools and ball markers are reachable via the quick access magnetic pocket.
Clubs stay in place even with heavy movement
Cons:
More colors can be added to the restricted selection available currently.
The Pioneer cart bag has a simple design and is a low-cost bag aimed at beginners to intermediate golfers looking for minimalism and practicality.
A 15-way top divider with 15 full-length dividers anti-flex walls allows for storage of your clubs
Storage comes in the way of 9 easily accessible pockets with magnetic access that are roomy enough to cater for large accessories and cell phones. There is a molded putter well that can accommodate many putters available on the market at this stage.
Extras such as an umbrella sleeve, magnetic drop-down golf ball pocket, and rangefinder pocket rounds off the well-appointed storage ability.
Weighing in at a respectable 7 pounds places the Pioneer in the middle of the weight spectrum for cart bags.
The Pioneer cart bag is available in
Black
Birdie Blue / Black / White
Navy / Black / White
Verdict
Sufficient storage for the fussiest golfers and protection for every club via full-length dividers
Final Thoughts
Choosing a winner from a list of highly competitive cart bags is an almost impossible task. The Callaway is a favorite with many golfers and has every right to be in the top tier.
If the price is your driving factor, then the Sun Mountain C-130 is the one for you.
The Callaway Org 14 is our overall winner for the all-round capability, storage, and club protection.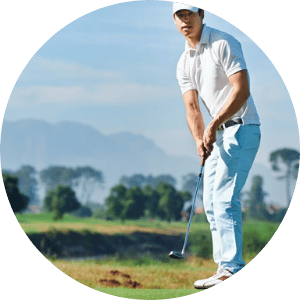 Nick Lomas is the founder of GolfSpan, an avid golfer, not quite a pro but has over 15-years of experience playing and coaching golfers from all over the world. His mission is to bring the golfing community a better experience then it comes to choosing the right golf gear, and finding the right set up for your game.