You want to look good and feel comfortable at the same time. Finding the best golf pants is essential for your game.
At a glance: Our Top 5 Picks for Best Golf Pants
What to Look For In The Golf Pants
When purchasing golf pants there are a number of important factors to consider. We take you through the main aspects to consider to help you make an informed decision and find the best golf pants for your needs.
While your clubs, golf balls, and all equipment are important do not neglect your clothing. The best golf pants will make a remarkable difference to your comfort as well as your game.
Here are a few factors to consider:
Comfort
While everyone has different priorities when it comes to golf pants, comfort should be at or near the top. While other aspects are important the last thing you want to do is play 18 holes of golf in pants that are uncomfortable. Not only will it reduce your enjoyment of the day but it will most likely have a negative impact on your performance.
Comfort is related to a number of factors that we will cover in more detail but it really comes down to the fit, the design, the materials, the fabric, and the quality.
Select pants suitable to the environment and time of year. Warmer conditions call for cool breathable pants while you can get away with a more dense fabric in cooler climates. Take this into account when making your selection.
Fit
When it comes to fit, one has to be realistic. Many of us imagine we are a size or two less than we are in reality. This is a mistake, particularly with golf pants. A good fit is essential for your comfort. If you are not sure, measure! This applies particularly to the waist but length is also important.
Furthermore, if you are able to try the pants on, do some movement and exercise in them so see how they fit as you move. Bend, twist, make sure they fit correctly. If in doubt, err on the side of a larger size to be safe. You can always tighten the belt if necessary.
Avoid those that bunch excessively at the ankles and pleats are generally not advised. You want a fit that is neither too baggy nor too tight. Baggy pants could hinder your performance.
The fit of pants is often referred to as regular, slim or classic. A slim fit is popular but does not work for everyone and is not always the most comfortable. While you want to look good, go for the fit that is comfortable and suits your personal style sense. If you are not sure then a classic fit is a safe bet.
Color
This is obviously a personal preference but lighter colors generally work better for most people. They are cooler and go with pretty much everything. White pretty much always looks good but shows dirt easily.  The bolder and more adventurous players can go for some of the more dramatic colors and patterns if they are so inclined.
Breathability
Another aspect of comfort is keeping cool and most quality pants offer good breathability. These allow for airflow and help to keep you cool and dry. Some golf pants also feature moisture-wicking which keeps sweat and moisture away from the legs for a dryer round of golf. Mesh pockets are another feature found on some golf pants to aid airflow. Consider these features if you play in warm environments.
Materials
The quality, comfort, breathability, look, and durability of the pants is mainly based on the fabric used. Most modern pants are a blend of fabrics, generally polyester and cotton. There are some fancy blends with unique names. You will need to experiment a bit to find what works best for you and the environment in which you play. A blend of polyester, cotton, and elastane has stretch and flexibility which works for a comfortable experience.
Ease of care
A round of golf can take a toll on your golf pants, particularly if you find yourself in the rough or bunkers occasionally. You want to ensure they are easy to look after. The first thing you want is pants that are machine washable. It also helps if they are wrinkle resistant.
Budget
Generally, one has to factor in the cost of the pants. It is preferable to have a few quality pairs of golf pants so pay attention to the price. Big brands tend to be a bit more expensive but then the quality, comfort, and durability are also normally good.
Golf Pant Style
So many golfers get this wrong but it is a rather simple concept. The point is to ensure the shirt and shoes match the pants or at the very least, do not clash. Bright shirts or patterns call for plain neutral pants. If you are going for more adventurous pants then have a neutral simple shirt.  The elements need to work together and complement each other.
That is not to say you need to be conservative and bold and bright is perfectly acceptable. Just balance and match the elements so that they work well together.
What is important is that you look good and feel comfortable. The best golf pants can do this for you.
Quick Overview: Our Top Picks for Best Golf Pants
Reviews of the Best Pants For Golfers
After extensive research, we found the following golf pant which we believe to be amongst the best of the best. We considered all of the above factors to find stylish pants that are comfortable and enjoyable.
For the more bold and adventurous golfer that want to make a bit of a statement with their pants, these are a great option. They are available in a wide range of rather funky designs and patterns. For many, this is what they look for in golf pants.
They obviously still need to be practical and comfortable and these fit the bill. They are made from a 97% Cotton and 3% Spandex blend for comfort and coolness. They are also highly durable so you know you will get some mileage out of your investment.
They are backed by return policy for complete peace of mind. The pants are machine washable and easy to care for. They feature a zipper closure.  The pants even have funky features such as the included pitch repairer which conveniently doubles as a bottle opener. I can imagine many times when that would come in handy.
If you thought the PGA TOUR golf pants were affordable you will be even more impressed with the great value money these pants offer. As you would expect from Amazon Essential products, these are quality at a great price. They are made from a blend of 98% Polyester and 2% Spandex for just the right amount of stretch and flexibility.
They have a classic cut and the style is appreciated by many. The pants are machine washable for easy care. They keep you dry on the course the fabric has moisture-wicking properties. This is essential when golfing in warmer climates.
The front has slant pockets on both sides as well as rear set-in pockets. The pants have been designed to look smart while providing comfort and coolness. There are 6 basic color options available.
The material might be a bit be slightly thick and a bit heavy for really hot days but these are quality durable golf pants that look good, last well and are available a great price.
3. Under Armour Men Match Play Golf Pant
Pros:
Quality and effective fabric blend
Soft and stretchable
Lightweight
Effective moisture wicking for a dry experience
Remain odor free
Designed for comfort
Reasonable range of colors
Durable fabric
Multiple sizes available
Cons:
Too baggy for some players
Some complaints that the lighter pants were see-through
These popular golf pants are a blend consisting of 54% Nylon, 43% Polyester and 3% Elastane. This makes them lightweight and gives them great comfort with a fair amount of stretch. The stretch is particularly noticeable in the waist where you need it most during a round of golf.
The fabric is soft and cool. It has sweat and moisture-wicking properties to keep you dry and comfortable as you play.  The pants dry very quickly. Another benefit of this is that it prevents the build of odors.
They are machine washable and easy to care for. The look is a straight leg design with a relatively loose cut for added comfort. Some might prefer a tighter leg but if comfort is a priority these are a great option.
There are 4 pockets and the pants are available in a range of 9 colors. They also have a decent range of sizes to choose form.
These are a popular choice and well-loved by a wide range of golfers.
These 100% polyester golf pants have a lot going for them. The fit is sharp for a good look and feel. The waist is comfortable and the leg is not too tight without being baggy. The ankle tapers gently to complete the classic look.
The fabric has a natural stretch which means comfort throughout the round. Another benefit of this fabric is that it is super easy to care for. They are machine washable and if hung correctly do not need to be ironed. The polyester fabric is also durable so you will get plenty of use out of these pants.
For hot conditions, these golf pants are ideal. They will protect you from harmful sun rays with Sun-Control. It offers an impressive UPF-50 UV protective technology. The moisture-wicking properties keep you cool and dry by pulling moisture away from the body.
In terms of pockets, there are two flat pockets in the front and two back welt pockets. This should give you ample storage room and the stretchable fabric helps in this regard.
The IZOD Men's Golf Microsanded Flat Front Classic Fit Pants are available in a range of neutral or darker colors. While most like the classic look and love the comfort they might be a bit too baggy for some.
These popular golf pants are smart, cool and comfortable. As the name suggests, they are designed for airflow which is essential to keep you cool and relaxed on the course. The comfort and coolness will allow you to focus on the game at hand.
What makes them work so well is the blend of 88% Polyester and 12% Elastane. They also have a Climacool mesh gusset for additional ventilation. They are not only great for hot conditions but the water-resistant nature is great for rainy days, dealing with puddles and water hazards.
The stretch waistband is great for those tricky positions or when you have to bend and twist. It will not restrict your movement for added comfort and improved performance.
As you would expect from adidas the pants are stylish and include a printed gripper. They are quality pants that are designed to last.
6. Under Armour Match Play Golf Pant
Pros
Crafted from soft woven fabric
Moisture-wicking ability to keep you dry
Stretch waistband for a comfortable fit
Four pockets
Affordable
Wide variety of waist and leg length options
Machine washable
Cons
Some customers have found that the waist length is smaller than usual, requiring you to purchase one size extra.
Lighter color pants are known to be see-through.
Finding a comfortable pair of slacks to wear around the course can be a challenge. The Under Armour Match Play golf pants come in a wide range of sizes and color options to suit an array of golfers.
The pants are crafted from soft, stretch woven fabric that delivers comfort and is soothing on your skin, reducing the risk of rashes and chaff. The material combines 54% Nylon, 43% Polyester, and 3% Elastane, resulting in a lightweight pair of pants.
Furthermore, the material contains moisture-wicking qualities which repel sweat and water to dry rapidly.
Under Armour added a stretch waistband to the slacks to ensure maximum comfort and blood circulation.
The pants are a loose cut designed for optimal comfort during a round of golf. However, some customers have reported the pants being tight for them. It is advisable to consider going one size larger than you typically do.
Finally, the pants are machine washable, saving you the hassle of having to hand wash your prized slacks.
If you are looking for a comfortable and affordable pair of golf pants with a wide range of size and color options. You can take a look at the Under Armour Match Play Golf pant here.
7. Callaway Men's Technical Stretch Pants
Pros:
Good moisture-wicking technology
UPF 50 Sun protection
Great stretch and comfort
Cons:
Limited colors and sizes
Some would prefer a slimmer fit
Callaway is known for quality golf equipment and they do not disappoint in the apparel market either. These pants are made from a blend of 91% Polyester and 9% Spandex which allows for a good balance of looks, comfort, and breathability.  They have an effective 4-way stretch for maximum freedom of movement and comfort. This is enhanced by the active waistband for added comfort.
They feature the Callaway Opti-Dri moisture-wicking technology to keep you dry and cool as you play.  This is great on hot days and keeps the moisture from the body while cooling you down. Added to that, the pants also offer UV protection to keep you safe from the harmful sun rays.
They are machine washable and easy care pants. The double weave design makes them more durable and comfortable.
Final Thoughts
That should give you a good roundup of what to look for in the best golf pants as well as some of the most popular choices.  It was not that easy to pick a winner but based on the important factors we discussed, the IZOD Men's Golf Microsanded Flat Front Classic Fit Pant stood out as our top pick.
They are well made, comfortable and look great. The stretch gives you great comfort on the course and they have excellent durability. Importantly, they offer UV protection as well as good moisture-wicking for added comfort and coolness.
Consider your personal preferences, style, climatic conditions and budget in order to find the best golf pants. You can't go wrong with any of the leading options we have reviewed.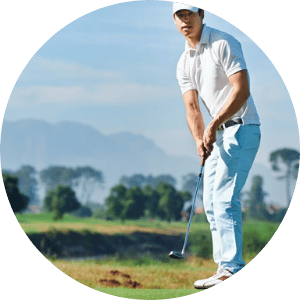 Nick Lomas is the founder of GolfSpan, an avid golfer, not quite a pro but has over 15-years of experience playing and coaching golfers from all over the world. His mission is to bring the golfing community a better experience then it comes to choosing the right golf gear, and finding the right set up for your game.