Owned by Callaway, Odyssey has been responsible for some of the most iconic putters in the world since they started making clubs in 1997. Odyssey putters truly inspire confidence behind the ball, and there is one to suit every stroke style under the sun.
Yet, their range is so huge it's sometimes challenging to pick the right one. Which one is right for you?
Read on to learn everything about the best Odyssey putters 2023 offers. Check out our reviews below to find the perfect fit for your budget and stroke style.
Putter
Odyssey Eleven Triple Track
Odyssey TRI Hot 5k Two
Odyssey Toulon Putters

Pros

Forgiving
Consistent
Excellent alignment

Stylish aesthetic
Ideal feedback

Consistent and stable
Premium look and feel

Cons

Not great for high handicappers
Our Research Parameters
Golfspan is independent and not pressured by manufacturers to recommend products. We were not paid for the Odyssey putter reviews in this article. These putters were selected by our team, who have over 50 years of experience playing golf and hundreds of hours reviewing products. But we may earn an affiliate commission when you purchase something through our retail links.
Odyssey Putter Reviews
1) Odyssey Eleven Triple Track (Best Overall Mallet Putter)
Pros
Ample forgiveness
The stable design maximizes consistency while putting
Excellent alignment
Cons
If you are looking for a putter that will give you some of the highest levels of forgiveness in the market, then the new Odyssey putter, the Eleven, is the way to go.
In terms of aesthetics, you will notice that this club has a lot in common with TaylorMade's Spider putter.
Odyssey also uses a mix of TPU, aluminum, and steel materials for these putters to give it a reasonably high MOI.
The head is square and is particularly wide for maximum stability. On its top, the Eleven either comes with a white line horizontal alignment feature which is ample for lining up shots, or users can opt for a plain head top.
The last option is Triple Track, which has the best alignment and why it is our top pick from the Eleven range. However, if you prefer the other styles, they are just as good in every other way.
Odyssey reduced the shaft section and stiffened it to reduce weight for a more stable result while swinging. As is the custom in most Odyssey putters, this too is fitted with a White Hot insert face instead of microhinges for more consistency in terms of sound and feel.
Compared to other leading mallets, the CG has been advanced by almost 1/4 inch, significantly enhancing inertia and performing similarly to a blade in dispersion. So, you get the best of both worlds, making this the perfect mallet putter if you're making the switch from a blade.
2) Odyssey TRI Hot 5K Two (Best Blade Putter)
Pros
Stylish traditional aesthetic
Good sound and feel as a result of the iconic white insert
Cons
The Tri Hot 5K Callaway Odyssey putter is an Anser-style putter that will be suitable for players looking for all the advantages of a blade putter, but with just enough forgiveness to rival a mallet.
Odyssey fits the TRI HOT 5K with some of the most recent technologies, including a urethane insert for a soft feel when contact is made with the ball and a medium-high satisfying sound.
To improve roll and increase inertia, the CG is moved more forward than in previous versions of the tri-hot putters. Even further, players can purchase either tungsten, aluminum, or steel weights separately for even more control.
Odyssey stuck with a traditional putter weighted on the head and toe. They also added a crank hosel to create average toe hang levels suitable for players who prefer moderate face rotation and arc.
The Odyssey TRI Hot 5K comes with a Stroke Lab Shaft made from multi-materials with a shortened steel section and an overall stiffened shaft for maximum stability.
Although pricey, this is still the best value putter from Odyssey.
3) Odyssey Toulon Putters (Premium Pick)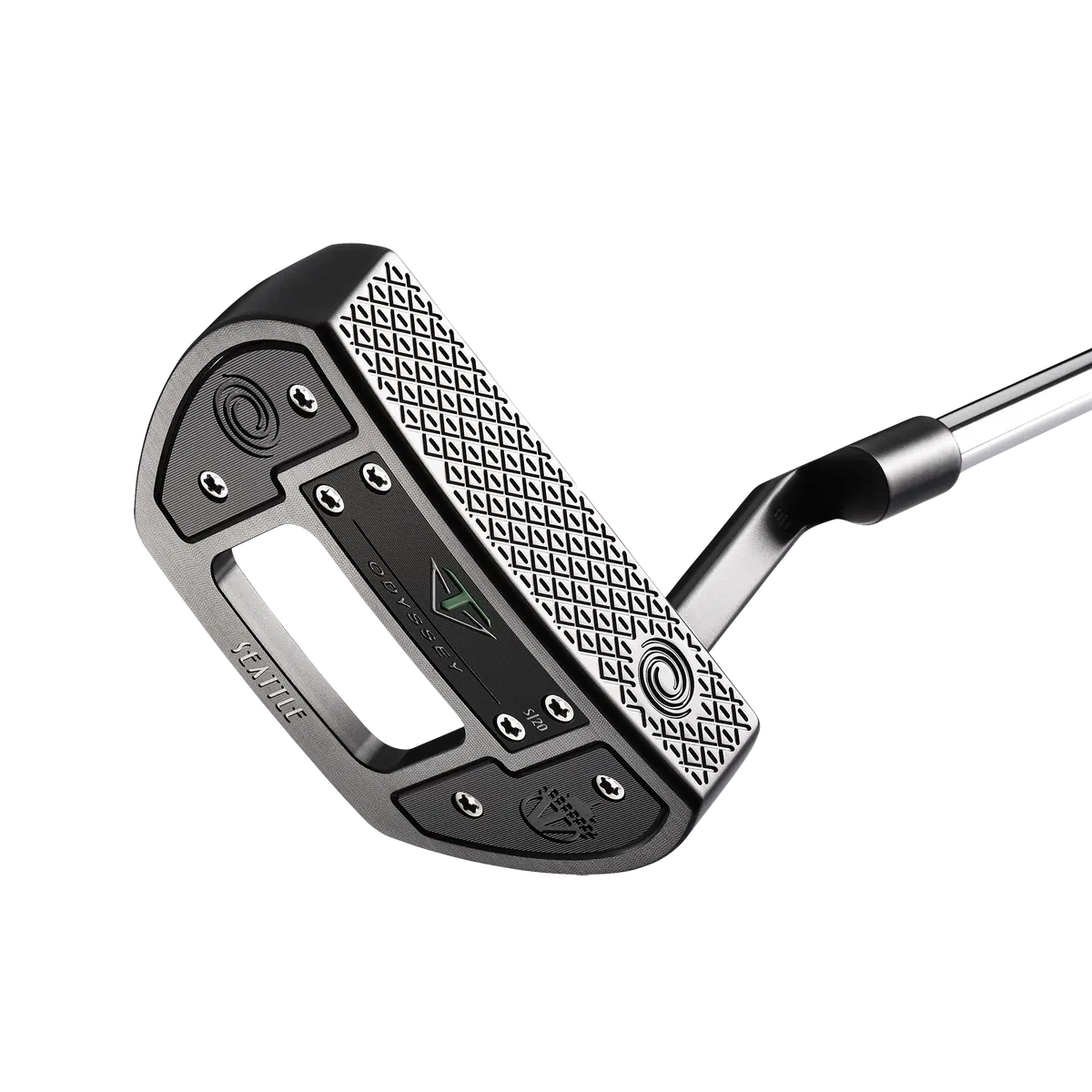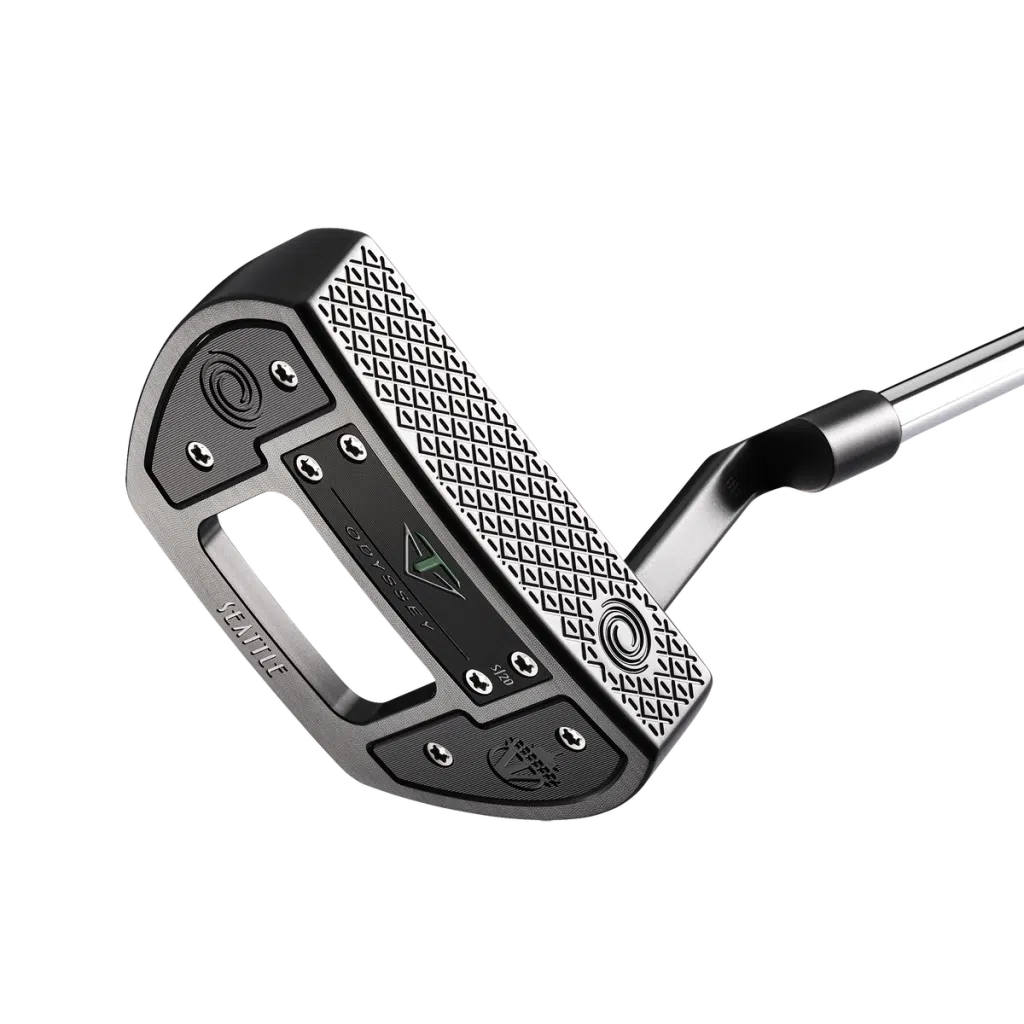 Pros
Excellent for low handicap players
Consistent and stable design
Premium look and feel
Cons
Not much forgiveness
Very Expensive
The Toulon-designed Odyssey line is Anser-type putters that come in a dark emerald finish. A Toulon Stroke Lab shaft compliments the premium design, which utilizes a graphite shaft with a steel tip for better stroke consistency.
It also comes equipped with a Deep Diamond Groove face, producing a satisfying sound and a good feel. This double fly cut medium depth face also promotes exceptional forward roll.
Players can adjust the sole weights and shaft length to fit their stroke for even more control. Thanks to a brand-new, split-weight design, the weights are moved forward and toward the toe and heel in every Toulon Design putter. The location of the weight increases the head's inertia, and the impact ratio and forward roll are more consistent as a result.
Like most others in the Odyssey range of putters, you can get the Toulon putters in a range of different club head styles to suit your stroke.
All of this adds up to make some of the most reliable putters available today (for those that can afford it). These putters deserve the top spot, if not for their exorbitant price tag. They are the best Odyssey putters, but not so much better that you can overlook the value of other great putters from them.
Still, these putters are the number one choice if you've got the cash to splash.
4) DFX 2-Ball OS Putter (Softest Touch Odyssey Mallet Putter)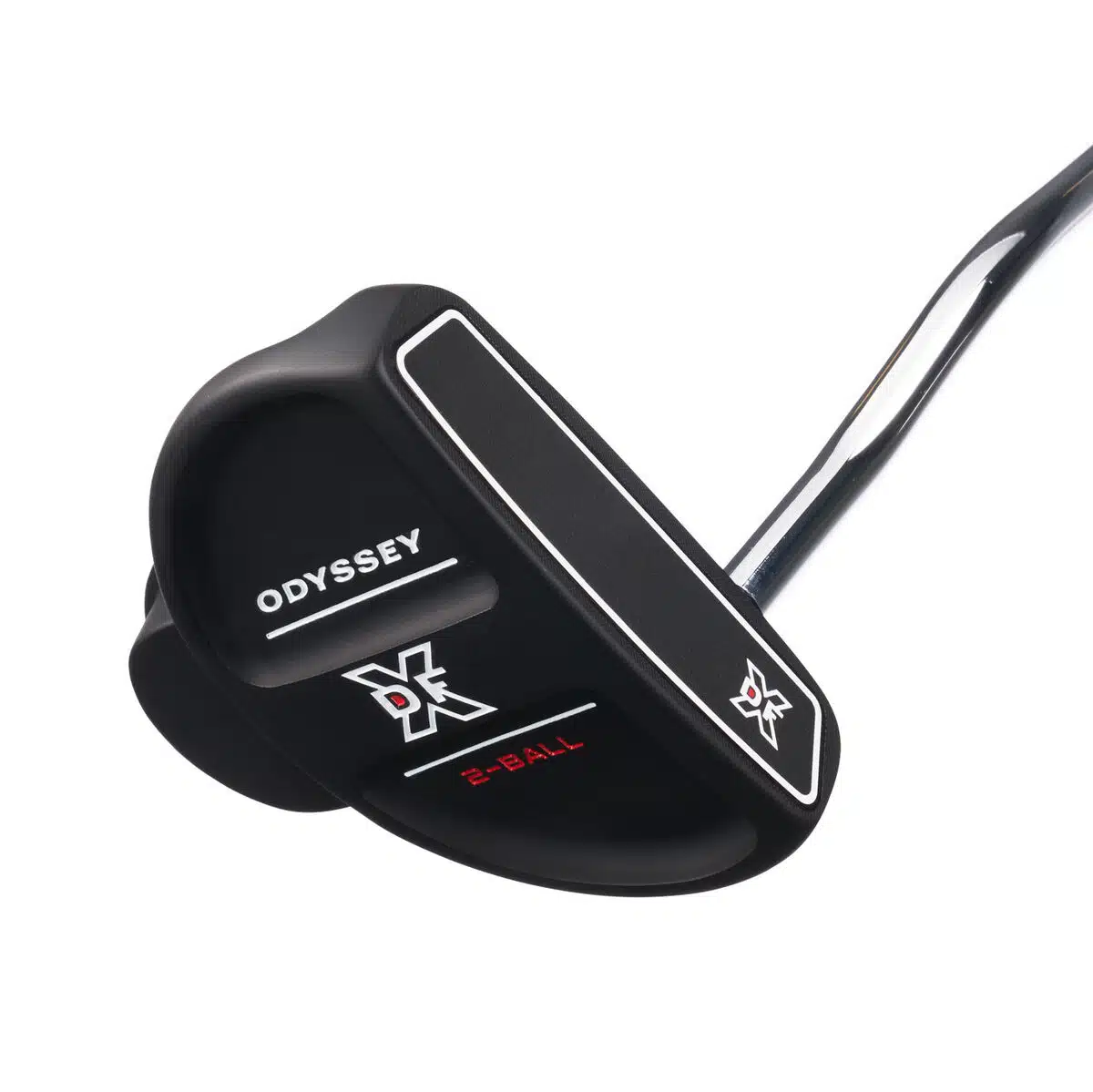 Pros
Feather soft feel
Good alignment features
Cons
Best for those that have used mallet putters before
Odyssey DFX Putters are made with their softest inserts to assist in your improvement. For golfers who desire a smooth feel and roll on the greens, the DFX insert is softer than their renowned White Hot insert.
This putter delivers in terms of looks, it's offered in some of their most storied versions, and it looks fantastic with a high-end all-black head aesthetic.
This alignment is also top-notch as it comes equipped with a white two-ball alignment system. When you set a 2-Ball putter down behind your actual golf ball, it will appear as though three golf balls are lined up in a row since the white discs on the putter head resemble golf balls and are the same size as a golf ball's circumference.
While these are becoming increasingly difficult to find, you can often grab one on special or on the used Odyssey market, making them worth considering if you'd like to save a little money.
5) Odyssey 2-ball 10 Putter (Best Older Mallet)
Pros
Good alignment features
High forgiveness levels
Sleek premium looks
Cons
Not a good option for players with an arc stroke
Considering Odyssey have in the past claimed this to be the best 2-ball putters in their collection, it should come as no surprise that the Odyssey 2-ball ten putter is in our list. The only reason it's not higher in our top picks is because it's been superseded by the Eleven range.
The club is designed specifically for players who prefer reduced arc and minimal rotation. For starters, the club comes fitted with their iconic white hot insert, a fan favorite because of its extraordinary sound, feel, and overall performance capabilities.
The club is paired with a stiffened and shortened Red Stroke Lab shaft. This shaft has less weight giving players more consistency and stability.
Also, the Odyssey 2-ball ten comes with two adjustable 15g weights which players can adjust for maximum MOI.
In terms of looks, the putter has a more refined silver look with the iconic two ball shapes in the middle for alignment. For players looking for a putter with maximum forgiveness and those struggling with alignment, you may find yourself hard-pressed to find a better option than the Odyssey 2-ball 10, especially for the price you can find these at.
6) White Hot OG 1 Putter (Best Traditional Blade)
Pros
Stylish traditional aesthetic
Nice feel and sound
Cons
Not that much forgiveness
The White Hot OG 1 putter is Odyssey's take on a traditional blade. It comes with a premium silver PVD aesthetic and features the fan-favorite White hot insert known for taking putters to another level in terms of overall feel and sound.
The club is weighted in a way that makes it heavy enough for long shots and light enough to help guide short putts.
For players with strokes with arc and increased roll, it comes with an adjustable crank hosel suited to give players maximum control. Even then, compared to mallets, players will notice that the OG 1 doesn't have as much forgiveness, and this is because of its not-so-high comparative MOI.
However, when put against other blades, it fairs well enough in terms of forgiveness. Aligning on it is a simplistic touch is just enough to help you get your shots lined up perfectly.
7) Odyssey Stroke Lab R Ball Putter (Best for Control)
Pros
High levels of control and consistency
Various fitting options
Cons
The Odyssey Stroke Lab R Ball putter is designed with a 40g lighter shaft, which results in the weight being focused on the heel and toe for a more efficient stroke.
A multi-material shaft combines with grip and sole weighting to improve feel for the putter head. The feedback and roll required by players are produced by combining the White Hot feel and sound with the distance and precision control of Microhinges.
Also, compared to ordinary putter shafts, the Stroke Lab putter shaft is a bit stiffer and produces less torque. In turn, the slightly heavier head is easier to handle.
Players can choose between an oversized grip with no taper or a classic piston-style grip. For players looking for control and consistency, the Odyssey Stroke Lab R putter is one of the best options from the Odyssey collection.
8) Odyssey White Hot OG 7 Slant Neck (Best for Face Rotation and Arc Strokes)
Pros
Good for players with strokes with arc and face rotation
Soft feel and satisfying sound
Cons
Not the best alignment features
With its short slant neck and toe hang design, the White Hot OG 7 is a toe hang mallet putter that works best for players with strokes that have a rotating face and arc.
In terms of looks, it sports a rich silver PVD finish with fine milling on the surfaces.
Players can select a multi-material Stroke Lab shaft in a gorgeous red hue, or a quality stepped steel shaft. For a traditional appearance and feel, both shaft variants are carefully fitted with a typical pistol grip.
Impact with a high-end golf ball has the recognizable soft-solid feel. The tactile disparity between golf balls is reduced with the White Hot insert. The sound and feel are duller when utilizing a very low compression ball than when using a high compression ball.
What To Consider When Purchasing an Odyssey Putter
Generally, regardless of brand, you should consider a few things to make picking the right putter easier. These factors include:
Head Design
One of the most crucial things to consider when choosing a putter is that the head style is typically categorized as either a blade or a mallet. In addition, you might want to think about whether the head design has a faint line or not. A blade head design without a small line is frequently the preferable choice for players using an arc putting stroke. However, players with a square put might benefit more from a mallet or a blade putter with a sizable alignment aid.
Length
The length is another important thing to think about. The ideal putter length places you in the most advantageous and comfortable address position. Getting yourself to a fitter is best to find the perfect length for your height and stroke style.
Aesthetics
Despite being sometimes disregarded, looks are significant. Having a premium-looking product can inspire confidence on the green. Take into account the putter's color and shape. But, don't let your aesthetic choice overrule the correct clubhead shape for your stroke.
Weight
Weight and its positioning impact the club's overall CG, which is essential for MOI levels. Those with a higher handicap should try to maximize the MOI for more forgiveness on slight mishits.
Read more: Best Putters For High Handicappers
Feel and Sound
In general, a more prominent click when striking the ball also means that you will receive more physical feedback from the club. For many players, this is an essential part of improving their stroke. You'll even find that experienced players can tell you whether it will be close to the hole or not as soon as the club hits the ball. Yet, some players do prefer a soft feel.
Frequently Asked Questions
What Odyssey Putter is Best?
Each type of player is going to have a different putting style. Also, different putters will be suitable for varying levels of players. This means that the best Odyssey putter will be subjective, depending on the type of player. For players looking for forgiveness, the Odyssey Eleven is a good fit. The Tri-Hot 5K putter is a good option if you are looking for a blade putter.
For a more accurate selection, read each Odyssey putter review in this article.
Who Manufactures Odyssey Putters?
Odyssey and Callaway putters. Yet, many of the Odyssey putters come from different manufacturing locations.
Are Odyssey Putters any Good?
Odyssey has been producing some of the best putters in the golfing world. Some of their most popular collections include the White Hot OG, the Eleven series, the TRI Hot 5K series.
What Does Odyssey White Hot OG Stand For?
The OG stands for "Original" since the White Hot OG insert is based on the original White Hot insert, which was one of Odyssey's most popular putter inserts.
Which PGA Pros Use Odyssey Putters?
The following players currently use Odyssey putters on Tour:
Xander Schauffele, Webb Simpson, Tommy Fleetwood, Tom Hoge, Talor Gooch, Siwoo Kim, Shane Lowry, Sepp Straka, Sam Burns, Ryan Palmer, Phil Mickelson, Patrick Reed, Min Woo Lee, Maverick McNealy, Matt Wallace, Marcus Armitage, Marc Leishman, Luke List, Luke Donald, Kyoung-Hoon Lee, Kevin Na, Kevin Kisner, Keegan Bradley, Jon Rahm, Joel Dahmen, Jason Day, Henrik Stenson, Harold Varner III, Haotong Li, Graeme McDowell, Francesco Molinari, Erik van Rooyen, Dylan Frittelli, Danny Willett, Danny Lee, Christiaan Bezuidenhout, Chris Kirk, Chez Reavie, Chesson Hadley, Carlos Ortiz, Brandt Snedeker, Branden Grace, Antoine Rozner, Alex Noren, Abraham Ancer.
What Makes Odyssey Putters Special?
One thing that makes Odyssey putters stand out from the competition is the sheer size of their range. There truly is something for every player. Another excellent and unique inclusion is the hot faces on many of the Odyssey putters.
One such example is the White Hot OG putter with an insert that gives outstanding feedback regarding feel and sound and allows for exceptional forgiveness on the green. As a bonus, and much like many other putters from Odyssey, you can get these putters in a range of mallet and blade-style club heads.
Wrapping Up the Odyssey Putters Review
Their huge range and attention to detail in every one of their clubs make Odyssey one of the best putter manufacturers out there. The only difficulty is choosing between the huge selection of Odyssey putters to find the perfect fit.
Overall, the Odyssey Eleven Triple Track is a fantastic mallet putter offering forgiveness, alignment, and consistency.