Consider your average round and determine how many strokes on your scorecard were putts. That should put the importance of getting a decent putter into perspective.
While mallet putters have become fairly popular, many golfers still prefer the more traditional blade design. Modern technology has improved this seemingly simple club, and the best blade putters have a lot to offer. Let's dig a little deeper. Or, you can skip to the reviews of the top-rated blade putters.
Which is Better – A Blade or Mallet Putter?
The first step is to be sure you want a blade putter over a mallet putter. There is no right or wrong answer, and much will come down to your personal preference and, to an extent, your putting style.
Many traditional players prefer the look and feel of the blade putters that, despite a few advancements, have been the norm since the origin of golf. While materials, weighting, and other features have certainly evolved, the look of a modern blade putter is comparable to those used for centuries.
Mallet putters come in a range of shapes and designs but are generally larger, with more body behind the face of the putter. The designs allow for better perimeter weighting, and many find them to be more forgiving and easier to use.
Give some serious thought to which style you prefer before committing to a purchase.
Our Research Parameters 
Golfspan is independent and not pressured by manufacturers to recommend products. We were not paid for the reviews in this article. These putters were selected by our team, who have over 100 years of experience playing golf and thousands of hours reviewing products. We may earn an affiliate commission when you purchase something through our retail links, but you'll know for sure that it's the right club for your game.
22 products were considered from 8 brands on:
Look

Weighting 

Feel

Design

Durability 

Price
Quick Overview: Our Top 10 Best Blade Putters
The 10 Best Blade Putters Review
Cleveland is renowned for its legendary craftsmanship producing some of the most sought-after putters used by professional golfers and amateurs alike.
This blade-style putter has square shoulders, bumpers, and a plumber's neck. This model is manufactured from solid-milled 304 stainless steel without an insert flow producing a softer sound and feel. This dampens impact by roughly 30% on this putter, while the sole weights provide better feel and distance control.
A thinner, flatter topline and sharper bumper lines distinguish this from older Cleveland releases.
Shafts are available in a selection of 33 inches, 34 inches, and 35 inches. A soft Tri-sole design promotes the putter head to sit square to the target line at address. The redesigned plumber's neck produces improved toe flow while a new socket radius where the hosel neck joins the top line enhances the ball's visibility and the leading edge at address.
[Check Prices & See User Reviews]
Pros:
Premium appearance

Redesigned plumbing neck improves visibility of the golf ball

Balanced weighting to create a larger sweet spot

Milled from solid 304 stainless steel
Cons:
Top-end of the pricing spectrum
Callaway definitely produces some of the top putters on the market, and their Odyssey line is the cream of the crop. The White Hot OG Putter is a great showcase of why they are at the top.
The cool thing about these putters is that they have many different head shapes to choose from, which can almost be overwhelming. You can also choose between a standard grip or a jumbo grip, making it easier to look at this putter.
The reviews really do point out how great the putter feels off the face, and the sound is just plain satisfying for players.
With over 600 reviews on Amazon and a 5-star rating, this putter has proven itself as one of the best on the market.
[Check Prices & See User Reviews]
Pros:
White-hot insert improves sound and feel off the face

Laser milling insert improves consistency

Weight placement on the face makes for more forgiveness, whether on the heel or toe

Alignment aid for better accuracy to the hole

Different head shapes to select from
Cons:
Might not have your preferred head shape

May feel too soft for some golfer's taste
For the ultimate in luxury, look no further than the man himself, Scotty Cameron. Something about how these putters feel separates them from the crowd. If it weren't for their price, they would be ranked first place all the time. 
The soft metal and ultra-micro milling on the face combine to give you a true roll on all your putts every time. Typically, blade putters have a smaller sweet spot, but that's hard to notice with this putter. 
The added tungsten weights in the heel and toe provide a safety net for off-center strikes. Nothing is worse than leaving a 30-foot putt 10 feet short because you hit it on the toe. 
There are also three smaller tungsten weights positioned directly behind the face, contributing to forgiveness and keeping your ball on line.  
[Check Prices & See User Reviews]
Pros
Exceptional feel with milled face

Optimal forgiveness provided by tungsten weights

Steady stroke via even heel-to-toe weighting

Professional look and finish
Cons:
Pinemeadow has to win the top prize in the affordability category. This is a good quality blade putter at a rock-bottom price. Pinemeadow hails from Portland, Oregon, and have been around since 1985. You won't see any fancy marketing campaigns or flashy sponsorship deals, which is the main thing that helps them keep costs down.
While they do their own research and development, they essentially copy or clone equipment that has already proved to be successful. This is a common practice but something Pinemeadow does exceptionally well. This putter is a clone of the Ping Classic Style putters. You would never find those putters for under $100.
It has a remarkably similar design, and Pinemeadow does not cut costs on material quality. One can expect a very similar performance to the original Ping putter. It is made from a Zinc alloy and die-cast. The result is a soft feel and an easy roll.
The putter has a bold and effective alignment aid for improved accuracy. The low profile of the blade also helps in alignment and centering the ball at address. Most users agree that it offers good control. The standard shaft is a steel 125-gram Apollo shaft, and Pinemeadow covers the putter with a 1-year warranty.
If you are on a tight budget but want a quality putter that is well-designed and well-made, this is certainly one to look at. While top golfers will invest a bit more, this putter should perform well for putters at all levels.
[Check Prices & See User Reviews]
Pros:
Outstanding value for money

Good design

Well-made with quality materials

Decent alignment aid

Low profile

Soft feel
Cons:
No brand name bragging rights

Not all players loved the grip
Cleveland has used precision deep-face milling in a diamond pattern to give this putter constancy as well as a soft and pleasing feel. The head is made from 304 Stainless Steel which adds to the precision and feel and is highly durable.
It certainly does not hurt that this combination of materials and engineering leads to what most consider a sleek and stylish look. Another advantage of the material is that it allows for customization. One can adjust the lie angle by 4 degrees either way.
The recent advancements made by Cleveland have put them on the map for leading putters, and these are a popular option with amateurs and professional golfers.
The putter has vertical and horizontal sightlines, but some players are disappointed that they do not extend to the face front. For many, this is not an issue.
This putter is highly affordable despite the quality of materials, design, and engineering. The Beach Soft Premier #8 is a worthy option to evaluate for those wanting a blade putter with a soft feel.
[Check Price & See User Reviews]
Pros:
Soft feel

Accurate and consistent

Delivers a good roll

Smart, sleek design

Good sound and feedback

Durable

Customizable lie angle

Affordable
Cons:
No sightlines on the front of the face

The softness might take some time to adapt to
Wilson is a well-established golf equipment brand with more than a century of experience. There is a lot to appreciate about this putter apart from the highly affordable price. It shows you can get a quality blade putter without breaking the bank. This putter looks good, performs well, and comes at a great price.
The putter is heel-toe weighted, and the face features a polymer insert with multiple micro-injections. This gives it a soft and consistent feel that most appreciate. 
It has a plumber hosel to help at address and a distinct alignment aid. These should work well to improve accuracy. The majority of golfers find it to be easy to swing and highly forgiving.
The slightly oversized grip is comfortable and effective with a vertical seam. Despite being a budget putter, this will work well for most players at all game levels.
[Check Prices & See User Reviews]
Pros:
Remarkable value for money

Soft and pleasing feel

Forgiving

Good balance

Sleek design

Effective alignment aid

Comfortable grip
Cons:
Some found it lacked consistency

Not as durable as more expensive putters
While blade putters are generally more forgiving than mallet options, this is a valid exception.  It is highly forgiving across the entire face of the putter. While it is one of the more expensive options, many agree it is worth the investment.
A standing design is also a huge benefit for this putter. It allows you to take a step back and line up your shot. And, while it's not technically a blade putter, it's close enough in feel and design to cut the mustard.
This club allows you to dial the putter in according to your specific putting style and strength. For many, it will improve accuracy and distance considerably. This and the other technologies add to the cost and are there to improve the putter's performance.
Another feature that makes this putter so effective is the precision-milled face. This gives it greater forgiveness and consistency. The face offers a good feel, responsive feedback, and a pleasing sound.
The various technologies work well together to deliver a customized putting experience that will help many golfers on the green. The putter has a comfortable grip which is a nice touch.
[Check Prices & See User Reviews]
Pros:
Exceptional forgiveness across the entire face

Soft pleasant feel

Custom-weighting

Tournament legal standing putter

Highly durable

Comfortable grip
Cons:
Somewhat expensive
JAMES MILNER putters burst their way into the golf market but aren't for newer players; for example, this putter has a curved face, so it's not as forgiving as others. Yet, it offers much more control for an experienced player than many others.
They've put a lot of effort into the balance and weight distribution. The first way they did this was with the ultralight alloy steel shaft. The shaft is relatively stiff for improved control.
The weight added to both ends of the putter adds to the smoothness and control the putter has to offer. Another area this company has focused on is face technology. This putter features multiple micro hinges on the face for a smooth and consistent roll with a fair amount of topspin. Most find it offers accuracy and excellent distance control.
The combination of design, technology, and materials gives it a feel that most golfers appreciate on the green. More consistency and control are bound to result in fewer putts and, therefore, a better score.
[Check Prices & See User Reviews]
Pros:
Good control and consistency

Superb feel

Impressive design and looks

Light graphite shaft allows for forgiveness

Tour-proven
Cons:
Rather expensive

Curved face not ideal for all players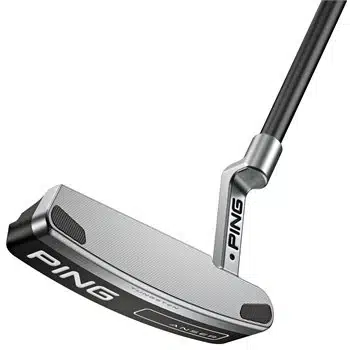 One of the oldest and most traditional putters is still around and improving its newer models. First introduced in 1966, this putter has been in the hands of many legendary names. Now you can add your name to the list as it's still one of the best blade-style putters. 
The beauty is in its simplicity, as there are now unnecessary design features. This putter is designed for one reason, and that's to drain putts. While it may not be the best looking on our list, its performance and feel are top-tier. 
New improvements include a horizontally milled face to deliver immediate topspin to all your putts. Keeping the ball rolling on line is paramount and made easier with this milling style. It would be considered a firmer feel, so be careful if you're used to playing fast greens. 
The addition of tungsten weights will help steady the putter head through impact and also widen the sweet spot. This is another blade putter with a surprisingly large sweet spot and a simplistic alignment line.  
[Check Prices & See User Reviews]
Pros
Very simple look at address

Added tungsten weights for heel-to-toe balance

Firmer feel off clubface

Larger sweet spot than previous models

Be a part of history by owning the winningest putter in all of golf
Cons
Might be too simple for some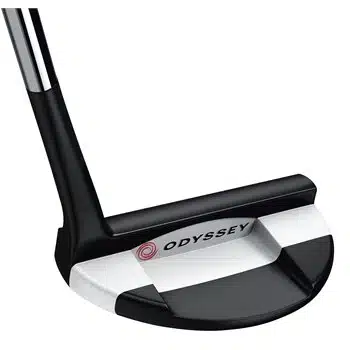 You want the old-school style blade putter? The one with a sweet spot the size of a pinhead? The one with almost no toe weighting? Well, here it is. 
You've seen this kind of putter in old golf videos because, at one time, this was the only putter out there. Jack Nicklaus, Arnold Palmer, Ben Hogan, etc., all used this kind of putter. It wasn't until the Ping Anser came around that people started tinkering with design and weighting. 
These days the only time you see this relic of the past might be in Phil Mickelson's bag. But once he stops using it, you will probably never see this putter again on TV unless you're watching US Open reruns. 
Having said that, this putter is great for practicing. If you can consistently find the sweet spot and apply topspin with this putter, you can do it with any putter. If it's in your budget, get this as a training aid on top of your usual gameday putter. 
For an added test of endurance, putt to a smaller hole as well. A few months of that kind of training, and you'll forget what a 3-putt is altogether. 
[Check Prices & See User Reviews]
Pros
Great for practicing

Compact clubhead
Cons
Not evenly weighted

Ultra-small sweet spot

Very low MOI

Difficult to apply topspin
What To Look For In Golf Blade Putters
There are many reasons people choose thin blade putters over a mallet putter. Let's take a look at the main factors one should consider before buying a blade putter.
Feel
The feel of traditional blade putters is rather hard to define and varies from person to person. It is related to weight, balance, materials, design, and other factors. It is a personal preference, and some players find the feel of one putter better than another.
Undoubtedly, some top blade putters have a better design and putter grip that fits the hands better. Face materials or inserts will create a softer feel for all who use them. Multiple factors come into play.
One advantage of the golf blade putter is the slim, simple design generally offers a better feel than many mallet putters. This is one of the reasons they remain extremely popular.
Forgiveness
While forgiveness is generally associated with drivers, irons, and other clubs, it is also relevant to putters, albeit in a slightly different fashion. Forgiveness in a putter refers to how the putt works out when you strike it near the toe or heel. A more forgiving putter will still deliver fair distance and accuracy in these cases.
Even the best blade putter for 2023 is generally not as forgiving as mallet putters; some offer much more forgiveness than they get credit for.
Ball roll
The primary purpose of a good putter is to get an accurate and consistent roll. You don't want any lift or bounce when the ball is struck, as this can lead to a loss of accuracy and control. The design and face of the putter are important. Face milling and urethane inserts can help with the quality of the ball roll.
Balance
A poorly balanced putter is likely to twist as you strike the ball, which will naturally reduce the accuracy and effectiveness of the shot. The positioning of the club head weight and hosel will largely determine the balance of the putter.
Face inserts
Many modern putters have a face insert. These will have a direct impact on the feel and delivery of the putter. Some are designed for a soft feel, while others deliver a harder roll. Again, this is a matter of personal preference and related to your putting stroke. The alternative to inserts is milled blade putters, which have tiny grooves etched directly into the front of the putter head (the face). 
Hosel
The hosel design is again a matter of personal preference. Some will help with certain styles of putting. What is important is that you feel confident and comfortable when you address the ball on the green. There are various hosel designs, including the popular offset hosel.
An offset hosel ensures your hands are forward as you address the putt and often promotes a square face that should improve accuracy.  Again, there is no perfect answer, and much will depend on your putting stroke on what works for you.
Grip
Your putter grip is just as, if not more important, than the grip on your driver and other clubs. Modern grip designs offer more comfort and allow for an optimized grip for better results. The grip's design is essential, and the thickness is also relevant. Some will benefit from a thicker grip, while others will find more control with a traditional pistol grip.
Budget
As with all clubs and golf equipment, the prices range from highly affordable options to rather expensive ones. Big brands spend a lot of money on research and design and often a vast amount on marketing and sponsorship.
They generally use advanced materials and workmanship. That is not to say that great value for money cannot be found. There are quality blade putters to suit any budget.
One factor that is worth considering is the number of times the average golfer uses the putter relative to the other clubs in the bag. As it is generally used way more often, it makes sense to spend a bit more and invest in a putter that works well for you. It is one of the easiest ways to reduce your score and improve your results.
Blade Golf Putter FAQs
Are Blade Putters The Best?
Whether or not blade putters are the best boils down to personal preference. If you're an older player and have always used a blade putter, they are likely the best for you.
Do Most Pro Golfers Use Blade Putters?
Roughly 40% of pro players use blade-style putters, but they are often wider and more forgiving than standard old-school blade putters.
What Are the Heaviest Blade Putters?
Generally speaking, a mallet putter is better if you like a heavy feel. But, there are some heavy blade putters, such as the EVNROLL EL2.
Why Do So Many Pros Use Blade Putters?
The reason why so many pros use blade putters is to have more bodily impact over the putt. With the heavy head of mallet putters, the club itself does a lot of the work. Blade putters offer top-tier players better control over their shot.
Final Thoughts
We conducted extensive research to bring you the very best blade putters in 2023. You should now have a good understanding of what to look for when selecting the ideal option for your needs and the details of some of the most popular options available.
While they are all great blade putters, one stood out as the best of the best. The Cleveland Huntington Beach Soft 4 is a tour-proven blade putter that works equally well for the average golfer.
You might have to dig a bit deeper to invest in this putter, but it offers a great feel and superb consistency and control. It has a great shaft and is extremely forgiving. To add to the performance advantages, it also happens to look impressive.
Give some thought to your needs as well as your budget to find the best blade putter for improved accuracy on the green and the resulting lower score each round.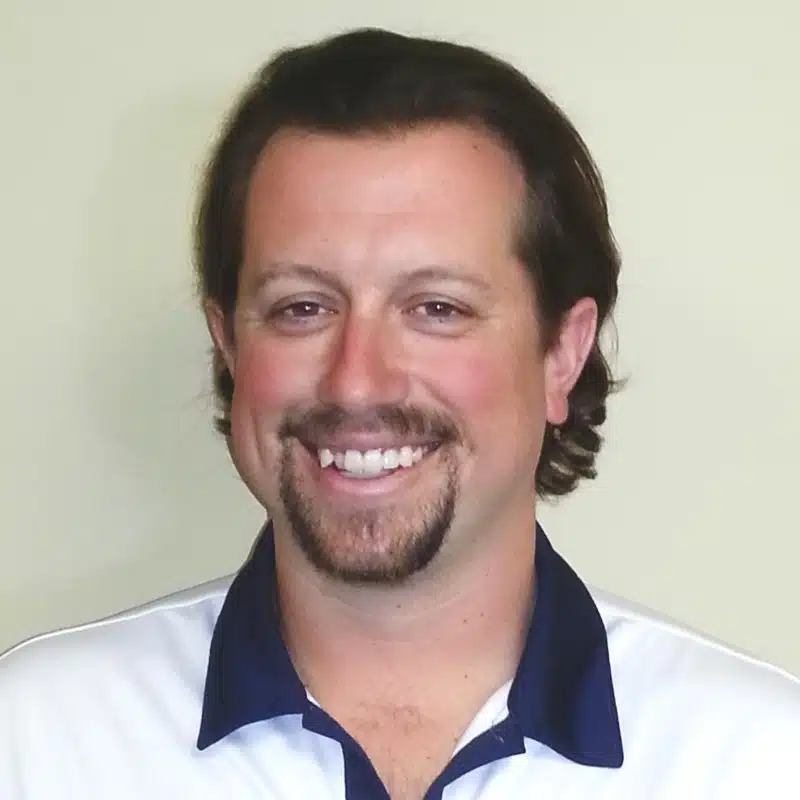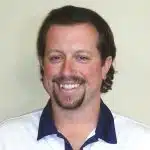 Clint became the Head Teaching Professional at one of Toronto's busiest golf academies and was featured on Canada's National Golf TV program, "Score Golf Canada," twice. He now tests and reviews golf equipment and gets to enjoy the game he loves whenever he wants while helping people lower their scores.