How many different putter shaft designs have you used in your golfing career? According to Golf.com's Jonathan Wall, professionals and amateurs prefer to play with a heel-shafted putter instead of a center-shafted option.
In this article, we are taking the path less traveled as we aim to discover the six best center shafted putters on the market. Throughout the article, we will uncover the features and benefits of these putters to help you decide if any of them work for your game.
At a glance: Our Top 6 Best Center Shafted Putters
What Is A Center Shafted Putter?
As the name suggests, a center shafted putter connects the head to the shaft in the middle. This construction enables manufacturers to distribute the weight of the putter head to the heel and toe, which provides a stable putter head for a straight-back and through motion.
Who Should Use A Center Shafted Putter?
In this video, Golfweek's David Dusek explains that a center shafted putter is most effective for players whose hands and eyes are in line with the ball at setup. The center shaft and minimal offset help these golfers achieve a more accurate line.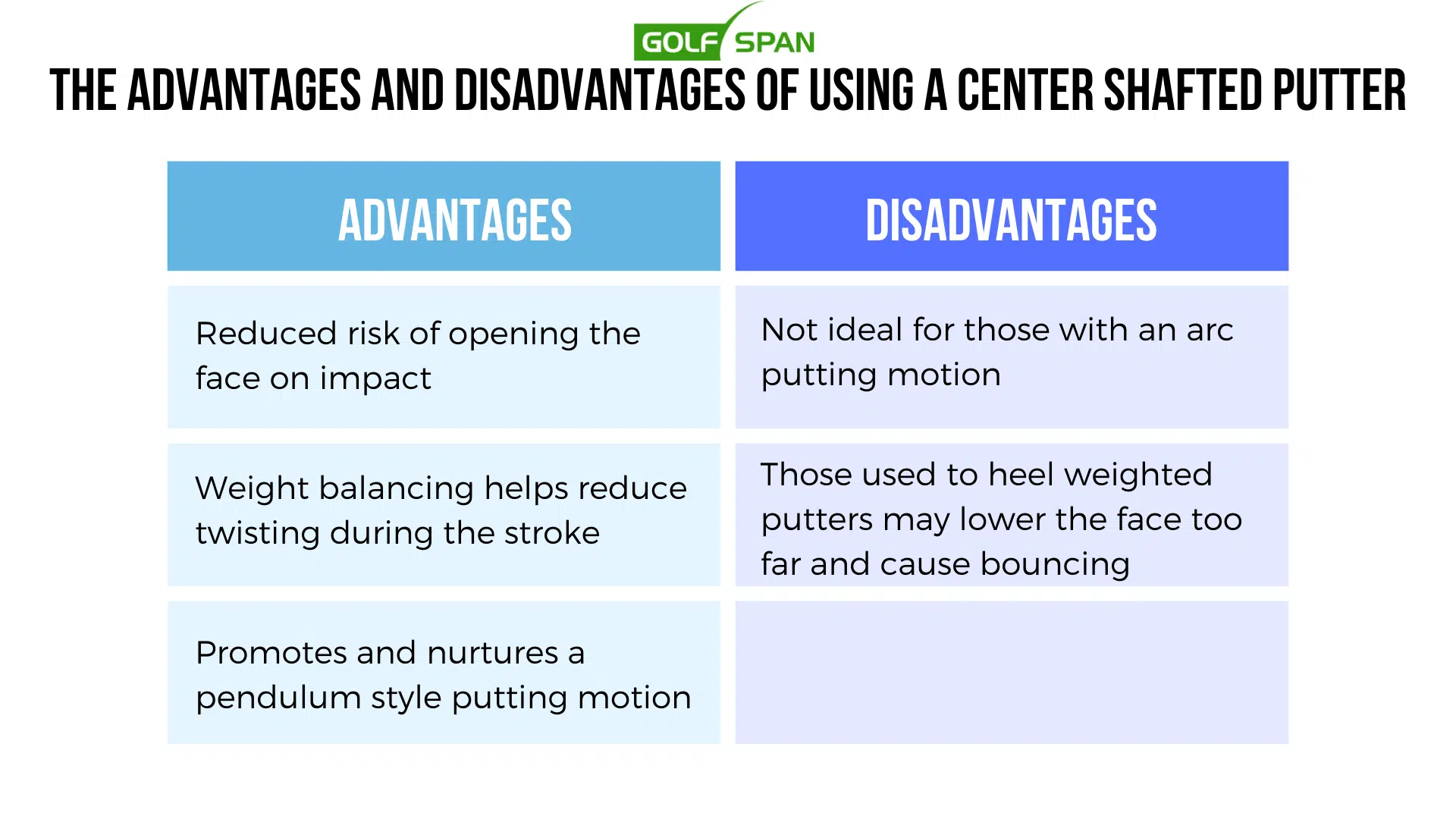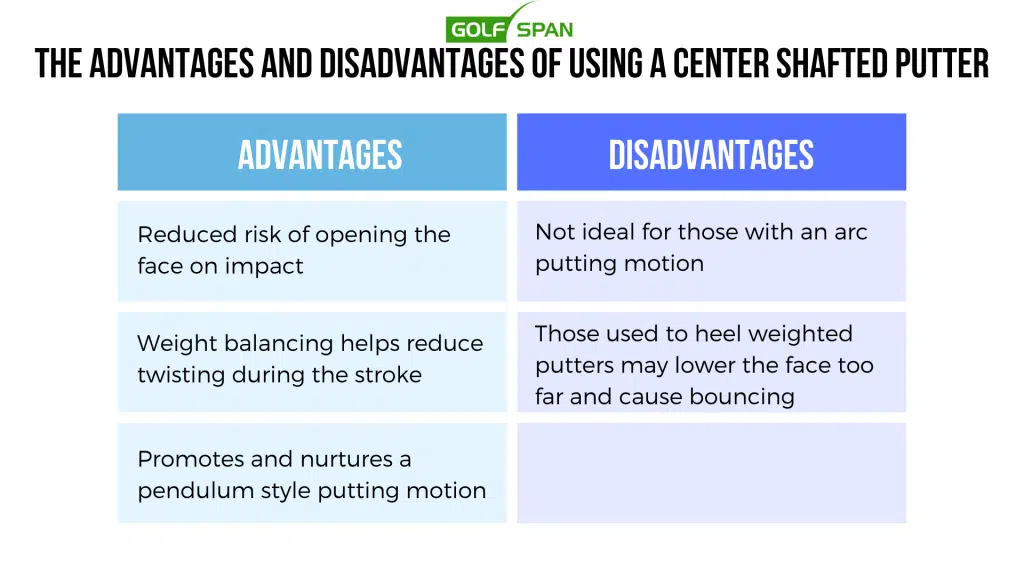 Our Research Parameters 
Golfspan is independent and not pressured by manufacturers to recommend products. We were not paid for the reviews in this article. These golf gloves were selected by our team, who have over 100 years of experience playing golf and thousands of hours reviewing products. We may earn an affiliate commission when you purchase something through our retail links.
12 Products were considered from 7 brands on:
Design

Materials 

Durability 

Price
Quick Overview: Our Top Picks for 6 The Best Center Shafted Putters
The Best Center Shafted Putters
1. Best Value – TaylorMade Truss Putter
Pros
The putter face is designed to twist less at impact
Optimal stability at impact
Provides increased topspin
Delivers improved roll
Contains adjustable sole weights for the ideal CG position
Cons
The two topline connection points are an eye-sore
Expensive
Score: 4.5/5
The TaylorMade Truss putter features a unique two-topline connection that stabilizes the face at impact and reduces unsupported weight. The company states that this putter is as forgiving as a mallet while maintaining a traditional appearance.
Furthermore, the putter design limits twisting on your backspin to ensure a squarer face through impact.
Besides the stability of the Truss TB2, TaylorMade fitted it with their trademark Cobalt Blue Pure Roll insert. The insert contains 45-degree grooves that partner with a soft polymer to deliver optimal topspin and roll.
Finally, this putter is fitted with adjustable sole weights to help you position the CG optimally for your putting stroke and achieve the ideal swing weight.
While this putter provides exceptional stability, topspin, roll, and reduced face twist, it comes at a premium price. Overall, I think mid-handicappers who like a center-shafted putter but seek the forgiveness provided by a mallet may find the TB2 beneficial.
2. Best Budget Option – Ray Cook Golf- Silver Ray SR400 Putter
Pros
Consistent roll and distance control
Clear and simple alignment feature
Keeps the face square and balanced through the stroke
An anti-glare finish eliminates distraction at address.
Affordable
Cons
The mallet head design is off-putting for traditionalists
Score: 4.6/5
The SR400 putter is an affordable mallet head design by Ray Cook Golf. The putter features an alloy steel face designed to provide exceptional distance control and roll.
Added to the club's superior distance control is its counterbalance technology, designed for those of you with a smoother stroke, aiming to limit any face rotation.
Ray Cook added a dark anti-glare finish for maximum comfort at address. Along with accentuating lines for enhanced alignment.
Finally, the SR400 putter is fitted with a comfortable grip littered with perforations for a more confident feel. The grip design enhances the putter stability in your hand and combines with the counterbalance technology to resist twisting.
Those of you with a straight putting stroke will enjoy the SR400. However, the chunky mallet head design may not get the approval of traditionalists.
In saying that, this putter offers excellent value for money and is one to consider for mid and high handicappers on a budget.
Evnroll's hatchback putter is a mallet head putter featuring optimal face balance and a milled stainless steel finish for a clean look and extra durability.
Evnroll employs the use of speed optimizing technology to enhance your distance and speed control. The technology also maintains your ball speed, even on heel and toe strikes, to ensure consistency and forgiveness.
Furthermore, the putter features a sweet face technology face to enhance friction and deliver a smooth feel and a pure roll.
The downside of this putter is that the weighting may not suit all players and it's a little on the expensive side. However, the feel, speed, and forgiveness of this putter suit mid-handicappers with a straight stroke. This is the best center shaft golf putter in our lineup but it's almost twice as expensive as our best value pick.
4. Best Mid-Range Mallet Putter – SeeMore FGP Black Mallet Putter
Pros
Optimal alignment feature
Promotes a square face at impact
Glare resistant
Buttery soft feel
Forgiving
Cons
The black glare-resistant coat wears away quickly.
The weight of the mallet putter head may cause you to put too much weight on your putts
Score: 4.5/5
Golfweek's M.L. Rose explains that SeeMore putters have been around since 1998 and rose to prominence thanks to the late Payne Stewart and Zach Johnson. Each of them won a major using the company's putters. The FGP features the traditional blade and mallet design of their original products, offering a classic look with the forgiveness of a mallet.
As is the case with all SeeMore putters, the FGP features their patented RifleScope Technology (RST), making life easier to line up your putts.
The shaft on this putter is slightly off-center, positioned towards the heel of the club. That paves the way for an unobstructed view of the alignment feature.
The milled putter face is finished with a black powder coating, designed to eradicate glare. Finally, the FGP Mallet is face balanced, promoting a square putter face at impact. This design best suits players with a straight back and through stroke.
If you struggle with alignment and position your hands directly above the ball. Then SeeMore's FGP Mallet putter could be valuable to your game.
Everything we love about the SeeMore Mallet putter but in a blade style. This one is for those of you that don't like the added weight of a mallet-style putter.
This is a breeze to lineup even if the sightlines aren't as long as the mallet putter version.
Like the other SeeMore offering, this putter isn't quite aligned exactly to the center but is much more a center shaft putter than a feel putter. This could be a great middle-ground for those trying to adapt their putting style. This is especially true if you're a long-time user of blade-style putters.
6. Super Budget Option – Pinemeadow Golf Site 2 Putter
Pros
Considerable balance for a square face on your backswing and follow-through
Three color options
Prominent alignment feature
The wider grip encourages less wrist action for a straighter stroke
Incredibly affordable
Cons
It does not contain an insert to optimize topspin and roll
Score: 3.9/5
Although Pinemeadow clubs are not as renowned as TaylorMade, Cleveland, and Wilson's of the world, it is a brand steeped in history. Pinemeadow has been producing putters for a while now and has been in the bag of many happy mid-level golfers. These straight shaft putters are a nice addition to their putter lineup.
The Golf Site 2 putter forms part of the company's "Limited Edition" range. And, it is one of the most affordable putters on the market. Pinemeadow has designed a stylish mallet head putter available in a premium-looking white finish.
There is heel and toe weighting to balance the face for stability through your stroke. The simple shot line guide site out the back of the putter which proves handy at address.
Considering the affordable price tag, the Pinemeadow Golf Site 2 Putter is an ideal putter for a beginner or high handicapper on a budget.
Best Center Shafted Putters 2023 FAQ
Who Should Use a Center Shafted Putter?
Center shaft golf putters are best for golfers that pull their putt swing straight back and through. They're also advantageous for those that stand over the ball at address.
Are Center Shafted Putters More Accurate?
Putters with the shaft in the middle are more accurate if your putting style suits this particular type of putter. Those that prefer to line up their putts while not standing directly over the ball may actually lose some accuracy when using a center shafted putter.
Are Center Shafted Putters Less Forgiving?
There is minimal difference in terms of forgiveness when you compare two putters with the same head and different shaft positions. So, center shafted putters are not less forgiving, nor are they more forgiving.
What Is the Advantage of a Straight Shaft Putter?
The difference is that this style of putter is more suited for golfers with a straight back and through putting style. A second primary advantage is a reduced risk of accidentally opening the club face on impact.
Why Are Center Shafted Putters Bad?
Many argue that it's harder to pick the right line at address when using a center shafted putter.
What Is a Face Balanced Putter?
A face-balanced putter is one with the weight shifted more toward the front of the head. This helps the center of gravity to be directly below the shaft.
How Often Do I Replace Putter Technology?
Putters tech doesn't seem to advance at the same pace as drivers, woods, and irons. Many golfers argue that "If it ain't broke, don't fix it" when it comes to putters.
Why Do So Few Players Use A Center Shafted Putter?
Dusek also explains in the video above that most players on The European and PGA tours prefer a heel-shafted putter.
The reason is that these players prefer to position their hands in front of the putter's head. As a result, they have a clear view of the alignment aid and ball at address for additional confidence.
Center shafted putters impair your view of the alignment feature and ball, making it harder to determine if you are aiming along the correct line.
Surprisingly, the Golf Week equipment Guru mentions that more players on the Japanese Tour prefer a center shaft than those players on The PGA or European Tours.
Are Center Shafted Putters Illegal?
In this article, Golfweek's M.L. Rose details the history surrounding center-shafted putters. While these putters have been legal in The United States for a considerable period, this design was illegal in The United Kingdom from 1909 to 1951.
In 1951, the USGA and R&A agreed to standardize the rules of putters. This led to the subsequent legalization of these clubs throughout the world.
Are All Center Shafted Putters Face-Balanced?
The reality is that not all center-shafted putters are face-balanced. The advancement of technology has enabled manufacturers to place center-shafted putters towards the heel. As a result, you gain more visibility of the alignment aid and the ball, but the putter is not face-balanced.
Final Thoughts
At the start of this article, we intended to identify the best center shafted putters on the market. Along the way, we determined that these putter designs are not as common as heel-shafted putters. And, they are best suited to those of us with a straight stroke.
Most putters in this category contain face balance that resists twisting during your putting stroke to remain square throughout.
Given these considerations, we determined that the TaylorMade Truss is the overall best center shafted putter on the market. While it is not as affordable as a Ray Cook SR400, it is far more inexpensive than the EvnRoll premium pick.
Furthermore, the TaylorMade Truss offers superior alignment technology. It has a buttery soft feel and is glare resistant for fewer distractions at address. Overall, it is a premium product at a mid-range price and is worth considering if you struggle with alignment.
Related Articles