Practice is important but selecting the best mallet putter could help a great deal.
There are a number of styles of putters on the market these days and it is important to understand the differences and the benefits they have to offer. The two main options are the blade putter and the mallet putter.
At a glance: Our Top 5 Picks for Best Mallet Putters
Which is Best, Blade or Mallet Putter?
There is no definitive answer and it really comes down to your putting style and personal preference. In the past, a simple blade putter was the only option. Technology has advanced and there are some great blade putters as well as excellent mallet putters.
Let's take a quick look at both options:
Blade Putters
These are the more traditional putters with a sleek simple design. For a long time, this was the only option and it is still favored by many traditional golfers from amateurs to professionals.
Blade putters have more weight in the toe and therefore are generally more suitable for golfers with an arc in their style of putting.
Mallet Putters
These are a much more recent development although they have been around for quite some time now. They have a much larger head size with a deeper back often a half-circle or square.
Fans of mallet putters find them to be more stable and lead to greater consistency. The size tends to make them more forgiving and offers greater control.
The weight is generally towards the rear, away from the face of the putter. Because of the larger and more elaborate design, the manufacturers are able to experiment more with weight positioning for a range of possibilities.
Perimeter weighting in the face is also possible and this will reduce the risk of twisting as you strike the ball. This should lead to a more consistent roll for greater accuracy in direction and distance. They tend to work better for golfers with a straight-back, straight-through putting style.
Another advantage of mallet putters is that they allow for a decent sightline, something that is tricky with the small streamlined head on a blade putter.
They are popular with beginners and amateurs but are becoming increasingly popular with low handicap players including many pros.
Many people that have used blade putters for years prefer the more traditional design and are resistant to change. Some also insist that a blade offers more precision and control.
You will need to find what works best for you and your putting stroke. It is important that you are comfortable with your equipment particularly your putter.
How To Choose a Mallet Putter
Tradition
More conservative golfers may prefer the traditional look of a blade putter. If this is you then stick with your preference. You want to be comfortable with the putter and if you do not like the looks and design of a mallet putter it could well put you off.
Putting style
As we said above, players with a straight-back, straight-through will generally be better off with a mallet-style while those with an arc style would probably do better with a blade. Observe your putting style or even go for a professional putter fitting.
This is not a hard and fast rule and there are a number of mallet putters that are highly effective for those with an arc putting stroke.
Head size
Blades are naturally smaller overall while mallet putters have a larger head. For many golfers, the larger head inspires confidence. This is not the same for all which is why you need to find the putter that works best for you.
Sight line
One of the advantages of a larger head is that it provides an opportunity for a solid bold sight line. Accuracy when putting is critical so this feature will hell help many golfers. It should make alignment easier for more consistent and accurate results. Some putters have more effective alignment aids than others so consider this if it is important for your needs.
Budget
One generally has to consider the budget and putters range from highly affordable to rather expensive. As a general rule, a quality putter will cost a bit more. This is generally due to the materials used as well as the research and development that went into designing the putter. Some putters do, however, offer better value for money than other options.
One does not want to waste money and the most expensive option is not necessarily the best one.  There are many putters that offer great quality at an affordable price.
Quick Overview: Our Top Picks for Best Mallet Putters
Reviews of The Best Mallet Putters In 2021
1. Cleveland Golf Huntington Beach #6 Golf Putter
Pros
Precision milled face
Consistent roll
Comfortable grip
Great value for money
Comes with a quality headcover
Pleasant feel
Sightline
Most find the appearance to be appealing
Cons
Some golfers found the face too soft
It might take a bit of getting used to
Cleveland Golf has seriously upped their game with the newly designed Huntington Beach range. While their former classic collection was still worthy there have been several improvements. The face features precision milling.
The milling is four times deeper and has a diamond-shaped pattern. It imparts good friction on the balls as you stroke it. This is designed for a soft feel and steady consistent roll.
It is softer than the average putter so it might take a bit of getting used to but most that have invested in the Cleveland Golf Huntington Beach #6 Golf Putter rave about the feel and precision it delivers.
The construction is 304 Stainless Steel which adds to the softness while also giving the putter strength. It is a midsized mallet putter with a 70° lie angle and a 3° loft. The head weight is 360 grams. The putter comes with a quality grip that most golfers enjoy and it has a top-quality head cover.
This putter has wide appeal and is popular with golfers at most levels of the game. The design is not as radical as many other mallet putters and the general consensus is that it is a stylish and attractive club.
2. Odyssey 2018 Red O-Works Putters
Pros
Topspin with forgiveness and accuracy
Good contrast for a distinctive sight line
Favored by top golfers but effective for the average player
Reasonable value for money
Cons
More conservative golfers might not like the design
Some found the grip size to be incorrect
This Callaway putter is highly popular with the pros as well as the average golfer. The design has been around for a while but in typical Callaway style, they have refined and improved it over time.
One of the leading technological features is the Microhinge Face Insert. This is designed to deliver more topspin and a better roll even when the ball is struck imperfectly. It consists of a Microhinge plate of stainless steel with an integrated Thermoplastic Elastomer Feel Layer.
The design and materials deliver a solid and effective roll when you putt. Another advantage is the feel and response this face delivers.
The toe-down design is great for those that favor a blade-style putter but want the forgiveness of a mallet putter. It will give most golfers the forgiveness and constancy needed with the precision and control of a blade.  For golfers with a more straight back straight through style, there are face balanced options.
The color design not only looks good, according to most but helps with alignment. Many claim the design to be one of the leading options for alignment.
This is an extremely popular putter across all categories of golfers. It is not the cheapest on the market but not a huge investment for the technology and quality one gets. There is very little not to like about the Odyssey 2018 Red O-Works Putters and one sees very few negative comments.
3.

TaylorMade Golf Spider X Putter, Copper, #3
Pros
Optimal stability

Forgiving

Innovative TruePath alignment system

Increased topspin

Crisp acoustic feedback

Soft feel

The putter head is 5% smaller than the Spider Tour but delivers the same level of MOI
Cons
High price tag

The appearance of the oversize head and

rear weights

may not appeal to traditional golfers
The TaylorMade Golf Spider X Putter, Copper #3 was released in 2019 to celebrate the tenth anniversary of the launch of the original Spider. The Copper #3 edition is reminiscent of bronze putters from days gone by, but it is packed with technological innovation.
The Spider X Copper Putter is suited to players of all skill levels. However, it would add the most value to beginners and high handicappers, as it is forgiving and helps you line up your putts.
Spider X Copper #3 putters come equipped with a weighty steel frame and a light carbon sole, delivering enhanced perimeter weighting for added forgiveness.
Added to the club's forgiveness and stability is its TruePath alignment feature. It helps to ensure you start your ball on the right line every time you putt.
The face of the new Spider X putter includes a Thicker Pure Roll insert that promotes crisp acoustics and a soft feel at impact. Furthermore, the Roll insert contains 45°grooves that deliver amplified topspin to prevent your ball from deviating off its line.
Previous Spider models contained rocket pods at the back of the putter head. However, the TaylorMade Spider X Copper putter is fitted with blue steel weights that aid in distributing weight to the corners of the putter. That helps the club to deliver forgiveness even on off-center strokes.
If the TaylorMade Golf Spider X Putter, Copper #3 has piqued your interest, you can check it out here.
Also by one of the top favorites, TaylorMade, is a quality mallet putter for the ladies. It is a light putter with a speed pocket that allows for powerful accurate shots at the cup.  The low-kick Slim Tech shafts also allows for an improved impact when the ball is struck.
This range of clubs has been specifically designed for lady golfers and the Kelea Putter does not disappoint.  They look good and are easy to play while offering accuracy and forgiveness.
Ladies, just like the men, will often benefit from the ideal clubs, including putters that have been expressly designed for them. This is a popular option on the green.
Most ladies find it has a good feel and the weight helps them putt with greater accuracy and consistency. There were a handful of ladies that found that it was a bit fast for them but that might just take a bit of getting used to.
Pinemeadow does not spend a fortune on marketing and sponsorships but that is not to say they skimp on quality, materials and research and development.  Their clubs tend to be of good quality at highly affordable process.  The Men's PGX Putter is no exception and is a well-loved option for beginners or those on a bit of a budget.
One of the outstanding features of this putter is the brilliant white finish. While this makes the putter look great, in the opinion of most players, it also allows for accurate alignment. This is important for most players across all levels. It will allow you to address the ball with greater precision for improved putting results.
The weight is 380g and it is rated as "tour-weighted". This will be particularly useful on faster greens which have become the norm on many courses. It is a 34" putters and comes with a PGX headcover.
6.

Cleveland Golf HB Soft #14 Putter
Pros
Enhanced speed control across the face

Soft feel 

Crisp sound at impact

Consistent roll off the face

Affordable
Cons
Some players may not enjoy sufficient control with a skinny grip

The mallet head may be off-putting to traditional golfers looking for a more compact product.
Cleveland Golf HB Soft #14 putters are designed to provide high handicappers and beginners with confidence when lining up a putt. High handicap golfers may enjoy the most value from the Cleveland Huntington Beach Soft. But, in reality, golfers of all skill levels can play with it.
The HB Soft contains Cleveland's speed-optimized face technology that promotes consistent speeds off the face, even heel and toe strikes. The better control you enjoy at impact, the closer your ball will rest to the cup. 
The putter face contains a CNC milling pattern fitted to enhance the friction between club and ball at impact. As a result, vibrations are reduced for a soft feel and consistent roll.
Finally, the weight of the HB Soft #14 helps you to carry out a straight back, straight forward stroke for more consistency with your line. The heavier head further prevents you from twisting on your backswing for a straighter line.
If you could do with more speed control on the greens. Then take a look at the Cleveland Golf HB Soft #14 here.
Possibly not the best know putter brand but this is a top-quality premium mallet putter. The main feature is the Bettinardi's F.I.T (Feel Impact Technology) face that is precision milled from 303 Stainless Steel. Few putters on the market come close to the high precision this putter offers. It is not the cheapest option on the market but most find it delivers outstanding results and is well worth the price.
It will, for most golfers, improve accuracy and consistency while offering a soft and pleasing feel. Feel is always import but critical on the green. This is a popular option on the PGA circuit which gives it added credibility.
Few golfers will deny that it is one of the better-looking mallet putters available. It is a compact design with sleek lines and a smart finish.  The performance is the main priority.  For most, it does not disappoint.  It is easy to align and has a mild toe hang.  The balance is carefully optimized for accuracy.
The design, materials, and milling give it a high MOI. The sound and feedback are appreciated by most that have used this putter.
Final Thoughts
Mallet putters offer many advantages for the majority of golfers specifically those with a straight-back, straight-through putting style. There are many that work well with other putting styles. What is important is that you look for one that makes you comfortable and works well for you.
We have given you some idea of what to look for when selecting the best mallet putter and highlighted some of the leading options. While they are all well-loved options we find the TaylorMade Golf Spider Putters to be the leading choice.
They are stable and consistent while delivering great forgiveness. The weight is well position and the putter has a high MOI. This is a versatile putter that should work well for a wide range of players and is a top seller.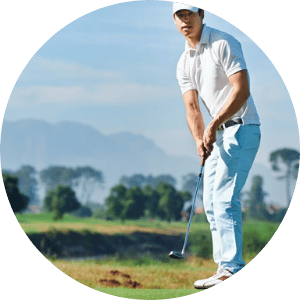 Nick Lomas is the founder of GolfSpan, an avid golfer, not quite a pro but has over 15-years of experience playing and coaching golfers from all over the world. His mission is to bring the golfing community a better experience then it comes to choosing the right golf gear, and finding the right set up for your game.