Of all the various facets of golf, putting is one of the most individualized. If you're looking to buy a putter or upgrade your putter, then you'll want to understand the types of putters.
What are the different putter types? Most putters fall into two categories: mallet or blade style. A mallet putter has a more forgiving large head and is better for average golfers. A blade putter has a traditional design; usually, better golfers prefer them. You can also customize your putter face, shaft, neck, weighting, length, and grip size.
For a new golfer, it can be overwhelming. Even for an experienced golfer, your options can be confusing, so we have recommendations that will help most golfers. Then you can read through the article to learn all your options.
When you're finished with this post, you'll have learned:
The main putter types by head style
Milled vs insert putter faces
Center vs heel-shafted design
Flow neck vs plumbers neck shaft design
Single vs double bend neck shaft design
Toe weighted vs face-balanced weighting
How to choose your putter length based on your height
Three grip size options
Finding a putter that fits you and your style is essential to becoming a great putter. However, with so many options available, finding that perfect putter may take some work.
Let's dive in!
3 Main Putter Types: Mallet, Blade, & Half-Mallet
The three putter types are commonly based on differences in head style. Your three putter types include:
Mallet Putter
Blade Putter
Combination or Half-Mallet
Mallet Putters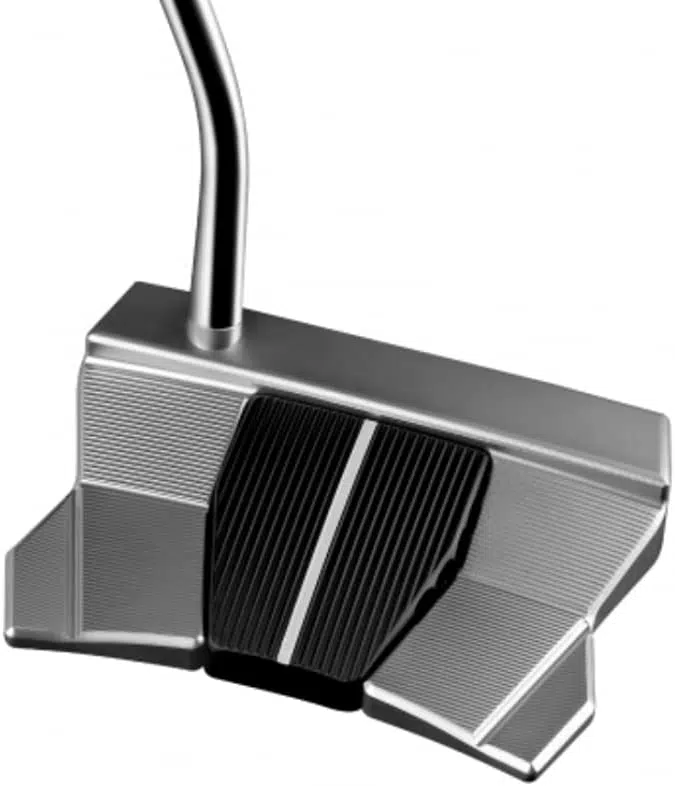 Mallets are generally seen as the first choice for head design for a beginner, novice, or more average golfer.
The mallet-style generally has a larger club head. They are a handful of mallet putter shapes, including round, square, or semi-circle, sometimes called a half-moon design.
The larger size allows the weight distribution to be spread over a larger area, creating a more prominent sweet spot. This style is excellent for those needing help making solid center contact.
However, this style has even become very popular for better players. That popularity even extends to the PGA Tour in recent years, with almost 70% of players using them.
Blade Putters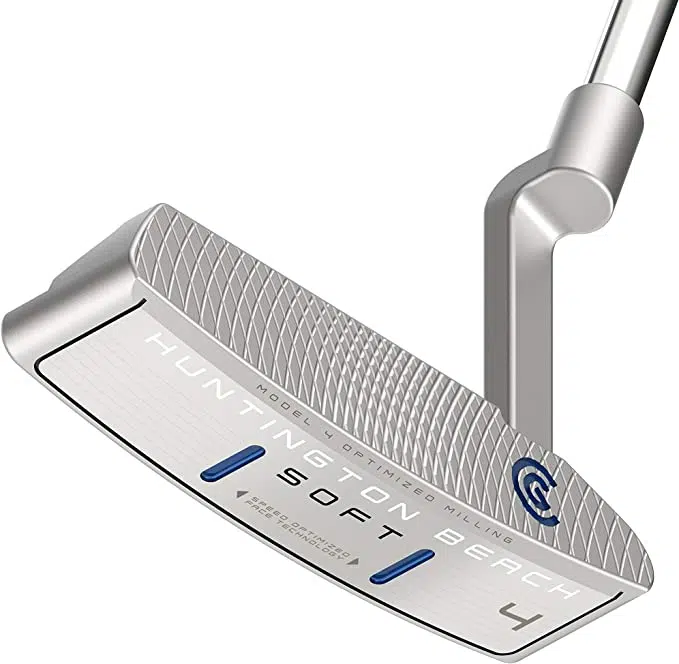 Better putters often gravitate towards the blade style because of the cleaner, more symmetrical shape and better putters usually do not need the extra benefits of a mallet style. However, some beginner golfers prefer this style.
A blade-style head is traditionally what people think of when they think of a putter. This design has a square or rectangle-shaped club head. It has either a narrow or non-existent flange. The flange is the back cavity area of the putter.
Like most putters, there are usually some lines on the head to aid in alignment.
Half-Mallet Putters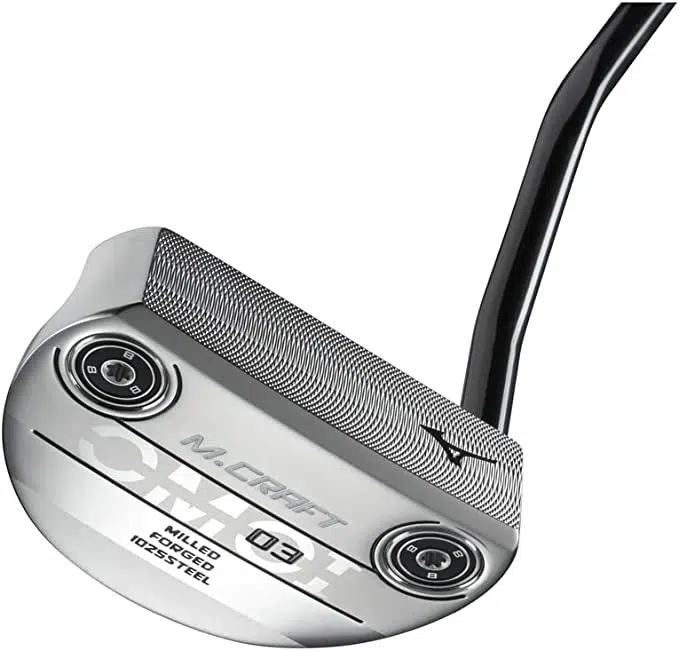 The half-mallet or combination type of putter blends the more traditional blade style with a smaller, modified mallet design in the back.
These putters are for those that like a more conventional style putter but need the benefits of a mallet.
Read more: Blade vs Mallet Putter – Which is Best For Your Game?
Insert vs Milled Putter Faces
After choosing your putter type, you can further customize your putter face. Newer golfers tend to select a putter face insert, whereas more experienced golfers prefer a milled face.
Read on to learn which is better for you.
Insert Putter Faces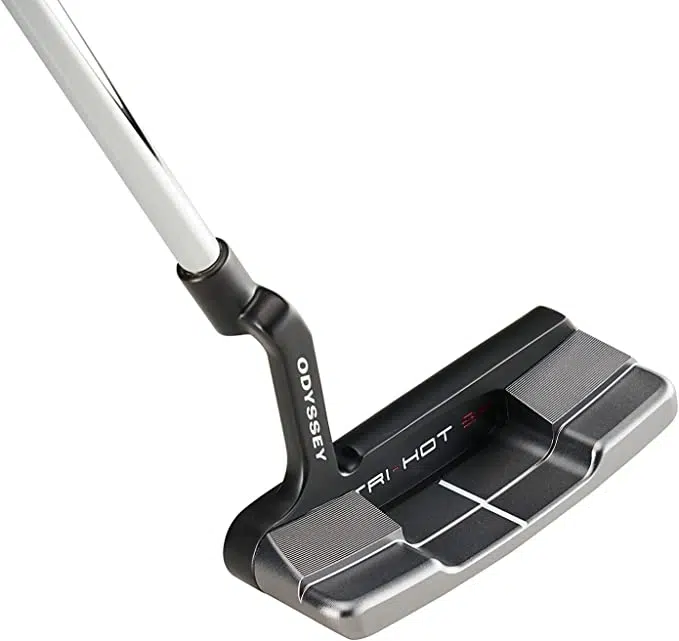 Insert putters have a different material inlaid into the face of the putter head. The inserts are placed in the hitting area on the face and are made from an additional material than the rest of the head.
Different materials that are used for inserts include, but are not limited to:
Metal
Plastic
Urethane
Rubber
The idea of the insert is to create a feel that a golfer is looking for. Some prefer a firm feel, and others prefer a soft feel.
Who Is It Better For?
Insert putters may be a much better option for beginner, novice, or more average golfers.
A face insert is better for beginners because it helps players who lack what feels right when the ball comes off the face. A better player can identify and gain feedback from each stroke, whereas a more novice player may not be able to. These types of golfers need to rely on the putter more to help them with results since touch and skill may still be lacking.
However, much like has become the case with mallet putters, the insert face style has become popular for better players as well. That popularity has also extended to the PGA Tour in recent years. For instance, Brooks Koepka and Tiger Woods used a Teryllium insert in a Scotty Cameron putter to win majors.
Milled Putter Face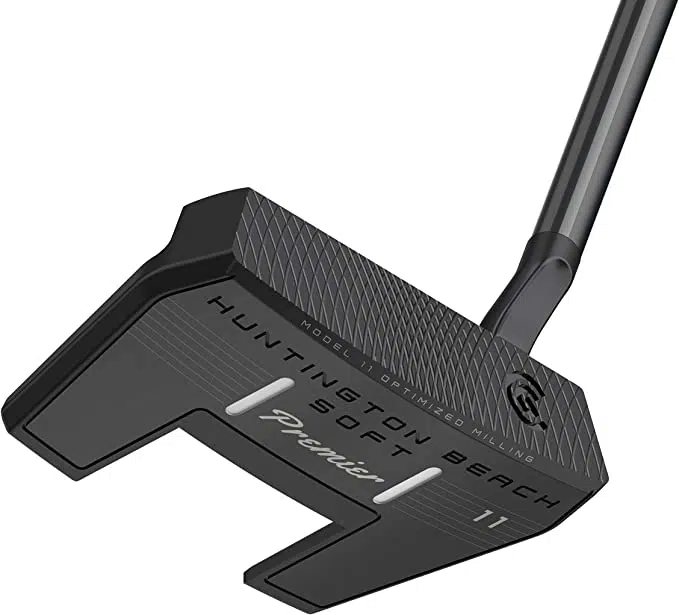 A milled putter is constructed from a single piece of metal, usually aluminum. This design allows for a consistent and uniform head. In theory, this style will aid in more consistent putting.
Better players tend to gravitate toward milled faces. One of the main benefits of a milled face is the increased feel or feedback golfers gain from this face design. These putters are generally much more expensive, which is a factor in the choice.
Who Is It Better For?
This putter face design will help players with good form, who practice often, and continue to improve their putting game. If you don't fall into those parameters, an insert putter may be a better option for you.
Read more: Milled vs Insert Putters – What's The Difference and Which Is Better?
Center vs Heel Shafted Design
How you stroke your putter will determine whether a center or heel-shafted putter is better for you.
Center-Shafted Design
A center-shafted putter is, quite simply, one where the shaft is connected to the center of the putter head.
Who Is It Right For?
A center-shafted putter typically helps those looking to have a straight back and straight-through putting stroke.
Golfers struggling with directional consistency may find a center-shafted putter a better choice. Most center-shafted putters are face balanced, which we will cover briefly. The combination of center shafted and face balanced will help golfers with issues squaring the face at impact.
Heel-Shafted Design
A heel-shafted putter is one where the shaft is connected to the heel of the putter head.
Who Is It Right For?
A heel-shafted putter typically helps those looking to have more of an arc putting stroke.
I mention this because a heel-shafted putter will be a much better choice for those that putt in a slight arc style. The reason is that heel-shafted putters are toe-balanced, which I'll cover more in a bit.
The combo of heel-shafted and toe-balanced help those that putt in a slight arc square the face at impact.
Flow Neck vs Plumbers Neck Shaft Design
Four options for your putter shaft neck are flow neck and plumbers neck. The best one for you depends on how you rotate your putter face.
Flow Neck Shaft Neck Design
The flow neck design is best for a putter with significant face rotation through the stroke.
The reason is that those with a lot of face rotation need a putter with a larger amount of toe balance to help them square the putter at impact.
A flow neck putter has less offset. This helps to close the putter's face, something those who tend to leave the face open at impact may need.
Plumbers Neck Shaft Neck Design
The plumbers neck design is best for a putter with less face rotation coming into impact. A golfer with this type of putting style would be called an arc-straight stroke putter.
A plumber's neck putter has a horizontal "L" bend in the hosel. These putters are called "plumbers neck" because that 90° bend resembles household plumbing pipes.
The plumber's neck design has about half the toe weighting of a flow neck putter.
Single vs Double Bend Neck Shaft Design
Single Bend Neck Design
The single-bend neck design is best for straight-back, straight-through putting styles.
A single-bend putter has a single, minimal bend in the shaft. This allows the hands to better align with the ball at address. This putter is slightly offset, with the bend just above the hosel.
Double Bend Neck Design
Like the single bend, the double bend is best for golfers that putt with a straight-back-straight-through putting stroke but want even more forgiveness.
A double-bend putter has two slight bends in the shaft. This putter design has even more offset than a single bend, with the bend just above the hosel.
With a double bend, you tend to have a higher MOI (moment of inertia). MOI is how much resistance a clubhead has to twist. The higher the MOI reading, the more resistance it has and the more forgiving the club is.
Toe Weighted vs Face Balanced Weighting
Toe Weighted
A toe weighted refers to a putter with extra weight in the toe of the putter. This is also called toe hand.
This is the perfect putter head weighting for someone with an arc-style stroke who tends to leave the face open at impact.
Weighting the toe will help rotate the putter face from open to closed.
Face-Balanced Weighting
A face-balanced weighted putter head is ideal for a square-to-square putting style. Face-balanced putters have equal weighting in the toe and heel.
A face-balanced putter faces upwards when you balance the shaft on your finger. This means the center of gravity is directly below the axis of the shaft.
More from Golf Span: Best Face Balanced Putters
How To Determine Your Ideal Putter Length
The range of putter lengths, for what is considered more standard, ranges from 32″ to 36″ in length.
For standard putters, the following is a recommended fitting chart.
| | |
| --- | --- |
| Your Height | Putter Length |
| Above 6'4" | 36 inches |
| 6'2" to 6'4" | 35.5. inches |
| 6'0" to 6'2" | 35 inches |
| 5'8" to 6'0" | 34.5 inches |
| 5'6" to 5'8" | 34 inches |
| 5'4" to 5'6" | 33.5 inches |
| 5'2" to 5'4" | 33 inches |
| 5'0" to 5'2" | 32.5 inches |
| Below 5 feet | 32 inches or shorter |
An example of what is unconventional yet comfortable for an individual is the putter I use. I am 6′ 0″ tall. Still, I use a 32.5″ in length putter. I love to have the feeling of my arms hanging as straight down as possible, with the top of the putter grip in the middle of my top hand.
Should You Use A Long Putter?
A long putter is 40-42 inches long and is used by golfers who use the armlock putting style.
Golfers who are inclined to get nervous or get the yips while putting you may do better with a long putter and using armlock putting.
Armlock putting diminishes the capacity to manipulate your hands while striking the ball on the green.
With the advent of the arm lock, and wrist lock, long putters have made a comeback.
Is The Standard, Midsize, and Oversize Grip Size Right For You?
Finding the right grip size that works for you is crucial to being a great putter. Like everything with putting, feel is necessary. However, you must understand that a larger or smaller grip can either help or hurt you.
The rotation of the face through impact is critical. As a right-handed golfer, you typically pull the ball and miss to the left if you rotate too much. A more oversized grip will slow the over-rotation and help smooth out those pulls. That is just one example of how the correct grip can help your putting.
Which Putter Type Is Best for You?  
I have a few suggestions to figure out the best putter for you.
With your current putter in hand, record yourself putting from down-the-line and face-on angles.
Additionally, record, in slow motion, tight shots of just the head of your putter from both these camera angles.
Examine your stroke, or better yet, share with an instructor or coach.
You will be looking to find out what your tendencies are — from setup to your stroke type and, most importantly, what the face of your putter is doing at impact. I would be glad to evaluate videos of your putting for you and make my recommendations.
Beyond that, the best way to determine what works best for you is by experimenting with many combinations of the items discussed above.
One last thing to consider is to get professionally fit for a putter.
With putting making up roughly 40% of all your shots during a round, it is well worth the investment and time to get fit for a putter.
Check this out: The Best Putters: Reviews & Ratings
FAQs
What Is the Difference Between a Blade Putter and a Mallet Putter?
A blade putter design has a square or rectangle-shaped club head. A mallet style has a much larger head and comes in various shapes, including round, square, and semi-circle.
How Do I Determine the Correct Length of My Putter?
The best way to determine your correct putter length is to get professionally fit. Additionally, you can use a height chart to see what suggested putter length you should be playing. PING Golf has an online fitting putter fitting chart you can easily find.
What Is the Difference Between a Standard Grip and a Jumbo Grip?
A jumbo grip is much larger than a standard grip and usually close to the USGA limit of 1.75 inches in diameter. One of the biggest reasons golfers go to a more oversized putting grip is to limit the rotation of the putter head.
Read on: The Best Mallet Putters
Final Thoughts
Putting can be considered a game within the game. With so many different putter types on the market, deciding what may be best for you can be overwhelming.
The optimal putter type for most golfers can vary depending on individual preferences and putting styles. However, a few common putter types tend to work well for many golfers:
Blade Putters: Blade putters are traditional and often preferred by golfers who have a more arcing putting stroke. They typically have a thin, compact head with a small sweet spot.
Mallet Putters: Mallet putters have a larger, more forgiving head shape with a higher moment of inertia (MOI). They often provide better stability and alignment aids, making them suitable for golfers with a straight-back, straight-through, or slight arc putting stroke.
Face-Balanced Putters: Face-balanced putters are designed to keep the face square to the target line throughout the stroke. They are often preferred by golfers with a straight-back, straight-through putting stroke.
Ultimately, finding a putter that fits your style, you're comfortable using, and you feel confident with it in your hands is critical to becoming an exemplary putter.
However, with so many options available, finding that perfect putter can be seen as a daunting task…but it doesn't have to be!
This article should provide great information to help make choosing the right putter more manageable.
More great info: The Best Blade Putters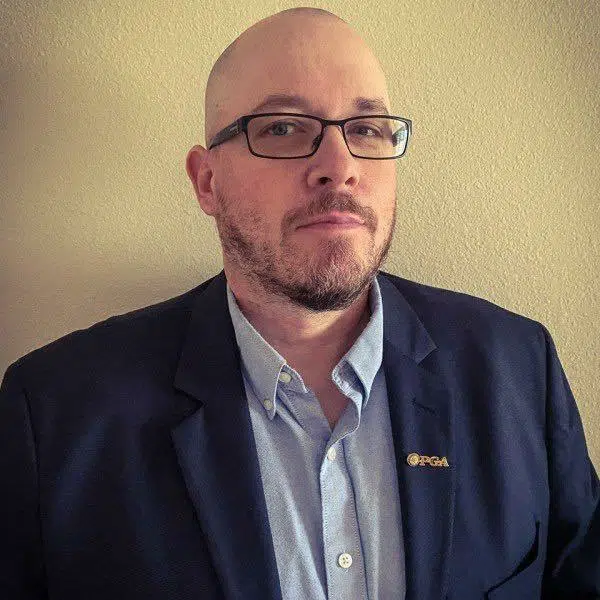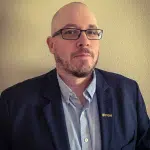 PGA Professional Brendon Elliott is the founder of Little Linksters, LLC, and its nonprofit arm, the Little Linksters Association for Junior Golf Development. He is the winner of 25+ prestigious industry honors, including the 2017 PGA National Youth Player Development award. Brendon is a respected coach, businessman, writer, and golf industry expert.