Although the battle of blade vs mallet putters can be mostly personal, some technicalities could make one better for your game. 
Most people choose a putter on feel and results alone. This is not a bad thing. However, going for a putter fitting can be a good idea to ensure you are playing with the club that suits you best.
We know how difficult it can be to choose the correct golf equipment for your game. That decision becomes even more challenging when you consider one important fact:
There are more putters to choose from than any other club on the market.
So one of the best things you can do is narrow it down to blade or mallet before you intensify your search.
Is a blade or mallet putter better for your game? What are the blade vs mallet putter pros and cons? 
Read on to answer these questions and more. 
Blade vs Mallet Putter – Which Is Best for Your Game?
Mallet Putters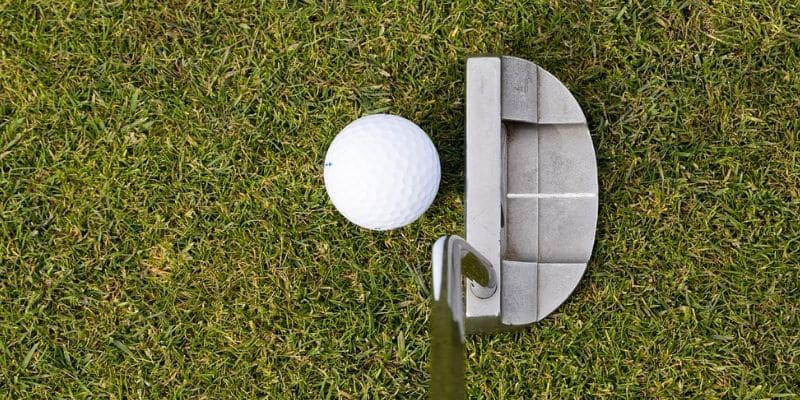 Mallet putters were traditionally the half-moon-shaped design that made all struggling putters think their problems had been solved. And from the first mallet putter models, we have seen some tremendous advancements.
Although the actual clubface on a mallet putter is similar in size to a blade, mallet putters tend to have a larger sweet spot. With most of the weight being low and in the back of the clubhead, the mallet putter can help provide some consistency in your stroke.
With blade putters that tend to be a bit lighter, the clubface can twist or turn at impact, causing off-center hits. The weight on the mallet helps keep the putter on line. Additionally, weighting can help to stay on the path through impact. Generally, mallet putters are more forgiving.
These large club heads are not just for looks or weighting but also for alignment. If you remember putters from the early days, they often had a small white line on the top that you were supposed to use to help guide your ball to the hole.
This wasn't questioned until Odyssey released the famous two-ball putter, and all of a sudden, twenty handicaps were making putts they never dreamed of making. Alignment in golf is challenging; it takes time and practice to get your alignment straight.
Even after perfect alignment, your mind can play tricks on you and throw it off again. One of the significant reasons these large-headed putters are selling so well is that they are helping golfers make sure they are lined up to their spot.
Golfers with straight back and straight-through strokes do best with a mallet putter. The size, weighting, and alignment factors seem to lose effectiveness when you swing in an arc.
If this construction's forgiving, high MOI nature appeals to you, read our review on the best mallet putters for this year.
Blade Putters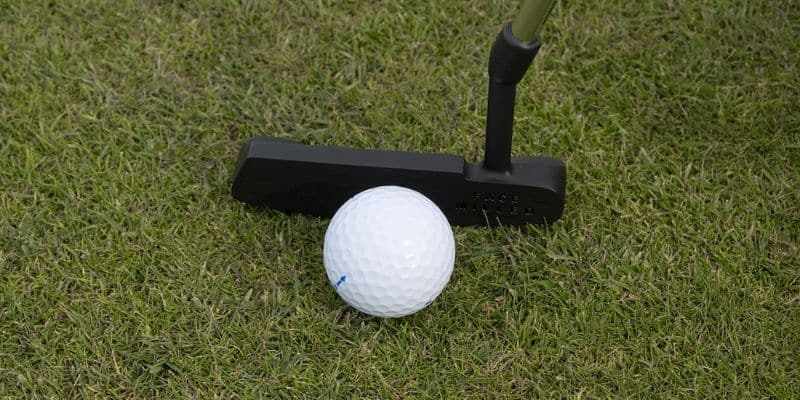 A blade putter is a more traditional look. Most lower handicap players and golf purists will tell you that the blade putter is the only putter. It's not as good at helping with alignment as the mallet putter is. But blade putters do have their list of positives.
Blade putters carry most of their weight in the toe of the putter. The sweet spot on a blade putter is usually closer to the heel than it is to the club's center. Players who swing the club in an arc motion, instead of a straight back and straight through, tend to do better with the blade putter.
Remember all that weight we talked about in the mallet head? Better players will argue that the extra weight will remove the feel and distance control. The blade putter tends to be easier when controlling distance and speed, especially when dealing with feel players.
New golfers would almost always take a putter similar to a miniature game putter and throw it in their bag. In the last few years, there has been a significant shift to the mallet design for newer players, as that tends to be where they get the forgiveness they need.
Players who fancy the traditional design of these clubs can find a host of options on the GolfSpan site. Start with our guide to the best blade putters on the market.
Which Putter is Better for My Game?
This is a discussion that could go on for days. Even the most traditional and pure golfers have hit a few mallet putters in their day that made them think about making the switch.
On the flip side, some of the newest and highest handicap players have put a top-of-line tour blade in their hand and understood why the blade model is so prevalent on tour.
As a general rule of thumb, testing out some putters before you purchase is essential. You may think you don't like blade putters simply because your blade putter is two inches too long for you. Many factors can go into a putter fitting, which should be worked out before deciding which option is for you.
We tend to say that most lower handicap players will choose a blade, and most higher handicap players will choose a mallet. That being said, the TaylorMade Spider putter got famous in the first place because it was being used on Tour.
This is far from the traditional model that had proven results even on the tour level — an excellent thought to keep in mind for those who refuse to venture from the blade putter.
Our 3 Best Mallet Putters
The Odyssey White Hot OG Seven Slant is not as popular as its 2-ball relative, but it should be. This winged mallet design provides expert craftsmanship, an attractive Milled Surface Finish, and optimal topspin, sound, and feel.
I found that its toe-hang design is crafted for players with an arched stroke desperate to get the face square to the path at impact. In addition, you will notice the Milled Surface Finish offers a clean appearance at address. Plus, it features three dotted lines above the face to offer assistance lining up your putts.
Besides its looks and toe-hang, the trusty White Hot Insert is the stand-out feature. Odyssey employed the insert to amplify sound, feedback, and topspin off the putter face. You'll notice that this feature improves your distance control to reduce the potential of 3-putts.
Finally, I noticed that the winged mallet design enhanced the putter's stability and moment of inertia (MOI). Therefore it fights to achieve a square position relative to the path at contact. You'll find that this helps you start your ball on the intended line and achieve greater accuracy.
Overall, I suggest that mid and high handicappers with arched strokes consider the stability, consistency, and control offered by the Odyssey White OG Seven Slant putter.
Pros
Stable through impact

Forgiving

Built for arched strokes

Produces superb feel and sound

Prompts consistent forward roll off the clubface
Cons
Not suited to golfers with straight strokes

The winged mallet design may not appeal to our traditionalist companions
The Spider Tour Black 3 is among TaylorMade's most popular putters in recent times. Golfers of all skill levels choose this putter for its highly forgiving modern mallet design, optimal top spin, and soft feel on all strikes.
Let me start with the multi-material design, which ensured a high MOI, and greater accuracy on every strike. The lightweight 6061 aluminum core pairs with heavy 304 stainless steel to provide stability and enhance my control. As a result, I kept the face square to the path and started my ball on the intended line, producing improved accuracy. 
The next feature that stood out was the Pure Roll Insert, which generated impressive topspin off the putter face for immediate forward roll. You'll find that this component helps you get your ball up to the cup consistently, even on mishits. Therefore, you reduce the risk of inaccurate distance control and 3-putts.
Lastly, TaylorMade's engineers applied a PU foam between the frame and body of the putter to eradicate vibrations on off-center strikes. Plus, it improves the acoustics for a pleasant putting experience.
Ultimately, the TaylorMade Spider Tour Blade Black 3 is a suitable construction for a wide range of golfers struggling to achieve a square path. 
Pros
Promotes a square path

High MOI

Vibration damping padding

Increases top spin and forward roll

Helps you start your ball on the intended line
Cons
Expensive

34-inches is the shortest available shaft option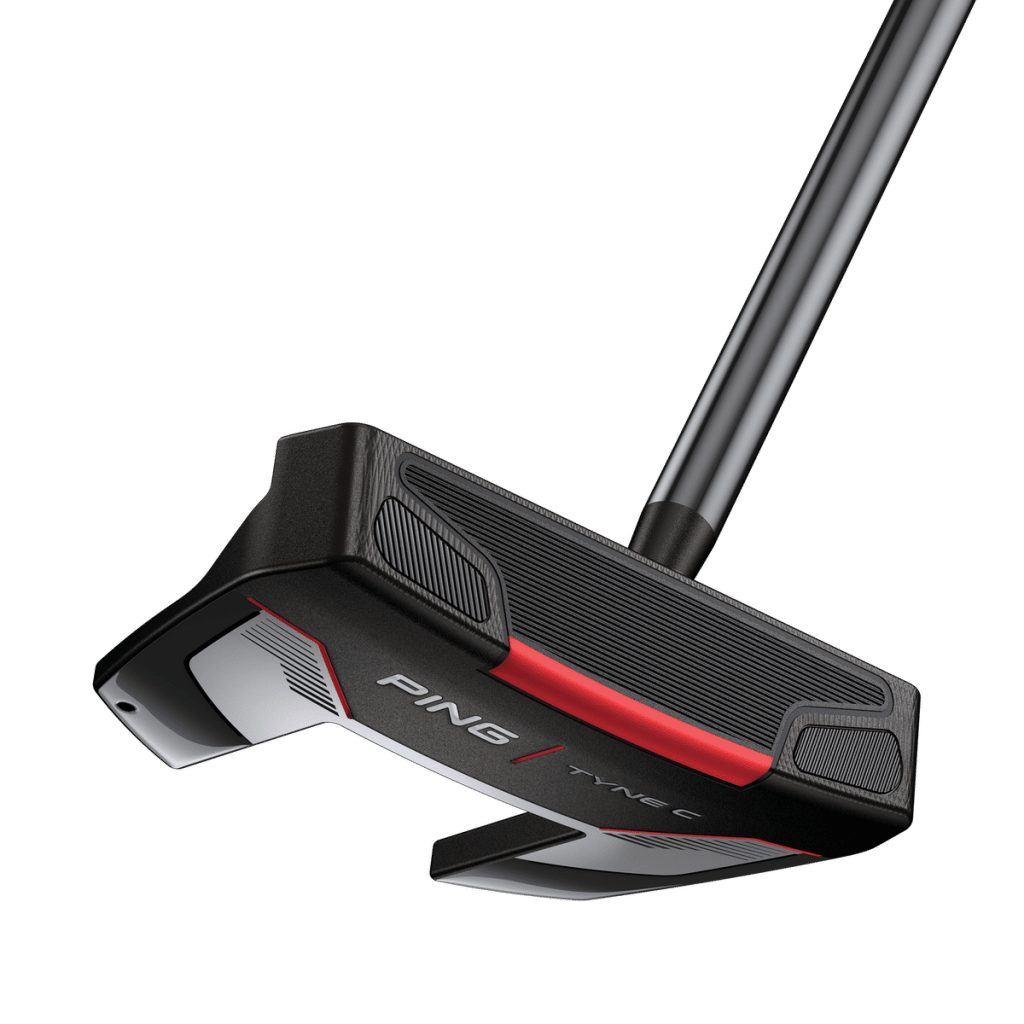 The final mallet worthy of a mention is the ever-reliable Ping Tyne C which delivers a hybrid performance, depending on your proximity to the cup. In addition, you will enjoy consistent roll, a soft feel, and maximum forgiveness.
Ping crafted the Tyne C to create face balance. That means it was crafted for golfers with a straight stroke. I found the Dual-Durometer insert to be the star performer for its all-around performance on long and short putts. 
The soft front layer contains Pebax, designed for a soft feel and maximum precision. Conversely, the back layer is firmer and enhances feedback on long putts to generate improved distance control.
Next, you'll notice that the Tyne C is fitted with Shallow Uniform Grooves, which work wonders for your roll. The uniform depth of these grooves prompts consistent topspin and smooth feel on all strokes, propelling your ball closer to the pin.
Lastly, the Multi-Material composition of the putter boosted MOI to resist twisting during your stroke. As a result, it enabled me to start my golf ball on the desired line and generate greater accuracy on the dancefloor.
In conclusion, the Ping Tyne C is a reliable, forgiving mallet putter that encourages consistent roll and a soft feel for improved putting results. 
Pros
A soft front layer insert softens the touch on short putts

Firms the feel for longer putts

Generates optimal roll off the putter face

Resists twisting to remain square

Super forgiving
Cons
Not suited to arched strokes

The insert makes the face look like rubber, which cheapens the overall appearance
Our 3 Best Blade Putters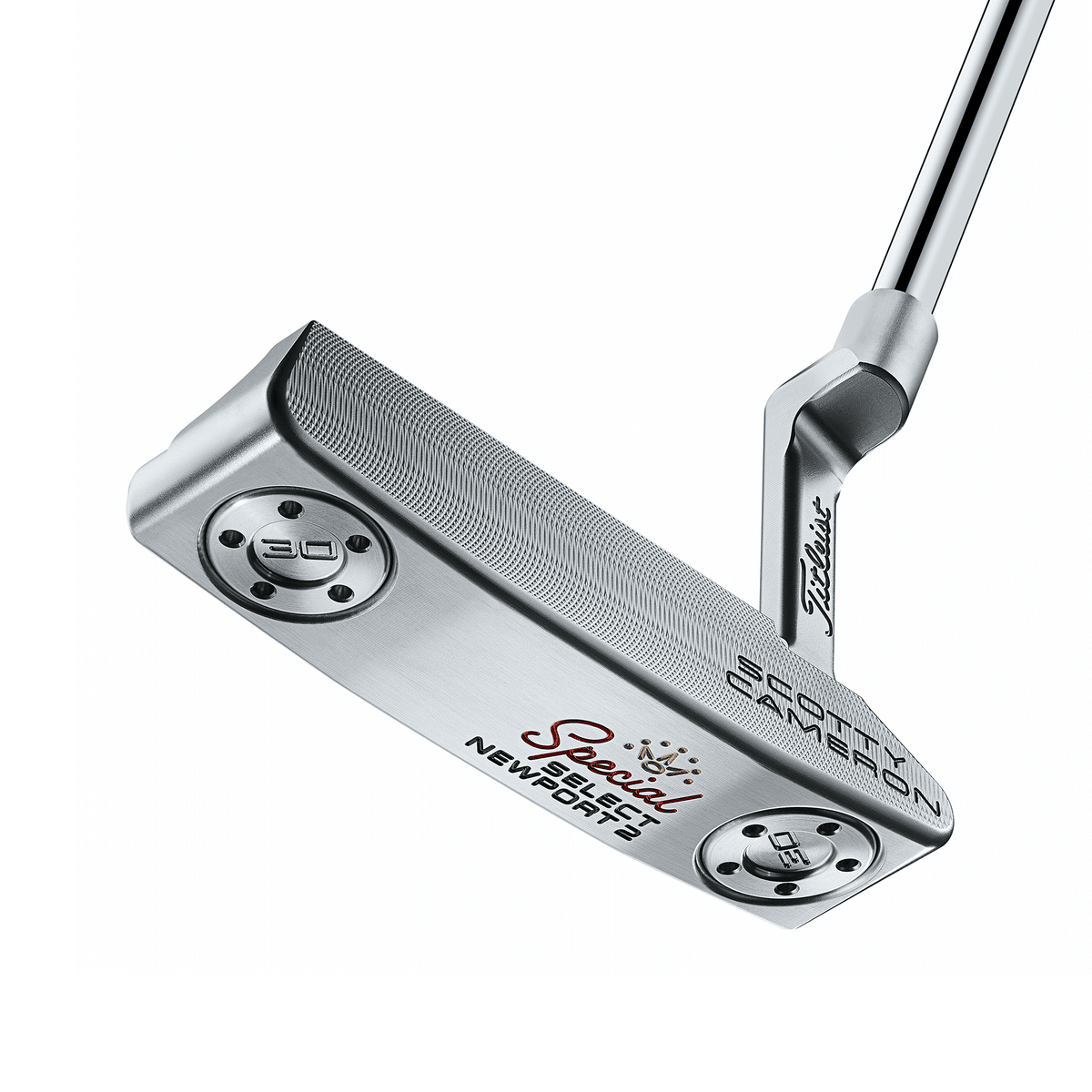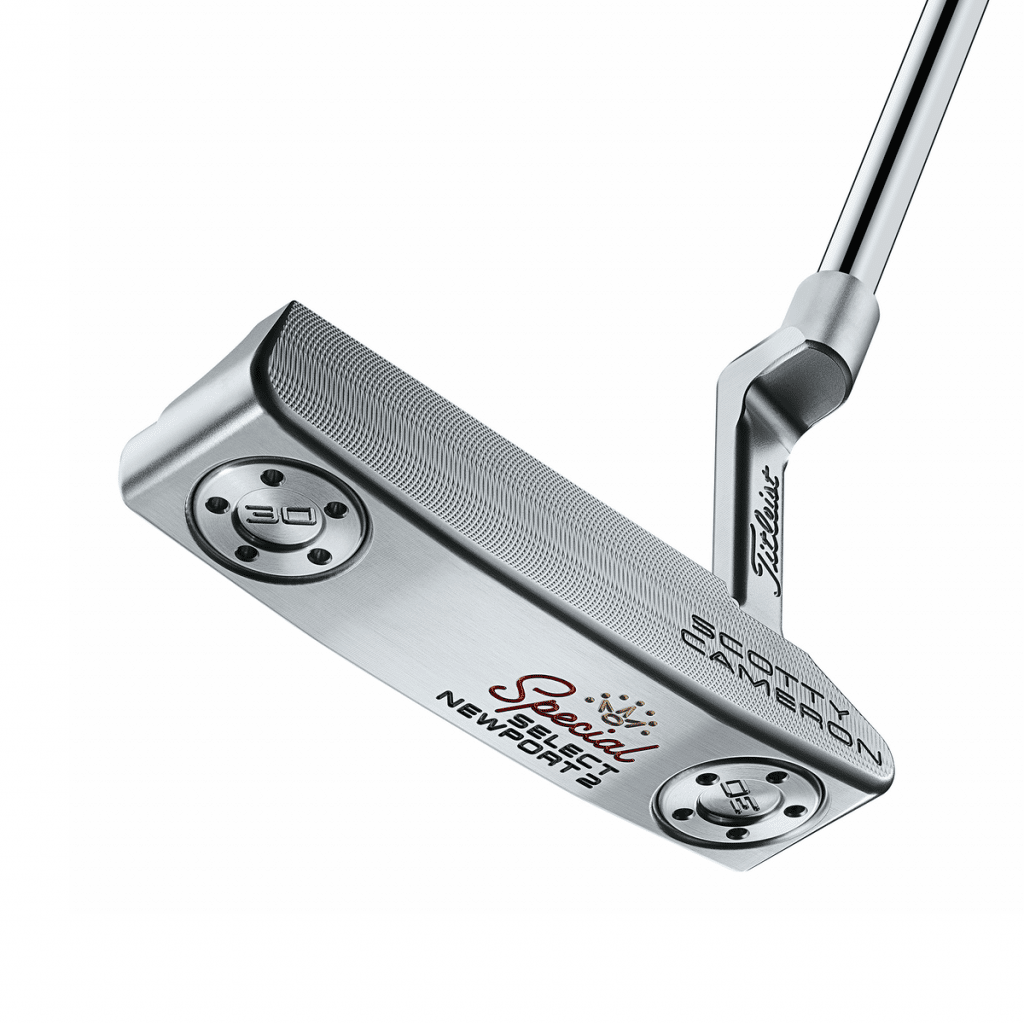 The legendary Scotty Cameron impresses again with the Special Select Newport 2 putter. Off the bat, it presents an aesthetically pleasing finish, which pleases even the fussiest golfer. Besides its gorgeous looks, this blade provides optimal balance and a pure roll and feel.
Upon first inspection, you will notice a refined plumber's neck hosel suited to those with a combined arch-straight stroke. I found that the addition of heavy tungsten sole weights boosted the stability and balance of the putter for consistent roll off the face.
Titleist and Scotty Cameron decided to activate their Soft Tri-Sole design on this putter, creating an appealing topline that superior golfers appreciate. Furthermore, you'll see that the Newport 2 is a Solid Milled Construction, which looks good, but, most importantly, generates exceptional forward roll and topspin for pace control.
Overall, the Titleist Scotty Cameron Special Select Newport 2 putter is best created for superior players with an arc-straight stroke. Beginners and high handicappers may find it challenging to cleanly strike the compact, lighter blade.
Pros
Attractive look

The milled face delivers exceptional topspin

Created for golfers with a straight-arc stroke

Soft feel

Enhanced balance
Cons
Expensive

It is not recommended for arched strokes
The Huntington Beach Soft 4 is an attractive milled putter which offers the average golfer optimal value for money. In my experience, this putter maintained ball speed on all strikes, produced a soft feel, and generated adequate forward roll.
My favorite feature of this putter is the Speed Optimized Face Technology which normalizes ball velocity across the putter's face. The result was consistent speed and distance control to reduce the risk of 3-putts.
You'll find that the Precision Milled Face aids the Speed Optimized Technology by increasing friction off the face and elevating the topspin. This propelled my ball towards the hole, even if I caught the ball off-center.
The final factor to note is the Soft 304 Stainless Steel material. While I loved the soft yet crisp feel, it was sometimes too muted. This meant I could barely feel the ball coming off the face, a challenge for long putts.
Ultimately, the Cleveland Huntington Beach 4 putter is an affordable, soft-feeling creation designed to produce rampant topspin. It is a suitable option for mid to low handicappers on a budget.
Pros
Affordable

Soft feel

Produces consistent topspin

Enhances friction off the face

Maintains ball velocity across the putter face
Cons
34-inches is the shortest available putter shaft

The soft feel makes it difficult to judge the speed on long putts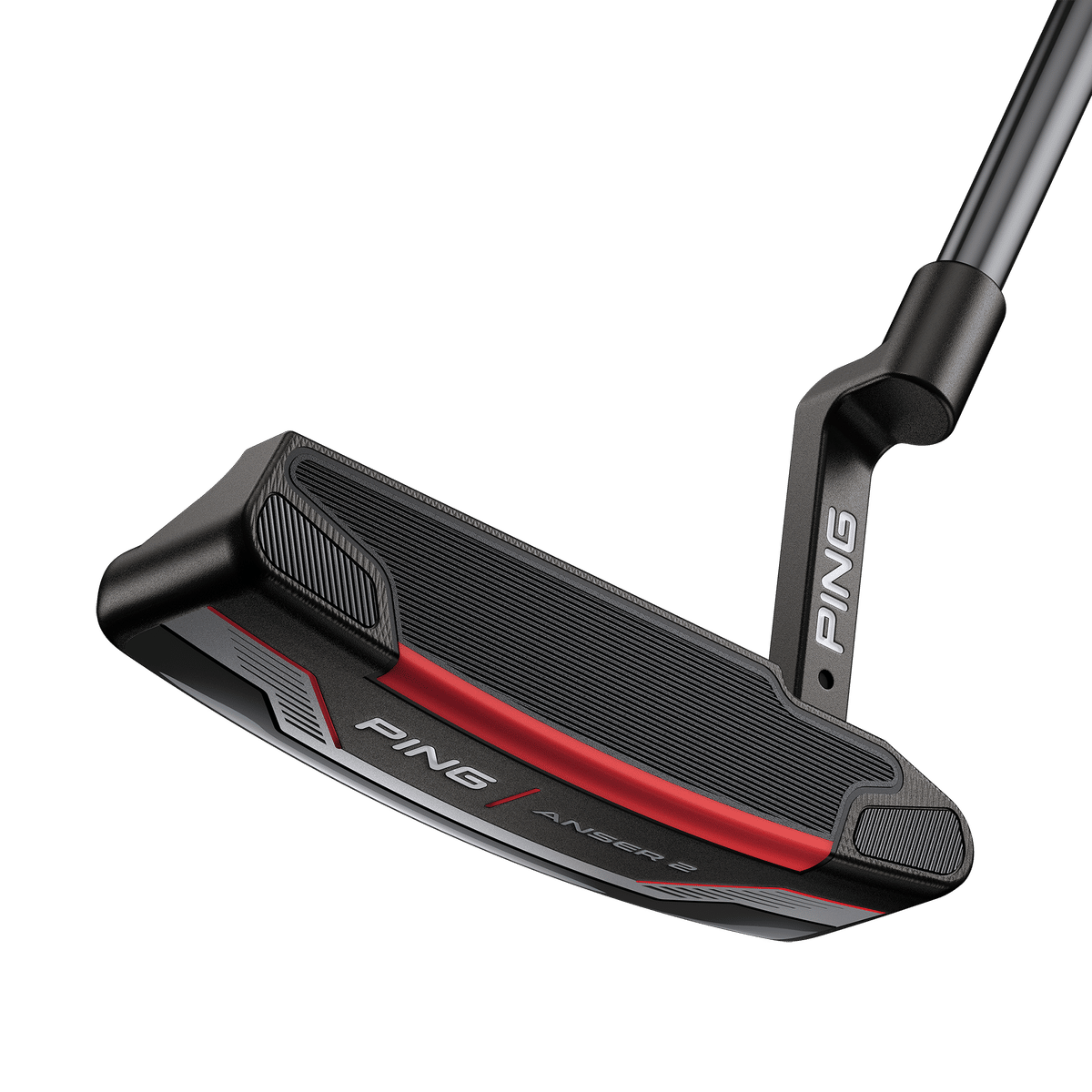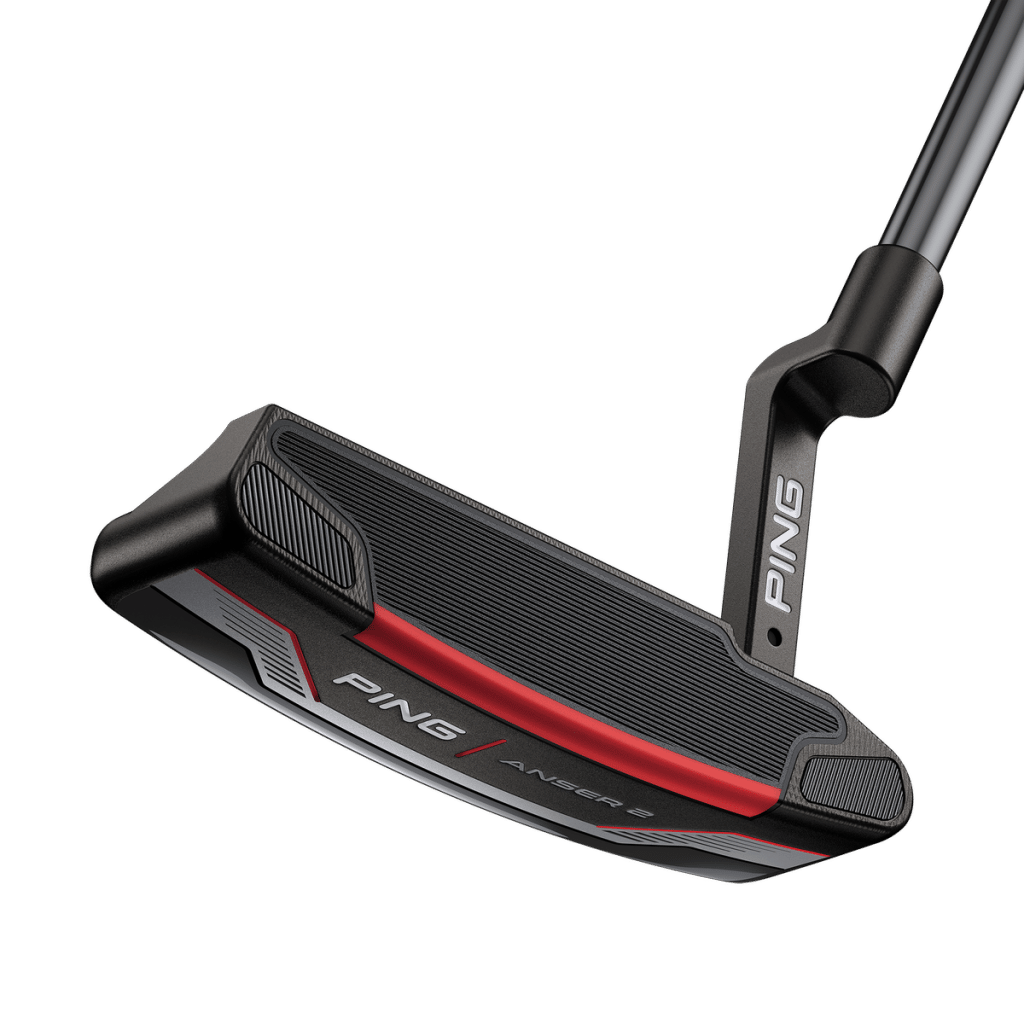 The final blade putter featured on our list is the forgiving, fast-rolling, and precise Ping Anser 2. You enjoy a firmer feel on long putts, while shorter shots offer a soft hold for precise results. You will also notice that this putter provides a relatively high MOI for a blade construction.
Ping's engineers stuck to what they knew by roping in the Dual Durometer Insert. I found that the firm back layers boosted my control and feedback on long putts for superior speed control. However, on short putts, the soft, Pebax front layer softens the feel for precise distance control and accuracy.
Sticking with the brand's renowned technologies, the Anser 2 contains Shallow-Uniform Grooves that prompt forward roll across the face on all putts. Therefore, you will propel your ball closer to the cup, even on off-center hits.
Furthermore, I noticed that this blade putter contained heel-to-toe tungsten weighting, which expanded the sweet spot, and boosted MOI. As a result, I produced consistent roll and ball speed, along with a square face at impact.
Based on the test I ran with the Ping Anser 2, it is clear that it works for mid-handicappers, seeking plenty of forgiveness in a blade design.
Pros
Firm feel for maximum feedback on long putts

Soft feel on short putts

Prompts consistent roll

High MOI for a blade putter

Forgiving
Cons
Moderately expensive

Unflattering alignment aid
FAQ
What Is The Difference Between A Mallet And Blade Putter?
The clearest difference between a mallet vs blade putter is the design of the head. A blade is a simple, compact putter that originally featured one side. These days blades are slightly larger and carry a compact-cavity back, which consists of added weight to boost stability.
Conversely, a mallet putter features a semi-circle or winged back design, which carries added weight compared to a blade. As a result, mallets produce higher MOI to keep the putter face square at contact for improved accuracy.
Which Is Better Blade Or Mallet Putter?
A mallet putter is better for mid and high-handicap golfers who require added forgiveness and consistency on the green. Conversely, a blade offers an exceptional feel and topspin for greater feedback and control. Therefore, it boils down to personal preference and where you require the most aid in your putting game.
How Do I Know If I Need A Mallet Or Blade Putter?
When deliberating over a blade putter vs mallet putter, think about the performance features you cherish the most. If you seek forgiveness and high MOI, I suggest sticking to mallet putters. However, golfers searching for feel and feedback are advised to consider a blade putter.
Is It Easier To Putt With A Blade Or Mallet Putter?
If you are a mid or high-handicapper, you may find it easier to putt with a mallet putter vs blade. The high MOI qualities of the mallet putter, along with its stability and topspin, will provide consistent results compared to the lesser given blade. 
What Is The Easiest Type Of Putter To Use?
Are blade putters harder to use? The easiest short stick to use between blade vs mallet putters is mallets. Additional weight in the frame of the putter and the club head, keep it square through impact for straighter putts and ample forward roll. 
Mallet Or Blade Putter For A Beginner?
I suggest that beginners use a mallet putter over a blade because of its forgiveness, speed control, and accuracy. At this stage, you need all the help you can get, and the consistency of a mallet is the smarter option.
Is A Mallet Putter More Forgiving?
The answer to the question, are mallet putters more forgiving, is generally yes. The added weight of the putter, coupled with its high MOI construction, stability at impact, and consistent roll, provide exceptional forgiveness.
Are Blade Putters Hard To Use?
Blade putters are not hard to use. But they are challenging to achieve consistency with. Their reduced MOI and head weight lowers forgiveness, leading to inconsistent results on off-center strikes.
Final Thoughts
Unfortunately, it is impossible to determine a real winner when you play blade vs. mallet putters. Both putters have their unique characteristics and offer players a tremendous amount of benefits. 
When choosing your next putter, remember how many times you will use that club in your round.
Everyone is eager to have their swing speed tested and ensure the shaft of your driver is perfect. How many times in a round do you use that driver? How many times do you use the putter?
This question should make the blade vs. mallet putter discussion much more interesting for the player looking to lower their scores. Before I wrap up, here are my top picks for our putter mallet or blade review.
If you are an average golfer seeking the comfort of forgiveness, a square face, and consistent forward roll, then the TaylorMade Spider Tour Black 3 is worth a look. 
However, superior golfers searching for optimal feel and topspin should turn their attention to the premium Titleist Scotty Cameron Special Select Newport 2.
Nick Lomas is the founder of GolfSpan, an avid golfer, not quite a pro but has over 15-years of experience playing and coaching golfers from all over the world. His mission is to bring the golfing community a better experience then it comes to choosing the right golf gear, and finding the right set up for your game.