This is not a bad thing at all, however going for a putter fitting can be a good idea to make sure you are playing with the club that suits you best.
We know how difficult it can be to choose the correct golf equipment for your game. That decision becomes even more difficult when you find out that there are more putters to choose from than any other club on the market.
One of the best things you can do is narrow it down to blade or mallet before you intensify your search.
Blade vs Mallet Putter – Which Is Best for Your Game?
Mallet Putters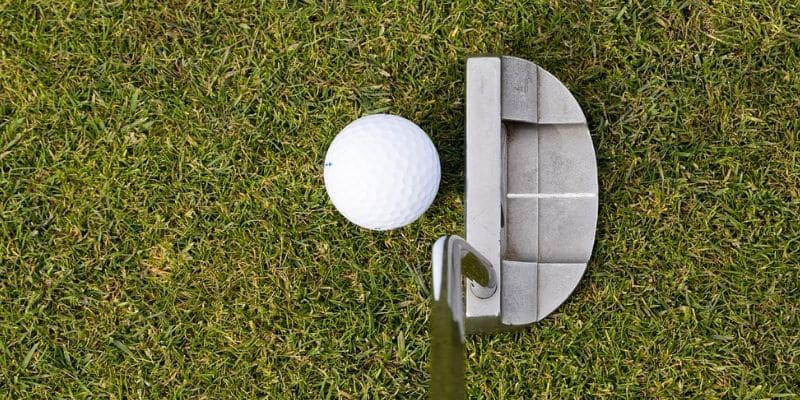 Mallet putters were traditionally the half-moon shaped design that made all struggling putters think their problems had been solved. From the first mallet putter models, we have seen some tremendous advancements.
Some putters are now very large, some are even called Spiders or Craze (because they are quite crazy), but people who love mallets can't get enough of these large head designs.
Although the actual clubface on a mallet putter is similar in size to a blade, mallet putters tend to have a larger sweet spot. With the majority of the weight being low and in the back of the clubhead, the mallet putter can help provide some consistency in your stroke.
With blade putters that tend to be a bit lighter, the clubface can twist or turn at impact, causing off-center hits. The weight on the mallet helps to keep the putter on the line. Additionally, the weighting can help to stay on the path through impact. Generally speaking, mallet putters are more forgiving.
These large club heads are not just for looks or weighting, but they are also used for alignment. If you can remember putters from the early days, they very often had a small white line on the top that you were supposed to use to help guide your ball to the hole.
This wasn't questioned until Odyssey released the famous two-ball putter, and all of a sudden, twenty handicaps were making putts they never dreamed of making. Alignment in golf is a challenging thing; it takes time and practice to get your alignment straight.
Even after your alignment is perfect, your mind can play tricks on you and throw it off again. One of the significant reasons these large-headed putters are selling so well is that they are helping golfer make sure they are lined up to their spot.
Golfers that have a straight back and straight through type stroke seem to do best with a mallet putter. The size, weighting, and alignment factors seem to lose their effectiveness when you swing in an arc.
Blade Putters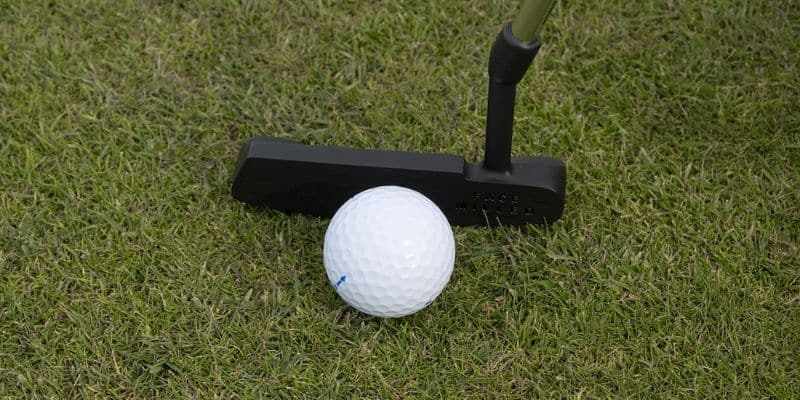 A blade putter is a more traditional look. Most lower handicap players and golf purists will tell you that the blade putter is the only putter. Not as good as helping with alignment as the mallet putter is, the blade putters do have their list of positives.
Blade putters carry most of their weight in the toe of the putter. The sweet spot on a blade putter is usually closer to the heel than it is to the center of the club. Players who swing the club in an arc motion as opposed to a straight back and straight through tend to do better with the blade putter.
Remember all that weight we talked about in the mallet head? Better players will argue that the extra weight will take away from the feel and distance control. The blade putter tends to be easier when it comes to controlling both distance and speed, especially when dealing with feel players.
New golfers almost always would take a putter similar to a miniature golf game putter and throw it in their bag. In the last few years, there has been a significant shift to the mallet design for newer players, as that tends to be where they get the forgiveness they need.
Which Putter is Better for My Game?
This is a discussion that could go on for days. Even the most traditional and pure golfers have hit a few mallet putters in their day that made them think about making the switch.
On the flip side, some of the newest and highest handicap players have put a top of line tour blade in their hand and understood why the blade model is so prevalent on tour.
As a general rule of thumb, it's essential to test out some putters before you purchase. You may think you don't like blade putters simply because your blade putter is two inches too long for you. Many factors can go into a putter fitting, and those should be worked out before deciding which option is for you.
We tend to say that the majority of lower handicap players will choose a blade, and the majority of higher handicap players will choose a mallet. That being said, the reason the TaylorMade Spider putter got famous in the first place was because it was being used on tour.
This is far from the traditional model that had proven results even on the tour level — an excellent thought to keep in mind for those who refuse to venture from the blade putter.
Final Thoughts
Unfortunately, it is impossible to come up with a real winner when you play blade vs. mallet. Both putters have their unique characteristics and offer players a tremendous amount of benefits. When choosing your next putter, keep in mind how many times in your round, you will use that club.
Everyone is eager to have their swing speed tested and make sure the shaft in the Driver is perfect. How many times in a round do you use that Driver? How many times do you use the putter?
This question should make the blade vs. mallet discussion that much more interesting for the player truly looking to lower their scores.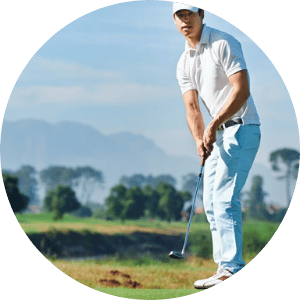 Nick Lomas is the founder of GolfSpan, an avid golfer, not quite a pro but has over 15-years of experience playing and coaching golfers from all over the world. His mission is to bring the golfing community a better experience then it comes to choosing the right golf gear, and finding the right set up for your game.