You want to be out there all year round, and there's no reason why you shouldn't be able to enjoy your golf even with a drop in temperature. Winter golf is tough, but as long as your course is open, and you have the right equipment, you can get out there to keep your game on top form, and enjoy yourself just as much in the process.
With that in mind, let's take a look at some of the best cold weather golf gear that is going to help keep you warm during the cold winter rounds.
At a glance: Our Top 5 Picks for Best Cold Weather Golf Gear
A Few Tips On Playing Golf In The Colder Weather
If the temperature is cold, then so is your body which means you will be more prone to injuries if you don't warm up properly. Check out these seven great warm-up exercises that will help get you ready for your round.
Make sure you take advantage of the club's winter rules. Preferred lies, casual water, and the embedded ball rule
Remember that the golf ball isn't going to travel as far in the winter as it does in the summer so choose your shots wisely, and take more club.
Add more loft to your driver which should help you get a little more distance when there is no roll on the fairways
Carry your bag if you can. Most clubs will ban trolleys in the winter and by carrying, it will help keep your body temperature up
Clean the soles of your shoes after every hole. In the cold weather when there can be ice or mud on the course, and your shoes can clog up causing you to lose grip while taking a shot
And don't forget to take your winter tees so you are not fighting with the rock hard ground while trying to insert your tees.
Cold Weather Golf Gear and Wear
Quick Overview: Our Top Picks for Best Cold Weather Golf Gear
1. Choosing The Right Golf Ball
Pros
Super low compression of 38
Available in pink, orange, red and green which may help even more with visibility
A great price. With more chance of losing balls in the winter, you don't want to be spending a fortune on them
Straighter drives
Great around the greens
Cons
The matte finish might not be for everyone
Green version can be awkward to find
Can feel a little too soft
Deciding what golf ball to use during the cold weather can have a huge impact on your overall game. When choosing a ball for the colder weather you want to make sure you are picking a low compression, low spin golf ball which will help the ball to travel as far as it can in the colder conditions.
Equally as important is the visibility of the golf ball which is not as good during those cold winter mornings, so a yellow ball like the Callaway Golf Chrome Soft Truvis Golf Balls is going to help you to keep an eye on it through the air, as well making it that much easier to find on the fairway.
Piling up the layers on your upper body is standard practice during the colder months, but many golfers will still just wear a standard pair golf trousers, leaving their legs to brave the elements, not realizing that cold weather golf trousers are available.
The UA Infrared Showdown Golf Pants are specifically designed to help keep your lower body temperature up, leaving your legs warm and toasty during your round.
Thanks to their UA Storm technology the trousers are both windproof and water-repellent but still manage to maintain a nice level of breathability, meaning that you won't be sweating while wearing the trousers.
3. Keeping Your Hands Warm
Pros
Still allow for feel during short game shots and putting so you can keep them on all round
Very warm
Extremely durable
Can still be used with touch-screen phones
Cons
Fit can be loose so be sure to check sizes before purchasing
Stitching can be a little poor
A second glove takes some time to get used to
Winter may be the only time you can rock the 'two glove' look. If it's going to keep you warm then who cares what it looks like. Winter gloves come in pairs, are a lot thicker than their summer counterparts, and as well as being fleece-lined to help keep you warm, cold weather golf gloves are often waterproof which will help with your grip.
The FootJoy Men's WinterSof Golf Gloves have a water-resistant grip on the palm to help keep control of your club, and they have an extended cuff that is knitted for extra warmth and helps to keep out the cold.
They have a reflective strip for high visibility both on and off the course and are both wind-resistant and waterproof.
Golfing during the winter months requires the right kit and that starts from the ground up. Having the right pair of shoes is paramount in making those cold rounds of golf, both more enjoyable and successful.
It's not so much about keeping your feet warm as it is giving you the best grip possible during the cold and sometimes icy conditions. The is nothing worse than teeing off on winter mats and having your feet slide away from under you because you are not wearing the right golf shoes.
Adidas may have the answer to this problem with their Climaproof BOA Golf Shoe. A boot more than a shoe, these lightweight leather golf boots feature the Adidas Climaproof technology that offers fantastic protection from all of the elements.
They will help to keep your feet dry, warm and more comfortable during the colder periods. And with the special BOA fit system, they provide an airtight fit that keeps any leaks out with none of the hassles of laces.
5. Keeping Your Upper Body Warm
Pros
Extremely comfortable
Perfect both on and off the course
Great quality material
Lightweight enough you can still wear your waterproof jacket on top if needed
Cons
Sizes run a little small
Elastic on the cuffs and waist can be a little tight
Detailing inside of the collar looks unfinished
When it comes to keeping your upper body warm when playing golf in the colder weather, layering up is the way to go. At the same time, you don't want to restrict the movement in your upper body too much that you can't make a free and easy swing. Generic, bulky winter type clothing is simply a no-go.
You want to make sure that you choose a pullover that fits over your polo shirt and keeps you warm without limiting your mobility, and you will be pleased to know there are some great cold weather-specific options out there.
This Dry-Fit Pullover ticks a lot of boxes. It is both wind and water-resistant, protecting you from the elements while at the same time trapping in your body heat.
Made with super soft fleece fabric this golf pullover gives you the warmth of a much thicker and heavier top but is far lighter to wear allowing you to perform at your best on the course. It also comes with elasticated cuffs, collar, and hem allowing your body to move with complete freedom throughout your swing.
Final Thoughts
Golfing during the colder weather may not be any golf lover's first choice, but it is simply part of the game. You have to expect to take a few more shots than you would in the warmer conditions, but as long as you are having fun out there, what more could you ask for? A bad day on the course has to be better than no day on the course!
Playing in the cold weather is great exercise, it's an excuse to get in some more practice in readiness for the summer golf season, and if everyone is playing winter rules the general pace of play may even improve.
It's all about being prepared, and by following some of the tips provided in this article and kitting yourself out with some of the cold weather golf gear we have suggested, you can get out there and tee it up whatever the weather.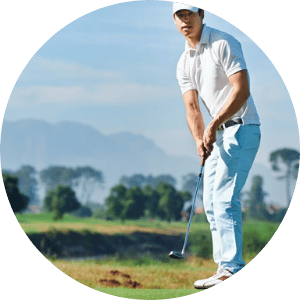 Nick Lomas is the founder of GolfSpan, an avid golfer, not quite a pro but has over 15-years of experience playing and coaching golfers from all over the world. His mission is to bring the golfing community a better experience then it comes to choosing the right golf gear, and finding the right set up for your game.