The use of golf head covers has become extremely fashionable, and they serve a dual purpose. First, they safeguard your expensive clubs from harm and protect your investment. Second, they enable you to articulate your individuality through unique golf head cover designs. 
The best golf head covers come in several colors, materials, and themes to match almost every golfer's style and preference.
Head covers have become part of the package when purchasing woods, enabling the manufacturers to get some advertising space at no cost while still benefiting the purchaser.
If you're looking to purchase some golf head covers, check out our specific recommendations below. 
At a glance: Our Top 5 Picks for Best Golf Club Covers
The Best Golf Head Covers
Head covers for golf clubs enable you to express your unique personality since they come in an impressive range of designs. Spotting your bag has become much simpler with the personalization of the head covers.
Some golfers have taken to using the best golf head covers for their irons since it is not common to acquire a set of irons with head covers. But to protect your investment, head covers are worth considering for irons too. 
Putters are more likely to be safeguarded by a head cover to ensure that the face of the putter is not ruined by bumping against other clubs. As the shape of putters varies immensely, many manufacturers have decided to make this standard with most putters.
What to Look for When Buying Golf Club Covers
When choosing head covers, there are some points to consider before making the final purchase. The cover must protect the clubhead and the part of the shaft that comes into contact with your golf bag.
Durability
Season and preferences change, and thus many people will swap out their head covers regularly. However, some golfers stay with their head covers for an extended period; thus, the material used in the construction will determine how long you will be able to use the headcover.
Ease of Use
The driver is one of the most used clubs in your bag and is one of the most expensive. You'll want a head cover that is easy to take off and slip-on.  
If the head cover is difficult to replace after your shot, you may end up not putting it back and thus lose its protection.
The headcover should fit snugly onto the head but not too tight to create a battle every time you want to extract your club or having to force it onto the head cover after every shot.
Style
Simple or flashy? Funny or functional? In this day and age, if you've got a vision for how your head covers should look, there's a good chance you can find something to satisfy your craving. 
Shapes
Your imagination is the biggest limitation on your club's type of head cover. Many manufacturers have introduced animal and cartoon characters into their ranges. You can find politicians or sporting team designs. Some manufacturers will even create a head cover to your specifications to represent your personality to the best. 
Driver headcovers tend to offer the most interesting shapes and designs. Iron, wedge, and putter headcovers are generally more traditional. The best putter headcovers generally cater to blade putters and mallet putter shapes.
Materials Used in Head Covers
Knit
Head covers made from 100% knit material are widely used and come in various colors and shapes. This acrylic material is great for keeping your clubs dry and protected. 
They often come with an extended sock-like bottom that slides over the shaft providing additional protection.
Fabric
Other popular materials being used are fabric covers. They come in water and stain-resistant material that also assist in maintaining a shaped form to fit specific products. 
Manufacturers often use this to identify their brand and get some free advertising. The form-fitting fabric provides reliable protection and looks good, while the clubheads enjoy additional protection from the thicker seams.
Leather
Leather is a hardy material that provides natural protection against stains and water making them extraordinarily durable. The design is often cleaner, with minimal writing on it except for the markings of the club. Many golfers have personalized their leather head covers through embroidering to stand out more sophisticatedly.
Quick Overview: Our Top Picks for Best Golf Club Covers
Reviews of The Best Golf Head Covers
This was made in the image of the 45th American president and to reflect his Make America Great Again motto and his love for golf. The most unique golf head cover on our list is quite satirical in the depiction of the red tie and the president's hair. Both points of discussion during his time in the Oval Office.
Staying in the image portrayed by the president the quality of this headcover is extremely high and the soft and durable leather used in the fabrication will ensure that the headcover will withstand the most terrible weather conditions, and retain the good looks and colors for at least the years that the president will spend in the Oval office.
"The quality is the best, maybe the best you have ever felt and seen, and no one knows that the color is so good that it has never been produced before by any administration. DJT"
Perfect for the most arduous POTUS supporters and the detractors of the 45th president. 
TaylorMade has always been at the forefront of producing quality head covers that are atheistically pleasing to a wide range of golfers. The 2017 head cover is still highly regarded and loved by many golfers and can be found in many golf bags. The head cover is fabricated from synthetic PU leather that will protect the clubhead and a short portion of the shaft.
The fantastic red, white, and black color combination provides the feeling of a red-hot club hiding inside that will add many yards onto every shot.
The TaylorMade range will protect your driver, fairway woods, and putter. The only problem we can foresee is that it is aimed specifically at TaylorMade clubs and is unlikely to find a huge following from golfers who prefer alternative brands.
The Craftsman Golf US Flag head covers are most suitable for the extremely patriotic American public. They are available in a set of 10 headcovers to cover the biggest range of irons 4 iron, 5 iron, 6 iron, 7 iron, 8 iron, 9 iron, lob wedge, sand wedge, and pitching wedge.
The head covers are produced from neoprene that provides excellent flexibility that will be fitting snugly on the clubhead to provide excellent protection. The handcrafted stitching will aid with durability and washability.
The design is aimed at right-handed clubs and will present the flag correctly when used on the right-handed clubs. This does not prevent you from using it on left-handed clubs, but the flag may not show as clearly as on right-handed clubs.
4. Scott Edward Golf Hybrid Head Covers
Pros
Anti-wrinkle design
Soft acrylic yarn with knitted double-layers
Usable on all hybrids and irons
Rotational number tag for easy club identification
Well priced
Machine washable.
Cons
Durability issues have been reported
Too small for woods or drivers
Lack of snugness of contour-shaped covers.
The well sought-after Scott Edward Golf Hybrid Headcovers come in a retro style featuring an old-school striped design and a pom-pom. They are available in many colors and style combinations, including the much-loved Argyle pattern which has long been a clubhouse favorite.
Fabricated from extra-soft acrylic yarn with double-layered knitting, they are unlikely to wrinkle and are extremely washable to keep them in perfect condition for an extended period.
They are not suitable for larger drivers and woods but are ideal for hybrids and even suitable for irons. The stretch material will enable the head covers to protect every club from your wedges through to the hybrid selection.
The long neck provides protection for the clubhead, connection, and a sizeable portion of the shaft.
5. Craftsman Golf 12 pcs Iron Head Covers
Pros
Durably made with PU leather that is water- and scratch-proof
Oversized and designed to fit irons from all brands
Covers in the set for 3 through 9 irons and 4 wedges
Cons
Some found that the stitching didn't last long
Occasionally the Velcro strap started to tear off too quickly
There are too many headcovers
The Craftsman Golf Iron Head Cover Set is fabricated from thick, durable synthetic leather with a soft interior lining. It will offer extensive protection for 12 different clubs which makes it one of the most extensive ranges available. Considering that you are only allowed to carry 14 clubs in your bag, it is unlikely that you will use the full range of 8 irons and 4 wedges that can be covered by the head covers. The headcovers are quite large and there should be no problem fitting large irons into them.
The quality is rounded off nicely with quality stitching, and your clubs are secured into the headcover through the use of a Velcro closing system.
The Pom-Pom head covers are aimed at taking you back to a time when the knitted head cover was ruling the roost and could be found in virtually every bag. The Finger Ten team created a modernistic design keeping the retro look in mind. They are fabricated from a strong and stretchy nylon material increasing durability and washability.
There is an immense variety of colors to select from and you are almost certain to find one that will reflect your personality and mood while still matching the color of your bag.
Unfortunately, you cannot have the number of the club embroidered in your preference and will have to do with the standard numbers which will not suit everyone's taste.
While it fits comfortably over the clubhead, the mid-section contains elastic to tighten it around the shaft.
FAQs
Are knit head covers good?
Knit golf head covers with pom-poms were amongst the first head covers to appear on the scene and are still being used by golfers around the globe.
The three-gauge knit construction is durable and dependable while the techno wool fabric is water-resistant and built to retain shape round after round.
Do you need golf head covers?
Head covers are all about protecting your clubs against damage from banging against each other when moving around in your bag.
Drivers, woods, and hybrid clubs tend to have thinner faces than irons and also generate the fastest swing speeds. Any dents or cracks can easily cause a loss of direction and distance if not protected.
Golfers use iron head covers less frequently as irons are more durable and resistant to dents.
What golf clubs should have head covers?
You will find head covers on most drivers, fairway woods, hybrid clubs, and putters. 
Although there is no rule enforcing the protection of these clubs, woods generally have longer shafts and light clubheads. Damage to the thin faces on these clubs can easily impact the quality of your shots.
Furthermore, you don't want any dents on your putter face to ensure that you get the best contact and roll from your putting stroke.
Do hybrid clubs come with head covers?
As a standard, most manufacturers provide head covers for all drivers, fairway woods, and hybrids. The larger head on these clubs is prone to damage hence the protection offered when purchasing hybrids.
Why do golfers hate iron covers?
Some golfers do not want to put head covers on their irons since they believe it's a waste of time to remove and add the cover after every shot. 
When playing ready golf, this should not affect the time it takes you to complete a round of golf.
Final Thoughts
The best golf head covers are a more personal choice than many other components of your golf bag. It reflects your personality and preferences from a long distance and does not hide it away from your fellow golfers.
The ultimate goal of the headcover is to protect your clubs and it is not that easy to find the best mix between personality and protection. Personal preference will dictate your purchase at the end of the day.
Our best overall golf head cover is the interesting Pins & Aces Golf co. Keep America Great premium driver headcover.
The top selection for irons are the Craftsman Golf Iron Head Covers as they offer excellent protection and are made from top quality materials. The quality TaylorMade Golf 2017 Golf Club Head Cover took top honors for the best driver head cover.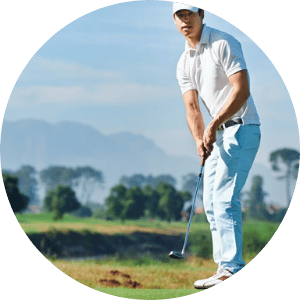 Charl is an avid golfer who studied marketing and advertising. He is fascinated by new technology in golf equipment and the mechanics of the perfect swing.