Golf shoes have become a fashion item and women are able to match their shoes to their golf outfits. While this is true for all golfers, comfort and performance should be the top requirements when making a purchase. Soft Spikeless shoes dominate the shoe market. As shoes have developed, so has the pricing structure, so be prepared to pay for top-of-the-range shoes.
At a glance: The Best Women's Golf Shoes
Beginners
Women starting out at golf can wear traditional running shoes or casual soft shoes, provided they have some sort of grip. The feet play an important part in the golf swing and stability improves game performance.
The below list of women's shoes is a good cross-section of what is available out in the market today, taking all factors into consideration. Certain golfers are very brand-oriented, without having budget constraints. Others will look to buy within their budget constraints but will want a shoe that will perform, and look good out on the track.
Quick Overview: The Best Women's Golf Shoes
The Best Women's Golf Shoes
1. Skechers Max Golf Shoes
Pros
Fashionable yet comfortable golf shoe
Outsole grip for all conditions
Odor and moisture control inside the shoe
Cons
Features
Spikeless, durable grip TPU outsole
An ultra-lightweight shoe with enhanced cushioning
Goga Max technology provides support and high rebound cushioning
Insole protection for odor control
Sketchers have moved into the golf shoe market with relative ease after originally concentrating on casual wear products. The shoes are good-looking and their quality is outstanding.
Throw in the color range on offer and it is no wonder that the shoe is well received by women golfers seeking a fashionable statement when stepping out onto the course. The lightweight shoe has a mesh upper layer that is waterproof. The durable grip TPU outer rubber sole is spikeless.
Comfort is maintained by the Ultra Flight midsole that is lightweight, yet dense and responsive for cushioning. The Goga Max places Resalyte technology into the footbed of the shoe, adding rebound cushioning. The Agion insole provides moisture absorption and inhibits odor.
Features
100% Leather with a rubber spiked sole
Lightweight Microfiber leather upper
Stability for performance and comfort
Midsole Cushioning
Lightweight Cloudfoam sock liner
The name Adidas is synonymous with sport and casual wear. Their offering over the years has created a vibe in the golfing world, and leading female and male golfers are linked to their stable.
They have a large range of golf shoes for women, that will provide a unique and fashionable look, both on and off the course. The Response Bounce Golf Shoe is specifically designed for golf. A breathable microfibre upper layer provides outstanding comfort on those extremely hot days on the track.
A 6-spiked Thintech rubber outsole is resilient and comfortable on all surfaces. The full-length bounce foam midsole is engineered with grooves for enhanced comfort, cushioning, and performance. A 100% Leather shoe that is water-repellent.
Features
Synthetic thick outer sole
Ecco Hydromax leather to keep the feet dry
Removable and washable inner sole
Proprietary spikeless sole for increased traction
Superior comfort
Fred Couples was the catalyst for the re-introduction of the spikeless soft golf shoe in 2010. Playing in the first round of The Masters he lead the field in his Ecco "tennis" shoes and attracted more attention with his shoes than his golf shots! Since that day more and more professional golfers elected to wear soft spikeless golf shoes and Ecco has continued to develop their range.
The Ecco Hydromax is lightweight and comfortable and is worn on and off the course. It is rated by many as the top ladies' shoe for low handicap women golfers. They are durable and the premium leather upper is matched to the foam cushioned insole, for maximum performance and stability on the course. The proprietary spikeless system on the sole adds incredible traction on all surfaces.
The midsole supports the feet and is a winner for golfers who prefer to walk the course. The Ecco Hydromax leather is water-repellent to keep feet dry. The upper layer is also waterproof to keep your feet dry while a removable, washable open-cell Ortholite inlay sole adds cushioning.
FootJoy is a top brand leader for golf shoes and has been around for many years. Their quality is beyond question, and they have moved with the times into soft spike shoes, with creativity to capture the market in women's golf.
An important aspect is a warranty provided by FootJoy for waterproof shoes under normal usage (USA). A synthetic sole with versatile traction is ideal for all conditions out on the course and provides the stability through each shot. The Laser Street Fit offers a rounded toe and a slightly narrow heel for a classic look.
Premium Pittard's full-grain leather offers fantastic fit and resistance to stretching. Complete OrthoLite Fit Bed provides underfoot comfort throughout play.
Other Makes for Consideration
The leading brands do not always attract amateur golfers to their ranks, mostly due to budget constraints. This being said, there are other companies that have joined the golfing market for ladies' golf shoes and are worthwhile investigating.
Here are a few:
A Short Summary of Facts to Consider When Purchasing Golf Shoes
Comfort
If you enjoy walking rather than riding on a cart, comfort is the most important factor to consider. Spending 5 hours on a golf course in uncomfortable shoes, will create a very unpleasant experience and ruin your game.
Performance
Golf shoes that add stability and support to the feet through the swing are invaluable. Power is generated from the feet upwards during the downswing, and enhanced shot-making will result!
WeatherProof
Many manufacturers define their products as water-repellent, water-resistant in normal conditions, and a few other selected phrases. If you play in damp or wet conditions regularly, find the best shoe that will keep your feet dry. Playing in wet soggy shoes is rather unpleasant!
Style
Women golfers are much more fashion-conscious than most men golfers, and style and color play an important factor in their buying process. Sure it looks great with matching shoes to the outfit and brings a confident feeling when stepping out onto the course. Don't put style before comfort!
Final Thoughts
Shoes play an important role in performance, and all the pointers in this article are covered by the manufacturers, so select wisely and enjoy the experience.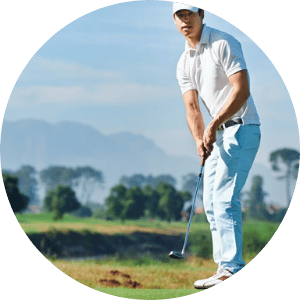 Nick Lomas is the founder of GolfSpan, an avid golfer, not quite a pro but has over 15-years of experience playing and coaching golfers from all over the world. His mission is to bring the golfing community a better experience then it comes to choosing the right golf gear, and finding the right set up for your game.