I have appreciated Ping golf bags since I saw the L8 floating around my home club in the early 90s. In this post, reveal the 10 best Ping golf bags, ranging from lightweight carry bags to the maximum storage of a golf cart bag.
After reading our review, you will know the top carry, stand, cart, and tour golf bags in their stable. In addition, I guide you through identifying the best Ping golf bag for your needs.
Here are the 10 best Ping golf bags for 2023:
Being comfortable and fresh as you carry your clubs can take strokes off your game, so don't overlook the details on these bags.
Read more to check out the pros, cons, specs, features, and ratings.
Top 3 Ping Bags 2023
Best Overall
Best Carry Bag
Best Cart Bag
Hoofer Stand Bag
Moonlight Carry Bag
DLX
Pros

Features 11 pockets
5-way divider
Comfortable strap

Affordable golf bag
Super light weighing 2.5 lbs.
Fits 14 clubs

Maximum storage space
15-way top
Classy finish

Cons

I struggled to extract my clubs on a couple of occasions
Expensive for a stand bag

It does not have a stand
The single strap is uncomfortable when carrying clubs over 18 holes.

Priced at a premium
The cart strap tends to wear quicker than its competitors

Price Score
85.3
90.2
81.6
Storage
91.2
77.6
96.7
Durability
93.8
81.0
92.8
Colors
98.3
90.1
83.4
Rating
4.5 Stars
4.4 Stars
4.3 Stars
Why You Should Trust Us
Our team spends thousands of hours trying out and researching golf equipment to help you take your game to the next level. Here's our product review process.
We can bring these reviews to you through the small commissions we earn if you buy through the links below.
How We Reviewed These Products
Golfspan only shares equipment and brands we trust.
I'm an experienced golfer of 28 years and thoroughly researched and evaluated the products shared below. Then an editor reviewed and fact-checked the list. Finally, we conduct regular content audits to update and revise our reviews to ensure you receive the latest information.
To select these bags, we considered these criteria:
Cost
Dividers
Pockets
Space
Durability
Colors
Comfortable
Ping Golf Bag Reviews 2023
1. Hoofer Stand Bag  – Overall Best Men's Ping Golf Bags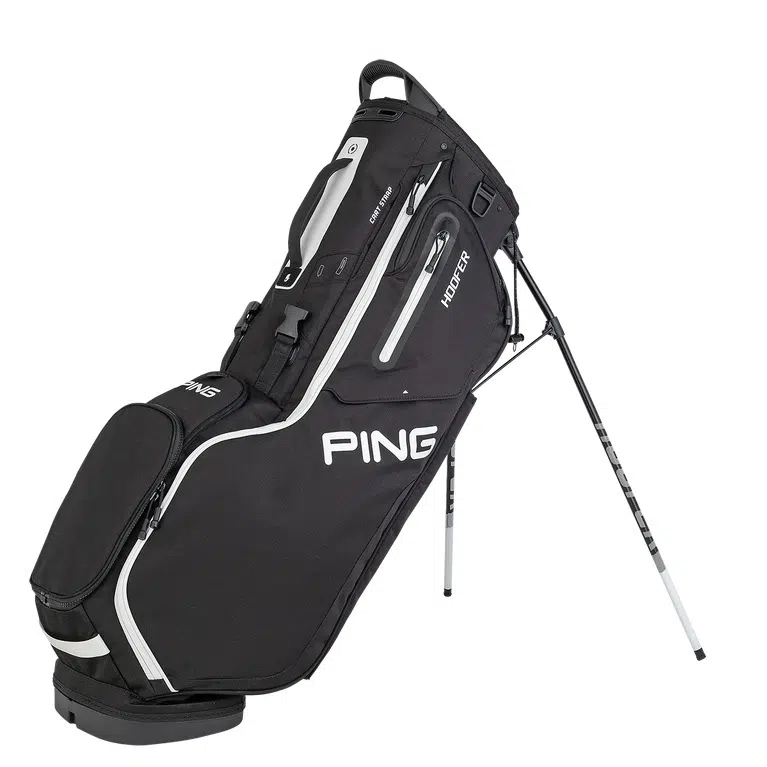 Pros
Features 11 pockets
5-way divider
Comfortable strap
Durable stand
Available in 13 colors
Cons
I struggled to extract my clubs on a couple of occasions
Expensive for a stand bag
We kick off proceedings with the Hoofer Stand Bag, which impressed me with its array of colors, storage space, and the durability of the material. In addition, its masterfully crafted back puck ensured a secure and comfortable strap fit for a pleasant walk around the golf course.
The 5-way provided sufficient separation between my clubs. I divided the sections into woods, long irons, mid and short irons, wedges, and my putter received a private slot. However, my clubs got entangled, and it was a fight to free them from one another on several occasions.
Next, I was impressed with the storage capacity of the bag, sporting 11 pockets around the perimeter. Besides enabling me to store the usual accessories and valuables, the bag featured a stand-alone magnetic rangefinder pocket.
I felt the 13 color options were a nice touch by Ping to add some flare to their equipment and stray from dull traditional offerings. Finally, I found the strap comfortable enough not to weigh down my shoulders during a round.
Rating: 4.5
2. Moonlite – Best Ping Carry Golf Bag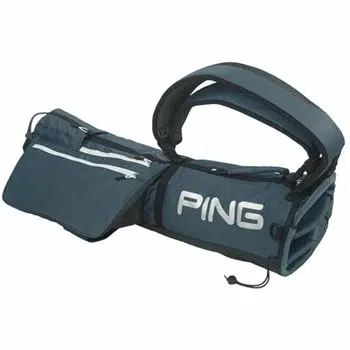 Pros
Affordable golf bag
Super light weighing 2.5 lbs.
Fits 14 clubs
Contains 5 pockets
Available in 4 designs
Cons
It does not have a stand
The single strap is uncomfortable when carrying clubs over 18 holes.
Sunday bags offer casual golfers a lightweight, hassle-free, and affordable option for lugging their clubs around the links. The Moonlite is the best Ping carry golf bag this year for its comfortable carry, storage space, and ability to hold 14 clubs.
Ping engineers fitted a 4-way top to the Moonlite golf bag enabling it to hold a complete set of clubs. Although, it gives me the most value on trips to the driving range, where there is no need for an entire golf club set.
Despite its 2.5 lbs lightweight frame, the Moonlite sports 5 pockets to store a few balls, tees, and markers. Plus, it features a rangefinder and water bottle pocket, ensuring the separation of your liquids and electronics.
As expected from a carry bag, it is fitted with a single padded strap, which is comfortable when carrying light loads. However, lugging a full set of clubs on one shoulder for 18 holes may cause neck and shoulder pain.
Rating: 4.4
3. DLX – Best Ping Golf Cart Bag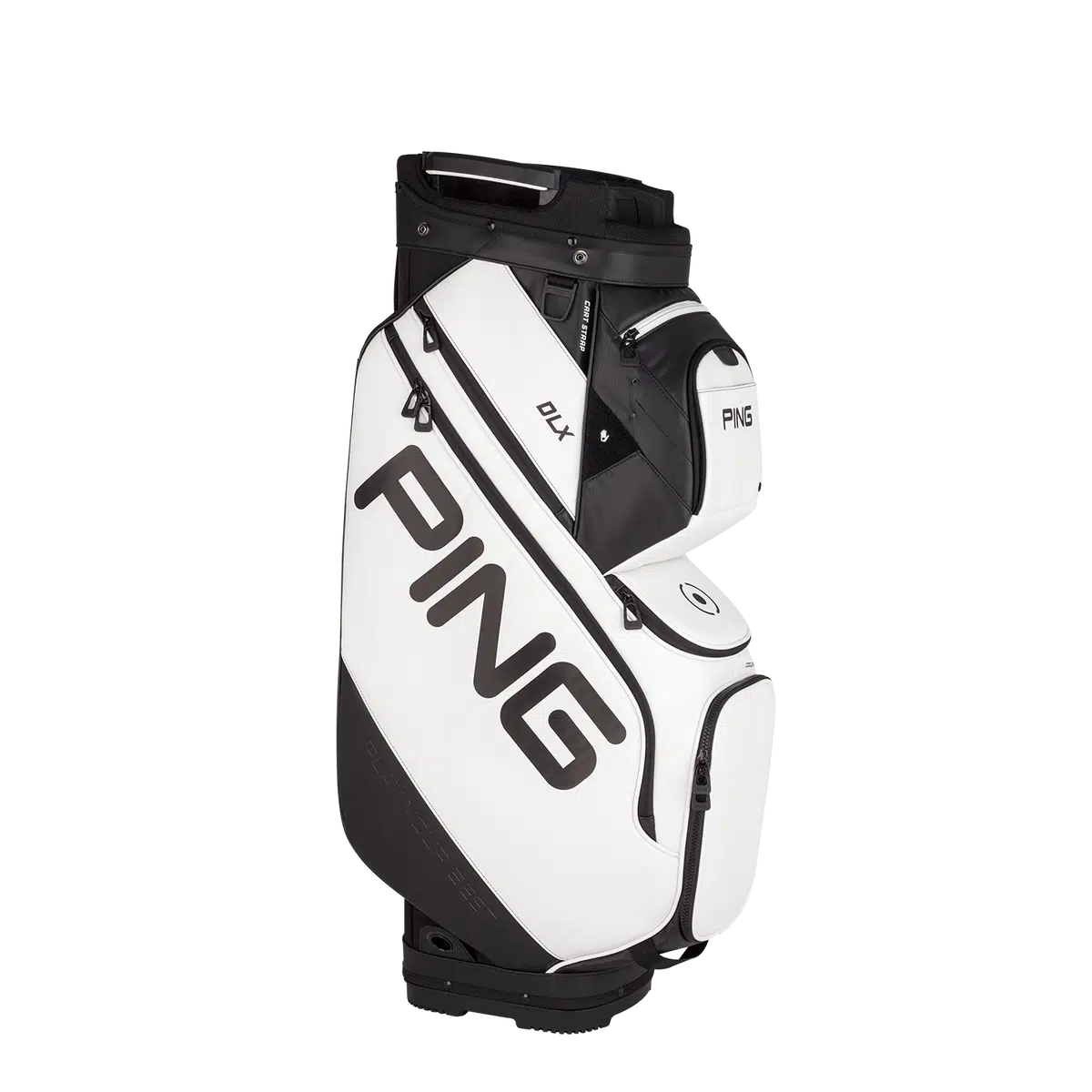 Pros
Maximum storage space
15-way top
Classy finish
The cart strap-thru pass makes pockets accessible
Stable build
Cons
Priced at a premium
The cart strap tends to wear quicker than its competitors
You can secure a robust bag with ample storage space if you navigate the golf course in a cart. The DLX is our top Ping golf cart bag pick for its impressive pocket count, top divider structure, and durable build.
Its superior storage features immediately caught my eye owing to the quantity scattered across the bag. 15 pockets were ready to house all my accessories, from balls and refreshments to apparel and valuables.
15 seems to be the lucky number for the DLX bag, as it is fitted with a 15-way top, giving every club complete privacy. In addition, a specialized putter well is built to house oversized putter grips and provides maximum protection to your flat stick.
Finally, the cart strap pass-thru channel helped me secure the bag to the cart while leaving the pockets completely accessible. However, the longevity of the strap leaves a lot to be desired, and wears faster than others I have seen.
Rating: 4.3
Read More: The Best Golf Cart Bags For The Money
4. Pioneer – Best Ping Bags For Warm Days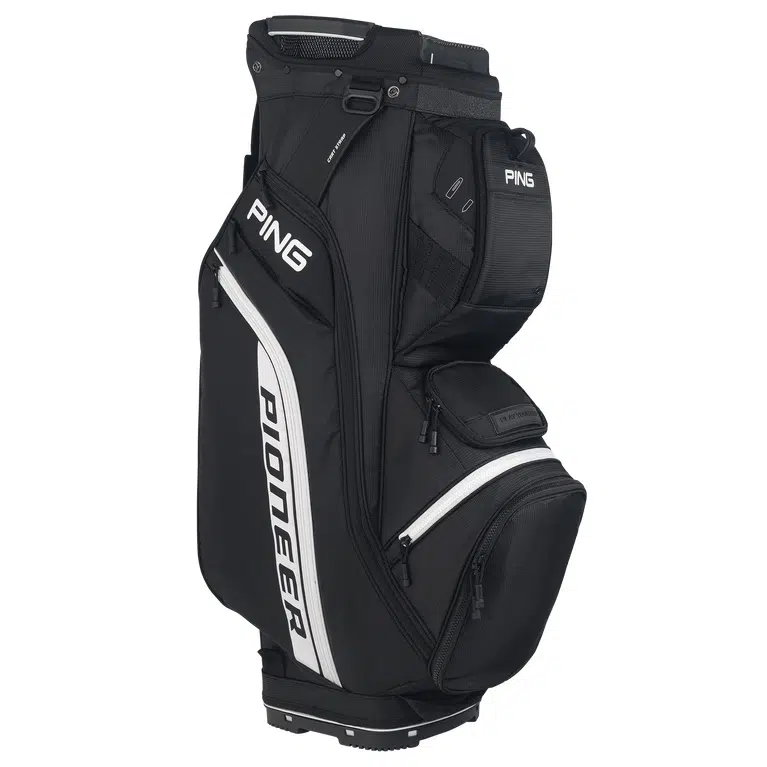 Pros
Insulated cooler pocket
14 storage pockets
15-way top
Available in 6 colors
The cart strap gives you easy access to the 13 pockets
Cons
Moderately expensive
The zippers do not feel super strong
Warm summer days are perfect for golf, and the Traverse cart bag will help you remain refreshed and comfortable. Despite its genius features, its insulated cooler pocket won me over for its ability to keep my beverage chilled and me hydrated throughout the round.
Supplementing the insulated pocket were 12 additional storage compartments that carried my rangefinder, balls, tees, and rain gear. In addition, the 15-way molded top helped me keep my clubs structured and reduced the risk of scratches or entangling.
I appreciated the extra effort of the Ping engineers on the putter well. They employed a dedicated putter well to maximize the protection of my prized club.
Next, I found the Cart Strap Channel gave me direct access to all 13 pockets when the bag was fastened to a buggy. Lastly, Ping gives you the luxury to choose 6 colors, offering more than the traditional bag colors.
Rating: 4.2
5. Hoofer 14 – Best Ping Stand Golf Bag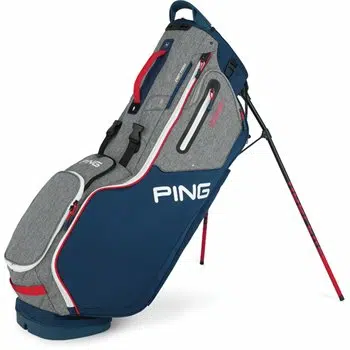 Pros
Padded shoulder straps
Moisture wicking, quick dry straps
12 pockets
14-way top for improved order
Available in 5 colors
Cons
It is heavier than some of its peers
Premium price tag
You require a cushioned dual strap design and sufficient storage to prepare for all occasions if you prefer walking the links as I do. The Hoofer 14 checks the boxes and ensures a comfortable carry, delivering comfort, luxury, style, and structure with a unique 14-way top.
The 14-way top is not uncommon in golf cart bags, but stand bags usually range from 4 to 8 slots at the top. I welcomed the design as it helped me remain organized, keeping my clubs in my desired order. Plus, it prevented clubs from clattering into each other as I walked.
Next, the 12 pockets were a pleasure as they held my rain gear, water bottle, plenty of balls, and everything I needed. The Hoofer 14 offers more storage compartments than I have experienced with most stand bags. It makes a difference when you can prepare yourself adequately for a round.
The padded shoulder strap further enhanced the comfort of my walk, going the extra mile with its SensorCool Technology. It is moisture-wicking and quick drying to prevent sweat build-up around the shoulder area for a refreshing, comfortable carry.
Finally, Ping added a cart strap pass-thru to the bag, helping you secure it on a golf cart while enjoying access to the pockets.
Rating: 4.1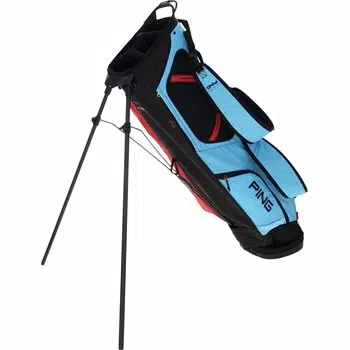 Pros
Extremely light and comfortable to carry
Adjustable strap
7 pockets
Crafted in 5 colors
Durable material
Cons
The valuables pocket is not lined, resulting in limited protection
Priced at a premium for a carry bag
A lightweight golf bag is comfortable on the shoulders, back, and neck if you are gung-ho on walking the golf course. The Hoofer Craz E-Lite are the lightest Ping golf bags, weighing only 3 lbs. Besides its featherweight feature, it contains a convenient adjustable strap, ample storage space, and a durable build.
Ping engineers redesigned the back puck on the bag for hassle-free adjustability to achieve your desired fit. I felt the padding on the straps was sufficient to maintain a comfortable wear as I traversed the golf course. Plus, it allowed me to instantly adjust from dual to single-strap wear.
High Tensile Strength (UTS) fabric is the unsung hero of the bag. Its lightweight yet durable complexion enabled Ping to develop a robust design that any golfer can lug around the golf course without being weighed down and experiencing discomfort.
Despite its lightweight construction, the Hoofer Craz E-Lite featured sufficient storage space for apparel, technology, and accessories. Seven pockets are scattered around the bag, one concealed under the top padding and another inside the apparel compartment.
Next, Ping constructed the Craz E-Lite bags in 5 colors to cater to every taste and spice up your appearance at the club. Finally, the 4-way top is a simple design enabling you to separate long and short clubs. However, shafts in the same compartment may entangle at times.
Rating: 3.9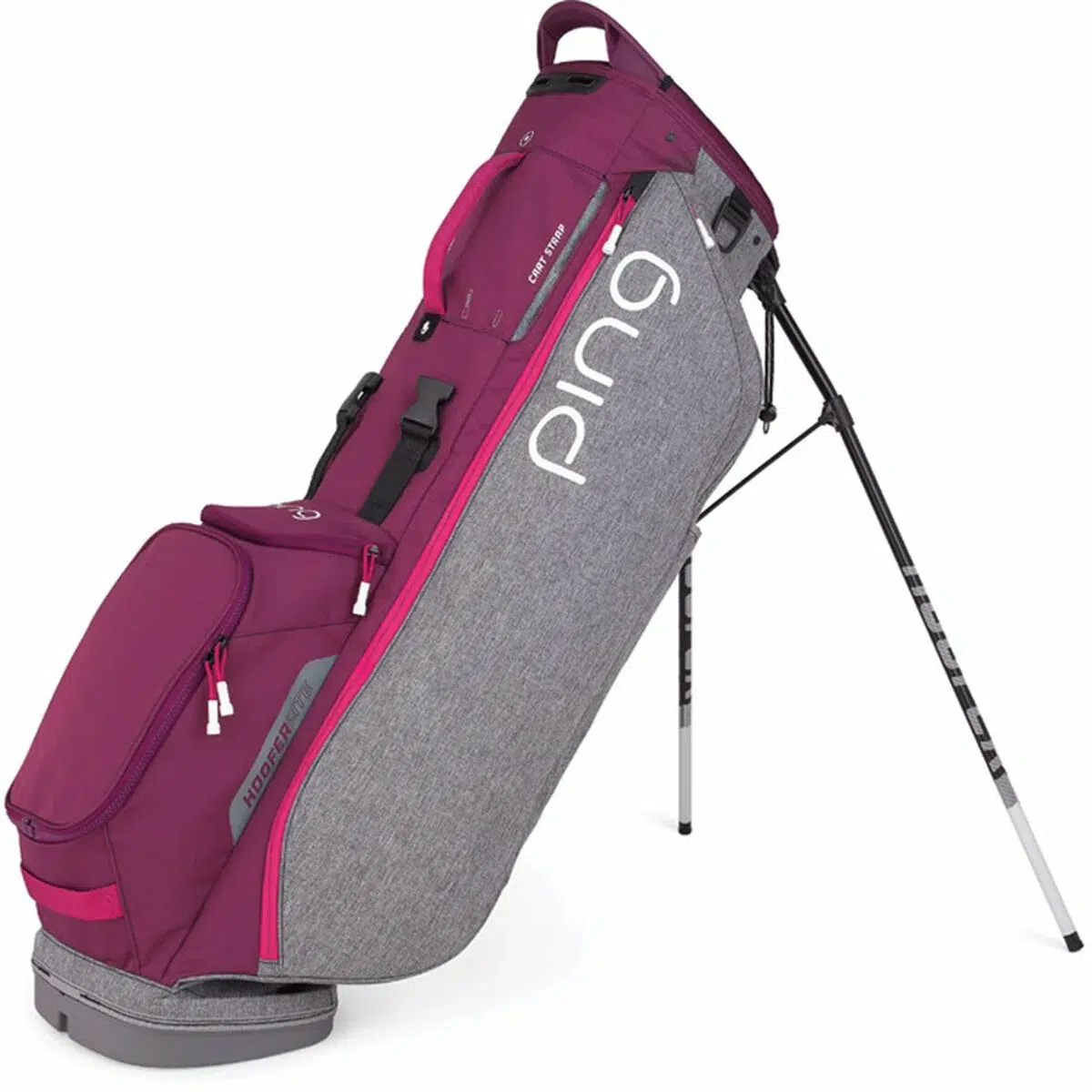 Pros
Stylish design
Contains 7 pockets
Adjustable back puck strap design
Insulated water bottle pocket
The cart-strap channel gives you access to pockets when stored on a cart/
Cons
Not the cheapest bag around
Clubs with thicker grips become entangled and are challenging to extract.
We have covered several men's Ping golf bags, but here is one for the ladies. The Hoofer Lite Women's stand bag tops the category for its style, storage space, and comfortable carry. In addition, I felt the Cart Strap Channel was a nice touch, giving me access to the pockets while it was fastened to the vehicle.
Although the Ping Hoofer Lite bag is available in multiple colors, only the Heather Grey and Magenta combination is available for ladies. However, it looks clean and attractive to add to your appearance on the links.
Next, I thought its 7 pockets provided sufficient storage capacity to hold valuables, rain gear, a rangefinder, and the usual accessories. Plus, the insulated zippered water bottle pocket performed admirably, keeping my water bottle cold for 9 holes before refilling at the halfway house.
The 5 lbs bag is light enough not to weigh you down after hours on the course, and I felt the padded straps provided ample support while carrying. In addition, its advanced Back Puck design made it a breeze to alter between a dual or single carry strap setup.
My biggest gripe with the Lite Women's Stand bag is removing clubs. I found midsize to jumbo grips entangled in the 4-way top structure, and it was sometimes challenging to extract certain clubs.
Rating: 3.8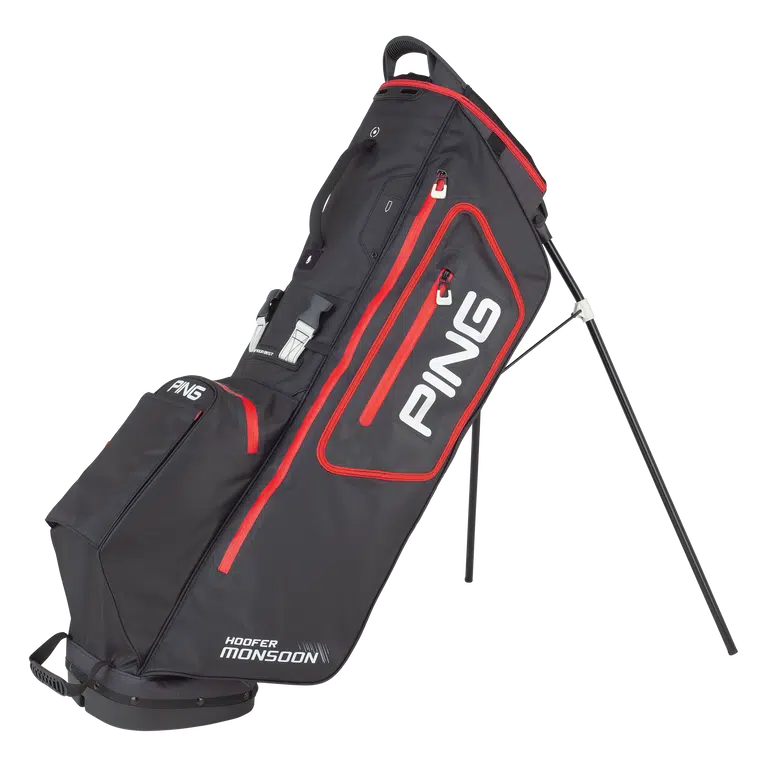 Pros
Water repellant construction
6 pockets
Comfortable hip pad
Adjustable strap
5-way top
Cons
Priced at a premium
Only available in one color
If you live in a high rainfall area, you cannot let that prevent you from teeing off. Instead, you require a water-repellant golf bag like the Hoofer Monsoon Stand Bag, which blocks rain from entering the interior. Moreover, a rain hood accompanies the bag to prevent water from entering through the top dividers.
To fight off rain, Ping coated the bag with PU-resin and seam sealed 4 of the 6 pockets. The pair reinforce the protection of the pockets to keep your valuables, apparel, and accessories dry in the wet. They also went a step further and added two mesh pockets to place wet items and allow them to air and dry while you walk.
The 5-way top design was simple yet effective. I divided each compartment between woods, long and mid irons, short irons, wedge, and putter. However, with only two full-length dividers, I found the thicker grips occasionally caught on each other, making it difficult to extract the clubs.
Finally, I enjoyed the performance of the padded hip pad, which enhanced my comfort while walking and softened the blow each time the bag hit my hips.
Rating: 3.7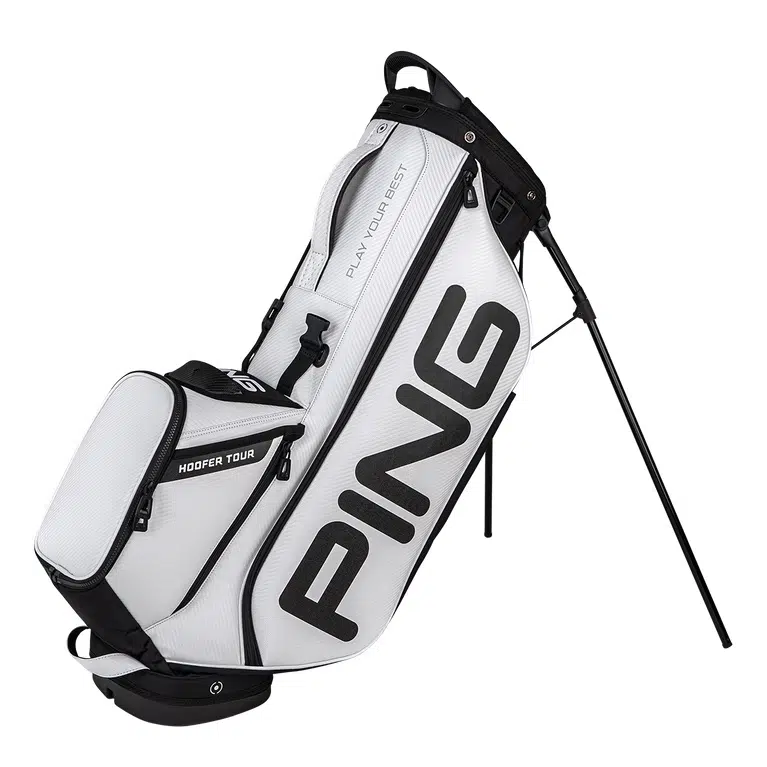 Pros
Classy finish
Durable construction
9 pockets for ample storage space
5-way top
Contains stands
Cons
Heavy to lug around yourself
High-end product
So far, our Ping golf bags review has centered around stand and cart bags for the average golfer. Now, we turn to the Hoofer Tour Stand construction, our best Ping staff bag. Professional golfers use these bags for durability, classy looks, and exceptional storage space.
Unlike a standard staff golf bag, the Hoofer Tour features a stand to alleviate the pain of keeping your bag upright between shots. With a total weight of 12 lbs, that's a fair bit of mass to keep standing alone, which is why I appreciated its robust structure.
Next, the bag featured a 5-way top, allowing me to achieve an element of order among my clubs. I also appreciated the 9 pockets scattered around the bag, which featured impressive depth to house apparel, technology, valuables, refreshments, snacks, balls, tees, and markers.
The back puck design allows you to carry the bag with dual straps or a single setup to meet your preference. Finally, the bag sports a slick look with a classic white background and Ping print in black. However, it is the only design option you have to choose from.
Rating: 3.5
10. L8 Stand Bag – Best Looking Stand Bag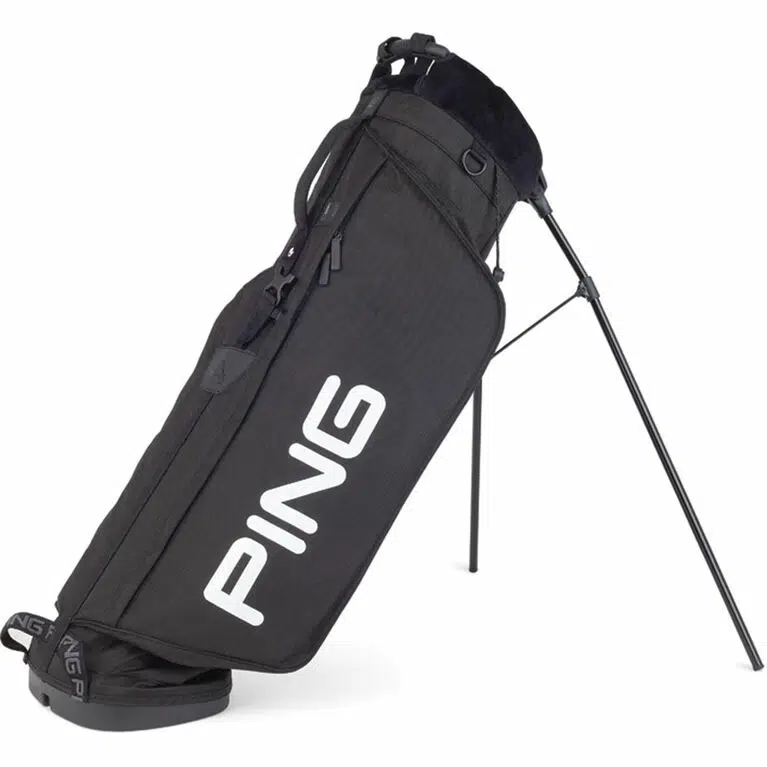 Pros
Classic looking design
Features 5 pockets
Crafted in 3 colors
Comfortable velour-lined strap
Simple 4-way top
Cons
Expensive
The single strap can wear your shoulders down after 18 holes
We close our best Ping golf bags review with the most comfortable stand bag, the Ping L8. It brought back memories of the Ping bags that came out when I played junior golf. They produce a light feel, sport a comfortable single carry strap, and have moderate storage space.
The L8 is a no-frills stand bag with a single velour-lined shoulder strap. While the velour lining is incredibly plush, my bag did start to weigh on my shoulders on my last few holes, given the uneven weight distribution.
Keeping with its simplicity, the L8 contains an entry-level 4-way top, which can cause grips to entangle, making it arduous to extract clubs. Next, I thought the 5 storage pockets were enough for the bare necessities but nothing beyond that.
Lastly, the L8 stand bag is crafted in 3 standard colors, white, black, and navy.
Rating: 3.2
What To Consider When Purchasing A Ping Golf Bag
Type Of Bag
Ping manufactures 4 types of golf bags ranging from carry and stand constructions to cart and tour golf bags. Carry golf bags are an entry-level product often featuring no dividers or stand. However, they are lightweight, easy to carry, and ideal for trips to the driving range or par 3 courses.
Stand golf bags are suitable for players who walk the golf course and wish to avoid laying down their bag between shots. Next, as the name suggests, a cart bag is built to fit on your vehicle and provides maximum storage space.
Finally, a staff or tour bag is a robust construction, heavier than other golf bags, and designed to cater to professionals. They feature impressive storage space, durable construction, and a classy finish that proudly sports the Ping logo.
Top Dividers
Ping golf bags range from zero dividers in their carry bags to 14-way top dividers in their cart bags. Stand bags are equipped with anywhere from a 4 to 6-way top, while a staff bag traditionally carries a 5-way top.
The more dividers featured at the top of your bag, the easier it is to separate your clubs, prevent damage, and simplify the extraction process. Fewer dividers cause your clubs to come into contact, and your grips and shafts entangle, which is a challenge to remove or put a club in your bag.
Pockets
Ping bags start with 5 pockets in the lighter carry and stand bags and rise to 15 storage compartments in some cart bags. Although I often leave some sections in a cart bag empty, I would far rather have more pockets than less, as it helps me prepare for every occasion.
I can fit my standard accessories like balls, tees, a rain jacket, and a water bottle in a 5 pocket bag. However, with 15 pockets, I am fully kitted with rain gear, snacks, refreshments, and every accessory I could need during a rainy or sunny round.
Color
Once you have determined your bag type, top dividers, and pockets, the next step is to choose your preferred color. Although some golf bags are limited to standard black and white designs, the Hoofer 14 and Hoofer Craz E-Lite are offered in five fresh and colorful finishes.
Budget
The final factor to consider is your budget. Ping makes premium quality products, which are priced as such. Therefore, players on a tight budget may have to settle for the entry-level Moonlite Carry Bag or consider alternate brands.
FAQ
Ping Pioneer vs Traverse
The Ping Pioneer vs Traverse is a fascinating matchup, showcasing the top Ping cart bags. However, we found the Ping Pioneer is a superior option for its additional pockets, 15-way top, and 5 color offerings.
Conclusion
Our Ping golf bags review reveals their products are premium quality and priced accordingly. As a result, one must possess a handsome budget to enjoy the luxuries of a Ping bag. Price aside, we also learned that the company manufactures carry, stand, cart, and tour golf bags.
Golf cart drivers should consider the exceptional storage space and robust design of the DLX. Conversely, the Hoofer 14 is superb for walking golfers. However, despite their admirable showing, they were no match for the durable, stylish, and deep-pocketed Hoofer Stand Bag, our best overall pick.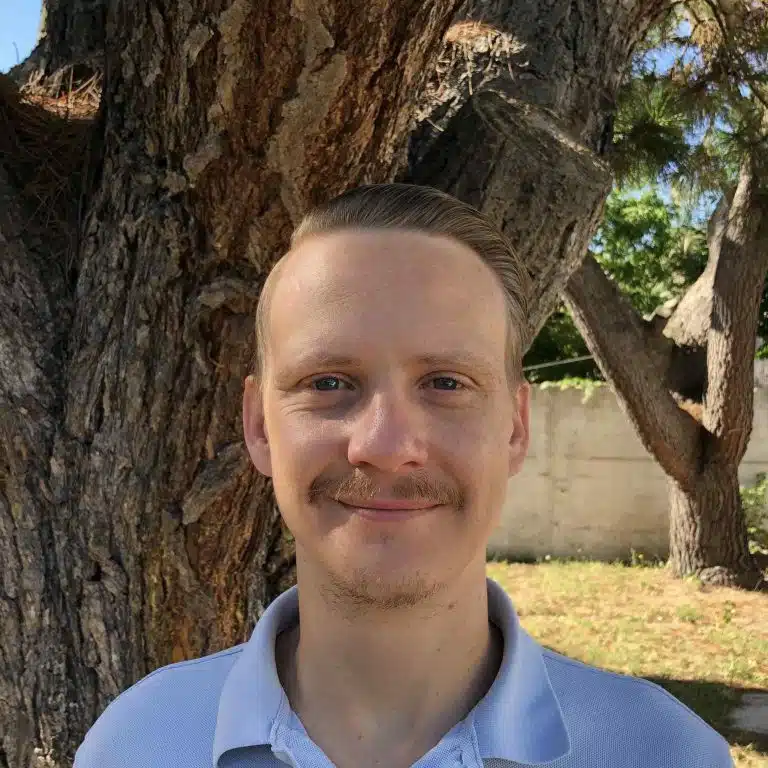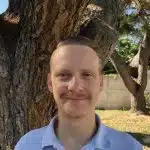 Matt is a seasoned golf equipment writer and sports fanatic. He holds a Postgraduate in Sports Marketing and has played golf for over 28 years.