If you going out for a quick 9 holes or playing at an executive or par-3 course or even just a bit of practice, you want to have the best Sunday Golf bag.
It will let' you walk around comfortably, something that is such an important aspect of golf. This allows you to skip the golf cart and get some exercise on the beautiful courses we play.
Granted, there are situations or courses where you will have to use a cart or you need as much as you can carry but this is not every time. A Sunday bag keeps the game fast and allows you to be mobile and quick. They save a lot of time and effort.
At a glance: Our Top 5 Picks for Best Sunday Golf Bag
The Benefits  & Uses of a Sunday Golf Bag
Obviously, Sunday Bags are designed to be ultra-lightweight so they will take the strain off your back and shoulders. The idea is to simplify the game, make it easier, faster and more convenient. The added bonus is that it allows you to get great exercise as well as camaraderie walking around the course with your fellow players.
The word Sunday possibly puts a few people off as these bags have many uses. Sure, they are great for a quick game or even 9 holes on a leisurely Sunday game but they are also great for the driving range, executive golf or small, par-3 courses.
They are also ideal for beginners or younger golfers that do not need the full range of clubs and have less access to carts and caddies. They work well for older golfers that still want to get some enjoyable exercise.
Quick Overview: Our Top Picks for Best Sunday Golf Bags
What to Look for in a Sunday Golf Bag
It is necessary to consider the factors that are important to you in order to select the Golf Bag that suits your needs and your style best.
Weight
It is pretty clear that you do not want the bag to be heavy. Remember that a lighter weight often means a bit of a sacrifice on other features such as durability or storage space.
Size
These bags are intended to be small and compact. Some people will be happy with a bag that carries 6 or 7 clubs while others might want one with more capacity.
Dividers
Having 2 or 3 dividers will help keep your clubs organized and make them easier to take in or out the bag.
Strap
This is an important element to look at. You want one that is comfortable, practical and durable. The same applies to handles.
Pockets and Storage
Many of us have got used the huge amount of storage space in the big cart bags but it is not all that hard to adapt. It just requires a bit of planning and getting used to. If you need to carry a few items, give some thought to storage space and pockets.
Stand
For this type of bag, many people are happy to go without a stand but for others, this will be a nightmare. Consider your needs and choose the one that will work best for your style.
Durability
Whether you use this bag once a week or once a year, you want one that will last. Look at the durability of the materials used and the quality of workmanship.
Price
Sunday golf bags range in price from very affordable to moderately priced. Determine your needs and give some thought to how often you will use the bag to establish your budget. Don't go for a very low-budget option as it will probably only last you a few rounds of golf, even if you do not plan to use it often.
Travel-ready
Some propel like to use these bags to travel and this is a great idea. If this is the case, look for one with additional protection. A padded cover is great for travel and lockable zips might also come in handy. Either way, it will be easier to transport a Sunday Golf Bag than the average bag.
Here are some tips on traveling with your golf bag.
While Sunday Golf Bags might not be for everyone or every day, it is clear that they do have a lot to offer.
The Best Sunday Golf Bags Comparison Chart
Sunday Golf Bag Reviews
After careful consideration and looking at the important factors above, we have chosen the best Sunday Golf bags available right now. Some will be more suitable to your particular style or requirements.
1. Callaway Golf 2020 Hyperlite Zero Lightweight Stand Bag
Callaway has built up a solid reputation for quality golf equipment and they made all the right moves with this Sunday Bag.
First, off, in true Callaway style, the bag looks amazing. They have managed to combine the functionality and compact design with a sleek look that is understated but appealing.
Callaway has had great success with their Hyper Lite range of golf bags and this one is no exception.
Despite the light and compact design, it has full-length dividers and a 3 division top. This allows you to keep your clubs well organized.
It has a base belly that has a good water-resistant design and a very effective stand. The stand works on a manual release so it takes a bit of getting used to.
Once you have the hang of it, the design is practical and works well.
There is a single strap that is durable and comfortable. 3 Pockets with zips, one of which is a size apparel pocket will give you more than enough space for storage.
This bag appeals to a wide range of golfers looking for a lighter bag for short rounds, practice or the driving range.
Pros
Generous club and storage space
Good balance and comfortable strap
Sturdy and effective manual legs
Excellent base belly water resistance
Cons:
Only comes in one color – black
2. CaddyDaddy Ranger Carry Sunday Range Travel Bag
The Sunday Bag by CaddyDaddy is also great value for money. Slightly heavier but under 3.5 pounds it is made from quality 1680 Denier Nylon.
This makes it more durable and it comes with a good 1-year warranty that covers the entire bag.
The top is wide and padded to give the clubs extra protection. This padding is great because it also means less noise as you walk.
This added protection also comes in handy if you travel with your clubs. You can carry up to 9 clubs in this bag. It has a molded base and a 5-inch rigid tube for stability and durability.
Another feature I found handy is that you can lock the zippers if you travel. You do not always want to lug your bigger bag through the airport so this is ideal.
There are 3 pockets all with zippers and there is also a towel ring. This gives you plenty of space for storage on such a compact bag.
The bag has a good handle and the padded shoulder strap is comfortable and strong.
It is a great all-rounder at an affordable price that is well made and will last you many golfing trips.
Pros:
Value for money
Quality durable materials
Padded opening for club protection
Plenty of storages space in 3 zippered pockets
Pockets are lockable
Full bag 1-year warranty
Cons:
The quality materials make it heavier than many other Sunday bags
3. Par3 Golf Lightweight Sunday Golf Bag with Stand
The Par 3 Golf Sunday bag is ideal for pitch and putt, mashie courses but also good enough quality to be used on executive courses without you feeling outclassed. It is also flexible enough to serve as a bag to use at the driving range carrying enough clubs to ensure that you get a solid practice session
behind you.
The stand will ensure that you don't have to break your back to access your clubs. It is highly effective and keeps the bag stable for greater convenience and faster play.
Pros:
One of the lightest bags available
Straightforward to keep in standing position for choosing your club
Perfect for mashie, Par 3, executive golf courses and the driving range
High-quality lightweight materials
Good workmanship
Velour lined valuables pocket
PAR3 satisfaction guarantee
Cons:
No strap to carry over your shoulder
There are bags that are less expensive
No choice of color
The bag comes in black with white inserts and the name written in white on the side. It is a lightweight, well-constructed bag with a velour-lined pocket with premium stitching to carry your golf balls and to keep your valuables, phone and wallet protected.
There is ample space to carry a sufficient number of clubs for a casual round. There is no strap, but the handle is comfortable enough to carry the bag between shots and between holes without becoming a burden.
Measuring in at 31 inches tall and weighing 1.95 pounds the bag has a carry handle at the top end of the bag. The top opening measures 3.25 inches X 4.25 inches with a two-way divider splitting the opening in two separate areas to host between 6 and 7 of your clubs comfortably.
There are 3 pockets for storage, a mesh pocket below the handle, a velour-lined valuables pocket to the side of the mesh pocket and an oversized ball pocket below the mesh pocket. The bag is kept upright by the Duaflex stand system minimizing your bending to select clubs.
While most people rave about this bag a few were disappointed by the lack of a shoulder strap. It does, however, have a convenient handle.
4. JEF WORLD OF GOLF Pitch & Putt Sunday Bag
This is another popular well-priced bag if you want something super light to carry a few clubs. It will hold up to 8 clubs but it is probably happier with 6 or 7.
They tend to stick together is you try to cram too many in. It is very light at only 2 pounds but still has an opening of 4.25 inches.
The stand and strap work well and make using the bag fast and convenient.
Pros:
Well priced
Very light at only 2 pounds
Has a stand, strap, and pockets
Velcro glove strip and bottle holder
Cons:
Some users found the bag to be top-heavy
4. Orlimar Pitch and Putt Golf Lightweight Stand Carry Bag
This ultra-light and compact bag is perfect for when you need a compact bag for a quick round or some practice at the range.
You can comfortably carry up to 7 clubs and there are two compartments to keep them organized. At less than 2 pounds it will not add much to your load while still keeping everything protected and convenient.
It has a tough yet comfortable carry handle as well as a durable single shoulder strap.
There is a single accessory pocket to keep markers, tees, pencils, and balls. The retractable legs are strong and effective.
This bag is not only light in weight but also very easy on the wallet and is one of the most value for money lightweight golf bags on the market.
While the compact nature will not suit all golfers and every situation, it is a popular option for beginners as well as many more advanced players that want something light and nifty to take around the course.
Pros:
Great value for money
Very light at under 2 pounds
2 Compartments
Durable strap and handle
Sturdy retractable legs
Sleek design and a choice of colors
Cons:
Some found the single pocket too small for everything they need to carry
If you try to carry too many clubs the strap and handle will take the strain
5. ProActive Sports 5″ Sunday Bag
This is a handy compact bag to have as part of your collection. The cost is reasonable so you can keep it for when you need a really compact solution for a few clubs.
You cannot carry all your clubs, as you would expect from a Sunday bag but it is great for folding away for use when needed.
It is also popular with juniors or beginners that will not need to carry the full arsenal of clubs.
It is great if you travel and might need to sneak in a game of golf or you just want to go and hit a few balls.
It is well made from a durable polyester so it will not fall apart after a few rounds. The strap has good padding so it is comfortable to carry and there is a handy side handle.
The bag has 2 zippered pockets and one mesh pocket giving you enough room for all you might need to carry.
When not needed, it is collapsible so it can be folded up compactly for easy storage. When in use, the stiffening rod will ensure it keeps its shape as you use it. It is happy with around 6 clubs.
Pros:
Collapsible for easy storage
Very good value for money
Made from durable polyester
Comfortable
Cons:
Can only handle about 6 clubs
No too much storage for accessories and golf balls
Some users found issues with the balance
Conclusion
All of the bags we reviewed are quality bags each with their own merits. Our particular favorite is the Callaway Golf Hyper-Lite.
Although it is a bit heavier it is still light and compact. It is extremely versatile and well-priced. We also like that it is highly durable and will last you many years of golfing.
CaddyDaddy has made some excellent products in the past and we like the style and functionality of this bag.
Everybody needs a Sunday Golf Bag. You might use it often or you might use it on the odd occasion but it an important item for every golfer to own.
Here is a look at the different options and the advantages and disadvantages of each.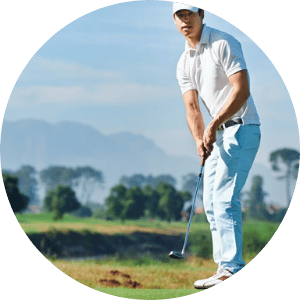 Nick Lomas is the founder of GolfSpan, an avid golfer, not quite a pro but has over 15-years of experience playing and coaching golfers from all over the world. His mission is to bring the golfing community a better experience then it comes to choosing the right golf gear, and finding the right set up for your game.