To do this, you want to make sure you have one of the top lightest golf bags available. Then you can enjoy the true pleasure of walking a round of golf.
How We Decided on The Top 5 Lightweight Golf Bags
We have taken all of these factors into consideration when making our recommendations. We looked at the quality of the bag and the reputation of the company, the comfort, strap design, storage, stand quality, dividers, and price.
at a glance: Our Top 5 Picks for Lightweight Golf Bags
The Benefits of Walking a Round of Golf
Obviously, exercise is a big advantage. You are outside in nature and doing what you love. It hardly feels like exercise.
The other advantage is you really get to see the course up close and personal. You will notice the subtle features and nuances that you might otherwise miss.
Zipping from shot to shot means you not only miss the beauty but also the finer points of the course. These insights will be valuable next time you play the course.
You can also save money as the cost of carts and caddies adds up over time.
A big part of walking golf that appeals to me is that it is much more social. You get to know your fellow players much better and too many, that is an important aspect of the game.
That being said, you do not want to be exhausted and sore when you have finished your round. To prevent that you need a quality bag that is lightweight and comfortable. There are a few other considerations which I will get to shortly.
Given the huge range of lightweight golf bags available, we have done some intense research in order to bring you the best lightest golf bags available right now. We will give you ideas on what to look for and then the details on the ones we found that stood out from the rest.
Quick Overview: Our Top Picks for Lightweight Golf Bags
How To Carry a Golf Bag
Many golfers are unsure of the correct way to carry a golf bag. While there are many that still prefer to use a single strap, there are many benefits to using a dual strap system.
It will distribute the weight evenly and take the strain off just one shoulder. It is important that it is adjusted correctly and that it fits snugly. You also want it to be well balanced.
For years I stubbornly stuck to a single strap but was pleasantly surprised and much more comfortable when I moved to a good double strap bag.
This video gives a great demonstration of the easiest way to carry your bag:
What to Look for When Choosing a Lightweight Golf Bag
Getting the wrong bag will make your walk around the course uncomfortable, unpleasant and frustrating. It will leave you sore and tired. There are a few important aspects to consider before you make your decision. Here is what to look for:
Weight
This one is pretty obvious but if you are going to carry the bag for 18 holes you want it to be as light as possible. The clubs, balls, and other equipment will account for most of the weight but you don't want the bag to add to that. One or two lbs. is not going to make a big difference but anything under 5 lbs. is good.
Durability
There is no point in getting a light bag only for it to fall apart after a few rounds. Both Nylon and quality polyester are light options that are tough and durable. Also, look at the quality of the stand, carbon fiber is a good option. The straps take a lot of strain so need to be comfortable and strong. Also check the quality of zips, pouches, and handles.
Storage
Always ensure there are sufficient pockets for everything you need to carry with you. It is important to have a good protective pouch for valuables and a convenient place to keep your beverage cool. The ball pouch is also important. Many can be personalized which appeals to some golfers.
Club Dividers
You want your clubs to be protected, not rattle around and easy to remove or replace. Look at the design and quality of the dividers and determine if they are full length or not. There are normally between 3 and 5 dividers.
Strap
This is one of the most important aspects to look for when choosing whcih to purchase. Some people like the dual strap while others are happy with a single strap. Comfort is the main things to consider so they should be well padded and generously sized.
It is essential that they are both durable and well attached, and they need to keep the bag stable on your back and not slip around as you walk. A hip pad often comes in handy.
Price
There is no doubt that golf can be an expensive game. There is a lot of equipment and accessories to buy and every time you want to play there will be costs involved. Spending extra on one thing means making sacrifices elsewhere.
There is no need to spend a fortune on a lightweight golf bag but avoid the really cheap ones as you will probably find it uncomfortable and are likely to need to replace it before too long.
A Comparison & Review of the Top 5 Lightest Golf Bags
1. Callaway Golf Hyper Lite Zero Stand Bag
As with many of the brands we will feature in our review of the top lightest golf bags, Callaway needs no introduction. They are well known and respected for quality golf equipment.
They have been around for many years and made their name with their legendary irons and drivers but the rest of their equipment lives up to the same fantastic standards.
The Callaway Golf HyperLite Zero Stand Bag is, as the name suggests, extremely light. It weighs in at only at 2.5 lbs. and is the lightest stand bag Callaway offer. It is perfect for the golfer that wants to walk his or her round.
The goal Callaway had in mind was to create the lightest product possible without any sacrifice to the strength or functionality. Most will agree that they did a pretty good job in that regard.
It is well made from quality lightweight nylon and is extremely durable. Zips are quality YKK zips to give the multiple pockets good protection. It features a dedicated cell phone compartment to keep that safe. The legs are carbon fiber, tuck in well and work effectively.
It features a top that is divided four ways for easy organization and has two dividers that are full length. There are 4 easily accessible and well-designed pockets so there is ample space for all your accessories and other items you need to carry with you.
The dual strap is comfortable for those that prefer carrying the bag on their back for when walking after a decent drive. You can choose a regular single strap if you prefer. For short moves, it has a handy top handle. It comes standard with a rain hood and has a one year warranty.
Pros
Only 2.5 lbs.
Comfortable straps with a choice of single or double
Sturdy and effective carbon fiber stand
Quality build and finishes
The Sun Mountain brand might not be that well known to all golfers but they make a wide range of top quality golf apparel and accessories. It is their exceptional golf bags they are most famous for.
The 2.5+ Stand Bag comes in at a highly respectable 2.8 lbs. so is only marginally heavier than the Callaway Hyper-Lite Zero.
It also has strong and sturdy carbon fiber legs that won't let the bag fall around or get in you as you carry the bag. It has a top handle when moving short distances.
The straps are designed for comfort while carrying your bag and are made from contoured high-density foam. They are designed in an X style and are easy to slip on and off. It also functions perfectly well as a single strap for those that do not enjoy the backpack style.
Despite the light and compact design, it has plenty of storage space including a drinks pouch and a large ball pocket with a quality zip. The pouches and pockets are all in a denier fabric which durable and attractive.
For your valuables, there is a velour-lined secure pocket. There is also a pen holder as well as a rain hood. There are 5 pockets in total.
Organization is often challenging with compact carry bags but the 2.5 bag is well designed with a 4-way top divider that includes 4 full-length slots.
Sun Mountain found a great compromise between keeping the bag ultra-light while still extremely functional and good looking.
You have a choice of 8 color designs so there is something to suit everyone's tastes.
They have also kept the quality good so the bag is durable and should last you many years of golfing. All the materials, parts, zips, legs and handles are made from quality lightweight materials so they have not compromised on quality.
Sun Mountain has upgraded and improved on the earlier version, the 2Five. That was also a great bag that was a popular choice but they have made improvements and added to it where necessary. They listened to feedback from golfers and made changes where necessary to make this version even better.
Pros
Straps are comfortable for single or double use
Plenty of well-designed storage space
Quality materials and parts used throughout
Good design for easy club access
Cons
The stand can take a bit of effort to get out
3. Izzo Lite Stand Golf Bag
Izzo is another name that might not be that well known to many golfers but they were one of the pioneers of the dual strap system that is now common to most light golf bags.
They specialize in golf bags and related accessories so put their focus into designing and creating top-quality bags.
Despite a tough and durable nylon construction, these bags weigh only 4.5 lbs. They have a modern attractive design and are available in blue, green, red or black. They are neither too conservative nor too flashy.
Being one of the first to introduce the dual strap it is, as you would imagine, comfortable and easy to use. It is fully adjustable and keeps the bag stable with minimal strain on your back. It has a ball pocket with an easy access magnetic seal.
There is also a towel loop, Velcro glove connector, an insulated drinks cooler and a water-resistant velour-lined pocket for valuables. They offer free personalization on the ball pocket which is a nice touch.
The clubs are kept well organized and easy to remove with a 5 section divider.
Izzo claims to make "The World's Finest Golf Bags" and while that is a bold statement they certainly give some of the big brands a good run for their money.
Pros
Durable nylon construction
Very comfortable strap
Free personalization on ball pocket
Handy magnetic ball holder
Cons
Rather pricey compared to many other options
4.

TaylorMade Stand 8.0 Bag
If you are looking for a replacement for your Cobra Golf 2018 Ultralight Stand bag, a suitable replacement is the TaylorMade Stand 8.0 Bag.
The bag is a lightweight product that is simple to carry and transport from your home to the course. The design of the TaylorMade bag is a far cry from the bulky construction of a tour bag that requires a caddie to lug it around.
The bag contains multiple handles, making it easy to pick up and move from A to B, as well as eight expertly designed compartments to store your clubs and eliminate overcrowding.
On top of the bag's spacious design, it is fitted with six pockets that provide sufficient space to store your rainwear, wallet, phone, golf balls, and tees. Furthermore, the bag comes with a water bottle sleeve to store one beverage.
Finally, the TaylorMade Stand 8.0 Bag is an affordable product that will not break the bank. It sits at a price point that is attractive to most golfers.
If you are hunting for a new golf bag that is light, has ample storage, and easy to carry around. Then you can look at the TaylorMade Stand 8.0 Bag here.
Pros
Multiple handles for easy carrying
Eight slots for your clubs
Six pockets for storage
Includes a water bottle sleeve
Affordable
Lightweight
5. Titleist Players 4 Carbon Stand
Weighing in at just under 2.9lbs, this Players 4 Carbon Stand upholds the quality that millions of players have come to expect of Titleist.
The carbon fiber legs offer an excellent strength and weight ratio. So if you do need to pack your bag a little heavier than usual, you needn't worry about the legs buckling beneath the weight. They're also very well hinged, so they won't get in your way whilst you walk.
The material is, of course, lightweight, and it has been reinforced to prevent rips. As with all golf bags, there's no guarantee that it won't rip, but this one has as good a chance as any to last you for many years to come.
One of this bag's greatest strengths is its storage capacity. It has five pockets, giving you plenty of space to store balls, apparel, valuables, any other accessories. One of these pockets is a mesh exterior – perfect for water bottles and rangefinders.
Lighter weighing bags often come at the expense of organization, but that is not the case with the Payers 4. A low-profile, velvet lined 4 way divider will help you to keep your clubs organized with ease, whilst also protecting them from unnecessary knocking and scratching.
The dual strap is plenty wide, and soft, making it very comfortable. It's also fully adjustable. In addition to the straps, there's also a lightweight integrated handle at the top of the bag, which is great when you quickly need to pick the bag up and walk it a short distance.
Comes with a tour-inspired rain hood, and is available in nine different colours.
Pros
Weighs below 3lbs
Strong carbon fibre legs
Rip-stop material
Plenty of storage space
Comfortable dual strap
Final Verdict
These are all great golf bags for a walking round of golf and depending on your taste, budget and requirements, there is something for everyone.
One bag, however, stands out as the clear winner — The Callaway Golf Hyper Lite Zero Stand Bag. I am not alone in my opinion and this bag has won awards in the past, for good reason.
It ticks all the boxes I mentioned in what to look for in a lightweight golf bag. At only 2.5 lbs. you cannot get much lighter yet it is perfectly functional and durable. Sure it is a bit pricey compared to some options but it will last many years of hassle-free and comfortable golfing.
The straps are sturdy and it sits snugly on your back. It will keep your clubs well protected, organized and easy to reach. It also has all the pocket space you could need.  The stand is quality carbon fiber and works well. All around, this is a great light golf bag and a worthwhile investment.
With the right bag, you can enjoy a great round in the traditional and pleasurable fashion of walking the beautiful golf courses you play.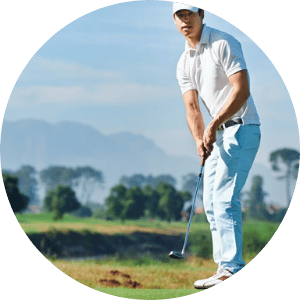 Nick Lomas is the founder of GolfSpan, an avid golfer, not quite a pro but has over 15-years of experience playing and coaching golfers from all over the world. His mission is to bring the golfing community a better experience then it comes to choosing the right golf gear, and finding the right set up for your game.