Or even if you use a cart, having to lug a back-breaking bag, can be challenging.
But with the latest technology, there are many lightweight golf bags on the market. Fortunately as a golf coach, I come across many of these bags and have tested them myself. Or I've spoken with clients who've tested them.
Here are the 15 best lightweight golf bags:
Callaway Golf Hyper Lite Zero Stand Bag – Best Overall 
Sun Mountain Golf 2.5 Stand – Best Ultra Light Bag
Izzo Lite Stand Golf Bag – Best Budget
TaylorMade Flextech Lite Bag – Best Mid-Range Pick
Ogio Fuse 4 Stand Bag – Best Looking
Wilson Feather Carry Bag – Good Budget Pick
Cobra Ultralight Sunday Bag – Best Sunday Bag
Titleist Cart 14 – Best Overall Cart Bag
TaylorMade Cart Lite Bag – Most Durable
Mizuno BR-D4C – Most Spacious
Having the wrong golf bag can mean you can never fully optimzie your game. Be sure to read the full post to learn the details about each of these bags to avoid wasting money.
I have divided these options into lightweight bags with stands and those for carts. Since the mass differs between these two styles, it is right to separate them. I will highlight the pros and cons of each option to help you decide which bag best suits your needs.
at a glance: Our Top 5 Picks for Lightweight Golf Bags
Why You Should Trust Us
Our team spends thousands of hours trying out and researching golf equipment to help you take your game to the next level. Here's our product review process.
How We Reviewed These Products
Golfspan only shares equipment and brands we trust.
I started Golfspan years ago after a 15-year career instructing and coaching golfers, and I meticulously researched and reviewed each of the products below. Following this, an editor combed through all of the information to ensure it reads well and is factual. We also regularly review our content as the market changes to bring you the latest in golfing gear.
For this post on the most product, we considered the following criteria:
Cost

Weight

Durability

Dividers

Pockets

Appearance
If you enjoy walking the golf course, bookmark our review on the
best stand bags
to walk the course in comfort.
Quick Overview: Our Top Picks for Lightweight Golf Bags
The Best Lightweight Golf Stand Bags
First, we'll cover the 10 lightest golf bags with a stand. If you want to check out the cart bags, scroll below this list. 
Rating:
5 Stars
As with many of the brands, we will feature in our review of the top lightest golf bags, Callaway needs no introduction. They are well known and respected for quality golf equipment.
They have been around for many years and made their name with their legendary irons and drivers, but the rest of their equipment lives up to the same fantastic standards.
As the name suggests, the Callaway Golf HyperLite Zero Stand Bag is extremely light. It weighs only 2.5 lbs and is the lightest stand bag Callaway offers. It is perfect for the golfer that wants to walk their round.
Callaway's goal was to create the lightest product possible without sacrificing strength or functionality. Most will agree that they did a pretty good job in that regard.
I appreciate the quality, lightweight nylon, and the overall durability of the bag. The quality YKK zips offer optimal protection for your valuables. It features a dedicated cell phone compartment to keep that safe. The legs are carbon fiber, tuck in well and work effectively.
In addition, I felt the four-way top provided easy organization, but my clubs clattered around as I walked, which is always annoying. There are 4 easily accessible and well-designed pockets, so there is ample space for all your accessories and other items you need to carry with you.
The dual strap is comfortable for those who prefer carrying the bag when walking after a decent drive. You can choose a regular single strap if you prefer. For short moves, it has a handy top handle. It comes standard with a rain hood and has a one-year warranty.
Pros
Only 2.5 lbs.
Comfortable straps with a choice of single or double
Sturdy and effective carbon fiber stand
Quality build and finishes
Rating: 4.5 Stars
The Sun Mountain brand might not be that well-known to all golfers, but they make a wide range of top quality golf apparel and accessories. It is their exceptional golf bags they are most famous for.
The 2.5+ Stand Bag comes in at a highly respectable 2.8 lbs, so is only marginally heavier than the Callaway Hyper-Lite Zero.
In my experience, the sturdy carbon fiber legs offered solid support to the bag, preventing it from falling over during your backswing. Plus, it has a top handle to lift the bag up after your shot and prevent ripping the shoulder straps.
The straps are designed for comfort while carrying your bag and are made from contoured high-density foam. They are designed in an X style and are easy to slip on and off. It also functions perfectly well as a single strap for those that do not enjoy the backpack style.
Despite the light and compact design, it has plenty of storage space including a drinks pouch and a large ball pocket with a quality zip. The pouches and pockets are all in a denier fabric which durable and attractive.
For your valuables, there is a velour-lined secure pocket. There is also a pen holder as well as a rain hood. There are 5 pockets in total.
Organization is often challenging with compact carry bags but the 2.5 bag is well designed with a 4-way top divider that includes 4 full-length slots.
Sun Mountain found a great compromise between keeping the bag ultra-light while still extremely functional and good looking.
They have also kept the quality good so the bag is durable and should last you many years of golfing. All the materials, parts, zips, legs and handles are made from quality lightweight materials so they have not compromised on quality.
Find more affordable options in our review of the best golf bags for the money.
Pros
Straps are comfortable for single or double use
Plenty of well-designed storage space
Quality materials and parts used throughout
Good design for easy club access
Cons
The stand can take a bit of effort to get out
3. Izzo Lite Stand Golf Bag – Best Budget Lightweight Golf Bag With Stand
Rating:
4.5 Stars
Izzo is another name that might not be that well known to many golfers but they were one of the pioneers of the dual strap system that is now common to most light golf bags.
They specialize in golf bags and related accessories, so they focus on designing and creating top-quality bags.
Despite a tough and durable nylon construction, these bags weigh only 4.5 lbs. I enjoy their modern, attractive design and appreciate the choices of blue, green, red, or black. They are neither too conservative nor too flashy.
Being one of the first to introduce the dual strap it is, as you would imagine, comfortable and easy to use. It is fully adjustable and keeps the bag stable with minimal strain on your back. It has a ball pocket with an easy-access magnetic seal.
There is also a towel loop, Velcro glove connector, an insulated drinks cooler, and a water-resistant velour-lined pocket for valuables. They offer free personalization on the ball pocket, which is a nice touch.
The clubs are kept well organized and easy to remove with a 5-section divider.
Izzo claims to make "The World's Finest Golf Bags," and while that is a bold statement, they certainly give some of the big brands a good run for their money.
Pros
Durable nylon construction
Very comfortable strap
Free personalization on ball pocket
Handy magnetic ball holder
Cons
Rather pricey compared to many other options
Rating:
4 Stars
Golfers like myself who prefer walking the golf course require a lightweight stand bag with comfortable dual straps and enough storage space for the basics. The Flextech Lite Stand bag ticks all these boxes and earns my vote as the top TaylorMade Stand Bag.
When I picked up the Lite Stand Bag for the first time, I was amazed at how light it was. It was not the lightest golf bag I have carried, but good enough. It tipped the scales at 3.9 lbs before I loaded my clubs into it. Even after it was packed with my regulation 14 sticks, it was still light enough to carry over 18 holes without hurting my shoulders.
Speaking of shoulder support, the removable fixed strap system helped me achieve optimal fit and balance. This distributed the weight evenly for a comfortable carry, preventing the bag from toppling over and my clubs from falling out.
Next, I appreciated the effort of including 8 pockets on the bag to carry my accessories, rain gear, valuables, and refreshments. However, I feel TaylorMade could have added fewer pockets and made the existing ones deeper because some compartments were compact.
Finally, the TaylorMade Flextech Lite Bag is an affordable product that will not break the bank. It sits at a price point that is attractive to most golfers.
If you are hunting for a new golf bag that is light, has ample storage, and easy to carry around. Then you can look at the TaylorMade Flextech Lite Bag.
Pros
Lightweight design
Comfortable dual strap design
Features 8 pockets
4 way top
Leg lock technology keeps the stand in place
Cons
Expensive for a lightweight stand bag
The stand did not always activate when I placed the bag down.
5. Ogio Fuse 4 Stand Bag – Best Looking Lightweight Stand Golf Bags
Rating:
4 Stars
I acquired my first Ogio golf bag as a teenager, and 17 years later, the bag is still in fine knick, albeit with slight color disfiguration. Added to their proven quality are funky designs that appease the trendiest golfers. The Fuse 4 Stand Bag continues this trend with 9 unique patterns and colors to select from.
Besides the wealth of styles available, the Fuse 4 is an ultra-lite golf bag with 4 way top and full-length dividers. I find this provides ample space to separate my woods, irons, wedges, and putter, but my shafts still clashed while walking.
In addition, I appreciated the comfort and protection provided by the closed-cell foam molded shoulder strap. The strap is equipped with a FitDisc Self Balancing System, which does well to keep your bag upright and prevent clubs from toppling out as you walk.
Finally, I feel the Ogio Fuse 4 provides ample pocket space for those who enjoy carrying our clubs. I had limited challenges with storing my golf balls, tees, valuables, and water bottle in the 6 front-facing pockets. Furthermore, my wallet, phone, and keys were protected in the fleece-lined valuables pocket.
Pros
9 colors and patterns to choose from
4-way top with full-length dividers
6 pockets
Comfortable foam molded shoulder strap
Light and easy to carry
Cons
It only features a 4 way top causing clubs to entangle
More expensive than most lightweight golf stand bags
Rating:
4 Stars
Weighing in at just under 2.9lbs, this Players 4 Carbon Stand upholds the quality that millions of players have come to expect of Titleist. It also the lightest Titleist stand bag I have ever carried.
The carbon fiber legs offer an excellent strength and weight ratio. So if you do need to pack your bag a little heavier than usual, you needn't worry about the legs buckling beneath the weight. They're also very well-hinged, so they won't get in your way while walking.
The material is, of course, lightweight, and it has been reinforced to prevent rips. As with all golf bags, there's no guarantee that it won't rip, but this one has as good a chance as any to last you for many years to come.
One of this bag's greatest strengths is its storage capacity. It has five pockets, giving you plenty of space to store balls, apparel, valuables, and any other accessories. One of these pockets is a mesh exterior – perfect for water bottles and rangefinders.
Lighter weighing bags often come at the expense of the organization, but that is not the case with the Payers 4. A low-profile, velvet-lined 4-way divider will help you to keep your clubs organized with ease, while also protecting them from unnecessary knocking and scratching.
The dual strap is plenty wide and soft, making it very comfortable. It's also fully adjustable. In addition to the straps, there's also a lightweight, integrated handle at the top of the bag, which is great when you quickly need to pick the bag up and walk it a short distance.
Comes with a tour-inspired rain hood and is available in nine different colors.
Pros
Weighs below 3lbs
Strong carbon fibre legs
Rip-stop material
Plenty of storage space
Comfortable dual strap
Rating:
3.5 Stars
While not as light as the Tangkula construction. The Ask Echo lightweight stand bag is built to cater to the needs of mid to low-handicappers who carry excessive accessories with them on the course.
With nine pockets, you can store everything from your phone and wallet to your apparel, umbrella golf balls, and tees.
On top of the wealth of storage space, the bag features fourteen full-length dividers that include a separate putter well. As a result, each club enjoys a separate compartment to avoid them becoming tangled.
A unique feature of this bag is the two compartments specifically for your shoes and an insulated cooler pocket to regulate the temperature of your beverages. Plus, it includes a rain hood to keep your clubheads and grips dry in the rain.
Lastly, Ask Echo fitted four handles to the bag to allow you to lift it up from any angle for optimal convenience. Three side grab handles and a rear handle enable easy lifting from the trunk of your car.
Overall, the Ask Echo Lightweight stand bag offers an impressive setup for serious golfers. Those of you who require various tools during their rounds, such as a rangefinder, rainwear, and tees and balls.
Pros
The 14-full length dividers keep your clubs separated to avoid entanglement
Optimal storage for everything you need during your round
Insulated cooler pocket for your drinks bottle
Padded shoulder strap enhances comfort
Four grab handles
Cons
It is not 100% water-resistant, which is not ideal for heavy rainfall areas.
Rating:
3.5 Stars
My pick for the best lightweight golf bag is from a brand not typically associated with golf equipment and accessories. Tangkula's golf stand bag provides an all-around performance from water resistance, ample storage space, comfortability, and convenience.
The use of 420D nylon delivers water-resistant qualities to keep your valuables and golf clubs dry during inclement weather.
Furthermore, the bag includes an 8-way divider system to keep your clubs separated and add and remove them easily. Plus, it features seven zipped pockets to provide ample storage space for your valuables, golf balls, tees, and apparel.
To add to the comfort of your round, the design team fitted the bag with a padded adjustable double strap to spread the weight evenly to both shoulders.
Added to the comfort and storage of the bag is the convenience of a stand. That saves you from placing it on the ground in-between shots.
Finally, as if the bag didn't stand out enough, it features a heat-insulated pocket to regulate your beverage temperature and fetches an affordable price.
Pros
Water-resistant
Ample storage space
Stand
Heat-insulated pocket for your bottle
Comfortable padded shoulder strap
Cons
Only one color option
Shorter lifespan than competitor bags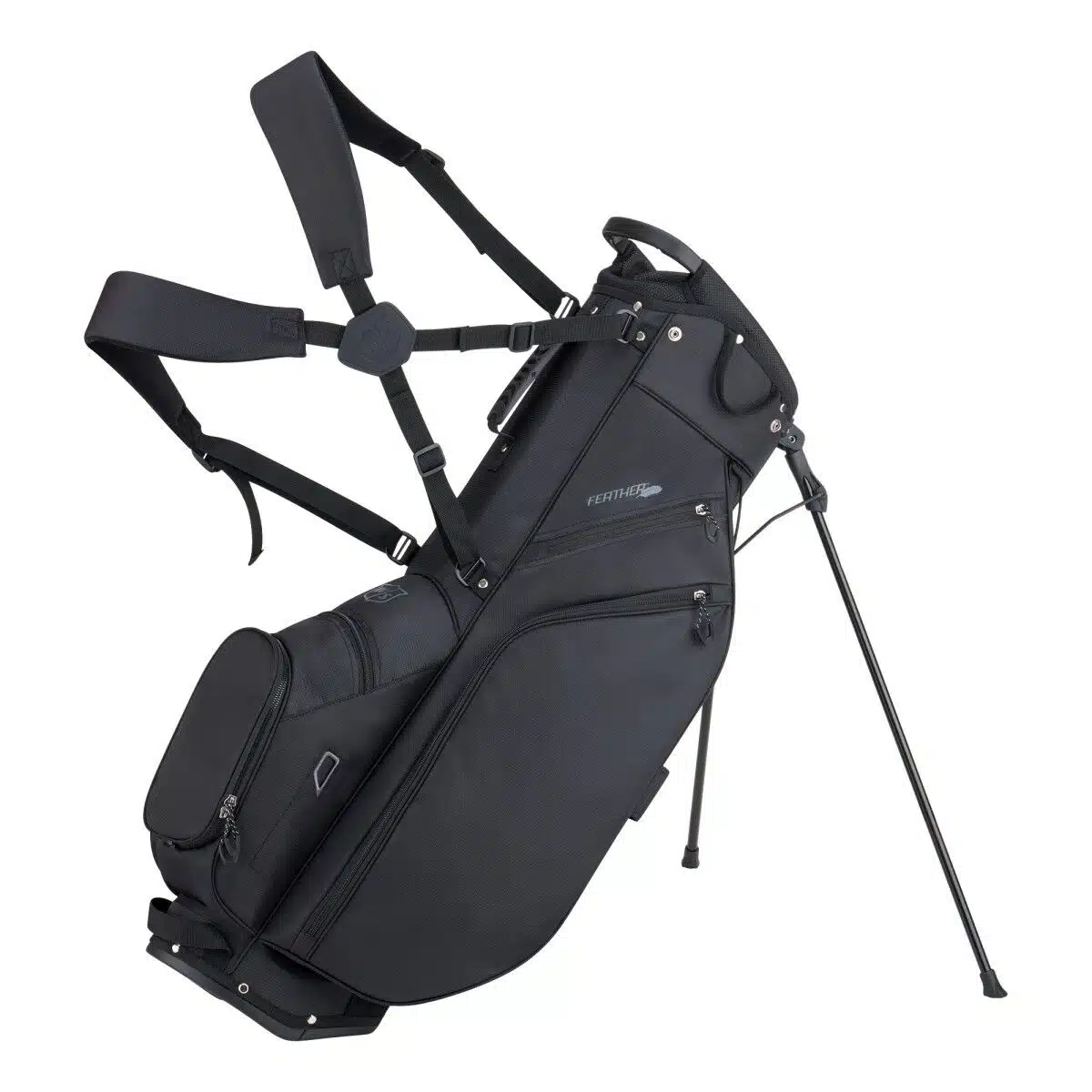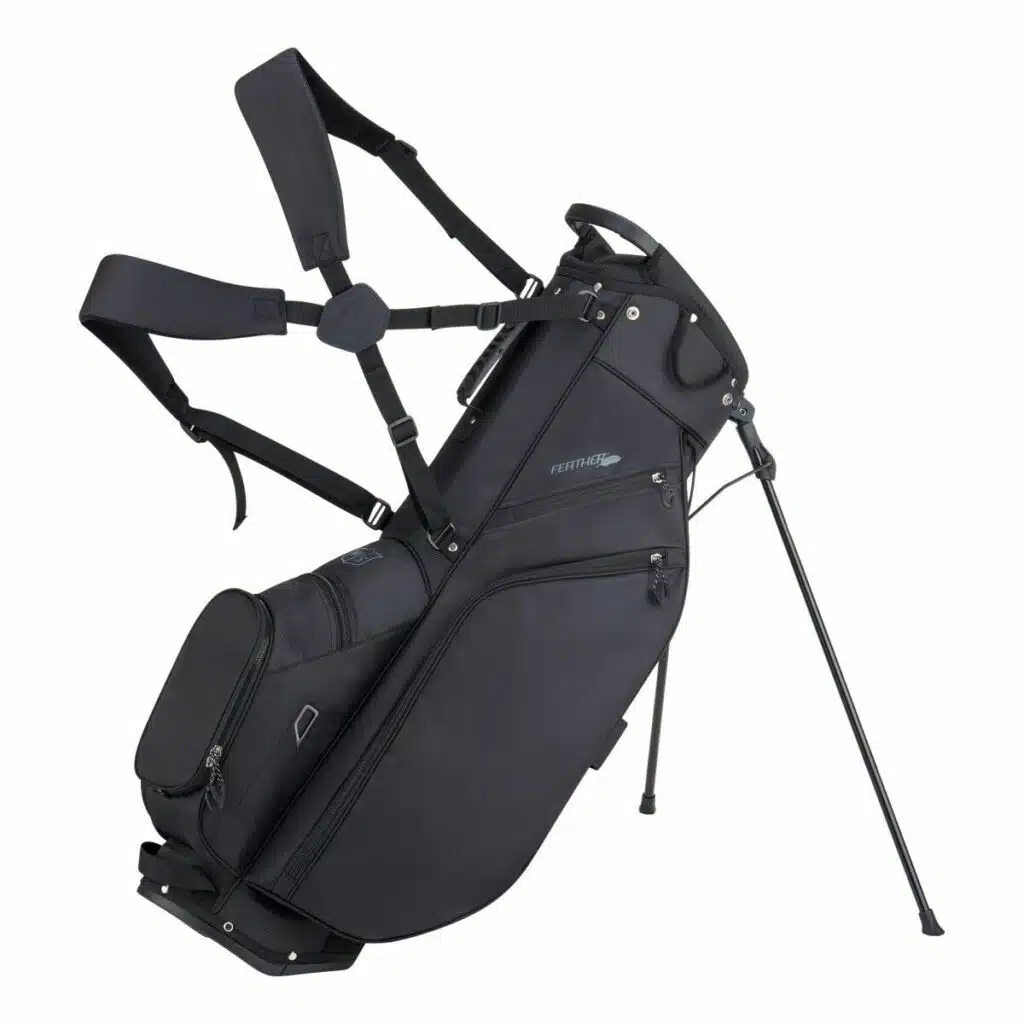 Rating:
3.5 Stars
Wilson is well-versed in crafting affordable, quality golf equipment for the average player. The Feather Carry bag is a clear example of this commitment. The 5.1 lbs 5-way top golf bag sports a minimalist look with a simple black design, comfortable strap, and superb padding around the hip and lower back.
Unlike standard lightweight bags, Wilson added an extra compartment at the top for better club organization. The 5-way design allows you to store your Long, mid, and short clubs in private sections to limit the risk of damage while walking. However, there are only 2 full-length dividers, which causes your shafts to entangle.
One area I feel could be better is storage. Naturally, the lightest golf bag designs carry fewer pockets to store everything you need. The Wilson Feather bag has 5 easily accessible pockets to keep your golf equipment and valuables.
Lastly, the lightweight and comfortable design were enhanced by the ergonomic padded strap and a hip and low back pad. I found the bag strap conformed to the contours of my shoulder while the hip pad softened the blow every time my back hit my skin.
Pros
Super affordable
5 pockets
Comfortable ergonomic padded strap
The self-balancing strap system kept my golf clubs stable
Hip and low back pad limits bruises 
Cons
Fewer pockets than other carry bags
Only 2 full-length dividers can cause your clubs to clash
Rating:
3.5 Stars
In a previous post, the Cobra Ultralight golf bags topped my picks for the best overall Sunday golf bag. However, this time it rounds out my list of the best lightweight golf bags. Admittedly, this option is for those golfers who carry fewer than the regulated 14 clubs.
While some players have carried up to 13 clubs in this bag, I would not suggest adding more than eleven sticks. Otherwise, the grips will tangle, and you will struggle to get them out.
With a mass of 3.8 pounds, these small golf bags are easy to lug around for 18 holes, thanks to a comfortable double strap design.
Furthermore, five pockets are scattered around to maximize your storage space. They include apparel, beverage, valuables, and ball pocket to store most of what you need for a round of golf.
In summary, you should only consider this bag if you do not own 14 clubs and don't mind smaller storage pockets.
Pros
Double strap cushions your shoulders
Oversized apparel pocket
Mesh beverage pocket
It includes a stand
The top grab handle allows for a hassle-free lift
Cons
It cannot carry a 14-clubs
The Best Lightweight Golf Cart Bags
11. Titleist Cart 14 – Best Overall Lightweight Golf Bag For Carts
Rating:
5 Stars
The Titleist Cart 14 is the best lightweight golf bag for carts in 2023, thanks to its style, stability, and exceptional storage features. You notice that it is not as light as a carry bag but is easily portable in this category.
Besides its impressive performance features, Titleist offers the choice of 9 colors to cover traditionalists and stylish players. Make a statement with the red and gray pattern, or blend in with a classic black, white, and gray.
I approve of the depth and positioning of the 11 cart-accessible pockets, which gave me easy access during my round. Plus, I felt the large beverage pocket kept my drinks cool to remain refreshed and hydrated on the golf course.
In addition, the Cart 14 remained secure to the base of the golf cart while traversing uneven terrain, thanks to a strap loop trolley attachment. Lastly, I could keep my clubs separated and prevent clashing while in motion due to its 14-way top.
Pros
Available in 11 colors
11 accessible pockets
Large beverage pocket keeps drinks refreshed
14-way top prevents clubs from clashing
Remains secure while in motion
Cons
It is more expensive than a lightweight stand bag
It only has a single strap, which makes it uncomfortable to carry for extended periods.
Rating:
5 Stars
The TaylorMade Cart Lite is the most durable, lightest golf bag you can find to ride on your vehicle or trolley. At a weight of 5.5 pounds, this lightweight golf bag packs a punch with enough pockets, durable material, and a well-structured top.
TaylorMade engineers employed 600D Polyester, an affordable yet durable material that increases the bag's longevity. 
Although 8 pockets are fewer than most lightweight golf bags for carts offer, I found it sufficient for my needs. I carried tees, balls, refreshments, and my valuables.
Next, the pushcart-enabled base, with the cart strap pass-through, kept the bag stable and firm while in motion. Nothing frustrates me more than a bag consistently falling off a push trolley as you navigate slopes. The TaylorMade Cart Lite Bag passed this test with flying colors.
Finally, I found it easy to keep my clubs organized and separated due to the 14-way top. This produced less noise during my round, giving me peace of mind and keeping my playing partners happy.
Pros
Highly durable
6 designs
Lightweight golf cart bag 
8 pockets
Remains secure and stable on the base of your cart
Cons
Expensive 
It does not feature full-length dividers
13. Mizuno BR-D4C – Most Spacious Golf Cart Bag
Rating:
4 Stars
The Mizuno BR-D4C is not the lightest golf bag on this list, but it is a feather compared to many peers in the cart bags category. At 6.5 pounds, this bag carries a whopping 14 pockets giving you the freedom to take everything you need with you on the links.
Mizuno offers the BR-D4C bag in 4 colors, with the Woodlands Camo being the most adventurous design. Otherwise, you are left with standard choices which will thrill the traditionalists.
Besides cosmetics, the golf bag carries a 14-way top giving each golf club a private slot. The only downside is the enlarged putter well, which makes two compartments tight, preventing you from fitting clubs with jumbo grips.
I felt the extra large insulated cooler pocket with a drain hole was a nice touch, as it kept my drinks fresh and my bag dry. In addition, the fleece-lined valuables pocket with a waterproof zipper kept my phone, wallet, and watch safely from the rain.
Pros
14 pockets
14 way top
Integrated putter well to protect your flat stick
4 colors to choose from
The cooler pocket drain hole keeps your bag dry
Cons
Limited colorful designs
The enlarged putter well narrows other slots, making it difficult to fit clubs with jumbo grips.
Rating:
4 Stars
The Ogio Woode 15 bag is a premium design featuring a 15-way top with 11 front-facing pockets. The Callaway brand employed its wealth of experience to craft a range of cart bags that remain secure and are easy to access during your round of golf.
I feel the 15-way top is helpful for golfers with oversized putter grips who struggle to fit it in a standard slot. It gives you the space to comfortably place the club in your bag without the risk of bending the shaft.
In addition, the 11 front-facing pockets are a genius idea, making it a breeze to access everything I need without fidgeting and turning the bag around. 
Further enhancing its performance is an E-trolley compatible base and push cart lockdown straps to keep it secure on all terrain. Finally, I appreciated the added touch of a velcro glove patch, which saved me from stashing it in my pocket or golf bag between shots.
Pros
15-way top ensures an optimal organization
Pushcart lockdown straps for maximum security
E-trolley compatible base
Designed in 11 colors
Velcro glove patch
Cons
Expensive
Heavier than other lightweight cart bags.
Rating:
4 Stars
The Callaway Chev 14 is among the lightest golf cart bags around, with a mass of 4.3 lbs. However, the reduced weight comes at a sacrifice with far fewer pockets. Added to its lightweight and storage space are  4 designs to suit female and male golfers.
You notice the Chev 14 is fitted with 5 pockets, significantly fewer than its peers. However, I felt I could store my golf equipment. Plus, the velour-lined valuables pocket stood out as they offered a cushioned surface to rest scratchable items, like my phone and watch.
Besides the space restrictions, the durability of the ripstop fabric impressed, and you can tell this bag will hold up well for years to come. 
In addition, I felt the 14-way top with full-length dividers made life easy to remove and add clubs while preventing damaging and annoying clattering during your round. 
Pros
Super lightweight design
Affordable for a cart bag
Available in 4 colors
Durable ripstop fabric
Velour-lined valuables pocket
Cons
Minimal storage space
Difficult to access some pockets
What to Look for When Choosing a Lightweight Golf Bag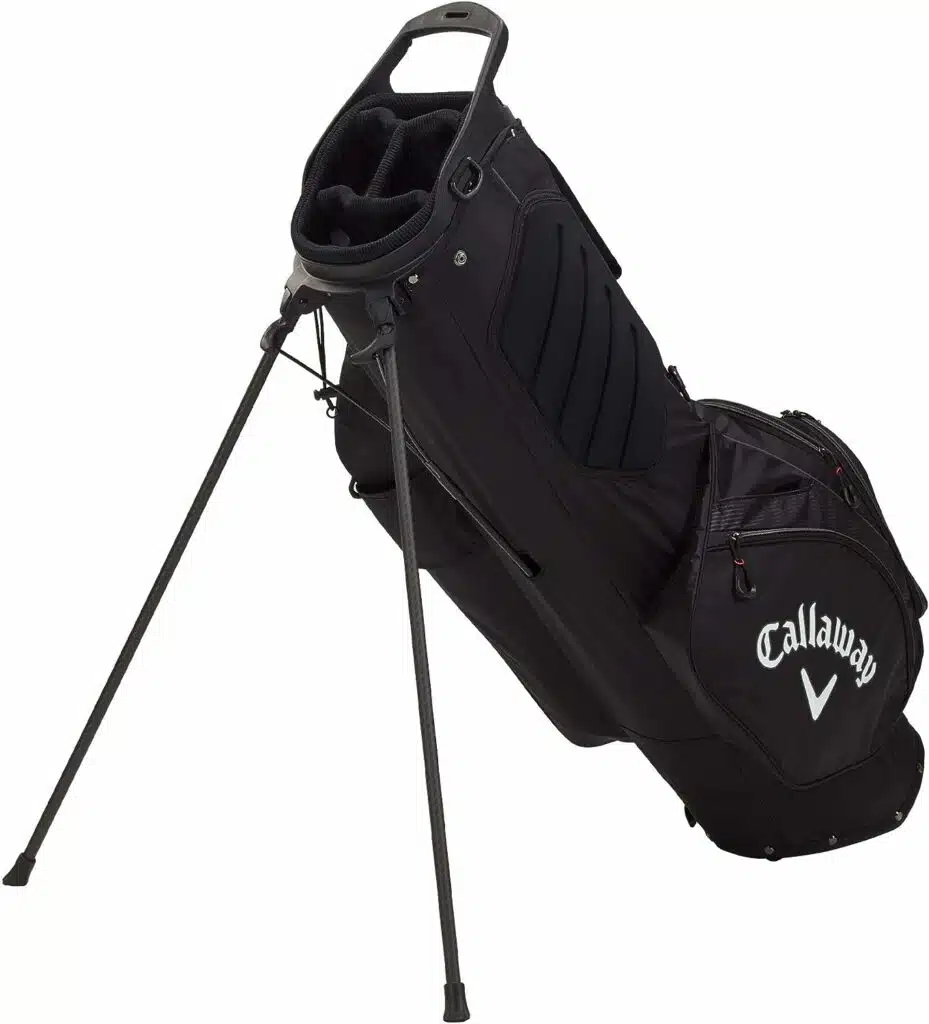 Getting the wrong bag will make your walk around the course uncomfortable, unpleasant and frustrating. It will leave you sore and tired. There are a few important aspects to consider before you make your decision. 
For a detailed buyer's guide for a minimalist golf bag, save our review for later. However, keep reading below for a brief summary of how to strategize.
Weight
This one is pretty obvious, but if you carry the bag for 18 holes, you want it to be as light as possible. The clubs, balls, and other equipment will account for most of the weight, but you don't want the bag to add to that. One or two lbs. is not going to make a big difference, but anything under 5 lbs. is good.
Durability
There is no point in getting a light bag, only for it to fall apart after a few rounds. Both Nylon and quality polyester are light options that are tough and durable. Also, look at the quality of the stand. Carbon fiber is a good option. The straps take a lot of strain, so they need to be comfortable and strong. Also, check the quality of zips, pouches, and handles.
Storage
Always ensure you have sufficient pockets for everything you need to carry on your rounds. Having a good protective pouch for valuables and a convenient place to keep your beverage cool is important. The ball pouch is also important. Many can be personalized, which appeals to some golfers.
A final storage factor to consider is a full-length apparel pocket to store your rain gear. The added space helps you prepare for all conditions.
Club Dividers
You want your clubs to be protected, not rattle around, and be easy to remove or replace. Look at the design and quality of the dividers and determine whether they are full-length. There are normally between 3 and 5 dividers.
Strap
This is one of the most important aspects to look for when choosing which to purchase. Some people like the dual strap, while others are happy with a single strap. Comfort is the main thing to consider, so they should be well-padded and generously sized.
It is essential that they are both durable and well attached, and they need to keep the bag stable on your back and not slip around as you walk. A hip pad often comes in handy.
Price
There is no doubt that golf can be an expensive game. There is a lot of equipment and accessories to buy, and every time you want to play, there will be costs involved. Spending extra on one thing means making sacrifices elsewhere.
There is no need to spend a fortune on a lightweight golf bag but avoid the cheap ones as you will probably find it uncomfortable and likely need to replace it before too long.
Cart or Stand
If you demand a lightweight golf bag for walking, then the reduced mass of a stand bag is your best bet. These bags are half the weight of some cart bags and feature a comfortable strap and self-balancing system. 
However, if you own a push trolley or a golf cart, opting for a heavier golf cart bag is an ideal choice. These bags are better designed to remain firmly on the base of your trolley or golf cart and offer considerably more storage space.
How To Carry a Golf Bag
Many golfers are unsure of the correct way to carry a golf bag. While there are many that still prefer to use a single strap, there are many benefits to using a dual strap system.
It will distribute the weight evenly and take the strain off just one shoulder. It is important that it is adjusted correctly and that it fits snugly. You also want it to be well balanced.
For years I stubbornly stuck to a single strap but was pleasantly surprised and much more comfortable when I moved to a good double strap bag.
The Benefits of Walking a Round of Golf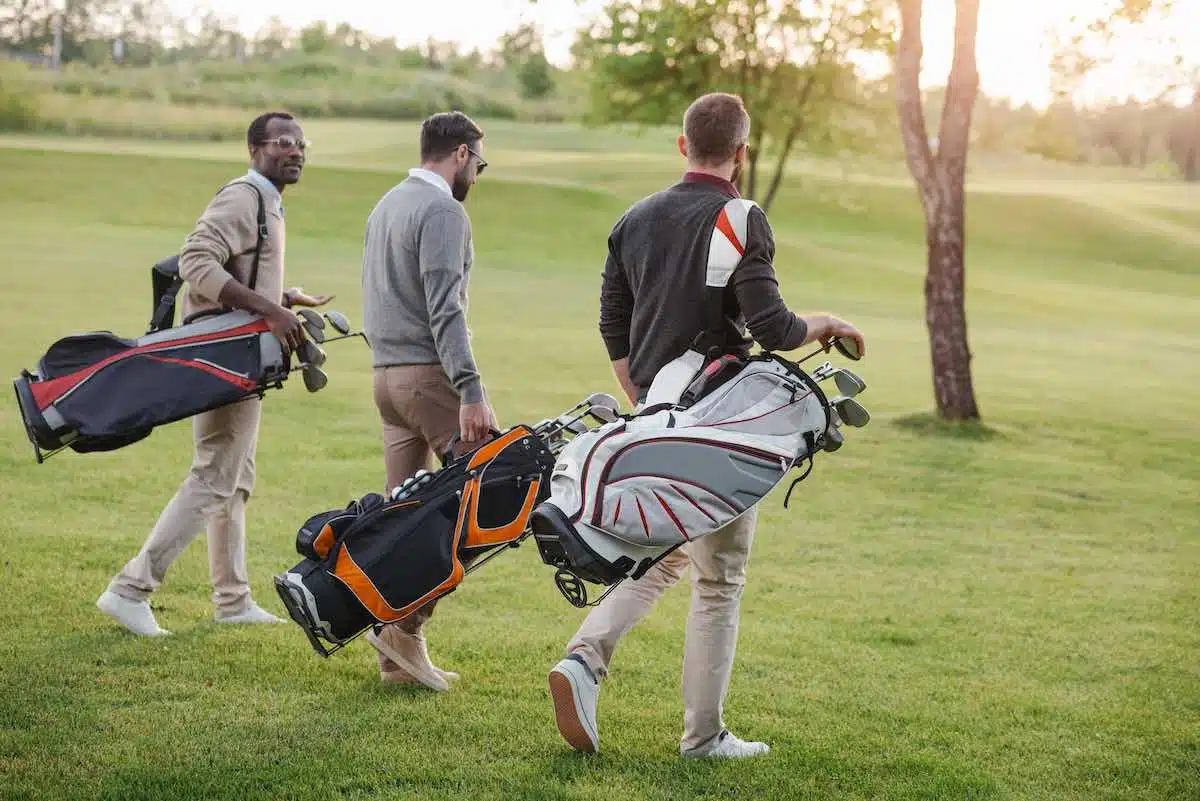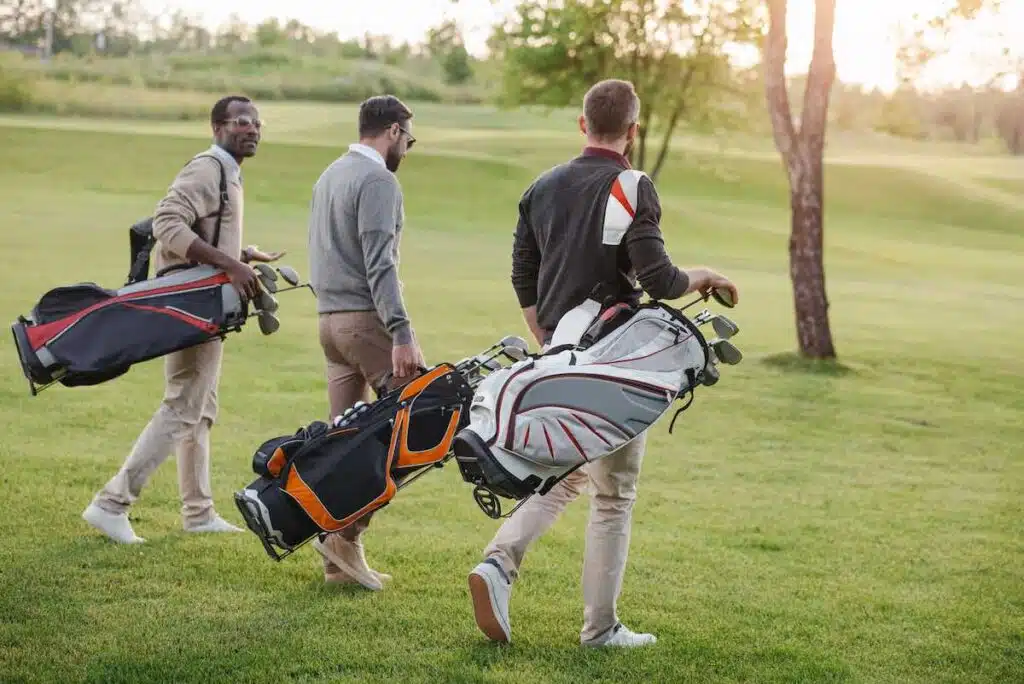 Obviously, exercise is a big advantage. You are outside in nature and doing what you love. It hardly feels like exercise.
The other advantage is you really get to see the course up close and personal. You will notice the subtle features and nuances that you might otherwise miss.
Zipping from shot to shot means you miss not only the beauty but also the finer points of the course. These insights will be valuable next time you play the course.
You can also save money as the cost of carts and caddies adds up over time.
A big part of walking golf that appeals to me is that it is much more social. You get to know your fellow players much better, and too many, that is an important aspect of the game.
That said, you do not want to be exhausted and sore when you finish your round. To prevent that, you need a quality bag that is lightweight and comfortable. There are a few other considerations that you learned about above.
Given the huge range of lightweight golf bags available, we have done some intense research in order to bring you the best lightest golf bags available right now. We will give you ideas on what to look for and then the details on the ones we found that stood out from the rest.
FAQ
Who Makes the Lightest Weight Golf Bag?
To find the lightest weight design, you must dig around in the Sunday Golf bag department. These bags are often between two to three pounds. An example of a super-light design is the Sunday Golf Loma Bag, which weighs less than two pounds without storing any clubs.
The challenge with Sunday bags is that they often don't fit 14 clubs. The next best option is to consider a lightweight stand bag weighing three and a half pounds and up. The lightest weight stand bag that I have encountered is the Callaway Hyperlite Zero stand bag weighs less than three pounds.
How Much Do Golf Bags Weigh?
The weight of your golf bag depends on the type of design that you are going for. Sunday golf bags that carry a limited quantity of clubs will weigh under three pounds, while stand bags range from three to seven pounds.
The next heaviest option is a golf cart bag, which can fluctuate from five to ten pounds. Finally, the heaviest golf bag is a staff design, which exceeds ten pounds in mass.
Who Should Use a Lightweight Bag?
Golfers who should consider using a lightweight bag are those players who prefer to walk around the course carrying their clubs. The lightweight construction is comfortable for your shoulders, neck, and back to help you navigate 18-holes without breaking your bones.
What Is the Best Lightweight Carry Golf Bag?
The Callaway Golf Hyper Lite Zero is the best lightweight carry golf bag in 2023, thanks to its comfort, stability, and storage space. The 2.5 lb golf bag has a 4-way top to separate your woods, irons, and short clubs. Plus, it features 7 pockets to store your equipment and valuables.
How Heavy Is a Lightweight Golf Bag?
A lightweight golf stand bag weighs under 3 lbs, making it comfortable and easy to lug around the links. For example, the Callaway Golf Hyper Lite Zero is a mere 2.5 lbs.
However, lightweight cart-golf bags tip the scales between 5 to 6 lbs. These bags are heavier for their added pocket space, sturdy cart-friendly base, and improved top and full-length dividers. The lightest cart bag in 2023 is the Callaway Chev 14, which weighs 4.3 lbs.
What Is the Lightest Titleist Stand Bag?
The lightest Titleist stand bag is the Titleist Players 4 Carbon golf bag, which weighs fewer than 3 lbs. Besides its reduced mass, the bag features a comfortable double strap, lightweight ripstop material, and high-strength carbon fiber legs.
Final Thoughts 
That brings to a close my review of the best lightweight golf bags. You can see a significant difference between the mass of lightweight golf stand bags and their cart counterparts. 
Although the fifteen options on this list all warrant a mention for their performance, I will leave you with my top two picks for both categories. Firstly, the Callaway Golf Hyper Lite Zero is my recommendation for the top lightest golf stand bag in 2023.
I appreciated the comfortable strap design, the simple 4-way top construction, and the extremely lightweight construction. In addition, the presence of 7 pockets provided all the storage space I needed on the golf course.
Finally, the heavier, lightweight golf bag for carts produced some competition. However, the Titleist Cart 14 came out on top. With 11 pockets, and secure strap loop, and a 14-way top, it offered comfort, organization, and security while in motion.
Read More:
Nick Lomas is the founder of GolfSpan, an avid golfer, not quite a pro but has over 15-years of experience playing and coaching golfers from all over the world. His mission is to bring the golfing community a better experience then it comes to choosing the right golf gear, and finding the right set up for your game.