The right golf bag not only carries your clubs and other gear but also keeps you organized, which is paramount in a sport where a single lost piece of equipment can turn the game's tide.
That's where OGIO golf bags can help. OGIO stands for "our gear is organized," and their bags live up to the name, so Callaway purchased the company. Can one of these bags improve your game?
Here are the 7 best OGIO golf bags:
If you don't invest time in selecting the best golf bag, you might be unable to stay organized on the course, which could hurt your game.
This post will discuss the top 7 OGIO golf bags for 2023, considering cost, features, and overall quality. Not only will this save you valuable time researching, but it'll ensure you make an informed purchase.
Top 3 OGIO Golf Bags 2023
Best Overall
Best for Storage
Best for Equipment Protection
Model
OGIO Fuse Stand
OGIO Fuse 4
OGIO Silencer Cart Bag
Pros
– Exceptional lightweight construction

– Innovative and trendy design

– Lightweight

– Advanced storage solutions – Stylish design

– Superior club protection system

– Contemporary and sleek design

Cons
– Less robust than other bags
– Limited color options

– Less durable than some other models

– Might be heavier than other models

– Limited color options

Price Score
85/100
80/100
90/100
Storage Score
95/100
100/100
70/100
Durability Score
90/100
85/100
80/100
Rating
4.9/5 Stars
4.7/5 Stars
4.5/5 Stars
Why You Should Trust Us
Our team spends thousands of hours trying out and researching golf equipment to help you take your game to the next level. Here's our product review process.
We're able to bring these reviews to you through the small commissions we earn if you buy through the links below.
How We Reviewed These Bags
Golfspan only shares equipment and brands we trust.
I've played golf for +20 years and am a professional golf equipment writer. I meticulously researched each of the bags below. Following this, an editor combed through all the information to ensure it reads well and is factual. We also regularly review our content as the market changes to bring you the latest in golfing gear.
For this post on golf bags, I considered the following criteria:
Cost
Durability
Design
Dividers
Pockets
Straps
The Best OGIO Golf Bags
Pros
Exceptional lightweight construction
Innovative and trendy design
Cons
May lack the robustness of other models
Key Features
5-way top
7 pockets
Large apparel pocket
Insulated water bottle pocket
Adjustable shoulder straps
Umbrella holder
Rating: 4.9/5
As a regular golfer, I must say that the OGIO Fuse 2023 Stand Bag is a superb choice for players who value portability and convenience on the course. When I tested it, I found it lightweight, sturdy, and spacious. It actually looks super high-end in the flesh as well.
I noticed the 5-way top and seven smartly placed pockets, which include a large apparel pocket and an insulated water bottle pocket. This is a particularly cool feature, especially in hot weather. Its design exudes a contemporary appeal that sets it apart from others.
However, compared to heavier-duty bags like the OGIO Silencer 2023, the Fuse 2023 might lack some durability. The color options are somewhat limited, which may disappoint those seeking more customization. Despite these drawbacks, the lightweight construction and easy-to-carry nature of the Fuse 2023 make it a solid choice for any golfer.
Who's It For?
The OGIO Fuse 2023 Stand Bag is ideally suited for golfers who prefer a balance of lightweight construction and on-course organization. Its user-friendly design and compartment layout make it an excellent option for those carrying a standard set of golf clubs and essential gear.
Pros
Superior club protection system
Contemporary and sleek design
Cons
Might be heavier than other models
Limited color options
Key Features
14-way top
9 pockets
Large apparel pocket
Insulated water bottle pocket
Comfortable shoulder straps
Umbrella holder
Rating: 4.5/5
Speaking from personal experience, the OGIO Silencer 2023 is a go-to for golfers who prioritize the security and protection of their clubs. It has a unique 14-way top and nine convenient pockets, including a spacious apparel pocket and an insulated water bottle pocket. The modern design is a definite eye-catcher on the course.
One downside, though, is that it might feel a bit heavy compared to lighter options on the market, such as the OGIO Fuse 4. Limited color options may also concern those seeking a personalized style. However, the Silencer 2023's superior club protection system and ample storage features make it a worthwhile investment for most golfers.
Who's it for?
The OGIO Silencer 2023 is excellent for golfers who want an optimal blend of club security and course organization. Its innovative club silencer system and specialized compartments make it an ideal choice for golfers who carry expensive clubs and a lot of gear.
Pros
Advanced storage solutions
Lightweight and stylish design
Cons
Less durable than some other models
Limited color options
Key Features
4-way top
8 pockets
Large apparel pocket
Insulated water bottle pocket
Adjustable shoulder straps
Umbrella holder
Rating: 4.7/5
The OGIO Fuse 4 is our top pick for golfers who need advanced storage solutions. This lightweight bag offers a 4-way top and eight pockets, including a large apparel pocket and an insulated water bottle pocket. Its stylish design will appeal to golfers who appreciate a sleek aesthetic.
While the Fuse 4 is less durable than some other models and has limited color options, its convenience and storage features make it a fantastic choice for many golfers.
Who's it for?
The OGIO Fuse 4 is perfect for golfers requiring optimal course organization. Its specialized pockets and compartments make it a perfect choice for golfers carrying much gear.
Pros
Built with sturdy, sustainable materials
Extensive storage space
Fully adjustable
Cons
Priced at the higher end
Might be oversized for some users
Key Features
Constructed from eco-friendly fabric
15-way top
Includes 3 handles and multiple pockets
Large thermally-lined cooler pocket
Adjustable shoulder straps
Equipped with an umbrella holder
Rating: 4.5/5
The OGIO 2022 Woode 15 Cart Bag is our superior quality selection for 2023, having significantly improved my golfing routine. It offers plenty of storage and the assurance that everything stays in place, no matter how much you load up. Its ability to stand up to diverse weather conditions showcases its impressive durability.
Crafted from sustainable fabric, this bag is robust and environmentally friendly. It provides ample storage with a 15-way top, three handles, and several pockets. An added benefit is the large thermally-lined cooler pocket that ensures your beverages stay chilled throughout your game.
This bag features a fully adjustable strap system, offering comfort when carrying, even when filled to the brim. However, its size may be considered too large for some, and the high-end price could dissuade budget-conscious golfers. Despite these factors, given its durability and the range of features, the OGIO 2022 Woode 15 Cart Bag justifies its price.
Who's it for?
The OGIO 2022 Woode 15 Cart Bag is a great fit for golfers who value a large-capacity bag that combines sturdiness and sustainability. It's especially suitable for those spending substantial time on the course and need all their equipment conveniently within reach.
Pros
Specifically designed for women
Lightweight
Cons
Fewer color options
Smaller storage capacity
Key Features
Female specific shoulder straps
5-way top
6 zippered pockets
Towel loop
Adjustable shoulder straps
Umbrella holder
Rating: 4.6/5
The OGIO XIX Stand Bag 5 is our top pick for female golfers. It's specifically designed to meet women's needs, featuring female-specific shoulder straps for better comfort and fit. Its stylish, lightweight design is coupled with a 5-way top and six zippered pockets, providing ample space for essential gear.
The XIX Stand Bag 5 may have a smaller storage capacity and fewer color options than other models, but its overall performance and design tailored for women make it an excellent choice.
Who's it for?
The OGIO XIX Stand Bag 5 is ideal for female golfers who need a bag designed specifically for their comfort and needs. It's perfect for those who prioritize lightweight and stylish design in their golf equipment.
Pros
Hybrid design
Enhanced club organization
Ample storage
Durable for different weather conditions
Cons
Higher price
Felt quite heavy on course
Key Features
8-way Woode top
6 pockets
Large apparel pocket
Insulated water bottle pocket
Adjustable shoulder straps
Umbrella holder
Rating: 4.7/5
The OGIO Woode 8 Hybrid Bag is our top pick for versatility.
It was a breath of fresh air on the course. Loved the design, like having the best of both a cart and a stand bag. Super handy, and let's not forget stylish. It's got character, that's for sure.
This bag offers a unique 8-way Woode top that provides added protection and organization for your clubs. Its hybrid design makes it suitable for both cart use and walking the course.
The Woode 8 Hybrid is stylish and durable, and offers ample storage with six pockets, including a large apparel pocket and an insulated water bottle pocket. Its main drawbacks are its higher price point and limited color options. However, for the versatility it offers, it's worth considering.
Who's it for?
The OGIO Woode 8 Hybrid Bag is perfect for golfers who want a versatile bag for cart use and walking. It's ideal for golfers who need extra club protection and organization.
Pros
Exceptional club protection during travel
Modern and durable design
Cons
May be bulkier than other covers
Limited color options
Key Features
Large main compartment
Multiple grab handles
Smooth rolling wheels
Padded interior
Reinforced corners
Rating: 4.6/5
Ok, so this is not technically a golf bag, but it is a handy thing to own nonetheless! From personal experience, I can confidently recommend the OGIO Alpha Travel Cover to golfers frequently on the move. I used this on a recent golf trip to Portugal, and it protected my clubs nicely.
It was also easy to fit other items in its padded interior (golfers that travel know filling up the golf bag is a must to save on carry-on weight). The design combines durability with modern aesthetics, standing up to the rigors of travel while maintaining a stylish look.
It is plain black, so if you are not great at sighting your checked bags once you arrive, you might miss it. Especially in popular golf destination airports where conveyor belts are packed with them! However, the convenience and club security offered by the Alpha Travel Cover outweighs these minor issues, making it an excellent choice for traveling golfers.
Who's it for?
The OGIO Alpha Travel Cover is a great fit for golfers who often travel for their games and require reliable protection for their clubs. Its multiple grab handles, rolling wheels, and reinforced corners make it an ideal choice for golfers needing both practicality and protection during their travels.
What to Consider When Buying an OGIO Golf Bag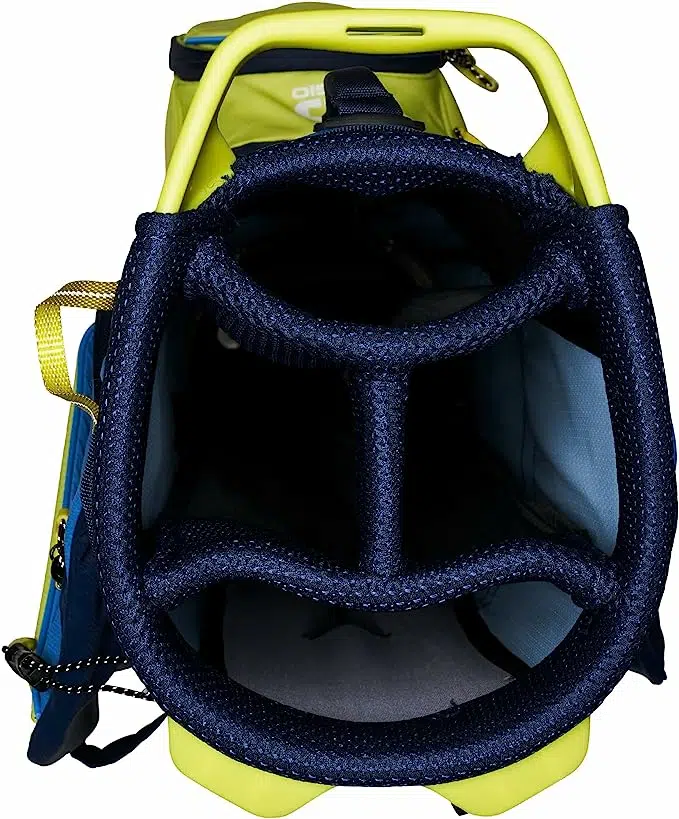 When it comes to purchasing the right OGIO stand bag, there are several factors to consider. The perfect bag for you largely depends on your individual needs and preferences.
Here are a few key features to consider:
Material
One of the first things to consider is the bag's material. Women's and men's OGIO golf bags are known for their durability, often due to the materials' quality. Many bags are crafted with rugged fabrics like Cordura Eco, which is known for its strength and environmental friendliness.
In addition, many OGIO golf stand bags feature weather-resistant or waterproof materials to protect your gear in all types of weather conditions.
Storage
The bag's amount and type of storage is another essential factor. Do you need a bag with multiple full-length dividers, or will a simpler layout suffice? Some golfers may require a bag with specialized pockets for items like rangefinders, coolers, or even a specific place for each club.
Weight
The bag's weight can significantly affect your comfort, especially if you plan on carrying it throughout your rounds. OGIO offers bags with varying weights, from lightweight stand bags to heavier cart bags. Remember that a lighter bag may compromise storage space or durability, so it's all about finding the right balance for your needs.
Strap System
If you plan on carrying your OGIO cart bag, you should pay attention to the strap system. Many OGIO carry bags have fully adjustable and padded shoulder straps for optimal comfort. Some bags offer dual straps that distribute weight evenly across your back, reducing strain during longer rounds.
Price
OGIO offers bags across various price points. While some premium bags may have a higher price tag, they often provide superior materials, more features, and better construction. On the other hand, OGIO also offers budget-friendly options that still provide essential features for a comfortable round of golf. Check out our definitive list of the best value golf bags.
Style
While function is crucial, style is a personal preference. OGIO golf cart bags come in various colors and designs, from sleek, modern aesthetics to more traditional looks. Some golfers prefer classic designs, while others look for bold colors or patterns. It's always worth considering whether they are easy to clean.
Remember, the best golf bag for you depends on your individual needs and preferences. Take the time to consider what features are most important to you before making your purchase.
Ogio Golf Bags: FAQs
What Does OGIO Stand For?
Interestingly, OGIO doesn't stand for anything specific. The brand was established in 1987 by Mike Pratt, who named it after a dune-buggy racing car he admired and wished to own. Over the years, OGIO has built a reputation for creating high-quality and innovative sporting and lifestyle bags, including golf bags.
Does Callaway Golf Own OGIO?
Yes, Callaway Golf acquired OGIO in 2017. OGIO's innovative designs and high-quality products attracted Callaway, a prominent golf equipment and apparel company. Since the acquisition, OGIO has operated as a subsidiary brand, producing various products, including golf bags, backpacks, and travel gear.
Is OGIO a Good Brand?
Absolutely, OGIO is considered a premium brand when it comes to golf bags and other sporting goods. They're well-respected for their innovative design, high-quality materials, and the durability of their products. OGIO offers various bags for different needs, from lightweight stand bags for the walking golfer to feature-packed cart bags.
Their bags often incorporate ergonomic features and well-thought-out pocket arrangements to improve the golfer's experience. They also cater to various price points, providing options for both budget-conscious and premium-seeking customers.
Final Thoughts
OGIO's wide range of golf bags offers something for every golfer. Whether you prioritize storage, price, design, or versatility, an OGIO bag fits your needs.
Our top overall pick, the OGIO Fuse Stand Bag impresses with its lightweight construction and high-end looks.
However, every bag on this list has unique strengths that may make it the perfect choice for your golfing needs.
Remember, the right golf bag can significantly impact your comfort and experience on the course, so it's crucial to consider your specific needs before purchasing. Here's to finding the perfect bag and enjoying many great rounds on the course!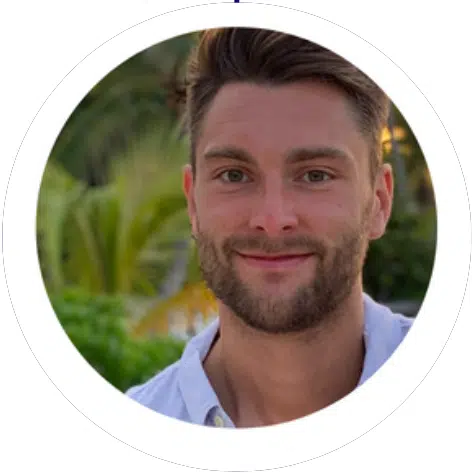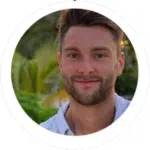 Sam has been playing golf for over 20 years and founded Impact Golfer. As a teenager, he discovered his love for the game using his grandad's clubs, including a wooden driver! As a golf obsessive, Sam plays whenever possible: regularly competing in matchplay with his friends and in tournaments at his local club. Fortunate to have a close friend who is a club pro– he has tested almost every type of equipment on the market (no freebies yet).