As much as I appreciate the lightweight construction of stand golf bags, they never offer sufficient storage. That is why I switched to a cart bag and a trolley, and I am satisfied with the decision. In this post, I focus on the Sun Mountain C130 Cart Bag, a popular choice for the average golfer.
The Sun Mountain C130 Cart Bag features 13 pockets for supreme storage space and 14 full-length dividers to separate your clubs. Plus, its Smart Trap System ensures that the bag remains fastened to a moving cart at all times.
This review hones in on the latest edition of the C130 bag. However, l will highlight the improvements from last year's edition. Before we start the review, you can find the best options on the market in our guide to the best golf cart bags.
Sun Mountain C130 Cart Bag 2023 Review
C130 Golf Bag Score
| | |
| --- | --- |
| Total Score | 90.5 |
| Star Rating | 4.5-stars |
| Storage | 94 |
| Top Dividers | 95 |
| Material | 89 |
| Price | 84 |
Pros
13 forward-facing pockets for optimal storage
2 velour water-resistant pockets for your valuables
Separate compartment for your putter
Smart strap system keeps the bag fastened to your cart
Specific pocket to store your rangefinder
Cons
Not low priced
Moderately heavy before you add your clubs.
Sun Mountain C130 Cart Golf Bag (2023)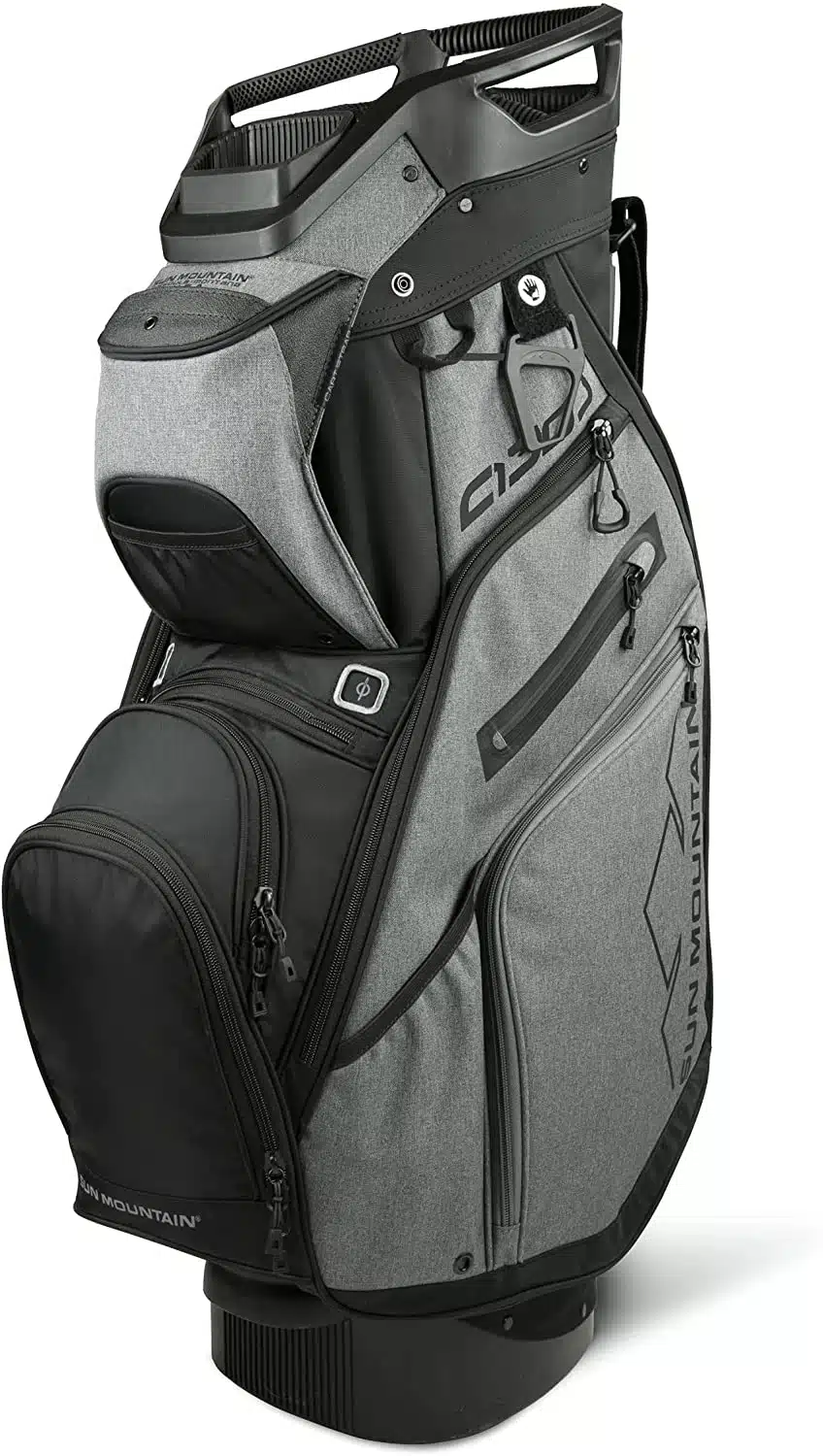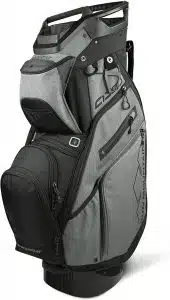 14-Way Top
The Sun Mountain C130 contains a 14-way top with full-length dividers. That means each club is assigned a compartment for superior organization, which reduces the risk of entangling. I have broken a couple of shafts while pulling clubs out of my bag, which is what a 14-way top prevents.
The new edition of the C130 cart bag includes a specific compartment to house your putter to give your moneymaker the care it deserves.
13 Pockets
If you are anything like me and prepare for any condition, you need a bag with ample storage space. The C130 provides thirteen pockets to store everything, including your apparel, beverages, valuables, and rangefinder. Not to mention your golf balls and tees.
The valuables pocket is velour-lined and water-resistant to protect your wallet, watch, or phone in the event of a rainstorm.
Additionally, the pockets are precisely positioned in a forward-facing direction to enable easy access on a cart. Instead of wasting seconds turning the bag around to reach the pocket, they are all within reach.
Smart Strap System
Sun Mountain installed the cart straps at the back of the bag to avoid any interference with pocket space. Since storage space is their unique selling point, they needed each pocket to be easily accessible.
By attaching the strap system to the back of the bag, it positions your short irons and putter at the front of the bag. Your woods are placed at the back. Therefore, your clubs remain in order, and you waste less time searching for them before each shot.
Adding to the tidiness and convenience of the smart strap system is that it is optimally secured to your cart. That means there is less risk of your bag unfastening while in motion.
Weight
Supreme storage space requires extra surface area, leading to additional weight. As a result, a cart bag is usually heavier than the average stand bag, and aren't made for carrying during a round.
The Sun Mountain Cart Bag follows this trend with a heavy construction. However, it is only 0.3 pounds heavier than the Sun Mountain C130 Stand Bag. That means that because of the optimized storage space, even Sun Mountain's stand bags are not the lightest creations.
Single Strap
Since this golf bag is constructed for use on a cart, it only comes with a single shoulder strap. While that suits carrying your bags from the parking lot to the clubhouse, it is not ideal for a full round of 18-holes.
Rain Hood
Sun Mountain has thrown in a matching rain hood with the bag to protect your shafts and clubheads from the wrath of inclement weather. The water-resistant hood repels water from the material, keeping your grips and shafts dry.
On several occasions, my grips have been so wet my clubs slipped out of my hand and flown further than my ball. Use the rain hood, look after your clubs and keep them dry.
Pros
Superb storage space
14-way top providers prevent your shafts from entangling
Smart strap system secures the bag to your cart
Forward-facing pockets enable easy access
Includes a matching rain hood
Velour-lined rangefinder pocket
Cons
It has a single strap, making it uncomfortable to carry
It is moderately heavy, ruling out carrying your bag for a round
Expensive
Both bags offer superb storage, and structure. Plus, they offer convenient access to the pockets and are superior in quality to their competitors. But they are priced at a premium.
Therefore, if you own a 2021 C130 Cart Bag, there is no need to acquire the new edition. However, if you do not have either, it makes sense to go for the latest edition, because it is newer and easier to find.
Factors To Consider Before Purchasing A Cart Bag
Top Divider
A top divider may not be the first consideration that comes to mind when looking for a new cart bag, but it should be. Your clubs live in your bag, and if they are cramped among the other clubs, it can damage their shafts and cause them to snap.
Top dividers are the apartments where your clubs fit in. I suggest finding a bag with as many as possible. Fewer clubs in one compartment reduce the risk of breakages and make it easier for you to add and remove them from your bag. The most dividers you will find in a golf bag are fourteen, one for each club.
Pockets
Storage space is the next feature to consider. After all, you are out on the golf course for several hours and need to carry certain items with you. Bags with fewer pockets may be lighter and easier to carry. However, it comes at the expense of storage space.
Think about what you need to carry on the course, and make sure there is sufficient space to accommodate each item.
Strap System
The strap system of a cart bag impacts how secure it is to the cart and your ability to access the pockets. If the strap system is weak, it can cause your bag to detach from the cart while moving, leading to them falling off.
In addition, if the strap hampers your access to pockets, it causes inconvenience. That means that you need to take the bag off the cart to open the pocket.
Sun Mountain Cart Bag: FAQs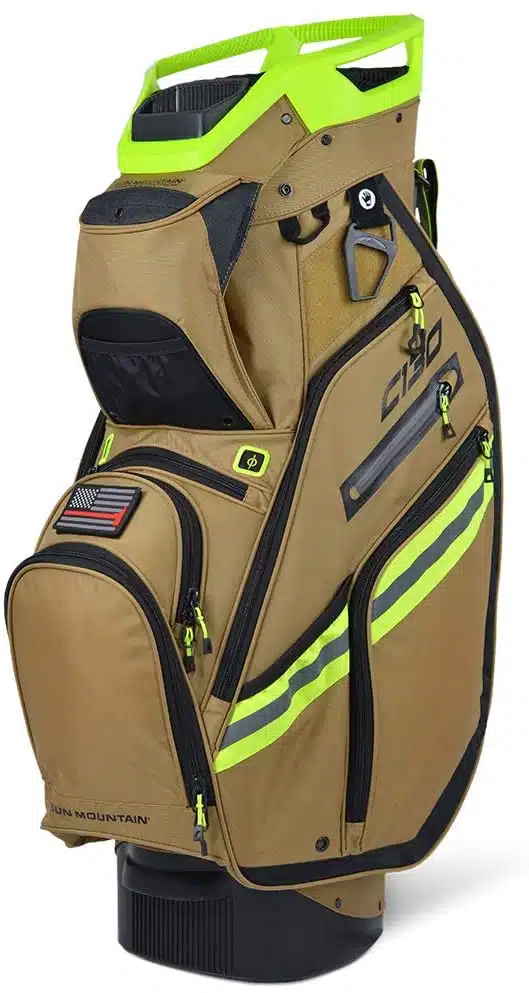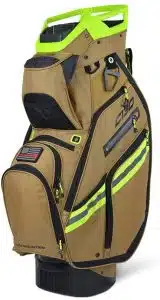 Are Sun Mountain Bags Good?
Sun Mountain golf bags are expertly constructed with quality materials and plenty of storage space. Although they fetch a premium price, their durability and features make them worthwhile golf bags.
Does Sun Mountain C130 Fit On A Push Cart?
Yes, Sun Mountain C130 is crafted to function optimally on a golf or pushcart. It fits securely to carts and offers hassle-free access to all pockets once mounted.
Why Are Sun Mountain Golf Bags Good?
Sun Mountain Golf Bags are popular because of their quality material, precise construction, and optimal storage space. Therefore, their golf bags are durable and offer maximum comfort, thanks to the ample storage space.
Who Does Sun Mountain Make Bags For?
Sun Mountain is no stranger to producing golf bags for top brands. The National Golf Foundation suggests that the producer has an OEM arrangement with Titleist, Cobra, Cleveland, Callaway, Scotty Cameron, and Bettinardi.
Furthermore, they are the official bag manufacturer of the President's Cup, Curtis Cup, and Walker Cup teams.
Alternative Options To The C130 Cart Bag
Pros
9 pockets
Innovative 14-way top dividers
Prevents your clubs from rattling while the bag is traveling
Three grab handles increase the convenience of removing the bag from your car
Includes a matching rain hood
Cons
The height of the bag makes it challenging to thread the strap through on a cart
If your shafts are lengthened, the clubs may stick out of the bag by a few extra inches
The Founders Club Premium Cart Bag provides the best alternative option to the C130. All thanks to its innovative top dividers and ample storage space.
Its molded 14-way top dividers keep your clubs separated to prevent shafts rattling while the bag moves.
Additionally, the bag is fitted with three grab handles to help you lift the bag out of the trunk of your car.
Furthermore, The Founders Club added 9 zipper pockets to the bag, providing sufficient space to store apparel, valuables, refreshments, balls, and tees. While it offers nowhere near the space of the C130 cart bag, it is ample storage for the average golfer.
Finally, the Founders Club Premium Cart bag is sold with a one-year warranty, protecting you from factory defects.
Overall, this golf bag is a marginally affordable alternative to the Sun Mountain C130 cart bag. It features innovative top dividers, sufficient storage space, and a 12-month warranty.
Pros
Light construction
9 pockets for storage
Affordable
E-trolley base system design keeps the bag secured to your cart
14-way top divider
Cons
Reduced durability
The dividers are of average quality, resulting in your shafts venturing into other compartments and becoming entangled
If the price tag on the Sun Mountain C130 Cart Bag is too much for your budget, an affordable alternative exists. The Eagole Super Light Cart Bag saves you a few dollars and ounces compared to its more expensive counterparts.
Like the Founder Club Premium, this bag contains nine pockets, except it is constructed with nylon for reduced mass. Plus, this bag is perfect for the weekend warrior as it fits eight 12-ounce bottles and four thin ice packs to quench your thirst on the golf course.
Moreover, this Super Light cart bag is kitted with three grab handles, increasing the ease of lifting off the floor or from your trunk.
The bag also features a specialized E-trolly base to ensure that it remains fastened to a push or golf cart at all times.
Ultimately, the lighter, more affordable Eagole Cart Bag is ideal for higher handicappers looking for a budget acquisition. It also works for those players, who may carry their clubs from time to time, and desire a lighter bag.
Pros
Reduces club crowding
7 oversize pockets for added storage
Water-resistant stretch pocket to protect your valuables in the rain
Compartment for an oversized putter
Includes a rain hood
Cons
Reduced pocket space compared to the Sun Mountain C130 Cart Bag
Cart strap covers the top pocket
The TaylorMade Select ST Cart Bag offers the average golfer an organized alternative to the Sun Mountain C130. Although the C130 features 14-way top dividers, it is beaten by TaylorMade, with 15. That means that this is the best bag to keep every club separated from one another.
Added to its 15-dividers are 7 oversized pockets, including a specific water-resistant stretch storage area, for your valuables.
Furthermore, the bag includes a cooler pocket to store your water bottle and keep it cold while you navigate the course.
Final Thoughts
Sun Mountain manufactures an impressive selection of quality golf bags that are durable and offer superb storage space. Their bags are priced on the higher end of the spectrum. But, it is challenging to find a company that consistently produces quality golf bags.
You may have never guessed, but this relatively unknown brand could have manufactured your Titleist, Cobra, or Callaway bag.
Our Sun Mountain C130 Cart Bag review showcases a quality golf bag built for optimal storage space, comfort, and durability.
For those searching for a reliable golf cart bag with ample space, the C130 is a worthy contender.
Maybe you feel a cart bag is no longer for you. In that case, take a look at best golf bags on the market. There are enough high-quality options to cater to every preference.