Ever wanted a convenient way to play music while out on the course? Well, now you can! The Sun Mountain Boom Bag is the first-ever cart bag with built-in speakers. It's also got plenty of room for your equipment and looks pretty damn stylish!
I love the idea of listening to my favorite tracks while relaxing out on the course with friends. But is it worth it to have your speakers a part of your bag? Or should you buy a separate golf bag and speakers?
Is this the right golf bag for you?
Read on to learn everything about the Sun Mountain Boom 5-Way Bag.
Sun Mountain Boom Bag Review
Pros
Built-in speakers
Very stylish
Plenty of space
Ventilated cooler pocket
Velour-lined valuables pocket
Cons
Speaker could be of better quality
Expensive
Rating: 8/10  
Verdict
The Sun Mountain Boom Bag has plenty of storage and is one of the best-looking bags. While the audio quality doesn't rival portable speakers all that well unless you're a die-hard music enthusiast, the audio quality is good enough for the course.
Sun Mountain Boom Bag Review
Specifications
Colors: White/black, black
Strap: Single
Number of dividers: 5
Material: Vinyl
Number of pockets: 12
Weight: 8lbs
5-Way Top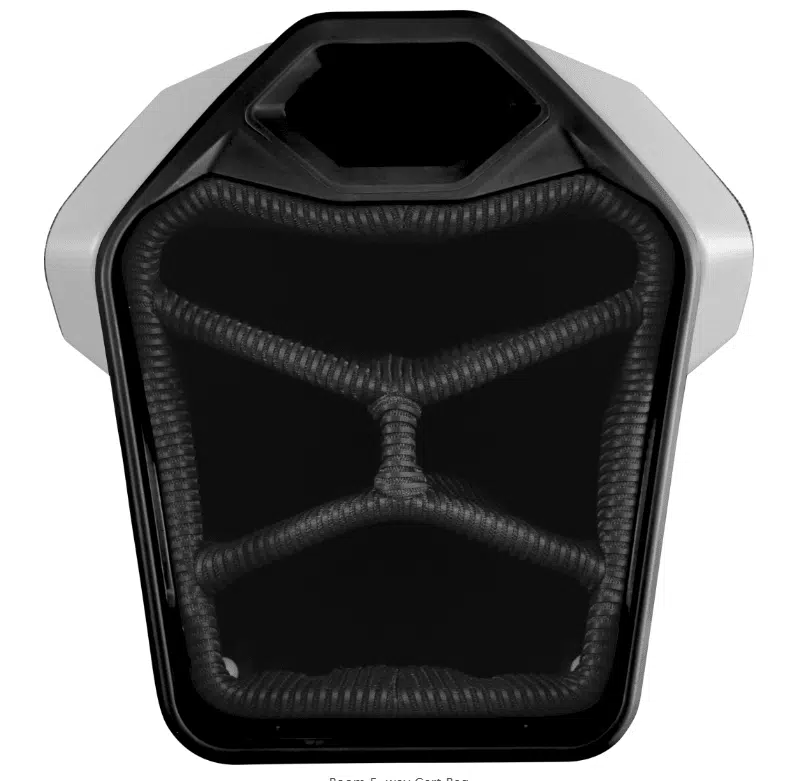 As the name suggests, this smart golf bag has five full-length club dividers. This isn't all that many, but given the 10.5" top, there is plenty of space for club access. If this is too much of an issue for you, you can always purchase the 14-Way Boom bag instead — more on that later.
12 Pockets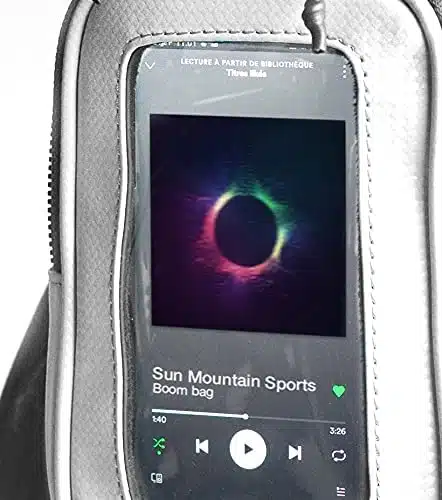 With a total of 12 pockets, you've got plenty of choices to keep all of your gear organized. Among these 12 pockets are a ventilated cooler pocket, an apparel pocket, a velour-lined valuables pocket, and a media pocket.
The media pocket has a clear vinyl screen, so you can easily change your music selection without taking out your phone. However, using facial recognition to unlock your phone is a little fiddly and rather impractical.
It's far more convenient to keep your phone in your pocket. Bluetooth has plenty of range, so you can instantly change the volume, skip songs or pause the music. It also means you have another pocket free for storage.
Overall, we feel the Boom bag golf has plenty of room, and it meets our needs on the course. The only time space may be lacking is if you have a lot of layers that you need to store — the pockets are not especially big.
Speakers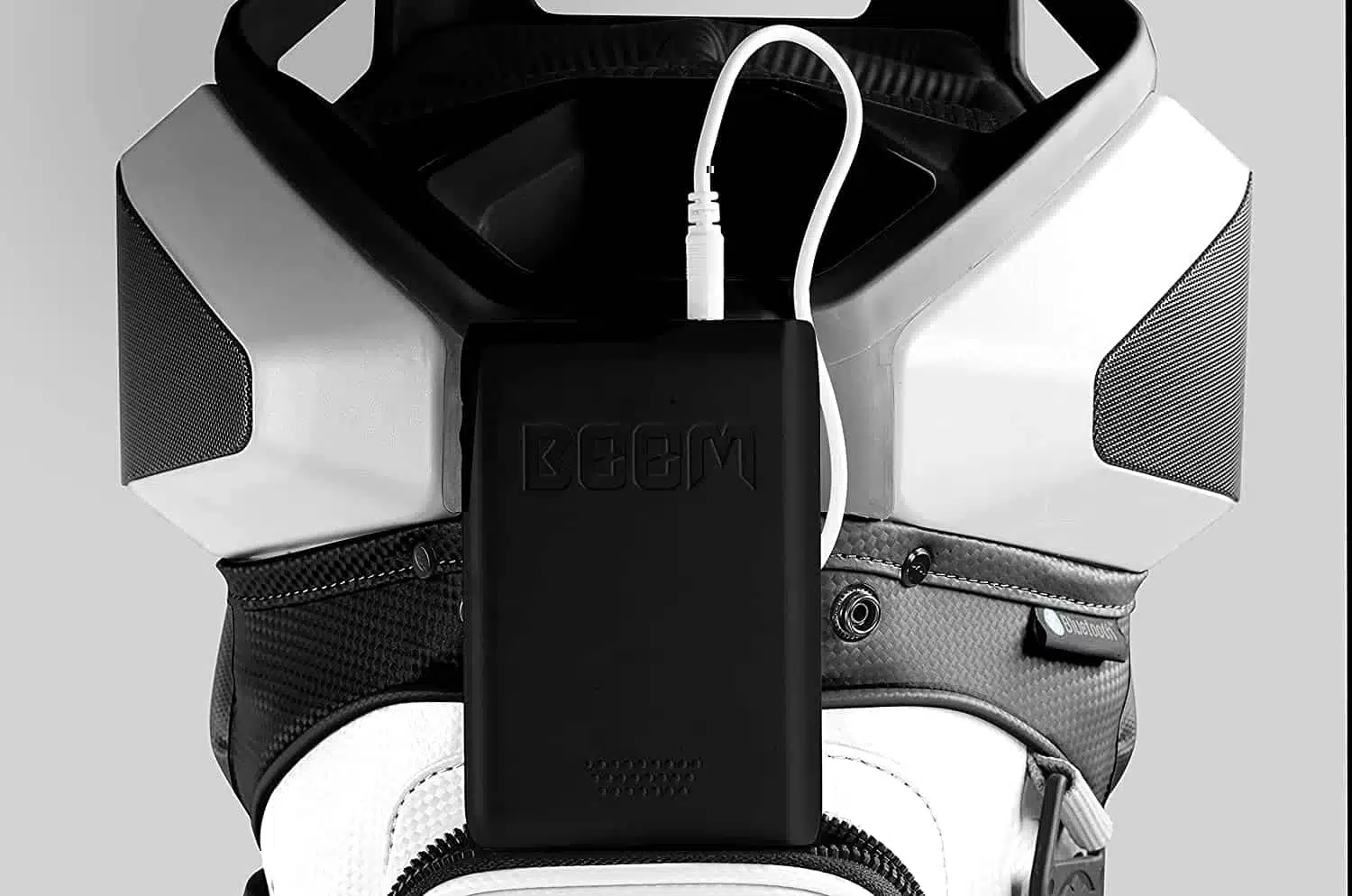 Onto what we really care about — the speakers!
They are installed in the top corners on either side of the bag with an abstract cover for protection. A feature we like about the speakers is that the audio playback is in a stereo format rather than mono. This helps to give your music more depth.
Included with the speakers is a Bluetooth unit with a battery. The Bluetooth unit directly plugs into the speakers with its color-coded wires. You can expect around four hours of play-time on a full charge which should be enough for most people.
However, if that doesn't meet your needs, you can simply purchase a portable battery to make up the difference. Most are affordable and small, so they can easily fit in your bag.
Audio Quality
Going in, we weren't expecting the best audio quality, as the boom bag golf bag is not all that expensive, and the top speakers cost hundreds of dollars or more. It turns out our expectations were pretty much right on the money. The audio quality is good, but nothing exceptional.
Remember that the Sun Mountain Boom bag is the first golf bag with Bluetooth speakers. And it doesn't make much sense to invest in highly expensive speakers given this fact. It inflates the cost and would likely price out most consumers.
What's more, with the increased cost, players are more likely to seek dedicated speakers rather than purchasing an integrated speaker bag.
Therefore we feel the Sun Mountain 5-Way bag is right where it needs to be in terms of audio quality in relation to price. It doesn't sound tinny and only really suffers when you crank up the volume to its peak, where its lack of bass becomes immediately apparent. The audio also loses quality at max volume, so we recommend ½-¾ volume as the sweet spot.
Style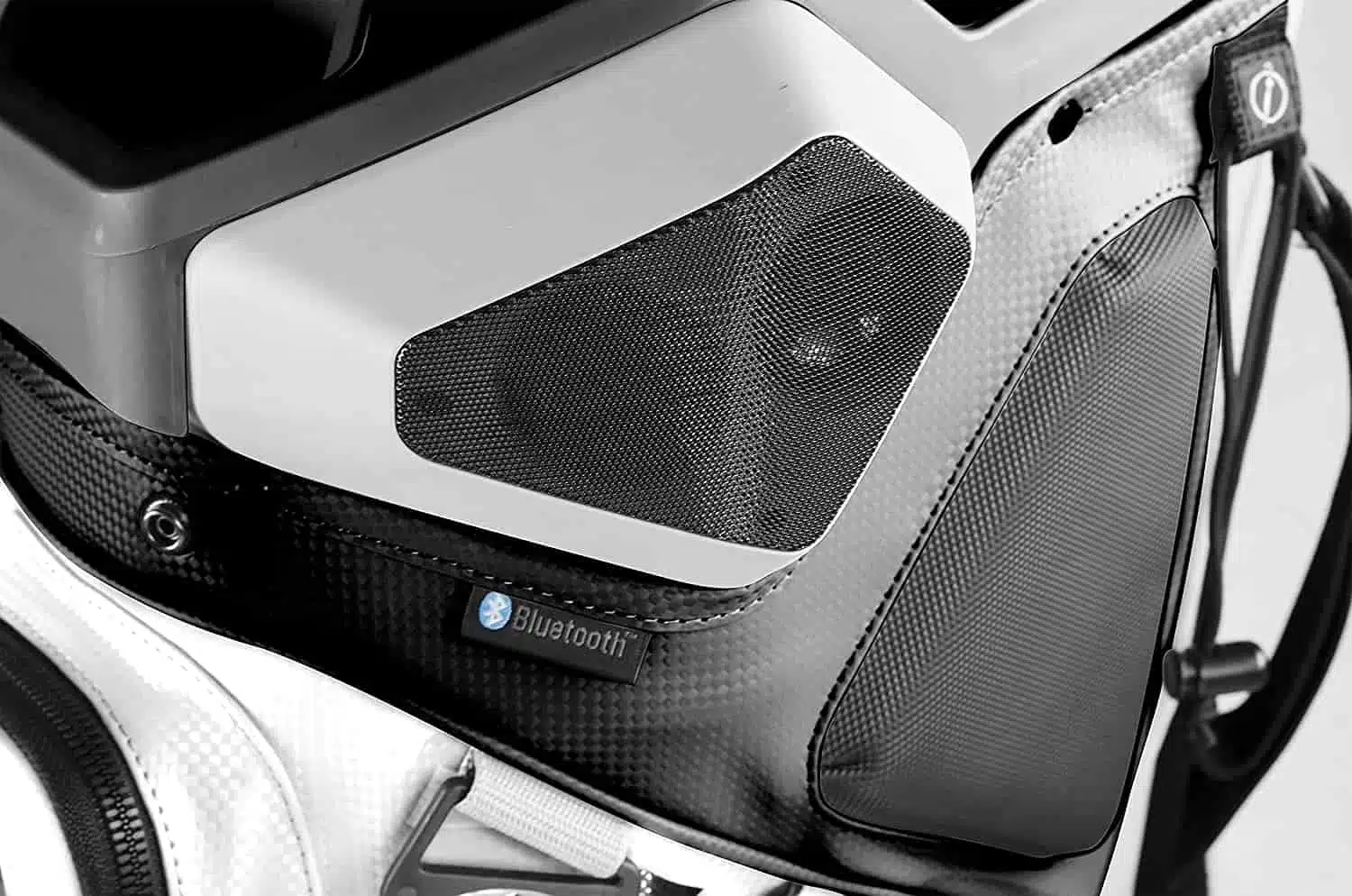 There's no doubt in my mind that besides the integrated speakers, the style of the Boom bag is one of its greatest strengths. It sports a futuristic-looking design with many abstractly shaped sections. I love the look of the speakers, and I think they complement the overall style of the bag rather nicely.
The color scheme is also very pleasing. White and black are hard to get wrong, and the Boom bag is the perfect example. You can also pick it up in all black, which also looks great. However, the white and black version is certainly my personal favorite.
Alternative Products
Sun Mountain Boom 14-Way Bag
Pros
Built-in speakers
14 full-length club dividers
Very stylish
Plenty of space
Ventilated cooler pocket
Velour-lined valuables pocket
Cons
Speaker could be of better quality
Expensive
As mentioned earlier, the Sun Mountain Bluetooth golf bag also comes in a 14-way version. This helps prevent your clubs from rattling into one another while carrying the bag.
As of the time of writing, it costs the same price as the 5-way Boom bag and is available in five colors: white/back, black, black camo atomic, navy blue camo ocean, and navy white red.
Sun Mountain C130 14-Way Bag
Pros
12 colors to choose from
14 full-length club dividers
13 forward-facing pockets
Dedicated putter compartment
Smart Strap system
Dedicated range finder compartment
Cons
A little expensive
Above-average weight
Another great alternative to the Sun Mountain Boom 5-Way bag is the Sun Mountain C130. Like the 14-way boom bag, it also has 14 full-length club dividers, but it excels in color options and space. In my opinion, you have a staggering 12 colors to choose from, all of which look great.
There is also a total of 13 forward-facing pockets. These are well-sized and not impacted by integrated speakers like the Boom bag is. So if you carry a lot of gear, it could be a great choice.
TaylorMade Select ST Bag
Pros
Inexpensive
6 colors to choose from
14 full-length club dividers
7 pockets
Dedicated putter compartment
Dedicated range finder compartment
Lightweight
Cons
A little expensive
Above-average weight
As my final alternative product, I recommend the TaylorMade Select ST bag. It's a great choice for players who want a bag that provides good value for money. It costs half that of the Sun Mountain Boom cart bag while providing similar functionality.
Included are various dedicated pockets and compartments, and you can separate up to 14 clubs for quiet and comfortable transport on the course. The TaylorMade Select ST is also lightweight at just 5lbs, which is a bonus.
Conclusion
The Sun Mountain Boom bag is a great all-around golf cart bag, but it's far from the best we have looked at. While we enjoy the integrated speakers, they are not a great enough reason to purchase the bag alone. The audio quality could be better, and including a sub-woofer would have gone a long way to make up for its flaws.
Therefore, you should only purchase this golf bag with speakers if you rate its performance across the board and are happy with paying a premium price tag. If you're not, perhaps instead consider checking out the Sun Mountain C130, it's a hugely popular bag with tonnes of space.
Related Articles
Nick Lomas is the founder of GolfSpan, an avid golfer, not quite a pro but has over 15-years of experience playing and coaching golfers from all over the world. His mission is to bring the golfing community a better experience then it comes to choosing the right golf gear, and finding the right set up for your game.