Golf bag manufacturers have really upped their game in recent years, with colors and designs to suit almost every taste. But for many people, the bags are missing a personal touch. That's where embroidery comes in.
You can get your golf bag embroidered with your name, a logo, a flag, or pretty much anything else you can think of. Generally speaking, it's not overly expensive, and you can secure yourself an embroidered golf bag without too much effort.
Let's explore how and where you can get your golf bag embroidered.
How to Get Your Golf Bag Embroidered
If you're looking to get an embroidered golf bag, you'll likely find yourself in one of these three scenarios:
You have a golf bag without a removable panel that you want to get embroidered locally.
You have a golf bag with a removable panel that can be sent out for embroidery.
You wish to purchase a pre-embroidered golf bag.
If any of these scenarios apply to you, here's what you should do.
Getting a Golf Bag Embroidered Locally
If your golf bag doesn't have a removable panel, you'll probably want to get it done locally – this is because the cost of shipping a golf bag will set you back at least $50, which is far more than the price of the embroidery itself. If you stay local, you can transport the bag yourself, and save a lot of time and money in the process.
A simple Google search will reveal golf bag embroidery locations in your area (make sure 'access to my location' is turned on). You can then take your bag to the shop and consult with them, face-to-face, about your embroidery ideas. This gives you the best chance of getting the exact design that you want.
Most shops will have the job done in a couple of days. Cost-wise, you could expect to pay between $20 and $80, depending on the size and complexity of the design.
Sending off a Removable Panel for Embroidery
Many golf bags now come with a removable panel, giving you a wider range of options for securing an embroidery.
Compared to shipping an entire golf bag, the cost of shipping a removal panel is minimal. There are several companies (see next section) that specialize in the embroidery of removable panels.
Typically, you will send your panel to them with an enclosed order form, detailing your design requests. The company will then complete the embroidery and send the panel back to you.
Pricing varies from company to company, but you can generally expect to pay a flat rate of $30-40. Of course, this goes up with larger and more complicated designs.
Ordering a Golf Bag that Comes with an Embroidery
If you want an embroidered golf bag, and also happen to be in the market for a new golf bag, you can quite easily kill two birds with one stone.
Many mainstream manufacturers now offer personal customization with embroidery. You should be able to upload your design to a mockup generator, allowing you to see how your design will look on the bag.
If you're set on purchasing a new bag, this is by far the easiest and most cost-efficient way of securing an embroidery. Since you're already purchasing a bag from the company, they'll just charge a bit extra for the embroidery. You won't have to be any extra for shipping, and your embroidered bag should be with you in less than a week.
Where Can I Get My Golf Bag Embroidered?
If you're looking to send your bag or panel off for embroidery, or are looking to buy a new custom bag outright, here are a few websites we recommend.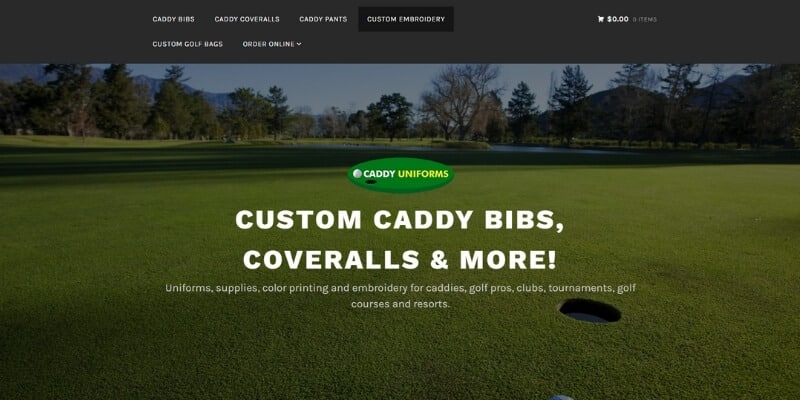 For a flat rate of $35, Golf Club Tournaments will embroider your removable panel.  They can also digitize your artwork into embroidery for $50. GCT also sells custom golf bags.
They are based in Palm Beach, Florida, with all orders handled in-house, so shipping costs and delivery times will vary depending on your location.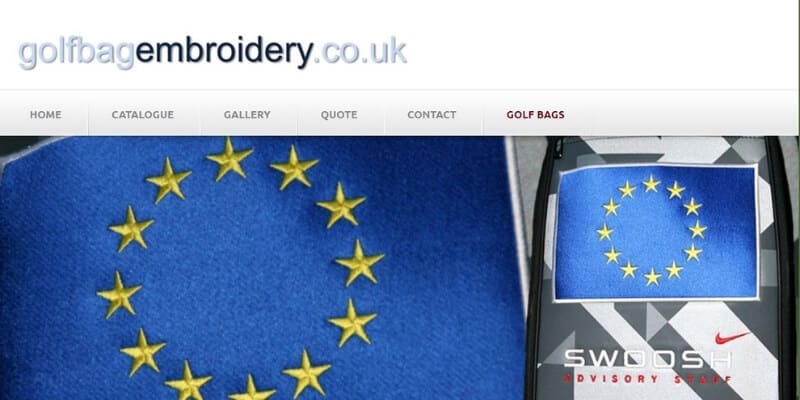 Specializing in high-quality bespoke embroidery, Golf Bag Embroidery will embroider your removable panel and send it back to you. They can do names, logos, badges, flags, and even cartoon characters.
There is a downloadable form for you to describe your requirements, and you can also email them images of your designs. They will provide you with a quote based on the size and complexity of the design.
My Custom Golf Bag offers fully customizable golf bags. You can have your name or logo embroidered, and you can even choose the colors of the bag.
The process is simple: you choose a bag model, select your color preferences, and email your embroidery designs for approval. If you are not sure exactly what you'd like, their team of expert designers will help to create something that's right for you.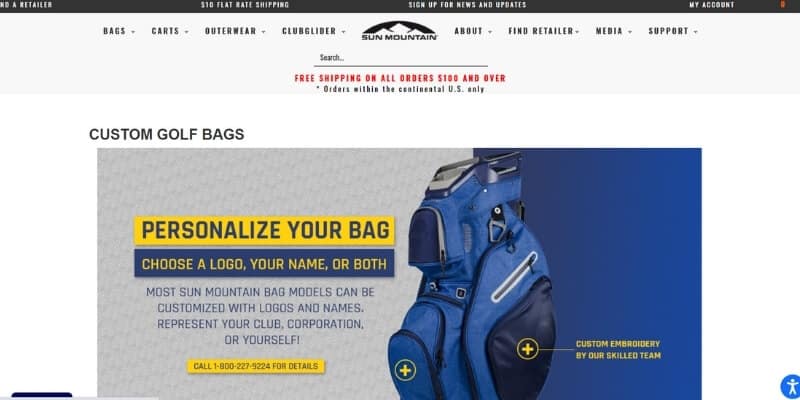 Sun Mountain offers over 40 unique golf bag designs, most of which can be customized with your own embroidery design. They specialize in logos, but you can also send your name or anything else that represents you as a player. Their process is fluid and professional, and the results are really impressive.
They are currently offering free shipping for any orders of $100, so it's a great time to pick up your unique, quality, personalized golf bag.
Golf Bag Embroidery Design Ideas
Part of the fun of getting your golf bag embroidered is coming up with the design. However, it's not always easy to figure out exactly which design is right for you. Most embroidery retailers will gladly assist you in creating your design, but if you'd like to come up with something yourself before making any commitments, here are a few tips to get you started.
The average player will simply have their name embroidered. The stitching can all be done in one color, or it can consist of multiple colors. You'll also have a number of different fonts to choose from. Play around on a Word or Google Doc to find your ideal coloring and font.
A flag, whether it be national or local, can be a great embroidered addition to any golf bag.
Don't be afraid to push the boat with a touch of artistic flair. Go ahead and draw some pictures – some retailers will be able to digitize it and have it embroidered. Or, you could just pull something from the internet. Cartoon characters, for instance, have found their way onto many a golf bag.
Pinterest is a goldmine of embroidery ideas. Browse to your heart's content – you're sure to find something that really stands out to you.
Final Thoughts
Having your bag embroidered can be a great way of personalizing your golfing outfit. If you are looking to embroider your current bag, it's probably best to start local. Inquire at your club, or locate some nearby shops – there's bound to be someone nearby who can carry out embroidery.
If you have a removable panel, you can look further afield. Sending out your panel is easy and cheap, and you could have your dream embroidery back to you in no time.
But perhaps the easiest method of attaining a golf bag embroidery – if your budget allows – is just to buy a new bag, and request the embroidery upon order. This means that you won't have to pay for any extra shipping, and you'll be able to see exactly how the embroidery will look on the bag as a whole.
Have fun!
Related Articles
Nick Lomas is the founder of GolfSpan, an avid golfer, not quite a pro but has over 15-years of experience playing and coaching golfers from all over the world. His mission is to bring the golfing community a better experience then it comes to choosing the right golf gear, and finding the right set up for your game.