Golf equipment development does not stop, and the golf ball is an area where vast sums of money are spent.
Manufacturers are spent millions trying to produce a ball that flies further and stops on the greens. Since the R&D is expensive, the manufacturers must try to recoup their costs. This means you're going to pay more. And some golf balls can get very expensive.
What are the most expensive golf balls?
Each of these premium balls have different pros and cons, and the right ball could help take your game to the next level. Read on to review most expensive golf balls on the market and the characteristics that make them unique in performance and price.
Featured Top 3 Most Expensive Golf Balls 2023
Tips On How To Find Deals On The Most Expensive Golf Balls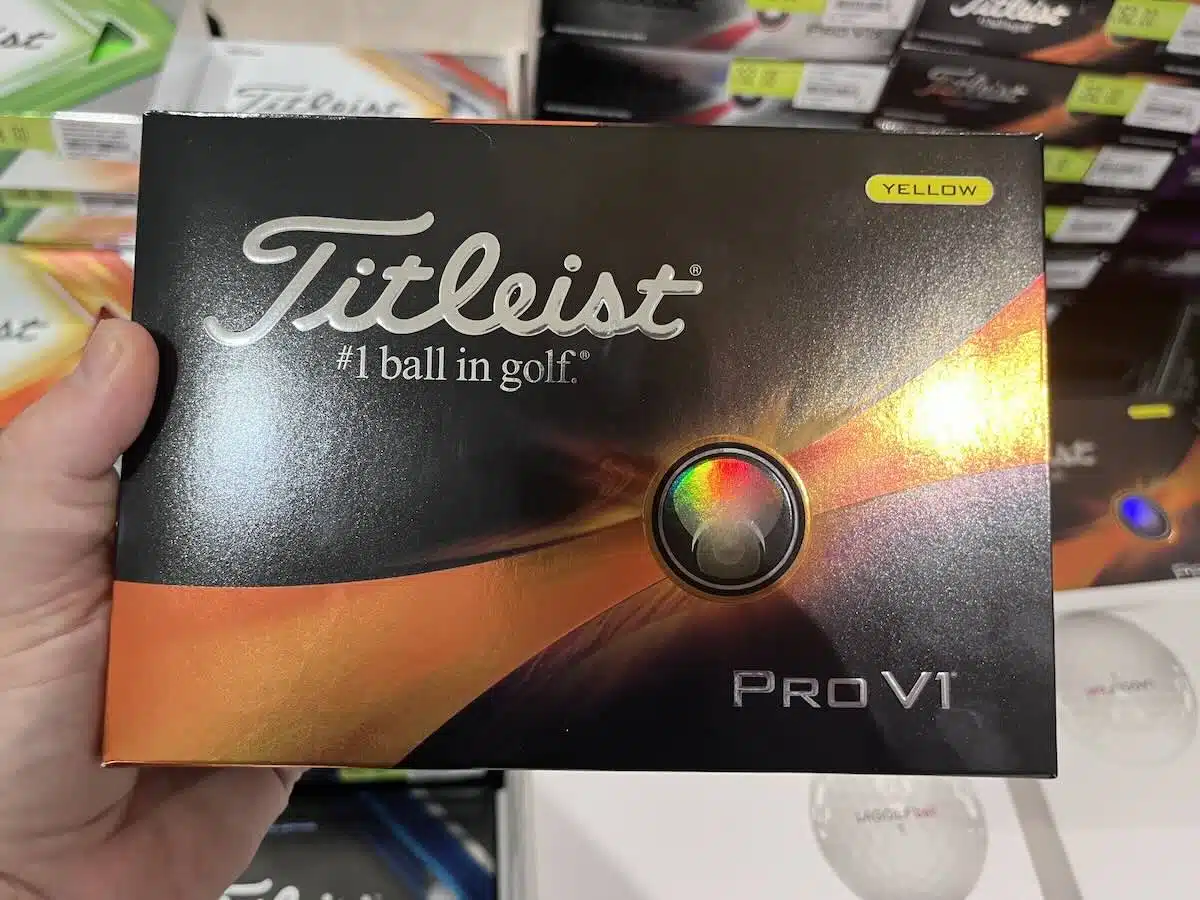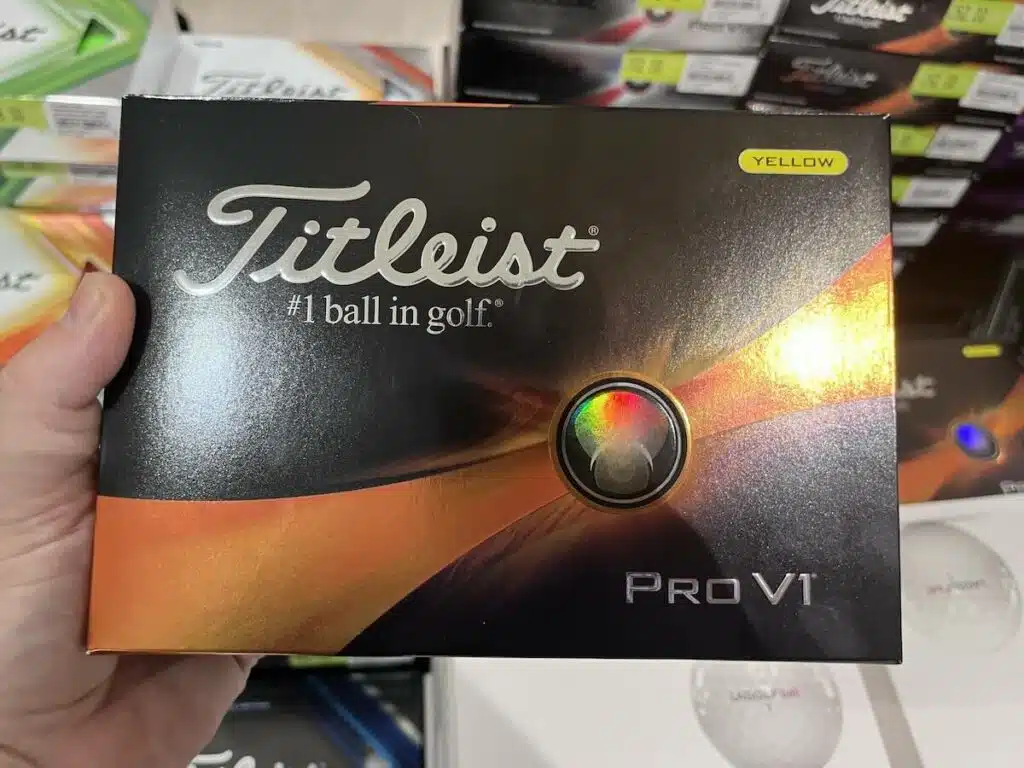 I'll never make the PGA Tour but I enjoy playing the Pro V1s and feeling like a pro. This ball is the most popular ball on the PGA Tour.

Clint McCormick, Class A PGA Professional and Degree in Golf Management
Amazon has some great deals on balls. However, if you're willing to venture off the beaten path, you can find deals out there on these same balls.
Second Hand—Many companies gather lost balls, refurbish them and then sell them in bulk through their website. Many of these sites grade their balls; the highest-grade golf balls are barely distinguishable from the real thing.
Yard/Garage Sales—You can find some diamonds in the rough at these sales and even online through Facebook marketplace or other classified style sites. Often people are left with golf gear from older relatives, and you may strike gold.
Know A Pro—While you may think freebies are only for the pros you see on TV, you're wrong. Club pros all around the country get balls for free as promotional products. Befriending a pro could benefit you in more ways than one if you play it cool. You could also just become a pro to reap all the rewards yourself.
Most Expensive Golf Balls Over $50
Cost Per Dozen: $74.94
Why They Are So Expensive: A distance ball that also offers control to lower-handicap players.
The most expensive Callaway golf ball is the Chrome Soft X, and it's the 2nd most popular golf ball used on the PGA Tour. About 11% of the tour players put it into play regularly. Phil Mickelson has always been a great ambassador for Callaway.
Watching the way he generates spin into the green has his fellow professionals in awe. Callaway uses a dual-core construction with the inner core softer than the outer core. A 95 compression allows players with controlled but powerful swing speeds to gain outstanding performance from the ball.
The durable, resilient, and thin cover material is built to increase ball speed, with a low spin rate on long shots and high spin on shots around the greens. The 4-piece construction with the Hex Dimple Design Pattern ensures stable flight on all shots.
Pros
Very similar to the other valuable golf balls' performance
Soft cover material for increased feel and control around the greens
95 compression good for most golfers
Durable cover
Cons
Slightly shorter than the TP5 and Prov1
[Check Price & See User Reviews]
Cost Per Dozen: $68.04
Why They Are So Expensive: This Japanese company doesn't cut any corners and has created an excellent carry distance/feel golf ball, which is rare.
Honma is known for producing top-tier golf equipment with an exceptional eye for detail. Their irons are also some of the most expensive irons and for good reason. Everything that comes off this Japanese production line is carefully inspected before being put on the shelves.
Honma employs all of its knowledge and expertise to produce incredible distance as one of the most expensive golf ball brands. The 2-piece design keeps it simple on the inside but uses advanced dimple technology to reduce drag and keep your tee shots in the air for longer.
The cover technology alone is a soft ionomer material that is very useful around the greens. For a distance ball, this is surprisingly soft and feels great with delicate chip shots on fast greens.
Pros
2-piece design maximizes energy transfer
High-repulsion core increases ball speed no matter your swing speed
Optimized dimple design
Soft and thin ionomer cover for feel around and on green
Cons
Challenging to work the ball left and right
[Check Price & See User Reviews]
Cost Per Dozen: $64.99
Why They Are So Expensive: TaylorMade has arguably the most advanced R&D department, so you can bet these are the latest in high-tech golf ball technology. And they're monogrammed.
The TP5x model cover is slightly harder but performs better for wedge spin and approach shots due to the softening of the urethane cast cover. The TP5x is still their longest tour ball on the market.
The unique 5-layer tour ball uses a particular construction method with four increasingly stiff layers wrapped in cast urethane. This allows TaylorMade to optimize both spin and distance.
This ball is used by countless tour pros and is the number one competitor to the Pro V1. What pushes these golf balls to the top of the most expensive golf balls list is that they are yellow and can be ordered with a custom monogram.
This makes an excellent present for your boss or possibly in-laws, assuming they are golfers.
Pros
Fastest ball in TaylorMade stable
Improved spin around the greens
Lower spin on full iron shots
Higher compression for faster swing speeds
Cons
[Check Price & See User Reviews]
No products found.
Cost Per Dozen: $54.99
Why They Are So Expensive: They are a tour-level ball and come with a fun pizza or mustache emoji printed on them—I'm being serious.
TaylorMade recently revamped their TP5 and TP5x golf balls after input from their touring pros who were switching between the two on different courses. Originally the TP5 was their softest tour ball, with the TP5x having a slightly firmer feel.
The TP5 has an 85 compression against the 97 of the TP5x. Slower swing speeds and high handicappers are better off playing the softer TP5 to obtain maximum performance. The softer cast urethane cover is ideal for slower speeds, and the larger, more reactive core delivers ball speed.
These will make it easy to identify your ball from others since not many will have the same logo printed. This is TaylorMade's attempt at attracting a younger, more carefree golf clientele.
If you like the TaylorMade TP series, you can get the same ball without the design features.
Pros
Low compression
5-layer technology for maximum performance
New larger reactive core for increased distance
Soft urethane cover maximizes spin
Cons
[Check Price & See User Reviews]
Cost Per Dozen: $49.95
Why They Are So Expensive: As the most successful ball in the history of golf, you pay a lot for the name, but it includes a superior product that will help all mid-low handicap golfers.
Titleist is the leading golf ball played on the PGA Tour and has carried this mantle for many years. Many believed that both the balls should not be changed for fear of adding spin, which reduces distance.
Titleist has revamped both balls from core to cover and increased performance by adding new technological advancements to the multilayer balls. The new ProV1 is the most expensive Titleist golf ball and offers the best combination so will suit most golfers.
Speed, spin, and feel with a mid-high, penetrating ball flight, high short game spin, and low long game spin feature in the ProV1 ball. The very soft feel is ideal for putting.
Pros
Speed, spin, and a very soft feel
Penetrating trajectory
Low long-game spin
High short-game spin
Suitable for most golfers
Cons
Not as firm as the ProV1x
[Check Price & See User Reviews]
Cost Per Dozen: $49.95
Why They Are So Expensive: If you want the best, you have to fork over a little extra, this version of the Pro V1 is no different, but you get what you pay for with this golf ball.
The new ProV1x has a slightly firmer feel, a fast high flight, and more spin than the ProV1. Players seeking a higher trajectory should put this ball into play.
Aside from that, it carries all the same technological advances that the Pro V1 has. It's also available in different colors and with various logo options. You can also order it with custom monograms as well if you want to spend a little more.
It's hard to switch away from these once you've started using them. They have a unique feel that other companies have only attempted to recreate. Pro V1's closest competitors include TaylorMade TP5 and Callaway Chrome Soft X.
Pros
Firmer feel
Higher trajectory
Increased spin where needed
Ideal for players seeking a higher flight pattern
Cons
Not suitable for players requiring a lower penetrating flight
[Check Price & See User Reviews]
Cost Per Dozen: $49.99
Why They Are So Expensive: They are made with the same technology as more prominent brand names, and the performance proves it.
They are engineered specifically for golfers with a moderate swing speed below 90 mph. The 70-compression, premium 3-piece construction has an extremely soft feel off the club.
Its FastLayer core produces maximum distance and optimized performance around the greens. Reduced driver spin mutes hooks and slices for straighter flight, and more fairways hit.
This is unexpected from XXIO, which is known for more reasonably priced products, but they are fair in the pricing of this ball. It has a premium feel and should be considered along with the bigger brand names.
It may not be as glamorous as the others, but if you have trouble getting the most out of a Pro V1 or TP5, look to the XXIO Eleven to make the difference.
Pros
Soft feel and good greenside spin
Premium 3-piece construction
FastLayer core maximizes distance
Reduced side spin for better control on irons and the driver
Engineered for moderate swing speeds
Cons
No good for fast swing speeds
[Check Price & See User Reviews]
Cost Per Dozen: $49.97
Why They Are So Expensive: If Tiger Woods used your golf ball, you'd charge a bit more too.
Some years back, Bridgestone golf balls were introduced to the market but became more prominent when Tiger Woods put the ball into play on the PGA Tour.
The Tour ball matches most of the other premium brands, and Bridgestone has developed different characteristics in the Tour series to suit all levels of golfers. Bryson DeChambeau assisted with the development of the Tour B X ball that caters to players with swing speeds above 105 mph.
A new Reactive urethane cover helps decrease spin on long shots while maintaining short-game spin around the greens. Tiger Woods helped develop the Tour B XS to match his game.
The Reactive urethane cover is slightly softer, offering increased spin around the greens, while the Gradational Compression core ensures distance off the tee. The Tour B RX has a lower compression and will suit golfers with a swing speed below 100 mph.
Pros
A choice of Tour quality balls to match your game
Play the ball that Bryson and Tiger play
Short and long game spin where wanted
Soft feel on and around the greens
Cons
Too much choice can be confusing
[Check Price & See User Reviews]
Cost Per Dozen: $44.99
Why They Are So Expensive: It's made by a Japanese company and is played by many PGA Tour professionals.
Srixon golf balls are played by many of the top golfers on the PGA Tour who just like the ball's feel, sound, and spin characteristics. Brooks Koepka and Hideki Matsuyama play a Z-Star prototype.
The Srixon Z-Star is a 3-piece ball with a thin elastic urethane cover that allows the grooves to bite into the ball for maximum wedge spin. It has a soft feel and mid-flight trajectory on long shots.
If you need more distance, try the 4-piece Z-Star XV, a distance ball with a soft inner core and a stiffer outer core. This promotes more speed off the driver and long irons. The higher launch characteristics will assist those players who currently hit the ball with a low trajectory.
Pros
A choice to play the ball that best suits your game
Soft feel for greenside control
Mid or high-launch options
XV matches other premium balls for distance
Cons
Srixon offer many other balls in their range that perform without the price tag
[Check Prices & See User Reviews]
Cost Per Dozen: $39.99
Why They Are So Expensive: These are the longest and most ecologically friendly balls, so you never have to feel bad about losing them in the woods ever again.
The Dixon Fire golf ball is best for players with a swing speed of 100mph. It does not suit any speed below this.
Dixon balls claim to fame is that it has a recyclable cast urethane cover and green core, making it the only Eco-Friendly ball. The ball has a firm to medium compression of 90, with a medium-level trajectory.
The 318 Tour-Precision dimple pattern is aerodynamic, and the flight is stable, with high spin capabilities around the green. The cover deteriorates fairly rapidly.
Pros
Multi-layered and eco-friendly
Stable 318-dimple pattern for good distance
Soft feel off the clubface
Spins around the green
Legal to use by USGA standards
Cons
[Check Prices & See User Reviews]
Why You Should Trust Us
Golfspan is independent and not pressured by manufacturers to recommend products. We were not paid for the reviews in this article. Our team has over 100 years of golf experience, has spent thousands of hours reviewing golf equipment, and has hand-picked these golf balls. We may earn an affiliate commission when you purchase something through our retail links.
FAQ
What Is The Most Expensive Golf Ball?
The most expensive golf ball in the world that you can play with is the Callaway Chrome Soft X right now. It provides exceptional performance and has a tour feel to it like no other. Of course, other golf balls are more expensive, but these are golf artifacts or ornaments used to decorate a home or office.
What Is The Rarest Golf Ball?
The rarest golf ball is Allan Robertson's Feather Golf Ball, which also happens to be the world's most expensive golf ball. This is a model of what was called a 'feathery' because the most valuable golf balls used to be woven leather sacks filled with compacted feathers. Allan Robertson's ball is especially rare because he was known as one of the best players of his time, and this particular ball had his name on it and was said to be unplayed.
How Much Does The Tiger Woods Golf Ball Cost?
The Tiger Woods golf ball costs $49.99 per dozen. He uses the Bridgestone Golf 2022 Tour B XS Golf Balls, which he personally helped develop. These aren't for everyone, as you can imagine, but the good news is that Bridgestone has the most extensive line of golf balls available. Their comprehensive fitting process helps golfers get a golf ball that matches their game perfectly.
Final Thoughts
The golf ball market is jam-packed with technology, and finding the right golf ball to put into play can be a considerable challenge. The most expensive golf balls are sometimes the answer to playing your best on the course.
Discovering a slightly less expensive golf ball in the leading brand's range should be an enjoyable exercise that will save you money and improve your all-around game. If you play in coastal or windy conditions, find a ball like the Callaway Chrome Soft X, which has a penetrating flight but can still spin around the greens.