You probably thought that Maxfli was not a golf company anymore. We all remember seeing our favorite players, such as John Daly, sporting a Maxfli hat, but it's been a while since we've bought any equipment bearing that name.
Well, the drought is over, and we are happy to see them reemerge with some amazing golf balls.
We know how necessary all golf equipment is to shoot lower scores, but your ball often gets overlooked. Don't take this for granted; ensure you have a ball that suits your game.
Maxfli makes that easy by offering three models to help all golfers, regardless of their handicap.
Take advantage of these new balls offered by an older company that knows what they are doing and is here to help you at a very fair price point.
Featured Maxfli Golf Balls
Maxfli Tour Gloss White Golf Balls—Best for Low Handicappers
Maxfli Softfli Gloss White Golf Balls—Best for Slow Swing Speeds
Maxfli Straightfli Gloss White Golf Balls—Best for Beginners
3 Best Maxfli Golf Balls Reviews
Distance: ★★★★☆
Spin:★★★★☆
Feel: ★★★★☆
Price: ★★★★★
Optimal Handicap: 0-12
Colors: White, Yellow
Pros
Two models offered to fit your game perfectly
Designed with same techniques as major golf ball brands
Price is much lower than bigger brands
Urethane cover provides excellent feel on short shots
Available in yellow
Cons
Durability is a bit suspect
Maxfli may not be mentioned in the same breath as Titleist or TaylorMade, but when it comes to golf balls, that might be changing. The secret is out on why Pro Vs perform well, and other companies such as Maxfli are figuring out how to recreate that performance but for a much cheaper price.
Maxfli Tour balls come in two variations; tour and tour X. Similar to Titleist, there are many differences but let's start with the similarities.
These are Maxfli's only balls that have a urethane cover. This premium material gives you spin around the greens without sacrificing too much distance off the tee.
Both style balls come with the same amount of dimples and dimple pattern. This hasn't changed much from the previous Maxfli Tour models and is almost identical to the Pro Vs. In fact, Maxfli balls are made at the same factory with the same dimple mold that Pro Vs use.
Both have an improved alignment line that helps with putting and is bold enough to help with lining up your tee shots. The differences lie in the inside of these golf balls;
The Maxfli Tour has not changed much from its previous model but has a larger core. This helps to produce more stiffness and, in turn, more distance on all shots.
A thinner mantle was introduced to counter the larger core, which provides just enough softness to keep your ball on the green when approaching.
The Tour X model is a 4-piece design compared to the 3 pieces used for the Tour model. This dual mantle design is now typical amongst big brands such as Titleist Pro V1x and Srixon Z-Star.
The 4-piece design means it has higher compression and will provide more distance to golfers with higher swing speeds when compared to the Tour model. The X model also produces less spin, benefiting those who are erratic with their driver. The reduced spin will soften hooks and slices to keep them in play.
Distance: ★★★☆☆
Spin: ★★★★☆
Feel: ★★★★☆
Price:★★★★★
Optimal Handicap: 10-25 (slow swing speeds)
Colors: Matte/Gloss White, Matte Green, Matte Pink, Matte Orange, and Translucent
Pros
Ultra-low compression
Soft ionomer cover
Provides excellent response on greens
Helps low-swing speed players achieve more distance
Available in different colors and in bulk
Includes bold alignments stamp
Cons
Not good if your swing speed increases
The Maxfli Softfli is the best Maxfli golf ball for slow swing speeds because it offers the lowest compression of any Maxfli ball and one of the lowest in the entire golf ball marketplace.
Low compression is useful to those with slow swing speeds because it helps to shrink the ball more with less energy. It's also a massive advantage for those who frequently miss the sweet spot. This style of ball will still travel great distances without optimized swings.
The soft cover also aids in distance because it adds spin, which helps launch the ball higher. If you have a high swing speed, then your shots will balloon out of control with this ball. But those with slow swing speeds will see the ball hang in the air for a bit longer.
To counter the softness, the outer cover of this 2-piece ball is made from ionomer. While not as high-quality as urethane, it still provides amateurs with all the feel they will need around the green.
If you're switching from a urethane ball, you may notice a difference when putting. An ionomer cover will provide more rigidity and may cause your first few putts to go long. Use this to your advantage by shrinking your putting stroke and your margin for error.
These also come with the new and improved alignment stamp. This makes it a lot easier to line up putts and even tee shots. Many companies include this now, but none are as bold and visible as the Maxfli version.
Pick these up for a very competitive price, and they are also available in a 48-pack and in different colors.
Distance: ★★★★★
Spin: ★★☆☆☆
Feel: ★☆☆☆☆
Price: ★★★★☆
Optimal Handicap: 20+
Colors: White, Matte Orange, and Matte Green
Pros
Provides maximum distance
New dimple design keeps shots on line
2-piece construction also increases distance
Medium compression to suit all beginners
Ionomer cover provides a bit of feel around the greens
Cons
Not meant for fast greens
To round out their line of golf balls for 2023, Maxfli is offering this distance ball to those who need it. While this is great for slow swing speeds, it will benefit beginners more due to their need for more consistency.
A classic 2-piece design gives this ball the power to travel great distances without optimal strikes. Similar to a range ball, the firm core is excellent at absorbing the energy being transferred from your club head.
Helping to produce more distance is a revamped dimple pattern. By adding more dimples, Maxfli is able to reduce drag and help keep the ball in the air longer. These 374 dimples also help keep the ball on a straighter line.
Due to this setup, skilled players may not like it because of its resistance to workability. If you like to manipulate the ball flight in both directions, this ball will not work for you.
As we all know, golf is more than just hitting booming drives. In light of this, the cover of the Straightfli is made from a soft version of ionomer. This is what separates this ball from a pure distance ball.
Around the greens and on the putting surface is where you will be able to take advantage of this unique cover. However, as expected, it's not as soft as they make it sound.
This is what makes it perfect for beginners, and it also has the high-vis alignment stamp. Having this helps prevent beginners from developing bad habits from the start.
Other Maxfli Balls
Maxfli offers a few other options that are worth noting. These are meant more for practice or if you're a super beginner and are just getting started on inexpensive courses.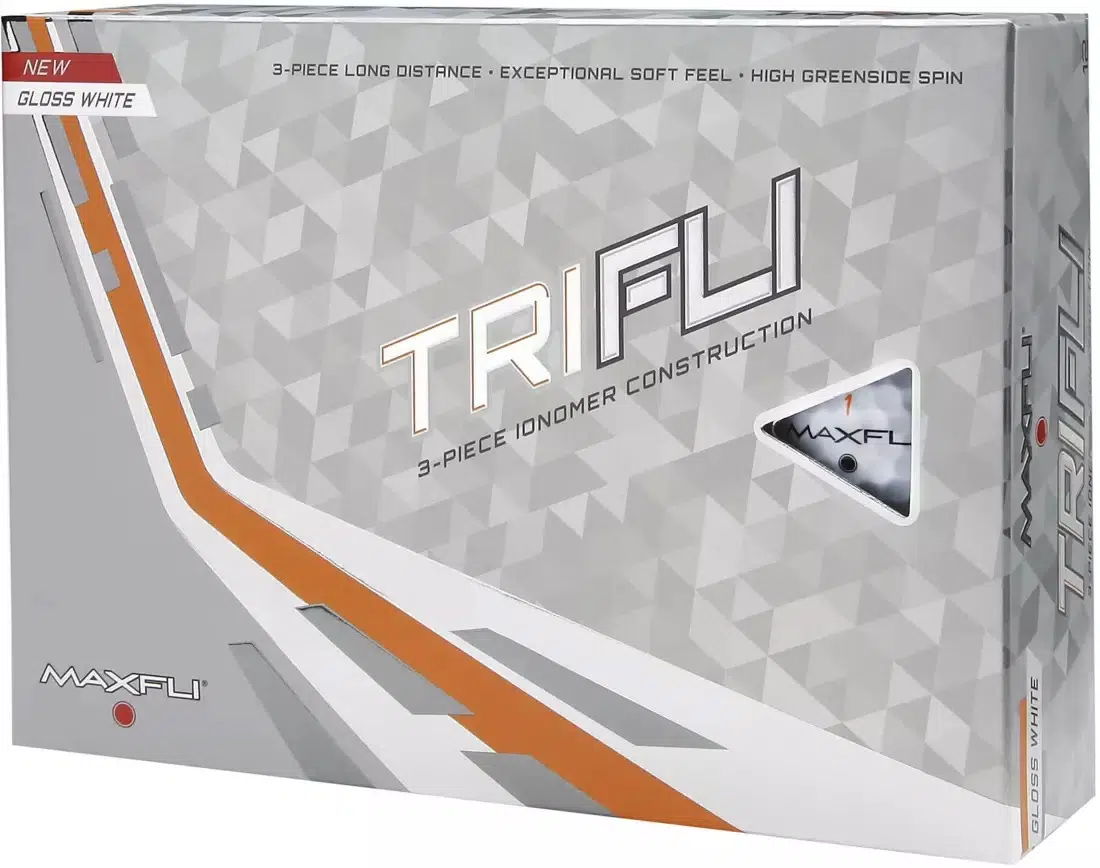 Distance: ★★★★☆
Spin: ★★☆☆☆
Feel: ★★★☆☆
Price: ★★★★☆
Optimal Handicap: 10-20
Colors: White
Another excellent option for those with slow swing speeds, the Trifli comes in at a very low compression of 45. This puts it in the same league as the Maxfli Softfli.
The biggest difference between this and the Softfli is that Trifli balls are made with 3-piece construction, just like Pro V1s and TaylorMade TP5s. This helps the player maintain better accuracy and control.
However, this 3-piece Trifli is outfitted with an ionomer cover instead of urethane to keep costs down. It still provides enough softness to approach greens with stopping power, but more skilled players will see a difference in how it reacts on short pitches and chips.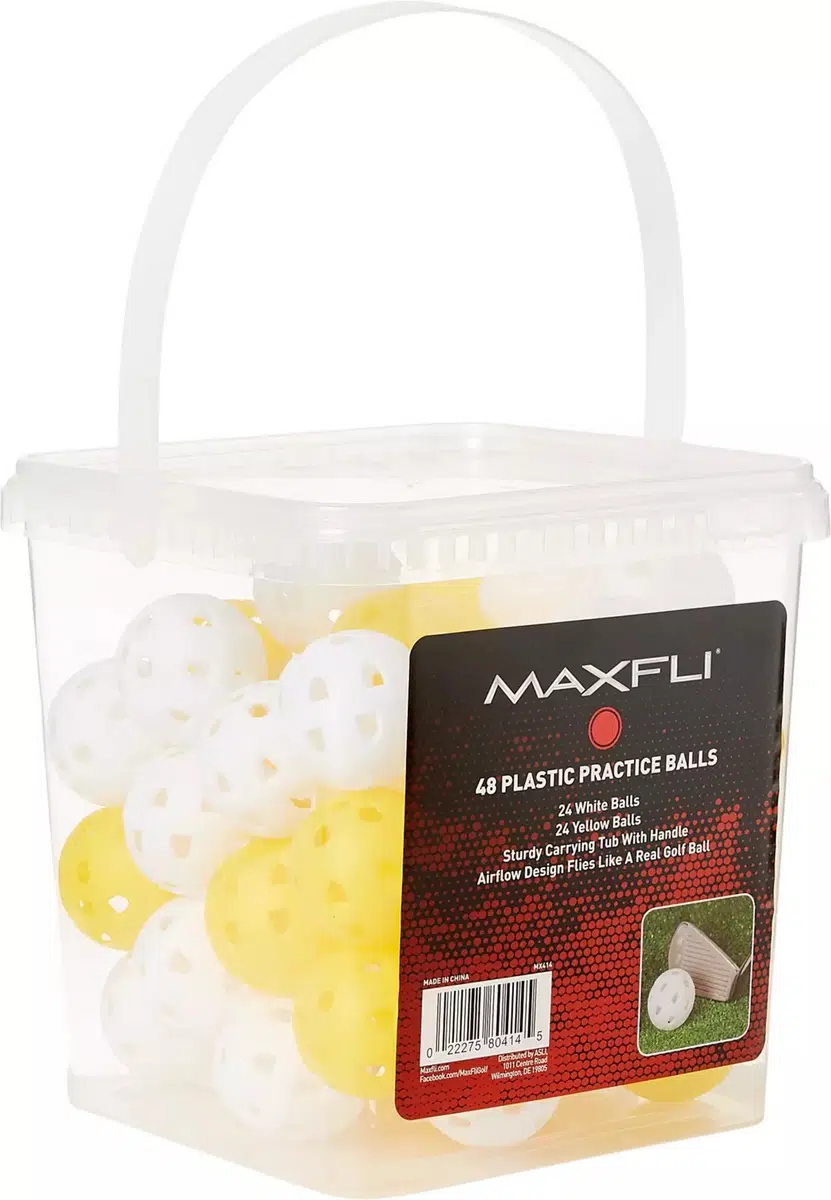 Distance: N/A
Spin: N/A
Feel: N/A
Price: ★★★★★
Optimal Handicap: Any
Colors: White and yellow
For the times you can't get to the course or driving range, Maxfli has you covered. Get these Maxfli practice golf balls to keep your swing loose. You can use your actual golf clubs and take full swings without worrying about hitting a ball through your or your neighbor's window.
Using these will help you find the sweet spot more often and develop excellent tempo. Being able to swing with consistent rhythm helps you adapt easier to changing conditions such as weather, elevation, and simply changing from one club to the next in your set.
The bucket comes with 48 balls, 24 white practice balls, and 24 yellow ones. The color difference allows you to drum up some competition with your buddies should the opportunity arise.
Why You Should Trust Us
Golfspan is independent and not pressured by manufacturers to recommend products. We were not paid for the reviews in this article. Our team has over 100 years of golf experience, has spent thousands of hours reviewing golf equipment, and has hand-picked these golf balls. We may earn an affiliate commission when you purchase something through our retail links.
Golf Ball Buyer's Guide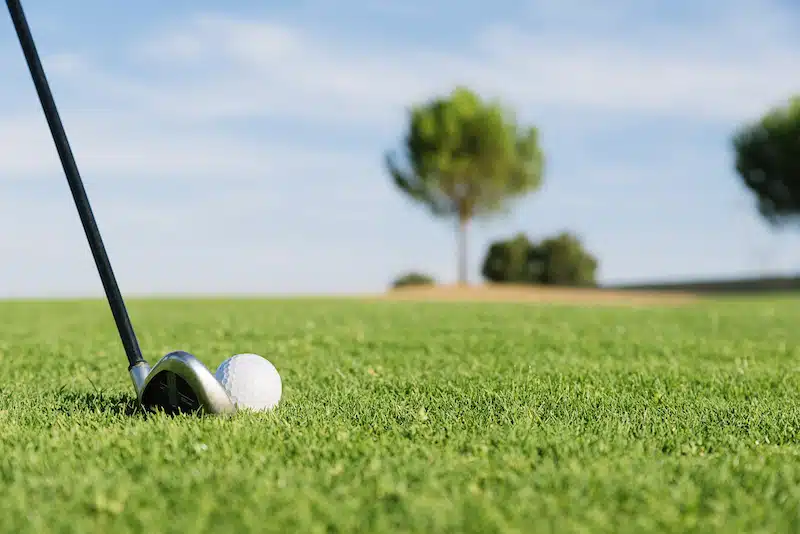 There are three main points to consider before purchasing any golf ball. Take note of these, and you'll be sure to find the right ball for you in a timely manner.
Compression
Knowing whether you need high, low, or medium compression should be your first order of business. Having this information will significantly reduce the number of options for you which is a good thing.
| | | |
| --- | --- | --- |
| Low Compression | 30-70 rating | Under 90 mph swing speed |
| Medium Compression | 71-90 | 91 mph – 100 mph |
| High Compression | 91-120 | 101+ mph |
Number of Pieces
Next you will want to choose between a two or three-piece ball. Other companies make four and even five-piece balls, but right now, Maxfli only offers the first two.
This is perfectly fine, though, as two and three-piece balls are the most common of all golf balls.
Two-Piece Golf Balls — Use these if distance is your number one priority. By using a large core and thin cover, two-piece balls can absorb energy transfer from your club head more efficiently.
Three-Piece Golf Balls — Designed for more accuracy and consistency, the most popular three-piece golf ball is the Titleist Pro V1. Utilizing a mantle layer allows players to gain more control on all shots but especially with shorter irons and around the greens.
Cover Material
Lastly, choosing the right cover material will help you with touch around the greens and durability. Nobody wants a ball that gets scuffed and scratched after a few holes.
For ultimate toughness, choose a golf ball with an ionomer cover. It's durable and can be found on almost all two-piece golf balls.
If feel is your main objective, opt for a ball with a urethane cover. You will notice a huge difference in your pitches, chips, and especially putting. The soft feel allows you to gauge your swing much more accurately and reduce the amount of drastic misses you have.
Why Choose Maxfli Golf Balls
The Maxfli golf balls of 2023 are much different than what we all remember back in the 80s and 90s. They now contain many of the same technology that other brands have and are built similarly. The only difference would be the quality of the materials used.
Another great feature is the Maxfli golf balls' price. Since they don't have the name and reputation of others, they make up for it by offering very low costs and larger packaging. These balls are all available in 48-packs as well as 12-packs.
Although other companies, such as Bridgestone, offer many different types of balls, Maxfli keeps it simple with three main offerings. They cover all types of players at any level. As you improve, you can switch to another model but don't have to switch away from Maxfli.
FAQs
How Good Are Maxfli Balls?
If you're wondering, are Maxfli golf balls good, then you'll be happy to know they are very good. Admittedly they are not premium balls and use simple manufacturing techniques to keep costs down and consistency high, but they are worth it. Highly skilled players will notice a difference, but with the new Tour and Tour X balls, Maxfli is hoping to steal some business away from the big brands.
Does Callaway Make Maxfli?
No, Callaway does not make Maxfli. Up until 2008, Maxfli was owned and produced by TaylorMade. From then until now, Maxfli has been owned by Dicks Sporting Goods. They are actively working on restoring their reputation by offering quality golf balls at a below-market price.
Do They Still Make Maxfli Golf Balls?
Yes, they still make Maxfli golf balls. Maxfli was in limbo for many years, but now that Dicks Sporting Goods have taken over, they are working diligently to revive the company and continue to offer golfers of all skill levels an alternative to the expensive and common big brands.
Is Maxfli A Good Golf Ball Brand?
Yes, Maxfli is a good golf ball brand. The new models are made to give different players the features they need to lower their scores. Whether you need more distance, spin, or feel, there is an option for everyone from Maxfli.
Are Maxfli Golf Balls Only For The Driving Range?
No, Maxfli makes golf balls that can be used on the golf course as well. It's common to see Maxfli balls at driving ranges since they are old and inexpensive. However, these days, Maxfli has been making strides to re-introduce themselves as a quality golf ball maker.
Summary
The last thing we need is another golf ball to consider. There are already too many, so why talk about one that has been lost in obscurity for so many years? Because they offer a great product at a low price.
For the average golfer, the Maxfli Tour golf ball would be hard to distinguish from high-end balls such as Pro V1 and TaylorMade TP5. It provides well-rounded spin, feel, and distance at a fraction of the price. Pick up a 48-pack and not have to worry about buying golf balls for a long time.