Over the past few years, some giants in the golf ball industry have released products that they claim give you both distance and spin. It led me to test the Pro V1x vs TP5x to see if this was true.
Things to consider before buying golf balls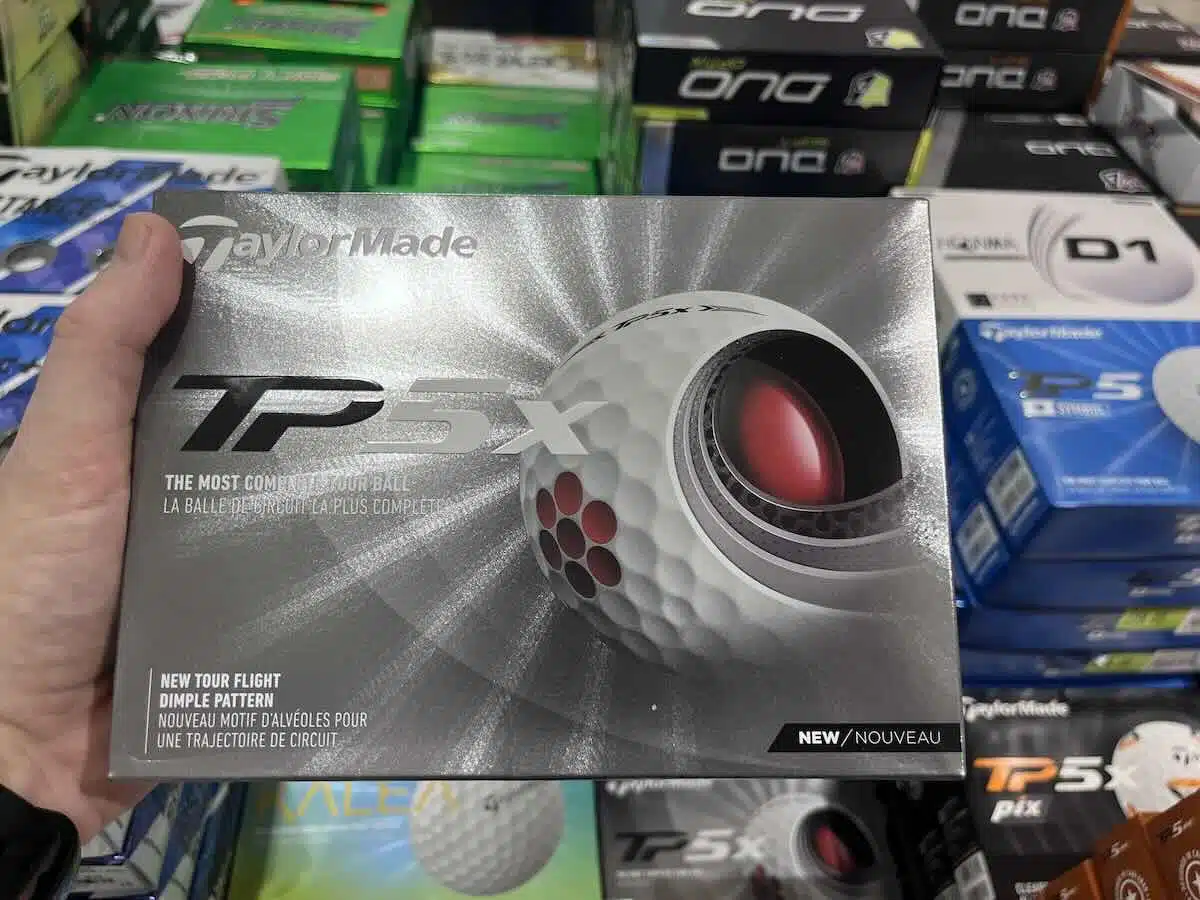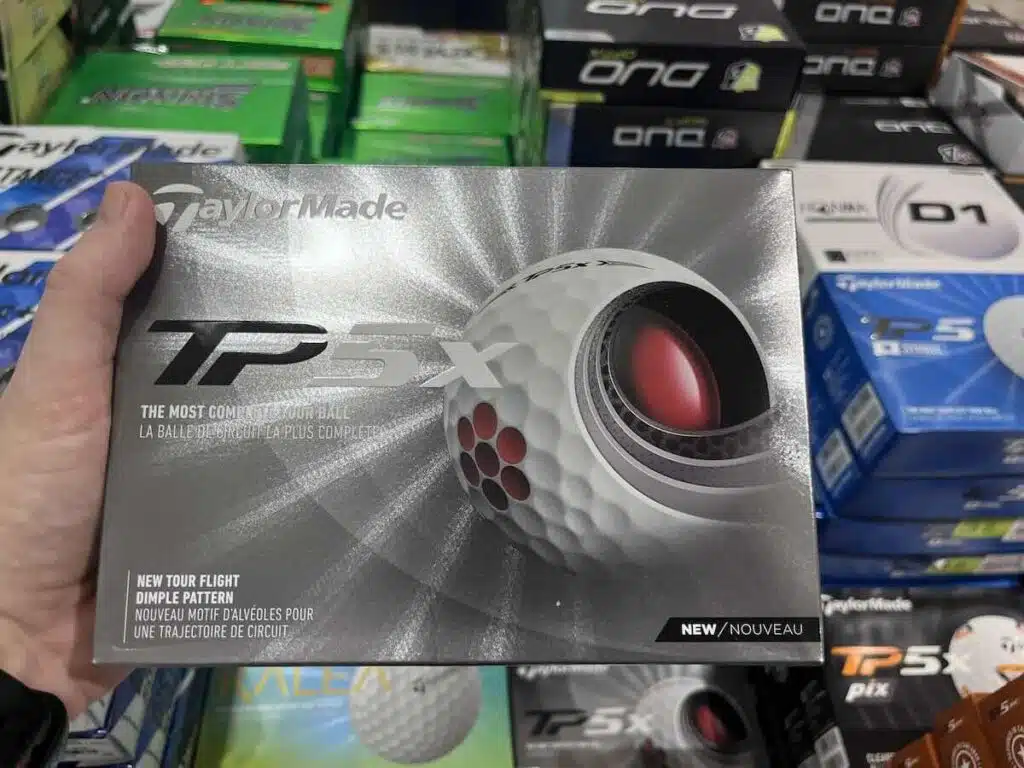 Beginners may find the process of buying balls easier than serious players, for the simple fact that your mission is bulk at the best price. It is natural when you start out to lose copious sleeves of balls. As a result, you will want to keep your expenses as low as possible for coaching and green fees.
Experienced golfers looking for specific characteristics in a ball should consider the below factors before making their next purchase.
Budget
Per unit, balls are the cheapest product in your bag and also have the shortest lifespan. Buying a few sleaves of new balls can be expensive and, if you have a tendency to make balls disappear in a strike, you could fast be burning a hole through your wallet.
If you are a lower handicap player looking for specific performance features from a ball, stick to the latest products.
Alternative options to a fresh sleave are recycled balls, where you can pick up bulk discounts. You can generally snatch up known brands such as Titleist, Taylormade, and Bridgestone.
Weaknesses in Your Game
Think about the areas of your game where you could use assistance. If you are gaining height on strikes and are losing distance, a harder ball with less spin should be considered.
If you struggle with loft and spin around the greens, you should look for a softer ball that promotes spin and soft landings.
How Many Balls Should I Purchase?
You should purchase in bulk if you already know which ball is best suited to your game. You can find balls in boxes containing four sleeves of three balls each.
If you are looking for new balls, it is advisable to purchase one sleeve initially. This will allow you to test the product before committing to a bulk purchase.
Higher handicap players should capitalize on bulk discount deals. The brand or function of the ball is irrelevant at this stage of your golfing career.
Durability
When you spend a handsome sum on a new sleeve, you expect it to last for a reasonable period. When trying out a fresh ball, pay attention to its condition after every hole. Scuff marks are bound to catch up with your ball at some stage, but the more prolonged this process is, the more affordable golf will be.
Balls that are fitted with a urethane cover unit tend to be more durable than ionomer covers. This is a result of the material's resilience to high temperatures. And the manufacturers' ability to remold the ball until a precise, durable design is realized.
Course Condition
Factor in the condition of the course that you are playing on. Is it playing long, and do you require added distance? Or are the greens fast and tight, and do you need a ball that lands softly with high spin?
Titleist Pro V1x
The legendary Pro V1 range from Titleist shows no signs of relinquishing its post atop the golf ball market. For years Pro V1 has provided us with soft landings and additional spin combined with adequate length.
The Pro V1x is a ball that is designed to spin. It is best suited to the player who needs help in this department. Here are some other features of the Titleist Pro V1x to see if it can benefit you on the course.
Features & Benefits
Thinner Cover
The Pro V1x is designed with a cast urethane elastomer cover, 17% thinner than any other ball designed by Titleist. The ball's thinner cover helps to generate higher levels of spin for short game and approach shots.
Besides its soft appearance, urethane covers increase the durability of the ball. If your home course has obstacles that can easily damage your ball, the Pro V1x may be beneficial.
Ionomer Casing Unit
Ionomer is a material commonly found in balls that are designed for distance. It is often used as an alternative to urethane in ball covers but, Titleist decided to employ it in the casing unit.
The hardened feel of the material tends to offer less spin off the tee. Generally, it is best suited to players needing to tone down their spin rpm. The ionomer casing unit on the Pro V1x enables the ball to keep up with the Pro V1's distance.
However, the high backspin rpm on this ball resulted in the loss of half a club length on my drives and long iron shots.
Spin
The Pro V1x is a high spinning ball, a trait I found useful on narrow greens that demand a soft landing. This ball flies higher with enhanced spin when compared to the Pro V1. These results are made possible by the large ionomer casing unit, designed to maximize ball speed and spin rpm concurrently.
Color
In the past, anything other than a white golf ball was deemed inferior. This led many amateur golfers to steer clear of the products. Titleist has worked to change that perception.
The 2019 Pro V1 and Pro V1x line are the first premium ball that Titleist has released in yellow. This gives you the option to keep it traditional and go with the white ball or spice it up and go with some color. Yellow balls are ideal for golfers with impaired vision that need a ball that is easier to identify.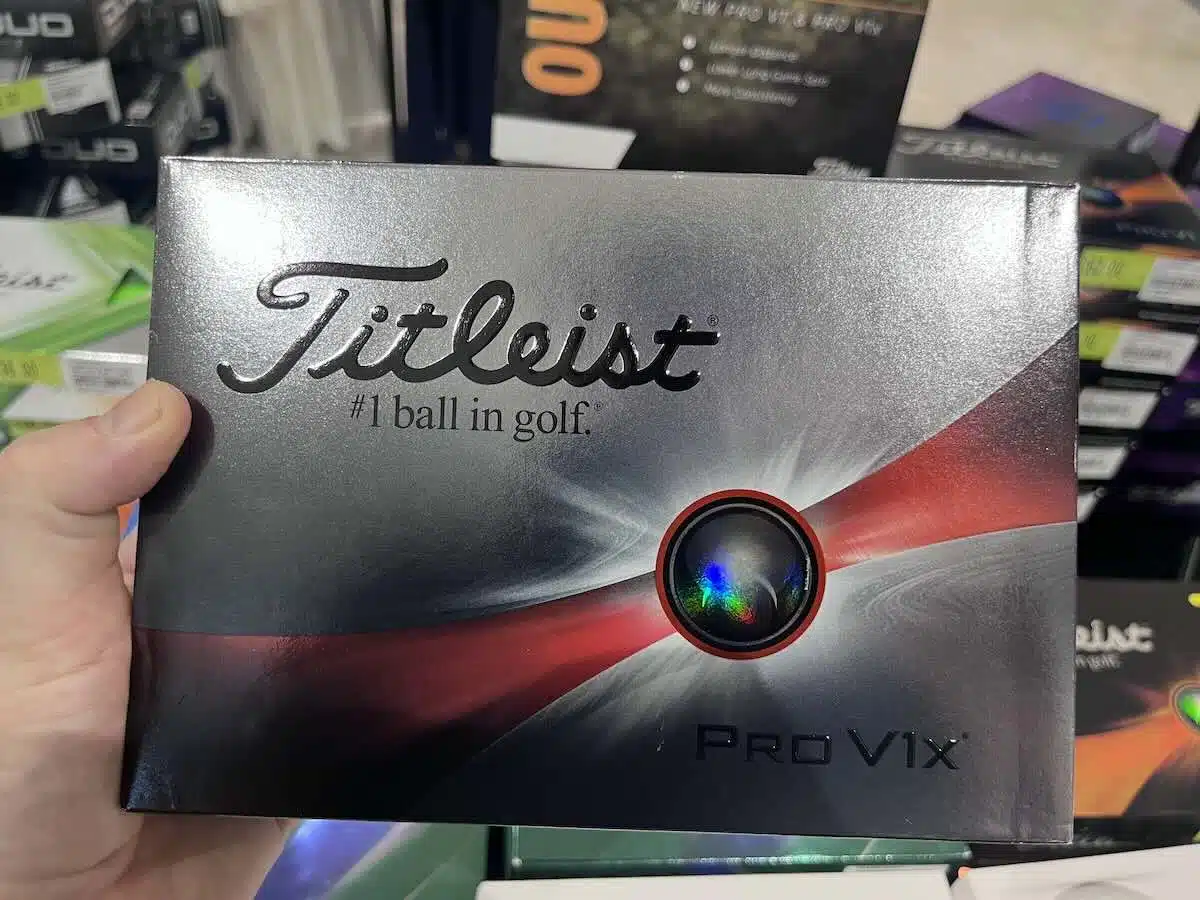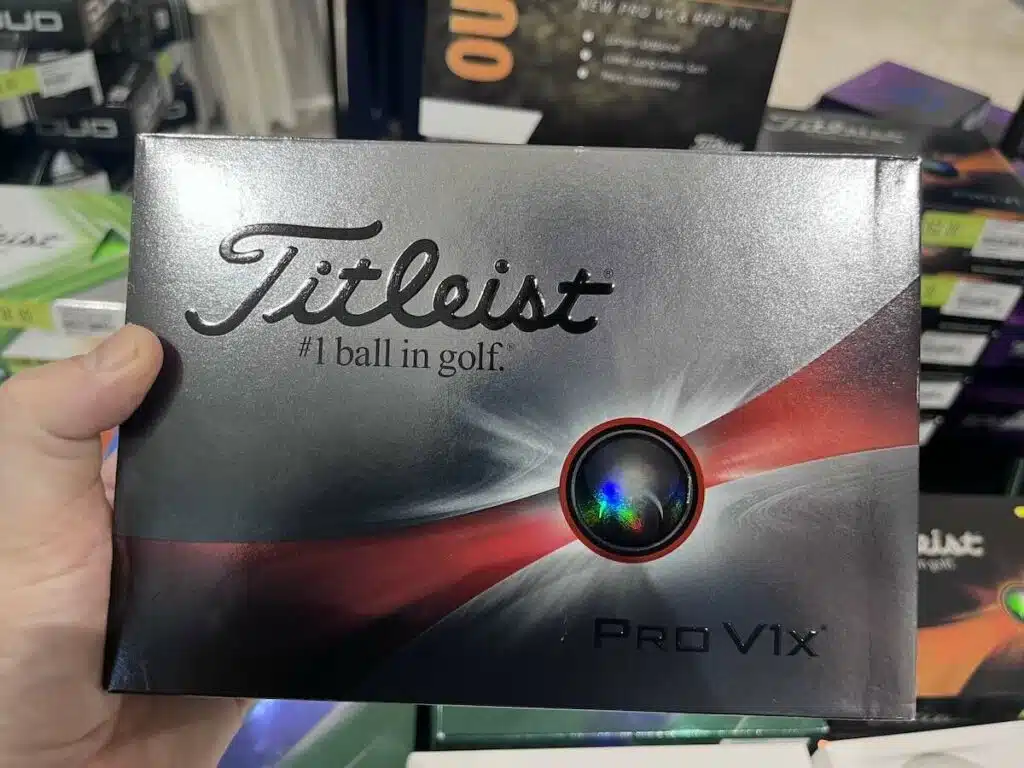 Taylormade TP5x
When Rickie Fowler claimed that the TP5x gave him distance with his irons and increased spin on the greens, it was inevitable that I was going to test his theory. I have always loved the irons and drivers, but I was unfamiliar with their ball products until recently.
Below are my findings from knocking the TP5x about.
Features & Benefits
5 Layer Construction
This is potentially the most innovative ball currently on the market. Taylormade employed the use of their proprietary 5-layer ball construction to create a product for distance and spin.
The construction includes a tri-fast core. It amplifies your carry distance and reduces drag with your driver and long iron strikes.
The dual-spin cover layer is composed of an ultra-soft, highly durable cast urethane cover. This provides a higher flight and softer feel on wedge shots. The composition of the TP5x gives you distance with your long game and spin and control with your shorter clubs.
Speed Layer System
The speed-layer system is constructed using four stiff layers. This enhances your ball speed and gives you longer carry distance off the tee and fairways, and increased spin on the greens.
The speed-layer system is handy if you struggle to generate sufficient ball speed at impact.
High-Flex Material
Taylormade's high flex material (HFM) is designed to deliver enhanced ball speeds for increased carry and total distance. The ball functions as a spring and rebounds onto the clubface, enabling a solid launch.
Color
Like the Pro V1x, the TP5x is also offered in yellow or white. I found the yellow paint to scuff easier than the white. That said, the physical condition of the ball was alright.
If after reading this Pro V1x vs TP5X review you're not sure either ball would suit, check out our alternatives below…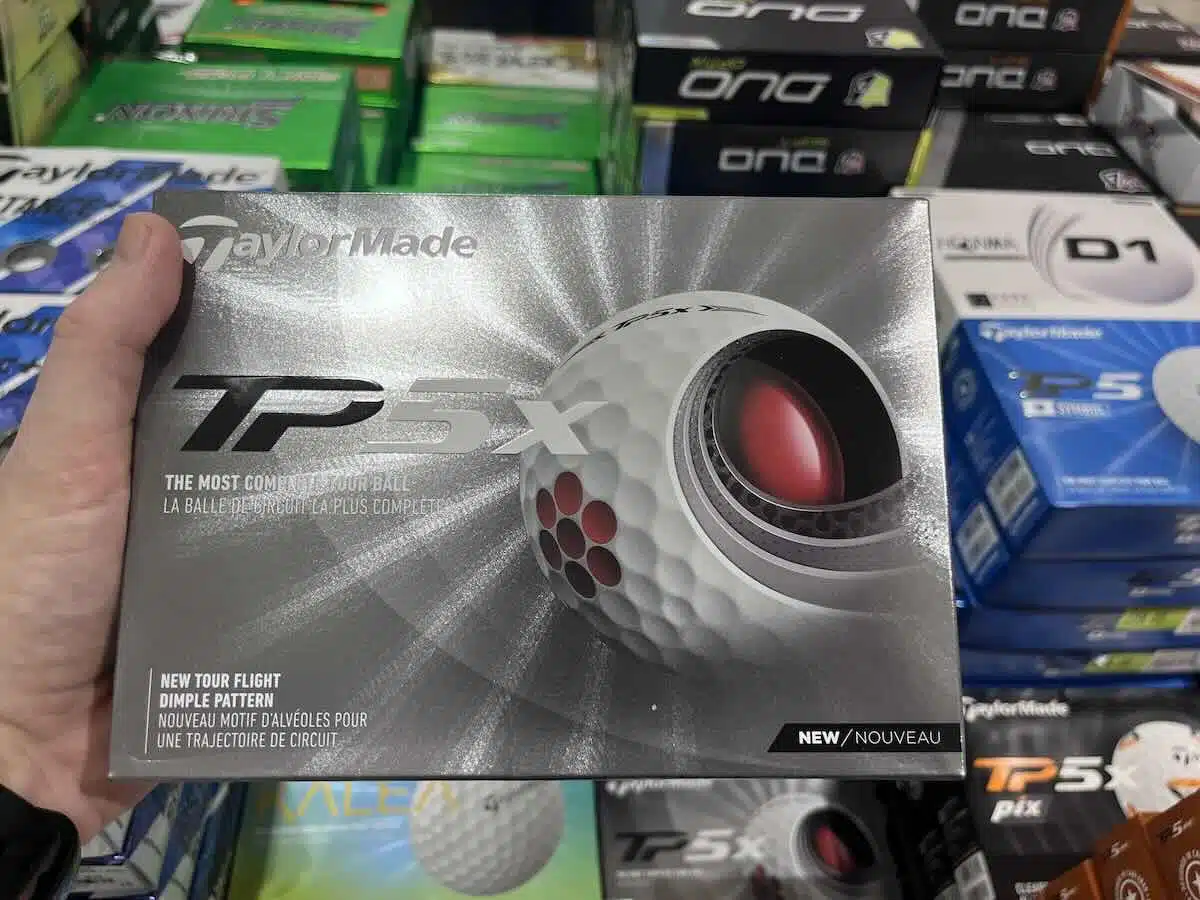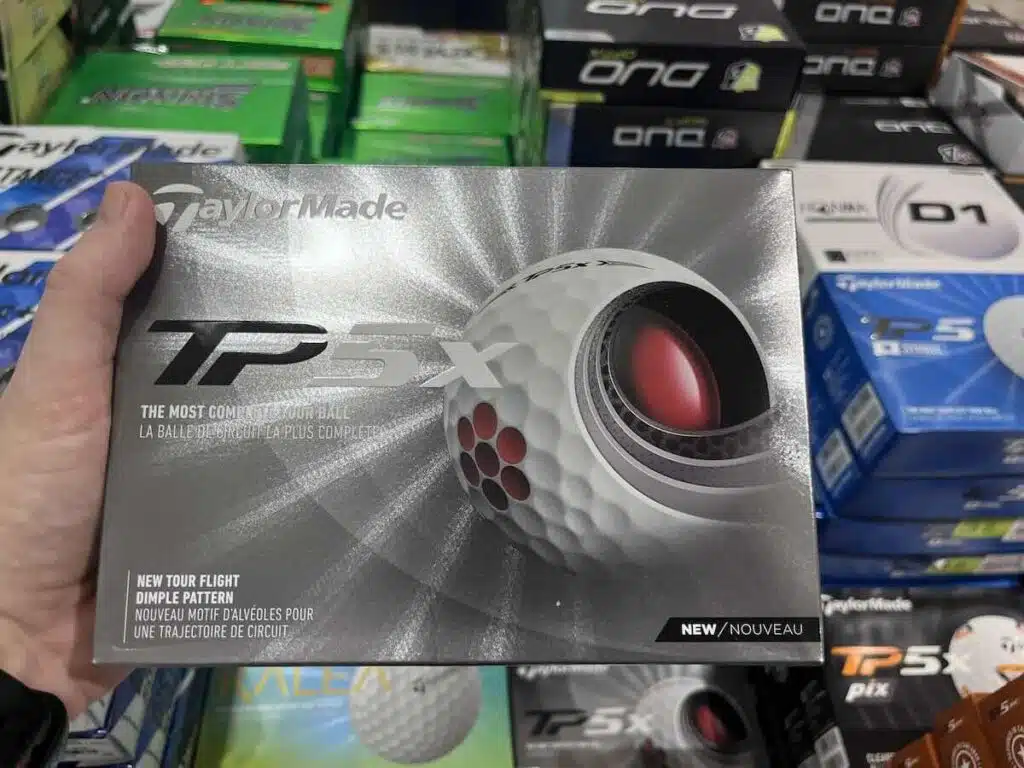 Alternatives to the Pro V1x and TP 5x
1. Bridgestone e12
Bridgestone has broken free of the golf ball manufacturing norms by using a Surlyn cover instead of the usual urethane and ionomer.
The ball's design increases the velocity achieved at impact, designed for those of us with medium to slower swing speeds. Don't expect much from the e12 in the way of spin around the greens. But it makes up for it with a soft core designed to be forgiving on the bounce.
These balls come in the option of green, yellow and red, further breaking the traditions of golf ball products.
2. Vice Pro Plus
The Vice pro plus is a 4-piece ball fitted with a cast urethane cover to increase spin around the green and reduce it off the tee. Compared to the Pro V1x, the spin rate of this ball is lower. That should give you a minor advantage in terms of distance.
If your swing is fast, and you have no problem with distance but struggle to land it softly on the green, this may be an option for you. You can choose these balls in white, lime or red.
3. Titleist Pro V1
The Pro V1 is a ball that I feel offers you balanced results regarding distance and spin. From my experience of playing with Pro V1's, I have found the ball to have the most consistent trajectory, lower spin with the long irons, and mid to high spin with my wedges.
This is a ball that I feel you can use on any course and receive consistent results. While I don't achieve the same distance off the tee as I do with other balls, the outcome is consistent. Furthermore, the ball is soft and feels good at impact.
As previously mentioned with the Pro V1x, you can now acquire the Pro V1 in optic yellow.
Final Thoughts
I have always been a fan of Titleist Pro V1 balls, but after reviewing the Pro V1x vs TP5x, I have to say that I would rather play with the latter ball. The backspin rpm I managed in my long game with the Pro V1x resulted in me losing distance. The Tp5x offered me more consistency from tee to green.
If you need a sleeve of balls that offer you distance off the tee and spin on the green, check out the Taylormade TP5x here.
Related Articles
Nick Lomas is the founder of GolfSpan, an avid golfer, not quite a pro but has over 15-years of experience playing and coaching golfers from all over the world. His mission is to bring the golfing community a better experience then it comes to choosing the right golf gear, and finding the right set up for your game.