When the Callaway Mavrik Driver dropped in 2020, it was a big hit with reviewers. It also promised 5 extra yards on Callaway's previous models. That's a bold claim since Callaway's known for an epic line of drivers. 
But not as many regular everyday golfers loved it. 
Is it worth picking up a Callaway Mavrik Driver? The Callaway Mavrik driver is speedy with improved aerodynamics so can help with distance. It has more forgiveness than the Epic Flash, even though it has a low MOI. The looks won't be appreciated by everyone, but it's great for beginners or experienced players.
If you're serious about finding the right driver though, you'll want more details without having to watch countless videos. In this Callaway Mavrik review, you'll learn everything you need to know to if this driver is right for you. 
Plus, you'll find similar alternatives to consider.
Pros
Excellent sound and feel
Great control
Cons
Similar distance to Callaway Epic Flash
Underwhelming looks
Building on the success of their 2019 Epic Flash, Callaway has doubled down on the use of advanced Artificial Intelligence to create a highly optimized face for their 2020 offerings. The Mavrik range has three variations:
The Standard Model

The Sub Zero Model

The Mavrik Max Model
For this review, we'll focus on the standard model.
Callaway Mavrik Driver Overview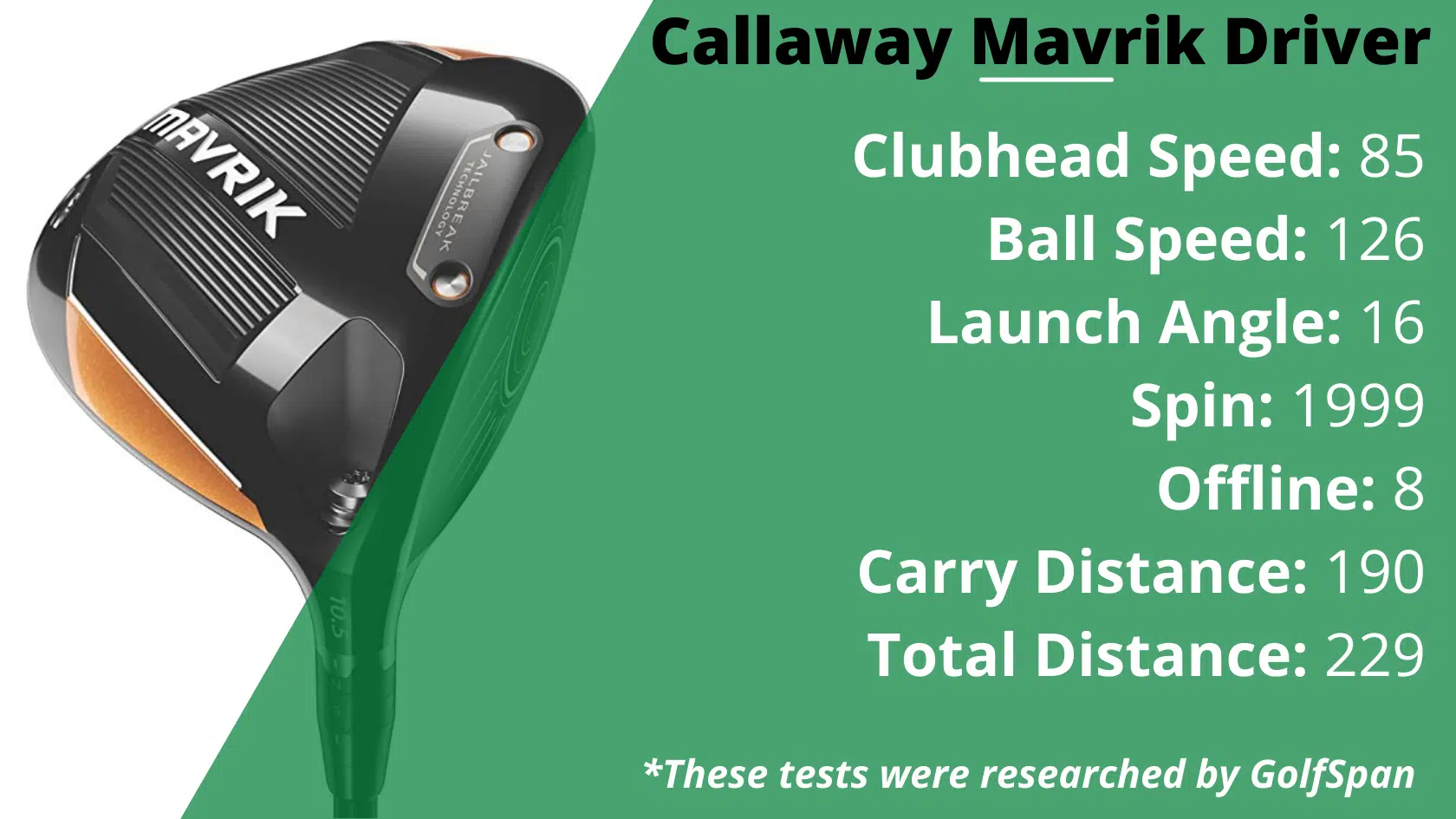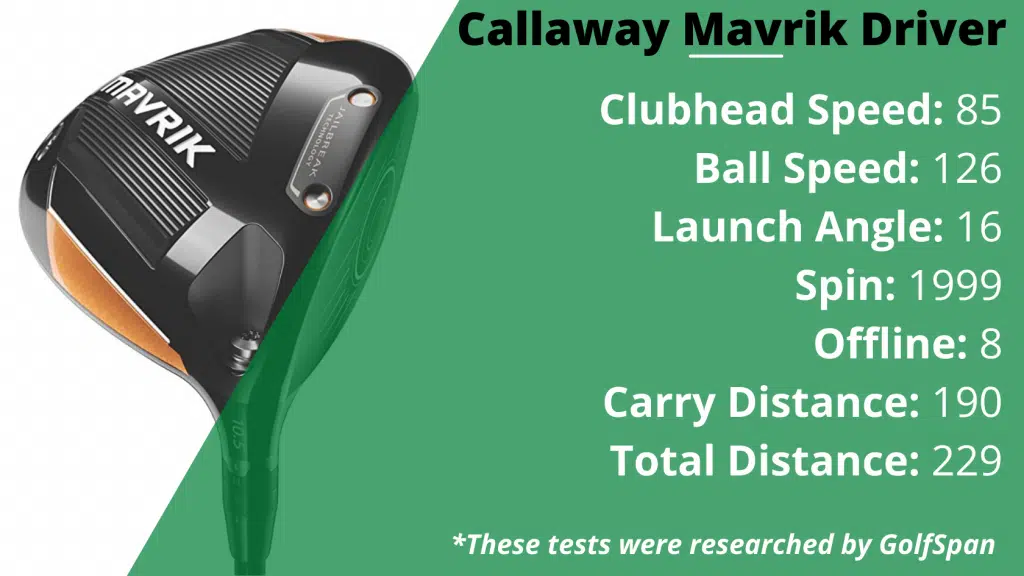 The good folks at Callaway sure are smart, but they're not quite as smart as the computers they've been using to build their clubs. The AI can learn quickly and efficiently, which has ultimately allowed Callaway to adopt some unconventional 'Mavrik' thinking.
The result is a club face that has been fully optimized for speed. Coupled with the improved aerodynamics of the Mavrik golf club driver, this is a club that's capable of some serious distance.
Callaway Maverik driver forgiveness makes no sacrifices with its entire Mavrik club line. It's been proven to be significantly more accurate than the Epic Flash across the entire face, despite the club having a lower MOI. This is because, again, the AI allowed designers to take unconventional approaches to determine spin rates and weight distribution.  
Something else that the AI was tasked with improving was the club acoustics. Somehow, engineers instructed it to dial the club down to 'pleasing' sound frequencies. The mind boggles, but one thing's for sure: this is a great-sounding driver.
Comparatively, the looks of the Mavrik are quite unassuming. The simple black and orange aesthetic has been a familiar sight for years, so it might not immediately stand out on the shelves. This is not to say we disliked the look of it; we were just surprised that such a technologically optimized driver could look so simple.
Based on our testing, and the testing of others, there is little evidence to suggest that this driver is capable of 5 more yards than its predecessors, as Callaway claimed. Regardless, this is a superb driver with which advanced players and beginners can have a blast.
Callaway Mavrik Driver Settings & Adjustment Chart
Model
Loft
Lie
Volume
Length
Swing Weight
9°

Adjustable (8° to 11°)

  

Adjustable (58°)   

460cc

45.50 inches

D3

10.5°

Adjustable (9.5° to 12.5°)

    

Adjustable (58°)

   

460cc

45.50 inches

D3

12°

Adjustable (11° to 14°)

   

Adjustable (58°)

  

460cc

45.50 inches

D3
Callaway Mavrik Driver Features and Benefits
Flash Face SS20
The Flash Face technology was introduced with the Callaway Epic Flash and has been developed further for the Mavrik. The process involved Callaway's supercomputers cycling through thousands of face iterations while the AI intuitively learned which exact design would work best to create the best golf clubs.
The first iteration of the Flash Face produced some pretty astounding results; it was always going to be difficult to significantly exceed the Callaway Epic Flash's ball speeds. There's no doubt that the Mavrik's club face is highly advanced, capable of great speeds, and generous in forgiveness. However, the vast majority of swing data suggests that there has been no increase in performance from the Epic Flash to the Mavrik.
Jailbreak & T2C Triaxial Carbon
Supercomputers aside, other elements of this club face add to its power. The Jailbreak system, consisting of two internal bars connecting the sole to the crown, has been used since the Great Big Bertha Epic River and has proven to be a valued addition to every Callaway driver.
By placing more impact load on the face, Jailbreak helps to give the face a very satisfying feeling, whether you're hitting the sweet spot or off-center. This paired with the high-strength FS2S titanium used in the club face, gives the player a really well-rounded experience when striking this driver. 
T2C Triaxial Carbon is a lightweight material that allows for huge weight savings. Callaway can then redistribute that weight to various parts of the head, increasing MOI, and thus generating more forgiveness.
Cyclone Aero Head Shape
In line with the main trend of 2020, Callaway has diverted much of its attention to producing a faster club head speed. The Cyclone Aero Shape is shallow from front to back, with a flat crown. The sole sweeps dramatically upward so that the back edge is high up off the ground when the club is resting. This is an uncommon head shape in drivers these days.
According to Callaway, this increases aerodynamics by reducing drag. It was a joy to swing, and we agreed it had a noticeably smooth feel.
Callaway Mavrik Driver Categories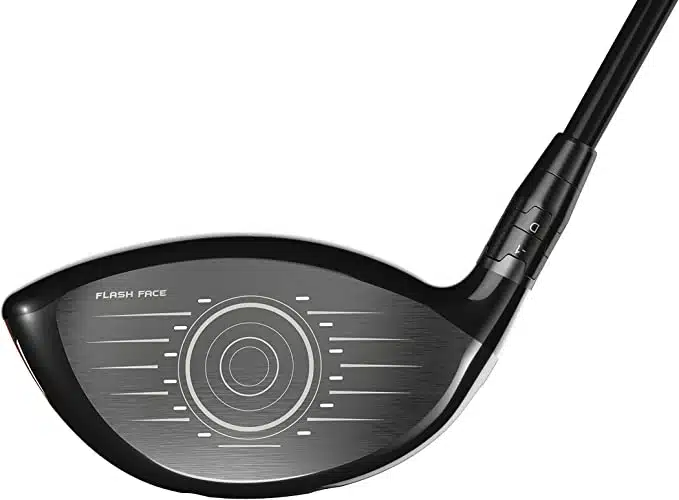 Sound
You would consider the sound on the Mavrik Driver a pleasant mid-volume sound. It has a metallic but woodsy sound to it. The crisp and solid connection at impact will please most golfers. 
Quality
Many golfers would consider the Mavrik Driver an upgrade to the other choices. The quality could be compared to many of the best in the market today. The three shafts that Mavrik offers feel of premium quality.
Performance
We would consider the Callaway Mavrik Driver's performance to be strong and consistent. The driver produces a high moment of inertia (MOI). This means that the clubhead resists twisting and a higher MOI means the ball flies straighter.  According to Callaway's R&D chief Alan Hockwell, the Mavrik has high "spin robustness," which essentially means it is far more forgiving.
The stock shaft of this one performs well as well since it remains consistent with its kick point and release.
Look
Overall, we would say that the uninspiring look of the Mavrik Driver is one of its biggest weaknesses. We wouldn't say it looks bad, but it looks about the same as its predecessors. 
Nothing will draw your eye to it immediately if you saw it on the store shelf among the other clubs.
Feel
The Sub Zero feels better than the Mavrik Driver, but even the Mavrik Driver doesn't do too badly in this department. Grasping this club in your hands, you feel a solid and stable club throughout your swing. 
Getting a miss hit with this club would require effort since it feels incredibly solid.  
What I Liked About the Callaway Mavrik Driver
The best thing about the Mavrik was its feel and consistency. Callaway has done a good job of creating a club that feels good at address while instilling some confidence in the tee. 
The club also felt very good on off-center hits, and I got very good spin characteristics when I didn't quite get the center of the face, no doubt thanks to its SS20 flash face technology. 
Overall the club, off the rack, has to be one of the most forgiving drivers on the market. 
What I Didn't Like About the Callaway Mavrik Driver
There are two main things you may not like about the driver. 
One, I felt the club did not suit my eye well when I addressed the ball. This may just be a quirk with Callaway's head design, but I never quite felt like I could get the club to square up correctly. 
Secondly, I found that I could not work the ball quite well with it. When I needed to shape certain shots, especially when turning the ball over, I felt I had to work really hard to produce a right-to-left ball flight. 
Overall this club is very good, though, and these are nitpicky criticisms that some lower handicappers may experience with this club out on the course. 
Read more: The Best Beginner Drivers
Alternatives
If this doesn't sound like the right driver for you, fear not. Here are some alternatives which you might consider checking out.
1. Mizuno ST200
Following on from their PGA Tour winning ST190 family of 2019, Mizuno has returned with more power, flexibility, and forgiveness than ever before. The ST200 drivers utilize beta-titanium alloy from racing-bike gears, producing a face of variable thickness to support off-center strikes.
The standard ST200 has the widest body of this line and is, therefore, the most forgiving. The ST200G features two sliding weights in the sole, offering superior adjustability to the Callaway Mavrik. The ST200X is ultralight and is built with anti-slice weighting. All three models benefit from a lightweight carbon-composite crown and are a shining example of driver design.
2. PXG 0811 X Gen4
PXG released the first 0811 drivers back in 2016, and they weren't received particularly well. After returning to the drawing board, they returned with a vengeance in 2020 and continued until Gen4 with a much-improved product. The 0811 Gen4 drivers have a unique aesthetic inspired by American muscle cars and pack some serious firepower.
They're also contenders for being the most forgiving drivers on the market. They launch high with low spin and have recorded some truly impressive carry distances. Both versions of this driver come with multiple weight options, far exceeding the adjustability of the Callaway Mavrik.
The PGX Gen 4 drivers are a bit more expensive than the Mavrik, but the extra investment might be worth it.
3. TaylorMade SIM
If you pit Callaway Mavrik vs TaylorMade SIM drivers, you'll have quite a matchup. Both pay considerable attention to clubhead speed. Thanks to clever manipulation of the unique weighted sole, TaylorMade has achieved superior aerodynamics without sacrificing impact. The SIM drivers are packed full of technology, including the Speed Injected Twist Face, and can hit some great sounding, great feeling, and long-reaching drives.
The SIM comes with a sliding weight, and the Max D is specially designed to combat slices.
FAQs
Is Callaway Mavrik Driver Forgiving?
The Callaway Mavrik Driver offers an impressive level of forgiveness on the course, and high handicappers and beginners will enjoy a lot of value from it. This club has an excellent mix of forgiveness, distance, and playability. The adjustability of the club also allows players to compensate for their average ball flight by changing the face orientation to draw bias or cut/neutral bias. 
Is Callaway Mavrik Driver Good for High Handicappers?
The Callaway Mavrik Driver makes an excellent choice for high handicappers since it offers an astounding level of forgiveness. However, they made this club for all players, and everyone who uses it will see great value from what it offers. 
Do Any Pros Use the Callaway Mavrik?
The Mavrik sees many PGA Tour players who use it, including Marc Leishman, Xander Schauffele, Henrik Stenson, Daniel Berger, Brooks Koepka, and Phil Mickelson. To put it into perspective, the Mavrik Driver was the gold medal winner of the 2020 Golf Digest Hot List. 
Final Thoughts
If you're searching for a driver that consistently performs well, feels and sounds great, and grants you the potential to play some outrageously good shots, look no further than this Mavrik golf driver. It's been built with extreme attention to detail, and the performance really reflects that. 
However, if you expect it to outclass its predecessors, you might be slightly disappointed. There isn't much evidence to suggest that club head and ball speed have increased significantly; the claim of an extra 5 yards seems sadly unjustified.
Other than that, there is really nothing to complain about. This Callaway Mavrik Driver review would recommend it for beginners and high handicappers.
If you're a high handicapper, there's no reason why you shouldn't pick up this driver, make the most out of its excellent forgiveness, and have some fun. If you're looking to play some flashy, supercomputer-enhanced drives off the tee, check out the other customer reviews of the Callaway Mavrik Driver.
Related Articles
Nick Lomas is the founder of GolfSpan, an avid golfer, not quite a pro but has over 15-years of experience playing and coaching golfers from all over the world. His mission is to bring the golfing community a better experience then it comes to choosing the right golf gear, and finding the right set up for your game.