Over the years, TaylorMade has consistently delivered some of the most revolutionary drivers in the golf industry. Their most recent addition is the Stealth family of drivers, which ushers in the latest technologies capable of helping your ball fly straight into the fairway every time.
While these new drivers are fantastic, they may be out of a lot of golfer's price range.
Even if you can afford the latest and greatest, you'll need to pick the right one for your swing style.
Which of the TaylorMade drivers are right for you? What are the pros and cons? How much do they cost?
Check out the reviews below to find the perfect driver for you from TaylorMade's extensive range.
At a glance: The Best TaylorMade Expensive Golf Drivers
What Makes TaylorMade Drivers Great?
Every major golf brand claims their current latest driver is the best on the market. While it's difficult to determine if that's true (every golfer is different), you can look out for what makes them special.
In the case of TaylorMade, their drivers have:
A unique carbon twist face
A Nanotexture polyurethane face cover
Extremely lightweight clubheads
A Thru-Slot Speed Pocket
If this sounds like TaylorMade clubs will fit your game, check out the best TaylorMade Irons too.
Our Research Parameters
Golfspan is independent and not pressured by manufacturers to recommend products. We were not paid for the TaylorMade driver reviews in this article. These drivers were selected by our team, who have over 50 years of experience playing golf and hundreds of hours reviewing products. We may earn an affiliate commission when you purchase something through our retail links.
TaylorMade Drivers Reviews
1) TaylorMade Stealth Driver – Best Overall
Specifications
Right or left-handed
Loft Options – 9°, 10.5°, and 12°
Shaft Option – Fujikura Ventus Red 5, Aldila Ascent Red, Mitsubishi  Diamana ZF 60+, and Graphite Design Tour AD IZ 6
Adjustable hosel – Available
Pros
Extremely forgiving
Premium sound and feel
Stylish aesthetic
Lightweight clubhead
Cons
Rating: 5 out of 5 Stars
While TaylorMade tried to retain a classic pear shape and opted for a large 460CC head size with this, the Stealth Driver comes with a revolutionary new Carbon Twist Face.
TaylorMade claims that this new Carbon Twist face is lighter than titanium versions of the same size by up to 44% and is also more efficient in energy distribution. This weight reduction and weight redistribution low and deep give the club a high MOI.
The improvements offered by the Carbon Twist face can primarily be attributed to the fact that its design is a culmination of 20 years of technological advancements that culminated into a  face consisting of 60 meticulously designed layers of Carbon.
Additionally, the club's face is also covered with a polyurethane cover made with recent Nanotexture technology. This Nanotexture technology assists in the fine-tuning of spin and launch and makes the club more forgiving regardless of the playing conditions.
Just the face features are enough to give players something to look forward to in terms of improved distance, forgiveness, and ball speeds, but that's not all these drivers bring to the table.
The Stealth Driver also comes with refined aerodynamics due to the Asymmetric Inertia Generator. This feature adds to the club's speeds on the downswing regardless of the player's level.
A combination of an internal rib structure, stiffening, and curvature give the club a premium sound and feel at address and impact.
Golfers can still reach maximum ball speeds on low-face strikes as the club comes with TaylorMade's Thru-Slot Speed Pocket.
Overall, the TaylorMade Stealth Driver suits a considerable range of players and has tons of fantastic tech advancements and features to keep you straight and long off the tee.
All of this makes it TaylorMade's best driver ever, for most golfers.
2) TaylorMade Stealth Plus Driver – Best for Fast Swing Speeds
Specifications
Right or left-handed
Loft Options – 8°, 9°, and 10.5°
Adjustable hosel – available
Shaft Option – Mitsubishi Kai'li White 60,   Graphite Design Tour AD IZ 6, Mitsubishi Diamana  ZF 60, and Project X HZRDUS Smoke Red RDX  60.
Pros
All the latest tech from the Stealth driver
Optimizes distance and ball speed
Cons
Not ideal for high handicappers or those with slow swing speeds.
Rating: 4.5 out of 5 Stars
Like the other drivers in the Stealth range, the TaylorMade Stealth plus comes sporting TaylorMade's revolutionary Carbon Twist face. This new face provides ample forgiveness and an exemplary moment of inertia.
Players who have used TaylorMade's Sim 2 and Sim 2 max drivers before can look forward to receiving much more forgiveness from this driver as it's face is larger than these two by 11%.
The weight saving by the Carbon Twist Face design allowed for a 10g sliding weight to be incorporated into the Stealth plus. Players can use this feature to shift the weight to different points on the club, allowing for better shot shaping than the standard Stealth driver.
Most of the other features in the driver match the standard Stealth. However, the Stealth plus has a more forward-facing Center of Gravity, which reduces the spin on the face and allows for a longer and lower launch.
All of these features make the Stealth Plus the current best TaylorMade golf driver for low handicap golfers. But, it's still forgiving enough for mid-handicap players to use if they want to prioritize distance over forgiveness.
3) TaylorMade Premier Kalea Driver – Best Women's TaylorMade Driver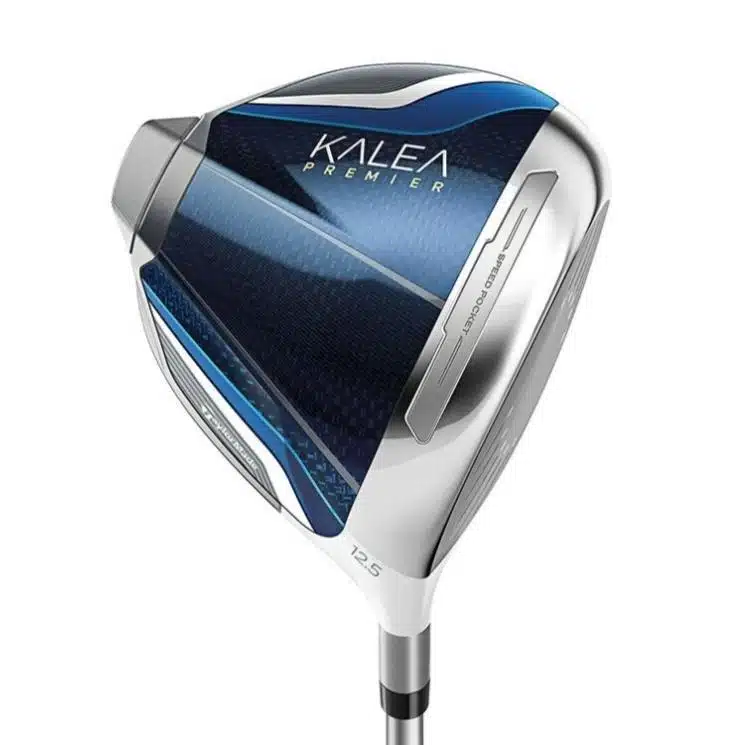 Specifications
Right-handed only
Loft Options – 12°
Adjustable hosel – Not available
Shaft Option – Fujikura airspeed 45
Pros
Lightweight design is ideal for achieving high ball speeds
High forgiveness levels
A good option for all levels of women golfers
Cons
No left-hand option
No adjustable hosel
Rating: 4.5 out of 5 Stars
The TaylorMade Kalea Premier is a driver explicitly designed to have maximum levels of forgiveness, optimal control regarding launch, and the fastest ball speeds. It is TaylorMade's newest women's driver and results from extensive research and feedback from female golfers in the sport to create the best product for women.
It has a maximum 460CC head size made with a forged aluminum ring construction. This construction technology combines a 22-gram rear back weight with a carbon constructed sole and crown for an overall high MOI, reduced CG, and optimized forgiveness levels.
The Twist Face technology, also found in TaylorMade's Stealth Drivers, is placed into the driver to maintain the high MOI while at the same time offering forgiveness for off-center hits on high toe areas or low heel areas.
At the same time, the most common impact areas have optimized thickness using an inverted cone technology to give the best results for player sweet spots.
The club is also equipped with a Thru-Slot speed pocket to protect against ruining shots on low-face strikes.
Overall, TaylorMade opted for a lightweight design making the club forgiving to players with slow swing speeds. For women looking for an ideal driver from the TaylorMade line, the Kalea Driver is one of the best options on the market.
4) TaylorMade SIM 2 – Low Spin All-Rounder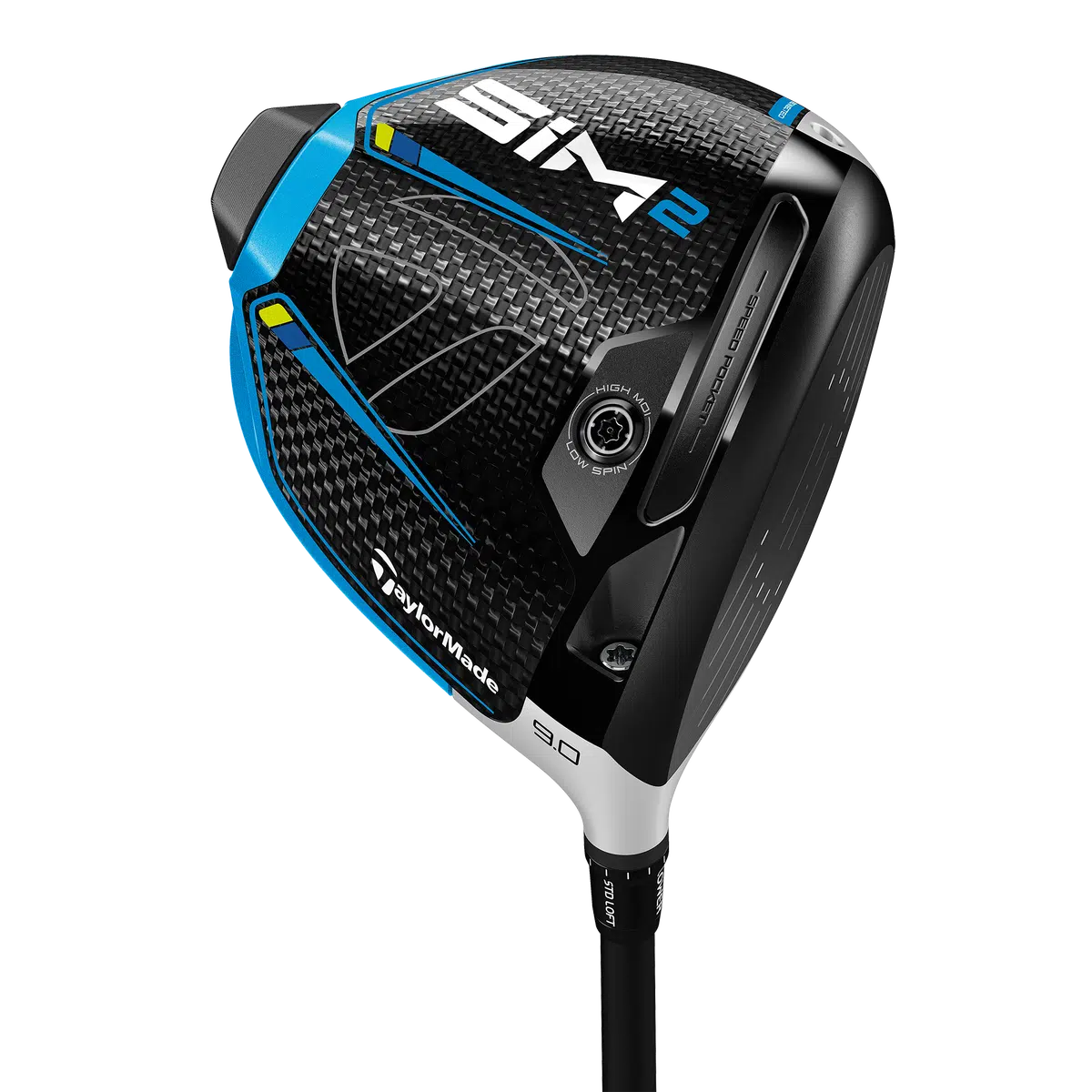 Specifications
Right or left-handed
Loft Options – 8°, 9°, and 10.5°
Adjustable hosel – available
Shaft Option – Mitsubishi Tensei AV Raw Blue 60 and HZRDUS Smoke RDX Black 70
Pros
Lots of control in terms of the launch with the help of the adjustable loft sleeve
Ideal for achieving maximum distance
Cons
Less forgiving than the SIM 2 Max Driver
Sometimes still priced similarly to the superior Stealth driver
Rating: 4 out of 5 Stars
While it's not the latest TaylorMade driver, it's still worth considering. The SIM 2 driver aims to improve forgiveness and distance regardless of player level. You can see how the SIM 2 line impacted the design of the Stealth drivers, as much of the tech in those is improved versions from the SIM 2 line.
The club has a Forged Ring construction that combines its Carbon sole, huge rear, face, and crown resulting in an overall increase in forgiveness and stability. The SIM 2 is made predominantly of precision-milled aluminum. This means it has high strength while still being lightweight ensuring maximum power with each impact and ample levels of forgiveness.
TaylorMade equipped the SIM 2 drivers with a 9-layer carbon sole that forms an Inertia generator responsible for improved overall aerodynamics. While on the downswing, drag resistance is also reduced and speed increases compared to older drivers.
A 16g sliding weight is also placed on the inertia generator to increase the club's MOI and help players have a little more control over their launch trajectory. At the same time, this feature also plays a huge part in creating a low spin ball flight.
TaylorMade also included their speed pocket design to offer forgiveness when the ball is hit on the low face. This also helps with distance.
While it doesn't have much forgiveness compared to other drivers in the SIM 2 family, this is the best driver from this line regarding low launch, low spin, and, therefore, distance. Players with fast swings looking for more distance and control in shaping shots will benefit most from the TaylorMade SIM 2 driver.
5) TaylorMade SIM 2 MAX Driver – Most Forgiving Older Driver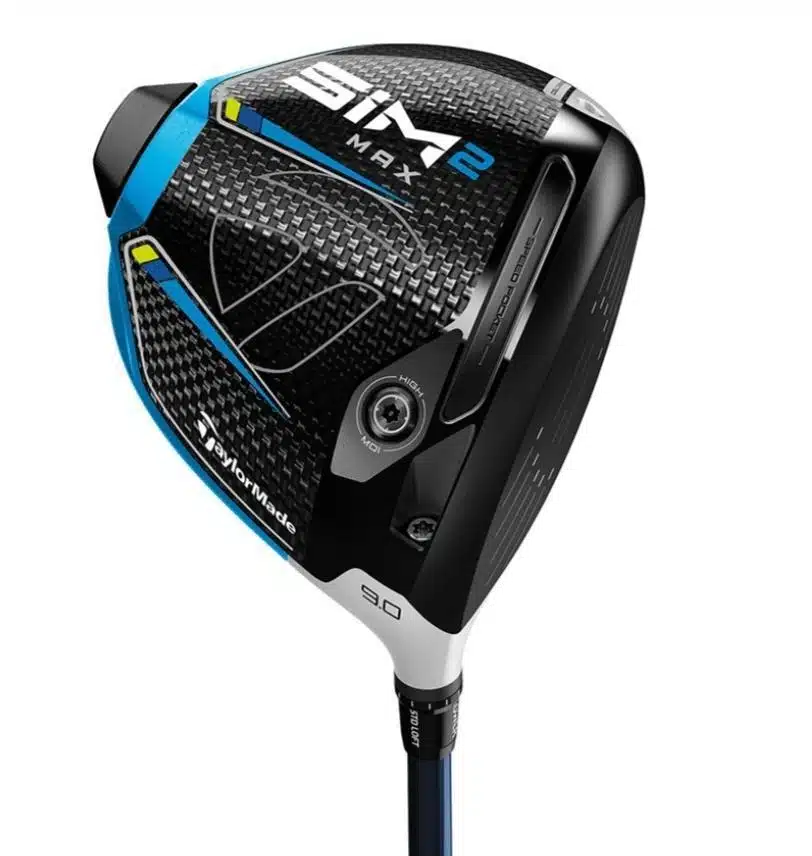 Specifications
Right or left-handed
Loft Options – 9°, 10.5°, and 12°
Adjustable hosel – available
Shaft Option – Fujikura Ventus Blue and the Mitsubishi Kurokage Silver
Pros
Ample levels of forgiveness
Stock shaft options for players with slower speeds are available
Good sound and feel
Cons
Players won't have much control without an adjustable weight
Not the best option for slow swing speed players
Rating: 3.5 out of 5 Stars
Compared to the SIM 2 driver, the SIM 2 Max driver has a larger face and is a more forgiving option. TaylorMade stuck with the maximum 460CC head size and opted for aluminum as the main material for making the head.
Generally, aluminum is lighter than titanium by up to 66%, and when used to make the head, it can have a weight difference of up you 9 grams which is a massive win in terms of overall swing speed.
The driver's face is made from titanium supported by TaylorMade's CNC milled blue aluminum back ring. To come up with this specific design, TaylorMade literally had to reconstruct the entire club structure and rebuild with multiple testing of materials to figure out the most efficient combination.
For the sole, TaylorMade opted for 9 layers of carbon for extra strength while still maintaining a lightweight sole weighing just 12 grams overall.
This allows for the easy redistributing of weight deeper in the head for increased CG essential in high forgiveness clubs. All this weight saving allows for incorporating a heavy 24-gram tungsten weight on the inertia generator.
These features make the SIM 2 MAX a higher spin and more forgiving driver than the standard SIM 2.
The Best TaylorMade Drivers for a Draw Bias
While there's nothing better than fixing your swing to get the straightest and furthest drives possible, you do have the option of getting a club that helps correct a bias.
Traditionally, you would sacrifice a little overall forgiveness for bias correction. But that's not necessarily the case anymore. Read on to learn how the newest TaylorMade driver 2023 offers can compensate for your swing bias and a more budget-friendly option.
1) TaylorMade Stealth HD driver – Best Bias Correction
Specifications
Right or left-handed
Loft Options – 9°, 10.5°, and 12°
Adjustable hosel – available
Shaft Option – Fujikura airspeed 45, Evenflow RipTide CB 40 (Ladies Flex)
Pros
Stylish aesthetic design
Ample forgiveness levels
Good sound and feel
Cons
Rating: 4 out of 5 Stars
While the TaylorMade Stealth HD comes with many features similar to those found in the other drivers in the Stealth family, it is designed specifically for players looking for a driver that compensates for a draw bias.
It still comes equipped with TaylorMade's iconic Carbon Twist Face and all the other features the other Stealth drivers have to make the HD ultra forgiving.
To create the highest MOI while at the same time compensating for a right miss that feels so familiar to draw bias players, TaylorMade shifted the club's Inertia Generator closer to the heel, utilizing the saved weight from the Carbon Twist face. This allows the Stealth HD to still be super forgiving while compensating draw players.
For players looking for a driver that maintains draw bias without losing on forgiveness, the Stealth HD driver is amongst the best in the TaylorMade line and the entire golf club industry.
2) TaylorMade Sim 2 Max D Driver – Budget Friendly Bias Correction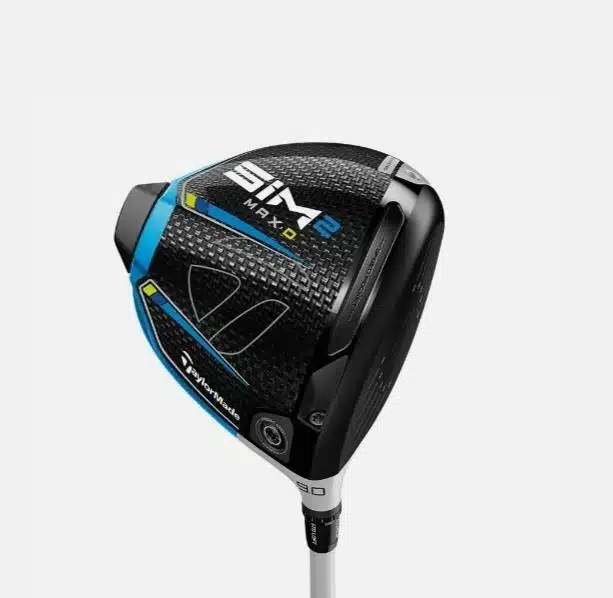 Specifications
Right to left-handed
Loft Options – 9°, 10.5°, and 12°
Adjustable hosel- available
Shaft Option – Fujikura airspeed 45
Pros
Maintains draw bias without compromising on forgiveness
Cons
Not the best option for high-level golfers
Rating: 4 out of 5 Stars
The TaylorMade SIM 2 Max D Driver has a Forged ring construction design that combines all the head sections for a more forgiving and stable design, just like the others in the SIM 2 line.
Most bias high handicap players can also use the club, but mid to slow swing speed category players will find it especially helpful while on the course.
If you have spent some time playing with classic draw bias drivers, you probably know that the compromise with these clubs is usually in their forgiveness levels. However, as the SIM 2 Max driver has a lightweight 9-layer carbon sole, this allows for the weight in the inertia generator to be shifted more towards the heel resulting in low CG. Sound familiar? It's pretty similar tech to the latest and greatest Stealth HD driver.
While not quite as forgiving as the Stealth HD, it is still a viable option that could save you quite a bit of money.
What to Consider When Purchasing a Taylormade Driver
Ideally, the safest option for purchasing a TaylorMade driver is to seek assistance from a professional fitter. However, if this is not possible, you can consider a few factors to help you make an informed choice.
Some areas you should keep in mind when shopping for a new driver include:
Forgiveness vs. Control
Most weekend golfers will look for the most forgiving driver possible. After all, straight and long is what most of us want off the tee. But with forgiveness tends to come less control over your ball flight.
If you're a low handicapper that values the ability to shape your shots, you may prefer a less forgiving, low spin driver. For example, if you look at the Stealth line of TaylorMade drivers, the Stealth Plus is better for low or 0 handicap players.
Design
The design of a driver incorporates both its aesthetics and aerodynamics. While the latter is physically more critical to maintain straight and swift clubhead speed, aesthetics can impact your confidence on the course. As the old saying goes, confidence is key.
Regarding TaylorMade drivers, design features such as the Carbon Twist Face also impact ball flight and forgiveness, which are extremely important when lowering your score. In general, the latest drivers have the newest design features, so for TaylorMade drivers, you should opt for a Stealth driver if you want the best.
Adjustability
You should consider how vital adjustability is for your game. For example, do you really need an adjustable hosel? You may be okay without it. In fact, some higher handicappers will actually add to their score by making adjustments between holes.
Adjustable weighting is another aspect to consider. For example, if you opted for a draw-bias-friendly driver, it's nice to be able to adjust the weighting as your swing improves rather than buying a new driver.
Price
It seems obvious that price should be considered when buying anything new, right? But we often get caught up in the latest and greatest tech when new clubs are released. While the 2023 TaylorMade drivers are excellent, SIM 2 drivers are still a great option and you can often get them for almost half the price of a brand new Stealth driver, especially if you are willing to consider shopping second-hand.
Related Reading: What Does HT Mean on TaylorMade Drivers?
Frequently Asked Questions
Which is The Best TaylorMade Driver?
This depends on a lot of factors. Ideally, you want to get fitted with a professional fitter to find what works best for you. Even then, within TaylorMade's Stealth and SIM driver families, there will be something for every player. With that in mind, the Stealth line is TaylorMade's current best type of driver.
Which TaylorMade Driver is Best For Beginners?
For most beginner golfers, the TaylorMade Stealth HD driver is going to be the best option. This is because many new players have a draw bias, and these drivers are specifically designed to account for this. The standard Stealth is a better choice if the newer player doesn't have a bias.
Read more: Best Driver For Beginners
Is TaylorMade Owned by Callaway?
No, TaylorMade's parent company is Centroid Investment Partners.
Is TaylorMade Made in the USA?
While most TaylorMade clubs and parts are made in the USA, others are made in China.
Which TaylorMade Driver is The Most Forgiving?
TaylorMade's Stealth HD is the most forgiving driver in the entire TaylorMade range.
What is The Best TaylorMade Driver for an Average Player?
The TaylorMade Stealth driver is, without a doubt, the best option for players in the mid-handicap category and will also suit the broadest range of players from different levels.
Picking the Right TaylorMade Driver
To wrap up, the top TaylorMade drivers are those from the Stealth line. You just need to compare TaylorMade drivers to pick the correct one from that range for your handicap and swing style.
If they're a little out of your price range and love TaylorMade, you could consider a SIM 2 driver instead.