You practiced last weekend after another disastrous driving display, warmed up before the round all ready to go. Whoosh!!! There goes your first drive for the day, but oh no, it's veering off towards the right and a watery grave. "Come back, all is forgiven," you yell in desperation, trying to convince the ball to change its trajectory.
This is what so many golfers experience hitting drivers that are not the right fit for them, even though there are many drivers to choose from. Let the technology improvements that manufacturers have spent millions on help you get more satisfaction out of your drives and put back the enjoyment into your round.
The Most Forgiving Drivers Are:
at a glance: Our Top 6 Picks for Most Forgiving Drivers
The Most Forgiving Driver Reviews
Quick Overview: Our Top Picks for The Most Forgiving Drivers
Pros
Effective slice fighter
Lightweight
Good looking driver
No compromise in distance
Cons
Not beneficial to faster swing speeds
Exaggerating hooks due to draw bias
One of the swing paths that most newer and intermediate golfers experience is the left to the right path. We are not talking about a fade here that travels a few meters left to right. We are talking about the wild left to right slice that ends up under the trees or in the water. Well, the F-Max Driver could be the answer to your prayers.
The F-Max Driver is aimed at golfers with a moderate swing speed that yearns to hit a draw after fighting a slice forever.
Grip
Larger midsize grips have been fitted to F-Max Offset for improved comfort and consistency. Having larger grips lessens the tension in your setup, creating higher swing speeds.
Shaft
The shaft is lighter and will help golfers with moderate swing speeds generate increased clubhead for maximum distance. The shaft is available in Senior, Regular and Stiff flex.
Clubhead
In addition to the offset, you will find a draw-biased weight inserted in the sole, towards the heel and rear, fighting the slice by promoting right-to-left (draw) sidespin.
This weight has an added advantage because it promotes roll on the fairway for increased distance. The loft is available in 9.5 degrees, 10.5 degrees, and 11.5 degrees and is not adjustable due to the offset on the hosel.
The offset hosel promotes the face to close at impact to assist the ball in traveling straighter and minimize the left to right curve.
Looks
The offset can be intimidating and distracting initially, but Cobra strategically placed two parallel alignment graphics on the crown and an alignment improving V, to counter this effect. Mishits are mitigated by the titanium face that should produce excellent distance on all shots.
Even the most critical eye will appreciate the gloss black crown with the faded alignment stripe for better alignment, and the sole is finished in polished black and metallic gold accents for a high-class presentation.
Sound
The F-Max produces a slightly tinny sound, but this is by no means offensive to the ears.
Performance:
The F-Max delivers on the claims that you will achieve less of a slice using this driver. There is a definite right to left shape on any semi decently struck shot. The club cannot be blamed for exaggerated swing issues but will address most issues.
Our Verdict
This club is aimed at golfers that are fighting a slice. If you miss on either side of the fairway, this is not for you as it will exaggerate the draw and hooks.
The increased backspin may impact the distance achieved, but it's better to sacrifice some distance for accuracy.
Pros
Highly affordable
Expanded sweet spot
Maintains ball speed on off-center strikes

Restricts sidespin

Produces consistent distance off the tee
Cons
Not adjustable

Only one loft option

Durability
The King Par TEC is a super budget option for high handicappers seeking a low spinning driver with maximum forgiveness. In addition, its lightweight shaft is easy for slower swinging golfers to consistently launch high and long.
It is ideal for golfers who have not fully committed to the game and do not wish to fork out a fortune on premium brands. It is ideal to start your golfing career with, but don't expect it to live on for years.
Clubhead
King Tec employed a 460cc clubhead to offer an expanded sweet spot. This works to maintain ball speed on off-center strikes and restrict sidespin. It does not possess the technology found in competitor products. However, its enlarged sweet spot enables it to produce consistent results.
Furthermore, the clubhead boasts an increased moment of inertia (MOI) to prevent it from twisting during your swing. Therefore, the clubface remains square through impact for straighter shots and superior accuracy.
Loft
This driver is only available in 10.5-degrees of loft. That makes it a suitable option for high handicappers with moderate swing speeds. 
Looks
The King Par TEC Plus crown features a black matte finish to reduce glare at address. The face exposes titanium while an aerodynamic channel runs along the bottom of the head. There is nothing revolutionary about the head, just a simple oversized design.
Performance
The 460cc clubhead on the King Par TEC Plus produces ample forgiveness on off-center strikes. It helps you maintain ball speed across the face, to deliver a consistent launch and optimal distance. Plus, the sweet spot limits sidespin to prompt a straight flying ball.
Furthermore, the lightweight shaft construction makes the club easy for slower swingers and seniors to swing.
Overall, this driver is easy to swing and forgiving. It increases your enjoyment of the game for those who typically struggle to find the fairway. This club helps you achieve straighter shots and consistent yardage for improved results off the tee.
Our Verdict
The King Par Tec may not top the list of the most forgiving driver of all time. However, it does a remarkable job for its low price. It maximizes forgiveness and distance on mishits and is easy to launch.
This club is worth it if you are a high handicapper or beginner on a budget. It gives you everything you need to get started. However, as your game improves and your needs change, it is worth seeking alternative options.
Pros
Combats slices

Delivers straighter ball flight

Optimal forgiveness

Clean black matte finish

Affordable
Cons
Limits workability

The reduced offset will not appeal to low and mid-handicappers

Durability
Pinemeadow Golf (PGX) is renowned for crafting entry-level drivers that often do not conform with USGA regulations. 
The PGX Offset driver contains anti-slice technology designed to produce straighter shots. The technology restricts side spin that prompts a slice and sends it straight for supreme accuracy off the tee.
This is ideal for beginners and high handicappers looking for an affordable, forgiving driver to keep them on the fairway.
Shaft
The stock shaft option for the PGX Offset driver is the Pinemeadow Limited Graphite construction. Although the standard shaft flex is regular, you can find senior, stiff, and extra stiff.
Faster swingers who generate excessive flex with graphite shafts also have the option of light steel shafts. They offer the same flex choices as the graphite shafts.
The extra stiff, stiff, and regular flex constructions produce a mid-kick point, which encourages a moderate launch for consistent ball flight, and distance.
Clubhead
The 460 cc driver head features 10.5-degrees of loft and an expanded sweet spot. 10.5-degrees of loft is ideal for moderate and fast swingers to launch high and long tee shots.
In addition, the wider sweet spot delivers rapid ball speed on off-center strikes and restricts side spin. As a result, you enjoy straighter, longer drives.
Looks
This PGX driver features an extremely offset profile, which can take some getting used to. However, the offset helps beginners and high handicappers get the ball square at impact for an accurate shot.
Furthermore, the driver's head is finished with a Matte Black finish to give it a slick look and limit glare at address.
Performance
The PGX Offset driver works to keep serial slicers in play. Its wide sweet spot and extreme offset combine to promote straight shots and restrict left to right sidespin.
In addition, the extended sweet spot promotes accelerated ball speed across a wider area of the face. Therefore, you enjoy a consistent length even when mishit your shot.
Verdict
The PGX Offset driver is worth trying if you are a high handicapper or beginner. Despite its affordable price tag, the driver performs optimally to keep you straight and out of trouble.
4. PXG 0211 – Longest Forgiving Driver
Pros
Delivers accelerated ball speed

High MOI

Low CG prompts a high launch

Eradicates vibrations on mishits

Highly forgiving

Adjustable hosel
Cons
Precision weighting technology sold separately 
The PXG brand is gaining traction, and it is a pleasure to see their clubs mingling with the giants of the industry. The 0211 is proof of that. A combination of accelerated ball speed, superior feel, and added MOI make this the best driver for distance and forgiveness.
PXG employed innovative technology to produce a well-rounded driver with every characteristic you need. Even more impressive is that it fetches half the price of their competitor's big sticks, with as many features.
Shaft
PXG ensures that its shafts cater to every golfer. They offer ladies, senior, regular, stiff, and extra-stiff constructions. The HZRDUS Smoke Black RDX 60-gram shaft is an extra-stiff design built for golfers with faster swing speeds.
In addition, the EvenFlow Riptide Shaft covers stiff, regular, senior, and ladies' flex. The CB 50-gram is produced in stiff and regular flex, while the 30-gram edition covers ladies and seniors flex.
Loft
You can acquire the 0211 Driver in three loft profiles: 9, 10.5, and 12-degrees. Faster swingers may eye the stronger lofted option, while I suggest slower swingers tackle the 12-degree design.
Clubhead
The 460cc clubhead is packed with technology to provide an all-around experience. Titanium alloy (Ti412) produces explosive ball speed off the face, while a railed sole geometry bolsters MOI and lowers CG.
Furthermore, a Honeycomb TPE insert dampens unwanted vibrations to ensure a soft feel at impact. In addition, the insert produces pleasant acoustics for an enjoyable tee box experience.
Looks
The PXG 0211 is an attractive driver with a black finish that restricts glare at address. Plus, the hybrid crown construction provides a pleasant appearance when setting up.
Performance
PXG crafted the 0211 to deliver blistering ball speed across the face without hampering accuracy. It produces increased MOI to limit face twisting during your swing, leading to straighter drives and improved fairways in regulations record.
Moreover, the Honeycomb TPE inserts remove vibrations from off-center strikes to maintain a soft, satisfying feel.
Verdict
The PXG 0211 driver is among the top forgiving drivers this year. You enjoy rapid ball velocity, straight shots, and a soft feel, even on mishits. Besides these features, the 0211 is an attractive club that limits glare resistance at address.
Most Forgiving Driver for Slow Swing Speeds
Pros
New Shape Head for maximum performance

High launch

Mid-range spin

Better ball speed and accuracy

Larger face

Easy to control
Cons
New Shape Head may not appeal to all golfers

The price tag may be a bit steep
The TaylorMade SIM Max driver is an excellent forgiving driver that's easy to use for beginning golfers. 
Shaft
The stock Fujikura Ventus Blue and Red shafts are constructed in extra stiff, stiff, regular, and senior flex. Faster swingers should thrive with the stiff and extra stiff options, while moderate swingers best stick to the regular flex.
Clubhead
The New Asymmetric Sole Design and the powerful Inertia Generator combine to increase the Aerodynamic Speed at impact.
Weight is positioned at the extreme rear of the head for increased forgiveness and is strategically placed to reduce drag through the swing.
Looks
The SIM Max sports an attractive black matte finish on the sole, while the crown wears an appealing gray. Although the inertia generator maximizes forgiveness it is an eyesore at address. The generator sticks out at address, creating the look of a chunky clubhead.
Performance
It is a very forgiving mid-spin driver that will launch higher and longer even with slightly mishit shots.
The larger Progressive Face Height increases ball speed, control, and accuracy, while the Revolutionary Face Contour reduces sidespin.
Less sidespin allows even the bad swings to remain in play rather than searching for golf balls.
Verdict
The TaylorMade SIM Max is a forgiving, adjustable driver born to produce long, straight flying drives. It is best suited to mid-handicappers seeking a combination of accuracy, distance, and forgiveness.
Pros
Generates low spin

Limits the risk of a slice

Produce a high launch

Prompts explosive ball speed

Delivers increased ball flight
Cons
Expensive

Its high launch may cause some players to balloon their shots
The Callaway Big Bertha B21 follows in the footsteps of ancestors in a quest to provide distance and accuracy. Its oversized head, coupled with a wide sweet spot, delivers a combination of accelerated ball speed and low spin, even on off-center strikes.
Shaft
The stock shaft for the Big Bertha B21 is the Callaway RCH graphite design available in 45, 55, or 65-grams. Plus, each weight is constructed in a regular, stiff, or senior flex, catering to slow, moderate and fast swingers.
Clubhead
You have three choices of loft on the B21: 9, 10.5, and 12.5-degrees. Players with a faster swing speed are best suited to the 9-degree design, while 10.5 is perfect for moderate swing speed.
If your average driver speed is below 83-mph, you should consider the 12.5-degree setup, which is typically easier to launch.
Furthermore, the head contains ultra-low and forward CG. This lowers the spin and increases the height of your launch. 
On top of its launch, the B21 contains an SS21 Flash Face. This design ignites rapid ball speed across an expanded area of the face to maintain distance on mishits.
Looks
This Big Bertha features an increased offset, which is not appealing to superior golfers. However, this helps encourage a right to left shape in compensation for any slice sidespin that you generate.
Moreover, it sports an attractive look thanks to its light carbon crown. Thanks to the reduced mass, the engineers repositioned it into the sole to increase the moment of inertia (MOI). That means it delivers optimal forgiveness on mishits.
Performance
The Big Bertha B21 is designed for two purposes, distance and straight shots. Its SS21 Flash Face generates optimal ball speed, even on off-center strikes. As a result, you enjoy consistent distance on your tee shots.
Furthermore, the offset profile of the driver sets it up for a draw bias shape to maximize distance and accuracy. 
The offset works with an expanded sweet spot to restrict sidespin that causes you to hit a fade or slice. Therefore you increase the chance of landing in the fairway.
Verdict
The Callaway Big Bertha B21 is ideal for those high handicappers looking to eradicate a slice and increase distance. However, you better save up because it costs a premium.
Pros
Good ball speeds across the whole face
Low CG, draw bias, and high MOI for maximum for forgiveness
Adjustable loft
Sliding weight for shot correction
Looks great – large profile for confidence at address
Sounds great
Cons
Pricey!
Not the biggest hitter
Callaway has gone all guns blazing in their latest offerings of forgiving drivers. The Callaway Epic Max is a powerhouse of modern driving technology, with a good chunk of it being geared towards producing exceptionally high levels of forgiveness.
Clubhead
The clubhead of the Epic Max is chock full of explosively high-performing features.
Perhaps, the first thing to mention is Callaway's decision to use Triaxial Carbon material rather than the more commonly used titanium. This saved them over 19 grams of weight, which could then be redistributed towards the back and bottom of the clubhead to promote higher launch and forgiveness. With the combination of a deep CG, a draw bias, and high MOI, this is a driver that can easily help you to hit straighter and longer with more consistency.
Other technologies present in the clubhead include the Jailbreak Speed Frame. It was designed using AI – too complicated for an average joe like me to understand, but all you need to know is that it helps the ball go fast. Real fast.
There is also a sliding weight, giving the user easy access to up to 20 yards of shot correction.
Loft
Adjustable between 8° and 11°. Pretty standard, but paired with the low CG, players should have little trouble achieving decent lofts with this driver.
Sound
Snappy, sharp, and satisfying. Few golfers would express distaste towards the sound of this club.
Looks
On address, the clubhead of the Epic Max has a large visual presence, helping to inspire confidence as you prepare to take your swing. Overall, the clubhead looks great. It could be described as a more classic-looking driver, but it has some nice little flourishes to showcase its technological prowess.
Performance
It's very easy to hit. The forgiveness features work like a charm, generating decent loft and ball speed even on imperfect hits. Sure, it's not the biggest hitting driver in the world, but in terms of promoting healthy, consistent drives, it can't really be faulted.
Verdict
It is a good-looking,good-sounding, technological powerhouse of a driver. Its main selling point is its high level of forgiveness, and it certainly delivers on that. It's always difficult to determine exactly how much of a difference the 'cutting-edge' club technology actually makes, but rest assured, this is a very forgiving and high-performing driver.
Pros
Optimal MOI
High launching
Delivers consistent carry distance
Forgiving
Prompts accelerated ball speed off the face
Cons
The Rogue ST range are the latest drivers from the Callaway stable, aiming to maximize your distance and accuracy. The ST Max makes it onto the list ahead of its siblings because of the assistance it offers the average golfer.
ST Max possesses maximum MOI to encourage straighter ball flight, while a tungsten speed cartridge accelerates ball velocity.
Shaft
The stock shaft options of the Rogue ST Max are best suited to moderate and faster-swinging golfers. Mitsubishi Tensei AV Blue 55 and 65 graphite shaft ranges are the go-to options for regular and stiff shaft fans.
The Mitsubishi Tensei AV White 65 graphite is offered for those who prefer stiff and extra stiff shafts. Finally, the Project X Cypher 40 graphite shaft is the only option for slower swingers.
Loft
Callaway offers the Rogue ST Max in 9, 10.5, and 12-degrees of loft. Slower swingers are advised to consider the 12-degree design. However, moderate and faster swing speeds are best equipped for a 10.5 or 9-degree construction.
Clubhead
The Rogue ST Max is an oversized 460 cc clubhead setup for a semi-draw bias flight. A 26-gram tungsten cartridge is inserted deep and low in the head to prompt high launching tee shots for maximum carry distance.
Furthermore, a titanium unibody construction pairs with a jailbreak speed frame to enhance stability. That means you enjoy consistent ball speed and square face at impact for superior distance and accuracy.
Finally, an A.I. designed clubface reduces spin and boosts ball speed to deliver maximum carry and total distance.
Looks
Thanks to its semi-draw bias profile, this oversized driver is slightly offset. It features a large footprint which may be off-putting to some players. However, it contains a black finish to provide a slick appearance and resist glare at address.
Performance
Callaway constructed the semi-draw bias driver to launch high and produce a medium level of spin. These features encourage a high-flying ball to maximize carry distance off the tee.
Aside from the ball flight, distance, and accuracy, the Rogue ST Max delivers the highest level of forgiveness.
Verdict
The Rogue ST Max is the epitome of modern driver technology. It works to deliver maximum carry distance and straight shots, ideal for mid to high handicappers. The main downside of this driver is its exorbitant price tag, which is not suitable for the average golfer.
Pros
Optimizes energy transfer at impact

Increased MOI

Maximum forgiveness

Low spin

Mid to high launch
Cons
Expensive

It does not feature a sliding track weight
The TaylorMade Stealth signifies a new era for golf equipment. After years of titanium-dominated golf drivers, the Stealth showcases the power of carbon. TaylorMade refers to this movement as the Carbonwood Age.
The engineers concocted this driver to produce a rounded combination of feel, speed, launch, and spin. Employing a 60x carbon face reduces the weight by 44% compared to a standard titanium driver. Plus, it still carries a larger clubhead than its predecessors: the SIM, SIM 2, and SIM 2 Max.
Shaft
TaylorMade offers two stock shafts, which best cater to fast and moderate swing speeds. The only option for slower swingers is the Fujikura Ventus Red in a senior's flex. Conversely, the Aldila Ascent Red is available in extra stiff, stiff, and regular.
Loft
As is standard for premium driver brands, the Stealth is crafted with 9, 10.5, and 12-degrees of loft. Faster swingers are advised to stick to the stronger lofts, while weaker is better for slow swing speeds.
Clubhead
The clubface contains 60 carbon sheet layers to increase your energy transfer at impact and generate faster ball speeds. In addition, this driver is 44% lighter than your standard titanium construction. However, its head is 11% grander than the SIM 2 and SIM 2 Max and 20% bigger than the SIM.
Therefore, it is easier to increase your clubhead speed and energy transfer at impact. Plus, you enjoy superior forgiveness thanks to a larger head. Lastly, it features an adjustable hosel to alter your loft and lie preferences.
Looks
Red carbon layers dominate the face to provide an attractive appearance at address. It is complemented by a black finish on the crown and sole to reduce glare during your tee shot.
Performance
The Stealth driver delivers a neutral ball flight to cater to the average mid-handicapper. Moreover, it produces medium to low spin, delivering a mid to high launch for improved carry and total distance. 
Lastly, it produces 15% more MOI than the Stealth +, equipping it with the highest level of forgiveness. That is why it deserves a spot on this list as the best driver for forgiveness.
Verdict
TaylorMade has pushed the boundaries of equipment engineering to produce the Stealth. It is an attractive construction, light, and highly forgiving. All of its qualities are ideal for mid handicappers looking for maximum forgiveness.
Pros
Combats slice

Delivers straight shots

Affordable

Consistent

Forgiving
Cons
The excess offset is an eyesore

It eradicates any ability to shape your tee shots
The last most forgiving driver in 2022 is an option for high handicappers and beginners. It is not permitted in tournaments because of the 7-degree offset, designed to combat slice sidespin. Although traditionalists may not approve of this golf club, it works to keep the most vulnerable golfers out of trouble off the tee.
Shaft
Orlimar offers an ultra-light graphite shaft available in seniors and regular flex. That means that the stock shaft is better suited to those with moderate and slow swing speeds. If you swing over 96-mph, these shaft options are not built for you.
Loft
This golf driver is constructed with two choices of loft. Moderate swinging golfers have a 10.5-degree option at their disposal. Conversely, those with slower speeds should opt for the 12.5-degree design.
Clubhead
The Slice Killer contains a 460cc driver titanium head, offset by 7-degrees. The exaggerated offset prompts a draw bias ball flight and restricts sidespin that causes you to slice your golf shot.
Orlimar designed the clubhead to produce lag and hold-up impact. This gives the clubface ample time to square up at impact and delivers straighter shots. Furthermore, the larger clubhead size creates an enhanced sweet spot to maintain ball speed on off-center strikes.
Looks
Despite its intention to keep you straight, it does not score high in the looks department. The 7-degree offset clubface is an eyesore at address. However, the black matte finish brings some attractiveness to the party and limits glare.
Performance
Sure, it looks unappealing. However, its performance catapults it onto this list. Its ability to restrict slices makes it the most forgiving driver in 2022 for high handicappers and beginners. 
The extreme offset combats sidespin that causes you to slice your golf ball. Therefore it delivers straighter shots to keep you in play. Increased accuracy does come at a price, as golfers often report a loss of distance off the tee.
Verdict
The Orlimar Anti-Slice driver works hard to keep less gifted golfers on the fairway. It is an affordable driver that will boost your fairways in regulation record. But, it is not allowed for use in tournaments.
As a beginner, this will not be a problem. However, as your handicap reduces and you think about playing in competitions, you need to acquire a tournament-legal design.
What To Look For in a Forgiving Driver
Loft
Loft is the first factor to determine a forgiving driver. Stronger lofted drivers are ideal for faster-swinging golfers seeking a low ball flight and reduced spin. Conversely, higher-lofted options are for slower swingers. The reason is that it is easier to hit your ball airborne.
Shaft
Like loft, your swing speed guides your decision on shaft flex. Golf Magazine suggests that super fast swingers should play with an extra stiff shaft while moderate swing speeds fit regular flex.
Golfers who swing below 83-mph should think about a senior or ladies' flex. These options produce added whip on the downswing for an optimal coefficient of restitution (COR). Therefore, you enjoy consistent ball speed for increased distance off the tee.
Ball Flight
Once you have determined your preferred loft and shaft flex, you need to consider ball flight. Amateurs often struggle with slices, but a draw bias profile helps combat that shape. The position of the head limits side spin to induce straighter shots. In addition, those searching for straight flight should find a neutral head.
Alternatively, you could opt for an adjustable driver that enables you to alter the position of the face depending on your preference. That way, you have the option of inducing any shot shape you prefer.
Center Of Gravity (CG)
The next step is deciding on your preferred CG position. Most game improvement drivers contain low and deep CG to prompt a consistently high launch. It is not common to find it positioned forward.
Aerodynamics
An aerodynamic driver causes the club to resist any airflow on the downswing to maximize your clubhead speed. This increases your chance of optimizing your COR at impact to produce superior ball speed.
Benefits of Using a Forgiving Driver
Improved Distance
Forgiving drivers will optimize the distance you drive the ball, even on mishits. The technology built into drivers is top-notch and allows most players to have an opportunity to go for the green with shorter irons. Some drivers even allow slower swing speeds to achieve previously unthinkable distances.
Improved Control
Improved technology allows golfers to counter their swing faults to a certain extent and still achieve sufficient control to land most of their drives on the short stuff, thus making golf a much more enjoyable sport.
Confidence and Enjoyment
As you hit more consistent drives, your confidence will improve, and your ability as a golfer will grow. This enables you to enjoy the game and want to return more often.
Best Forgiving Drivers FAQs
What is MOI?
MOI stands for moment of inertia. It determines how many grams per square centimeter the clubhead twists during your swing. A higher MOI signals that a club produces increased resistance to twisting. That means you stand a higher chance of keeping the clubface square at impact.
Therefore, a higher MOI increases your ability to produce straighter ball flight for optimal accuracy.
What Drivers Are The Most Forgiving?
The Cobra F-Max is the most forgiving driver overall. However, the Callaway Rogue ST Max is an excellent option for mid and high handicappers. In addition, the Orlimar Slice Killer is ideal for beginners looking to stay on the fairway.
What Is The Longest Most Forgiving Driver?
The longest, most forgiving driver in 2022 is the PXG 0211. A titanium face and low CG delivers blistering ball speeds to prompt a high, long drive for added yards.
What Is The Easiest Driver To Hit?
Callaway Big Bertha B21 is the easiest driver to hit. The engineers implemented a low and forward CG, with limited spin, encouraging a high launching drive for maximum carry distance.
Is A Higher Loft Driver More Forgiving?
No, a higher loft driver is not more forgiving. The weaker loft is easier for the average golfer to consistently launch, but it is not more forgiving. 
Just because your driver has a high loft doesn't mean it restricts sidespin or maintains ball speed across the face. A 12.5-degree driver with a reduced sweet spot can deliver limited velocity or added sidespin. Therefore, you experience a loss of distance and accuracy.
What Is The Most Accurate Driver?
The most accurate driver in 2022 is the Orlimar Slice Killer. It limits slice sidespin to induce straight ball flight for superior accuracy. It is ideal for beginners desperate to spend less time out of bounds or in the woods. Unfortunately, the excessive offset renders this driver illegal for tournament play.
Should I Get Custom Fitted For A Driver?
Yes, you should get fitted for all your clubs. Booking a session with a professional will provide insight into your swing and ball speed, launch angles, spin, distance, and direction. This information enables the fitter to identify the perfect loft, lie, shaft length and flex for your game.
It eliminates any guesswork in determining your ideal driver composition. 
Best Driver For Distance And Forgiveness?
The PXG 0211 is the best driver for distance and forgiveness. Its titanium face construction produces accelerated ball speed across the face, while low CG produces a high launching shot. In addition, the driver features a high MOI to enhance forgiveness and deliver straighter drives.
What Is The Most Forgiving Driver For A High Handicapper?
The most forgiving driver for a high handicapper is the Orlimar Slice Killer. This driver includes a 7-degree offset face to eliminate slice sidespin and prompt a straighter shot. This is ideal for high handicappers who struggle for accuracy off the tee and put themselves out of contention before the hole begins.
Conclusion
It is always difficult to find the driver that will suit you down to a T in the myriad of available options. Every golfer has different requirements and wants to tweak the driver ever so slightly to get the most out of it. In some cases, though, golfers want a stock standard option that will work for them, and they don't have to concern themselves with the technical detail involved in setting up the club.
We have reviewed both options and found that the competition is stiff in both categories. Still, manufacturers have made the options as flexible as possible to cater to a wide spectrum of golfers.
An easy launch, accurate and consistent. That describes the Cobra F-Max Offset that is built to keep the average golfer straight and moderately long. 
King Par Tec Plus produces excellent value without having the overheads of sponsoring professional players. It does not include the technology of premium products, but it is consistently forgiving and long.
Low and forward CG works to limit spin and increase the apex of your drives. The result is an easy launching club that optimizes your carry distance off the tee box.
Distance, feel, and forgiveness. These are the features that best represent the PXG 0211. Its titanium face produces exceptional ball speed, while a low CG delivers a high launch. In addition, optimal MOI restricts twisting during your swing for a square face at impact.
If you are after extra yards rather than forgiveness, I suggest reading about the best golf driver for distance. Alternatively, if you desire an all-around design, have a look at our best golf drivers guide.
Related topics: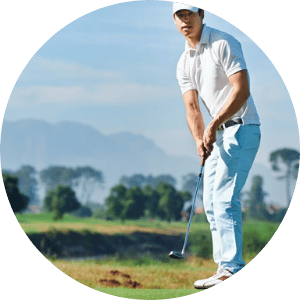 Matt is a seasoned golf equipment writer and sports fanatic. He holds a Postgraduate in Sports Marketing and has played golf for over 28 years.