This is what so many golfers experience hitting drivers that are not the right fit for them even though there is a myriad of drivers to choose from. Let the technology improvements, that manufacturers have spent millions on, help you to get more satisfaction out of your drives and put back the enjoyment into your round.
The Most Forgiving Drivers Are:
at a glance: Our Top 6 Picks for Most Forgiving Drivers
What To Look For in a Forgiving Driver
Every golfer doesn't need to carry a driver in his/her bag but you would take a lot of enjoyment out of the game by excluding this club from your bag.
Although it is one of the most difficult clubs to hit consistently, a well-struck drive soaring like an eagle down the fairway will make your chest swell with pride and your playing partners praise you for the rest of the round.
To achieve consistency in your golf driving abilities you might need to spend hours on the driving range and a substantial amount with a professional.
It is not a bad idea to go for a fitting and a few basic lessons but fortunately, there are alternatives.
In this review, we will provide some feedback on the drivers that are available in the market to assist you in overcoming some of your shortcomings and make the game of golf enjoyable rather than a pure frustration.
In deciding on your next driver it would be advisable to do a self-assessment on the driving range with your current driver to determine your most prominent mishit tally, your swing speed, and your flight path.
Then you will be able to select the driver that will allow you to fulfill your potential and put a smile on your face, and your whole family's face when you return happy after your round.
Characteristics of a forgiving driver are that it offers maximum forgiveness across the whole face producing longer drivers even on off-center hits.
This must occur while the coefficient of restitution (CoR) remains within the legal limit as set out by the golfing authorities. Manufacturers achieve this by creating varying thicknesses across the face and shaping the face optimally change the direction of every shot.
The adjustability of the launch angle and center of gravity (CoG) will also help. This is achieved by adding weights and sliders to the club head allowing golfers to have their preferred settings dialed in and set.
When the golfer's swing changes all he, or she, has to do is change the settings and everything is set again. You can even set the amount of spin generated to optimize the distance that you can drive the ball.
Benefits of Using a Forgiving Driver
Improved Distance
Forgiving drivers will optimize the distance you drive the ball even on mishits. The technology built into drivers are top-notch and allows most players to have an opportunity to go for the green with shorter irons. Some drivers even allow slower swing speeds to achieve previously unthinkable distances.
Improved Control
Improved technology allows golfers to counter their swing faults to a certain extent and still achieve sufficient control to land most of their drives on the short stuff thus making golf a much more enjoyable sport.
Confidence and Enjoyment
As you hit more consistent drives your confidence will improve and your ability as a golfer will grow. This enables you to enjoy the game and want to return more often.
The Most Forgiving Driver Reviews
Quick Overview: Our Top Picks for The Most Forgiving Drivers
One of the swing paths that most newer and intermediate golfers experience is the left to the right path. We are not talking a fade here that travels a few meters left to right, we talk about the wild left to right slice that ends up under the trees or in the water. Well, The F-Max Offset Driver could be the answer to your prayers.
The F-MAX Offset Driver is aimed at golfers with a moderate swing speed that yearns to hit a draw after fighting a slice forever.
Grip
Larger, midsize grips have been fitted to F-Max Offset for improved comfort and consistency. Having larger grips lessens the tension in your setup creating higher swing speeds.
Shaft
The shaft is lighter and that will help golfers with moderate swing speeds to generate increased clubhead for maximum distance. The shaft is available in Senior, Regular and Stiff flex.
Clubhead
In addition to the offset, you will find a draw-biased weight inserted in the sole, towards the heel and rear, fighting the slice by promoting right-to-left (draw) sidespin.
This weight has an added advantage in that it promotes roll on the fairway for increased distance. The loft is available in 9.5 degrees, 10.5 degrees, and 11.5 degrees and is not adjustable due to the offset on the hosel
The offset hosel promotes the face to close at impact to assist the ball in traveling straighter and minimize the left to right curve.
Looks
The offset can be intimidating and distracting initially, but Cobra strategically placed two parallel alignment graphics on the crown together with an alignment improving V, to counter this effect. Mishits are mitigated by the titanium face that should produce excellent distance on all shots.
Even the most critical eye will appreciate the gloss black crown with the faded alignment stripe for better alignment and the sole is finished in polished black and metallic gold accents for a high-class presentation.
Sound
The F-Max produces a slightly tinny sound but this is by no means offensive to the ears.
Performance:
The F-Max delivers on the claims that you will achieve less of a slice using this driver. There is a definite right to left shape on any semi decently struck shot. The club cannot be blamed for exaggerated swing issues but will address most issues.
Our Verdict
This club is aimed at golfers that are fighting a slice. If you miss on either side of the fairway this is not for you as it will exaggerate the draw and hooks.
The increased backspin may impact the distance achieved but it's better to sacrifice some distance for accuracy.
Tour Edge is not a marquee manufacturer but based in Batavia, Illinois, and has quietly been around since the late 1980s. More renowned for their fairway woods and hybrids, they are rarely seen in the bags of sponsored professional players.
Don't let this discourage you from trying out the Hot Launch L3 driver. It is a very competitive driver at a low budget cost. Although not one that will raise the eyebrows in your group for its reputation, it will not let you down and may surprise many.
The fact that Tour Edge does not sponsor professional players does not mean that there are no professionals that use their equipment. It only means that you benefit as the money saved can be utilized to keep prices down, while building excellent equipment.
Clubhead
The "Power Channel" that you can find right behind the clubface pushes the coefficient of restitution to the maximum allowed and helps low struck shots.
The center of gravity is moved to the back through a weight that is located at the back. The technology allows even shots that are hit thinly to achieve similar distances as well-struck shots.
Variable thicknesses found in the face of the Hot Launch HL3 offers extra forgiveness in the areas where golfers tend to strike their mishits.
Loft
There are only two lofts available, 9 degrees and 10.5 degrees. This may not be suitable for golfers with slower swing speeds.
Looks
The Tour Edge crown lacks the flamboyant colors and markings found on the premium brands but its classic pear-shaped clubhead shape and simple spot that indicates where you can find the sweet should suffice for most golfers looking for value rather than flash.
Performance
Shots that hit the sweet spot are not far off the distance that you will achieve with the more popular drivers, but mishits are where you will experience the difference.
Manufacturers spend millions on mitigating those mishits and achieving the most distance possible. This is where the Tour Edge Hot Launch HL3 came to its rightful place as a competitor. The low-face impact creates a fantastic roll-out that ends up very near the shots struck in the sweet spot.
Shots struck on the heel do not veer way off the short grass as will be expected and will be very unlikely to end up under bushes on the outer perimeters of the fairway or in the out of bounds section.
Toe shots, on the other hand, tend to come back to the fairway and produce the run associated with a draw that will end up surprising most by the distance that they achieve.
Our Verdict
Don't expect too much fancy in-your-face technology and adjustability when you evaluate this driver. The money invested in this driver will allow you to move straight to the course yet be forgiving enough to mitigate the shots struck on either the toe or on the heel.
This is a solid performer at a price that most golfers or aspirant golfers can afford. Even without the fancy technology, you can expect respectable performance.
Ping is renowned for producing some of the most forgiving drivers helping golfers of all abilities to produce their best drives.
Although Ping drivers may lack slightly in producing the ultimate distance they make up for that in the forgiveness and consistency that they provide.
The Ping G425 Max is targeted at golfers that require maximum forgiveness and it a mishit will only result in a drop-off of just seven yards compares to a flushed drive. Its adjustability compares to the G410 Plus.
Shaft
G425 Max drivers come standard with an Alta CB Slate counter-balanced shaft with an 8-gram plug in the end. This shaft complements the forgiveness and clubhead speed of the club head design.
An Aldila Rogue White shaft is available as an optional replacement for the Alta CB Slate. The Rogue delivers a smooth, stable feel and produces low spin with a low/mid trajectory. Another option is the Mitsubishi Tensei AV Orange counter-balanced shaft that produces a higher trajectory, low spin, and stability for maximum control.
Clubhead
Ping G425 Max pushes the limits at a record-breaking 10,000 MoI. This is achieved through the 26-gram tungsten removable weight that pushes the COG lower and farther to the back of the clubhead. The weight can be set for a draw, neutral, or fade bias.
A precision-machined precision-forged face combined with the crown turbulators improves aerodynamic drag to deliver optimal ball speeds and distance.
Sound
The newly developed internal rib structure reinforces key sections of the head for quiet, mid-bass, with a slightly hollow "pop" or "clap" acoustics and a better feel.
Looks
PING G425 Max has no exciting colors but sticks to a black and silver color scheme. Turbulators on the face end of the crown replace the alignment marks found on other drivers while a depression in the back end of the crown aids in its aerodynamics.
Performance
Ping's G425 Max does exactly what it claims and provides forgiveness and stability. Mishits consistently produce more speed, robust launch angle, and spin numbers.
Its adjustability makes it versatile to provide you the ball flight you desire. The loft is adjustable by 1.5 degrees by up or down while the 26-gram tungsten enables you to set the fade, neutral, or draw bias.
A selection of shafts enables you to optimize the driver to your swing.
Verdict
Ping G425 Max driver is one of a long list in the Ping history that takes care of the requirements for golfers of all levels that require a little extra forgiveness while offering you the adjustability to get it set up for your swing.
Most forgiving driver for slow swing speeds
The New Asymmetric Sole Design and the powerful Inertia Generator combine to increase the Aerodynamic Speed at impact.
Weight is positioned at the extreme rear of the head for increased forgiveness and is strategically placed to reduce drag through the swing.
A very forgiving mid-spin driver that will launch higher and longer even with slightly mis-hit shots.
The larger Progressive Face Height increases ball speed, control, and accuracy while the Revolutionary Face Contour reduces side-spin.
Less side-spin allows even the bad swings to remain in play rather than searching for golf balls.
The stock Fujikura Ventus Blue or Red shaft is a winner.
Many golfers shy away from the driver on tight holes, but the confidence generated will have the player grabbing the "big dog" wherever possible.
5. Ping G410 Plus / G410 SFT
Pros:
Sleek, all-black head design
Highly adjustable to create the ideal shot type
Multiple shaft options to customize for swing
Cons:
Wider shot dispersion on solidly struck shots
Slightly less distance compared to other drivers
The G410 Plus is the first time that Ping placed movable weight on a driver with their new G410 SFT (Straight Flight Technology). This is a driver that is claimed to be their most fade correcting driver to date. Not only will it fight your slice but it is built on a draw bias
Shaft
There are multiple shaft options available such as the Alta CB Red 55, Mitsibushi Tensei CK Orange, and the Evenflow Black from Project X.
Clubhead
The precision-forged face that is created through the Ping patented heat treatment results in a thinner but hotter impact due to the increase in flexing.
There are three bias setting that can be achieved by moving the 16-gram tungsten weight. Center for neutral, towards the toe for fade, and towards the heel for a draw. The lie angle can be adjusted by +/-1.5° for improved adjustability.
Sound
The forging process has resulted in a well-accepted sound that will please even the most critical golfer
Looks
The crown is slightly lighter in color than its predecessor but this is hardly noticeable unless the clubs are placed next to each other.
Alignment assistance is achieved by the long white grooved Turbulators on the face.
Performance
Clubhead speed is optimized by the lighter swing weight and the face returns to square at impact. The distance and accuracy together with the forgiveness ensure that this club will perform as it specifies on the box.
Verdict
Even though this is Ping's first attempt of building sliding weights into their driver, they must be congratulated. It is a great success and will not disappoint most players.
Callaway has gone all guns blazing in their latest offerings of forgiving drivers. The Callaway Epic Max is a powerhouse of modern driving technology, with a good chunk of it being geared towards producing exceptionally high levels of forgiveness.
Clubhead
Where to start. The clubhead of the Epic Max is chock full of explosively high performing features.
The first thing to mention, perhaps, is Callaway's decision to use Triaxial Carbon material, rather than the more commonly used titanium. This saved them over 19 grams of weight, which could then be redistributed towards the back and bottom of the clubhead in order to promote higher launch and forgiveness. With the combination of a deep CG, a draw bias, and high MOI, this is a driver that can easily help you to hit straighter and longer with more consistency.
Other technologies present in the clubhead include the Jailbreak Speed Frame. It was designed using A.I – too complicated for an average joe like me to understand, but all you need to know is that it helps the ball to go fast. Real fast.
There is also a sliding weight, giving the user easy access to up to 20 yards of shot correction.
Loft
Adjustable between 8° and 11°. Pretty standard, but paired with the low CG, players should have little trouble achieving decent lofts with this driver.
Sound
Snappy, sharp, and satisfying. Few golfers would express distaste towards the sound of this club.
Looks
On address, the clubhead of the Epic Max has a large visual presence, helping to inspire confidence as you prepare to take your swing. Overall, the clubhead looks great. It could be described as a more classic looking driver, but it has some nice little flourishes to showcase its technological prowess.
Performance
It's very easy to hit. The forgiveness features work like a charm, generating decent loft and ball speed even on imperfect hits. Sure, it's not the biggest hitting driver in the world, but in terms of promoting healthy, consistent drives, it can't really be faulted.
Verdict
A good looking, good sounding, technological powerhouse of a driver. It's main selling point is its high level of forgiveness, and it certainly delivers on that. It's always difficult to determine exactly how much of a difference the 'cutting-edge' club technology actually makes, but rest assured, this is a very forgiving and high performing driver.
Conclusion
It is always a difficult task to find the driver that will suit you down to a T in the myriad of available options. Every golfer has different requirements and wants to tweak the driver ever so slightly to get the most out of it. In some cases though, golfers want a stock standard option that will work for them and they don't have to concern themselves with the technical detail involved in setting up the club.
We have reviewed both options and found that the competition is stiff in both categories but manufacturers have made the options as flexible as possible to cater to a wide spectrum of golfers.
A golfer that has a problem slicing the ball will do well trying the Cobra F-Max Offset to get their ball back in play closer to the fairway.
Tour Edge produces excellent value without having the overheads of sponsoring professional players. You can rely on good technology at an excellent price
Good looking, lightweight, smooth swinging and forgiving. Not much more than you can ask for. A close second to the overall winner and will remain extremely popular in this highly competitive market.
Distance and forgiveness without the bells and whistles that go with adjusting the setup. Grip and rip, smile and walk off the tee, that's what's on offer with the Cleveland Launcher HB Driver.
Give some thought to your specific needs in order to select the perfect driver for your game.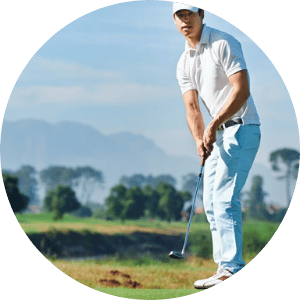 Nick Lomas is the founder of GolfSpan, an avid golfer, not quite a pro but has over 15-years of experience playing and coaching golfers from all over the world. His mission is to bring the golfing community a better experience then it comes to choosing the right golf gear, and finding the right set up for your game.