Manufacturers have responded to the ever-growing female sector of the golf market, and there is an excellent range of quality clubs for women to choose from. However, making a decision on which to buy can be bewildering.
We have conducted extensive research to help you select the best women's golf clubs. We will take you through some of the more important factors to consider when making your decision and highlight a few of the best options available. There is something to suit all ladies and all budgets. Let's look at our top golf clubs for women.
Featured Products
at a glance: Our Top 5 Picks for Women's Golf Clubs
Why Trust Golfspan?
Golfspan is dedicated to reviewing golf products and giving honest and useful feedback to save you time and money. We also hope to improve your golfing experience. We are independent and not pressured by manufacturers to recommend products.
We were not paid for the reviews in this article. Our team clubs of avid players with over 100 years of experience playing golf and thousands of hours reviewing products selected these golf clubs. We may earn an affiliate commission when you purchase something through our retail links. If you're wondering, "What are the best golf clubs for ladies?" read on for our trustworthy reviews.
Quick Overview: Our Top Picks for Women's Golf Clubs
The Best Women's Golf Clubs
1. Callaway Women's Strata Ultimate Complete Golf Set – Best Overall
Pros:
Great value for money
Comprehensive 16-piece kit
Good assortment of clubs, including 2 wood and 2 hybrids
Callaway High Flight Technology
Includes 2 hybrids
Precision milled putter
Forgiving clubs
Includes a durable and stylish bag with plenty of pockets
Comfortable grips on all clubs
Cons:
Will not suit better players
Some beginners would benefit from a higher-lofted driver
Not ideal for taller ladies
This is one of the best golf clubs for ladies. Callaway is known for quality golf equipment, and although this is a relatively budget-friendly option, it is well-made and has everything you need. It is ideal for beginners, although it can carry you through as your game improves.
The set is extremely popular and highly rated by most that have used it. This is the largest set in the Strata range, a 16-piece set. They also offer a 12 and 14-piece set. This larger set contains pretty much everything the lady golfer will need.
You get a quality full titanium driver. It has a 10.5-degree loft and a large, forgiving sweet spot. The head size is a generous 460cc. It has a relatively long shaft for a women's club at 44 inches.
Callaway makes some excellent drivers, and they have used this experience and technology in creating this driver. It does not have all the features of the more expensive models but is still a competent driver that most ladies enjoy.
The set contains a 3# and 5# fairway wood. These have good aerodynamics and deliver a high launch and a lot of distance. They also have a good amount of forgiveness.
The irons are solid stainless steel and have good weighting and a good feel. Callaway uses High Flight Technology, which gives the irons good distance and control while also being highly forgiving.
Hybrids are a popular replacement for longer irons. This set replaces the 4# and 5# irons with a 4# and a 5# hybrid. These are infinitely easier to hit and more forgiving. This makes them ideal for the market this kit is aimed at. The hybrids also have High Flight Technology. These, too, come with headcovers.
The set comes with a pitching wedge and a (56-degree) sand wedge. The putter is accurate and effective, thanks to precision face milling. Most players find its control and consistency to be good.
Included in the set is an attractive, stylish bag. Most ladies enjoy the bright colors and design. It has plenty of pockets to hold accessories, valuables, and balls. The back strap is comfortable and makes the bag comfortable to carry.
This is a great option to consider if you are looking for a well-priced set. While it might not be perfect for better players, most golfers will benefit greatly from this comprehensive set, particularly those starting out. It is a popular choice that is highly rated by most that have used the Callaway Women's Strata Ultimate Complete Golf Set.
Taylor Made clubs are some of the most reputable in the industry, especially in women's clubs. This is why TaylorMade made is a favorite among professional women players like Ariya Jutanugarn. TaylorMade has dedicated a women's advisory board to check the quality of women's golf clubs. As a result, they have some of the best golf club sets for women.
The Women's Kalea Premier is no different. With its premium quality build, the clubs are specially designed to be lightweight and very forgiving, which makes them perfect for beginner women golfers.
The 11-piece set comes with a driver, 5 Fairway, 5 Rescue, 6 Rescue, 7-9 irons, a pitching wedge, a sand wedge, and a putter.
The 12-5 degree loft driver has a lightweight club head with a lightweight carbon crown and sole. This helps to increase the club head speed to give you more distance. Since most of the weight is at the back, close to the club head, the driver is also optimized for forgiveness.
The shape of the driver's clubhead is a bit unusual and might take some time to get used to, but other than that, the driver performs exceptionally.
The fairway woods boast 37% larger faces than previous clubs, which makes them more forgiving. You can choose between the 3#, 5#, and 7# woods.
The 2 hybrids also offer the same benefits as the woods, with lighter shafts and larger clubheads for more forgiveness. This makes them a perfect alternative to long irons.
The cap-back design of the irons is meant to give you more control and adds more launch to your shots to increase your distances. The speed pocket on the sole also improves the ball's speed.
The mallet putter uses spider technology, making the head shape 15% more compact than the Spider Tour. This makes it more stable and adds to the forgiveness. The graphite shaft is also incredibly lightweight without compromising the stability of the whole club.
It's hard to find any flaws in the TaylorMade Kalea Premier. This would be the best set of women's golf clubs overall if it weren't for the price tag. However, since the price is a massive factor in our ranking, this set took the crown for the best premium women's golf club set.
3. Wilson Golf Profile Platinum Package Set – Best Value
Pros:
Complete set for everything you need
Game improvement technology
Forgiving irons that promote consistency
The larger sweet spot on the irons
Cart bag with double shoulder straps for maximum comfort
Cons:
A bit expensive for some newer golfers
The beginner and intermediate golf club market is full of clubs that are a perfect option for people who want to get into the sport or upgrade their old clubs.
The Wilson Golf Profile Platinum Package Set is a great option for golfers who want a matching set with every area of their game covered.
One of the best things this set offers is game improvement technology with its irons and driver. The fact that the clubs are forgiving will give a golfer much more confidence when standing over the ball because you don't have to hit it perfectly every time.
Something unique is that the set comes in three different sizes: regular, tall, and petite. The level of customization is key because learning to golf with the right clubs in the first place is better.
It may be worth checking this set-out at your local fitter and seeing if you are a good fit for it!
While Aspire might not be the first brand that comes to mind, this affordable set received many positive reviews from happy customers.
Let's take a look at what you get in the set.
The driver is a titanium driver with a 460cc head. Like all the clubs, it has been designed for forgiveness and high swing speeds for optimized distance. You also get a 15-degree fairway wood and a 21-degree hybrid to replace the challenging long irons. Both are stainless steel and all of these come with headcovers.
The cavity-backed irons are stainless steel and range from the 6 iron to the pitching wedge. These are designed for forgiveness and easy launching. All clubs come with lightweight High Modulus 100% Graphite Shafts. This allows for greater speeds even off a slow swing speed allowing you to maximize distance.
Also included is a matching stand bag with dual straps, plenty of storage space, and a mallet-style putter. Many golfers, particularly beginners, prefer this type of putter and find it more consistent and accurate. You will need to pick up a sand wedge, but these are reasonably priced and easy to find secondhand.
From what we can see, this set is only available in a right-hand configuration. One benefit is the choice of a regular size or a petite size that is ideal for smaller ladies.
If you are serious about the game and have a bit more budget, this is one of the best ladies' golf club sets. It will be an investment that should enhance your game and last you many years of golfing enjoyment. Although more expensive than other options, it is a comprehensive set and quality equipment.
This stylish set is designed for distance and game improvement. The 13-piece set contains everything lady golfers need, from beginners to better players. You get a 12.5-degree driver and 3 fairway woods: a 3# at 18.5°, a 5# with a 21.5° and a 7# ; a 6# iron, a pitching wedge, a sand wedge, and a putter. This gives you great versatility, particularly on the longer holes.
The 21.5° 5# hybrid will allow you to avoid the long irons that many golfers battle with. The driver, wood, and hybrid all come with headcovers.
You get the 6 # iron and a decent pitching wedge and sand wedge. They are cavity-backed irons with perimeter weighting for forgiveness and distance. Most golfers enjoy the feel and response of the irons. The deep undercut makes them easier to launch.
The putter is a blade-style putter for those wanting more control. It has a decent alignment aid that is easily visible.
The clubs have all been designed with a low and back center of gravity for easier launching, optimized spin, and good distance. The shafts are extremely lightweight, allowing for faster swing speeds and maximum distance. This is why they are the best women's golf club set for senior ladies.
Another great benefit of this set is the top-quality and spacious cart bag. It has 7 pockets, all with zips, and includes a waterproof compartment and 2 insulated pockets.

6. TourEdge Women's Lady Edge – Best for Beginners
Pros:
Complete set for everything you need
Game improvement technology
Forgiving irons that promote consistency
Larger sweet spot on irons
Cart bag with double shoulder straps for maximum comfort
Cons:
A bit expensive for some price ranges
No flaws worth mentioning
Tour edge may not be the most popular golf club industry, but it is steadily making a name for itself. The Lady Edge is one of their products that stands out.
It has the option of a full set with 11 pieces or a starter set with 8 pieces. The full 11-piece set comes with a driver, 3# and 5# wood, 6# and 73 hybrids, 8# and 9#  iron, pitching wedge, sand wedge, putter, and a cart bag. On the other hand, the starter set is an 8-piece set that does not have the 5# wood, 7# hybrid, and 9# iron.
These clubs have a slightly more elevated loft than most clubs for higher launch angles. The driver is a 15-degree loft with a 460cc titanium head to give you plenty of forgiveness and boost your swing speeds.
The 3 and 5 woods are low profile with aggressive grooves to provide you with control of your distances. The hybrids have the typical oversized club heads that give you more confidence as a beginner player with your shots. They are also suitable substitutes for long irons for high handicappers.
The two irons also have an oversized head to increase the sweet spot area. Both sets also come with a 50-degree pitching wedge and a 55-degree sand wedge.
Finally, the putter comes in a mallet style to increase forgiveness.
The full set has a cart bag, and the starter set comes with a stand bag. If you're just starting out and feel pressured to choose which clubs to use, then the starter set would be perfect.
This is the best women's golf set for beginners, with large club heads, high lofts, and lightweight graphite shafts.
Cobra is among the top manufacturers because of its premium golf clubs. The women's AIR-X combo set is a good example of quality irons. The set comes with 2# hybrids and 5# irons with lightweight shafts to boost swing speed for the smoothest shots. However, these lightweight features maintain stability, making this the best ladies' golf club for beginners and advanced players.
The most impressive part about these irons is that they have a stronger loft than most irons. This means that they give more distance and lower trajectories. Due to this, in this set, the 7# iron has a similar launching speed and distance to a 6# iron.
Although this set may not be as powerful as the LTDX, it has an edge thanks to the lightweight and high launch, which boosts the club head speed and distance. You can get more tips on drawing out this iron set's potential in iron play at GolfPass.
This is a value-for-money option for beginners to intermediate women golfers. It is specifically designed for game improvement and maximizing distance. The low center of gravity will allow ladies to achieve a relatively easier launch, and they are highly forgiving due to the large sweet spot and perimeter weighting. Shots struck off-center will still travel a fair distance without straying too far off target.
The graphite shafts are light and flexible, which should suit most women in the target market.
The set comes with a stylish, lightweight bag and has plenty of storage space. It also has useful handles and is comfortable to use.
The main aim of this set is distance, forgiveness, and an easy launch. Most ladies agree that Wilson has achieved this.
The irons, 6 to 9, and the pitching wedge are cavity-backed for added forgiveness. The 14-degree driver has an oversized head with a light graphite shaft. This should afford forgiveness as well as faster swing speeds and greater distance.
You also get a fairway wood with a graphite shaft and a hybrid to replace the challenging longer irons. The mallet putter has a heel/toe weighting which many find affords them greater control and accuracy on the green.
The bag is light and offers plenty of space. It is comfortable, but many would prefer it if it came with a kickstand. The driver, wood, and hybrid all come with headcovers.
The Tour Edge Moda Silk women's golf clubs complete set is another set from Tour Edge worth considering.
The set includes a driver, a 3# and a 5# wood, a 5# and a 6# hybrid, 7-9 irons, a pitching wedge, a sand wedge, and a putter. The driver is a 15-degree loft with a 460cc titanium clubhead, the largest legal clubhead for maximum forgiveness.
With this set, you have the added advantage of two fairway woods and 2 hybrids, the easiest clubs for women golf players, especially beginners. The 3# and 5# fairway wood comes with precision weighting in the sole for a higher launch. If you want to increase your accuracy, the #5 and #6 hybrids are a good alternative to the irons.
The irons begin with the 7# iron to the 9#, which is good for high and mid handicappers. The putter is a mallet-style putter which is weighted to add more stability. The putter also has an alignment marker.
This set is great for beginners and players who want to advance to intermediate; therefore, you can use it for a long time to come.
The Precise M5 Ladies golf club checks all the boxes for forgiveness, lightweight, affordable and easy launching. This is why it made it to our list of best golf sets for women. This set includes a driver, #3 wood, 21 Hybrid, 5-9 irons, a pitching wedge, a putter, a stand bag, 3 head covers, and, sometimes, a raincoat.
The driver has a 430cc club head with a subtly offset hosel for more forgiveness. This is best for players with slow swing speeds.
You'll notice immediately that the clubs have a sleek design with pink schemes. There are also other colors if pink is not to your taste. The 15-degree 3# fairway wood has a large club head to maximize the sweet spot and improve the accuracy of your shots.
The hybrid has a narrow profile. It has a weighted heel on the club head for smooth strikes on the course.
You also get a variety of irons, including the 5#, 6#, 7#, 8#, and 9# irons. There is also a pitching wedge in the set and a putter.
The golf stand bag has 3 matching head covers and a rain hood.
The quality of these clubs goes beyond expectations, especially for their price. This set is a good value set for beginners who want to try out golfing for fun.
How to Buy Women's Golf Clubs
Investing in the best women's golf club sets can be daunting as many options are available.
Naturally, there are a few critical differences between sets designed for men and those made for women. The average woman is physically different from the average man in height, build, and strength. Naturally, there are exceptions, but this is a general rule.
Clubs designed for ladies are, therefore, slightly shorter and generally lighter. There are a few more subtle differences many manufacturers make to improve the effectiveness of their clubs for women.
There are several important factors to consider before making your purchase decision. Here are some of the main ones below.
Skill Level
The first and most important factor to consider is your skill level. Some sets are designed for ladies still learning the game. These are great for beginners but will not suit a more experienced player. Make an honest assessment of your skill level to determine the set that will work best for your game.
Beginners will want a lot of emphasis on forgiveness, while more experienced players will want more control and playability.
Shafts
Ladies with a relatively slow swing speed will benefit from a shaft with more flex, which will help optimize distance potential. Ladies with a faster swing will need a stiffer shaft.
You should also consider the length and weight of the shaft. A lighter shaft will allow for a faster swing and, therefore, distance, while the correct length of the shaft will allow for better control.
Grip
The grip is another essential thing to keep in mind. It is supposed to be proportional in size to your hands. Women golf players benefit more from a grip with a smaller diameter than men. If you do not have a firm and comfortable grip, then every other aspect of your shot will be more difficult.
Club Mix
There are no one-size-fits-all club sets, and what you get can vary wildly from one set to the next. Give some thought to your specific needs and your budget when selecting a set. For example, if you already have a bag, a driver, and a putter, you may want to simply get a set of irons or an iron/hybrid combination.
Speaking of hybrids, they are an extremely popular option to use in place of long irons. Low-numbered and low-lofted irons are long and often highly challenging to hit. This is true for men and women and is not restricted to beginners.
Hybrids are much more forgiving and easier to launch and hit well. A set with a hybrid or two is worth looking at for players of any skill level.
Also, look closely at what you are not getting. Many sets, for example, do not have a sand wedge. This is a handy club for shorter chips around the green or getting out of the dreaded sand traps. They are not that expensive to add to a set later but be sure to factor in the cost of extras when weighing up your options.
Look at each type of club included. The driver should be light and forgiving to allow you to get the most out of your tee shots. A higher loft will help you achieve an easy launch even if you have a relatively slow swing speed. Fairway woods are always useful, particularly on the longer holes.
Cavity-backed irons will be more forgiving, while blade-style irons give more control and playability but are more challenging to hit accurately.
Also, look at the wedges and putters that come with the set. The bag is also essential. It should be lightweight, durable, and have enough storage space for your needs.
Budget
Speaking of your budget, this is an essential factor to think about. Some sets offer great value for money, while others are more of an investment. If you are serious about the game and intend to play it for some time, invest in a quality set that will work well as your skills improve. If you are still trying to decide your commitment level, go for a more budget-friendly option that you can always add to or upgrade when the bug grabs you.
Looks
Ok, it is not just ladies that care about looks. You want a set that appeals to your tastes and sense of style. It is an essential factor to consider. Fortunately, there is a wide range of options, so look for a set that you like the look of and it will add to your enjoyment of the game.
Testing
You can often test out golf equipment before making a purchase. There are prominent manufacturers, and most golf stores usually have all the latest equipment for players to test.
Golf stores and simulators are the best chance for most of us to hit new equipment. But, if you can find an outdoor range that also allows you to try out clubs, that is the best option.
Swinging outside is less restrictive, and you will better understand what you can do. Seeing a real golf ball fly on the range, just as it would on the course, is the best possible feedback you can get.
Frequently Asked Questions
Here are a few of the most common questions that we are asked regarding the top women's golf clubs.
What Is a Good Brand for Women's Golf Clubs?
Several good women's golf clubs brands include Callaway, Cobra, Wilson, TaylorMade, and more. Each brand will have unique features and options to help improve what they can offer women golfers.
What Are the Most Forgiving Women's Golf Clubs?
The most forgiving women's golf clubs are the Callaway Strata. These clubs are built to help golfers get the ball up in the air and into the hole in a brief period of time. If you are brand new to the game and still unsure exactly how to play, these women's golf clubs will help to shorten your learning curve.
What Clubs Should a Woman Have in Her Golf Bag?
Women golfers should have a mix of clubs, including a driver, fairway wood, hybrid, several irons, two wedges, and a putter. The more a woman golfer plays and the further they start hitting the ball, the more additional clubs will be necessary. The more golf clubs a woman has in their bag, the more variety in the shots they can hit.
What Size Women's Golf Clubs Do I Need?
Most women in the 5'3" to 5'7" range will be acceptable with standard-length women's clubs. If you are shorter than this, the petite option is about one inch shorter and would be a better fit. For taller women, the tall length may be a better choice. In addition, the men's standard length with a ladies' flex shaft is a good option for taller women.
What's the Difference Between Ladies' and Men's Golf Clubs?
The difference between ladies' golf clubs and men's is usually in size. Golf clubs designed explicitly for ladies typically have shorter and more flexible shafts. Many women golf players can work with golf clubs designed for men. However, if you think this might be the case for you, a club fitting is often a good idea.
What Size Golf Clubs Should a 5-Foot Woman Use?
A 5-foot woman should use a petite set of golf clubs. This set will be about one inch shorter than a standard women's set, which helps make the clubs more usable for a woman of this height.
Final Thoughts
While we have strived to present only the very top options for the best women's golf clubs, the Callaway Women's Strata Ultimate Complete Golf Set stands out as the best women's golf club for 2023. It is a comprehensive set of quality clubs that are well put together and still offer great value. The clubs are forgiving, comfortable, and effective. The mix is good and contains pretty much everything you need for a great round of golf.
It is an affordable set with some great technology. It is something that will serve you well for many years. We rate it amongst the best women's golf sets, and consumer feedback supports our opinion.
Give some thought to your skill level, needs, and budget to select the clubs that will work best for you.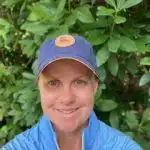 Britt has been playing golf since she was seven years old. After becoming a Class A PGA Professional, teaching professional, and golf membership director, she decided a career in golf writing was the perfect fit. Today Britt plays more golf than ever with her husband and two children and still loves connecting with golfers worldwide.