Mastering your wedge is the safest way to save a few shots every round and lower your score. However, selecting the incorrect clubs can leave gaps in your distance game. To help you avoid this challenge, I am unveiling the 5 best wedges for women in 2023.
I will review the best pitching, gap, sand, and lob wedges for ladies. Plus, I will explain the importance of loft, grind, and bounce in wedges.
You may notice that the wedges on this list are generally marketed to men, but you can benefit from them as well. I suggest getting fitted to add your preferred shaft length and flex, and clubhead loft.
If you wish to see a list of the overall best wedges for 2023, head over to this article. But, if you are specifically looking for the best ladies' golf wedges, keep reading.
Overview Of Our Best Wedges For Women
Best Overall
Best Pitching Wedge
Best Sand Wedge
Cleveland CBX2
Callaway Mack Daddy 5 JAWS
Wilson Harmonized
Pros

Increased forgiveness at impact
Superior feel
Moderately affordable
Produces optimal spin

Excellent turf interaction
Generates increased spin
Enables optimal control
Two bounce grind options
W-Grind offers increased forgiveness

Excellent turf interaction
Generates increased spin
Enables optimal control
Two bounce grind options
W-Grind offers increased forgiveness

Cons

Oversize design is not appealing to low handicap players

Oversize design is not appealing to low handicap players

Not ideal for firm turf conditions
Expensive
Glare is an issue when addressing the ball

Price Score
88.4
76.7
98.6
Feel Score
93.2
91.7
85.1
Spin Score
89.2
88.0
85.6
Rating
4.5 Stars
4 Stars
4 Stars
Our Research Parameters
Golfspan is independent and not pressured by manufacturers to recommend products. We were not paid for the wedge reviews in this article. These wedges were selected by our team, who have over 50 years of experience playing golf and hundreds of hours reviewing products. We may earn an affiliate commission when you purchase something through our retail links.
18 Products were considered from 8 brands on:
Spin
Feel
Forgiveness
Control
Looks
Price
Types Of Ladies Golf Wedges
There are four types of golf wedges:
Pitching
Gap
Sand
Lob wedge
Each wedge contains a different loft and is employed for an array of shots.
Pitching
A pitching wedge is the strongest lofted club in this category. It is generally used for a full shot. Golfweek suggests that the average distance a woman hits a pitching wedge is approximately 80 yards.
Golf Monthly explains that the average loft of a pitching wedge is 44.5-degrees.
Gap
A gap wedge is the least common option found in the bags of amateur golfers. As the name suggests, it helps you bridge the distance gap between a 44.5-degree pitching wedge and a 56-degree sand wedge. The average loft of a gap wedge is 50 to 52-degrees.
Without this club, you may find it challenging to play full shots between 60 to 70-yards out.
Sand
According to Golfweek, the average lady hits a full sand wedge up to 60-yards. Plus, it is commonly used for shots from greenside bunkers.
The loft of a sand wedge ranges from 56 to 58-degrees. Most amateurs also find that a sand wedge is easier to chip with than other wedges.
Lob
The final option in this category is a lob wedge, which provides the weakest degree of loft. These clubs contain 60, 62, or 64-degrees of loft.
The main purpose of a lob wedge is to help you generate optimal spin, get the ball high, and stop it dead. That is why professionals use it to play a flop shot.
If you are interested in learning more about this club, read our review of the best 60-degree wedge.
Factors To Consider When Looking For The Best Golf Wedges For Women

Types Of Wedges
Rule 4.1b of the USGA restricts the number of clubs in your bag to fourteen. That means you need to decide what clubs you need most. Given the number of woods and irons you carry, it typically leaves you with space for two to three wedges.
Most players carry a pitching wedge to bridge the distance between their short irons and wedges. Plus, they opt for a sand wedge as their preferred chipping tool.
However, if your home course has tight, fast greens, you may need the loft of a lob wedge to stop your ball quickly. Conversely, if you struggle to find the right club between 60 to 70-yards out, a gap wedge is worth considering.
If you started playing recently, follow our guide, What Wedges Should A Beginner Carry.
Spin
To maximize your performance with a wedge, you need optimal spin performance. The sharper and deeper your grooves are, the more spin you are likely to produce.
If the grooves are blunt and shallow, you will lose ball speed and spin, resulting in less control.
Loft
We have discussed choosing your wedges, but each club contains varying degrees of loft.
If you generate excess spin and height with your wedges, consider less loft. For example, a 43.5-degree pitching wedge may perform better than a 44.5-degree.
Conversely, if you launch too low with minimal spin, you need more loft. For example, if a 56-degree sand wedge doesn't work, substitute it for a 58-degree.
Bounce And Grind
Bob Vokey describes wedge grind as the "manipulation of material from the sole." This manipulation leads to superior turf interaction and cleaner ball striking.
Your angle of attack determines the ideal grind for your game. Manufacturers craft options for players with steep, shallow, and neutral attack angles. Plus, the turf conditions provide a guideline on what grind to employ.
If you are playing on hard surfaces, a low bounce is preferable to prevent the clubhead from bouncing over the ball. Conversely, soft turf conditions are preferable for a higher bounce angle to get through the turf and connect the ball.
The grind of a wedge is designed to produce varying bounce angles to suit different players. The purpose of bounce is to prevent your wedge from sticking into the ground.
The Best Women's Golf Wedges of 2023
1. Cleveland CBX2 – Best Overall Women's Golf Wedges
Pros
Increased forgiveness at impact
Superior feel
Moderately affordable
Produces optimal spin
Cons
Oversize design is not appealing to low handicap players
Topping the list of best wedges for women in 2023 is the Cleveland CBX2. The club delivers maximum spin and forgiveness in three grind options to enhance your short game control.
The V-shaped grind features on the pitching and gap wedges enable full shots with controlled spin. In addition, the S-shaped sole helps to open the clubface for bunker shots and lofted chips. Lastly, the C-shaped sole opens the clubface for flop shots.
Cleveland's engineers hollowed out the chamber in the wedge's cavity and added weight to the toe. The combination produces an optimal moment of inertia (M.O.I) for maximum forgiveness on off-center strikes.
Furthermore, a Gelback TPU is added to eradicate vibrations from mishits, delivering a smooth feel at impact.
The last feature worthy of mentioning is the Fourth Generation Rotex Face that contains the company's sharpest grooves. The design enables the wedge to generate optimal spin for superior control around the green.
Overall, the Cleveland CBX2 is forgiving, feels smooth, and generates optimal spin. As a result, this affordable ladies wedge is best suited to mid and high handicappers searching for a combination of spin, forgiveness without breaking the bank.
Rating: 4.5 Stars
Pros
Excellent turf interaction
Generates increased spin
Enables optimal control
Two bounce grind options
W-Grind offers increased forgiveness
Cons
Not ideal for firm turf conditions
Expensive
Glare is an issue when addressing the ball
If you are looking to bridge the distance gap between your pitching and sand wedge, keep reading. The Callaway Mack Daddy 5 JAWS wedge delivers a combination of forgiveness, control, and ample spin. These features are the reason it tops the best ladies' gap wedge category.
The Mack Daddy 5 is offered in two grind choices: W and S. The W-Grind features a wide toe and center sole to provide additional MOI. The increased MOI offers superb forgiveness.
Despite its forgiving nature, it is designed for soft conditions and players with a steep angle of attack.
Conversely, the S-Grind is a medium-width sole designed to keep the leading edge low during impact. It is a better-suited wedge for all turf conditions.
Furthermore, the JAWS grooves grip onto your ball at impact, imparting maximum spin. That gives you more control on full shots, enabling you to stop your ball dead in its tracks. As a result, you improve your distance control.
Besides its spin, forgiveness, and control, the MD5 wedge delivers flawless turf interaction. That enables you to make clean contact with the ball from anywhere on the course. You, therefore, enjoy increased spin and control, even from the rough.
In summary, the Callaway MD5 wedge is ideal for controlling full shots between 60 to 70-yards.
Beginners and mid-handicappers will benefit from the forgiveness of the W-Grind. However, lower handicappers may appreciate the reduced sole profile.
Rating: 4 Stars
Pros
Exceptional spin
Pure feel
Exceptional turf interaction
Increased accuracy
Excellent distance control
Cons
The profile is compact for high handicappers
Expensive
Bob Vokey is an expert wedge craftsman and knows how to combine distance control and spin. That is why the Titleist Vokey SM8 is the best women's pitching wedge.
The Vokey SM8 prides itself on precise distance gapping to increase the chance of reaching your target. Although you are assured of spin, the forward center of gravity (CG) increases your MOI for increased forgiveness.
Given the 52-degree loft of this wedge, Titleist has fitted it with an F-grind sole that keeps the face slightly closed. That helps you maximize your distance on full shots.
In addition, the precisely milled grooves enhance your spin to ensure optimal ball flight and shot-stopping control. Therefore, you can launch these shots and stop them rapidly.
Finally, the Vokey SM8 is designed for superior golfers looking to play various shots with their gap wedge.
In conclusion, the optimally positioned CG and milled grooves produce spin and distance control. Plus, it enables maximum workability. As a result, this wedge is best suited to lower handicappers looking for increased control.
Rating: 4.5 Stars
No products found.
Pros
Exceptional value for money
Well polished clubhead
Promotes high shots
Excellent turf interaction
Formidable spin
Cons
The sand wedge is only offered with 56-degrees
Cheap feel
Although this wedge is not specifically designed for ladies, it is easy for anyone to play. This high launching, rapid spinning Wilson Harmonized club is my pick for the best ladies' sand wedge.
Despite the features, this is one of the lowest cost wedges on the market.  
The three grind options are crafted to help you open your clubface to get the ball high.
In addition, the blade-shaped clubhead enhances turf interaction to help you generate maximum spin from any lie.
Based on the performance of the Wilson Harmonized sand wedge, it offers exceptional value for very little money. All golfers can play this high launching wedge, but beginners and high handicappers stand to benefit the most.
Rating: 4 Stars
5. TaylorMade MG2 – Best Ladies 60 Degree Lob Wedge
Pros
Three bounce options for the 60-degree wedge
Butter soft feel
Promoted a high launching shot
Generates maximum spin
Superior greenside control
Cons
The face rusts over time
Expensive
The lowest lofted wedge option is beneficial for high short shots, specifically the flop. The TaylorMade MG2 produces a high launch and robust spin to help you stop the ball rapidly. That is why it is featured as the best lob wedge for women in 2023.
The engineers at TaylorMade implemented their ZTP Raw Groove Design to produce sharp, deep grooves for maximum greenside spin. Added to the groove design is a precisely located CG that prompts a high ball flight.
The wedge is crafted with a milled grind sole to produce solid contact from any position. In addition, it enables the clubhead to glide through the turf without digging into the ground.
Furthermore, a TPU Insert was fitted to the wedge's cavity to optimize its feel and acoustics. The Insert absorbs vibrations from off-center hits to keep your hands feeling smooth.
The TaylorMade MG2 feels smooth, launches high, and spins exceptionally. It is everything you require from your lob wedge.
In reality, all golfers can play with this wedge. However, keep in mind that the weak loft and open clubface may be challenging for high handicappers to adjust to. That is why it is ideal for mid and low handicappers.
Rating: 4 Stars
Women's Golf Wedges FAQs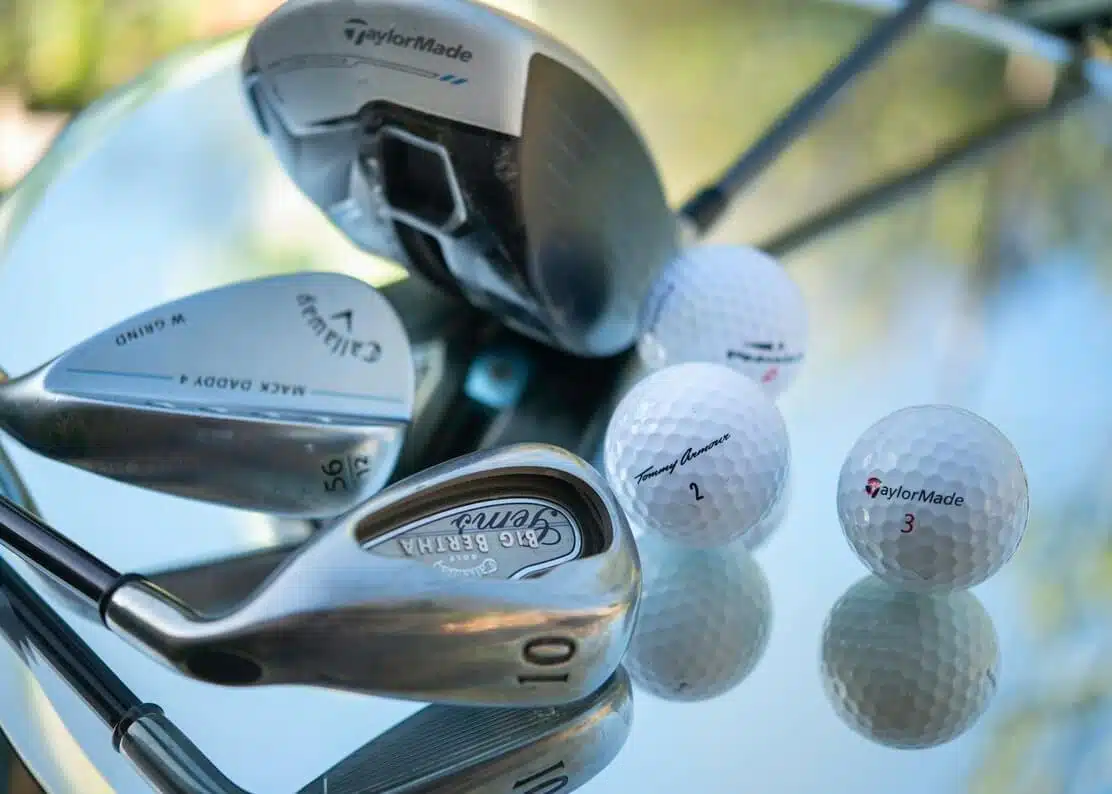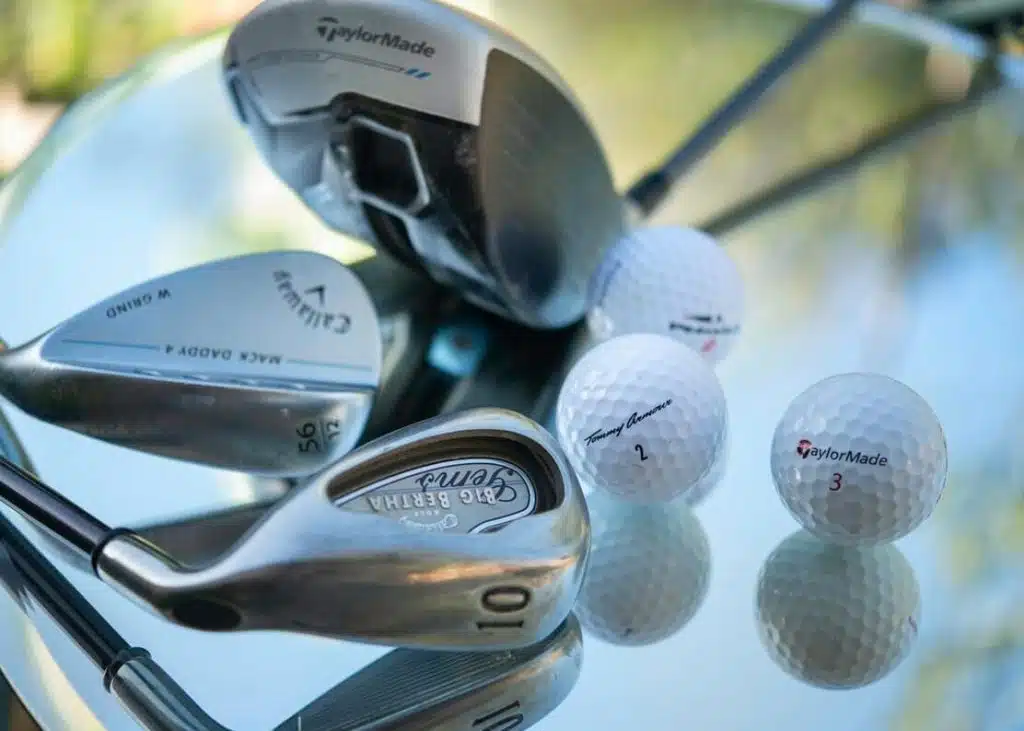 What Wedges Should A Woman Carry?
Like men, women should carry the wedges that best suit their gapping and shot needs.
However, every golfer should have a pitching wedge because it is the only club with a loft in the 40-degree range.
Without a pitching wedge, you will experience a massive gap in distance between your 9-iron and next wedge.
The other essential item is a sand wedge. It has sufficient loft to help you get the ball high and spinning and out of the bunker.
If you are concerned about the loss of distance between your pitching and sand wedge, a gap wedge is the answer.
For those demanding more spin and height than a sand wedge, a lob wedge is what you need.
Is Custom Fitting For Wedges Available?
Yes, you can get custom fitted for a golf wedge, as Vokey explains. The process helps you identify the correct grind, shaft, loft, and bounce for your swing.
How Many Wedges Should I Have In My Bag?
You should carry a minimum of two wedges, but it depends on your preference. Since you can only hold 14 clubs, it makes the decision difficult. For example, I carry a driver, two fairway woods, seven irons, three wedges, and a putter.
Although I am covered in my short game, my long game suffers because of the gap between my 5-wood and 3-iron.
There are 15 yards between the clubs that impact me on par 5's and long par 4's.
The bottom line is you should carry a minimum of two. But if possible, go for three.
How Do I Choose The Right Wedge For Me?
The most efficient way to choose the right wedge for you is to get fitted by professionals such as True Spec Golf.
Final Thoughts
Becoming a better wedge player, and increasing your up and downs, requires the correct tools.
Now that you know about the best wedges for women and where to find them, it is up to you — make your choice, and get practicing.
Earning the title of best pitching wedge is the Titleist Vokey SM8, while the Callaway MD5 JAWS claimed the top gap wedge.
In addition, the Wilson Harmonized is the best sand wedge for 2023, and the TaylorMade MG2 topped the charts as the finest lob wedge.
Despite the impressive qualities of the above options, none compare to the Cleveland CBX2. It is affordable, forgiving, and spins optimally, making it an easy wedge for all lady golfers to play.
If you are searching for a new wedge, you can take a closer look at the Cleveland CBX2 here.
Those ladies looking for more choices should look at our guides on the best wedges for mid and high-handicappers.