I have played with TaylorMade irons for most of my teenage and adult life. My reasons are simple. Their irons are easy to launch long and straight.
But which TaylorMade irons are best for me? I hear you ask.
Good question, and by the end of this post, you should have your answer.
This list features options for low, mid, and high handicap men. You'll also find the top pick for female golfers. The irons included here range from highly forgiving and consistent to buttery-soft and workable.
As an overview, the best TaylorMade irons in 2023 are as follows:
Read on to discover all of the interesting points from our testing.
Why You Should Trust Us
Our team spends thousands of hours trying out and researching golf equipment to help you take your game to the next level. Here's our product review process.
We can bring these reviews to you through the small commissions we earn if you buy through the links below.
How We Reviewed These Products
Golfspan only shares equipment and brands we trust.
I'm an experienced golfer of 28 years and thoroughly researched and evaluated the products shared below. Then an editor reviewed and fact-checked the list. Finally, we conduct regular content audits to update and revise our reviews to ensure you receive the latest information.
To select these irons, we considered the following criteria:
Cost
Forgiveness
Distance
Launch
Speed
Spin
Feel
Workability
Accuracy
The Best TaylorMade Irons in 2023
Quick Overview: Our Top 8 TaylorMade Irons
Pros
High forgiveness
Good workability
Hits long across the entire face
Beautiful design
Soft feel
Quality feedback
Cons
Only small improvements on 2020 version
Not for high handicappers
Rating: 4.5
Lofts
| | | | | | | | | |
| --- | --- | --- | --- | --- | --- | --- | --- | --- |
| CLUB | 4 | 5 | 6 | 7 | 8 | 9 | PW | |
| LOFT | 22.5° | 25.5° | 29° | 33° | 37° | 41° | 46° | |
Sitting in our top position are the TaylorMade P770 irons. These clubs sport a compact player's shape with reduced offset in the longer irons and a thinner topline than the P790. Yet, unlike a classic blade, you get increased forgiveness and distance, making them a solid choice for skilled golfers who need extra assistance.
It features an incredibly thin face. This is made possible by including SpeedFoam Air which is 69% lighter than previous models. The sweet spot is also carefully positioned for each club to help optimize your strikes. This progressive Inverted Cone Technology ensures you are not punished if you miss the center, helping to preserve ball speed and accuracy. From our testing, we can say that this feature highly impressed us.
We also appreciated the FLTD CG system, which sees the center of gravity positioned lower in the long irons and higher in the short irons. TaylorMade achieved this through the placement of up to 46 g of tungsten. You get improved launch in the more challenging long irons and enhanced spin in the short irons.
Ultimately, the P770 irons serve as a bridge between the P7MC and P790. While they are long hitting, they don't quite reach the lengths of the ever-popular P790s. And while they are workable, they can't match the P7MC in this regard either. They are also slap-bang in the middle regarding forgiveness, too — above the P7MC and below the P790.
Yet we don't feel they need to be the best in any one area as they are high-performing across the board. We think mid to low-handicappers will prefer the P770 over the P790 because of its higher workability and alluring soft feel. Yet if you're a higher handicapper, you should steer clear. While not a true blade, the P770s do not offer the necessary forgiveness.
Pros
Exceptional forgiveness
Promotes accelerated ball speed off the clubface
Flexible clubface
Enlarged sweet spot
Eliminates unwanted vibrations
Cons
The set does not include a 4-iron or sand wedge
Restricts workability
Rating: 4.5
Lofts
| | | | | | | | | |
| --- | --- | --- | --- | --- | --- | --- | --- | --- |
| CLUB | 4 | 5 | 6 | 7 | 8 | 9 | PW | AW |
| LOFT | 19.0° | 21.5° | 25.0° | 28.5° | 32.5° | 38.0° | 43.5° | 49.0° |
The SIM Max set is our second top pick in our TaylorMade irons review. These affordable golf irons deliver excellent forgiveness, distance, and accuracy for consistent results on the golf course. This combination makes these clubs the best TaylorMade irons for high handicappers and mid-handicappers too.
Speed Bridge Technology bolsters the stability of the top line of these irons to induce rapid ball velocity off the clubface. In addition, the 1.5-millimeter ultra-thin clubface pairs with the Inverted Cone Technology (ICT) to ensure swift ball speed on all strikes.
We had no trouble maintaining consistently fast shots and found that the SIM Max irons regularly outpaced the previous M6 and M5 irons just as advertised.
Sticking with ball speed, the Max irons receive further support from the manufacturer's patented Speed Pocket Technology. It works to increase the flexibility of the clubface. This helps you maintain velocity on strikes low off the grooves.
Aside from its exceptional distance qualities, the SIM Max irons produce optimal forgiveness, feel, and acoustics. Inverted Cone Technology expands the sweet spot on each clubface. This helps you maintain ball speed and restrict side spin on off-center strikes. As a result, you enjoy consistent, straight, long golf shots.
However, while shots are straight, workability is definitely limited. Therefore if you aim to hit draws and fades on the regular, it may not be the set of irons for you.
As for the sound, the engineers added an Echo Damping System to enhance the feel and acoustics of each strike. The damping system drowns out unwanted vibrations felt on mishits. Plus, each shot returns a crisp, pleasant sound at impact. So as far as the best TaylorMade game improvements irons go, the SIM Max is at the top.
Pros
Affordable
Produces accelerated ball speed
Forgiving
Reduces vibrations
Crisp acoustics
Cons
An older model of irons
There is no sand wedge included in the set
Sometimes feel a little hollow
Rating: 4.5
Lofts
| | | | | | | | |
| --- | --- | --- | --- | --- | --- | --- | --- |
| CLUB | 5 | 6 | 7 | 8 | 9 | PW | AW |
| LOFT | 21.5° | 25° | 28.5° | 33.0° | 38.0° | 43.5° | 49.0° |
The M4 irons are an older edition that TaylorMade released in 2018. However, they still deliver an impressive amount of forgiveness and more distance than most, ideal for mid to high handicapper. The M4 irons offer excellent value for money, considering their age — they are the cheapest irons on this list. Therefore, they are a wise acquisition if you are on a budget.
RIBCOR Technology works with steel materials to encourage a rapid release of your golf ball off the clubface. RIBCOR increases the stability around the center of the clubface to boost your coefficient of restitution (C..O.R) across an expanded area. Therefore, you produce accelerated ball speed on most shots resulting in consistent distance.
Assisting the rapid ball velocity of the M4 irons is Speed Pocket Technology. The now-famed component enhances the flexibility of the clubface, encouraging added spring into contact. This helps you maintain ball speed on shots off the low part of the clubface.
The engineers roped in Geocoustic Technology to improve the feel and sound of the irons. The technology helps the club eliminate nasty vibrations on off-center strikes. Plus, it works to induce crisp audio on your iron shots.
While we appreciate preventing such vibrations, we found the M4 irons felt a little hollow, especially for off-center strikes. Overall though, we are relatively satisfied with the feeling.
To learn more about these impressive irons, give our full M4 irons review a read.
Pros
They deliver rapid ball speed
Optimal forgiveness
High launching
The irons encourage a soft, controlled landing
Delivers ample distance
Cons
Moderately expensive for mid and high handicappers
The set does not include a sand wedge
Low spin compared to most irons
Rating: 4.5
Lofts
| | | | | | | | | |
| --- | --- | --- | --- | --- | --- | --- | --- | --- |
| CLUB | 4 | 5 | 6 | 7 | 8 | 9 | PW | AW |
| LOFT | 18.5° | 21.0° | 24.0° | 28.0° | 32.0° | 37.0° | 43.0° | 49.0° |
TaylorMade released the Stealth irons in 2022. They do not contain the carbon wood material of the drivers, but they deliver optimal forgiveness and consistency. Golfers searching for a forgiving set should consider the new Stealth set.
The Cap-Back design pairs with a toe-wrap construction to expand the flex of the clubface for rapid ball speed on all shots. This ensures that you produce consistent distance across the board. In fact, it performed so well in this area, that it even beat out the SIM2 Max by a considerable distance which was a surprise to us.
Furthermore, the Cap Back-toe wrap partnership positions the sweet spot in common contact zones to increase forgiveness. Therefore, it increases ball speed on heel and toe mishits and reduces sidespin. As a result, you produce straighter, longer shots for superior consistency on approach.
Moreover, a Thru-Slot Speed Pocket supports the Cap Back construction. This expands the flexibility of the clubface, promoting optimal ball speed on low-face contact.
TaylorMade repositioned the weight from the toe of the irons into the sole. That places the center of gravity (CG) low and back, prompting a high launch for towering ball flight. Producing a high apex pushes your golf ball to land rapidly for increased control into the green.
While it is fairly thick, TaylorMade offers a thicker sole in another club from this range: the Stealth HD. Therefore if you have a steep angle of attack and need a wide sole, perhaps you might want to consider this club instead.
Finally, the classic Echo Damping System fits between the face and the Cap Back. This technology helps drown out shocks from mishits. Plus, it produces crisp acoustics at impact.
For those who are interested, we have a dedicated TaylorMade Stealth Irons review available. This has many more details that can help you decide if these irons are right for you.
Read more: Readers hoping to learn about alternative iron sets should scope out our most forgiving irons.
Pros
Produces maximum distance
Super thin clubface generates explosive ball speed
High launching
Enlarged sweet spot
Cons
Expensive
Thick topline
Reduced spin
Rating: 3.5
Lofts
| | | | | | | | | |
| --- | --- | --- | --- | --- | --- | --- | --- | --- |
| CLUB | 3 | 4 | 5 | 6 | 7 | 8 | 9 | PW |
| LOFT | 19° | 21° | 23.5° | 26.5° | 30.5° | 35° | 40° | 45° |
The P790 set tops our TaylorMade golf clubs review list in the best distance irons category. These irons work for mid and high-handicappers seeking additional yards without sacrificing too much forgiveness. These irons are built to provide explosive ball speed, an enlarged sweet spot, and a pure feel.
8620 carbon steel reduces the face thickness by 37.5%, thus giving the irons a low center of gravity and accelerated ball speed. Reducing the chunkiness of the face saves mass, which the engineers repositioned in the sole. This lowers the CG to encourage high launching, soft landing iron shots.
1.5 millimeter forged 4140 steel combines with its carbon cousin to increase the flexibility of the clubface. This expands the spring of the face into the ball at impact which accelerates velocity. As a result, you gain consistent yardage on all shots.
The distance was more than we could have hoped for. It has better performance here than the likes of the Srixon ZX5 and Callaway Apex. We also found workability was very high which was a notable weakness of our top iron, the SIM Max.
A Thru-Slot Speed Pocket adds to the distance superiority of the P790 range. It also increases clubface flex and helps you combat low-face strikes. The additional flexibility helps you produce adequate distance when catching it out of this zone.
The sweet spot on the 2021 edition of the P790 irons is 60% wider than the original model. This ensures maximum forgiveness to keep you straight and long. The enlarged center maintains ball speed on imperfect strikes and limits sidespin to prevent hooks and slices. However, while forgiveness is high, it falls well below the SIM Max. Yet this is to be expected given the target audience.
Lastly, the 2021 P790 irons contain 31 grams of tungsten in the toe. The additional weighting boosts stability for consistent ball speed and face angle at contact.
Read more: For a detailed analysis of these TaylorMade golf clubs, read our P790 irons review, or check out our comparison with the P770.
6. TaylorMade P7MC – TaylorMade Best Irons for Low Handicappers
Pros
Buttery soft feel
Attractive-looking golf clubs
Produces increased spin compared to game improvement irons
Enables optimal shot shaping
Cons
Limited forgiveness
Expensive
Not much improved on the previous generation
Rating: 3.5
Lofts
| | | | | | | | | |
| --- | --- | --- | --- | --- | --- | --- | --- | --- |
| CLUB | 3 | 4 | 5 | 6 | 7 | 8 | 9 | PW |
| LOFT | 20° | 23° | 26° | 30° | 34° | 38° | 42.5° | 47° |
Lower handicap golfers searching for players' irons will appreciate the TaylorMade P7MC set. These forged irons present a classic compact appearance with a modern game-improvement cavity back.
We found that the combination of the two delivers a buttery-soft feel on strikes out of the sweet spot. Plus, they add a touch of forgiveness without hampering feedback or workability.
Furthermore, the irons' aggressively milled grooves optimize spin for control on approach. Besides helping golfers land their ball close to the pin, it encourages sidespin to help you shape your shots, a quality I welcomed during testing as a skilled golfer.
In addition, a 2,000-ton press forged the 1025 carbon steel to set up a tight, compact grain structure for a consistent feel. When you strike it out of the middle, the feeling is pure. However, off-center strikes will still send shockwaves up your shaft.
Overall, the P7MC irons provide an exceptional feel and acoustics making them great for solid ball strikers. However, they lack forgiveness. That is why mid and high-handicappers should steer clear of these irons. Such players should instead seek the likes of the SIM Max, M4, and Stealth irons.
Pros
They help you increase swing speed
High launching
Soft landing
Produces rapid ball speed
Suited to beginners
Cons
Expensive when purchased a full set
Only for slower swingers
Technology is lacking compared to other models
Rating: 3
Lofts
| | | | | | | |
| --- | --- | --- | --- | --- | --- | --- |
| CLUB | 6 | 7 | 8 | 9 | PW | SW |
| LOFT | 29° | 32° | 37° | 42° | 47° | 54° |
Our penultimate option on the list of best TaylorMade irons is the Kalea Prmier set. This is our preferred choice for female golfers. This basic set of irons is designed to bring consistency to mid and high-handicap ladies.
The stand-out feature of the Kalea irons is the presence of a Thru-Slot Speed Pocket. This technology boosts clubface flexibility to maximize ball speed on all strikes. As a result, you produce consistent distance, even when you mishit your shot.
Moreover, engineers at TaylorMade constructed the Kalea irons to offer a lightweight feel. The design is easier for the average female golfer to swing and accelerate club head speed. This gives you a higher chance of producing a powerful strike that leads to adequate length on approach.
While the shafts are too flexible for me, they could still be a good option for you if you're male and have a slower swing speed. We are talking around 70 mph or less here. If you instead slot into the 71-84 mph range, the M4 irons are probably a better fit, as these are one of the few irons you can pick up with senior shafts.
The lighter construction of these clubs helps you launch your golf ball high and long. Although this helps improve carry distance, it also encourages a soft landing into the green. Therefore, you stand a better chance of your ball staying on the dancefloor.
You can pick up the Kalea Premier irons both as part of a complete set or as an iron bundle. While this article focuses on irons, picking up the entire set is not the worst idea if you are just starting out and do not carry all the necessary equipment.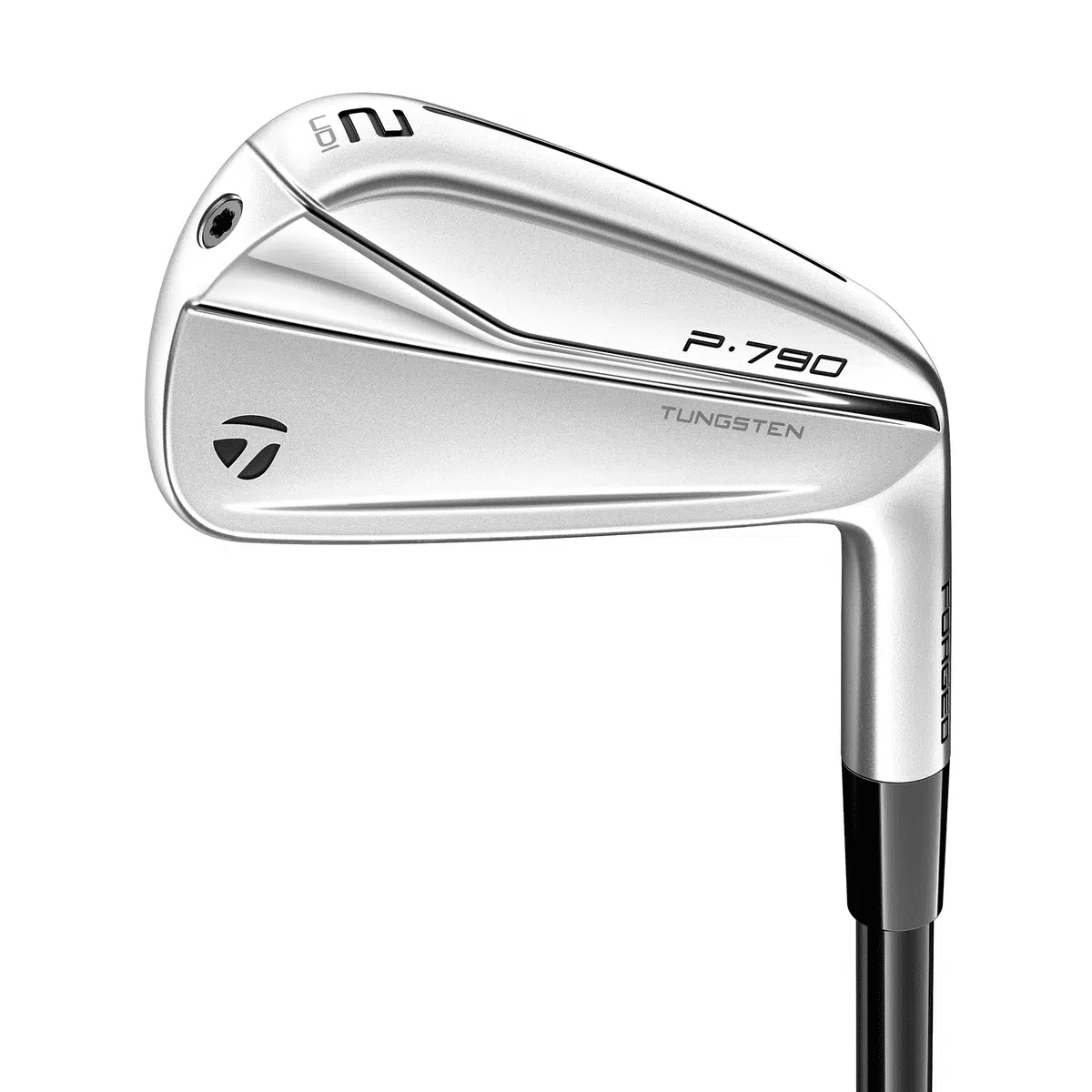 Pros
Restricts spin
Encourages a low-flying shot
Produces increased ball speed
Maximum stability
Provides additional forgiveness compared to the original P790 irons
Cons
Expensive for a single iron
Slower swingers may struggle to consistently launch this strong lofted iron.
Poor workability
Rating: 3
Lofts
Capping off our list of the best TaylorMade irons ever is the P790-UDI. The utility driving iron offers a reliable alternative to a driver and fairway woods off the tee.
I mentioned earlier that the sweet spot is 60% larger in the 2021 P790 irons compared to the original model. This remains the case for the P790 2-iron, ensuring reduced side spin and consistent ball speed for greater accuracy off the tee.
The thin, 8620 carbon steel clubface and a 4140 steel L-Face accelerate ball speed and lower spin. We also have the Thru-Slot Speed Pocket to thank for this, which increases ball velocity on low-face hits. As a result, I produced a piercing ball flight with plenty of forward roll, leading to optimal distance. The lower trajectory is ideal in windy conditions where you remove the breeze from the equation.
In addition, TaylorMade employed 22 grams of tungsten weight in the toe of the UDI to bolster stability at impact. This preserves ball speed on off-center strikes and minimizes side spin. This drawback is that shaping the ball is challenging, similar to the SIM Max.
Ultimately, the P790-UDI is a suitable club to carry in the bag as an alternative for tee shots. Plus, it keeps your ball low in the wind for superior results. Just be aware that you need to be a proficient ball striker to fully utilize this club. If your swing speed is poor, consider a distance iron instead.
Read next: If you appreciate TaylorMade irons but would like to see more options, these are the best golf irons.
What to Consider When Purchasing New TaylorMade Irons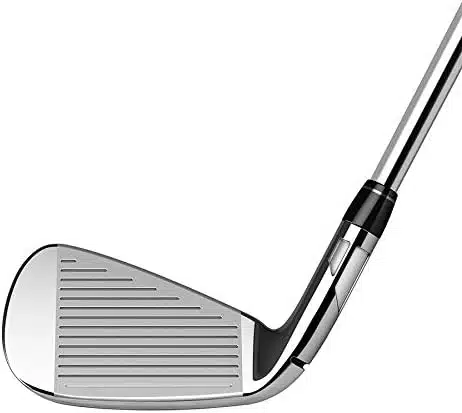 Budget
As a premium golf club brand, TaylorMade does not manufacture the most affordable products on the market. Therefore, you need a healthy budget to acquire the latest and innovative models.
You have three options. One approach is to save up until you are comfortable pulling the trigger on one of the best TaylorMade iron sets. Another is to purchase a single top-rated TaylorMade iron rather than an entire set. And finally, you can look for older releases with similar technology and performance features.
Technology and Features
Once you have overcome the budget hurdle, the next step is identifying the features that suit your game. These include an enlarged sweet spot, flexible or thin clubface, and vibration-damping technology.
A wider sweet spot delivers consistency in your game, which is why all mid and high-handicappers need it. It works to maintain ball speed on off-center strikes and restrict sidespin, leading to a straight, long shot.
Furthermore, a thin, flexible clubface produces optimal ball speed on low-face strikes to keep you in the game. Next, vibration-damping technology works to eliminate shocks felt on off-center contact. Plus, it enhances the acoustics for a crisp sound at impact.
Conversely, low handicap golfers typically seek forged blade irons, which do not possess the technology present in the game improvement clubs mentioned above. These clubs generally offer an exceptional feel and encourage optimal workability. However, they produce minimal forgiveness.
Clubhead Construction
After figuring out which features are vital for your game, it is time to determine the best clubhead construction. There are two predominant options: these are cavity backs and blades. Cavity backs are commonly found on game improvement irons, which help the average golfer produce consistent results.
Loft
The lofts of your golf clubs impact the apex of your ball flight, carry, and total distance. When you swing stronger lofted clubs, they produce a lower ball flight and less spin. This enables you to induce a piercing trajectory that works in the wind.
However, strong lofted irons are sometimes challenging for slower-swinging golfers to launch. As a result, the ball launches low and hits the ground rapidly, costing you carry distance.
On the contrary, weaker lofts can cause faster swingers to produce excess spin and balloon shots. This means the ball launches to the heavens and falls out of the sky with limited forward momentum.
Loft is the biggest issue with your long irons. Wedges and mid and short irons carry similar lofts, whether you are a fast or slow swinger. However, many amateurs struggle with launching strong lofted long irons because of the lack of spin.
If you find long irons challenging, consider switching them out for hybrids.
Shafts
Like loft, your shafts are guided by your swing speed. Players who produce rapid clubhead velocity tend to fare best with a stiff or extra-stiff shaft flex. Conversely, slower swingers find it easier to launch the ball airborne with a regular or seniors' flex.
True Spec Golf suggests that swing speeds exceeding 92 mph with a 6-iron should operate with an extra stiff shaft. On the other hand, a 75 to 83 mph 6-iron speed suits a regular flex.
Stiff flex shafts deliver less whip into the ball at impact, causing a stronger face loft and less spin. This prompts a low launch which suits faster-swinging golfers. On the contrary, shafts with increased flex deliver a higher level of spin, encouraging higher ball flight.
Set Composition
Now that you have the features out of the way, you need to compose your set of irons. Most manufacturers offer sets with a 4-iron through to a pitching wedge. If you are like me, you may want a 3-iron, meaning you must source it separately.
However, golfers who struggle to launch their long irons should consider substituting the 4-iron for a hybrid. You may even feel comfortable leaving out a 5-iron for a 5-hybrid. I believe that a 5-iron is worth carrying as it gives you a lower launching club compared to hybrids, which helps on a windy day.
You should carry a 6, 7, 8, or 9-iron unless you are a beginner. Then, your final decision comes down to wedges. A pitching wedge is essential, and I recommend that mid and high-handicappers use a sand wedge. This makes chipping easier than the stronger lofted gap wedge sold in some sets.
Frequently Asked Questions
Does Taylormade Manufacture Good Irons?
Yes, TaylorMade manufactures quality irons for golfers of all skill levels. Since 1979, their Research and Development team has consistently pushed the boundaries of innovation to help you hit the ball further and straighter.
Whether you are a 36-handicapper or a scratch golfer, TaylorMade manufactures golf clubs for your swing.
Which Taylormade Irons Are The Best For Average Golfers?
The best TaylorMade irons for average golfers is the SIM Max set. The forgiveness, distance, and accuracy these clubs provide are ideal for the average player. You enjoy optimal yardage without sacrificing forgiveness.
Which Taylormade Irons Are The Most Forgiving?
TaylorMade Stealth irons are our pick for the most forgiving irons in 2022. Its Cap Back design spreads the sweet spot to high contact points to deliver accelerated ball speed and reduced side spin. This combination leads to long, straight golf shots on strikes across the clubface.
Which Taylormade Irons Are The Best For High-Handicap Golfers?
The TaylorMade M4 irons are recommended for high handicap golfers. They carry a fair asking price and produce the consistency you desire. Despite their age, these irons offer exceptional forgiveness, consistent distance, and a soft feel.
Which Taylormade Irons Are The Best For Mid-Handicap Golfers?
The TaylorMade SIM Max irons are my top suggestion for mid-handicap golfers. They are affordable, forgiving, long, and straight, everything you need from your irons. If you have a few hundred dollars extra in the budget, it is worth considering the Stealth irons.
What Taylormade Irons Are Pros Using?
The P730, P770, and P7MC irons are popular among the TaylorMade Tour Pros. Collin Morikawa carries all of these models. Conversely, Tiger Woods plays with the P770 and P7TW range. Scottie Scheffler notably swings the P7TW irons.
Conclusion
Those are your top picks for TaylorMade irons this year. The behemoth brand manufactures golf irons for Tour Professionals, casual golfers, and everything in between.
Their game-improvement irons help less skilled players achieve distance, accuracy, and optimal spin on all shots. Conversely, players' irons feature the classic blade look with modern technology. This allows the engineers to add a touch of forgiveness without impacting workability.
Therefore, if you are a mid or high-handicapper, you should focus on forgiving, game-improvement irons, such as the Stealth range.
However, for lower handicap golfers who enjoy the feel and control of players' irons. My recommendation is to look at the P7MC set.
Furthermore, casual golfers seeking a discount set of TaylorMade irons should test the M4 assortment. Finally, if you desire a combination of value for money, distance, and forgiveness, there is one clear choice. Our best TaylorMade irons for 2023, are the TaylorMade P770s.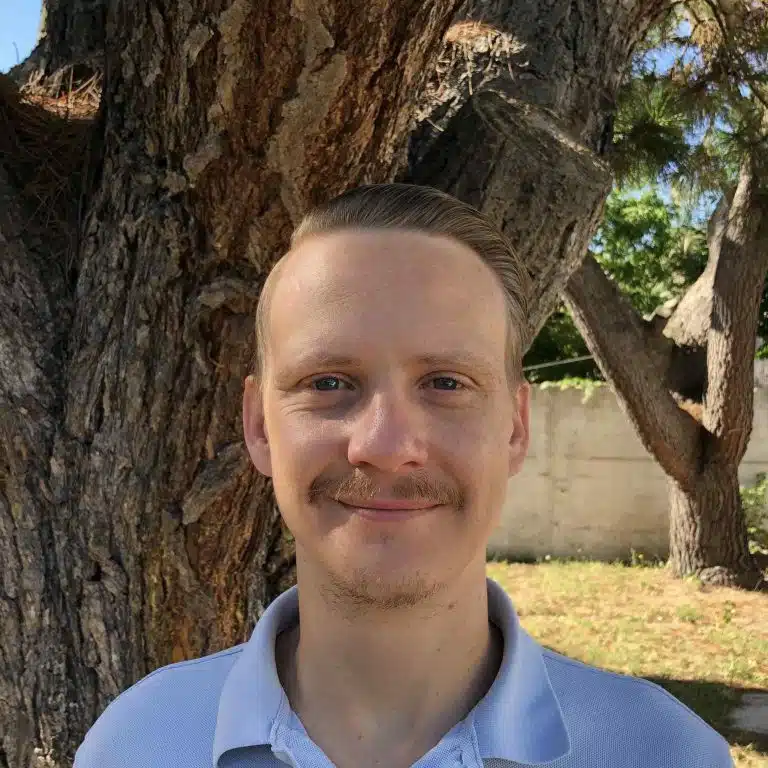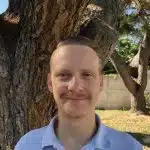 Matt is a seasoned golf equipment writer and sports fanatic. He holds a Postgraduate in Sports Marketing and has played golf for over 28 years.