Many golfers keep their irons for an extended period, between 6 and 8 years, while assessing new releases every year to determine whether there is any innovative technology that will make golf easier and more fun.
Golf irons are generally split into four categories that will be discussed in this article:
Players irons
Players distance irons
Game improvement irons
Super game improvement irons
As there are many articles available on our website detailing the key factors to consider when purchasing a new golf club set, this article will briefly touch on the aspects but focus on the features of the best golf irons in various categories.
Top 4 Best Golf Irons 2023
The Composition of Golf Iron Sets
Most sets of irons consist of the following:
Long irons
Mid irons
Short irons
Wedges
Long Irons
Long irons have low lofts with longer shafts making them amongst the most difficult to hit. Initially, long irons ranged from a 1-iron to a 5-iron. Occasionally, golfers regard the 6-iron as one of the long irons.
Over the last decade, more of the best golf iron brands changed the set makeup to start from a 3-iron. With the popularity of hybrid clubs growing and being sold separately, many brands have begun excluding the 3-iron.
Medium Irons
These include a 6-iron and 7-iron aimed at longer approach shots with a higher ball flight.
Short Irons
The 8-iron and 9-iron are categorized as short irons to enhance accuracy on short approach shots with a high ball flight for stopping the ball on the green.
Wedges
Most sets include a Pitching Wedge (PW) and Sand Wedge (SW) as standard, but there are a variety of lofts available to suit your requirements ranging from 50 degrees up to 64 degrees and even higher lofts.
High handicap golfers and beginners require more forgiveness and, therefore, a clubhead that offers forgiveness on a larger part of the face.
Read more: Best Golf Clubs For High Handicappers
The Best Golf Irons: In-Depth Reviews
Some reading is required to discover what are the best golf irons for you. Our extensive testing has been boiled down to just the essential facts below so you can spend less time reading and more time making pars. The best place to buy golf irons clubs is online and we included links to trusted retailers.
TaylorMade is renowned for producing some of the best iron set in the golf industry. The release of the P790 irons has placed them at the top, and is arguably the best-looking and performing irons to date.
It comes with a clean look and a forged design and is loaded with technology. Although aimed at mid to low-handicap golfers, they will entice golfers of any handicap level to put them in the bag.
The technology incorporated into the P790 includes SpeedFoam injected into the club head to dampen the blow for an incredible feel. SpeedFoam is lightweight and, thus, should not influence your ability to generate clubhead speed.
The original TaylorMade P790 released in 2017 did not have a forged clubhead but only the clubface. This did not stop it from becoming TaylorMade's best-selling forged iron ever. The 2017 P790 was the first iron to introduce a hollow body iron market which has become an industry standard for top irons.
In 2019 TaylorMade released the P790 with a thinner clubface and extra tungsten weight. Furthermore, the offset was reduced in the long irons while the short irons' clubface was made more compact.
Performance-wise, the P790s match the aesthetics and offer loads of distance at standard lofts. A combination of workability and forgiveness that most golfers should have envisioned.
Dynamic Gold S300 shafts replace the KBS Tour shafts previously used in TaylorMade irons. The S300 offers a mid-spin and mid-launch ball trajectory. Optionally you can select UST Recoil graphite shafts.
Although forged irons are generally aimed at better golfers, TaylorMade has produced forged irons that offer feel and workability with the forgiveness of a cavity-backed iron.
[Check Prices & See User Reviews]
Pros
SpeedFoam technology
Aesthetically appealing
Good feel and workability
Suitable for most golfers
Cons
Expensive but value for money
2. Mizuno Pro 223—Best For Mid-Handicappers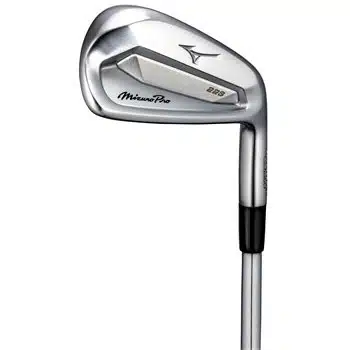 The Mizuno Pro 223 Iron Set is one of the market's most popular and trusted golf clubs. It is crafted from a soft 1025E Pure Select mild carbon steel material, which gives the clubs a soft yet responsive feel.
The clubs feature Mizuno's Grain Flow Forging technology, which creates a consistent feel across the set. The clubs in this set are designed to have a progressive offset, which helps the golfer square the clubface at impact for more consistent ball striking.
The sole design of the clubs also helps reduce turf interaction and create more consistent contact with the ball. The clubs have a medium-wide sole and a slightly wider top line, which helps promote a more forgiving strike on off-center hits.
These aren't the old-school players' irons that Mizuno is known for. We ranked these irons high because they are one of the best sets of golf irons for mid-handicappers who are gaining more control over their ball flight as they improve.
Additionally, the Mizuno Pro 223 Iron Set has a satin chrome finish that helps reduce glare and improve the look of the clubs. Overall, the Mizuno Pro 223 Iron Set is an excellent choice for golfers of all levels looking for a reliable and forgiving set of clubs.
[Check Prices & See User Reviews]
Pros
Patented grain flow technology for optimal feel
New sole design helps players escape from a wide variety of lies
Larger face than other Mizuno irons
Re-positioned weight behind the face and around the perimeter for forgiveness
Signature professional look that all Mizuno irons have
Cons
Longer irons look pretty intimidating at address
3. Srixon Z 785—Best For Low-Handicap Players
Srixon's Z 785 forged irons will make you fall in love with this great-looking set of players' irons.
Following the ever-popular Z565 irons, the Z 785 offers the same forged construction combined with forgiveness and a few tweaks to enhance the feel and add some speed off the clubface.
The clubhead remains compact to provide the look and feel of a player's iron with a slight offset and a generous top line. It is manufactured from Forged 1020 Carbon Steel.
Mass distribution behind the center of the clubface offers a bigger sweet spot and more power. Moving the muscle portion of the back lower and toward the toe enables Srixon to move weight across the head and improve the MOI.
By thinning out the Speed Groove in the SUP10 face insert, Srixon was able to create more flex in the face.
Srixon's VT sole technology provides excellent turf interaction. The wider sole of the Z 785 minimizes turf interaction for consistently solid contact.
The hollow sound produced by short irons may not be appreciated by better players. However, the buttery feel may allow a compromise for the sound.
The confidence-inspiring looks of the Srixon Z 785 irons with matching performance are almost sure to enable you to play better golf.
[Check Price & See User Review]
Pros
Extra distance
Good looks
Forgiveness
VT sole technology
Soft forged feel
Cons
Hollow sound on short irons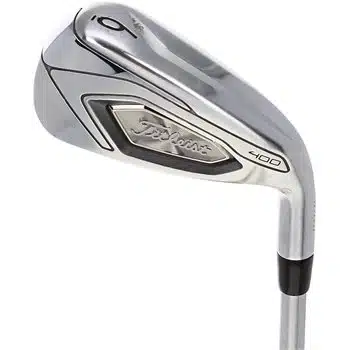 The Titleist T400 Iron Set Golf Clubs are an excellent choice for any golfer because of the design of the club. The T400s have a progressive set design, meaning each iron has been designed to optimize performance for its respective loft. This helps ensure the player can make the most out of every shot.
The club faces also feature a thinner and faster face insert, which helps to promote faster ball speeds at impact. The result is a higher launch angle, more carry distance, and an improved overall trajectory. The thinner face also helps to promote better feel and control when striking the ball.
The T400s also come with an aluminum topline and sole, which helps reduce the club's overall weight. This helps to increase the overall forgiveness of the club and allows the player to hit the ball more consistently.
The combination of design features, construction materials, and overall performance make the T400s one of the best golf irons for sale targeted at low-mid handicappers.
[Check Prices & See User Reviews]
Pros
Improved and innovative look
Same Titleist feel from a thinner club face insert
Progressive set helps mid-handicappers adjust to longer irons
Aluminum topline and sole reduce overall weight
Re-positioned weighting system improved forgiveness
Cons
Very little offset in the mid-long irons
The TaylorMade Stealth iron set features a modern design with a sleek black finish that makes them look great and provides a professional look on the course. The irons have a low center of gravity and a high moment of inertia, which helps golfers achieve a higher launch angle and a longer distance.
The set also features a deep undercut cavity and a progressive sole width design that provide extra forgiveness on off-center shots.
They have a thin, fast face that helps generate more ball speed and distance. The sole is also designed to reduce turf interaction so that golfers can hit the ball crisply and cleanly. Similar to Titleist irons, this set also features a progressive offset design that helps golfers square the clubface at impact and improve accuracy.
For slow swing speed players, choose the lightweight graphite shafts to help you generate more club head speed and distance. The weight of the shafts is distributed evenly throughout the set, which helps provide a consistent feel and performance from club to club.
The irons also feature an innovative vibration-dampening system that helps reduce vibration and improve feel. The modern design, low center of gravity, and progressive sole design all combine to provide a great combination of distance, forgiveness, accuracy and feel.
[Check Prices & See User Reviews]
Pros
Simple and sleek design is easy on the eyes
Thinnest face you can get on irons for distance
Progressive offset for straighter shots throughout the set
Utilize special graphite shafts for the most distance
Vibrations dampening system
Cons
Might be too simple looking for the cost
Not great for high-handicappers
Apex Irons have a hollow body design that enables them to offer forgiveness within a desirable head shape and size, making them outstanding for distance and forgiveness.
Unlike most other popular irons, the Apex series comes with a black coating with chrome.
A sleek top edge on top of the precision-machined maraging steel face, combined with the hollow body constructions, provides an irresistible look and feel. In addition to looks, you can expect a trampoline effect, thus generating faster ball speed and penetrating ball trajectory.
The weight distribution of the tungsten weights in the 17-4 stainless-steel body is targeted in the toe and heel areas offering maximum forgiveness.
The sound off the clubface is quite impressive and supplements the good looks.
Although in the upper half of the price spectrum, these irons offer great value for money as super game improvement irons.
[Check Prices & See User Reviews]
Pros
Striking chrome finish
High ball flight with good distance
Perimeter weighting enlarges the sweet spot
Produces a solid contact sound
Cons
Lacks workability
Black and chrome irons may not suit everyone's style
Cleveland's Launcher HB (Hi-Bore) Turbo is one of the most exciting super game improvement irons that offer a complete set, including a selection of wedges.
It looks and feels extremely different from the competition with its progressively increasing head size as the club gets shorter and the number on the sole higher. The look is closer to a hybrid design than pure iron.
Larger clubheads have a hollow construction with internal stabilizing ribs for the ultimate in forgiveness. Added on top of the large clubhead is the HI bore crown, with the weight distributed low and deep for a high ball trajectory and adding to forgiveness.
Completing the large clubhead is the thin, high-strength, and Turbocharged steel face offering trampoline effects for increased ball speeds and distance.
Lofts are strong to add distance to forgiveness.
The set consists of a 4-iron through a Pitching Wedge, a DW that is also known as a Gap Wedge, and a Sand Wedge.
Priced in the lower to mid-range for a set of irons makes, this an attractive prospect for a high handicap golfer requiring confidence-inspiring super game improvement irons.
[Check Prices & See User Reviews]
Pros
Ultra-confidence inspiring and forgiving
Complete set of irons including wedges
Includes Cleveland technology
Cons
Large clubheads on mid-to-short irons may not suit everyone
PXG set out to design some of the best irons for golf that would provide both tour-level performance and forgiveness. The design and technology incorporated into this set make it a great choice for golfers of advanced levels.
The PXG 0311 P GEN3 iron set features a multi-material construction that incorporates a hollow body, a high-strength steel face, and tungsten weighting. The hollow body construction allows for a thinner face, allowing for faster ball speeds.
The high-strength steel face is heat treated to increase ball speed off the face. The tungsten weighting is strategically placed to allow for a high MOI (moment of inertia) and provide forgiveness on off-center strikes.
The set also features a progressive set design, with every club featuring a different head size, sole width, and face progression. This allows for better control and trajectory throughout your entire set.
The irons also feature a deep undercut cavity that allows for more mass to be moved lower and deeper in the head, providing a higher launch angle and increased forgiveness.
The combination of design and technology makes these an excellent choice for skilled players who are looking to continue to work on their game. With tour-level performance and forgiveness, and a progressive set design, this set is sure to help you take your game to the next level.
[Check Prices & See User Reviews]
Pros
Elite PXG feel and craftsmanship
Hardened steel club face for added distance
Tungsten weighting increases MOI
Undercut cavity moves weight lower and optimizes launch angle
Progressive heads make all of them easy to hit
Cons
Looks a little weird with all the tungsten inserts
The blade irons from Wilson Staff are a strong lofted set of irons to add distance to its excellent feel.
Although it is aimed at the better golfer in the players' category, the clubhead size is comparable to game improvement irons. This makes the blade-forged irons suitable for a variety of handicaps.
The narrow top edge and the minimal offset make it pleasing to the eye for better strikers of the golf ball. A forged club head manufactured from soft 8620 Carbon steel. With a hollow Power Chamber head filled with Urethane combined with the Power Hole technology, these top-rated golf irons offer a more flexible clubface while reducing vibration.
Penetrating ball flight is a result of the lower spin generated from the thin-soled clubface.
Stronger lofts add to the distance generated by the Blade Forged irons. Furthermore, the strong lofts enable the Wilson Staff Forged Irons to compete with most game-improvement irons in the ball speed, spin, and carry distance categories.
The set comprises a 4-iron to a pitching wedge.
It is a competitively priced set of irons offering good value for money to mid to low-handicap golfers.
[Check Prices & See User Reviews]
Pros
Consistent dispersion
Soft yet solid feel at impact
Look of a blade iron but with more forgiveness
Cavity back offers larger sweet spot
Cons
Lacks the wow factor looks of some mid-handicap irons
Titleist is a premium brand that offers irons at the top end of the quality and price spectrum.
The T300 range of irons is aimed at mid-handicap golfers that are at the cusp of joining the top one percent of golfers that can boast a single-digit handicap. However, it offers forgiveness that will enable good ball strikers to reduce their scores and handicap.
This, combined with the quality of construction, makes this a durable set that you can carry in your bag for an extended period.
It is visually appealing, with a slightly longer blade length than the Apex range.
Forgiveness is provided by the extra tungsten weight in the toe of the club head and a slight offset in the hosel.
Although some golfers expect a drop-off in performance from this set of irons, the distance and accuracy remain at a high level.
Overall, the lofts on the T300 range are stronger than much of the competition, and this adds to the distance achieved by every club.
The set consists of a 4-iron through a Pitching Wedge; thus, no Sand Wedge is included.
Pricing is at the top end of the pricing spectrum, which is expected when purchasing a Titleist product.
[Check Prices & See User Reviews]
Pros
Good looking irons
Offers more distance and accuracy
Great feeling and workability
Cons
Pricey
Not suitable for high-handicap golfers
The Callaway Mavrik Pro iron is another good-looking iron with its light satin chrome finish combined with a profile that will suit mid and low-handicap players.
The compact clubface is visually appealing to the better player when placed beyond the golf ball. A thin topline and sole complete the player profile view.
The Mavrik Pro provides the best control and feel of all the clubs in the Mavrik range.
Supercomputer technology has been used in the design of the technology incorporated into the Mavrik range. This includes the super-thin Flash Face design used on the iron clubface that offers a sophisticated face architecture for every loft, thus boosting ball speed and producing optimal spin. The additional tungsten weight is positioned to deliver the best possible launch and trajectory.
Flush Face technology is geared to optimize launch angle and ball speed on the long irons, while the mid-iron club faces are aimed at providing optimal consistency, speed, and spin. Mavrik Pro short iron club faces are designed for optimal precision.
The set consists of a 4-iron through a pitching wedge but no 3-iron and sand wedge.
Additional options in the Callaway Mavrik range are the Callaway Mavrik game-improvement irons and the Callaway Mavrik Max super game-improvement irons.
[Check Prices & See User Reviews]
Pros
Good workability
Easy on the eye
Tungsten infused for optimal center of gravity
Thicker topline for improved forgiveness and feel
Cons
The high end of the price spectrum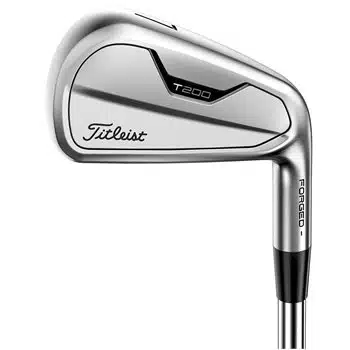 Firstly, these cavity back irons are designed with a multi-material construction, despite them not looking like traditional cavity back irons. They deliver a higher launch angle and improved ball speeds with each shot.
The higher launch angle helps the ball fly further and straighter, while the improved ball speeds provide increased accuracy and distance. Additionally, the clubs feature a new Max Impact Technology, which helps to maximize ball speeds across the entire face of the club.
What makes these one of the top irons 2023 is a new tungsten weighting system. This system is designed to increase stability and increase forgiveness on off-center strikes. The tungsten weighting system helps to minimize spin and provides players with more consistent performance. Additionally, the clubs have a thinner top line and sole width, which helps to create a more aesthetic look for the clubs.
Finally, the T200 2021 Iron Set Golf Clubs have been designed with the highest levels of quality control. Titleist is known for its commitment to quality, and these clubs are no exception. The clubs are designed with advanced technologies that are backed by rigorous testing. This commitment to quality ensures that the clubs will stand the test of time and continue to perform at a high level.
[Check Prices & See User Reviews]
Pros
High handicappers can take advantage of Titleist technology
Multi-material and hollow body design increases launch angle
Tungsten weighting system helps those with slower swing speeds create distance
Traditional thin topline and sole for workability
Cons
Very plain looking
Long irons are a bit more difficult to hit
Why You Should Trust Us
Our team spends thousands of hours trying out and researching golf equipment to help you take your game to the next level. Here's our product review process.
We're able to bring these reviews to you through the small commissions we earn if you buy through the links above.
The Best Player Irons 2023—Buying Guide
Now that we got the golf iron reviews covered, let's help you choose the right set. There are a few designs to consider.
Cavity Backed Clubs—Available in Most Iron Sets
Cavity-backed clubs have a lower center of gravity that sits further back for forgiveness and to increase the launch angle. These clubs have become extremely popular, and some professional golfers use clubs with some level of a cavity.
Blades—Best for Professionals
Blades are extremely unforgiving on any off-center strike and are mostly used by professional and highly experienced golfers that find the center of the face with every shot. Be sure to test these out before adding them to your golf equipment.
Players' Irons—Best for Elite Golfers
Players' irons are ideal for the top one percent of golfers. That is golfers with a single-digit handicap. These are mostly available as blades or with a minimal cavity back. Although they are some of the best-looking clubs available, it is only recommended for quality ball-strikers since the club heads are generally small and unforgiving.
Center strikes travel further and provide exceptional feel and feedback, making these clubs ideal if you want to shape shots.
Players' Distance Irons—Best for Forgiveness and Distance
Unlike players' irons, players' distance irons are suitable for a wider range of golfers. The clubhead size is similar to players' irons while offering more forgiveness and distance.
Game-Improvement Irons—Most Used
Game improvement irons are the most used category covering golfers between 10 and 14 handicaps.
These clubs provide more forgiveness than players' clubs, offering a larger clubhead, lighter shaft, thinner clubface, and a more prominent cavity back.
The thinner face provides improved ball speeds and carry distance, even on some mishits.
Super Game-Improvement Irons—Best for Beginners and High Handicappers
Super game-improvement irons are aimed at golfers with a handicap of 15 or higher.
These clubs are generally not the best looking on the market due to the large clubhead. Their forgiving nature makes them easier for beginners and high-handicap golfers, though.
This is quite a long video, but it will give you some valuable information in terms of selecting irons as well as the hybrid alternatives for longer irons.
Choosing the Right Shaft
There are two main options for iron shafts these are:
Graphite shafts are lighter and can therefore offer greater swing speed but are also more costly. To be truthful, many won't notice a difference between the overall distance of their full power shots unless the lighter weight or same length significantly affects that individual's swing speed significantly.
Best Irons 2023 FAQs
What Are the Highest Rated Golf Irons?
Our top pick is the TaylorMade P790. They offer so much for their price. They're best suited for lower handicappers, though. If you have a higher handicap, try the Cleveland Launcher HB Turbo line instead for maximum distance and forgiveness.
How Do I Choose Golf Irons?
You should choose based on your handicap and swing style. If you need a little extra forgiveness, then a player's set of blade irons is not ideal for you. If you need a little extra help with distance, you should account for that too. Something like the Mizuno Pro 223 series can help with both of those things.
What Irons Does Tiger Woods Use?
Tiger Woods uses a TaylorMade P7 TW Iron Set while on tour. These muscleback blades are designed for the Big Cat himself and could be quite difficult for the average player to get good results. Most of us require a more favorable center of gravity, while Tiger has such a close relationship with his clubs that anything he uses will feel very weird to the rest of us.
Do Modern Irons Go Further?
Yes, they can; technology has improved over time to allow modern irons to launch the ball further. Yet, it depends on what the manufacturer has included in any particular set of irons as to how much extra distance the club can add.
How Long Do Golf Irons Last?
A good estimate for the life span of a set of golf irons is 8 to 12 years. Try to keep them dry to prevent rust, although this is even hard to do these days with the advanced finishes that many of the best player irons all have.
How Often Should I Change My Golf Irons?
You should change your irons when they are too chipped to provide the best ball flight or at around 8 to 12 years. Monitor the sweet spot, as this is the most important area to keep looking as good as new.
Final Thoughts
The constant drive to produce better irons and the ever-decreasing sales cycle will damage your budget if you attempt to buy the latest technology release from your preferred brand. Although it is awesome to boast of the latest technology in your bag, it does not automatically translate to better golf and lower scores.
Designers and manufacturers have vastly improved the technology and appearance of golf irons. If you carry irons that are more than 8 years old, you are almost certainly leaving your best game out on the course or inside your bag.
Having reviewed the clubs above, there is one set of irons that makes me weak at the knees and earns the title of best golf irons and that's the TaylorMade P790. They've released some extremely beautiful-looking clubs over the last few years. As a game improvement iron for mid-handicap golfers, you will have to look long and hard to find anything that compares.
Related Articles