Manufacturers have recognized the importance of making the difficult game of golf just a bit easier for "newbies" and the older generation golfers losing their natural strength. Hence the development of the Game Improvement and Super Game Improvement irons. We look today at the best super game improvement irons in 2022.
For simplicity, we can divide golfers into 3 groups.
Scratch to low handicaps
Mid-handicaps
High handicaps, social players, and beginners
Scratch to low handicaps have generally graduated from full blade sets, to the more forgiving muscle back/cavity back irons without sacrificing distance, feel, and playability. Even Tour players have followed this trend.
Mid-handicap golfers mainly use cavity back irons, that offer better consistency through the set. Packed with all the latest AI technologies, ball speed is increased with the flex face and easier launch capabilities. Distance and accuracy are improved for an all-around game experience.
High handicapped, social golfers, and beginners need all the help they can get from a set of irons. Hence the introduction of the Super Game Improvement iron sets. All the same high-tech qualities are included to improve and enjoy every round of golf even if you're new to this great sport.
Thankfully there are sets on the market that can meet all these golfers' needs.
At a glance: Best Super Game Improvement Irons
What Is the Difference Between Game Improvement vs Super Game Improvement Irons?
Game improvement irons offer forgiveness, consistency, and distance for golfers who have played for a few years. Muscle back irons fall into this category and the lower CG, fast face technology, and slightly wider soles produce high easy launch and good turf interaction throughout the set.
Slightly off-set heads assist in turning the club over at impact, reducing big slices. The head is bigger than traditional sets and has a thickish top line. The larger head encases all the technology available, but also allows for the CG to be lower and the sweet spot to be increased. Weights are placed within the heel and the toe to counter distance loss on mis-hits.
Head development is indeed the main reason for hitting the ball further and straighter, but shaft choice is critical. Graphite shafts offer lighter weights that increase swing speed but using the right flex that suits clubhead speed will optimize results.
As stated earlier, game improvement irons will suit older golfers losing their natural strength, and low handicaps seeking more forgiveness than traditional blades.
Super Game-Improvement Irons
Super game improvement irons offer all the latest AI technology packed into an oversize head. The increased face size offers confidence at address with a bulky top line and a fast face spring effect creates greater ball speed at contact, ensuring more distance.
The wide sole throughout the set ensures a high ball flight with an easy launch and great turf interaction in all conditions. An enlarged cavity back in the head allows for ultimate perimeter weighting in the heel and toe. Add the extremely low CG, and stability and control are maximized.
All the above offer exceptional feel and forgiveness even on mishits which go straight and far. The perfectly weighted head reduces side spin which in turn, reduces big hooks and slices. Lower to medium swing speeds will derive pleasure from the consistency and distance. Offset heads are easier to turn over through the strike.
Should I Buy Game Improvement or Super Game Improvement Irons?
For a "newbie" who currently plays with an old blade set or a family hand-me-down, super game improvement should be the choice. Not only will it improve the strike rate drastically, but will encourage him to persevere.
Super game improvement irons are also great for the older competitive golfer wanting to retain distance.
The game improvement iron set will suit the mid to lower handicap player who wants to get his handicap down and play the best golf he is capable of playing. Let me add, that constructive practice will produce results. Forgiveness, distance, and control are what game improvement irons offer to the already skilled player.
Our Research Parameters 
Golfspan is independent and not pressured by manufacturers to recommend products. We were not paid for the reviews in this article. These super improvement irons were selected by our team, who have over 100 years of experience playing golf and thousands of hours reviewing products. We may earn an affiliate commission when you purchase something through our retail links.
7 of the Best Super Improvement Irons
1. Best Overall – Cleveland Launcher HB Turbo Irons
Pros:
Super forgiving
Large sweet spot
Huge MOI
Cons:

 
Not as much extra distance as some others
Cleveland Launcher HB Turbo irons are radically different from traditional game improvement cavity-backed irons on the market today. The Cleveland Launcher HB Turbo set is all hybrid-like clubs, that look the same from the front as a normal cavity back but are very different from the top view.
Forgiveness rules the day when it comes to super game improvement irons and Cleveland has stacked this set with technology improvements. A 5% thinner face insert constructed of HT1770 steel produces maximum speed off the face and increases the MOI.
Players want easy to hit irons and the CG plays a major factor in accomplishing this.
Set 6mm deeper and 3mm lower than typical cavity backs, the lower CG allows the player to hit below the center of the ball, without chunking or hitting it thin. This produces more shots above the CG for better consistent launch and ball flight.
Cleveland manages the Launcher HB Turbo hybrid-like construction through the set by progressively transitioning the sole width. The lower lofts have a wider sole and the higher lofts have a narrower sole. Turf interaction is great throughout the set irrespective of conditions. The Hi-Bore Crown helps lower the CG in the lower lofts.
Progressive shaping is a key feature to maintaining confidence through the set without negative thoughts at address. The full hybrid set delivers maximum forgiveness and a higher trajectory for long accurate shots. The broader top line will take some getting used to, but the feel and sound at impact, are solid and like any cavity back iron.
2. Best for Extra Control – TaylorMade SIM2 MAX OS
Pros:
Very stable
Great for long mid-game shots
Cons:

 
Draw bias won't suit all players
TaylorMade Sim2 Max Game improvement irons are the longest, most stable, and forgiving irons in their range. They feature all the latest TaylorMade technology packed into an oversize low CG head design.
The wider sole, draw bias design, True-Slot Speed Pocket, and stronger lofts result in irons that travel a good distance, even on mishits. Inverted Cone Technology offers maximum face flexibility and ball speed. The Cap Back design ensures a great feel and forgiveness.
The 360-degree ultra-thin, undercut face creates an incredible low-CG for penetrating ball flight. A truly super game improvement iron set that will deliver on its promises.
3. High Ball Speed – Callaway Mavrik Max Irons
Pros:
Enhanced launch
AI tech for improved stability
Cons:

 
The vibration absorbing design limits feedback to improve
The Mavrik Max irons are engineered to inspire confidence throughout the set. Built for distance with a large body and a deep CG. Packed with all the latest Callaway features in the Mavrik range of irons incorporating A-I technology.
Ball speeds are extremely high off the Flash Face Cup with increased spin. Precision placement of the Tungsten Infused Energy Core allows for a low CG to enhance high launch and feel.
Patented Urethane Microspheres absorb vibration on mishits without the loss of too much distance. Maximum COR is generated, producing distance. Offset heads reduce sidespin to decrease those huge hooks and slices. A fantastic super game improvement set that looks good at address and produces results.
4. Most Forgiving – Titleist T300ii
Pros:
Long mid size head allows for max forgiveness
Fast ball speed
Straight launch
Cons:

 
Polymer core takes some getting used to
Titleist has produced game-changing irons with the T-series, and the T300ii is rated as their best ever game-improvement offering. The T300 can also be classified as a super game improvement iron that is packed with technology.
A modern mid-size head shape with a thinner top line and less offset will appeal to most classes of players but will be most effective for the high handicap seeking all the latest tech to help his game.
Increased MOI through the longer mid-size head which is perfectly balanced with tungsten weighting in the toe of the club. A unique polymer core, developed in conjunction with Titleist golf ball R & D provides good dampening and sound, whilst maintaining distance and accuracy on off-center strikes.
The Max Impact Technology produces faster ball speeds across the very forgiving mid-size face. CG is perfectly placed for easy launch, long straight ball flight, and strong lofts add the all-important distance one expects from a cavity back iron. Reduced offset in the irons looks good at address and allows better control.
If Titleist rate this set as one of their best game improvement iron sets ever, then the golfer seeking super game improvement should give these a try.
5. Biggest Distance – Wilson Staff LaunchPad Irons
Pros:
Huge extra distance
Easier hybrid style stroke
Cons:

 
Not great for maximizing control
Wilson golf clubs have been around for many years and their product offerings continue to supply good value for money. All amateur golfers that do not have time to practice are always looking for clubs to improve their game and enjoyment.
The Wison Staff LaunchPad Iron Set fits this category of super game improvement for the high handicap. Packed with features that will appeal to this class of golfer and the social player.
Designed to get the ball airborne easily, with distance, forgiveness, and creating confidence from the rough and fairway. There is no better feeling than hitting a mid-iron out of a tough lie and watching it soar straight and true.
The LaunchPad sole design glides through the turf with ease and gives a sensation of hitting the ball off a mat at the range. A higher launch creates the all-important distance all golfers crave. Offset heads assist in turning the club over through impact which generates straighter shots with less sidespin.
A hollow-designed head houses a very thin face that increases ball speed. Although the head is big, it looks very hybrid-like. Hybrids have proven to be so much easier to hit than the traditional long iron, and are a high handicap favorite. The Low CG offers good ball flight even on mishits.
A high-pitched sound at contact, with a solid feel, encourages the player as the round progresses. If the player is a hybrid fan, this Wison set will tick all the boxes for a better game. The price tag is also acceptable.
6. Most Control – TaylorMade M4 Irons
Pros:
Huge sweet spot for blade style clubs
Fast and high launch
Hydropearl chrome makes these irons great for bad weather
Cons:

 
Not as forgiving as the hybrid style clubs in our top picks
A great-looking set of irons that inspires confidence at address while producing fantastic results for super game improvement. A metal-wood-style variable-thickness face and internal geometry increase ball speed and flexing for high launch and ball stopping power on the green.
A tungsten toe screw and hosel weight in the head expands the perimeter weighting, increasing the size of the sweet spot. The blade length is very traditional looking and short but MOI is increased.
The cascading sole and top-rail undercut combine for a faster, higher launch.
The M4 iron is rated by TaylorMade as being the fastest ball speed off the face in their M-series of irons.
Vibration is dampened by the 3-piece, multi-material cavity badge covering more of the face, but without loss of feel and sound.
A resilient Hydropearl chrome finish disperses water in wet conditions creating better contact. Players will battle to find a better super game improvement iron set, with a small traditional-like look that packs tremendous power for extra distance.
7. Best Budget Option – Powerbilt Golf EX-550 Hybrid Iron Set
Pros:
Budget-friendly
Easy launch
Lightweight to improve swing speed
Cons:

 
Less forgiving than more expensive equivalents
Powerbilt has produced another outstanding iron option for the golfer seeking super game improvement. The lightweight shafts and clubhead are the lightest set ever produced by Powerbilt. The deep undercut cavity design increases clubhead speed and higher launch.
This deep cavity back has the weight at the perimeter of the face and is set low down creating an easy launch for distance and control. Good spin rates are generated and the lighter airspeed shaft gets the ball out there, without sacrificing stability.
The precision weighting in the deep cavity back and the Progressive Hosel Length, incorporating an offset head design assist in turning the club over at impact. Low CG delivers good contact through the set, and the varying placement of the weight is an added feature for control.
The long irons have a low CG for high, easy launch, whilst the mid-irons have the CG set in the middle of the face for medium launch. Wedges and short irons have the CG high on the face creating a lower trajectory into the green.
A unique feature is a lighter Raw shaft, which assists in the long, high, controlled launch. Good spin rates and a solid look at address will impress most.
The Best Super Game Improvement Irons 2022 FAQ
Do Super Game Improvement Irons Work?
Well, that depends on what you want from them. Super game improvement irons aren't going to completely correct massive errors in your swing. But, the latest tech in these irons will definitely help you shave a few strokes off your overall score as they're much more forgiving for slightly off-center strikes.
What Handicap Do Super Games Improve?
Everyone from high handicappers to those in the mid-range should notice a marked improvement from these super game improvement irons. Low handicap players would be better off with the control they get from blade irons.
Are Super Game Improvement Golf Clubs Worth It?
If you play with friends and don't really care about your score then it may not be worth it for you. However, if you're competitive and want those few extra strokes, these irons could be perfect. Super game improvement irons often cost around the same as a standard set of irons too. So, if you're due for a new set anyway, they're definitely worth considering.
Can Low Handicappers Use Game Improvement Irons?
Yes, they can. But, they may not improve their score. Low handicappers are less reliant on forgiveness and need more control. They therefore would be better off without using game improvement irons.
Final Thoughts – The Ultra Game Improvement Irons to Get?
Any of the super game improvement irons we recommended above would be a great addition to anyone's cart bag that wants to take a few strokes out of their mid-game. Yet, our favorite are the Cleveland Launchers. These are the best max game improvement irons as they provide enough extra distance and forgiveness to impress even the toughest critic.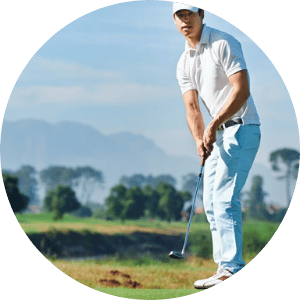 Nick Lomas is the founder of GolfSpan, an avid golfer, not quite a pro but has over 15-years of experience playing and coaching golfers from all over the world. His mission is to bring the golfing community a better experience then it comes to choosing the right golf gear, and finding the right set up for your game.