Apart from your green fees, golf balls will be your main ongoing cost if you enjoy the game. The right ball, one that works for your swing and style, will make all the difference to your round.
So before buying a new set of golf balls, take a look at the table below and compare the top 5 best selling models from Vice.
At a glance: Our Top 5 Picks for The Best Vice Golf Balls
Why Vice Golf Balls?
Many of you might not be familiar with the Vice brand of golf balls. They are not as popular or well-known as the Titleist Pro V1, TaylorMade, Callaway, or others but that is not to say they are not a great option for many golfers. They compete with the best of the best and offer a range of benefits.
Performance
Not all golf balls are equal, far from it. You get the good and the bad. These balls are German engineered and a lot of research and development went into the design. They are well made from quality materials and are built to a high standard.
Generally, better balls are quite expensive. The beauty of the Vice range of golf balls is that they are well designed and built with precision yet are still highly affordable. They offer great value for money.
Price
The cost of golf balls can add up very quickly and add to the cost of a round. You will not perform at your best with the "bargain basket" balls. While some might be OK, you do not know where they have been. They could look great but have spent a month or two at the bottom of the lake. Playing with a quality ball is important.
The truth is, even better players are going to lose a few balls. Beginners will lose more. The harder the course, the more water or rough, the more you will go through.
It is part of the game. You do not want to be paranoid about losing an expensive ball yet at the same time you do not want to play with an inferior ball. A quality ball will make a noticeable difference to your game.
Vice gives you quality at an affordable price so you can have the best of both worlds.
Choice
Different golfers need different balls, there is no one-size-fits-all. Your swing speed, golf style, and game plan will determine the best ball for your needs. Using the ball that is most suited to your specific game will have a major impact on results.
Some people want distance, others more control. You might want one that has more spin, or less spin.
Customization
This is always a special touch and customization makes your special golf balls more meaningful. They are also easier to identify. If you can have your name or company logo on your balls it will make them even more valuable to you as a player.
This will explain a bit about Vice Golf Ball Production.
How to select the best golf ball for you
A tricky question and the subject of much debate.
What do you want from your ball?
This is the first question to ask as each ball has a specific key feature. As we have mentioned before, some are designed for distance off the tee, some will give you more control over your short game, others perform better on the green for more accurate putting. If you suffer from a slice or a hook, certain balls can help to mitigate this problem.
Look at your strengths and weaknesses to determine the ideal ball for you. What feature will help improve your game and reduce your score?
Spin
The spin of the ball is one of the key factors to consider when evaluating the various options. To put it simply, for longer drives you will want less spin. This will give you a good launch and greater distance. For control around the green on your approach shots, more spin is preferable.
Give some thought to your priorities and where you need help from the ball. This will help you to make the ideal selection.
Compression Rating
The ideal compression ratio is determined primarily by your swing speed. All other things being equal, a golfer with a faster swing speed will benefit from a ball with higher compression. Conversely, if you have a slower swing then you will want  a ball with less compression.
While the compression does affect your entire game it relates mostly to your speed driving off the tee. It is important to know your swing speed.
Feel
Feel is important, it relates to your clubs as well as your ball. The importance of feel cannot be overlooked. It is somewhat personal so what works for one might not necessarily be the same for other golfers.
Find a ball that provides you with a good feel, one that works for you. This is particularly important on your short game and on the green.
Looks
While this is not a determining factor and will not directly affect your game, you want the ball to look good. You do not want to play a round of golf with balls that do not look great.
What works for you
Despite the research and the theories, the best ball for you is the one that works for you. It is a good idea to experiment and try a few different styles and designs to find the one that enhances your game.
Quick Overview: Our Top Picks for The Best Vice Golf Balls
IMAGE
PRODUCT
DETAILS

OUR RATING: 4.8/5

Vice Tour

Suited to more advanced players
High launch angle
Distance, forgiveness, and accuracy

VIEW ON AMAZON →

OUR RATING: 4.6/5

Vice Pro

Designed by artificial intelligence
Flash Face and Jailbreak tech for stability and speed
Motivated by supercars that Cobra nicknamed "aeroficiency"

VIEW ON AMAZON →

OUR RATING: 4.5/5

Vice Pro Plus

Exceedingly adjustable
Laden with technology
Motivated by supercars that Cobra nicknamed "aeroficiency"

VIEW ON AMAZON →

OUR RATING: 4.5/5

Callaway Warbird Golf Balls

Long Distance
HEX Aerodynamics reduces drag and promotes increased launch for more speed
Supreme Feel & Control

VIEW LATEST PRICE →

OUR RATING: 4.4/5

Vice Pro Soft

A terrific shaft and changeable loft
High launch / low spin
An impressive mix of features and performance

VIEW ON AMAZON →
The Vice Golf Ball Range – Reviews of the Best Vice Golf Balls
There is a ball for all players, all abilities and all swing speeds. Consider the factors we have discussed to find the ball best suited to your game and your needs.
Here is just some of what Vice has to offer:
The Tour balls are mid-spinning balls with a medium compression. The design makes them extremely versatile and they are great for the average to better golfer. The Tour balls have a 3-piece design with an ultra-tough DuPont™ Surlyn© casing.
They feature the signature HESC technology to give you legs off the tee. The 392 dimple pattern is aerodynamic and effective in a range of environments on the course. The Tour balls are firmer than the average Vice ball. They offer exceptional control around the green.
For medium to fast swingers this is a great option. This versatile 3-piece ball has good feel and a good compromise in terms of spin. It will give you impressive driving distance while still offering outstanding control on the green. This is largely due to the S2TG (stick to the green) technology that  offers the stopping power you want on your short game without taking much away from distance off the tee.
The "High Energy Speed Core (HESC)" ensures few will be disappointed by the distance. The 318 large dimples promote stability in the air for accuracy and control. It has a cast urethane jacket for durability and performance. This also improves feel and control.
This is a 4-piece ball that is designed for distance. It has a 366 dimple design for aerodynamics and speed. The cast urethane casing gives the ball durability and promotes a low flight for added distance. The larger "High Energy Speed Core (HESC)" is the feature that delivers the distance you want off the tee. It also features a dual mantle that is elasticated to reduce spin and deliver even more carry.
The Pro Plus makes use of S2TG technology. This is what gives it a quality feel and controls the spin. It will also give you a bit more grip on your short game. While this might not be the perfect ball for players with a slow swing speed it will give most golfers great distance off the tee with a minimal sacrifice on control. The feel is appreciated by most golfers.
4. Callaway Warbird Golf Balls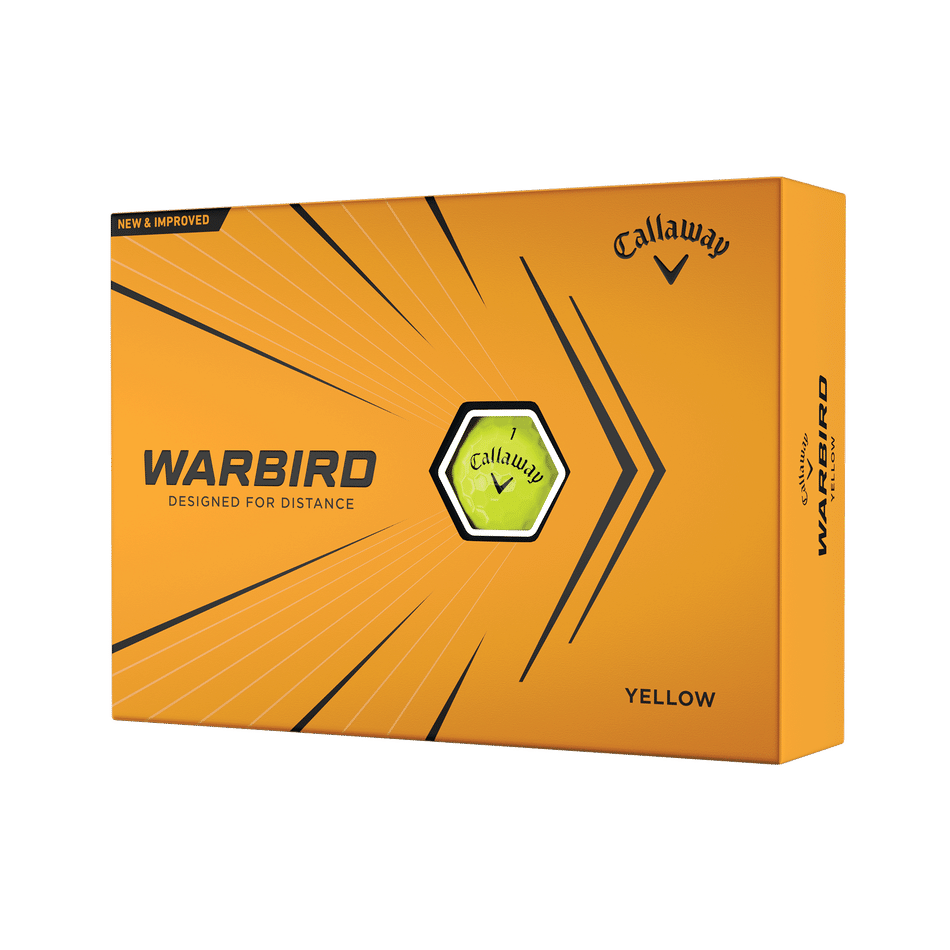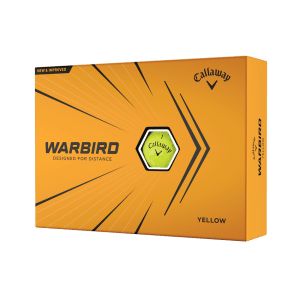 Pros
Delivers accelerated ball speed on all shots
The compressible high energy core provides optimal distance opportunities for golfers with all swing speeds
The HEX Aerodynamic design limits drag, promoting a powerful launch for consistent airtime
Affordable
Available in white and yellow
Cons
When softened, ionomer covers reduce their durability, becoming more susceptible to scuffing
Golfers have found it hard to gain consistency and spin around the greens with the Warbirds
The Callaway Golf Warbird golf balls are an affordable 2-piece golf ball built to deliver accelerated ball speeds on all shots. The highly compressible core aids players who are looking for additional ball speed to achieve a powerful launch and more consistent distance.
Callaway employed their HEX aerodynamics technology to construct a ball that reduces drag, and encourages a powerful launch for added ball speed, carry, and distance. Furthermore, The Warbird golf balls include their affordability.
The recommended sales price for a dozen Warbirds is $17.99, which is a few dollars more than a dozen Vice Golf Drive golf balls.
There are downsides to the Warbird balls. Their durability is not in the league of a urethane cover. However, you cannot complain given its affordable price.
The second disadvantage is that many amateurs have found it hard to achieve spin and consistency around greens.
The ball's distance capabilities help lower spin on shots throughout the bag. However, this leads to a lack of spin in your short game.
If you are in the market for a suitable replacement for your Vice Golf Drive golf balls, take a look at the Callaway Warbird golf balls here.
The Pro Soft is designed for golfers that value feel, an extremely important aspect of golf ball selection. The ball is ideally suited to players with an average swing speed. It has a 3-piece design with a durable urethane exterior. The Pro Soft has low compression which is what gives it such an enjoyable feel.
Distance need not be a concern as the "High Energy Speed Core (HESC)" technology will give you impressive distance with your driver, woods, and long irons. It has a good balance of spin to offer distance with your tee shots while still providing the control you need on approach shots.
Final Thoughts
If you are brand conscious you might not naturally gravitate towards these balls but that should be the only reason. They compete with the best balls on the market but at a significant discount. Vice has a wide range so there is something to cater to all needs. Decide on what is important and this will guide you to select the best ball for your needs.
While they are all great options, the Vice Pro Plus is our winner. This well-designed ball gives you a great balance of distance and control, the two most important things you want from a golf ball. It looks good, has a decent feel, and is highly durable.
If you have not tried Vice Golf Balls they are worth a look. They offer quality design and technology as well as a decent performance at an affordable price. There is something for every golfer.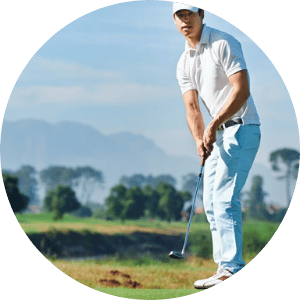 Nick Lomas is the founder of GolfSpan, an avid golfer, not quite a pro but has over 15-years of experience playing and coaching golfers from all over the world. His mission is to bring the golfing community a better experience then it comes to choosing the right golf gear, and finding the right set up for your game.