Sometimes the only difference between a ladies model golf ball and a mans is the color. When shopping for the best golf ball for a woman's game, it's essential to have some idea what you are looking at as it can make a great deal of difference in your golf game.
Does Golf Ball Choice Have any Effect on My Golf Game?
Yes. The golf ball you play with has a direct impact on your game. If you ask any great player, they will explain that the majority of that impact will be felt around the greens.
Oddly enough, most people pick a golf ball for distance and forget that they will be using the golf ball with their irons, wedges, and putter much more often than they will be with their Driver.
If you have a chance to try out several golf balls, choose the one that works best for your short game, even if it costs you a few yards off the tee.
Does Price of The Golf Ball Matter?
Unfortunately, just like anything else in this golfing world, you get what you pay for. Although grabbing a bag of slightly used golf balls can seem like a good idea, you are much better off investing in your own game. Find a golf ball in your price range that is correctly suited for your game and stick with it.
The good news for women is that most of the time a two-piece golf ball is the best option for both distance and feel.  Two-piece golf balls are less expensive than the three and four-piece golf balls that can cost almost as much as a new putter.
The new technology in golf ball cover design helps to provide a ball that is less likely to cut after a few holes or even after an entire round is complete.
What About Spin? Do I Want More or Less?
Spin can be a bit confusing when you see these different golf balls advertised as low or high spinning.  Traditionally speaking, women don't generate much spin naturally because they are not swinging at the ball with as much force.
Off the tee, this can help them to keep the ball generally straight, but around the greens, low spin can prove challenging. Women need a golf ball that produces enough spin around the green to stop the ball.
When your short game shots are rolling through every green, you are leaving yourself no chance of a low scoring round. Look for a golf ball that provides a high spin on short game shots.
What Is the Difference Between A Men's And Ladies Golf Ball?
The most significant difference between a men's golf ball and a women's golf ball is compression. Compression is what happens when the clubface hits the golf ball. When a man with a very fast swing speed hits a softer ball, the ball easily compresses and travels a certain distance.
However, when that same man hits a harder golf ball and the ball compresses, it works like a spring to produce even greater distance. Harder golf balls are great if you can compress them.
The problem with ladies golf swings is that they are not typically as fast. This difference in speed can make it difficult for a woman to compress a golf ball correctly. Men's golf balls usually have a compression of 70-100; women's golf balls are more like 50-70. If a female golfer has a faster swing speed, she will undoubtedly be able to compress a men's golf ball without any trouble.
The only other significant difference between men and ladies golf balls (aside from color) is the dimple pattern. Some lady golf balls are made with a dimple pattern that promotes higher launch.
At a glance: Our Top 5 Picks for Best Golf Balls For Women
Do I Need A Lady Golf Ball?
This is such a great question. The lady golf ball concept can be a marketing thing. The best thing you can for yourself is to get a golf ball that produces results. If the lady golf ball feels too hard or makes you lose some feel around the green, by all means, find a "men's" golf ball that works for you.
Years ago, when most of the golf balls were hard, a company called Precept released the Lady Precept golf ball. The ball had some of the softer feel and compression ratings that people had ever seen. Men, yes, that's right, men were buying this golf ball like crazy.
The reason is that not all men have enough swing speed to be hitting the 100 compression golf balls. Through the years, golf companies have realized this, and there are plenty of softer compression golf balls offered for men.
Quick Overview: Our Top Picks for Best Golf Balls For Women
The Best Golf Balls for Women
Now that we have reviewed the critical factors in choosing a golf ball to suit your game let's look at some options that we consider to be superior.
The Callaway Golf Supersoft golf balls are not explicitly designed for women, but they work for players with these swing speed ranges. This is the softest ball put out by Callaway, and it is available in several different colors. (Green, Orange, Pink, Red, and White).
This Callaway golf ball is a two-piece design that gives the best results for players looking for a mix of distance and feel.
The Callaway Golf Supersoft golf balls have a new Low Drag Hex design to the dimple pattern. This will help players get the ball into the air. Typically slower swinging players struggle with launch as well, so this is a great combination. The cover material on these golf balls is Ionomer. The Ionomer cover helps deliver a soft feel while also being a cover that does not cut after one bad shot.
These are a moderately priced golf ball like most two-piece balls.
One of the most underrated companies in golf is Srixon. Years ago, Srixon put out their new golf ball called the Z Star. This ball rivaled the best Titleist on the market, yet many people still were scared to make the switch. If you want to try something different with excellent feel and performance, it may be worth giving Srixon a try.
The Srixon Soft Feel Lady Golf Balls are a 60 compression golf ball focused on getting women a straighter ball flight and more feel around the greens. This Srixon ball is supposed to be very good at cutting through the wind and squeezing every last yard out of each swing.
Available in a bright pink color and they're indeed a great deal, considering the technology and feel that this ball offers.
Bridgestone is the front runner when it comes to golf ball fitting. For years we have been working on perfecting club fitting and making sure each person is swinging the golf balls best designed to help them succeed. Bridgestone took this concept and applied it to golf balls. When it comes to knowing which golf ball fits which player, Bridgestone is the leader.
The Bridgestone e6 lady golf ball is a soft golf ball that still boasts plenty of distance. Available in white and pink, this is a golf ball that the vast majority of female players would benefit from using. This is a two-piece golf ball with a very low compression core. It is hard to find a reason why the e6 golf ball would not be worth trying.
Titleist is probably the best-known company when it comes to golf balls and players equipment. Titleist is very often thought of as a better players option. Especially in the last several years, Titleist has made it known that they are a company that provides top of the line golf equipment for all player types, not just low handicaps.
The Titleist Velocity Golf Balls are not just for women. They are an option that plenty of slower swinging men enjoy as well. This is a great golf ball for a better female player or a younger player with faster swing speed. The core of this ball is softer than other Titleist models, and the cover is designed for pure distance.
Using a specific dimple pattern, Titleist made this golf ball long of the tee, soft around the greens, and able to produce high launch as well.
These Volvik golf balls are unique. They are designed for players who can swing their driver from 70-90 mph. This will typically be the woman who can hit her Driver over 175 yards. Although this may not be a fit for all women golfers, it is only fair to mention it for the faster swinging ladies.
The Volvik Matte Finish golf balls are the first matte finish golf ball, and they have a compression rating of 75. Slightly higher than some of the other choices that we mentioned. These golf balls are designed for lower driver spin and high wedge spin. These will not be as high launching as something like the Bridgestone e6 lady golf ball.
The Volvik is also a three-piece golf ball typically as you increase the number of materials that a golf ball is made up of the performance and feel around the greens increases.
These golf balls come in 11 different color options, including black! A black golf ball paired with the new black clubheads available on many models might help to reduce glare on the golf course. One thing for sure is that there will be no need to make your ball when you play one of these, your golf ball will stand out!
Final Thoughts
Regardless of what you may read on any individual manufacturer's website, all golf balls are trying to produce a soft feel and long-distance. This combination of attributes is what every golfer wants when they stand over a golf ball.
We believe that the best overall golf ball for women is the Callaway Golf Supersoft ball because it will give you everything you need to get your desired results. As your game improves, you will find yourself seeking feel over distance.
Always keep in mind when looking for a golf ball for a lady player, be sure to pick a compression that matches your swing speed. Otherwise, your results will be less than ideal.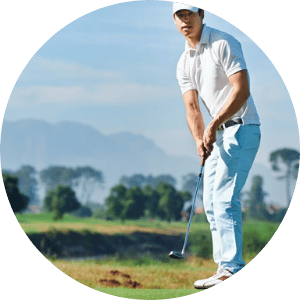 Nick Lomas is the founder of GolfSpan, an avid golfer, not quite a pro but has over 15-years of experience playing and coaching golfers from all over the world. His mission is to bring the golfing community a better experience then it comes to choosing the right golf gear, and finding the right set up for your game.