What you wear on the golf course needs as much consideration as the clubs or golf balls you use. Your clothing can impact your game if it restricts freedom of movement. To help you avoid that, I am unveiling Golf Span's picks for the best golf shirts to wear in 2023.
Our team searched for the best golf polos, button-down golf shirts, and slim-fit designs to help men and women stay comfortable on the course. I will discuss the features and benefits of each option to help you decide what option best suits your needs.
Overview Of Our Best Golf Shirts 2023
Best Overall 

Best Value For Money 

Best Golf Polo Shirt 

Under Armour Playoff Polo

Amazon Essentials Polo

PGA Tour Airflux

Pros

Comfortable fabric blend

4-Way stretch for great freedom of movement

UPF 30 UV protection

Anti-odor technology

Good moisture-wicking properties

Outstanding value for money

Lightweight

Machine washable

Quick dry

Wide range of color and pattern options

Unbanded cuffs allow for easy motion

Lightweight polyester

Airflux ventilation creates good airflow

Sunflux UV protection

Driflux moisture-wicking

Good range of colors

Ribbed collar

Suitable for larger players

Cons

Relatively expensive

Some reports of sizing issues

Some purchasers found the size and fit to be inconsistent

A few reports of the shirts wrinkling

Some people complained of sizing issues

A few complained that the fabric was too thin

Material Score

93.3

87.8

90.2

Price Score

90.5

93.4

88.3

Comfort Score

94.8

90.5

90.1

Rating

4.5 Stars

4 Stars

4 Stars
Our Research Parameters 
Golfspan is independent and not paid or pressured by manufacturers to recommend products. These products were selected by our team who have over 50 years of experience playing golf and hundreds of hours reviewing products. We may earn an affiliate commission when you purchase something through our retail links at no cost to you..
We've looked at these products based on:
Material

Price

Sizes

Breathability

Fit

Looks
At a glance: Our Top 5 Picks for Best Golf Shirts
What To Look For In The Best Golf Shirt
There are several factors to consider when selecting a golf shirt. We look at the main points below.
Fit
There are several fit options to choose from. Although the style is important, movement and comfort should be your primary concern. The two main options are :
Regular fit

Slim fit
If you wear a larger size, I suggest a regular fit because a slim fit will restrict your movement during your swing, resulting in an uncomfortable round.
Those of us with less bulk may drown in a regular fit and look scruffy. Therefore a slim-fit shirt may offer the most comfort. I suggest looking for a design that includes four-way stretch material to enable rotation during your swing.
Style
When I started playing golf, the only shirt permitted on a course was polos. But, in 2003, Tiger Woods sported a collarless design at the Buick Invitational, forcing clubs to update their dress code policy beyond golf polo shirts.
The collarless design can feel restricting and uncomfortable around the neck region, especially in warm weather. Conversely, golf polos offer increased airflow around the neck with their button-down design.
Overall, a collarless turtleneck design is better suited for cooler conditions, while a polo is a more versatile option.
Fabric
Golf shirts have typically been made from cotton and polyester. Or a hybrid of the two. Modern shirts are made from a wide range of fabrics and combinations. Each has unique benefits.
Cotton

– Pure cotton shirts are amongst the most popular and practical. They have good breathability and moisture-wicking properties to

keep you cool

and dry in the course. It has a soft feel and pleasant texture for added comfort, as well as an eco-friendly option. They can be expensive and lack some of the benefits of certain blends.

Cotton and Elastane Blends

– They contain similar properties to cotton. But the Elastane gives the shirt extra stretch for easier movement. The blend is expressed as a percentage, and the more Elastine, the more stretch the shirt will have.

Polyester

– This is another practical and popular fabric for golf shirts. It is also breathable and has moisture-wicking qualities. It generally looks sleek and stylish and has a good texture and soft feel.

Polyester and Spandex Blends

– In these shirts, spandex is added for additional stretch and freedom of movement for an even more comfortable experience.
Stretch
As you can see from the above fabric combinations, some golf shirts offer more stretch than others. Typical shirts will only stretch in two directions according to the grain.  
On the contrary, several modern designs include four-way stretch for greater freedom of movement and comfort on the course. That allows you to move, bend, and swing with greater freedom for optimal performance.
Moisture-Wicking
This technology draws sweat and moisture away from the body and moves to the outside of the fabric leading to a cool and dry experience. The expelled water evaporates rapidly from the exterior of the fabric as opposed to being trapped inside and next to your skin.
Anti-Odor Properties
The last thing you want during or after a round of golf is a bad odor. Many good shirts feature innovative properties to counteract this. They generally use tiny silver nanoparticles built into the fabric. These deal with the bacteria in sweat that would otherwise result in odor.
UV Protection
A wide selection of men's and women's golf shirts offer UV protection. Often, products in this category contain a UPF rating of 50 plus. The Skin Cancer Foundation suggests that UPF 50 plus shields your skin from 98% of the sun's rays.
Do not assume that any shirt alone will protect you. If the shirt does not offer this protection, use an effective sun protection lotion.
Breathability
While looking good is important, the fabric's breathability is vital to consider. If you are uncomfortable, hot, and sweaty, it results in a miserable day out on the course.
The point of breathability is to move hot moist air from inside the shirt to the outside. Vapor transfer helps keep you cool, dry, and comfortable.
Budget
Unless you are an infrequent player, you will want a range of golf shirts, and the best way to achieve this is to create a budget. 
This video gives some advice on the general concept of dressing for golf.
Quick Overview: Our Top Picks for Best Golf Shirts
Review of the 7 Best Golf Shirts
The Under Armour Playoff Golf Polo tops our list for the best golf shirts for men in 2023. The shirt features a blend of 88% Polyester and 12% Elastane to optimize comfort and stretch. 
It also includes four-way stretch material for maximized freedom of movement.
The finish is soft, snag-free, and resists pilling. But where the shirt really excels is in the moisture-wicking and quick-dry department. It also has anti-odor technology. The sun protection is also impressive, and it offers UPF-30 protection to keep you safe from dangerous UV rays.
This is a quality shirt with a lot of technology, but it comes at a price. If you play often, this shirt will be well worth the investment though.
Overall Rating: 4.5 Stars
Apart from the incredible value for money these Amazon Essentials golf shirts offer, they also have an interesting range of colors and styles. 
The shirts are machine washable and resist wrinkling. They also have good durability.
The fabric is cool and lightweight. They dry quickly and have good moisture-wicking properties for a dry game of golf on a warm day. 
They also offer protection from harmful UV rays with UPF sun protection. The protection ranges from UPF 20 – UPF 40, according to the color you choose.
They are designed to enhance your freedom of movement, and the unbanded cuffs maximize this. 
Most people reported that the Amazon Essentials Men's Regular-Fit Quick-dry Golf Polo Shirt is comfortable, practical, and durable. If you want to pick up a few good golf shirts without spending a fortune, these are an excellent option to consider.
Overall Rating: 4 Stars
This popular shirt is made from 100% Polyester and is stylish and comfortable. It offers excellent stretch for great freedom of movement. What keeps it cool is the Airflux ventilation in the fabric for good airflow. 
It also features Driflux moisture wicking to keep you dry as you play. 
In addition, the shirt is machine washable and requires minimal effort to care for. It is available in a range of funky colors and patterns. The ribbed collar helps it keep its shape, with 3 buttons in the front.
Finally, the PGA Tour Airflux polo shirt is available in various sizes to cater to golfers of every width and breadth.
Overall Rating: 4 Stars
Ever since Tiger donned a collarless design, their popularity has soared, thanks to their breathable qualities, lightweight design, and stylish look. That is why it was necessary to include them on this list. Topping the standings in the men's golf t-shirts category is the Three Sixty Six collarless golf shirt.
The 100% polyester design includes a top-button closure to maximize airflow around the next and chest area. And the shirt is equipped with Anti-Odor and Dry-Fit technology to keep you dry and smelling fresh on scorching days.
In addition to the technology of the Three Sixty Six collarless shirt is the array of colors and sizes that you can select if you have a large or small frame. There is a Three Sixty Six collarless shirt that caters to your needs.
Overall Rating: 3.5 Stars
If you are a big-framed guy, then this men's golf polo shirt might make your day. The IZOD Big and Tall Golf Title Holder earns our nomination as the best large golf polo for men.
The composition of 88% Polyester and 12% Spandex combined with four-way stretch technology enhances your freedom of movement when swinging.
This IZOD shirt has decent moisture-wicking properties to keep you cool and dry. Plus, it also offers UV protection with UPF-15 sun control. The shirt is machine washable, wrinkle-resistant, and easy to care for.
This is a popular shirt that large-stature players highly rate. There is also a wide range of colors and designs available.
Overall Rating: 3.5 Stars
Those of us skinnier chaps who find regular fits too baggy will appreciate the slim fit design of the Derminpro Camo Golf Shirt. Its appealing looks, secure fit, anti-odor technology, and optimal stretch catapulted it to the top of our list for the best slim-fit golf shirt.
If you appreciate camouflage clothing, the Derminpro is right up your alley, as there are a variety of two-tone color options.
Furthermore, the athletic performance polo is soft and reduces the risk of rashes. The material also features breathable and moisture-wicking qualities to ensure comfort and coolness on warm days.
Derminpro's design team added four-way stretch material to allow optimal movement during your round. 
While anti-odor technology keeps your shirt smelling fresh, its anti-wrinkle qualities save you from having to iron the shirt before every round.
Finally, this moderately priced slim-fit golf shirt is available in small to double extra large. If you have a wider frame, you should stick to a regular fit.
Overall Rating: 3 Stars
We couldn't complete our list without including an option for the best women's golf shirts. We assessed a variety of designs and performance features, but in the end, the Felisou Short Sleeve claimed victory.
The inclusion of four-way stretch material enables you to enjoy optimal freedom of movement while walking and swinging. The Felisou team also applied a breathable mesh over the shoulder area to encourage maximum breathability to keep you cool.
Furthermore, this Felisou short-sleeve shirt is crafted to fit ladies who wear an extra small up to a double extra large. It is also available in a variety of color options.
If you are looking for a cool, fashionable ladies' shirt, the Felisou short sleeve is worth considering. But it is best worn in warm weather.
Overall Rating: 3 Stars
FAQs
What Kind Of Shirts Do Golfers Wear?
Players wear golf polo shirts with a collar and a button-down top. However, you may also find golfers wearing collarless or golf t-shirts.
How Should A Golf Shirt Fit?
A golf shirt should never fit tightly, to allow your upper body to move freely during your swing. 
In addition, Golf Magazine's Michael Williams recommends that if your shirt becomes untucked during your swing, you should acquire a lengthier design. Not to mention that your sleeves should come down to your upper arm.
How Many Golf Shirts Should A Man Own?
The amount of golf shirts you should own depends on your budget and how frequently you play and wash your clothes. If you play twice a week, you can own two shirts.
However, I recommend owning at least six to ten shirts. Enabling you to account for different conditions. 
Final Thoughts
We did extensive research to find you the best golf shirts, and there is something for everyone. You should consider your needs, your size, the conditions that you play in, as well as your style preference. 
While they are all quality options, the Under Armour Men's Playoff Golf Polo stood out for us as the clear winner. It's a comfortable golf shirt with a four-way stretch fabric that maximizes movement. In addition, its moisture-wicking qualities are exceptional. And will keep you dry as you play, while UV protection is an added safety benefit.
You'll also want to consider the golf pants you wear, and a wide-brim golf hat can keep a lot of dangerous UV rays off your face. For more, check out our articles covering those topics.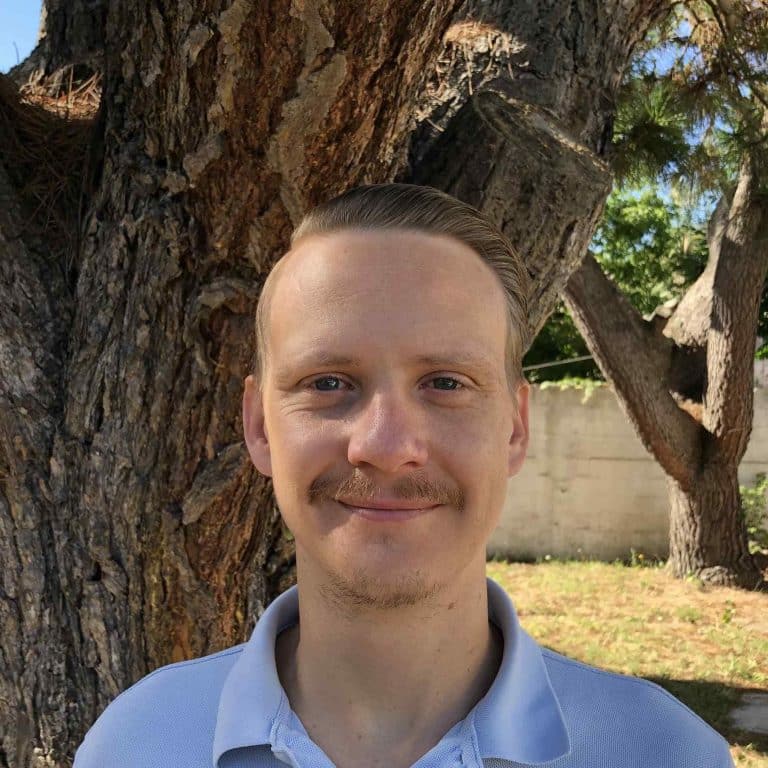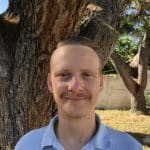 Matt is a seasoned golf equipment writer and sports fanatic. He holds a Postgraduate in Sports Marketing and has played golf for over 28 years.