These are essential to your game and the best golf shirts will have a significant impact during your round. It is important to look good but you need to be cool and dry while being able to move without restriction.
We take you through what to look for in a good golf shirt and then go into some of the best options available right now.
At a glance: Our Top 5 Picks for Best Golf Shirts
What To Look For In The Best Golf Shirt
There are a number of factors to consider when selecting a golf shirt. We take you through the main factors to consider.
Fit
There are a number of fit options to choose from. While style is important, movement and comfort should be your primary concern.
The main two main options are regular or slim fit. Even if you pay attention to the size it is still preferable to go for a regular fit if you are on the larger size. Slim-fit shirts have shorter and tighter sleeves. They contour the body fairly tightly and have a narrow waist.  A regular fit gives most players a bit more space and freedom.
Fabric
Golf shirts have typically been made from cotton or polyester or often a combination of the two. Modern shirts are made from a wide range of fabrics and combinations. Each has unique benefits.
Pure cotton shirts are amongst the most popular and practical. They have good breathability and moisture-wicking properties to keep your cool and dry in the course. It has a soft feel and pleasant texture for added comfort. It is also an eco-friendly option.
They can be expensive and lack some of the benefits of certain blends.
Cotton and Elastane Blends
These have similar properties to cotton but the Elastane gives the shirt more stretch for easier movement. The blend is normally expressed as a percentage and the more Elastine the more stretch the shirt will have.
This is another practical and popular fabric for golf shirts. It is also breathable and has moisture-wicking qualities. It generally looks sleek and stylish and also has a good texture and soft feel.
Polyester and Spandex Blends
In these shirts, spandex is added for additional stretch and freedom of movement for an even more comfortable experience.
Other Important Features
Just as the technology in golf clubs and balls has advanced over the years, so too has the technology in golf apparel. These are some of the more important features some shirts offer:
As you can see from the above fabric combinations, some golf shirts offer more stretch than others. Typical shirts will only stretch in two directions according to the grain.  Many modern designs allow for a 4-way stretch for greater freedom of movement and increased comfort on the course. This will allow you to move, bend and swing with greater freedom and improved effectiveness.
Again, this was discussed above with certain fabrics but it is a feature that some manufacturers really excel at. The technology literally draws sweat and moisture away from the body and moves to the outside of the fabric. The result is a cool and dry experience. The expelled water is easily able to evaporate from the exterior of the fabric as opposed to being trapped inside and next to your skin.
The last thing you want during or after a round of golf is a bad odor.  Many good shirts feature innovative properties to counteract this.  They generally use tiny silver nanoparticals built into the fabric. These deal with the bacteria in sweat that would otherwise result in odor.
Most golfers are aware or should be, of the harmful effects of the sun and UV radiation. Many modern golf shirts offer protection against this. Many have a UPF rating of 50 plus. Remember to still protect the exposed skin for protection but shorts with this technology are sure to benefit you on those long hot rounds.
Do not assume that any shirt alone will protect you. If the shirt does not offer this protection or you need additional safety, use an effective sun protection lotion.
While looking good is important, the breathability of the fabric has to be one of the main factors to consider. If you are uncomfortable, hot and sweaty it will not matter how good you looked at the start of the game and it will negatively affect your performance on the round.
Some fabrics or blends are more effective at this than others.  The point of breathability is to move hot moist air from inside the shirt to the outside. This vapor transfer will help to keep you cool, dry and comfortable.
You want golf shorts that are machine washable and easy to care for. This is especially true if you travel to golf. Good shirts will be easy to clean, dry quickly and remain relatively wrinkle-free.
Looks
Quite obviously, you want to look good in your golf shirt. It is essential to be cool and comfortable but there are a great many options available these days that will do that while still looking amazing. Personal preference and style will be important factors here.
Some may prefer a more conservative design or color while others are more adventurous. What is important is to balance your choice with your golf pants and the rest of your outfit. If one aspect is going to be bold or bright, keep the other aspects more neutral. Don't allow your shirt and pants to clash.
Golfers are spoilt for choice when it comes to design, color, and patterns so find the option that works best for your style and preference.
Budget
Unless you are a very infrequent player you will want to have a range of golf shirts.  Giving consideration to your budget will allow you to select a range of options over time so that you have the ideal golf shirt for all conditions and experiences.  Quality shirts range from highly affordable to rather expensive. There are quality options to suit all budgets.
This video gives some advice on the general concept of dressing for golf.
Quick Overview: Our Top Picks for Best Golf Shirts
Review of the Top 7 Best Golf Shirts
1. IZOD Men's Big and Tall Golf Title Holder Short Sleeve Solid Polo
Pros:
Great fit for larger golfers
Good flexibility and freedom of movement
Decent moisture wicking
Value for money
Effective UV protection
Wrinkle resistant
Wide range of colors and patterns
Cons:
Some found the sizes larger than expected
The length might be an issue for some golfers
Here is a great option for all golfers, particularly larger players. This shirt will still look good while providing comfort and ease of movement. It is often tricky for plus size players to find a shirt that works well while still remaining stylish. IZOD created a shirt specifically for this challenge.
It is a blend of 88% Polyester with 12% Spandex for great freedom of movement and comfort. It uses the same 4-way stretch technology for advanced ease of motion.
This IZOD shirt has decent moisture-wicking properties to keep you cool and dry and also offers decent UV protection with UPF-15 sun-control. The shirt is machine washable and easy care. Another benefit is that it is relatively wrinkle resistant.
This is a popular shirt that is highly rated by many larger players. There is a relatively wide range of colors and designs available.
This shirt is a comfortable blend of 88% Polyester and 12% Elastane. This gives it comfort and stretch when you need it. It has a 4-way stretch for maximized freedom of movement. Many shirts only have a 2-way stretch so this feature is quite significant and will allow for easier movement during your round.
The finish is soft, snag-free, and resists pilling. Where the shirt really excels is in the fact that it has great moisture-wicking properties and it dries quickly. It also has anti-odor technology. The sun protection is also impressive and it offers UPF-30 protection to keep you safe from dangerous UV rays.
This is a quality shirt with a lot of technology. Unfortunately, this does come at a price so you will find it to be slightly higher than some of the other options available. That being said, you get a lot of bang for your buck.
3. Amazon Essentials Men's Regular-fit Quick-Dry Golf Polo Shirt
Pros:
Outstanding value for money
Lightweight
Machine washable
Quick dry
Wide range of color and pattern options
Unbanded cuffs allow for easy motion
Cons:
Some purchasers found the size and fit to be inconsistent
A few reports of the shirts wrinkling
Apart from the incredible value for money these golf shirts offer, they also have an amazing range of colors and styles. There is a quality shirt that is ultra-affordable for everyone. They are made from 100% Polyester making them comfortable and easy to care for. The shirts are machine washable and resist wrinkling. They also have good durability.
The fabric is cool and lightweight. They dry quickly and have good moisture-wicking properties for a dry game of golf on a warm day. They also offer protection from harmful UV rays with UPF sun protection. The protection ranges from UPF 20 – UPF 40 according to the color you choose.
They are designed to give you great freedom of movement and this is enhanced by the unbanded cuffs. Most people reported that the Amazon Essentials Men's Regular-fit Quick-Dry Golf Polo Shirt is comfortable, practical and durable. If you want to pick up a few good golf shirts without spending a fortune these are an option to consider.
4. PGA TOUR Men's Airflux Short Sleeve Solid Polo-Shirts
Pros:
Lightweight polyester
Airfulx ventilation creates good airflow
Sunflux UV protection
Driflux moisture wicking
Good range of colors
Ribbed collar
Suitable for larger players
Cons:
Some people complained of sizing issues
A few complained that the fabric was too thin
This popular shirt is made from 100% Polyester and is stylish and comfortable. It has good stretch for great freedom of movement. What keeps it cool is the Airfulx ventilation in the fabric for good airflow. It also features Driflux moisture wicking to keep you dry as you play. Another great feature is Sunflux UV protection to keep you safe on sunny days. These all work well together for a cool and stylish shirt.
The shirt is machine washable and requires minimal effort to care for. It is available in a range of funky colors and patterns. The ribbed collar helps it to keep its shape and it has 3 buttons in the front.
It is another good option for heavier players that want a light stylish golf shirt.
IZOD has established a valid reputation as a leading golf apparel supplier and this golf shirt is no exception. It is a blended fabric consisting of 60% Cotton and 40% Polyester. This gives you the best of both worlds as the shirt is cool, comfortable and easy to care for. It is machine washable and does not wrinkle easily.
The combination of fabrics also means that it has great stretch for greater freedom of movement. This is essential as you swing or bend throughout a round of golf. These shirts look equally good on and off the course and are a very popular choice.
If you are looking for an eco-friendly shirt on a budget this is one to consider. It is a blend of 50% cotton and 50% polyester. What makes it green friendly is that as much as 5% of the polyester is made from recycled plastic. It is also extremely good value for money.
The resulting fabric is soft and comfortable while also able to keep you cool. It is easy to clean and care for and resists wrinkles. The welt collar and rib-knit cuffs help to keep the shirt in the same stylish shape wash after wash. The tag-free design prevents irritation.
The shirt is thin for extra coolness and freedom of movement. It has a fair amount of stretch. Although a budget shirt most people were impressed with the quality and workmanship.
On or off the course this is a comfortable stylish shirt that won't break the bank.
Technology advancement is not only restricted to the golf equipment sector but selecting the right apparel on offer these days is an enjoyable experience.

This lightweight Adidas shirt will live up to your expectations and women golfers need to look no further for good value, stylish and sleek looks when stepping out onto the course.

A 100% polyester fabric that is soft and breathable, making those hot humid days out on the course a pleasure.

The moisture-wicking fabric allows perspiration and moisture to move to the outside of the material, where easy evaporation will keep you dry and cool.

Additional comfort and looks are enhanced by the neat rib-knit collar and 2-button placket.

The easy-care, cool iron option is perfect for those short golf tour weekends when space can be a problem when traveling.

A variety of colors and sizes should keep the most discerning women golfer contented.
Final Thoughts
We did extensive research to find you the best golf shirts and there is something for everyone. You should consider your needs, your size, the climate in which you play and your style preference. Guaranteed, you will find what you are looking for in our selection.
While they are all quality options the Under Armour Men's Playoff Golf Polo stood out for us as the clear winner. It is a comfortable golf shirt with a relaxing 4-way stretch. The fabric is enjoyable and resists pilling and snags. The moisture-wicking is exceptional and it will keep you dry as you play.  The UV protection is an added safety benefit.
Consider your needs to find the best golf shirts for your needs.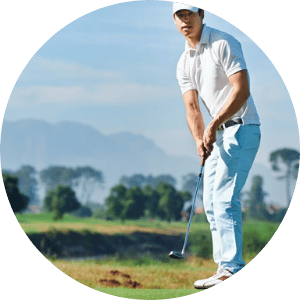 Nick Lomas is the founder of GolfSpan, an avid golfer, not quite a pro but has over 15-years of experience playing and coaching golfers from all over the world. His mission is to bring the golfing community a better experience then it comes to choosing the right golf gear, and finding the right set up for your game.