What you wear on the golf course needs as much consideration as the clubs or golf balls you use. Your clothing can impact your game if it restricts freedom of movement. To help you avoid that, I am unveiling Golf Span's picks for the best golf shirts in 2023.
Our team searched for the best golf polos, button-down golf shirts, and slim-fit designs to help you on the course. I will discuss the features and benefits of each option to help you decide what shirt best suits your needs.
Here are the 9 best golf shirts of 2023:
Not every golf shirt will be right for you, so read to the end to see the benefits and downsides of each one, including our ratings based on testing.
3 Featured Golf Shirts 2023
Best Overall 
Best Value For Money 
Best Golf Polo Shirt 

Under Armour Tech Golf Polo

Amazon Essentials Polo

PGA Tour Airflux

Pros

Comfortable
Lightweight polo shirt
4-Way stretch for great freedom of movement
Good moisture-wicking properties

Outstanding value for money

Lightweight

Machine washable

Quick dry

Wide range of color and pattern options

Unbanded cuffs allow for easy motion

Lightweight polyester

Airflux ventilation creates good airflow

Sunflux UV protection

Driflux moisture-wicking

Good range of colors

Ribbed collar

Suitable for larger players

Cons

In-shape golfers may prefer a slimmer fit
The sizing is a little inconsistent

Some purchasers found the size and fit to be inconsistent

A few reports of the shirts wrinkling

Some people complained of sizing issues

A few complained that the fabric was too thin

Material Score

93.3

87.8

90.2

Price Score

90.5

93.4

88.3

Comfort Score

94.8

90.5

90.1

Rating

4.5 Stars

4 Stars

4 Stars
Want more luxury shirt options? Uncover a world of possibilities in the clearance section at Jos. A. Bank (up to 65% off). Or browse their full selection of golf clothing to find a stylish shirt you can wear with pride.
Why You Should Trust Us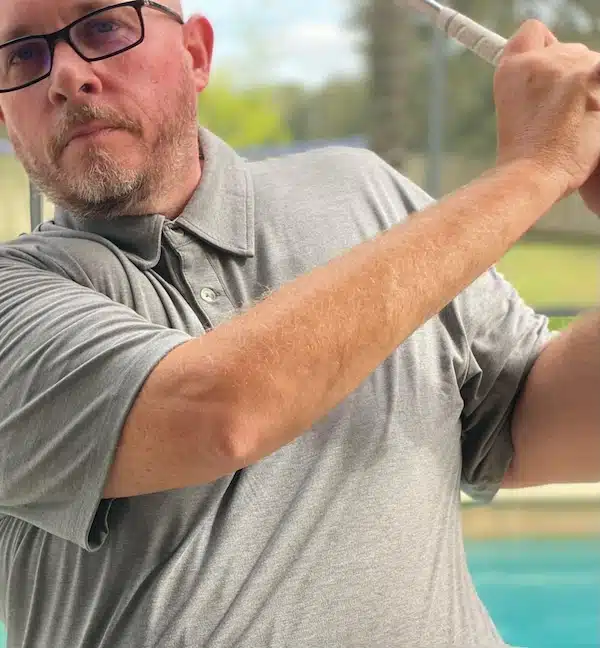 Our team spends thousands of hours trying out and researching golf equipment to help you take your game to the next level. Here's our product review process.
We can bring these reviews to you through the small commissions we earn if you buy through the links below.
How We Reviewed These Products
Golfspan only shares equipment and brands we trust.
I'm an experienced golfer of 28 years and thoroughly researched and evaluated the products shared below. Then an editor reviewed and fact-checked the list. Finally, we conduct regular content audits to update and revise our reviews to ensure you receive the latest information.
To select our favorite men's golf shirts, we considered the following criteria:
Material

Price

Sizes

Breathability

Fit

Looks
Review of the 8 Best Golf Shirts
Quick Overview: Our Top Picks for Best Golf Shirts
Specifications:
Material: Polyester
Sizes: XS-4XL + tall versions
Colors: 70
Fit: Regular
Pros:
Comfortable
Lightweight polo shirt
4-Way stretch for great freedom of movement
Good moisture-wicking properties
Plethora of colors to choose from
Cons:
In-shape golfers may prefer a slimmer fit
The sizing is a little inconsistent
The Under Armour Tech polo tops our list of the best golf shirts for men in 2023. It sports a 100% polyester composition and is stretchable in all directions for complete freedom of movement. The fit is loose, which further adds to the freeing feeling while you wear the shirt. While this will suit most players, I personally prefer a tighter fit to complement my physique. 
However, I can't complain when it comes to comfort. The shirt is very soft, and highly breathable — great for blisteringly hot weather when you need to keep cool.
I also really appreciate the wide range of colors on offer. With 70 to choose from, I can easily see myself picking up a few contrasting colors for my golf wardrobe game. All of the shirts on this list are available in various colors, but none even come close to the amount that the UA Playoff jersey polo offers.
Overall Rating: 4.5 Stars
Specifications:
Material: Polyester
Sizes: XS-2XL
Colors: 42
Fit: Regular
Pros:
Outstanding value for money
Lightweight
Machine washable
Quick-drying fabric
Wide range of color and pattern options
Cons:
Material is rather thin
Quality does not feel the best
Runs a little large
Apart from the incredible value for money these Amazon Essentials golf shirts offer, they also have an interesting range of colors and styles, with 40 in total to choose from. 
The shirts are machine washable and resist wrinkling. They also have good durability.
I found the fabric to be cool and lightweight. It has good moisture-wicking properties, so my shirt remained dry throughout my whole round. However, I found the shirt to be a little thin, and the material didn't feel the best in terms of quality. Yet given the price, this is to be expected.
Despite the material feeling so thin, you still reap the benefits of UPF 50 sun protection, which is something you shouldn't overlook.
Like the Under Armour Tech polo, this shirt also has a loose fit, so you feel completely unobstructed throughout your swing. 
All in all, we think it's an excellent shirt to consider. It's highly functional, and while it doesn't feel top quality, the price justifies picking it up. 
Overall Rating: 4 Stars
Specifications:
Material: Polyester
Sizes: S-4XL tall
Colors: 34
Fit: Regular
Pros:
Well-priced
Lightweight polyester
Airflux ventilation creates good airflow
Sunflux UV protection
Driflux moisture-wicking
Good range of colors
Suitable for larger players
Cons:
Snags easily
Fabric is a little thin
Some sizing issues
This popular golf shirt is made from 100% polyester and is stylish and comfortable. It offers excellent stretch for great freedom of movement. The presence of Airflux ventilation coupled with the loose fit provides plenty of airflow, which helped keep me cool throughout my entire round of golf. 
In addition, the Driflux moisture-wicking technology facilitates quicker evaporation, and the UPF 15 UV protection helps shield you from the sun's harmful radiation. Yet, I should note, at a rating of UPF 15, this is far below the Amazon Essentials shirt, which has a UPF 50 rating. 
I also found the material is a little prone to snagging, so keep that in mind to prevent damage if you choose to purchase it.
You can pick up the PGA TOUR Airflux shirt in up to 34 colors and a wide range of sizes. The current availability includes many "tall" and "big tall" variants besides the standard sizes, giving you more to choose from than what Under Armour and Amazon Essentials offer.
Overall Rating: 4 Stars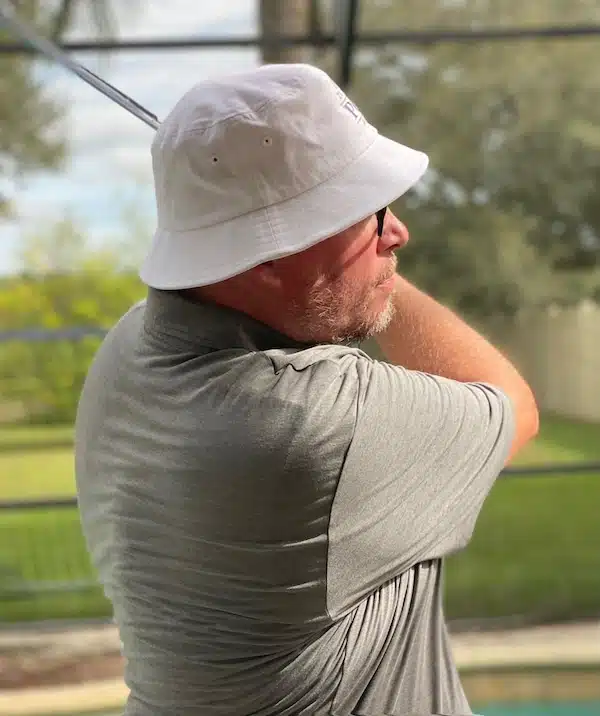 Specifications:
Material: Polyester
Sizes: S-4XL
Colors: 19
Fit: Regular
Pros:
Well-priced
Flattering fit
Lightweight
Soft to the touch
Moisture-wicking
Dual pen pockets
Cons:
A little long
Sizes run large
Collar does not retain its shape well
I personally reviewed the Bamboo Flex Polo in Heather Graphite. I am a big boy, wearing anywhere from XXL and XXXL. Comfort is of prime importance for us, big fellas…ask any of us. Without a doubt, this shirt was extremely comfortable. It was breathable, moved with me, and kept me cool. One note for my fellow big guys: I would suggest going a size up if you prefer a little looser feel in your shirts and outerwear. 
Made from bamboo, and a performance woven blend, the polo produced by Free Fly is extremely light and breathable. In addition, protective features have been blended in, including UPF 50+ to protect you from the sun when enjoying a day on the course. Quality made and comfortable…worth checking out!
Overall Rating: 4 stars
Specifications:
Material: Polyester
Sizes: S-4XL
Colors: 19
Fit: Regular
Pros:
Well-priced
Flattering fit
Lightweight
Soft to the touch
Moisture-wicking
Dual pen pockets
Cons:
A little long
Sizes run large
Collar does not retain its shape well
There's a lot to like about the MAGCOMSEN collar polo shirts. They come in various vibrant colors and have a flattering fit, even for those of a larger build.
The material is soft, lightweight, and very effective at keeping you cool due to its sweat-wicking properties. I found it to be one of the most comfortable golf shirts to wear. However, the shirt is a little long for me, just like the Nike Dri-fit shirt, so I always wore mine with the shirt tucked in — you may want to do the same.
One small feature you might overlook are the dual pen pockets. They're a nice little add-on that helps free up space in your pant pockets for your scorecard and tees.
To sum up, the MAGCOMSEN shirts are highly attractive and a steal at their affordable price point.
Overall Rating: 4 Stars 
Specifications:
Material: Polyester
Sizes: S-2XL
Colors: 30
Fit: Regular
Pros:
Very attractive design

Wicks sweat away from your body

Lightweight 

Deliver maximum moveability during your swing

Breathable

Fashionable design
Cons:
Pricey

Non-traditional aesthetic given the absence of a collar

Sizes run small
Ever since Tiger donned a collarless design, their popularity has soared, thanks to their breathable qualities, lightweight design, and stylish look. That is why it was necessary to include them on this list. And looking at all the collarless shirts on offer, those by Three Sixty Six are our favorite.
The 100% polyester design includes a top-button closure to maximize airflow around the neck and chest area. And the shirt is equipped with Anti-Odor and Dry-Fit technology to keep you dry and smelling fresh on scorching days.
I found them to be very comfortable to wear, and in my opinion, they are the best-looking of all the shirts we looked at. I also appreciated the fit, which, while technically regular, was a little snug on the arms but flowy throughout the stomach. Just be aware that the sizes run small — you may want to order a size up from your normal size.
Although there are 19 colors to choose from, the Three Sixty Six shirts almost have the smallest color availability on this list (Nike Dri-fit has 18). However, I'd personally be happy with any color they sell the shirt in, as I think they all look very attractive. If they were half the price, no question these shirts would top our list. Nonetheless, they are still certainly worth considering.
Overall Rating: 3.5 Stars
Specifications:
Material: Polyester
Sizes: M-3XL
Colors: 32
Fit: Regular
Pros:
Anti-odor
Moisture-wicking
Attractive speckled colors
Stretchy
Will not shrink in the wash
Cons:
Not the best quality
No small sizes
We've covered a few inexpensive shirts already, but none beat the COSSNISS polo shirts when it comes to price. They are super affordable and surprisingly good quality. Of course, you shouldn't expect a similar quality to Under Armour's polo, but that costs over twice as much!
These jersey polos feature most of the same tech as the other shirts we have looked at, including anti-odor, moisture-wicking, and 4-way stretch material for complete freedom of movement. I was pleasantly surprised with how the shirt felt while wearing it on the course, although I'd be lying if I didn't say that it felt cheaper than the rest. You get what you pay for!
One of the most appealing areas to me is the available color choices. Of the 32 on offer, none are technically plain colors. Most instead have a speckled design which I find to be very attractive. On the other hand, sizes may be problematic, especially for small golfers. There are only five options to choose from, and no extra small or small sizes are available, making them the least accommodating of the shirts on this list.
Overall Rating: 3.5 Stars
At 7th on our list, we have the Nike Dri-Fit short sleeve collar polo. As the others discussed thus far, it is made from 100% polyester and has great freedom of movement, ensuring you get a fluid and unimpeded golf swing every time.
It's also got good moisture-wicking properties which help to keep you cool for those extra-long golfing sessions. Yet I found it was rather prone to snagging, just like the PGA TOUR Airflux shirt, so you have to be careful to avoid anything sharp while wearing it. Otherwise, you'll risk pulling out threads and ruining the look.
Speaking of looks, these shirts are very attractive and available in 18 colors — the fewest color offerings on this list. But what is more of an issue is that the iconic Nike swoosh is on the wrong side: the right rather than the left. The listing claims these shirts are 100% authentic, but I believe this to be inaccurate with the incorrect placing of the swoosh in mind.
In any case, Nike or not, the shirts are great golf outfits to add to your wardrobe. It's a shame they are pricey high-end golf shirts prone to snagging.
Overall Rating: 3.5 Stars
Specifications:
Material: 95% Polyester, 5% spandex
Sizes: S-2XL
Colors: 41
Fit: Slim fit
Pros:
Great for those with smaller body frames

Attractive design

Quick-dry material keeps you comfortable and cool

Four-way stretch materials enable freedom during your swing

Wrinkle-resistant

Anti-odor technology
Cons:
The long sleeves are disproportionate to the size

Many of the designs are unappealing to most golfers
No XS size
Those of us skinnier chaps who find regular fits too baggy will appreciate the athletic fit of the Derminpro Camo golf shirt. Its appealing looks, secure fit, anti-odor technology, and optimal stretch catapulted it to the top of our list for the best slim-fit golf shirt.
If you appreciate camouflage clothing, the Derminpro is right up your alley, as there are various two-tone color options. There are also short and long sleeve polo versions to choose from. Personally, I prefer short sleeves when playing golf, but it's nice to have the option of a long sleeve polo too.
I should also note the sleeves are a little too long relative to the rest of the body. I had to pull mine up a bit to prevent them from passing my wrists. 
However, when it came to feeling, I found the shirt to be very comfortable. The soft polo helps reduce the risk of rashes — this is especially important for fitted clothing. The material also features breathable and moisture-wicking qualities to ensure comfort and coolness on warm days.
Derminpro's design team added four-way stretch material to allow optimal movement during your round. It's certainly the most stretchy of the shirts we looked at. That's partially because it includes 5% spandex, whereas all of the other shirts are 100% polyester. 
While anti-odor technology keeps your shirt smelling fresh, its anti-wrinkle qualities save you from ironing the shirt before every round.
Finally, this moderately priced slim-fit golf shirt is available in small to double extra-large. You should stick to a regular fit if you have a wider frame.
Overall Rating: 3 Stars
What To Look For in the Best Golf Shirt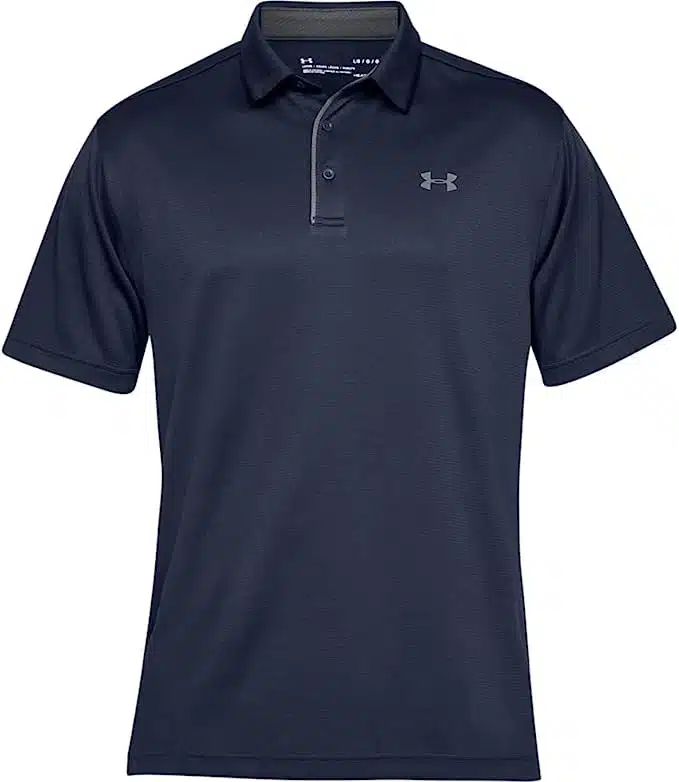 Several factors must be considered to ensure you select a top-rated golf shirt. We look at the main points below.
Fit
Although style is important, movement and comfort should be your primary concern regarding men's golf shirts. The two main options are:
Regular fit

Slim fit
I suggest a regular fit if you wear a larger size because a slim fit will restrict your movement during your swing, resulting in an uncomfortable round.
Those of us with less bulk may drown in a regular fit and look scruffy. Therefore a slim-fit shirt may be more accommodating. I suggest looking for a design that includes four-way stretch material to enable rotation during your swing.
Style
When I started playing golf, polos were the only shirt permitted on a course. But, in 2003, Tiger Woods sported a collarless design at the Buick Invitational, forcing clubs to update their dress code policy beyond golf polo shirts.
The collarless design can feel restricting and uncomfortable around the neck region, especially in warm weather. Conversely, with their button-down design, golf polos offer increased airflow around the neck.
Overall, a collarless turtleneck design is better suited for cooler conditions, while a polo is a more versatile option.
Fabric
Men's golf shirts are typically made of polyester. However, you may also come across a variety of other materials.
Cotton

– Pure cotton shirts are amongst the most popular and practical. They have good breathability and moisture-wicking properties to

keep you cool

and dry in the course. They also have a soft feel and pleasant texture for added comfort. The drawback is that they can be expensive and lack some of the benefits of certain blends.

Cotton and elastane blends

– They contain similar properties to cotton. But the elastane gives the shirt extra stretch for easier movement. The blend is expressed as a percentage; the more elastane, the more stretch the shirt will have.

Polyester

– Polyester is the most popular fabric for golf shirts. It is breathable and has moisture-wicking qualities. It generally looks sleek and stylish and has a good texture and soft feel.

Polyester and spandex blends

– In these shirts, spandex is added for additional stretch and freedom of movement for an even more comfortable experience.
Stretch
As you can see from the above fabric combinations, some golf shirts offer more stretch than others. Typical shirts will only stretch in two directions according to the grain.  
On the contrary, many modern high-quality golf shirts include four-way stretch for greater freedom of movement and comfort on the course. This allows you to move, bend, and swing with greater freedom for optimal performance.
Moisture-Wicking

Moisture-wicking technology draws sweat and moisture away from the body and moves it to the outside of the fabric leading to a cool and dry experience. The expelled water evaporates rapidly from the exterior of the fabric instead of being trapped inside and next to your skin.
Anti-Odor Properties
The last thing you want during or after a round of golf is a bad odor. Many top golf shirts feature innovative properties to counteract this. They generally use tiny silver nanoparticles built into the fabric. These deal with the bacteria in sweat that would otherwise result in odor.
UV Protection
A wide selection of men's and women's golf shirts offer UV protection. Often, products in this category contain a UPF rating of 50 plus. The Skin Cancer Foundation suggests that UPF 50 plus shields your skin from 98% of the sun's rays.
Do not assume that any shirt alone will protect you. Use an effective sun lotion if the shirt does not offer this protection.
Breathability
While looking good is important, the fabric's breathability is vital to consider. Being uncomfortable, hot, and sweaty results in a miserable day out on the course.
The point of breathability is to move hot moist air from inside the shirt to the outside. Vapor transfer helps keep you cool, dry, and comfortable.
Budget
Unless you are an infrequent player, you will want a range of golf shirts, and the best way to achieve this is to create a budget. 
This video gives some advice on the general concept of dressing for golf.
Frequently Asked Questions
What Kind Of Shirts Do Golfers Wear?
Players wear golf polo shirts with a collar and a button-down top. However, you may also find golfers wearing collarless or golf t-shirts.
How Should A Golf Shirt Fit?
A golf shirt should never fit tightly, to allow your upper body to move freely during your swing. 
In addition, Golf Magazine's Michael Williams recommends that if your shirt becomes untucked during your swing, you should acquire a lengthier design. Not to mention that your sleeves should come down to your upper arm.
How Many Golf Shirts Should A Man Own?
The amount of golf shirts you should own depends on your budget and how frequently you play and wash your clothes. If you play twice a week, you can own two shirts.
However, I recommend owning at least six to ten shirts. Enabling you to account for different conditions. 
What Is the Best Material for Golf Shirts?
Polyester is the best material for golf shirts. It is lightweight, breathable, and stretchy. These are all essential characteristics as remaining cool and not feeling restricted during your swing are your top priorities as a golfer.
Final Thoughts
We did extensive research to find you the best golf shirts, and we are confident that we have found a little something for everyone. You should consider your needs, your size, the conditions you play in, and your style preference. 
While all of the models we listed are quality options, the Under Armour Men's Tech Golf Polo stood out for us as the best men's golf shirt. It's a comfortable golf shirt with a four-way stretch fabric that maximizes movement. In addition, its moisture-wicking qualities are exceptional. It's sure to keep you dry for an entire round.
Beyond shirts, you'll also want to consider the golf pants you wear, and potentially even a wide-brim golf hat to help minimize your exposure to the sun. For more, check out our articles covering those topics.
Want more polo shirt options for the golf-loving dad in your life? Discover an incredible selection in the Men's Wearhouse polo section. Elevate your dad's style and give him a gift he'll truly cherish.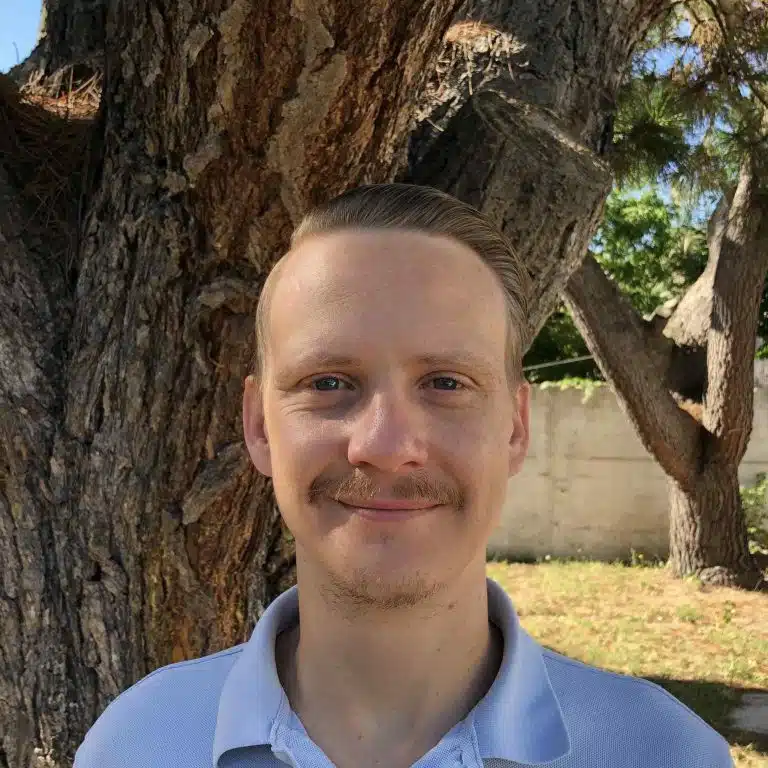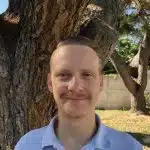 Matt is a seasoned golf equipment writer and sports fanatic. He holds a Postgraduate in Sports Marketing and has played golf for over 28 years.