The best golf launch monitors are specially designed to track your shots and deliver instantaneous and detailed feedback on your shots, including swing metrics, club head speed, and vertical launch angle. 
The right launch monitor will help you track your swing improvements and can aid you in picking the most appropriate clubs for your swing.
One major benefit of using launch monitors is that they give immediate feedback on the swing and the ball's trajectory. Faults can be identified and worked on in one session. It can essentially be used as an outdoor golf simulator.
Professional golfers utilize top-end golf monitors, but there is a wide diversity of alternatives accessible to the ordinary golfer that intends to enhance their skills.
Here are the 9 best golf launch monitors for 2023:
Golf launch monitors are pricey, so you don't want to waste money on a product with more features than you need. Yet you also don't want to get one that doesn't provide accurate information. 
Below are details about the best launch monitors this year with full reviews. 
3 Featured Golf Launch Monitors for 2023
Why You Should Trust Us
Our team spends thousands of hours trying out and researching golf equipment to help you take your game to the next level. Here's our product review process.
We can bring these reviews to you through the small commissions we earn if you buy through the links below. 
How We Reviewed These Products
Golfspan only shares equipment and brands we trust. 
I'm a PGA-certified golfer and instructor, and I thoroughly researched and evaluated the best golf launch monitors. Then an editor reviewed and fact-checked the review. Finally, we conduct regular content audits to update and revise our reviews to ensure you receive the latest information. 
When researching this review, I considered these criteria:
9 Best Golf Launch Monitor Reviews
Pros:
Easy to use

Very Accurate

Amazingly detailed software

Almost lifelike graphics

Can operate in limited space
Cons:
Downrange accuracy has been raised as a concern by some

Regular calibration may be needed
Specifications
Detailed software with lifelike graphics

Limited space operation

Measures carry distance, total distance, launch angle, side angle, ball speed, clubhead speed, backspin, and sidespin
The SkyTrak Launch Monitor is the best launch monitor of 2023, and it has steep competition. 
As a devoted golfer, I am particularly interested in its much-acclaimed accuracy and the promise of in-depth software.
Setting up the SkyTrak was a breeze, with its intuitive design allowing me to start hitting balls in just a couple of minutes. It's a compact and lightweight gadget that offers flexibility for indoor and outdoor use, and the best part is that it doesn't require internet connectivity to work.
Now onto the features; I was thrilled by SkyTrak's photometric technology. It employs a series of miniature cameras to capture countless images as the clubhead makes contact with the ball. This feature yields remarkable accuracy, often within 2 yards at the end-point, and every shot is recorded for future analysis and improvement.
Additionally, the ability to adjust factors to simulate various weather conditions, like wind and temperature, certainly sets the SkyTrak apart. This gives you an idea of how these conditions might influence the ball's trajectory and distance.
However, there are some cons. I found that while its downrange accuracy is decent, it's not flawless. Additionally, regular calibration might be required to ensure optimum performance, which can be a bit of a hassle.
The software deserves special mention. It's detailed and boasts graphics that rival the best in gaming. Yet, it's worth noting that other devices like the Trackman, while more expensive, offer an even more advanced software experience, which may appeal to more tech-savvy golfers.
Overall, the SkyTrak holds its own compared to competitors, like the Mevo Flightscope, making it the most accurate launch monitor with detailed software. Despite minor drawbacks, it's undoubtedly a standout product, leading the pack in the launch monitor space.
Verdict
The SkyTrak is tremendously accurate and versatile and can be used indoors or outdoors. Golfers can set weather conditions and obtain feedback from an astounding graphic interface. It will be extremely difficult for competitors to compete with the SkyTrak.
Pros:
Simple switching between clubs through the Smart club identification system

Phone fits in the cradle designed on the launch monitor

Video recording provides immediate video replays for invaluable feedback

Utilizes your smartphone camera

No Launch Monitor needed as it can run on your computer

Attaches to your golf clubs

Share your shots on social media
Cons:
Fewer measurements than comparable launch monitors

Not appropriate for indoor training
Specifications
Club Recognition System

Provides access to 15 award-winning courses and various games.

Approximately 4 hours of battery life.

Utilizes a smartphone camera and connects to your smartphone via a cradle.
The Rapsodo MLM launch monitor is a new favorite in my golf kit due to its tech-integrated design and unique features. Its smart club identification system and the in-club technology design make it a breeze to switch between clubs. 
The device smartly accommodates smartphones, enhancing the user experience by using the phone's camera, obviating the need for a separate launch monitor.
The instant video replay after each shot, akin to a personalized replay system, has revolutionized how I analyze my game, providing real-time feedback. The GPS system calculating the ball's landing spot is truly impressive, given the minimal setup requirements.
Living in a social media age, the feature of instant shot sharing is a boon. Additionally, saving videos for future viewing or sharing is convenient. The club recognition system works flawlessly, and with access to 15 award-winning courses and various games, it's far from mundane. The battery life of 4 hours aligns well with my driving range sessions.
However, the Rapsodo MLM does have a few drawbacks. It offers fewer measurements than other launch monitors, which could be a downside for those seeking comprehensive data analysis. The other limitation lies in its indoor use, a challenge I discovered on a rainy day.
Despite these cons, the Rapsodo MLM remains a commendable choice for budget-conscious golfers seeking a tech-rich golfing experience. However, alternative monitors might better fit those prioritizing detailed analysis or indoor training.
Verdict
Overall, the MLM monitor has 4 hours of battery life, meaning that it's also useful to take out onto the course and the driving range. We're still baffled as to how affordable the device is. It's a fantastic alternative to SkyTrak and Launch Monitors in general.
Pros:
Flight tracker on an easy to use an app

Portable and easy to pop up anywhere on the course or indoors

Accurate downrange tracking for ultimate shot following

Includes E6 Golf Simulation Software

Video analysis

Capable of measuring +20 different data points.

Great both indoor and outdoor

Modern design

User-friendly interface
Cons:
Lacks some of the functionality of comparable launch monitors
Specifications
Accurate downrange tracking

Measures 20+ data points

Includes E6 Golf Simulation Software

Indoor and outdoor use

Modern design
Compared to other launch monitors, the Mevo+ Flightscope is a compact and portable launch monitor utilizing the much-vaunted 3D Doppler technology that makes it the most accurate golf launch monitor. The price is reasonable too. 
Straight off the bat, I appreciated the simplicity of the setup process. Thanks to its tripod shape, it was up and running within minutes, even on slightly uneven surfaces. However, I found it a bit of a nuisance on the course. Despite its compact size, it slowed down my game significantly, which is a major drawback considering the existing complaints about slow play in golf.
The Mevo+ Flightscope comes preloaded with the E6 Connect Golf Simulation Software. Although this does offer the convenience of an additional golf simulator, it's only a limited version. This means some features are missing compared to the full software version, which can be a bit of a letdown.
As a golfer, the tracking technology stood out for me. It can monitor every possible statistic of ball flight, including spin rate and carry distance, which is indeed praiseworthy. This function is extremely useful in analyzing your performance and progress over time, as it records the information from your previous sessions.
I should note that while it is true that the Mevo+ Flightscope uses technology trusted by tour professionals, in comparison to competitors like the Trackman, it falls a bit short. The Trackman, although pricier, provides more precise data and boasts more advanced features, which could be a decisive factor for those who demand accuracy above all else. 
In the end, however, it is still an extremely good golf simulator for your buck.
Verdict
I'm sold on the portability of this device. You've found your match if you want to always have this with you. It's lightweight yet durable enough to sustain some wear and tear from travel, but don't get me wrong, you should still be very gentle with this modern marvel of technology, and if you're willing to spend a little extra, I recommend going for something like Trackman or Voice Caddie.
Pros:
Simple to set up and use

Compact and portable

Voice readouts

Radar sensors

Diverse practice modes

Practice swing mode
Cons:
Basic design

Lack of top-end data
Specifications
Voice readouts

Radar sensors

Diverse practice modes

Practice swing mode
The SC200 is a pocket-sized launch monitor roughly the size of a large smartphone. Its design is quite simplistic but uses the much-appreciated Doppler technology, providing essential feedback about my swing and ball contact.
Despite its compact size, I was pleasantly surprised by its accuracy. Granted, it lacks some advanced features in top-end launch monitors like the SkyTrak, but the SC200 is a worthwhile investment for its price point. It is an excellent starting point for anyone unsure about owning a launch monitor without causing a significant dent in the wallet.
One of the key positives I noticed was the simplicity and speed of the setup process. Turn on the unit, wait for a few seconds as it calibrates, and voila, it's ready for action. This seamless user experience was further enhanced by including a remote control, allowing me to switch clubs without tinkering with the device itself.
In direct comparison, while the SC200 offers a budget-friendly introduction to launch monitors, devices like the Mevo Flightscope, although a little more expensive, provide more comprehensive features and tracking capabilities. This makes them a potentially more valuable asset for serious golfers looking to refine their technique in depth.
The data provided by the SC200 is simple to read and analyze, and it is read out to you, so you do not have to bend down to see the information. It is a simple yet accurate launch monitor that will get your clubs dialed in at precise distances to allow you to set a range for every club in your bag. This will lead to more precise golf on the course and lower scores.
There are three modes available for use
Practice Mode

– provides information regarding the shot distance finder, your swing speed, the ball speed, the smash factor, and last but not least, the time you have been practicing and the number of shots that you have hit.

Target Mode –

this will aid you in achieving accuracy by setting the distance you expect the ball to travel and then hitting your shot. The monitor will then allow you to hit 10 shots and score each shot out of a possible 10.

Approach Mode –

in this mode the monitor selects random distances for you and then scores each shot out of a possible 10. This will sharpen your distance control and club distances.
Key Features:
The SC200 PLUS gives you the following data for each shot:
Carry Distance

Swing Speed

Ball Speed

Smash Factor
Verdict
This unit is ideal for sharpening your accuracy with your wedge and short game. It will provide verbal feedback on all shots, so you won't be out there guessing your shots' outcome. At the price, this is a very remarkably accurate launch monitor that certainly deserves a mention in any review.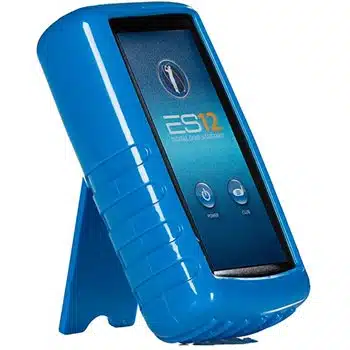 Pros:
Extremely accurate measurements for ball and swing data.

Comprehensive data coverage, including detailed putting data with the add-on.

Easy and straightforward setup.

High-quality, compact, and ergonomic design with a clear, outdoor-viewable LCD display.
Cons:
High swing speed might sometimes result in inaccurate carry distance readings.

Occasionally overreports distance on shots with low spin and

high launch

.
Specifications
Built-in barometric altitude sensor for precise measurement adjustments.

Swappable rechargeable lithium-ion battery for extended usage.

Provides comprehensive data coverage, including detailed putting data with the add-on.

Compatible with Foresight Sports' FSX software and E6 CONNECT software.
The ES12 launch monitor, employing advanced Doppler technology, presents accurate and reliable data, making it one of the top golf launch monitors of 2023. Its design is refreshingly simple, with only two buttons, one for power and the other for switching clubs. This simplicity also extends to the setup process, allowing you to start hitting balls in a few minutes.
For the first use, I had to pair the ES12 with my iOS device (it also works with Android) using Bluetooth. This step was smooth and fast, requiring an activation code to activate all the app functions. The device is powered by a 9-volt battery, with an optional charging pack equipped with rechargeable batteries also available.
The design thoughtfully incorporates two kickstands to stabilize the ES12 during use. One stand is at a 45-degree angle for high shots, and the other at 60 degrees for most other shots. The suggested placement is 14 inches laterally away from the ball and 14 inches downrange. However, it's important to note that the exact position of the monitor will depend on the loft of the club you're using.
One critical point is setting up the launch monitor for the specific club in use at the beginning of your session or when you're switching clubs. This setup enables the ES12 to compile club-specific data, which enhances its accuracy. 
Despite its strong points, I did find that the ES12 has some limitations. It lacks data tracking capabilities for spin rate and launch angle metrics. In addition, adjusting the monitor's position based on the loft of my club was occasionally inconvenient.
Compared to devices like the Rapsodo Mobile Launch Monitor, the ES12 doesn't offer full shot tracer technology and shot video replays. These features could be critical for some players, and their absence might make the Rapsodo a more fitting choice, despite its higher cost.
In conclusion, while the ES12 delivers reliable data and tracks club trends, golfers seeking more comprehensive analytics might want to consider other options.
Verdict
The ES12 is one of the easiest-to-use personal golf launch monitors for golf that will provide ample data and analysis aiding rapid improvement in your golf swing and dialing distances for every club. Feedback on the display and the verbal option make it easy to use.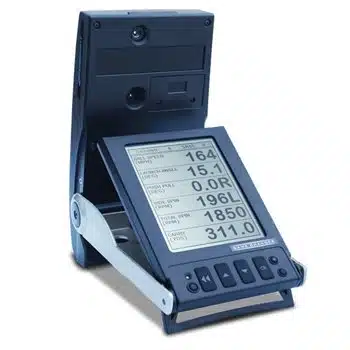 Pros:
Extremely accurate measurements for ball and swing data.

Comprehensive data coverage, including detailed putting data with the add-on.

Easy and straightforward setup.

High-quality, compact, and ergonomic design with a clear, outdoor-viewable LCD display.
Cons:
High swing speed might sometimes result in inaccurate carry distance readings.

Occasionally overreports distance on shots with low spin and

high launch

.
Specifications
Built-in barometric altitude sensor for precise measurement adjustments.

Swappable rechargeable lithium-ion battery for extended usage.

Provides comprehensive data coverage, including detailed putting data with the add-on.

Compatible with Foresight Sports' FSX software and E6 CONNECT software.
Having experienced the Foresight Sports GCQuad firsthand, I can attest to its reputation as a highly advanced launch monitor. What truly stands out is its unique quadrascopic camera system, which captures thousands of images per second, rendering a comprehensive 3D model of the club and ball at impact.
I found it to provide highly accurate measurements of club and ball performance metrics, made possible through infrared object tracking and high-speed camera systems. The setup was straightforward and user-friendly, and its clear, outdoor-viewable LCD display certainly enhanced the user experience.
The GCQuad boasts various features, from its weather-resistant construction, WiFi, and ethernet connectivity to a built-in barometric altitude sensor and a swappable rechargeable lithium-ion battery. The robust golf simulation capabilities offered through Foresight Sports' FSX software, E6 CONNECT software, and more, contributed to an immersive golfing experience.
However, it wasn't without its faults. I noticed that the carry distance readings could sometimes be inaccurate for high swing speeds. There were also instances where it overreported distance on shots with low spin and high launch.
One cannot ignore its price tag, which is one of the highest in the market. But given its extensive features and capabilities, it certainly offers value, especially for professional golfers and institutions.
To draw a comparison, the Trackman 4, another high-end launch monitor, offers similar functionality but with the added benefit of dual radar technology. It provides a similarly immersive experience with a more refined outdoor usage, something to consider for those who frequently practice outdoors and are willing to invest.
Verdict
While the price tag is steep, GCQuad's impressive suite of features and powerful performance make it a worthy investment for those seeking professional-grade data insights and a high-end golf simulation experience.
Pros:
Comprehensive data metrics from a compact Doppler radar

Over 42,000 virtual golf courses available

Easy setup and usage

Video capturing feature for swing analysis
Cons:
Inaccuracies in shot direction readings and backspin calculations

Performance can vary between indoor and outdoor settings
Specifications
14 different data metrics

E6 compatible

10-hour battery life

Compatible with both Android and iOS devices

Can work with practice balls
As a PGA-certified golfer, I have had the privilege to test various golf technology over the years. Recently, I got my hands on the Garmin R10 Golf Launch Monitor, and I've spent several weeks with it, putting it through its paces.
What struck me immediately about the R10 is its sheer abundance of features. The device provides a rich selection of 14 data metrics using a surprisingly compact Doppler radar. Its ability to analyze ball and club data is a big win for those wanting to understand and enhance their performance at impact. These technical metrics provided a level of detail that allowed me to evaluate my swing analytically.
Another standout feature is the expansive library of virtual golf courses. Playing across 42,000 virtual courses on the range and at home through E6 compatibility is a major advantage. It has brought an extra dimension to my practice sessions and even allowed me to participate in virtual tournaments, transforming my regular training into a more dynamic and competitive experience.
However, it's not all smooth sailing. I did find that the R10 can misread shot direction occasionally, and it struggles a bit with backspin calculations. While this was not a deal-breaker for me, golfers who are extremely particular about these aspects might be slightly disappointed. For more accurate performance, I'd recommend considering high-end alternatives like Trackman, albeit at a significantly higher cost.
Verdict
The Garmin R10 Golf Launch Monitor is an impressive piece of technology that provides detailed data metrics, ease of use, and a plethora of virtual golf courses. Despite occasional inconsistencies in reading shot directions and calculating backspin, it remains a compelling choice for its price range.
Pros:
Provides highly accurate measurements

Real-time data feedback on the built-in screen

Robust and durable construction
Cons:
Challenging Wi-Fi setup

Occasional connectivity issues with the app
Specifications
Professional-grade launch monitor with three precision cameras

Built-in screen for real-time data feedback

Measures ball speed, carry distance, total spin rate, angle of attack, and club path

Based on the hardware platform of the Foresight GC3

Package includes the Launch Pro unit, a power adapter, an alignment stick, and an instruction book
As an expert golfer, I was truly impressed by the Bushnell Launch Pro. This professional-grade launch monitor uses three precision cameras to track ball flight and club data, offering incredibly accurate measurements. The built-in screen conveniently shows real-time data, which allowed me to make swift alterations during practice. This top-quality monitor measures data points such as ball speed, carry distance, and club path, which is vital to improving my swing.
Compared to high-end launch monitors, the Launch Pro stands out in its accuracy and reliability. Though heavier and bulkier, its professional-grade performance justifies the size and weight. However, it was disappointing to encounter Wi-Fi connection issues during the setup phase. This might be where Launch Pro's competitor, Foresight GC3, takes the edge as it offers a smoother setup process.
The Foresight FSX Pro app, included with the Launch Pro, provides advanced features for in-depth swing analysis and club fitting. However, occasional connectivity issues with the app were a bit of a setback.
The subscription model offers varied options but could be considered expensive compared to other market choices. Despite this, the Bushnell Launch Pro delivers outstanding professional-level performance and advanced features, making it well worth the investment for serious golfers.
Verdict
The Bushnell Launch Pro provides a great value for serious golfers seeking accurate measurements and advanced features. Despite some minor setup difficulties and connectivity issues, the impressive performance and comprehensive data analysis make it an excellent investment for improving one's game.
Pros:
Accurate and user-friendly

Offers golf simulation on realistic courses

Affordable compared to other launch monitors

Long-lasting battery life
Cons:
Dependency on the MySwingCaddie app for full functionality
Specifications
Stable connection on a K Band 24 GHz frequency.

Wide range from 20 to 360 yards.

Equipped with a rechargeable 7500 mAh Lithium-Ion battery.

Offers approximately 10 hours of continuous use.
I had the pleasure of testing the Swing Caddie SC4 Launch Monitor, and the blend of convenience, cost-effectiveness, and precision the device offered immediately struck me. A sizeable part of my golfing career has been speThed this device piqued my curiosity right from the start compared to high-end launch monitors.
From my very first swing, I was captivated by the instant feedback it gave. Each drive I took was met with a precise analysis of clubhead speed, ball speed, launch angles, and more. As I fine-tuned my swing, these numbers acted as an invaluable guide.
The SC4's simulator capabilities also caught my eye – or, more accurately, my swing. As a golfer, I've always sought to replicate the feel of a real green during practice, and the SC4's integration with apps like the MySwingCaddie app, E6 Connect, and Optishot Orion transported me right to the course. The photorealistic simulation, coupled with a voice output of distances, was an immersive experience like none other.
In the palm of my hand, the SC4 felt sturdy and built to last. The compact design also meant I could easily slip it into my golf bag, ready for use on the range or in my backyard.
However, for all its strong points, I did find the SC4 a touch lacking in advanced features when compared to some of the pricier options on the market. Additionally, to truly harness the power of this device, you'd need to use the MySwingCaddie app – without it, some features might seem restricted.
For those not keen on the app-dependency or seeking more advanced features, the SC300i model might be an appealing alternative. But for my money, the SC4's combination of a launch monitor and simulator makes it a compelling choice.
Verdict
The Swing Caddie SC4 Launch Monitor offers a blend of features and a user-friendly design that caters well to golfers of all levels. While not as feature-rich as some high-end models, it provides a satisfying, immersive experience at an affordable price.
Top Golf Launch Monitors Technologies

The most frequently utilized categories of the best golf monitors available are Doppler Radar Launch Monitors based on the scientific Doppler Effect principle. 
Secondly, we have the Photometric Launch Monitors, which are camera-based and in-club technologies adding transmitters to the back of your grip. 
Each launch monitor technology has pros and cons, and your ultimate goal and training regimen will define your best application.
The Doppler radar technology—uses the Doppler effect to remotely generate velocity data regarding items by bouncing a microwave signal off the target and evaluating how the object's movement has changed the frequency of the returned signal. Doppler is the most widely used technology in launch monitors.
Photometric monitors—use numerous tiny cameras with high-speed shutters to take multiple pictures in a split second to generate many measurements relating to the ball and clubhead. Sophisticated algorithms swiftly evaluate the array of pictures and convert them to data to transmit to the golfer.
It must be mentioned that photometric monitors are exceptionally precise in providing information related to the club head and ball contact but cannot provide feedback on the actual ball flight.
Launch Monitor Golf Measurements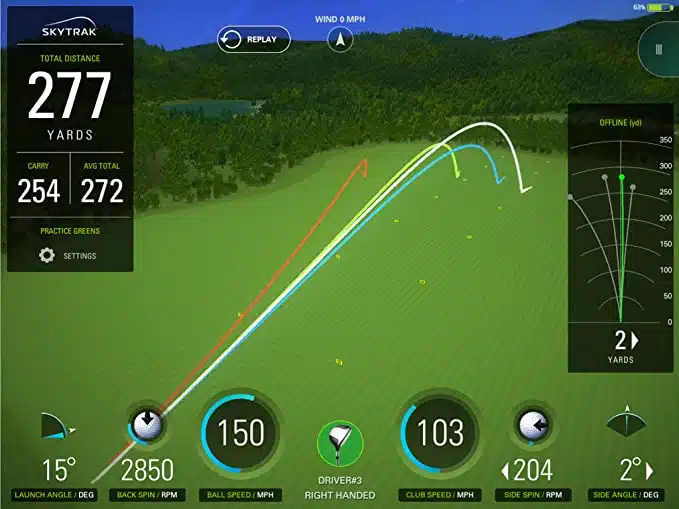 The more measurements the launch monitor offers, the more precise it becomes. The minimum requirements for a launch monitor to be considered acceptable are clubhead speed, carry distance, and spin.
Carry distance is enormously valuable for fine-tuning your distance control per club. The launch monitor track data must relate to the clubhead and the ball at impact.
The best home launch monitor will be able to track the following:
Clubhead Data:
Face Angle

Club Path

Clubhead Speed

Attack Angle

Swing Plane

Swing Direction

Dynamic Loft

Spin Loft
Ball Data:
Ball Speed

Smash Factor

Launch Angle

Launch Direction

Ball flight

Height

Hang Time

Spin Axis

Spin Rate

Carry distance

Landing Angle

Total distance
Golf Launch Monitors Buying Guide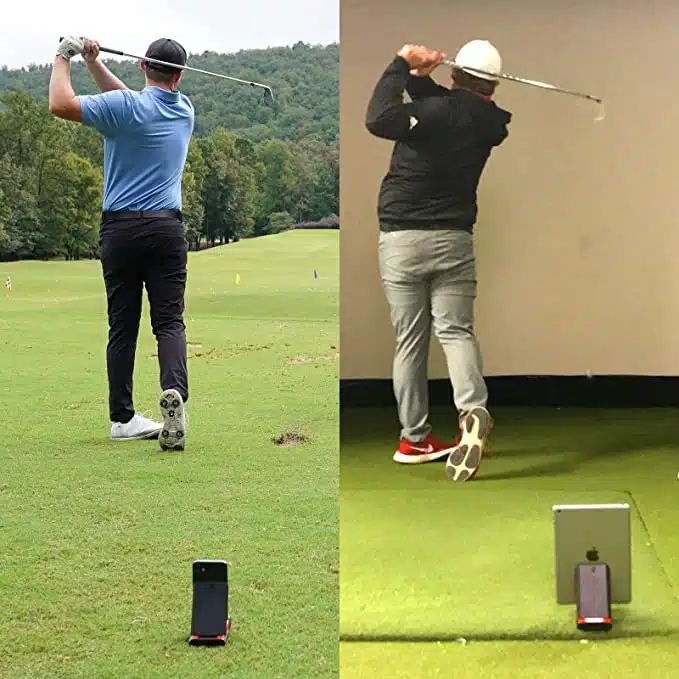 It is not the number of features that make a launch monitor more sought after by golfers but the quality of the features that will enable golfers to adjust their swing in their pursuit of excellence. 
Let's dive into the buying guide to help you decide which golf monitor is right for you.
Accuracy
Accuracy is key with launch monitors since the information fed back to you will play a big part in how you play your shots on the course. However, remember that this also comes with a bigger price tag. 
Trajectory
A launch monitor tracks your ball's path from impact to its final destination, providing valuable insights. You can analyze carry distance, total distance, and any side spin effects. This data helps improve accuracy with specific clubs.
Spin
The amount of spin imparted on the golf ball plays a significant role in the ball's trajectory and the reaction on the green. Therefore it is an enormously valuable measure to receive feedback from the launch monitor.
Ease of Use
Most golfers do not want to spend too much time setting up, taking down, and calibrating the device. They want to hit golf shots and see how they can improve their swing and ball flight and generate accuracy in their game. This device makes that possible. It is extremely fast and user-friendly.
Application and Database Usability
More sophisticated systems contain database trackers that drill down to the specific club level to ensure that the data presented to the golfer is clear and not mystifying.
FAQs
Are Golf Launch Monitors Accurate?
Absolutely! Golf launch monitors are designed to precisely measure essential parameters like ball speed, launch angle, and distance. 
While accuracy levels may vary across models, higher-priced monitors usually offer advanced tracking systems for more reliable data. Choosing a reputable brand is crucial to ensure accuracy in improving your game.
Is It Worth Getting A Launch Monitor?
Without a doubt! A launch monitor is a game-changing investment for golfers of all levels. It offers valuable insights into your swing and ball flight, helping you identify strengths and areas for improvement. 
You can track progress, optimize club selection, and refine your technique with a launch monitor. Whether you're a pro or an avid enthusiast, the benefits of a launch monitor can significantly enhance your performance on the course.
What Launch Monitor Does Tiger Woods Use?
Tiger Woods, the golf legend, relies on the TrackMan launch monitor. TrackMan is a top-tier brand known for its cutting-edge technology and precise data tracking. It provides comprehensive feedback on crucial metrics like club speed, ball speed, and spin rate. 
While Tiger Woods favors TrackMan, other reputable monitors are available to suit various needs and budgets. Selecting the right monitor depends on your specific requirements and goals.
Final Thoughts
Golf is a game of precision and practice. However, practicing without knowing the outcome of every shot and the effect small swing changes have on the trajectory of the ball, and what happens on impact could delay improvement considerably.
We have reviewed several personal launch monitors varying in price and functionality from entry-level bargain basement prices to top-of-the-range professional launch monitors.
Based on the value that you get for the price and not purely the functionality available, we have selected the SkyTrak as the best golf launch monitor 2023 around in terms of money-to-value ratio.
It provides nearly all the functionality you would require to improve your game without leaving you short of money to go and practice at the driving range.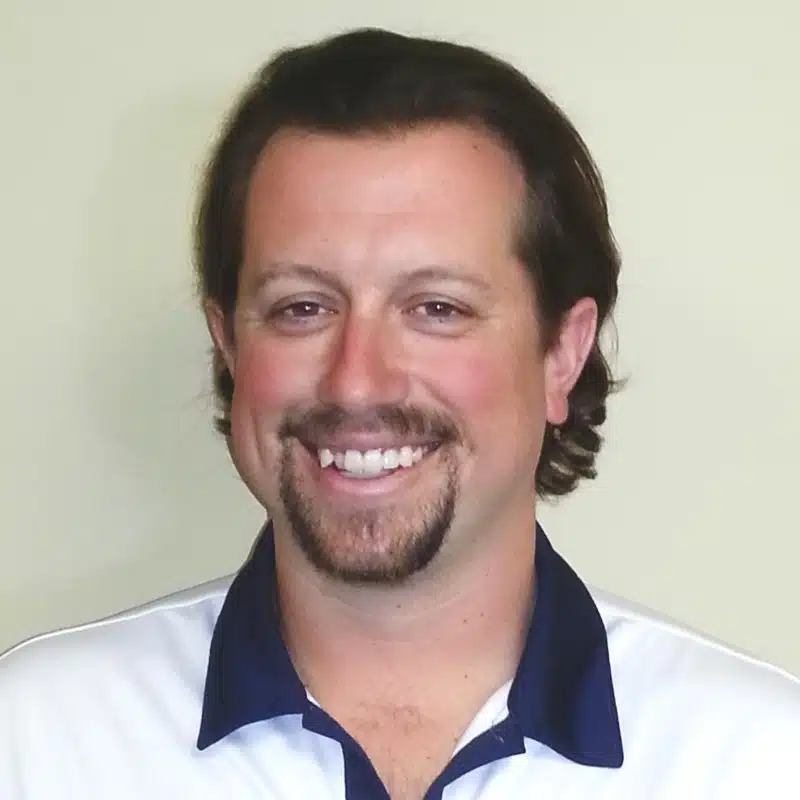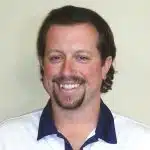 Clint became the Head Teaching Professional at one of Toronto's busiest golf academies and was featured on Canada's National Golf TV program, "Score Golf Canada," twice. He now tests and reviews golf equipment and gets to enjoy the game he loves whenever he wants while helping people lower their scores.