Keeping your swing feeling smooth, rhythmic and, consistent requires hours of regular practice. Whether practicing at home by hitting into a net, tarpaulin or, if you have an indoor simulator it is necessary to have a good quality Hitting Mat. This will give you close assimilation of the surfaces you will encounter on a golf course and, are forgiving enough to prevent injury to your wrists. We look at the options for the best golf hitting mat.
At a glance: Best Golf Hitting Mat
What to Look for in a Golf Hitting Mat?
There are many factors to consider when you decide to purchase a hitting mat to ensure that you get the maximum benefit from your home golf setup.
Stability
There are two factors to consider concerning stability. How stable are your feet while swinging the club?
Depending on the softness and thickness of the mat your feet can move as much as two inches which can be significant in determining the direction and quality of your swing.
The second factor is the stability of the mat itself. The mat can move depending on the strength and, speed of your swing A rubber base provides a solid but soft base whether used outdoors or indoors. The larger the size of the mat the more stable it will be.
Using a two-piece mat where you stand on one mat and hit off the other can cause an exaggerated degree of movement.
The perfect situation is to have the mat installed or situated in a permanent position. A stable mat will remain stable on the floor and keep your feet from moving excessively.
Durability
A  quality hitting mat can be fairly expensive and thus durability is an important factor to consider. You will want a hitting mat to last you for thousands of shots. If made of poor quality materials the mat will develop an indentation on the mat making hitting off the mat more difficult.
If you are hoping to keep the mat for several years it is necessary to pay attention to the quality of construction and, materials used.
Materials
There are three types of materials that can be used. Polyethelene, Polypropylene and, Nylon Of these three materials nylon although generally more expensive, has higher elasticity and, stronger tensile durability and will last much longer.
Most mats are made of a highly durable nylon surface and a rubber base about half an inch thick, capable of withstanding the repeated battering that a golf swing will inflict on the mat's surface.
Size
An important factor to consider when purchasing a golf hitting mat. You will firstly have to decide where you want to place the mat and measure the area and length and width of the mat that will fit this area.
There are many different sizes available. The larger the mat the more playing area you will have. A smaller mat as with many portable mats will not allow enough space to comfortably stand on thus, a separate mat would be needed to stand on. This is not ideal as it is preferable to keep your body and the ball on the same level.
 Portability
If the mat has to be stored after being used the area needed for storage and weight of the mat are important. Average mats will weigh approximately 2 lbs per square foot and therefore larger mats will be heavier to move around.
Heavier mats will need to be laid flat and need more surface area to transport. Thinner mats are easier to roll up and carry in the back or trunk of your vehicle. It must be noted that mats are designed to lay flat so even with lighter mats, it is advisable to store them lying in the flat position when storing if possible.
Surface Design
The majority of hitting mats are designed to simulate as natural a feeling to the grass that you will encounter on the fairway of a golf course and are more specifically made for practicing the driving of your golf ball. Being able to take a real tee is thus obviously a huge bonus.
Getting a true representation of how well your contact will be on actual grass is of huge importance if you are a  golfer using the hitting mat to practice more effectively thereby improving your game.
Attention is also given to ensure that the surface has enough "give" to prevent "Joint pain" or, damage to elbows, wrists and, knees from repeatedly driving the golf club over harder surfaces because there is no "give" like real grass.
There are hitting mats that have strips on their surface that are designed to give the feeling of hitting a ball from the rough or other varying types of surfaces to practice your chipping shots. In many cases, these strips can be replaced if worn out.
Price
Golf hitting mats are available in many price ranges varying from 10 to over a thousand Dollars for a mat. It is generally considered that the very cheap products are made more for entertainment than being designed to assist you in improving your game.
There are however Golf Hitting Mats that can be purchased at a more competitive and realistic price for the average golfer that is made from good quality materials and gives a realistic hitting surface.
The size of the hitting mat also determines the price you are going to pay for a mat. The larger the mat the higher the cost. If you want a large practice area either in your house or outdoors you must expect to pay considerably more than for a portable, durable and, easy-to-store mat.
Warranty
Warranties can differ considerably ranging from one to three years. Some manufacturers offer a Warranty based on, for example, 300,000 hits. The average Warranty is one year.
Reviews of the Best Golf Hitting Mats
Quick Overview: Best Golf Hitting Mat
The Real Feel Golf Mate is designed and manufactured by J.R. Mats inc who is credited with being the first to develop a Golf Mat that Takes a Real Tee after listening to professionals complain about typical golf mat problems. With the Real Feel, you can push a real golf tee in anywhere on the mat and to the desired height required.
The Real Feel Golf Mat is made of densely Tufted Turf nylon that is 2x denser than Standard driving range mats. The mat has a surface that consists of a Long Filter System that absorbs the club head instead of resisting it and thus preventing injury to the wrists and elbows.
It is a golf mat that lets you Swing- Down-And-Through. Catch the surface behind the ball and, you will hit it just as you would on the golf course. The Real Feel System is designed to eliminate clubhead bounce and react as if you were taking a divot allowing you to have a productive practice session instead of hitting balls on a hard surface that does not give a true indication of how you are striking the ball.
THE 3'X4' hitting mat can be set up indoors or outdoors and is a heavy-duty sturdy hitting mat that will withstand regular use for a prolonged lifespan. The 3'x4' model is ideal for chipping but if you want to practice hitting the driver then it is advisable to go for the 5'x4 model.
The Real Feel Golf Mat weighs 22lbs and can be folded up thus making it portable and easy to store.
A review by Jerrod Funk Golf Academy, A David Leadbetter Certified Instructor sums up the Real Feel Golf Mat as follows." It's AWESOME!" 20 years in The Golf Bussiness and this mat is the Best I have ever seen and hit off of.
2. GoSports Golf Hitting Mats. Artificial Turf Mat for Indoor/Outdoor Practice
Pro Golf Hitting Mat has dimensions of 5'x3' and is constructed of Commercial Grade synthetic turf that is designed to feel like real grass. The base consists of a robust non-slip foam rubber padding that provides maximum stability on hard surfaces and, is suitable for use indoors or outdoors.
The 5'x3' mat is designed for left and right-handed golfers of all abilities from pros to beginners and has 6 different teeing positions. 3 tees are included for different teeing heights.
The GoSports Mat can be folded up and transported by putting it in the back of the trunk of your vehicle and to store at home.
The GoSports Pro is covered by a Full  1-year Warranty and backed by California-based Customer Service and is sold at a very competitive price for this robust hitting mat.
The DURA PRO Commercial Golf Mat consists of three layers that are thermally bonded (not glued) to ensure many years of regular use and is resistant to all weather conditions. The mat is protected from UV sun rays for 8 years and is resistant to tears, fading, curling and, separation.
It can be used inside your home or outside in your backyard.The golf hitting mat is made from 100% Nylon 3D fibers that are 30% denser than the ordinary residential practice mats.
The 3D fiber system reacts like real grass allowing you to get a true impression of how you are striking the ball. It absorbs the impact of the clubhead making it easy on the wrists and elbows for both the pros and beginners alike.
The hitting mat comes with pre-punched holes for the rubber tees that are included with a Golf Tray and, is more than wide enough for a comfortable stance
It has a stabilizing middle layer made from Commercial urethane that is bonded to the golf hitting plate and the base.
The Base Pad is made of a closed-cell, water-resistant heavy texturized rubber that is non-slip and non- staining. The combination of these three bonded layers sets the standard for Commercial Driving Range golf mats and is used at driving ranges and schools throughout the USA.
The Dura-Pro Golf Hitting Mat is a well-constructed, highly durable mat that will provide you with years of effective training sessions.
4. Fairway Pro Divot Simulator Golf Mat
The Fairway Pro has a Patented Innovative Sliding Turf Mechanism that has a sliding Turf tray that allows you to hit down-and-through the ball creating compression and thus gaining realistic analysis on the quality of your shot.
With conventional static mats, when you hit behind the ball the clubhead will bounce off the hard surface, sliding into the ball with the ball taking off and looking as if you have executed a good hit.
With the Fairway Pro, you will know when you have hit behind the ball because the impact will cause the Turf Tray to slide forward and the club-head will hit the ball with less force which is exactly what would happen if you had played that shot on real grass. It is forgiving and, reduces the risk of injury that can be caused by hitting "fat" shots on conventional mats.
The Fairway Pro is built to last. It is constructed with a High-strength, aircraft-grade aluminum base and turf tray that won't rust with, German-made stainless steel guide rails and compression springs. The Turf is made of 80% polycarbonate and 20% ABS plastic covers providing a strength and flexibility combination to deflect poor shots.
The Turf accepts a regular tee and lasts longer as it experiences less wear and tear due to its sliding motion. The Turf can be replaced.
The Fairway Pro folds up and can be carried like a suitcase. The stabilization panel folds under the stance mat for solid stability. It must be noted that the stance mat has to be bought separately if you intend to set up a practice range at home.
The FairwayPro is a cost-effective highly portable hitting mat that will lead to effective training sessions especially with your short irons as it will give you very similar results to what you would achieve on real grass surfaces.
5. TT3660 Monster Tee Golf Turf
The Monster Tee is made of a 100% spring crimped nylon material that is resistant to all weather conditions, will not fade, or leave marks on your club heads. The Mat is 1.25 inches thick with a urethane backing that is robust and can be used indoors or outdoors.
The surface is designed to accept wooden tees enabling you to push the tee to your desired height. The Spring Crimped dense nylon fiber creates a cushion that reduces clubhead bounce letting you hit down on the ball and gives you a good indication of how you would have hit the shot on a fairway thus allowing you to practice and correct mishit shots before going back to the golf course.
It also minimizes the impact on your wrists and elbows from hitting "fat shots" on hard surfaces.
At a competitive price, the Monster Tee will be suitable for any golfer looking for a large durable hitting surface that will enable you to practice your swing and correct faults where necessary.
In Conclusion
There are many sizes and types of Hitting Mats in the market that you can choose from. The important factors to consider when looking for a Mat that will suit your needs have been discussed in this article and, 5 of  the best Mats covering various price ranges have been reviewed.
The Country Club Elite Real Feel GolfMat is recommended as an affordable Mat that is comparable to higher-priced Mats available with regard to quality, durability, safety and, producing a  realistic surface that reacts to your swing as if you were swinging the club on grass.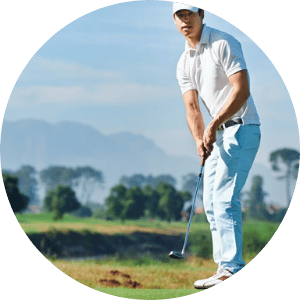 Nick Lomas is the founder of GolfSpan, an avid golfer, not quite a pro but has over 15-years of experience playing and coaching golfers from all over the world. His mission is to bring the golfing community a better experience then it comes to choosing the right golf gear, and finding the right set up for your game.