At the outset of this review, I have to mention that the FlightScope X2 has been discontinued and replaced by the FlightScope X2 Elite.
Since the FlightScope X2 is still available on the secondhand market and offers fair value at a considerably less expensive price, I decided that many golfers would still get valuable information from this review.
At the time of release FlightScope X2 was the world's first completely wireless, battery-operated, 3D Doppler tracking radar for golf. It provided unmatched accuracy, affordability, and revolutionary apps. Although not a leading technology at this stage, it still holds that it provides accurate 3D tracking radar information.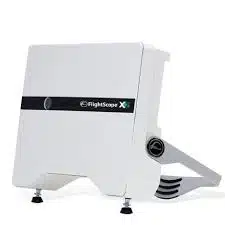 Pros:
Accurate technology and measurements
Inexpensive
Indoor and outdoor use
3D Doppler technology
Compatible with Android and iOS devices
Long battery life
Cons:
Not available for the new purchase
FlightScope support is lacking when the product is not purchased new
Limited functionality available from E6 software
Ball Data:
Ball speed
Vertical launch angle
Horizontal launch angle
Vertical descent angle
Smash factor
Spin rate
Spin axis
Carry distance
Roll distance
Total distance
Lateral landing
Apex height
Flight time
Shot dispersion
Club Data:
Clubhead speed
Club speed profile
Club acceleration profile
Face angle
Face to path
Dynamic loft
Angle of attack
Club path
Vertical swing plane
Horizontal swing plane
FlightScope's X2 technology represents the company's advanced VX2 golf measurement application with video and club or ball data comparison alongside each other.
The VX2 app offers fully customizable assessments in the X2 Skills app for player benchmarking.
Using advanced ballistic flight analysis software, the FlightScope X2 displays the tracked golf ball throughout its entire trajectory including all golf swing data through and after impact.
This device is robust, reliable, and consistent with little maintenance required. Accuracy is verified through the use of an ultra-high-speed camera.
You can connect the FlightScope X2 wirelessly to your iPad to record your swing for detailed analysis. No computer is required to operate the FlightScope X2. It creates a Wi-Fi hotspot allowing you to connect up to 5 iOS or Android phone and tablet devices simultaneously.
The versatility of the X2 made it an ideal tool for teaching, fitting, and ironing out swing faults.
Making the X2 even more flexible is the fact that it works well indoors and outdoors.
Accurate measurements of the following club, ball, and swing data are provided
Power is supplied through a rechargeable battery that can last up to 10 hours when full charge
Setting the X2 up is simple with the auto-leveling feature that creates the ideal angle for measurement. Plus, there is a built-in camera providing a view of the target when connected to a computer.
Measurements are taking using 3D doppler technology and you do not need a hitting mat with sensors to capture data.
Outdoor use requires the X2 to be compact and lightweight. It measures 13.125 inches wide, 3.5 inches deep, and 12.0 inches high, weighing in at a manageable 11 pounds. To make it easier to carry it comes with a carry case.
The complete setup includes:
FlightScope X2 Unit
Carry Case
AC Power Cord
Power Supply Unit
15-foot USB Cable
PC software CD
Quick Start Guide
User manual
FlightScope Mobile App manual
Metallic stickers for indoor spin measurements
Warranty
When purchased new the X2 offers a 12-month warranty against defective materials and workmanship
Additional support & software upgrade is available
Alternatives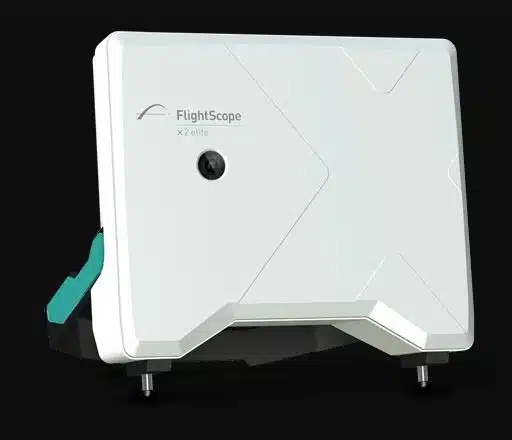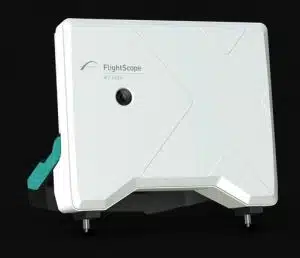 The FlightScope X2 elite replaced the X2 offering a next-generation 3D Doppler tracking radar design.
It uses a new microwave component for greatly enhanced signal detection, higher performance, and increased signal-to-noise ratio. This leads to increased consistency and accuracy on every measurement and data parameter
Battery technology improved compared to the X2 and it now comes with a lightweight, Li-Poly battery for longer battery life requiring less charging time. The weight reduction achieved in the battery technology leads to lower system weight
Improved PC v11 software now supports Point Grey (GigE & USB3), Basler (GigE), and IDS (USB 3) cameras.
The lightweight X2 Elite is more portable, and the transport case comes with wheels.
Combine super slow-motion Phantom video with 3D FlightScope radar data for more accurate swing analysis.
Many golfers have difficulty shifting their weight at the correct times. FlightScope offers wireless weight shift analysis.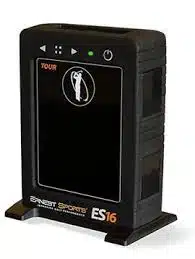 Ernest Sports have been developing quality launch monitors since 2012. ES16 is another in the range of successful launch monitors.
ES16 is the launch monitor with most features in the Ernest Sport range and can track a variety of factors such as spin, club head and ball speed, and a variety of distances.
The results are accurate within a decimal point of Trackman and comparable with the Foresight GC2.
Data points measured include:
Carry distance
Total distance
Lateral carry distance
Lateral total distance
Roll distance
Hangtime
Shot dispersion
Ball speed
Clubhead speed
Smash factor
Launch angle
Launch direction angle
Landing angle
Club path
Attack angle
Face angle
Spin rate
Spin axis
Apex height
Dynamic loft
The ES16 is compact measuring 10 inches high, 5 inches deep, and 7.8 inches wide.
Final Thoughts
Flightscope is a leading manufacturer of launch monitors. Their technology is used in the defense industry, where accuracy is of utmost importance.
Although the FlightScope X2 has been discontinued and replaced by the FlightScope X2 Elite, there is still a market for the X2 at competitive prices.
You can reap great benefits from purchasing a pre-owned X2 that remains a favorite with club fitters and golf coaches.
Nick Lomas is the founder of GolfSpan, an avid golfer, not quite a pro but has over 15-years of experience playing and coaching golfers from all over the world. His mission is to bring the golfing community a better experience then it comes to choosing the right golf gear, and finding the right set up for your game.