Winter can prohibit us golfers from getting into the practice we need to keep our skills sharp. To solve this dilemma, manufacturers have become very innovative in offering golfers a range of fantastic tools that we can use indoors, such as golf nets. These nets are perfect for serious training or even just for fun. 
In this review, you will discover the best golf nets so you can make an informed decision.
At a glance: Our Top 5 Picks for Best Golf Net
Why You Should Trust Us
Our team spends thousands of hours trying out and researching golf equipment to help you take your game to the next level. Here's our product review process.
We can bring these reviews to you through the small commissions we earn if you buy through the links below.
How We Reviewed These Products
Golfspan only shares equipment and brands we trust.
An experienced golfer from our team thoroughly researched and evaluated the products we shared below. Then an editor reviewed and fact-checked the list. Finally, we conduct regular content audits to update and revise our reviews to ensure you receive the latest information.
To select these outdoor and indoor golf practice nets, we considered the following criteria:
Size
Ease of setup
Strength
Cost
Portability
Warranty
Quick Overview: Our Top Picks for Best Indoor Golf Net
The 7 Best Golf Nets for 2023
1. Nova Large Portable Golf Net — Best Overall
Specifications
Size: 10 ft x 7 ft x 3 ft
Price: $$
Includes: Net, stakes, instructions, and carrying case
Pros
Super value for money
100% polyester
Quick and easy setup and takedown
Includes carrying case for transport and storage
Great for both indoor and outdoor use
1-year warranty
Cons
Does not return the golf balls to your feet
Net tension is a little high
Not very deep
The Setup
This backyard golf net is quick and easy to set up and break down — the process takes less than 10 minutes. The frame's lightweight construction uses a combination of metal and fiberglass, so there are no sacrifices for strength.
The Netting
The net measures 10 feet wide x 7 feet high and is manufactured from 100% polyester. After contact, the net stores the balls at the base of the net for ease of retrieval.
Conclusion
The Nova indoor/outdoor golf hitting net is perfect for most golfers. It's reasonably priced, unlike a lot of the other nets on the market, and does exactly what you need it to. Sure, it doesn't include a hitting mat, and it's not that deep, but these are by no means requirements. And for the price, they are worth going without — you can always buy a hitting mat separately if you really want one.
2. Spornia Pop Up Golf Chipping Net — Budget Option
Specifications
Size: 25 inches x 25 inches
Price: $
Includes: Net only
Pros
Three targets for chipping accuracy
One-year warranty
Collapses into a 12-inch diameter circle for easy transport
Adjustability with the targets and netting
Cheaper than most chipping nets on the market
Cons
Is smaller than it appears in product photos
Only for chipping
The Setup
The Spornia pop-up golf chipping net is very easy to erect, and collapsing it is just as easy. A major selling point is how small it is when folded.
The Netting
The netting is 25 inches by 25 inches and held together by a durable spring steel frame.
Conclusion
No matter how experienced of a golfer you are, short game will always be king. This practice net is a perfect training tool for anyone who wants to practice off the golf course because they can't always make it to one.
Of course, while it's great for training your chipping game, it isn't for much else. It's not designed for driving and the like, so it is more of a specialized net. Therefore, if it's chipping you're looking to improve, it's the best-chipping net on this list, but if you're hoping to develop other shots, give this net a miss.
3. Rukket Haack Golf Net Pro — Best Warranty Period
Specifications
Size: 9 ft x 7 ft x 3 ft
Price: $$$$$
Includes: Net, chipping target, hitting mat, and carry case
Pros
Cage feature to let you hit aggressive shots
Durable net for all shot types
Foldable Tri-Golf turf mat
100% lifetime warranty
Endorsed by legendary coach Chris Haak
Ball-returning design
Cons
Expensive
Not the most durable
Not very deep
The Setup
The Rukket Haack net takes about 10 minutes to assemble so you can get up and running pretty quickly.
Netting
This top golf net will allow all shot types within reason and is above the industry standard on sizing. As such, it handles impactful shots really well. We can't say that we are surprised, though, given that the legendary coach Chris Haak endorses it.
Conclusion
While this net is the most expensive we recommend, it comes with a lifetime warranty. This blows all of the other nets out of the water. The most offered by another brand is just one year which is rather lacking in our eyes.
Another pro to picking up this net is that the ball returns to you after each hit and also comes with a hitting mat, which is a nice add-on. None of the other nets listed include both of these features.
There's no denying that the Rukket Haack Golf Net Pro is pricey, but it simply beats out the rest of the competition regarding convenience and warranty. Therefore, if you don't mind investing more than the average player, it's a superb golf net to pick up for the home.
4. Amazon Basics Portable Driving Practice Golf Net
Specifications
Size: 7 ft x 7 ft, 8 ft x 8 ft, or 10 ft x 7 ft (3 ft depth)
Price: $$$
Includes: Net, stakes, and carrying case
Pros
Fiberglass and metal frame
Large hitting area
Easy and swift setup
Sturdy, yet lightweight and portable
Includes 4 metal stakes and a carry/storage bag
Backed by an Amazon Basics 1-year limited warranty
Cons
Hitting mat is not included
Does not return the golf balls to your feet
Not very deep
Setup
The Amazon Basics driving practice golf net sets up and breaks down quickly and easily. The package includes four metal stakes for secure ground placement and a carry bag for transport and storage.
Netting
The sturdy hitting net is manufactured from durable metal and fiberglass, offering reliable strength that will withstand everyday use, even those extra-intense practice sessions. This combines with a lightweight design for easy portability.
We like that it comes in three different size options. The largest, which measures 10 ft x 7 ft, aligns with most other golf nets. If you want to instead take some height off and have a wider net you always have the 8 ft x 8 ft option available. This is the same size as the Callaway Quad net.
Balls drop to the bottom of the net after contact for easy time-saving retrieval.
Conclusion
The Amazon Basics portable driving practice golf net is a practical solution for golfers without time to spend hours at the driving range. 
It's a solid all-around performer without any glaring issues. It could be a good choice if you're looking for a golf practice net in the mid-price range. 
Specifications
Size: 10 ft x 7 ft x 6 ft
Price: $$
Includes: Net only
Pros
1-year warranty
Softens sound
Can resist high-speed impact
Suitable for other ball sports as well
Easy to set up and break down
Good depth
Extremely stable
Cons
The ball return system could be better
No hitting mat included
Setup
You should be able to set up or break down the Galileo in roughly 2 minutes and store it in the provided carry bag.
Netting
The netting is 10 feet wide x 7 feet high x 6 feet deep and is constructed from 50% Oxford and 50% nylon materials. The 11 mm fiberglass frame is sturdy and rust-resistant. The shape is rather different from most of the other nets; it is rounded, much like a tent. It's also deeper, which means it's much safer and more effective at capturing those particularly impactful balls.
Conclusion
While the balls don't return to you particularly well, the trade-off for a safer golf net is good. You can have peace of mind that no rogue balls will be sent flying.
The Galileo net also comes with a 1-year on all the parts and a 40-day return and refund guarantee to provide ample peace of mind. For this reason, we think it's one of the best indoor/outdoor golf nets around. 
Setup
The PGM net is simple to set up or break down. The process should take no longer than 10 minutes. 
Netting
The PGM net is built with durability in mind, featuring a 5-ply knotless net and a strong steel chassis. It can withstand impacts of up to 120 mph, which should be more than enough for most golfers.
Conclusion
It's not only the strength of the net that is impressive, but also all of the included extras. The hitting mat, in particular, is a great addition. Most nets do not come with one, and this model is high quality using a thick 15 mm TPR base for shock absorption and 15 mm nylon grass.
You also get two real golf balls and plenty of tees — essentially, everything you need to get started, minus the clubs!
The only issue with it is the short warranty period which is just 60 days. For the price, we would have liked to have seen 1 year instead, but it's hardly a deal-breaker.
Specifications
Size: 8 ft x 8 ft x 5 ft
Price: $$$$$
Includes: Net and carrying case
Pros
Balls feed to the front of the net for easy collection
Effortless setup and takedown
Good depth
Super robust mesh netting
Nylon carry bag
Cons
Some quality and durability concerns
No hitting mat included
Setup
The Callaway Quad is easy to set up and break down indoors as well as outdoors; you can erect it in as little as 3 minutes. When disassembled, you can easily store the net in the provided nylon carrying bag.
Netting
The net is manufactured from a super-strong mesh and measures 8 feet with a square opening which is quite different from most competitors. Only the Gallielo net is deeper at 6 ft, so this model is certainly one of the best at capturing all balls.
As a result, this net permits golfers to have a complete exercise session with all of the clubs in the bag. After impact, the balls roll to the front of the net for ease of collection.
A target is built into the practice net to improve your golfing accuracy. When hitting the target, shots are softened out, improving the net's durability. Balls that travel more than 150 miles per hour will be dealt with quite comfortably; therefore, there is no apprehension about hitting your driver at the target.
Conclusion
Callaway has been around for more than thirty years and is a premier name in the golfing industry. You can be assured that they manufacture high-quality products; this net is no exception. It may be on the pricey side, but it's super safe, and we really rate the target and the fact that the net collects all of the balls for easy recovery. 
Golf Net Buying Guide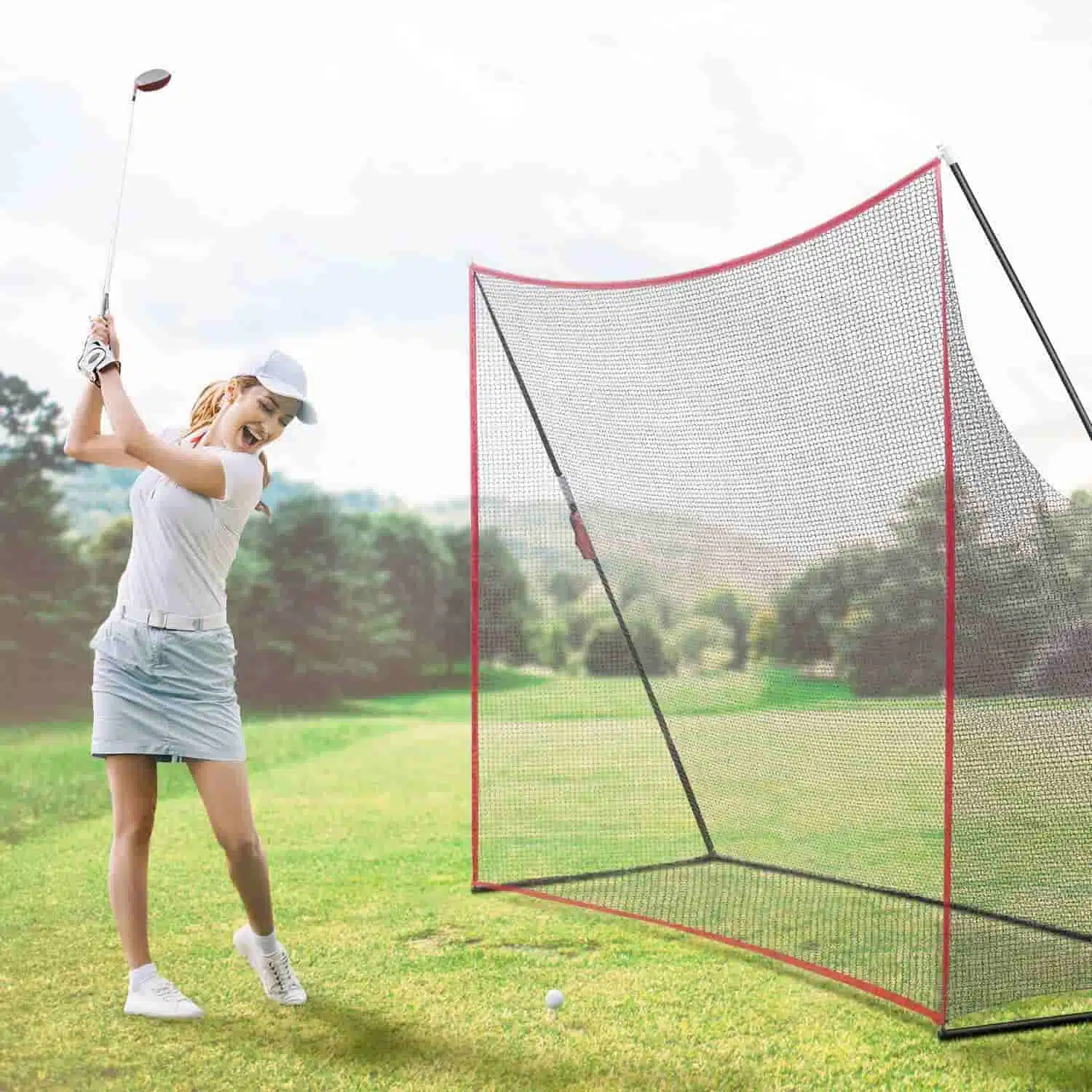 A golf net brings the driving range to you anywhere and anytime. All you need is sufficient space to practice golf at home. To facilitate this, there are some points to contemplate while deciding which of the best golf hitting nets is right for you.
Your Prerequisites
Different people will want different things from an indoor golf net. No two people will have the same measurements and qualities, and their intentions or goals may differ. In choosing a golf net, you have to recognize your needs and what you aim to accomplish from having the net. You also need to factor in your budget.
Should you choose to train with all the clubs in your bag, inclusive of your woods, you'll need one of the best golf practice nets. These have an adequate depth to hold onto shots that travel in excess of 100 miles per hour.
Advantages of Owning Your Own Net
In our fast-paced life, taking hours out of your day to visit a driving range becomes progressively more challenging. Add the cost of every trip and the time it takes out of your valuable day, and you will soon realize the advantage of owning your private golf net.
Having your own golf net allows you to practice any time of the day and year, regardless of the weather restrictions, thus fine-tuning your swing all year round. 
Space
When determining the net you would like to add to your practice routine, you have to appraise the area you will be utilizing it. For indoor use, accessible space is particularly critical and will decide the size and type of net that will work for you. On the other hand, you generally don't have to worry about space as much for the outdoors. 
If you have a reasonably sized and level garden you shouldn't have any issues. Alternatively, you could set up a golf net for your garage.
Quality
Pay careful consideration to the strength and look carefully at the interwoven netting material of the golf net. The netting material should be impenetrable and adept at enduring the power of a fast-flying golf ball. High-density nets will distribute the impact across the whole net in this manner, halting the ball in the shortest area.
Make sure that the frame is robust and of reasonable quality and lightweight for portability. Aluminum frames will save weight and provide strength but will add to the cost of the net. The alternative is to look at a sturdy steel frame.
Material
Golf nets are generally manufactured from nylon, and the higher the volume of nylon used in the production of the net, the more durable it will be.
Ease of use
You want to spend the time you have set aside to practice hitting balls and not setting up the net. Most nets can be set up in as little as 2 minutes and should not take more than 15 minutes.
You should also consider picking up one of the best golf nets that return balls after they are struck. At the very least, consider a model that rounds up these balls for easy collection.
Size
The size of the golf net will be defined by the space you have at your disposal, irrespective of whether you play indoors or outdoors. 
If you're playing indoors, the height of the ceiling will define whether you can take a full swing, as you will require at least 9 feet for a full swing with a driver. You should also take into account clearance to the sides and back of the net. This will prevent any balls from smashing into the walls or other objects that are in the way. 
Once you have determined the space you have at your disposal, this will guide you to the clubs you can swing for practice and, thus, the size and quality of net you require. Keep in mind that you may want to use the net in an outdoor environment during the summer months.
The Most Commonly Used Golf Nets Are:
Chipping Nets: Golf chipping nets are the smallest and least expensive of the nets. These are the best golf nets for honing your chipping skills.
Driving Nets: Driving nets are the larger variety and are most likely to be used by golfers who want to hone their full swing mechanism.
Golf Cages: Golf cages are similar to regular golf nets except they have three sides — regular golf nets mainly consist of a single net hanging down. These are the best golf practice nets for safety as they reduce the likelihood of a ball going rogue.
Golf is a sport that requires constant practice to keep your swing finely tuned, and the loss of practice time during the winter months could negatively impact your game. You will reap the benefits from a small investment in a golf net and allocating some space for a practice area. Invest wisely and ensure that you get the golf net that will benefit you most.
How to Use a Golf Training Net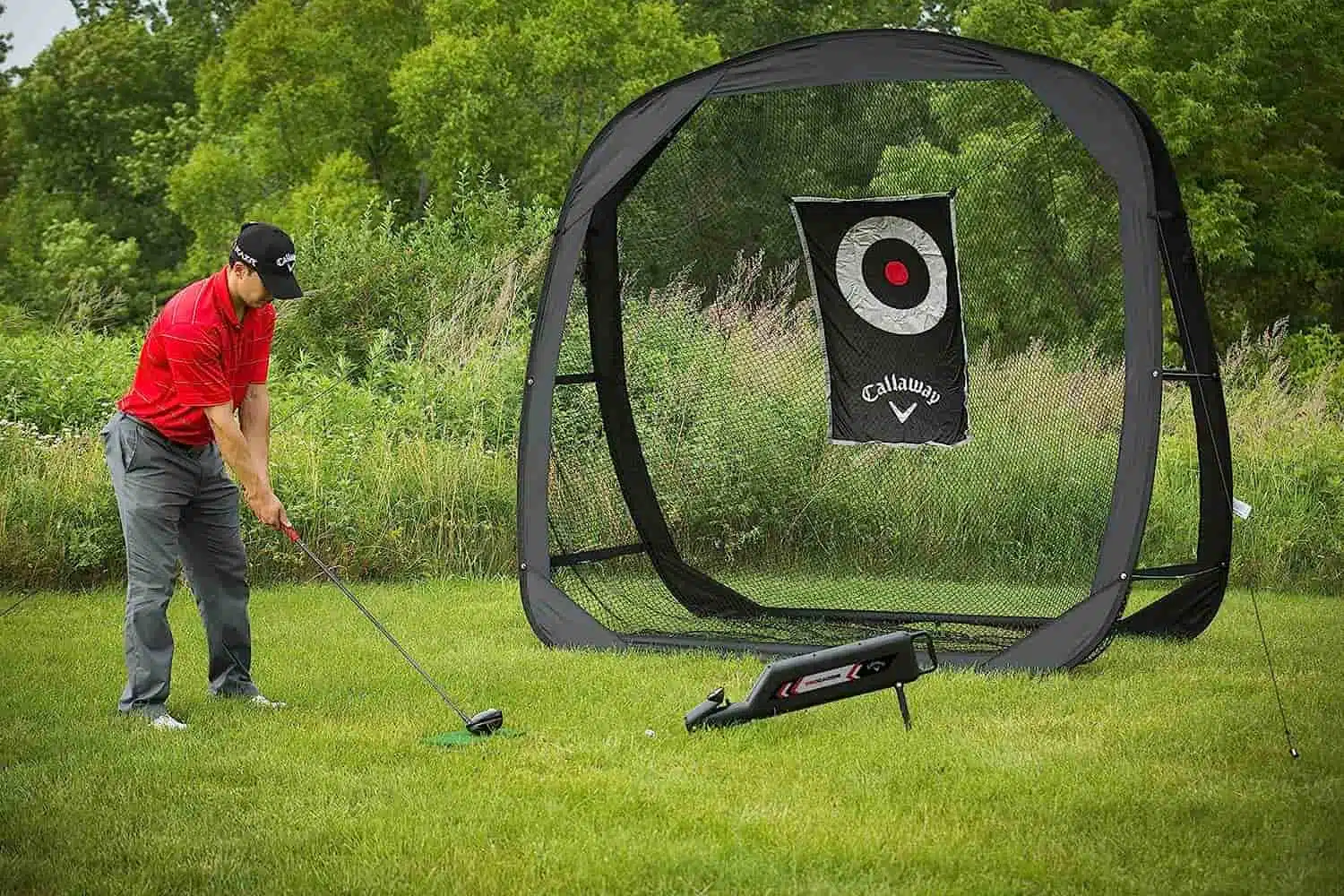 The first step is to choose your training area. As previously discussed, there should be sufficient space. You should also ensure you are not in front of anything prone to damage. Your net ought to hold up, but in the event, it doesn't or you miss it completely, you want to ensure you don't do any damage.
Once you've found the appropriate area, make sure there is enough space behind the net for the net to flex. If not, your ball will hit whatever surface is behind your net and rebound violently.
As for setting up, position yourself around 8 feet away from the golf practice net. This gives you plenty of space for your swing and a high probability that the net will capture all of your hits.
It's simply a matter of striking the ball as usual. Don't change your technique because you're not at the course, the whole point is that you are emulating your normal strokes.
While the 8 feet of ball trajectory doesn't tell you a great deal about the quality of your shot, you can still decipher this from your club's feedback and where the ball contacts the net. If it's nice and central, things are looking good!
Frequently Asked Questions
Sometimes, golfers purchase a golf net for extra practice; other times, it is to pair with a home golf simulator. Whatever your reason for purchasing a golf net, it's important to ask a few questions before you buy one. Here are the main questions we commonly hear. 
What Is the Most Durable Golf Hitting Net?
The most durable golf hitting net is the Nova Large portable golf net. This hitting net has durable, strong poles that will last for many years. In addition, we had no trouble hitting a full swing shot into the Nova Large portable golf net and having it accept the shot and stay stable. 
The net is still lightweight, and it has a 7-ply knotless netting. The netting held up well and did not rip as we used the net for several months. For the price that this net is offered, the durability is quite good, and golfers can put it in the carrying case to ensure that it lasts for years to come.  
Is a Golf Net Worth It?
The best thing about a golf hitting net is that you can work on your game away from the golf course and become a better golfer. Golfers that want to practice more can use a golf net to ensure that they are getting plenty of swings in and starting to make changes in their golf game. 
How Big of a Golf Net Do I Need?
The best golf nets are typically at least nine feet high and nine feet wide. Most of these golf nets have a depth of three feet. The shorter golf nets require you to stand very close to the net to ensure that the ball is caught as it is launched. 

With the higher golf nets, players can stand a few feet back and at least see the start of their ball flight. In addition, taller golf nets are good for players that are taller. 
Overall, the size of the golf net will have to be a fit for your space as well. Some indoor locations don't have the clearance for a larger net. 
Is A 7×7 Golf Net Big Enough?
Although the 7×7 golf net can be big enough for some players, there are times that this net is not a match. The problem with the 7×7 golf net is that it does not leave much room for error. If you pop one up or even hit one off the hosel of the club, there is a good chance that the net could miss it. 
This is obviously a problem for players, especially beginners that are still unsure as to where the ball may end up. If you are working on chipping or pitching, the 7×7 can be fine. However, for a full swing driver, make sure that there is nothing behind this net that can get damaged. 
Is a Golf Net Safe?
The best golf hitting nets are safe as long as proper safety procedures are followed. There should always be some consideration as to what is behind the golf net. If you have an outdoor area to put the net, make sure that if a ball were to get through the net, it would not hurt a person or damage a home. 
When it comes to golf net practice, many golfers ensure some room behind the back of the net and their wall. If a golf ball gets through or pushes the net back a little, at least it won't do any damage to the wall itself. 
The bottom line is that you must be careful with where you stand when practicing and ensure that there is no way for friends or playing partners to get hurt. In addition, make sure that you are standing the proper length away from the net while you are hitting. 
How Long Do Golf Nets Last?
Golf nets should last a few years at the very least, but typically, they last much longer. To prolong the life of yours, dismantle it when it is not in use and store it inside where it will not rust.
Conclusion
To maintain and improve on your golf technique, you have to repeat your swing to build muscle memory and keep your rhythm. Spending the long frosty winter months hibernating and not working on your game could harm your performance and allow your golfing partners to gain an advantage over you.
The introduction of golf nets has enabled most dedicated golfers to keep their game reasonably sharp during the winter months and will shorten the period required to get back to a competitive level once you can get back onto the golf course. Of course, you can also use them when the weather picks up for convenience.
In our estimation, the Nova golf practice net is the best golf net as it provides superior value for money compared to the other golf training aids we looked at. It also comes with 1 year of warranty which is pretty respectable given the price tag.
As an honorable mention, we want to also highlight the Rukket Haack Golf Net Pro. It may be expensive, but its range of features and lifetime warranty make it one of the best golf nets for the garage in our eyes.
Similar Reads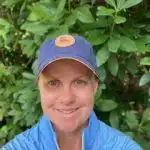 Britt has been playing golf since she was seven years old. After becoming a Class A PGA Professional, teaching professional, and golf membership director, she decided a career in golf writing was the perfect fit. Today Britt plays more golf than ever with her husband and two children and still loves connecting with golfers worldwide.