Winter can prohibit many golfers from getting in the practice we need to keep their skills sharp. To solve this dilemma, manufacturers have become very innovative in offering golfers a range of fantastic tools that can be used indoors, such as indoor golf nets. These nets can be used both for fun and practice.
In this review, we'll cover the best golf nets so you can make an informed decision.
At a glance: Our Top 5 Picks for Best Indoor Golf Net
Indoor Golf Net Buying Guide
A golf net brings the driving range to you anywhere and anytime. All you need is sufficient space to practice golf at home with the full range of clubs in the comfort and security of your home. To facilitate this, there are some points to contemplate while deciding which of the best golf hitting nets is right for you.
Your Prerequisites
Different people will want different things from an indoor golf net. No two people will have the same measurements and qualities, and their intentions or goals may differ. In choosing a golf net, you have to recognize your needs and what you aim to accomplish from having the net. You also need to factor in your budget.
Should you choose to train with all the clubs in your bag, inclusive of your woods, the net should be of an adequate depth to hold on to shots that travel in excess of 100 miles per hour.
Advantages of Owning Your Own Net
In our fast-paced life, it becomes progressively more challenging to take hours out of your day to visit a driving range. Add the cost of every trip and the time it takes out of your valuable day, and you will soon realize the advantage of owning your private golf net.
Having your own indoor golf net allows you to practice any time of the day and year regardless of the weather restrictions, thus fine-tuning your swing all year round. If used, the best indoor golf nets are bound to improve your game over time.
Space
When determining the net you would like to add to your practice routine, you have to appraise the area you will be utilizing it in. For indoor use, accessible space is particularly critical and will decide the size and type of net that will work for you.
Quality
Pay careful consideration to the strength and look carefully at the interwoven netting material of the golf net. The netting material should be impenetrable and adept at enduring the power of a fast-flying golf ball. High-density nets will distribute the impact across the whole net in this manner, halting the ball in the shortest area.
Make sure that the frame is robust and of reasonable quality and lightweight for portability. Aluminum frames will save weight and provide strength but will add to the cost of the net. The alternative is to look at a sturdy steel frame.
Quick Overview: Our Top Picks for Best Indoor Golf Net
Material
Golf nets are generally manufactured from nylon, and the higher the volume of nylon used in the production of the net, the more durable it will be.
Ease of use
You want to spend the time you have set aside to the practice hitting balls and not setting up the net. Most nets can be set up in as little as 2 minutes and should not take more than 5 minutes.
Having to retrieve the balls will add to your irritation; therefore, a net that returns the balls to you after contact will be highly advantageous.
Size
The size of the golf net will be defined by the space you have at your disposal, whether indoors or outdoors. You should consider golf nets that can expand in the outdoor environment and are made to fit in your indoor practice area.
The height of the ceilings will define whether you can take a full swing, as you would require at least 9 feet for a full swing with a driver. The width of your practice area and the depth you can allow for the net to expand after the ball has made contact are just as important to prevent damage to your interior walls.
Once you have determined the space you have at your disposal, this will guide you to the clubs you can swing for practice and thus the size and quality of net you require. Keep in mind that you may want to use the net in an outdoor environment during the summer months.
The Most Commonly Used Golf Nets Are:
Chipping Nets – This is the smallest and least expensive of the nets and will allow you to hone your chipping skills.
Driving Nets – These nets are the larger variety and most likely to be used by golfers to hone their full swing mechanism.
Golf Cages – The golf cage is similar to the golf net, except it has three sides, whereas the golf net mainly consists of a single net hanging down. The cage is larger than the net and more difficult to move around.
Golf is a sport that requires constant practice to keep your swing finely tuned, and the loss of practice time during the winter months could negatively impact your game. You will reap the benefits from a small investment in a golf net and allocating some space for a practice area. Invest wisely and ensure that you get the golf net that will benefit you most.
Top 5 Best Golf Nets

Product Name

Best For 

Pros

Cons

Size

Nova Large Portable Golf Net

Best Overall

Quick and easy setup

Comes with carrying case

Can be used indoors and outdoors

Net has a lot of tension, some bounce back when a shot is hit

10' x 7'

Spornia Golf Pop Up Chipping Net

Best for Chipping

Smaller size allows for short game practice

Easy to bring on the road 

Cheaper than large golf itting nets

Not good for full golf game practice

2' x 2'

Rukket Haack Golf Net 

Best for Durability 

Very large and stable golf net

Foldable golf net

Lifetime warranty

Slightly more expensive than other golf nets on the market

9'x7'x3'

AmazonBasics Portable Driving Golf Net

Best Value

Fair pricing for the size of the net 

Easy setup

Large hitting area 

Shorter overall height not great for all players 

8'x8'x3'

Galileo Golf Net

Best For A Variety of Sports

Large area works for other sports

Comes with metal stakes for stability 

Great height for full swing shots

Golf balls get tangled in the bottom of the net sometimes 

10' x 7' x 6'
Our Research Parameters 
Golfspan is independent and not pressured by manufacturers to recommend products. We were not paid for the reviews in this article. These golf nets were selected by our team, who have over 100 years of experience playing golf and thousands of hours reviewing products. We may earn an affiliate commission when you purchase something through our retail links.
The 7 Best Golf Nets for 2022
The Setup
This net is quick and easy to set up and break down. The frame's lightweight construction using a combination of metal and fiberglass produces a sturdy and portable tool.
The Netting
The net measures 10 feet wide X 7 feet high and is manufactured from 100% Polyester. After contact, the net stores the balls at the base of the net for ease of retrieval.
2. Spornia Pop Up Golf Chipping Net
Pros
Three targets for chipping accuracy
One-year warranty
Collapses into 12-inch diameter circle for easy transport
Adjustability with the targets and netting
Cheaper than most chipping nets on the market
Cons
Smaller in person than some think
A few complaints with packaging in the reviews
The Setup
The Spornia Pop Up Golf Chipping Net is a very straightforward task and tearing it down is just as easy. A major selling point is how small it is when it is folded up.
The Netting
The netting is 25 inches by 25 inches and held together by a spring steel frame that is durable.
Conclusion
No matter how experienced of a golfer you are, short game will always be king. This net is a perfect training tool for anyone that wants to practice off the golf course and can't make it to one all the time.
The smaller frame of the net is practically made for you to practice those pesky chip shots that give you trouble or you are not confident with. The ratings and reviews speak for themselves that this product is worth looking into.
Especially with a price tag as reasonable as that, this net from Spornia should be at the top of your shopping list, in our opinion! We have even provided a link for you to easily access it and see what all of the hype is about.
The Setup
It is estimated that it will take about 10 minutes and is not a hard task to take it down as you please.
Netting
The 9x7x3 net will allow all shot types within reason and is above the industry standard on sizing.
Reviews point out that you can do just about anything with the netting as you can with other comparable products on the market. The netting is also engineered to catch your balls and release them back to you.
Conclusion
Golf nets for home are a big investment but totally worth it if you need something to help cure your itch to always hit golf balls. While it may not be as satisfying as watching your shots in the air on the course, it is still enjoyable.
Also, a practice net like this can be an incredible tool to help your game.  Reviews of this net are all generally positive, and definitely recommend checking it out if you need one!
4. AmazonBasics Portable Driving Practice Golf Net
Pros
100% polyester net
Fiberglass and metal frame
Large hitting area
Easy and swift- setup
Suitable for indoor/outdoor use
Sturdy, yet lightweight and portable
Quick, easy set-up/take-down
Includes 4 metal stakes and a carry/storage bag
Backed by an AmazonBasics 1-year limited warranty
Cons
Hitting mat is not included
Does not return the golf balls to your feet
Setup
The AmazonBasics driving practice golf net sets up and breaks down quickly and easily.
Set it up when it is time to practice, and quickly take it down both indoors or outdoors. 
The package includes four metal stakes for secure ground placement and a carry bag for transport and storage.
Netting
The sturdy hitting net is manufactured from durable metal and fiberglass that offers reliable strength that will stand up to everyday use, even those extra-intense practice sessions, combined with a lightweight design for easy portability.
Measuring in at 8 feet wide, 8 feet high, 3 feet deep, and weighing in at weighs 17.3 pounds makes it possible for the net to catch some wayward shots from slicers, and golfers that hook their tee shots.
Balls are dropped at the bottom of the net after contact for easy time-saving retrieval.
Conclusion
The AmazonBasics portable driving practice golf net is a practical solution for golfers that do not have time to spend loads of time at the driving range.
This is especially difficult during the winter when your area is snow-covered.
You can now practice whenever and wherever with the AmazonBasics indoor/outdoor driving practice golf net.
Setup
You should be able to set up or break down the Galileo in roughly 2 minutes and store it away in the carry bag provided.
Netting
The netting is 10 feet wide X 7 feet high X 6 feet deep and is constructed from 50% Oxford and 50% nylon materials. The 11mm Fiberglass frame is sturdy and rust-resistant.
Conclusion
The Galileo net also comes with a lifetime warranty on all the parts and a 60-day return and refund guarantee that will provide ample peace of mind.
Setup
The PGM net is simple to set up or break down, and this can be completed within 5 minutes. The 11mm fiberglass poles will keep the net sturdy and able to withstand high-speed impact.
Netting
This net is 10 feet wide X 6 feet high X 6 feet 6 inches deep, and the balls are gathered on the bottom of the golf net for ease of collection.
A feature that differentiates it from some of the other nets reviewed is that it has both hitting and chipping targets. The well-constructed targets are marked clearly for easy identification. Balls are collected in the base once it enters the 3 chipping target holes for convenient collection.
High-intensity Nylon combined with high-quality Polyester is used to create a strong net and it comes with a carry bag for storage and enhanced portability.
In addition to being able to smash your balls against the net it also allows you to fine-tune your chipping. There are 3 color-coded holes above the target with the following dimensions
Yellow – left of target is 7 inches

Red – top of the target is 9 inches

Light Blue – the right of the target is 7 inches
Conclusion
This is an ideal golf net to improve your chipping skills while also being able to smash your drives against a well-constructed net.
7. Callaway Quad Net [Currently Out Of Stock]
Pros
The 8-foot square hitting area
Balls feed to the front of the net for easy collection
Effortless setup and takedown
Super robust mesh netting
Nylon carry bag
Cons
Some quality and durability concerns
The size might be too large for some environments
Setup
The Callaway Quad is easy to set up and break down indoors as well as in the outdoors and can be erected within 3 minutes while storage is provided in a lightweight and durable nylon bag.
Netting
The net is manufactured from a super-strong mesh and measures 8 feet with a square opening which is quite different from most competitors. This strong net permits golfers to have a complete exercise session with all the clubs in the bag. After impact, the balls roll to the front of the net for ease of collection.
There is a target built into the net to improve your golfing accuracy. When hitting the target, shots are softened out, which improves the durability of the net. Balls that travel more than 150 miles per hour will be dealt with quite comfortably with this net; therefore, there is no apprehension about hitting your driver at the target.
Conclusion
Callaway has been around for more than thirty years and is a premier name in the golfing industry. You can be assured that they manufacture high-quality products, and this net is no exception.
Conclusion
Callaway has been around for more than thirty years and a premier name in the golfing industry. You can be assured that they manufacture high-quality products and this net is no exception.
Frequently Asked Questions
Sometimes, golfers purchase a golf net for extra practice; other times, it is to pair with a home golf simulator. Whatever the reason is for purchasing a golf net, it's important to ask a few questions before you buy one. These golf nets are not always the cheapest golf accessory, and making sure that you get something that will work well for years to come is quite important. 
What Is the Most Durable Golf Hitting Net?
The most durable golf hitting net is the Nova Large portable golf net. This hitting net has durable, strong poles that will last for many years. In addition, we had no trouble hitting a full swing shot into the Nova Large portable golf net and having it accept the shot and stay stable. 
The net is still lightweight, and it has a 7-ply knotless netting. The netting held up well and did not rip as we used the net for several months. For the price that this net is offered, the durability is quite good, and golfers can put it in the carrying case to ensure that it lasts for years to come.  
Is a Golf Net Worth It?
The best thing about a golf hitting net is that you can work on your game away from the golf course and become a better golfer. Golfers that want to practice more can use a golf net to ensure that they are getting plenty of swings in and starting to make changes in their golf game. 
In addition, a golf net can save players a great deal of money. Going to the driving range and hitting a few golf balls can add up over time. When you have a golf net, you will pay once in the beginning and get the benefits for years to come. 
With modern golf launch monitor technology, you can pair your golf net with a launch monitor and benefit from advanced knowledge of your ball flight, launch, and distance. 
Read more: You will also want to consider the
best indoor putting greens
, since you can shave a lot of strokes off you game by improving your putting. 
How Big of a Golf Net Do I Need?
The best golf nets are typically at least nine feet high and nine feet wide. Most of these golf nets have a depth of three feet. The shorter golf nets require you to stand very close to the net to ensure that the ball is caught as it is launched. 

With the higher golf nets, players can stand a few feet back and at least see the start of their ball flight. In addition, taller golf nets are good for players that are taller. 
Overall, the size of the golf net will have to be a fit for your space as well. Some indoor locations don't have the clearance for a larger net. 
Is A 7×7 Golf Net Big Enough?
Although the 7×7 golf net can be big enough for some players, there are times that this net is not a match. The problem with the 7×7 golf net is that it does not leave much room for error. If you pop one up or even hit one off the hosel of the club, there is a good chance that the net could miss it. 
This is obviously a problem for players, especially beginners that are still unsure as to where the ball may end up. If you are working on chipping or pitching, the 7×7 can be fine. However, for a full swing driver, make sure that there is nothing behind this net that can get damaged. 
Is a Golf Net Safe?
The best golf hitting nets are safe as long as proper safety procedures are followed. There should always be some consideration as to what is behind the golf net. If you have an outdoor area to put the net, make sure that if a ball were to get through the net, it would not hurt a person or damage a home. 
When it comes to golf net practice, many golfers ensure some room behind the back of the net and their wall. If a golf ball gets through or pushes the net back a little, at least it won't do any damage to the wall itself. 
The bottom line is that you must be careful with where you stand when practicing and ensure that there is no way for friends or playing partners to get hurt. In addition, make sure that you are standing the proper length away from the net while you are hitting. 
Conclusion
To maintain and improve on your golf technique you have to repeat your swing to build muscle memory and keep your rhythm. Spending the long frosty winter months hibernating and not working on your game could be detrimental to your game and allow your golfing partners to gain an advantage over you.
The introduction of golf nets have enabled most dedicated golfers to keep their game reasonably sharp during the winter months and will shorten the period required to get back to a competitive level once you can get back onto the golf course. As an added bonus, they are a whole lot of fun for golfing enthusiasts.
In our estimation, the Spornia Golf Practice Net provides the best value for money when it comes to indoor golf training aids.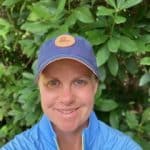 Britt has been playing golf since she was seven years old. After becoming a Class A PGA Professional, teaching professional, and golf membership director, she decided a career in golf writing was the perfect fit. Today Britt plays more golf than ever with her husband and two children and still loves connecting with golfers worldwide.