An office putting set empowers you to work on your precious putting stroke whenever you have a break. In this post, I introduce the top 10 office putting sets for 2023, which improve your stroke path, speed control, and accuracy on the green.
After reading the best office putting set, you will know whether a simple mat or a premium quality indoor putting green works for you. Plus, I will explain the benefits of the automatic ball return feature and introduce you to budget-friendly putting cups.
The top 10 Office Putting Sets in 2023 are:
Not every set will be right for your goals or your room, so don't miss the details on each set and my experience using them.
Let's dive in!
Top 3 Best Office Golf Putting Sets
Best Overall
Best Budget
Best Office Putting Green
Perfect Practice Putting Mat
WSERE 2 Putting Cup
SKLZ Indoor Putting Green
Pros

Promotes smooth roll
Features 2 cups
Automatic ball return

Incredibly affordable
Portable
Easy to set up

Includes 3 cups to aim at
Features hazards behind the cup
Unique kidney green design

Cons

Expensive
Challenging to get the carpet completely flat

No putting green included in the package
The lip of the cups was not perfectly level, but it is okay for indoor practice.

It features no alignment lines
Incorrect storage can cause permanent wrinkles

Price Score
84.1
98.7
93.3
Storage
89.5
94.2
81.4
Durability
94.9
79.6
86.2
Rating
4.7 Stars
4.5 Stars
4.3 Stars
Why You Should Trust Us
Our team spends thousands of hours trying out and researching golf equipment to help you take your game to the next level. Here's our product review process.
We can bring these reviews to you through the small commissions we earn if you buy through the links below. 
How We Reviewed These Products
Golfspan only shares equipment and brands we trust. 
I'm an experienced golfer of 28 years and thoroughly researched and evaluated the products shared below. Then an editor reviewed and fact-checked the list. Finally, we conduct regular content audits to update and revise our reviews to ensure you receive the latest information. 
To select these putting sets, we considered these criteria:
Cost
Launch
Speed
Spin
Feel
Distance
Accuracy
The 10 Best Golf For Office Sets In 2023
Pros
Promotes smooth roll
Features 2 cups
Automatic ball return
Optimized alignment lines to guide your putt and identify stroke path
Provided excellent grip on my floor.
Cons
Expensive
Challenging to get the carpet completely flat
Specs
Sizes: 8', 9'6", 15'6"
Cups: 2
Perfect Practice grabbed attention when it assisted Dustin Johnson in his preparation for his eventual 2020 Masters victory. The 9'6" Standard Edition claims our overall top spot in 2023 for its alignment aids, smooth roll, and automatic ball return.
The surface immediately caught my attention for the quality ball roll it delivered on my first putt. Perfect Practice applied skip and skid-resistant technology to minimize the impact on your distance control.
Roll aside, I appreciated the two-hole setup. I tend to focus on the smaller cup to dial my accuracy before aiming at the regulation-size cup. After a few putts at the smaller hole, the regulation cup seems gigantic, and you feel you can drain anything.
Next, I enjoyed the presence of lines on the mat, especially the ones pointing to the small cup. I placed my ball on the dotted line while two solid lines ran parallel. Then I watched my putter on the backstroke to ascertain whether I was generating my desired straight stroke.
Finally, I felt the automatic ball return feature was handy, allowing me to keep focused during practice. Without an automatic ball return, I have to fetch the ball after each putt, which breaks my concentration every few seconds.
Rating: 4.7
Pros
Incredibly affordable
Portable
Easy to set up
Designed to return your ball after each putt
Appealing green and white color coordination
Cons
No putting green included in the package
The lip of the cups was not perfectly level, but it is okay for indoor practice.
Specs
Sizes: 7.16" in x 5.43"
Cups: 2
An office putting set can get pricey, but you can still work on your stroke if your budget is tight this year. The WSERE 2 Putting Cup is a simple solution. Two cups are included in the package, which you can set up anywhere and take aim.
The 2" wide cups are compact, making them easy to store and transport. They are best suited to environments with flat carpets where you can enjoy a realistic simulation of a rolling putt and enjoy a target to aim at.
I find they offer the most value to employees with smaller office space, who cannot have a putting green constantly rolled out. Instead, set up one of the cups during your break and work on your putting stroke.
Finally, the WSERE 2 is a breeze to disassemble and pack away if you wish to take it on a work trip with you. It is also perfect for practicing in your hotel room.
Rating: 4.5
Pros
Includes 3 cups to aim at
Features hazards behind the cup
Unique kidney green design
Affordable
Impressive smooth roll
Cons
It features no alignment lines
Incorrect storage can cause permanent wrinkles
Specs
Moving away from putting cups, we turn to a larger design, the SKLZ Indoor Putting Green. Our best office putting green set bagged the crown for its length, three cups, and an impressively smooth roll. Plus, I appreciated the fun addition of hazards behind the cup to offer an extra challenge.
I welcomed the kidney-shaped design of the putting green, giving me a couple of angles to putt from. At least more than the standard narrow indoor putting set. In addition, it was fun having three cups to aim at, and I actually assigned points to each cup, with the two front ones bagging 5 and the back one 10.
After ten putts, I tallied the scores and returned to improve on my previous best. It was not all fun games, as I got to work on my stroke and distance control thanks to the True-roll surface. My ball glided seamlessly across the artificial turf for a realistic simulation.
Next, SKLZ added one additional challenge to the fray by placing the cup at the top of a ridge, demanding precise distance control. Finally, the hassle-free putting green proved easy to roll up and store without taking up excess space in the closet.
Rating: 4.3
Pros
Helps improve your speed control
Features two cups to aim at
An alignment aid points to the smaller cup
The raised hole demands precise speed control
Putting from the artificial fringe provided an additional speed control challenge.
Cons
Moderately expensive
I initially struggled to flatten the putting mat, but it eventually came right
Specs
Sizes: 1.6' x 10'
Cups: 2
Aside from green reading mishaps, amateurs struggle with speed control, leading to countless leaked strokes on the dancefloor. The Abco Tech Putting Mat combines smooth rolling turf that rises as it gets to the two cups. The elevated hole with a clean roll combination provided the best platform to work on my speed control.
Despite my initial skepticism, the synthetic turf impressed me tremendously with its smooth ball roll. At first, I thought it was too fluffy to produce any consistency, but my fears were soon allayed. I also enjoyed the artificial rough around the perimeter, allowing me to work on my stroke control from the fringe.
Next, had a field day with the smaller cup and used it to enhance my aim and distance control of each putt. The reduced room for error prompted me to produce the optimal speed to drain my putts. When I started putting at the regulation-sized hole, I was confident I would not miss.
Lastly, Abco Tech simplifies storing the putting green away with its easy, foldable design. My only gripe is that I initially battled to flatten the kinks in the mat, which caused some deviation. However, it came right over time after applying weight to the areas.
Rating: 4.1
Pros
Three holes to aim at
Spacious design
Smooth True-Roll surface
Durable material
Stable, thick rubber base
Cons
Super price for the average golfer
Although the roll was smooth, it was slower than I would like.
Specs
Sizes: 2.5' x 10', 3.3; x 10', 4' x 10', 5' x 10'
Cups: 3
The Boburn Green tops our list of the best executive putter sets for its size, multiple cups, durability, and True-Roll surface. In addition, I appreciated the 35mm artificial grass border, which worked to stop my golf ball from rolling off the green and onto the carpet.
I preferred the 5' x 10' putting surface, which requires a sizeable office, like that of a C-level executive. The high quality, durable material, and premium artificial turf further highlight their class and compatibility with executive business personnel.
I loved the smoothness and consistency of my roll on the True-Roll surface, which provided a real green-like experience. In addition, the office putting green remained firmly secured to my floor, thanks to its heavy-duty rubber base, which prevented slipping at all times.
The three-hole design was a refreshing departure from standard putting mat designs, which leave you with limited versatility. On this green, I could aim at different targets, putt from different angles, and at times, putt from the thick artificial rough to work on my accuracy from the fringe.
Rating: 3.9
Pros
Multiple alignment aids
Includes training exercises on the WellPutt app
Smooth-rolling turf
Two stimp speeds
Easy to roll up and store
Cons
No cup
Moderately expensive
Specs
Sizes: 10' x 1.64'
Cups: 0
The WellPutt Golf High Speed Training Mat is a game improvement program that helps you develop a consistent stroke, speed, and alignment. Besides visual aids giving you the path to the cup from 12 positions, the package gives you access to up to 70 exercises on the brand's Android and iOS apps.
WellPutt makes it known that Jordan Spieth's coach Cameron McCormick endorses the product. However, I do not think it is necessary to name-drop because the product speaks for itself.
Firstly, I liked the alignment adds that helped me identify the starting line for improved accuracy. The alignment aids are positioned for straight and off-center putts, which I appreciated for the variation. Besides angles, alignment aids appeared from 3 to 7 ft away, promoting precision on short-distance putts.
Although the WellPutt Golf High Speed mat lacks a cup, I feel the markings are good enough. In addition, if you hit the putt too hard, you do not have the cup to slow it down. It just rolls past the marking. Add the WSERE Indoor Putting Cup to the fray if you desperately desire a hole.
Next, I felt the turf quality was exceptional, and I had no issues with skipping or skidding across the turf. Finally, the mat is designed with two stimp speeds depending on the direction you putt it. One is fast, while the other is moderate.
Rating: 3.8
Pros
Helps you identify your stroke path
Fast-rolling surface
The aimboard stops your ball when it misses the cup
The alignment line encourages a square setup
Easily portable
Cons
No built-in cup
The aimboard did not stop my overpowered putts, which is to be expected.
Specs
If you are operating with an inconsistent putting stroke, the Pinstripe Golf Putting Mat offers a viable solution. The office golf stroke path training mat claimed the top prize in 2023 for its alignment lines, stroke path trainer, and smooth roll surface.
The stroke path is at the impact zone, allowing me to watch my backstroke relative to their aid. Since I putt with a straight stroke, it made it easy to see when I was arching, helping me rest before I pulled the trigger on a wayward strike.
In addition, Pinstripe threw in a regulation-size cup to position at the opposite end of the mat. According to the brand, the cup only catches balls that would roll a maximum of 18 inches past. I cannot verify this, but it served me well.
When my ball missed the cup, the ball-blocking aim board stepped in. On occasion, when I overcooked my putt, the ball ramped over the aim board and onto the floor. Next, I welcomed the alignment aid, helping me set up my putter face square to the target on every putt.
Finally, the smooth roll surface delivered moderately fast speed, forcing me to control my stroke power for improved accuracy.
Rating: 3.7
8. Icecoral Putting Trainer – Best Automatic Ball Return Indoor Putting Set
Pros
Automatic ball return
Includes two cups
Classy wood finish
Non-slip bottom for improved stability
Alignment aids enhance your accuracy
Cons
Not the cleanest roll
You must connect the track for the automatic ball return, creating an extra step.
Specs
I find putting mats with automatic ball return improves practice because it prevents breaking focus every time you collect a ball. The Icecoral putting trainer claimed the top spot for automatic ball return models thanks to its affordability, alignment lines, and classy finish.
First off, the automatic ball return leveraged gravity to absorb the ball and guide it down the track back to the impact zone. When my ball missed, a gutter behind the cup swallowed the golf ball and ensured it found its way back to the strike zone.
Two holes are positioned atop a gradual incline, requiring exceptional speed control to drain either putt. A dotted line runs from the impact zone to the small cup, flanked by two solid lines. This created a lane, and when my ball sat on the dotted line, I used the lane design to determine my stroke path.
I relished the chance to improve my accuracy on shorter putts like the other office putting sets with small cups. After sinking a few putts in the mini cup, the regulation cup appeared oversized and easier to handle.
Lastly, my biggest complaint is the inconsistency of the roll. I found the velvet carpet surface slightly furry, which could hold up the golf ball.
Rating: 3.6
Pros
Automatic ball return
Portable
You can use it anywhere
Durable design
Affordable
Cons
The mouth of the cup moved on occasion when my ball hit it
Inconsistent roll over carpets and floors
Specs
Sizes: 7.75" x 3.25"
Cups: 1
Golf cups offer simple and affordable alternatives to putting mats. They are convenient to transport, allowing you to set them up anywhere. The JEF World Of Golf proved the best-putting cup for 2023, thanks to its durability, automatic ball return, and entry-level price.
The World Of Golf Cup is not your traditional cup, as the ball does not drop into the cup. Instead, you putt it into a mouth-like design, with a slight hump greeting your ball at the entrance. I like the design, and it tested my distance control. However, I was also at the mercy of my carpet, which did not simulate a real green experience.
Next, I thought the automatic ball return feature was an excellent addition. Unfortunately, it made a racket when in operation. One bone I have to pick with JEF is the exclusion of batteries in the pack. I understand why they exclude them from a business standpoint, but it meant a trip to the store before I could put it to the test.
Finally, I also appreciated its feathery weight, making it easy to fit into my backpack and take it wherever I want.
Rating: 3.5
Pros
Fun for all skill levels
The package includes 2 putters and 2 balls
12 holes
Works for 2 to 4 players
Easy fold-up design
Cons
The putters are not the greatest, as expected from a party game
Not the most consistent roll
Specs
Every office needs a fun golf game to keep employee morale high after a long week or to celebrate after closing a major deal. The GoSports BattlePutt Game proved the most entertaining golf game. This is why I recommend it for office parties.
The package contains a pair of golf balls and putters, with an 11-inch mat and 12 holes. In addition, GoSports added 12 cup caps to cover up used holes. I find it best to create two-person teams and battle it out as partners. It is also a perfect way to get non-golfing colleagues into the action and enjoying the sport.
The mission is simple in BattlePutt, the first team to sink putts in all 6 holes claims the victory, and the opposing team must accept their fate. It takes the snooty, country club energy out of golf. It also allows everyone to have fun without being judged for their attire or skill level.
Lastly, an 11-inch foldable green delivers a satisfactory roll for an office party game. You can even roll out the mat during lunch and work on your putting stroke, but you may want to bring your own flat stick along because these are fine for a party but not for practicing.
Rating: 3.1
What To Consider When Purchasing An Indoor Putting Green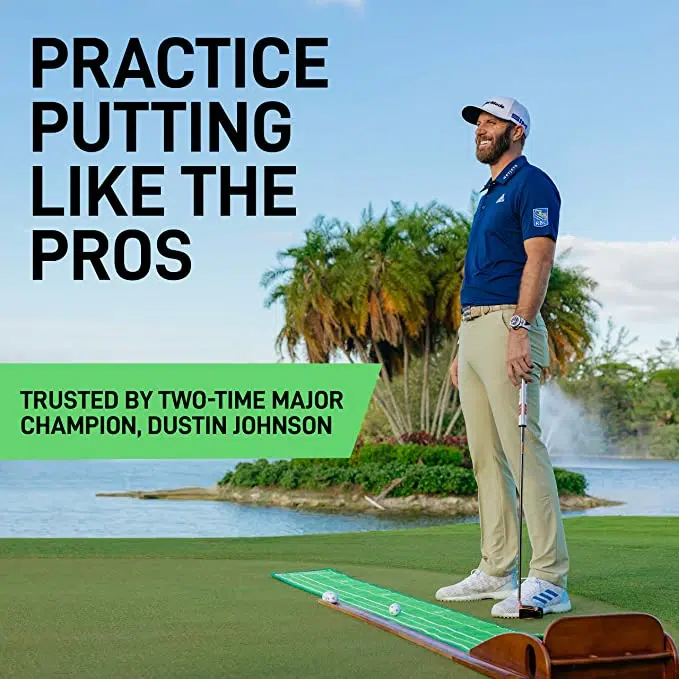 Size
The first step in your quest for an indoor putting green is to measure your office and determine the ideal size of your putting green. Smaller designs start at 8 feet, while large putting mats extend as long as 16 feet.
Shape
The most common office putting sets are mats that are narrow and long. Mats work well for slender but lengthy offices. Alternatively, readers with ample office space can consider a square or kidney-designed green, typically containing multiple holes placed at different points on the green.
Storage
Unless you plan on showcasing your office putting green 24 hours a day, storage is an essential factor. Most office putting sets are easy to fold-up and place in their box before relegating it to the closet or out of sight in your office.
Automatic Ball Return
The automatic ball return feature on some putting sets enhances convenience and, in my case, prevents a loss of concentration. I can keep stroking putts for extended periods as my ball returns to me, and I do not need to collect it and break focus after every stroke.
Cups
Standard office putting sets generally carry one to three cups, depending on their size, shape, and design. Long and narrow putting greens have a maximum of two cups, with one often smaller than the regulation size.
However, larger kidney-shaped office putting sets may feature three or more holes at various parts around the green. I find more cups amplify the versatility of my practice rounds, allowing me to putt from different angles and try different speeds.
Conclusion
After reviewing the best office putting set for 2023, I am convinced these are a worthwhile investment for the modern amateur. Given our extensive work schedules these days, a putting mat in the office allows you to release frustration during your breaks and improve your stroke.
Although I enjoyed various aspects of each finalist on our list, the Perfect Practice Putting Mat outshone its peers. Its high-quality crystal velvet turf delivered a smooth roll, while the alignment aids assisted my stroke path and putting accuracy. Finally, its automatic ball return functioned optimally and prevented loss of focus during practice.
If you are looking for a premium quality putting mat that truly simulates the experience of a green, check out the Perfect Practice mat.