So, you're looking for a gift for a golfing enthusiast. Shouldn't be too difficult, right? After all, golf is a game of, like, a million accessories.
But the problem is, people have been buying them golfing gear for years now. They have it all: buckets full of golf balls, more golf gloves than pairs of underwear, more umbrellas than Rhianna, and more tees than sense. So what's next?
Easy. It's time to bust out the gags.
Not only can these gifts be funny, quirky, and frankly ridiculous, but they can also be highly practical. So if you're on the hunt for the perfect funny golf gift, look no further.
14 Gag Gifts for Golfers
If in doubt, buy them socks.Made from quality materials and available in a range of sizes, these Zmart socks will serve the wearer well both on and off the course. Of course, they are most effective when the feet are up – hopefully, the 'SHHH… GOLF IS ON' message will be received loud and clear by others present.
2. Fairly Odd Novelties Hip Flask
Sure, this is technically a gag gift, but actually, it's a highly practical stroke of genius.
The 6oz, stainless steel flask is complete with a stylish leather holder. It has a belt loop, four tee holders (tees included), two snap-off markers, and a divot tool. Marrying two of America's favorite pastimes, this novelty hip flask is as fun as it is functional, and could be the perfect golfing gift.
We don't recommend drinking on the golf course, but if you were ever wanting to get a head-start on the end-of-round festivities, this would be the way to do it.
This is a particularly great golf gag gift for kids. But really, it can be for anyone. Who doesn't love emojis?
Emojis and golf balls are a match made in heaven. Yellow balls can be easier to see, and they'll be no mix-ups with ball identification when there's a great big winking, laughing, or angered face looking up at you. With 12 unique emoji designs, this golf ball set is sure to bring a smile to the recipient.
Dibs on the poop emoji.
4. Golf Potty Putter Game Set
It's a putting mat. That you can play whilst you sit on the toilet. Need we say more?
Well, we're going to – this gag gift for golfers is too good to miss. The green measures 28 x 35 inches, extending approximately 25 inches away from the base of your porcelain throne. It includes a hole with a flag, a mini putter, and a 'Do not disturb – golf in progress' door hanger.
I did actually have a toilet pun prepared, but I've decided to flush it. Because this is no gag gift. This is for the SERIOUS golfer. If they want to get better at the game, they must eat, breathe, and **** golf. No more excuses.
5. Loftus Heads Down Golf Tees
Now, this product is shamelessly crude and may be seen as somewhat offensive to some. If so, we apologize for including it on this list.
But hear us out. These golf tees have actually been designed with a noble intention: to help the player keep their eyes on the ball. It's perhaps the most important element of any golf swing, and if these novelty tees can't help them get it right, then surely nothing can!
A fun golf gift for eyes that are prone to wandering.
You might think that this headcover would make a great gag gift, but really, the joke's on you, because this gopher is cute as hell, and anyone would be lucky to have him.
Adorability aside, the gopher does everything in its power to protect drivers from scratches and scuffs. It fits any 460cc drivers and looks simply sublime on any golf bag.
Go for gopher.
Let's kick things off with some good old fashioned swearing. This ill-mannered golf gift set contains three balls, three tees, and a marker, each of which features a nice message of discouragement. Perfect for the 'all the gear, no idea' kind of golfer. We all know the sort.
Probably not the best gift for a child, though.
Never before has offering compliments been so much fun. With this glove, you can maintain polite golfing etiquette with your playing partner whilst simultaneously expressing your disgust at that fairway splitting drive they just hit.
Better yet, this is actually a pretty high-quality, legitimate piece of kit. Individually hand-crafted with fine Cabretta leather, this glove offers adjustability, breathability, grip, and comfort.
You can never have too many golf gloves – this would be a fine and funny addition to any golfer's collection.
9. Ginger Fox Novelty Golf Mug
Introducing the Ginger Fox golf mug… because sometimes, life just isn't distracting enough!
This mug is all kinds of multi-purpose. Firstly, it's a mug (shock). Then, we look to the bottom of the mug and see that there's an arch – that's for putting.
Next, we look to the handle and notice that it is designed in such a way that the mug can be tipped at an angle, providing us with a chipping mug-net-type-thing. The mini-golf ball is included, as is the mini-golf club, which also happens to be a pen.
For those who love golf as much as they love a cup of joe, there is surely no finer gift.
As is excellently demonstrated by this particular product, golf and beer go hand in hand.
This marvelous creation will hold 16oz of your finest beer, or any other beverage, and is safe for dishwashers and freezers. Play the 19th hole in style.
Cheers!
For a crappy golfer. Or for a good golfer who's getting a little too comfortable with their fancy Pro V1's or their Z Star's. Time to play some real golf. Rough, rugged, and sufficiently filthy, these crappy golf balls are sure to even the playing field.
The best part is, the user won't feel bad at all about losing them – that's how awful these balls are. Hand your buddy this funny golf gift at the tee, and let the laughs, quite literally, roll out.
Zero game improvement guaranteed.
12. Eject-a-Putt Golf Prank
This one requires a touch of subterfuge. Place it in the hole when no-one's looking, and sit back and let the chaos unfold as the eject-a-putt works its evil magic.
Just make sure it's not in there when you make your own putt. That would be silly.
13. Shanker Golf Exploding Balls
If you thought shanks, tops, and fat shots were bad, wait till you hit an exploding golf shot.
Well, with regular golf balls, that will (probably) never happen. But with these novelty exploding balls, your unsuspecting golfing buddy could be in for one hell of a surprise.
Truth be told, from the look and feel of these balls, it would be pretty hard not to notice that something was amiss – the 'Catastrophic' logo is a particular giveaway. Nevertheless, these make for a fun golf gift and are completely safe (they just kind of pop apart into a cloud of white smoke on impact).
Final Thoughts
Who needs a new pair of golf shoes, or a new sleeve of Titleist golf balls, or a new set of irons, or a new TaylorMade golf glove, when you could have… a farting golf ball!
There's oodles of fun to be had with these gifts. And if your recipient doesn't have much of a sense of humor… well, these gifts will be all the funnier.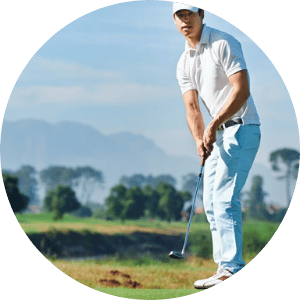 Nick Lomas is the founder of GolfSpan, an avid golfer, not quite a pro but has over 15-years of experience playing and coaching golfers from all over the world. His mission is to bring the golfing community a better experience then it comes to choosing the right golf gear, and finding the right set up for your game.