The best golf markers can do more than just mark your ball on the green. You can use anything as a golf ball marker during a friendly match, but most markers are simple and sometimes boring.
I've researched hundreds of markers to list this article's most unique and best ones. Here's our list of the best golf ball markers.
The 10 best golf ball markers are:
This article will take you through some of the best ball markers available. From sleek and trendy designs to more quirky and unique creations, we've got something for everyone. Get ready to discover your fun side with this remarkable range of golf ball markers that have already stolen our hearts and will surely steal yours too.
Featured Golf Ball Markers
Best Overall
Best Affordable Golf Glove
Best Multipurpose Option
On Point 3 Rail + Coin Marker
VEASAERS Golf Ball Markers
Callaway 4-in-1 Divot Repair Tool
Pros

3D design for better visualization
Guidelines to help direct your putt
USGA and R&A approved

Budget-friendly
Bright colors easy to spot on the green
Plenty for sharing

Great multifunctionality tool
Durable metal marker
Bright neon marker easy to spot from a distance

Cons

Bulky feel
Comparatively more expensive

Can break easily
Leave a small indent on the course

The ball marker pops off too easily
No clip to attach to the golf bag

Durability
95/100
80/100
95/100
Design
95/100
80/100
90/100
Affordability
90/100
95/100
90/100
Rating
4.9/5
4.6/5
4.7/5
Why Do Golfers Use Golf Markers?
Golf ball markers do exactly what their name suggests – they mark the golf ball on the green.
These usually come in handy when another golfer needs to put their ball, and your ball is coming in their way.
In such situations, golfers place a marker behind the golf ball and remove the ball. Once it's their turn to putt again, they simply put the ball back in front of the golf marker and continue their game.
To further know why golf ball marking is so important and the exact rules about it, check out this article.
Why You Should Trust Us
Our team spends thousands of hours trying out and researching golf equipment to help you take your game to the next level. Here's our product review process.
We can bring these reviews to you through the small commissions we earn if you buy through the links below.
How We Reviewed These Products
Golfspan only shares equipment and brands we trust.
I'm an experienced golfer and writer who thoroughly researched and evaluated the hoodies shared below. Then an editor reviewed and fact-checked the list. Finally, we conduct regular content audits to update and revise our reviews to ensure you receive the latest information.
To select these hoodies, I considered these criteria:
Cost
Design
USGA approval
Colors
Durability
Colors
10 Best Golf Ball Markers
There's a whole science behind choosing the right golf ball marker, so don't miss out on the details of each of these.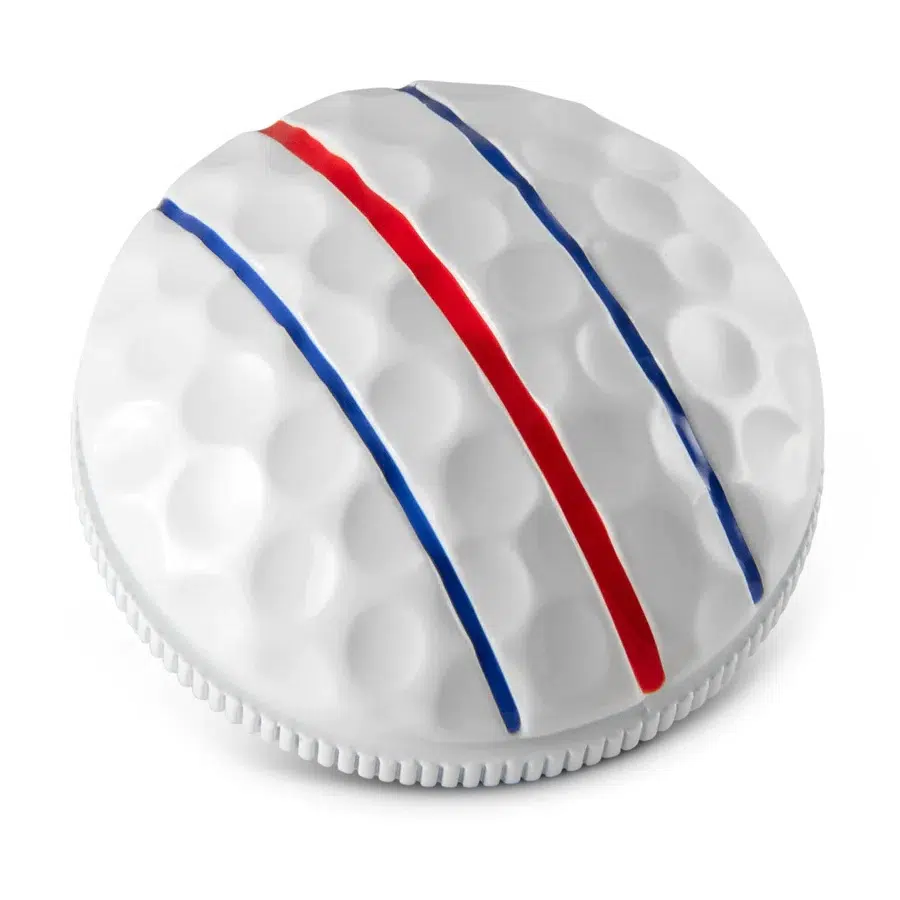 Pros
3D design for better visualization
Guidelines to help direct your putt
USGA and R&A approved
Cons
Bulky feel
Comparatively more expensive
Rating: 4.9/5
A golf ball marker that also doubles as an alignment aid – now that's how you kill two birds with one stone. The On Point 3D dome marker comes in multiple designs, but the golf ball dome marker is the most popular.
It's one of the more unique golf ball markers. The red and blue lines on top will help you visualize your putt. This allows you to align your putt accordingly and get a more accurate shot.
I also particularly like the versatility of the design since you can easily unclip the dome on top to reveal the flat coin at the base. The flat coins lay perfectly on the green and will not interfere with incoming putts.
Although many golf ball markers are available in the market, there's always the risk of your marker needing approval for professional play. Luckily, you don't need to worry about this since it's already USGA and R&A approved.
The slight downside of this marker is that it looks bulky in your pocket, unlike other golf marker coins that fit seamlessly within the pant pockets.
Pros
Budget-friendly
Bright colors easy to spot on the green
Plenty for sharing
Cons
Can break easily
Might leave a small indent on the course
Rating: 4.6/5
These neon ball markers are the best choice if you're anything like me and have difficulty keeping track of your belongings. They come in packs of 50-150, so no matter how many times you lose one, you'll always have multiple backups ready.
The bright neon colors were great for me since I could spot my ball marker from even a distance, and the flat top also ensured that it didn't cause hindrance for other golfers' putts.
The plastic material is also super light, so even if you carry a pack of 100 in your golf bag, you won't feel a significant weight change.
They're also a fun way to earn brownie points with fellow golfers and socialize by sharing markers if they're out of them. Who doesn't love good sportsmanship, right?
On the other hand, these ball markers do tend to break easily and will last you only a few uses, but for the price, they're an absolute steal because they get the job done.
The fact that the ball markers need to be indented onto the course to stay in place can be a disadvantage since they can leave the green uneven once you take them out.
Pros
Great multifunctionality tool
Durable metal marker
Bright neon marker easy to spot from a distance
Cons
The ball marker pops off too easily
No clip to attach to the golf bag
Rating: 4.7/5
This Callaway Divot repair tool is one of the best options for buying a single multipurpose accessory rather than 3-4 individual ones.
I love its compact design and practicality on the course. Plus, the flawless and durable metal finish also makes this tool durable, so it's sure to last you a few years at least.
The metal and nylon cleaner helps to keep your clubs clean and clear of dirt or grass. Although they work great, I found it time-consuming since I could only target a single groove at a time.
The divot repair tool does an excellent job of repairing divots.
I particularly love this tool because of its neon green metal ball marker. The marker attaches easily to the tool to keep it secure within your golf bag or pocket. Plus, the color truly stands out, so you can spot it from a distance. Since it's made from metal, the marker is durable and will likely last years.
Unfortunately, the magnet on the ball marker wasn't strong enough, and the ball marker kept detaching from the tool. I would've preferred if the device had a clip for easy attachment to my golf bag.
Nonetheless, it's a solid buy for the price, and you won't be disappointed by this purchase.
If gadgets like these excite you, check out this article for some of the best golf gadgets. You may not NEED them, but you'll surely be tempted to buy them
Pros
Wide range of teams to choose from
Strong magnetic attachment to hat clip
Durable stainless steel
Cons
Rating: 4.7/5
If you're a sports fan, I have good news for you. Whether basketball, baseball, or football, Team Effort has come out with hat clips and ball markers for every sports fan.
Not only are these makers extremely cool, but they're also really good quality. The metal ball markers are sturdy and durable and will likely last you multiple years (unless you lose one).
Plus, I particularly like the hat clip that comes with it. I find it much easier to detach the magnetic ball marker from my cap than to fish inside my golf bag or pockets when I need one.
Apart from sports teams, Team Effort also has a few Star Wars-themed ball markers to revive the sci-fi geek within you.
If you're looking for a fun yet budget-friendly Christmas present for a golfer who's a sports fan, this is the perfect way to make their day. Super cute and personal, it'll show them you pay attention to their interests.
You can also check out this article for more budget-friendly golf gifts.
Pros
Comparatively heavy, so it stays steady on the green
Scratch-resistant and durable material
A variety of colors and designs are available
Cons
Some prints may be NSFW
Thicker than most golf ball markers
Rating: 4.6/5
Poker chips are a fun way to spice up your golf game, and these Da Vinci poker chips are one of the coolest golf ball markers.
If you like spending your Saturday mornings on the course and nights in the Casino, these are the perfect amalgamation of your two worlds.
Poker chips are also one of the more controversial golf ball markers; some golfers find these chips bring them luck, while others find them tacky. But you should always opt for what resonates most with you, and if you like these ball markers, buy a set.
Quality-wise, these markers are also a safe bet since they're made from good quality clay composite that does not scratch or wear out, even with multiple uses.
I also like the size of these markers since they're a little bigger than the average golf ball marker, so they're much easier to spot on the green.
Pros
Flashy gems
Fun, quirky prints and sayings
Multiple color and print options are available
Cons
Not everyone's cup of tea
Rating: 4.7/5
Are you looking to bring your inner diva out on the golf course? Well, what better way to do it than through these blingy golf ball markers by Giggle Golf?
Because of the bling and excited quotes on top, these ball markers also make for the perfect gift to show the golfing queen in your life just how much she means to you.
Giggle Golf brought the bling, but they compromised a little on quality. I love how rather than putting a simple print and gems, the designs are carved into the marker, making them much more long-lasting and giving a 3D feel.
I also particularly liked the versatility since you can clip it on anything from your cap to your visor or your belt hook, and it'll stay firm in its place.
The best part? It can just as easily transform into a fun necklace as well. Fun jewelry AND a ball marker? TAKE MY MONEY.
Pros
Unique shapes and cuts
You support small business
Many design options are available
Durable metal marker
Cons
Heavier than most other ball markers
Gold color tends to come off soon
Rating: 4.6/5
If you're still using round golf ball markers, you must step up your game. While the rounded design is classic and everlasting, these new fun shapes and designs by Pins and Aces are an absolute game changer.
These cool golf ball markers have been designed from gorillas, snakes, or football jersey designs. You will turn heads if you whip out one of these babies on the golf course; I still have people occasionally message me about where I got one of these golf markers.
By purchasing one of these markers, you're also supporting a small business, and in a world of corporate giants, who wouldn't want to do that?
They're super fun to look at and made from high-quality steel to last you for many years. Plus, they're hand-painted for extra neatness and a perfect finish.
Unfortunately, the gold color in the coin came off quite soon, but all other colors seemed fine.
Pros
Budget-friendly
Divot tool and three magnetic ball markers
Durable metal
Cons
All three markers are the same design
Rating: 4.5/5
Are you an ex-navy seal, or are you looking for a gift for a military golfer you know? Well, no need to look any further.
If you're in the military and passionate about golf, this set of golf markers and divot tools perfectly fits you. It's also a great way to show your support for our armed forces and the sacrifices they make for us.
You get three premium-quality metal markers and a divot tool for a very reasonable price. Made from scratch-resistant and stainless metal, these markers will look good as new even after multiple uses.
What particularly stood out was how firmly the ball marker magnet attached to the divot tool. Most magnets aren't as strong, and you're often left fishing for the marker within your pocket. Luckily, that was never an issue for me with this set.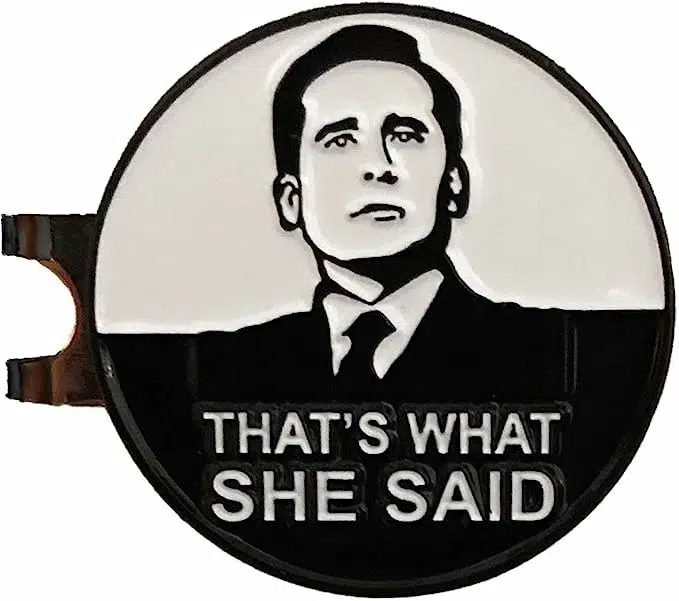 Pros
Durable nickel and zinc alloy
Fun designs guaranteed to make you laugh
Fast shipping
Cons
Rating: 4.7/5
Life is fun, golf is serious. But if you want to bring some clownery to the golf course, purchase one of these ball markers for golf by Balanced Co.
From dark humor to meme references, these markers will ease off the seriousness of the game.
What better way to ease the tension than putting these markers on the green? Anyone who sees it will surely laugh (or at least smirk a little).
Balanced Co engraved the prints onto these markers rather than simply printing them on top. This makes the designs much more durable and long-lasting.
The nickel and zinc alloys are also high quality, so these golf markers will keep you and your fellow golfers laughing for years.
The only drawback I found with these markers is that they need to attach to magnetic clips firmly and tend to get lost within your pocket. But apart from that, it's an absolute must-add to your golf marker collection.
Pros
USGA approved
Double-sided coin with alignment guides
Magnetic hat clip for easy accessibility
Durable metal finish
Cons
Marker tends to fall off the hat clip
Rating: 4.5/5
Sleek, stylish, and multipurpose? What more do you want from a ball marker? The Vectorputt golf ball marker may look like your average golf marker, but it also doubles as an alignment aid.
If you properly align the marker behind the ball, you can plan your next putt and know the direction required.
I like that the golf marker is double-sided, so it's almost like enjoying the benefits of two markers for one price. The hat clip also makes it easy to detach and reattach the marker, so there is no more pocket hide-and-seek.
The one drawback this does have is that the magnet on the hat clip could be stronger, and a strong gush of wind could easily have the ball marker flying off.
What to Consider Before Buying a Golf Ball Marker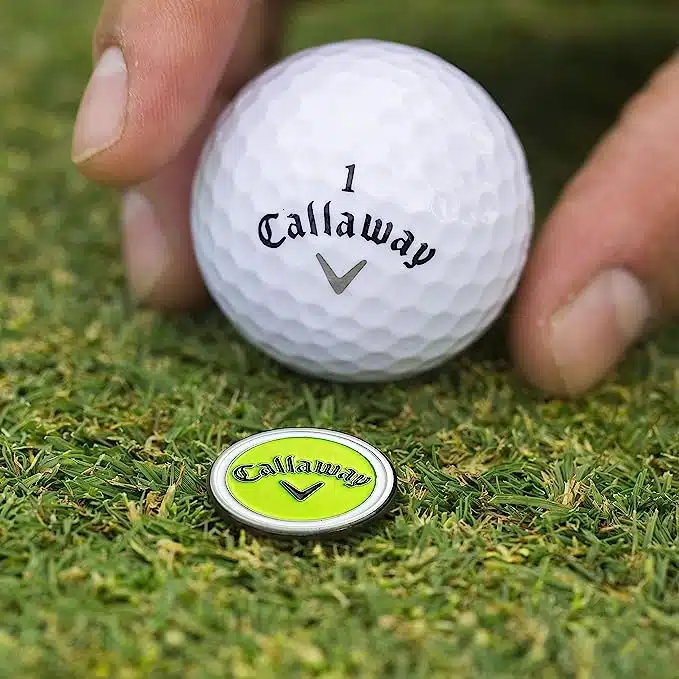 Golf ball markers are one of the simplest golf accessories but are an absolute necessity – especially if you play golf on a more professional level.
The type of golf marker you choose depends on multiple factors, ranging from weight, product durability, price point, and even personal taste.
1. Durability
The material of your golf ball marker will be the prime factor in determining its durability. A marker made from metals such as aluminum or steel will be more durable than plastic.
But even within a plastic marker, the durability varies greatly based on the quality of the plastic used.
Cheap plastic ball markers come in sets of 25 or 50 but will last up to a few uses. Alternatively, sturdier plastic markers will last significantly longer.
2. Taste
You don't get many opportunities to express your personality in golf. Golf markers are a great and subtle way to show your character on the course without going too overboard.
If you're an NBA fan, printing your favorite team's logo on the marker can be fun to show your personality. On the other hand, if you're more of a fun, easy-going person or an avid member, printing pictures of entertaining memes or funny cartoons can also be a nice conversation starter.
3. Weight
Why do you need to consider the weight of a ball marker that measures a mere few inches? Well, it's less about the ball marker's weight and more about the cumulative weight of everything else you must consider.
During any day on the course, you carry a scorecard, pencil, car/house keys, phone, and golf tees in your pockets. Add a significantly heavier golf marker to the list, and you may be weighed down.
You should feel lightweight and unreserved to freely swing your club on the course. Although not a major factor, the weight of your ball marker should be considered.
4. Price
Compared to most other golf accessories, ball markers are one of the cheapest items. But even then, the price of your ball marker can play a significant role in your final choice.
Cheaper plastic disposable ball markers cost nearly nothing, whereas metal ball markers can cost significantly more. Add further personalizations to these markers, and the price can increase.
Types of Ball Markers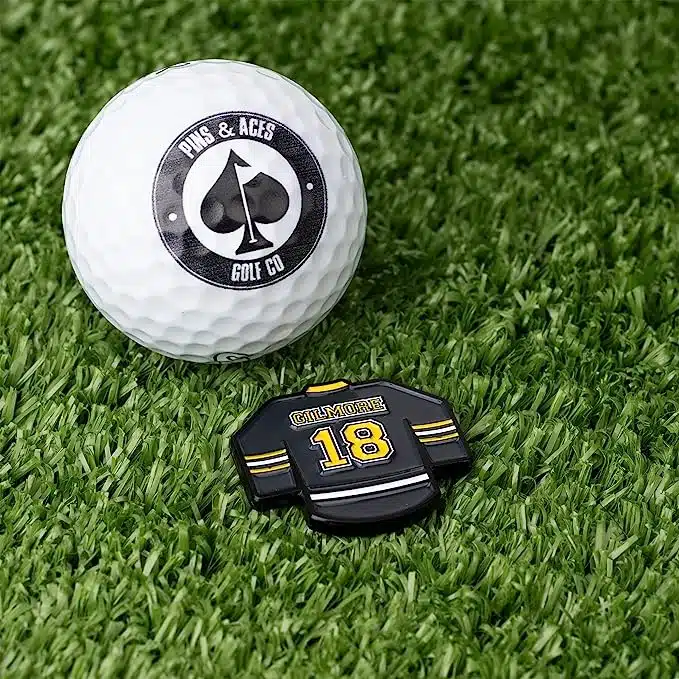 According to USGA, any object the size of a coin or similar can be used as a ball marker. While some golfers prefer to go the simple route and use a coin as a golf marker, others prefer to opt for unique golf ball markers. These can range from hat clips to poker chips, markers with different logos, or even golf tees.
Here are some of the ball markers for golf that golfers across the world commonly use
1. Coins
Coins are the most common type of ball markers out there. There's no hard and fast rule on the kind of coin you can use, so anything from a simple quarter to a half-dollar coin can be used.
2. Golf Tees
Although there are more efficient ways to make your ball on the green, some beginner golfers still commonly use golf tees.
Since every golfer has a tee with them, it's an easy and cheap alternative to buying specific golf ball markers.
However, using golf tees as markers is frowned upon in professional golfing communities. This is because they dig into the ground and interfere with the continuity of the greens. They're usually higher above the ground and can interfere with other golfers' putts.
So if you're looking to play golf on a more professional level, these may not be your best bet. But for casual rounds of golf, they're an acceptable choice.
3. Logo Ball Markers
Logo ball markers are a fun alternative to simple coin markers. These are usually the same thickness as a coin and similar in size. But what sets them apart are the different logos, designs, or in some cases, quotes printed on top.
You can even get custom logo golf markers made since they're a simple yet interesting way to express yourself.
Golf clubs or specific charity tournaments can also use these custom prints for advertising their event further or be given as keepsakes.
4. Poker Chips
Whoever thought of using poker chips as a golf marker was an absolute genius. Poker chips fit the bill for a golf marker perfectly; they're small, thin, and flat. They'll lay straight on the turf and not interfere with incoming putts.
These chips come in various colors; some even have bright reflective prints, making them easy to spot on the green.
5. Hat Clips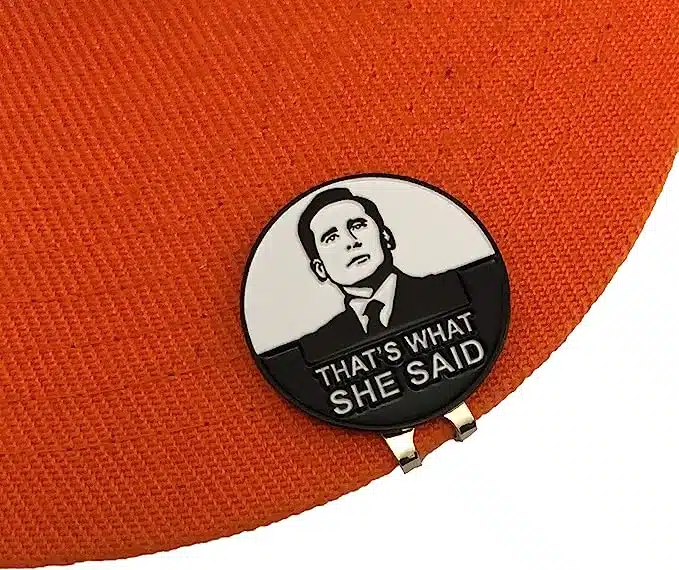 Arguably, one of the most convenient forms of ball markers is hat clips, which are my favorite.
Ball markers are great, but the common issue faced by every golfer is that their markers often disappear in their bags or pockets.
Hat clips completely negate this entire issue. They easily clip onto your hat and have a magnetic golf ball marker attached to them. So, whenever you need a ball marker, simply reach for your cap and snap it off. Once used, you can easily replace it with the clip and continue with your putt.
Some hat clips are also fully customizable and come in various interesting prints.
6. Divot Tool
Divot tools are used to repair divots on the course.
Although not exactly a ball marker, over time, many hybrid versions of a standard divot tool have popped up, and many divot tools now come with a small magnetic ball marker attached to them.
This is particularly convenient because if both the tool and the maker are in your pocket, the magnet will automatically make the marker attach to the tool. So you won't have to fish around your pocket to find the ball marker.
FAQs
Is It Mandatory to Have a Golf Ball Marker During Tournaments?
Yes, marking your ball is a requirement during tournaments, especially if your ball comes in the way of another player's putt. There are no strict rules on what you can use to mark your ball, but it's good to go as long as your marker follows the basic USGA guidelines.
What Is the Point of a Golf Ball Marker?
A golf ball marker is used to mark the position of your ball on the green, especially if your ball is coming in the way of another golfer's putt. The marker is placed right behind the ball before displacing it.
Can You Use a Tee as a Ball Marker?
Officially you must use an artificial item as a golf ball marker. So, you can use a tee to mark your ball if you aren't using it to align your next putt. However, using a coin or an actual ball marker is always preferred.
What Happens if a Putt Hits a Ball Marker?
According to rule 11.1b, the stroke will still count, and the ball must be played as it lies. But if you think that your ball marker may interfere with another player's stroke, it's considered common decency to remove the marker.
Final Thoughts
I hope you liked our list of the best golf ball markers. Golf markers are a great way to bring creativity onto the course and lighten the mood. While a simple quarter can also do the trick, a unique printed ball marker will start a new conversation.
If you're on a strict budget, check out the VEASAERS Golf Ball Markers. The bright neon colors can be spotted from a distance, and there's plenty to share.
Alternatively, if budget isn't an issue, I'd recommend the On Point 3 Rail + Coin Marker or the Callaway 4-in-1 Golf Divot Repair Tool if you're looking for more than just a basic ball marker.
Happy marking!

As a skilled golfer and wordsmith, Abdulmoiz brings a fresh and engaging voice to the golfing world. Whether he's on the course or at the keyboard, he strives to improve and inspires others to do the same.