Do you have a friend who loves golf, but seems to already own everything golf-related? It can difficult to shop for a well-off friend, especially if you're trying to buy them something related to a passion of theirs.
Chances are, they've already purchased or been given all the hobby-related items they can possibly think of.
The good news is that there are plenty of unique and interesting presents out there that most people wouldn't think to buy for themselves.
To help you find them and determine the best ones for your giftee, we've put together this list of 12 gifts for golfers who have everything, as well as a short buying guide to help you pick the right features.
Features To Look For In Choosing The Best Golf Gifts
Uniqueness
If your giftee has "everything", then buying them standard, boring, typical gifts isn't going to cut it. They likely already have the most obvious types of gifts you can think of. Dig deeper!
Don't be afraid to get them gag gifts, novelty items, custom products, and other more unique items that they're sure to be impressed with.
Function
What exactly should your gift do? Do you want it to be a practical item? If so, should it be for use on the course, or off? If it's not going to be practical, is it a decorative item?
Something that will make them laugh or smile? Or does it fall somewhere between practical and impractical – a book, perhaps? Think about what you want your gift to provide!
Quality
It's in poor taste to skimp out on a gift by buying something flimsy and low-quality. You don't have to burn a hole in your pocket to get a meaningful gift of good quality – even a small, simple item with a good build is better than a high-priced item that feels like it's about to break the moment you touch it.
Resistance and Durability
This mainly applies for golfing gifts designed to be brought out onto the course. Despite it's more relaxed manner, golf is still a sport, and that means that any item designed to be brought onto the green should be relatively durable, as well as resistant to UV rays, water and moisture, dirt, and stains.
Specific Interests
When someone has everything a golfer might want, it's time to branch out and consider other hobbies that they have which still relate to their main passion.
There are plenty of novelty items out there that are related to golf but apply to other situations, such as clothing items, decorative objects, and even useful office, kitchen, and other tools.
The Top 12 Best Gifts For Golfers Who Have Everything
1. Titleist Pro V1x Prior Generation Golf Balls
Sure, golf balls are the most common golfing items there are – but golfers can never truly have enough of them!
The Titleist Pro V1x Prior Generation Golf Balls are some of the best that the industry has to offer. They're designed to be versatile, providing excellent drop-and-stop control during short games and very low spins for long games.
These golf balls provide an impressive amount of distance, with great control thanks to modern innovation.
A cover system keeps the balls soft but durable, a casing layer allows for better spin and speed thanks to responsiveness, and a unique dimple design is spherically tiled to ensure consistent flight with every swing.
2. Golf Pens with Golf Bag Holder
The Golf Pens with Golf Bag Holder are fantastic novelty stationery items that are perfect for a golfer who does a lot of paperwork.
This product comes equipped with a driver club, wedge club, and putter club, each in different colors of ink to provide black, blue, and red pens all in one set.
These golf pens arrive in a special silver golf bag holder which has 2 legitimate zippered storage areas, a golf cart handle you can move, and rubber wheels that really work. It's the perfect novelty item and serves as a unique and special pen holder to decorate any desk.
In addition, these pens and their holder are brushed with a silver finish that is tarnish proof.
They even come with a tag that can be engraved to hold up to 3 letters, allowing for a customizable spin on this cool set. Plus, they come ready in a gift box for presenting to a giftee!
3. Potty Putter Toilet Time Golf Game
The Potty Putter Toilet Time Golf Game is almost a joke present, but the fact is that many individuals find themselves bored when seated on the porcelain throne.
For the giftee who literally can never get enough golf in their lives, look no further than this golf game.
This product comes complete with everything one many need for a small game of toilet golf – a putting green, a couple of golf balls, a cup with a flag, and a putter. It even arrives with a "Do Not Disturb" sign for hanging over the bathroom door handle.
Though it certainly sounds amusing, this is a fun gift for any extremely enthusiastic golfer who is always eager to get a little extra practice time.
The Dammit Golf Doll is the perfect gag gift for the golfer in your life who has some trouble keeping their cool.
It is made with a golf green-style pattern so it's relevant to an angry golf-lover, and it's made with a polyester fiber stuffing that makes it fairly durable and satisfying as stress relief.
This doll measures 12 inches tall and has a comfortable cotton fabric exterior that makes it pleasant to hold. For those who just can't seem to stay relaxed when they miss the green, the doll offers a harmless way to let out that anger.
5. Chelsea Charles Golf Goddess Stroke and Score Counter Bracelet
The Chelsea Charles Golf Goddess Stroke and Score Counter Bracelet is a great gift option for the fashion-conscious golfer who doesn't want to carry a counter in their bag or on their belt.
It makes use of fine plating for a beautiful and attractive finished, and each of its beads is hand-etched.
This bracelet's beads can be moved around to keep track of scores and strokes, and the beads will stay put unless intentionally shifted. Furthermore, the accessory comes ready in a special box that contains care instructions and suggestions for how to use its counting features.
It fits most wrists and comes in a number of colors and bead designs.
6. The 500 World's Greatest Golf Holes
The 500 World's Greatest Golf Holes is a fantastic book containing a tailored choice of the best 500 golf holes across the globe out of the more than 500,000 that exist today.
Perfect for both casual and highly passionate players – and everyone in between – this book breaks down overall top holes and further categorizes them into interesting subtopics.
Within the book, more than 600 gorgeous and incredibly-shot photographs of famous and picturesque golf holes are featured in all their lavish glory.
Accompanying this stunning picture are anecdotal tales and details regarding each and every one of these locations.
Your giftee will take joy in counting down to the topmost tier, anticipating their own personal favorite between the pages.
The Golfer Bookends are the perfect presents for golfers who also double as bibliophiles. Made with high quality for longevity, they are bronze finished with an electroplating technology that provides aesthetically pleasing, detailed, and excellent durability at an affordable price.
Weighing more than five pounds, these bookends keep larger and heavier books in place properly.
Their design, featuring a golfer about to take a shot on one end and his big golf bag on the other, is charming and sure to impress even the most affluent golfer.
8. Callaway Men's Dawn Patrol Golf Glove
The Callaway Men's Dawn Patrol Golf Glove is a great gift for any golfer, as more gloves – especially of good quality – are always appreciated. Made with leather all over, it uses an opti-fit adjustable closure for a good and secure fit that feels comfortable and allows for good mobility.
With a cotton terry cuff, this golf glove wicks away moisture for more comfortable wearing on a hot day.
Palm, thumb, and finger perforations also allow better ventilation for breathability. On top of that, this golf glove is available in sizes S to XXL, with additional cadet variations available in each size. It can be purchased for the right or left hand as needed.
9. Indiana Metal Divot Repair Tool with Two Ball Markers
The Indiana Metal Divot Repair Tool with Two Ball Markers is a customizable golf ball divot device equipped with a part of personalized markers. Lightweight and boxed individually, it's a compact device that can easily be brought along onto the course.
This divot device is a switchblade-style stainless steel fixer blade that can be easily opened with the press of a button.
Meanwhile, the golf markers are made with nickel silver and are removable thanks to the use of magnets. Both items are highly durable and resilient for outdoor use.
Customization is a huge selling point for this product. Names, initials, and symbols can be easily engraved onto the item with permanent laser etching for a more personal touch that is sure to win over you the golfer in your life.
There's also a great refund and replacement policy on this product, so you can purchase risk-free.
The Golf Whiskey Glasses are uniquely designed glasses that resemble golf balls thanks to a dimpled design and a rounded, heavy shape.
They are hand-blown specially by artisans and made to be completely free of any lead. Moreover, they are built to be high-quality and durable for daily use.
These glasses come in sets of two, and they're perfect for just about any drink – not just whiskey!
They each hold 10 oz of liquid and can easily fit an ice cube while maintaining a comfortable size and shape to hold. Plus, they have a 60-day refund guarantee!
11. MySack Golf Ball Storage Sack
The MySack Golf Ball Storage Sack is a gag gift great for any golfer who loves to joke around, but it is also a practical product. It can be easily attached to a golf bag and can store up to 6 golf balls at once, making them easy to access on the go.
Made from ultra-suede fabric of a high-quality and sewn together with industrial-strength stitching, this product provides maximum durability. It is fitted with Velcro closure with heavy-duty function, and its sturdy clasp makes this storage sack extra reliable. Both of the former features are even double-stitched.
This golf ball storage bag is a great conversation starter for your giftee, and it's sure to get a few laughs. Plus, it has a 30-day return policy for added buying security.
In addition to all of that, two free golf balls are included with each sack.
12. Personalized Tri-Fold Golf Towel
The Personalized Tri-Fold Golf Towel is 100% cotton terry cloth customizable golf towel that can be embroidered with a name or slogan of your choice.
At its base price, it contains an impressive 8,000 stitches, with the opportunity for higher stitch counts for an additional fee.
These golf towels are amazingly soft and measure 25 inches by 16 inches with a tri-fold. They are surprisingly absorbent, making them perfect for use out on the course, and they even come with a bag clip and a grommet for each portability across the green.
Multiple colors are also available to suit a variety of preferences.
Conclusion
It can be difficult to buy presents for someone else, especially for someone who already seems to own every possible product under the sun.
With any luck, our list of the 12 gifts for golfers who have everything will help you on your quest to put a smile on the face of the golfer in your life!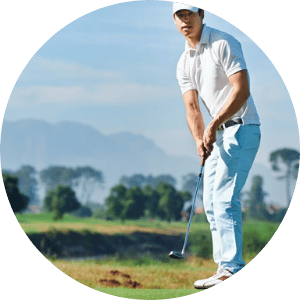 Nick Lomas is the founder of GolfSpan, an avid golfer, not quite a pro but has over 15-years of experience playing and coaching golfers from all over the world. His mission is to bring the golfing community a better experience then it comes to choosing the right golf gear, and finding the right set up for your game.