Looking to buy a gift for someone who loves golf, but they seem to already own everything golf-related?
It can be difficult to shop for a golfer, especially if you're trying to buy them something related to their passion. Chances are, they've already purchased or been given all the hobby-related items they can possibly think of.
The good news is that there are plenty of unique and interesting gift ideas out there and you just need a little help finding them.
So, we've put together this list of 32 gift ideas for golfers, as well as a short buying guide to help you pick the right features.
Here are some of our favorite golf gifts
At a Glance: The Best Gifts For Golfers
Features To Look For In Choosing The Best Golf Gifts
Uniqueness
If your giftee has "everything", then buying them standard, boring, typical gifts isn't going to cut it. They likely already have the most obvious types of gifts you can think of. Dig deeper!
Don't be afraid to get them gag gifts, novelty items, custom products, and other more unique items that they're sure to be impressed with.
Function
What exactly should your gift do? Do you want it to be a practical item? If so, should it be for use on the course, or off? If it's not going to be practical, is it a decorative item?
Something that will make them laugh or smile? Or does it fall somewhere between practical and impractical – a book, perhaps? Think about what you want your gift to provide!
Quality
It's in poor taste to skimp out on a gift by buying something flimsy and low-quality. You don't have to burn a hole in your pocket to get a meaningful gift of good quality – even a small, simple item with a good build is better than a high-priced item that feels like it's about to break the moment you touch it.
Resistance and Durability
This mainly applies to golfing gifts designed to be brought out onto the course. Despite its more relaxed manner, golf is still a sport, and that means that any item designed to be brought onto the green should be relatively durable, as well as resistant to UV rays, water and moisture, dirt, and stains.
Specific Interests
When someone has everything a golfer might want, it's time to branch out and consider other hobbies that they have which still relate to their main passion.
There are plenty of novelty items out there that are related to golf but apply to other situations, such as clothing items, decorative objects, and even useful office, kitchen, and other tools.
The Top 32 Best Gifts For Golfers Who Have Everything
1. Titleist Pro V1x Prior Generation Golf Balls
Sure, golf balls are the most common golfing items there are – but golfers can never truly have enough of them!
The Titleist Pro V1x Prior Generation Golf Balls are some of the best that the industry has to offer. They're designed to be versatile, providing excellent drop-and-stop control during short games and very low spins for long games.
These golf balls provide an impressive amount of distance, with great control thanks to modern innovation.
A cover system keeps the balls soft but durable, a casing layer allows for better spin and speed thanks to responsiveness, and a unique dimple design is spherically tiled to ensure consistent flight with every swing.
2. Golf Pens with Golf Bag Holder
The Golf Pens with Golf Bag Holder are fantastic novelty stationery items that are perfect for a golfer who does a lot of paperwork.
This product comes equipped with a driver club, wedge club, and putter club, each in different colors of ink to provide black, blue, and red pens all in one set.
These golf pens arrive in a special silver golf bag holder which has 2 legitimate zippered storage areas, a golf cart handle you can move, and rubber wheels that really work. It's the perfect novelty item and serves as a unique and special pen holder to decorate any desk.
In addition, these pens and their holder are brushed with a silver finish that is tarnish-proof.
They even come with a tag that can be engraved to hold up to 3 letters, allowing for a customizable spin on this cool set. Plus, they come ready in a gift box for presenting to a giftee!
3. Potty Putter Toilet Time Golf Game
The Potty Putter Toilet Time Golf Game is almost a joke present, but the fact is that many individuals find themselves bored when seated on the porcelain throne.
For the giftee who literally can never get enough golf in their lives, look no further than this golf game.
This product comes complete with everything one may need for a small game of toilet golf – a putting green, a couple of golf balls, a cup with a flag, and a putter. It even arrives with a "Do Not Disturb" sign for hanging over the bathroom door handle.
Though it certainly sounds amusing, this is a fun gift for any extremely enthusiastic golfer who is always eager to get a little extra practice time.
4. Dammit Golf Doll
The Dammit Golf Doll is the perfect gag gift for the golfer in your life who has some trouble keeping their cool.
It is made with a golf green-style pattern so it's relevant to an angry golf lover, and it's made with a polyester fiber stuffing that makes it fairly durable and satisfying as stress relief.
This doll measures 12 inches tall and has a comfortable cotton fabric exterior that makes it pleasant to hold. For those who just can't seem to stay relaxed when they miss the green, the doll offers a harmless way to let out that anger.
5. Chelsea Charles Golf Goddess Stroke and Score Counter Bracelet
The Chelsea Charles Golf Goddess Stroke and Score Counter Bracelet is a great gift option for the fashion-conscious golfer who doesn't want to carry a counter in their bag or on their belt.
It makes use of fine plating for a beautiful and attractive finish, and each of its beads is hand-etched.
This bracelet's beads can be moved around to keep track of scores and strokes, and the beads will stay put unless intentionally shifted. Furthermore, the accessory comes ready in a special box that contains care instructions and suggestions for how to use its counting features.
It fits most wrists and comes in a number of colors and bead designs.
6. The 500 World's Greatest Golf Holes
The 500 World's Greatest Golf Holes is a fantastic book containing a tailored choice of the best 500 golf holes across the globe out of the more than 500,000 that exist today.
Perfect for both casual and highly passionate players – and everyone in between – this book breaks down overall top holes and further categorizes them into interesting subtopics.
Within the book, more than 600 gorgeous and incredibly shot photographs of famous and picturesque golf holes are featured in all their lavish glory.
Accompanying this stunning picture are anecdotal tales and details regarding each and every one of these locations.
Your giftee will take joy in counting down to the topmost tier, anticipating their own personal favorite between the pages.
7. Golfer Bookends
The Golfer Bookends are the perfect presents for golfers who also double as bibliophiles. Made with high quality for longevity, they are bronze finished with an electroplating technology that provides aesthetically pleasing, detailed, and excellent durability at an affordable price.
Weighing more than five pounds, these bookends keep larger and heavier books in place properly.
Their design, featuring a golfer about to take a shot on one end and his big golf bag on the other, is charming and sure to impress even the most affluent golfer.
8. Callaway Men's Dawn Patrol Golf Glove
The Callaway Men's Dawn Patrol Golf Glove is a great gift for any golfer, as more gloves – especially of good quality – are always appreciated. Made with leather all over, it uses an opti-fit adjustable closure for a good and secure fit that feels comfortable and allows for good mobility.
With a cotton terry cuff, this golf glove wicks away moisture for more comfortable wearing on a hot day.
Palm, thumb, and finger perforations also allow better ventilation for breathability. On top of that, this golf glove is available in sizes S to XXL, with additional cadet variations available in each size. It can be purchased for the right or left hand as needed.
9. Indiana Metal Divot Repair Tool with Two Ball Markers
The Indiana Metal Divot Repair Tool with Two Ball Markers is a customizable golf ball divot device equipped with a part of personalized markers. Lightweight and boxed individually, it's a compact device that can easily be brought along onto the course.
This divot device is a switchblade-style stainless steel fixer blade that can be easily opened with the press of a button.
Meanwhile, the golf markers are made with nickel silver and are removable thanks to the use of magnets. Both items are highly durable and resilient for outdoor use.
Customization is a huge selling point for this product. Names, initials, and symbols can be easily engraved onto the item with permanent laser etching for a more personal touch that is sure to win over you the golfer in your life.
There's also a great refund and replacement policy on this product, so you can purchase risk-free.
10. Golf Whiskey Glasses
The Golf Whiskey Glasses are uniquely designed glasses that resemble golf balls thanks to a dimpled design and a rounded, heavy shape.
They are hand-blown specially by artisans and made to be completely free of any lead. Moreover, they are built to be high-quality and durable for daily use.
These glasses come in sets of two, and they're perfect for just about any drink – not just whiskey!
They each hold 10 oz of liquid and can easily fit an ice cube while maintaining a comfortable size and shape to hold. Plus, they have a 60-day refund guarantee!
11. MySack Golf Ball Storage Sack
The MySack Golf Ball Storage Sack is a gag gift great for any golfer who loves to joke around, but it is also a practical product. It can be easily attached to a golf bag and can store up to 6 golf balls at once, making them easy to access on the go.
Made from ultra-suede fabric of a high-quality and sewn together with industrial-strength stitching, this product provides maximum durability. It is fitted with Velcro closure with heavy-duty function, and its sturdy clasp makes this storage sack extra reliable. Both of the former features are even double-stitched.
This golf ball storage bag is a great conversation starter for your giftee, and it's sure to get a few laughs. Plus, it has a 30-day return policy for added buying security.
In addition to all of that, two free golf balls are included with each sack.
12. Personalized Tri-Fold Golf Towel
The Personalized Tri-Fold Golf Towel is 100% cotton terry cloth customizable golf towel that can be embroidered with a name or slogan of your choice.
At its base price, it contains an impressive 8,000 stitches, with the opportunity for higher stitch counts for an additional fee.
These golf towels are amazingly soft and measure 25 inches by 16 inches with a tri-fold. They are surprisingly absorbent, making them perfect for use out on the course, and they even come with a bag clip and a grommet for each portability across the green.
Multiple colors are also available to suit a variety of preferences.
13. Birdicorn 6-in-1 Golf Divot Tool
The Birdicorn 6-in-1 Golf Divot Tool has six functions all in one. Not only is it a great divot tool, but it is also a ball line stencil and marker holder. On top of that, it works as a groove cleaner, putt alignment helper, and even a bottle opener!
This golf divot tool is made from lightweight CNC aluminum and comes with a ball marker. It's also available in lots of different colors.
14. ProActive Sports SGS002 Golf Statistic and Score Tracking System
The ProActive Sports SGS002 G Stats Golf Statistic and Score Tracking System is a fantastic book that provides an easy, simple way to organize golf scores and statistics. It can break down score totals over 9 holes at a time and even has a card holder and pencil holder.
This tracking system allows users to take note of fairway hits, putt amounts, greens in regulation, and par.
15. JEF World of Golf Collapsible Chipping Net
Many passionate golfers want to practice just about anywhere. The JEF World of Golf Collapsible Chipping Net provides an easy way to do so. Made from high-quality materials, it has 3 chipping baskets and works for golfers of all skill levels.
This chipping net comes in two sizes and can be used by both right-handed and left-handed golfers. It's challenging and good practice!
16. Precision Pro Golf NX7 Pro Slope Golf Rangefinder
The Precision Pro Golf NX7 Pro Slope Golf Rangefinder provides clear optics with accurate yardage readings for a precise scoping mechanism that helps golfers of all skill levels. It allows for easier club selection and target aiming, and it delivers a vibration when targets are shot.
This rangefinder comes with a carrying case, instruction manual, cleaning cloth, lanyard, and the necessary batteries. It is also backed by a 2-year warranty, the ability to trade-in the device, and battery replacement services.
17. SKLZ Accelerator Pro Indoor Putting Green With Ball Return
The SKLZ Accelerator Pro Indoor Putting Green With Ball Return is a fantastic indoor golfing device that mimics real green putts for a realistic golfing experience. It has an automatic ball return function that allows for repeated training with zero interruptions.
This indoor putting green offers alignment guides and is surprisingly portable despite its size. It easily fits in just about any room!
18. Club Glove Golf Microfiber Caddy and Pocket Towel Set
The Club Glove Golf Microfiber Caddy and Pocket Towel Set is made from high-quality fibers and designed to be able to wipe down clubs and all sorts of golf devices without leaving behind lint or abrasions.
These golf towels are some of the best in the market and extremely absorbing, holding 3 times its weight in water. This set comes with both a caddy towel and a pocket towel and is available in lots of color options.
19. Suncast GO3216 Golf Organizer
The Suncast GO3216 Golf Organizer is a great home organizer for golfers. It keeps golf clubs, bags, and other accessories easily and in a neat and orderly fashion. It has enough space for two golf bags and is made from a highly durable metal.
This golf organizer is spacious and uses adjustable feet for leveling purposes.
20. SelfieGolf Record Golf Swing
For a simple training process, look no further than the SelfieGolf Record Golf Swing. This device records golf gameplay and captures every single move, even the most minuscule wrist twitches, and foot position errors.
Users of the SelfieGolf can see replay their golf swing in order to review posture, swing, form, and every little minute detail. This device is helpful, lightweight, and highly user-friendly.
21. Wedge Guys PGA Approved Professional Bamboo Golf Tees
The Wedge Guys PGA Approved Professional Bamboo Golf Tees are made from biodegradable but sturdy bamboo. They are durable – a whopping 7 times stronger than the average wood tees – and they are highly environmentally friendly to boot.
These golf tees are approved by the PGA and are USGA-conforming, and they have a 30-day 100% satisfaction guarantee. You can buy them in bulk bags at affordable prices, so your giftee never runs out of tees again.
22. CaddyTek Caddylite 15.3 V2 – Deluxe Push Cart
The CaddyTek SuperLite Deluxe Golf Push Cart is a great item for those who golf without a caddy. It weighs less than 12.2 lbs, making it very lightweight for its purpose, and it has an easy-to-use patented foot brake that uses "push to use" and "push to release" technology.
This golf push cart has a front wheel alignment mechanism for easier pushing, and it includes a mesh net, umbrella holder, and drink holder.
23. PrideSports Golf Ball Pick-Up
The PrideSports Golf Ball Pick-Up is an amazing accessibility tool with a very simple function. It is attached to the end of a putter grip and used to pick up a golf ball without bending over.
This golf ball pick-up is a great gift for golfers who are elderly, have disabilities or pain, or simply don't like bending down to pick things up. Just make sure it's the right size for your giftee's putter grips before purchasing!
24. Case Golfer's Tool Pocket Knife Gift Set
The Case Golfer's Tool Pocket Knife Gift Set is a multi-function pocket knife that is wonderful for both outdoor use and golfing use. It is made with a surgical steel blade and comes with a divot repair device and a clip blade.
This pocket knife has a limited lifetime warranty and lots of colors to choose from.
25. Golf Whiskey Decanter and 4 Liquor Glasses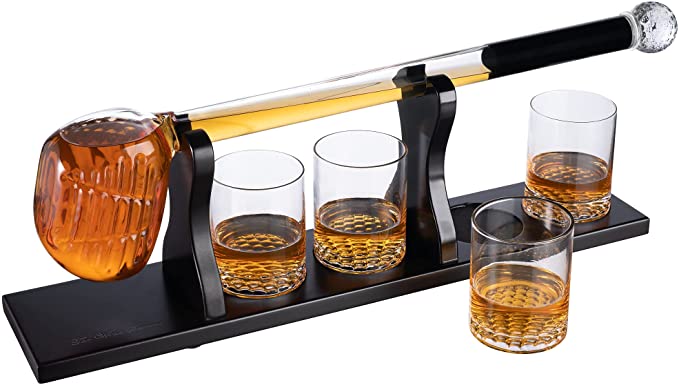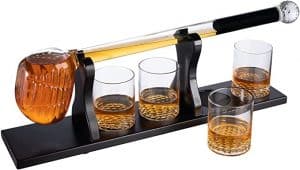 Any golf fundi will enjoy stocking their bar with a Golf Whiskey Decanter and 4 Liquor Glasses Set.
Wine Savant offers this unique decanter set for dad, or mom, to store their favorite whiskey, brandy, or bourbon for those special occasions when they spend memorable times with their best friend.
You can store basically any special liquor that is consumed on special occasions with good friends and family. The decanter is supplemented by four top-quality glasses. The mahogany wood base rounds off the set elegantly to be presented in even the highest quality of bars.
Glasses exude quality as it's made flawless 100% lead-free borosilicate with a golf ball pattern on the base of the glass. It's not a coincidence that there are four glasses to cater for the usual 4-ball that regularly enjoys each other's company.
Filling the glasses is a straightforward task done with poise and elegance. The long and slender golf shaft-like neck creates an easy flow that will gracefully keep topping up the glasses.
26. A Life Well Played: My Stories (Commemorative Edition)
Arnold Palmer is one of the most celebrated golfers in history, and likely someone the golfer in your life looks up to. The A Life Well Played: My Stories (Commemorative Edition) book provides an inside look into Palmer's life.
This book is Palmer's perspective on who he was, both as a professional golfer and an individual, and talks about many of his experiences. It's sure to be treasured by any golf-lover.
27. Hot Sox Men's Novelty Sporting Crew Socks
The Hot Sox Men's Novelty Sporting Crew Socks is a great gift for a golfer who wants to show off their passion in a tasteful and subtle way. Made from a great blend of materials, these crew socks are detailed and have vibrant, colorful designs.
These socks are machine washable and of great quality, and they come in three fun colors.
28. SKLZ Gold Flex Golf Training Aid
The SKLZ Gold Flex Golf Training Aid is a renowned swing power trainer that helps users develop the muscles they need for a good golfing experience. It has a 2.5 lb weight head to allow for muscle memory building, lag and strength training, and a good swing path and plane.
This golf training aid is a good warm-up tool, helps fix swing errors, and will aid your giftee in their skill improvement. It is highly durable and will last for a long time without suffering wear and tear.
29. 10L0L Golf Pens with Golf Bag Holder
The 10L0L Golf Pens with Golf Bag Holder is a fun novelty gift for someone who would like to add some personality to their office. It includes three ink pens in the shapes of different golf clubs and in three different ink colors, as well as a golf bag holder with a movable handle.
These golf pens are great fun and make for a unique gift. Plus, they have a 90-day money-back guarantee.
30. GrooveMaster Golf Club Groove Sharpener
The GrooveMaster Golf Club Groove Sharpener is the perfect sharpener for a huge range of iron brands and clubs. It has a 65 hardness level on the Rockwell scale and is made from carbide tungsten steel that has been vacuum heat treated.
This groove sharpener is durable, has 8 different settings and lengths, and comes with a 12-page booklet for instructions.
31. PuttOut Pressure Putt Trainer
The PuttOut Pressure Putt Trainer is a training aid that is highly compact and fits easily into a golf bag. It simulates real course holes thanks to a parabolic curve in its design. It provides excellent feedback to improve swing and pace.
This putt trainer offers highly reliable returns, returning good putts at accurate distances and rejecting bad putts back to the user. It is made from a high-quality material that is extremely durable and strong.
32. Dewiz Swing Analyzer
The Dewiz Swing Analyzer lightly sits on your wrist and can give you instant feedback about your swing. It can help quickly improve a golfer's swing by tracking 5 data points: backswing speed, downswing speed, temp ratio, pause length, and start to impact duration. You select which metric to track and it will let you know if you are on or off.
The golfer in your life could use this to get rid of a slice or hook. To increase the power of his swing. Or to compare his swing speed against friends or professionals. There are so many features that if you're buying a present for someone who loves golf, then this is a definite winner.
Final Thoughts
It can be difficult to buy presents for someone else, especially for someone who already seems to own every possible product under the sun.
With any luck, our list of the 31 gifts for golfers who have everything will help you on your quest to put a smile on the face of the golfer in your life!
Related Articles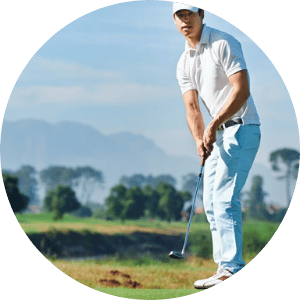 Nick Lomas is the founder of GolfSpan, an avid golfer, not quite a pro but has over 15-years of experience playing and coaching golfers from all over the world. His mission is to bring the golfing community a better experience then it comes to choosing the right golf gear, and finding the right set up for your game.